The Best 3D Printing Services in Vancouver
While 3D printing is new and relatively rare, we've put together a list of the best 3D printing places in Vancouver to help you out.
Check out how we rated each of our top selections and what specific deals or special services they offer!
The Cost of 3D Printing in Vancouver
There are a lot of costs to 3D printing. Excluding the costs of labor, there's the cost of the printers themselves and the materials.
To help you get an idea of how much you'll end up paying, we've put together a table of some of the costs of the raw materials associated with 3D printing.
| Raw material | Cost |
| --- | --- |
| Standard filament | $50+ per kilogram |
| Support materials | $100+ per kilogram |
| Printing powever | $80+ per kilogram |
| 3D Printer | $150+ |
Keep in mind that the table only covers the raw materials. Labor costs can vary based on the item being printed, the materials used, and how long it takes to print.
The Best 3D Printing in Vancouver
We assessed the best 3D printing shops based on the following:
1. 3DSMITH Studios Inc.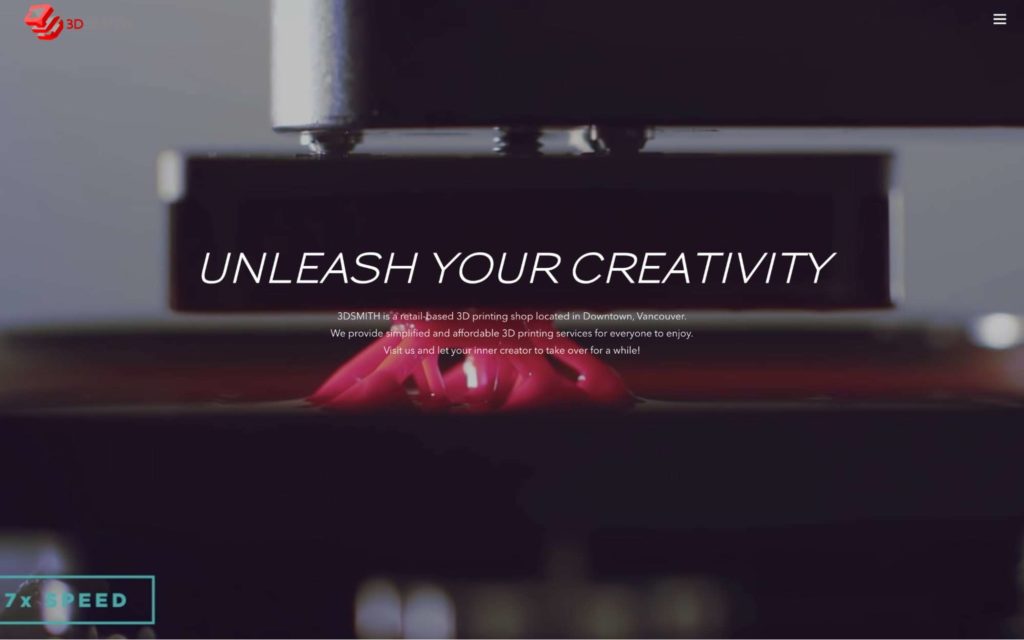 | Test | Info |
| --- | --- |
| ADDRESS | 518 W Pender St, Vancouver, BC V6B 2Z6, Canada |
| WEBSITE | http://www.3dsmith.ca/ |
| CONTACT DETAILS | +1 604-300-7930 |
| OPERATING HOURS | Monday to Saturday: 10am to 6pm |
| | |
| --- | --- |
| Fees | ★★★★☆ (4/5) |
| Convenience | ★★★★★ (5/5) |
| Expediency | ★★★★☆ (4/5) |
| Customer Satisfaction | ★★★★☆ (4/5) |
There's a lot that we found about 3DSMITH Studios that we liked. The first thing that we liked about them was their membership.
A person can sign up as one of their members for a monthly fee and get a discount on all prints plus other benefits depending on the membership tier chosen. We really liked that because we think it's great for people who may have a lot of printing needs.
We also liked their process: upload, set, and print. What's more, as straightforward as their process is, they're not careless about it and will consult with their clients in order to print their orders as per the client's needs.
The customers we interacted also noted that the turnaround time for printing was pretty fast and the quality of the pieces that were printed.
The one thing that we saw as a potential drawback was how exact clients need to be. True, this happens with most 3D printers, but they seem to have particularly low tolerance for non-specificity here.
If the client doesn't share the information that they need, then the project may either end up being a nonstarter or the final print will be of a substandard quality.
Overall, we liked almost everything we saw about 3DSmith Studios and think it's a great place to get something custom printed.
Memberships offers discounts
Clients must be very specific with their needs
Customer reviews:
Best decision ever
"I'm a jewelry design student but I can't use school lab since COVID-19. I was working with Steve for all of my 3D printing project for the last academic year, which is the best decision I made ever! Steve was so helpful and patient. He always replied my email quickly and explained everything about my printing projects. The supports he made for my projects are nice and thoughtful. And he always gently cleaned all supports for me as much as possible. The price is also reasonable. I really appreciate it!" – Akina Zhang.
Cannot recommend enough
"The future is here! I needed replacement lenses for the dome lights on my 46 year old boat. The plastic had pretty particular requirements: translucent enough to serve as a diffuser for a lightbulb, pliable enough to fit over the housing for the light as per the original design, and heat resistant to the degree that the lens sits close enough to the very hot lightbulb that certain types of plastic might suffer a deformity. Chris ended up printing a few mock ups as he is very meticulous and with an eye for detail, and in the end I came away with three replacement lenses and even one done in orange which is deep enough in colour to put it close to that red spectrum for night vision. I've left it permanently in the head on board for those late night trips to the can. I cannot recommend these guys enough." – Chris Martin
2. Deci3D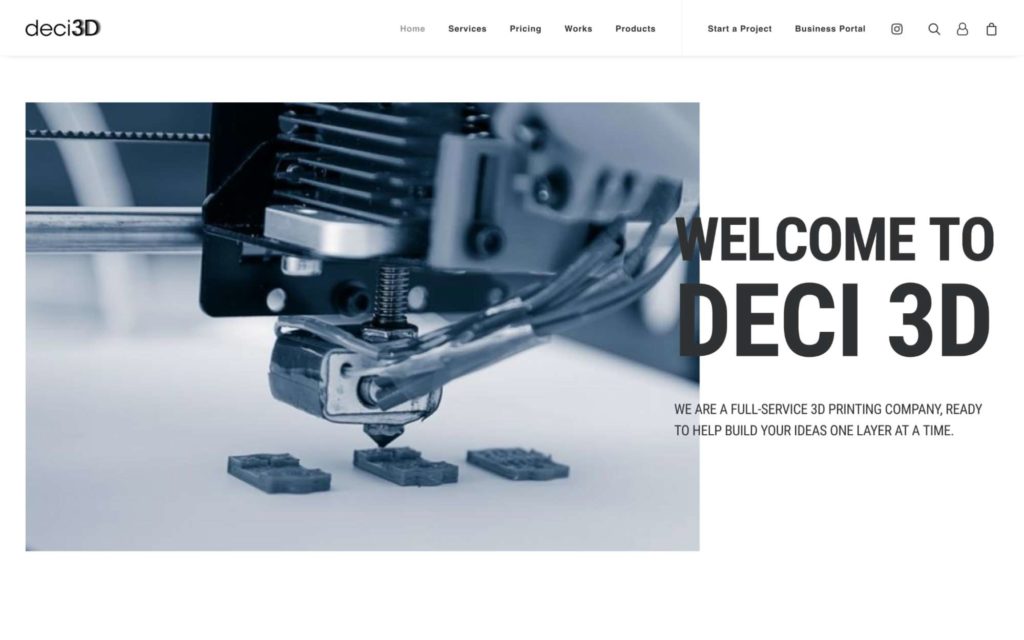 Test
Info
ADDRESS
450 SW Marine Dr #608, Vancouver, BC V5X 0C3, Canada
WEBSITE
https://deci3d.com/
CONTACT DETAILS

Email: [email protected]

+1 (604) 999-9615

OPERATING HOURS
Monday to Friday: 10am to 6pm
| | |
| --- | --- |
| Fees | ★★★★☆ (4/5) |
| Convenience | ★★★★★ (5/5) |
| Expediency | ★★★★★ (5/5) |
| Customer Satisfaction | ★★★★★ (5/5) |
We found a lot of things to like about Deci3D, but the main thing that we liked about them was their turnaround time. We interacted with a few customers who've got good things to say about the quick turnaround time and how helpful that swiftness was with deadlines.
We even found a few customers who were able to get what they ordered the day after the order was first placed.
Another thing we liked that they did was that they'll drop finished projects off at a customer's house, which we see as an added convenience for the customer since they won't have to make the trek down to them.
We also liked how they answer questions, which we feel is great for a lot of people who may not be fully aware of what 3D printing is because of how relatively new the technology is.
They also don't just do custom orders. They have an Etsy store where they sell a few of their wares such as cookie cutters and home decor.
The only real drawback to them, and we don't feel as if it's that much of a drawback at all, is that they're strictly online contact only. So a face-to-face meeting might be hard to come by.
Customer reviews:
Amazing customer service
"AMAZING customer service. Response time is incredible and product was ready by the next day. I requested a CanadaPost lettermail sizing tool for my small business. I have been using the tool everyday and the quality is fantastic! Will come back for any other 3D printing needs!!!" – Xinxin Hui
Excellent Service
"Excellent service, these guys work until late night to help me with a tight deadline. Strongly recommend their services. Thanks Nate." – Sebastian Arias
3. MakerLabs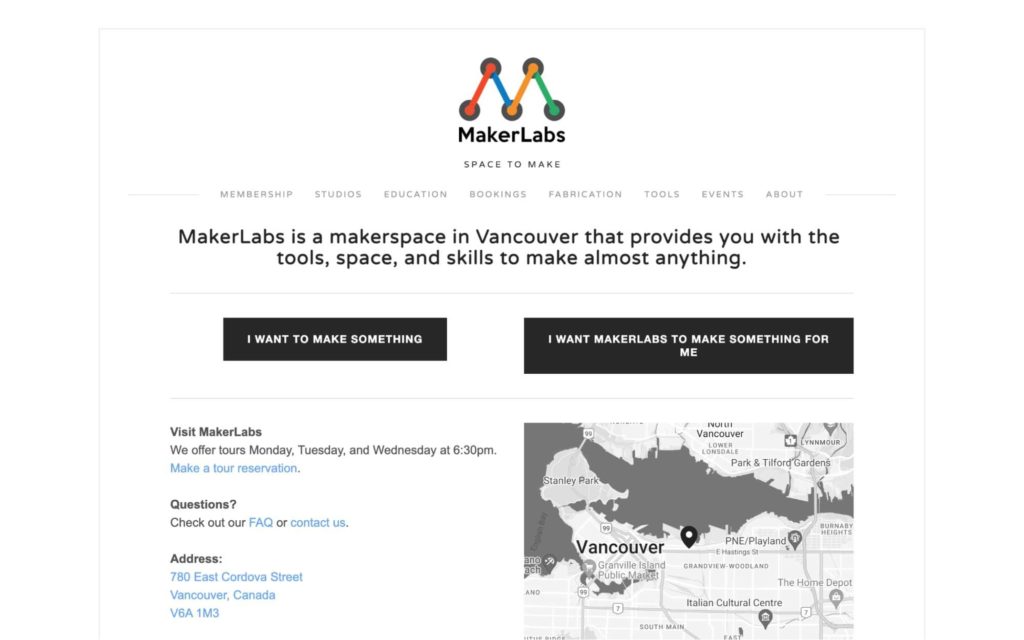 | Test | Info |
| --- | --- |
| ADDRESS | 780 E Cordova St, Vancouver, BC V6A 1M3 |
| WEBSITE | http://www.makerlabs.com/ |
| CONTACT DETAILS | (778) 984-7299 |
| OPERATING HOURS | 12pm to 9pm except on Holidays |
| | |
| --- | --- |
| Fees | ★★★★☆ (4/5) |
| Convenience | ★★★★☆ (4/5) |
| Expediency | ★★★★★ (5/5) |
| Customer Satisfaction | ★★★★★ (5/5) |
The primary thing that we liked about MakerLabs was that they work with a variety of different materials: wood, plexi, metal, and others. We like that level of versatility in a printing service.
We've also noticed a few clients raving about how they're able to finish jobs ahead of schedule and about the quality of their work. Being able to finish a job ahead of schedule without sacrificing quality counts for a lot in our book.
Another thing that we took note of was that customers were easily able to communicate what it is they wanted.
But that's not all we liked about them. Another thing that we really liked about them was that they didn't just print things for their customers, they also had resources and facilities for customers to be able to print things themselves.
Customers can take classes and book the space and the tools needed in order to 3D print something, which we liked because it's not only an extra service on top of taking custom orders, it's also educational.
We did find a few customers who found their customer service experience to be lacking, but most of the customers we saw tended to be quite satisfied with their experience overall.
Offers classes
Works with different materials
Customer service may be lacking
Customer reviews:
Awesome
"I recently found Makers Lab looking for a specific gift for a family member. I was working on something I had bought a long time ago and could not find it online or locally. So, looking for some advice I found Makers Lab and immediately contacted them with my idea. Within minute somebody responded and offered assistance. I sent them an image of something I was looking for and very quickly I had a prototype emailed to me for feedback.
I loved it and went ahead with the purchase. This is a place where people can make their own crafts and projects using the tools they have on site or can order customized items. I love supporting artists, local businesses and Community Builders and this place has it all. I am very happy with the quality and price and customer service of Makers Lab and highly recommend it…a great place to find skilled people, friendly service and community engagement all at once!! Thx MakersLab for being awesome." – Vivian Davidson
Absolutely blown away
"I could not be happier with my experience! I sent in a file by email and had more questions than you could imagine. The staff answered every question and went above and beyond to help produce the perfect final piece. I was absolutely blown away by the level of guidance and professionalism. The final product was a gift for a friend and it could not have been more perfectly done. I will definitely be using their services again." – Amanda Arneill
FAQs about 3D Printing in Vancouver
---
If you need help finding some inspiration for things to print in 3D, then check out this list of the best graphic designers in Vancouver to get you started.