The 5 Best Dry Cleaning Services in Vancouver
Washing your own clothes can be a tedious task, especially when you aren't accustomed to it. Nobody wants to deal with shrunk and faded clothing from a bad wash, nor do most people have time to.
So why not let a professional take care of it for you? In this article, we've bunched up some of the best dry cleaning services in Vancouver just for you and reviewed them!
How Much Dry Cleaning Services Cost in Vancouver
Prices vary between establishments and it's important to know how much you're charged for your laundry. Here's a brief summary of the prices and rates of our handpicked dry cleaning services.
These rates are based on the lowest and highest-priced clothing/pieces offered by that establishment, including shirts and shorts all the way to raincoats, dresses, and down comforters.
Lastly, also note that rates do tend to change as companies and establishments adapt to demand. To see the full and up-to-date price list, we recommend visiting the company's homepage.
| | |
| --- | --- |
| Dry cleaning services | Rates |
| Laundry Valet | ~$3.25 – $6.50 |
| Busy Bee Gold | ~$5.10 – $53.0 |
| West Boulevard Cleaners | ~$5.80 – $60.05 |
| Get Fresh Coin Laundry | ~$3.40 – $8.00 |
| Evergreen Cleaners | ~$5 – $20 |
The Best Laundry Cleaning Services in Vancouver
Before moving on to our list, it's probably best for you to know our criteria for choosing the best dry cleaning service in Vancouver. These factors include:
1. Laundry Valet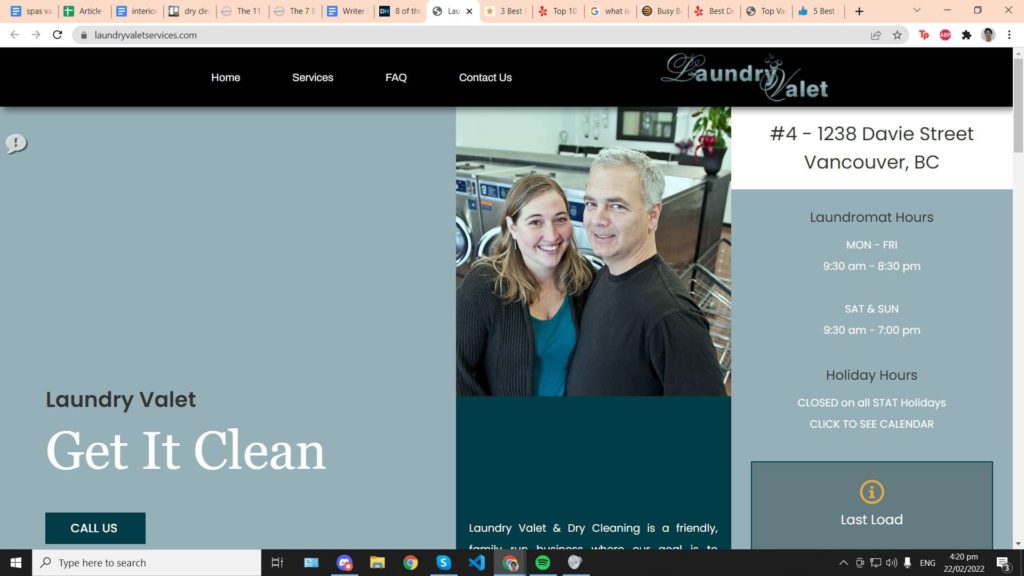 Test
Info
PRODUCTS
Suits, Drapes

Leather

Sweaters

Starching

Wet Cleaning

Coin Laundry

Suede

Stain Removal

Shirt Laundering

Carpet

Household Items

Coats

Comforters

Uniforms

Pillows & Rugs Cleaning Services

WEBSITE
https://laundryvaletservices.com/
ADDRESS
1238 Davie St, Vancouver
CONTACT DETAILS
+1 (604) 568 2020
OPERATING HOURS
Monday to Friday 9:30 am – 8:30 pm

Saturday to Sunday 9:30 am – 7 pm
| | |
| --- | --- |
| Criteria | Ratings |
| Quality | ★★★★☆ (4/5) |
| Affordability | ★★★★★ (5/5) |
| Reliability | ★★★☆☆ (3/5) |
| Services Offered | ★★★★☆ (4/5) |
First up in our list is the family-owned Laundry Valet, and it's called such for good reason. With its convenient valet service, you can simply leave the laundry pickup and delivery to them while you finish up other matters.
Since its kickoff way back in 2011, Jim & Saba, the two owners, have been running the shop and offering reasonable prices.
Their services include just about everything you can think of, from pick-up and delivery and their $2.25 shirt promos to leather & suede cleaning and carpet cleaning services.
What we liked in particular with the Laundry Valet is the relaxing atmosphere you get while waiting for your laundry to finish. The place offers free WiFi and a 60" LCD TV for customers to use as they like—great if you just want to relax as your clothes get pressed, folded, and ironed.
We also like their reputation for excellent customer service. Talking to their clients, we got a lot of notes about the owner and staff being a bit friendlier than needed, which is a good thing.
However, they do have a lot of fairly new staff, and it sometimes shows. In one instance, a customer even claimed their clothes had gotten mixed up with other laundry, but this was promptly taken care of by the establishment's employees.
Valet service
Hospitable owners and staff
Affordable prices 
Free WiFi and venue to relax
Customer Reviews
Eager to help staff
"This place is by far the best coin laundry I have ever used. I needed to do laundry half way through my trip in Vancouver (thank you campfire s'mores) and trekked through downtown to Laundry Valet. I was greeted by friendly staff that was helpful through out my entire time there. They made change for me and proactively helped me with the machines (the machines aren't particularly confusing but I happened to pick the only washer with a wonky door.) The WiFi and comfy couches helped the time fly! Also, the dryers were super efficient! 10/10 would recommend." —Jessica B.
Wrong laundry but compensated
"Used their fluff and fold service. Dropped off an average size laundry bag at 10:30 AM. Was ready to be picked up by 6:00 PM same day for $20. Upon me picking up I was informed by a nice employee that some of my clothes might have been accidentally mixed in with another customer's order. Both of our names began was the letter "J". A new employee had made the mistake and started to put together all of our clothes. The employee speaking to me about this allowed me to check my laundry and the other customer's order to make sure they got it right. Only only pair of workout shorts of mine were in the other customers bag. She took $5 off my order for the inconvenience and apologized 2-3 times. She handled it great and was very compassionate and professional about it. They accept credit cards and cash. They offer a delivery service. Seemed like a clean laundromat as they also have machines to do your own laundry. I'd go back and use them when I'm in town for work." —Jamey R.
2. Busy Bee Gold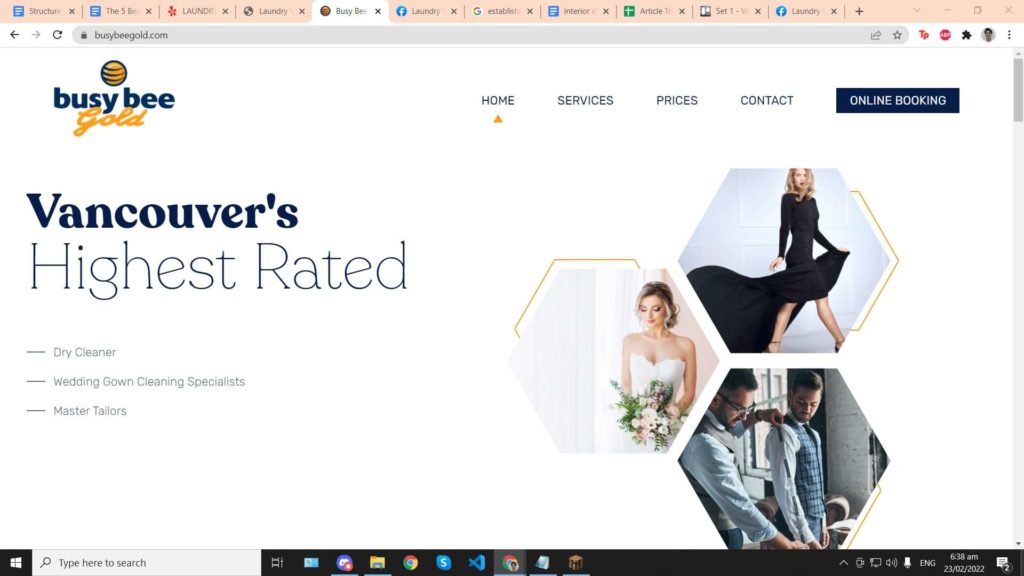 Test
Info
PRODUCTS
Tux shirt, Sweaters

Folding

Jackets

Rain Coat

Overcoat

Blouses

Uniforms

Skirts

Pants

Suits

Household items and Wet Cleaning

Laundry

Alterations & Tailoring

WEBSITE
https://www.busybeegold.com/
ADDRESS
704 West 6th Avenue. Vancouver, BC V5Z 1A5 Canada
CONTACT DETAILS
+1 (604) 872 1519

Email: [email protected]

OPERATING HOURS
Monday to Friday 7:30am - 6pm

Saturday 8:30am - 5:30pm

Sunday Closed
| | |
| --- | --- |
| Criteria | Ratings |
| Quality | ★★★★★ (5/5) |
| Affordability | ★★☆☆☆ (2/5) |
| Reliability | ★★★★★ (5/5) |
| Services Offered | ★★★★☆ (4/5) |
Also a family-run dry cleaner, the Busy Bee Gold is one of the long-time players in the dry cleaning industry in Vancouver. The store began their journey around 1981 and had stuck around ever since.
On their homepage, you can see that they vow to be Vancouver's most 'environmentally friendly dry cleaner', opting to use biodegradable material rather than plastic bags.
As part of their drive to go green, they've even incorporated SYSTEMK4, a highly-efficient and climate-friendly cleaning system. Obviously, we're big fans of that here!
With over 30 years of experience in the industry, the shop renders a number of services, including wedding gown cleaning and preservation. Simply book an unrushed and personal appointment on their website and they'll examine and clean your favourite gown for you.
That's not all. The shop also features tailoring and clothing alterations from, as they claim, the "Best Tailors" in Vancouver.
Are they actually the best tailors in Vancouver? Well, we weren't able to test that (that would be an entirely different list!), but we will say that quality is very good – a lot of clients gave their alteration services positive feedback too.
Other than being experienced folk, the staff are also said to be quite friendly and quick to remedy issues. In one instance, they tailored a set of pants for free after having measured it incorrectly.
We did get quite a few remarks from clients regarding the shop's prices. That's because they charge on the higher end of the spectrum, so it's definitely worth noting if you're on a budget.
Another drawback we see is the unavailability of a valet service. Unlike other dry cleaners, this shop doesn't offer the regular pick-up and drop-off, meaning you'd have to do these yourself.
If you plan on going to the shop in your own car, they can offer a total of 6 parking spots, so there should be ample parking space available. Of course, this all depends on how busy it gets in the day.
Eco-friendly
Ample free parking space
Strong alteration service
No valet service
Expensive
Customer Reviews
Reliable service and friendly staff
"Clean and convenient location that I've used for drycleaning and tailoring. Their prices are fair for the dependable service and friendly staff. When I had my quilt cleaned, they returned it in a reusable storage bag. Also, they re-hemmed a pair of pants for free after they were measured incorrectly." — K L.
High price
"For this price, this is highway robbery. Nothing special. Sure, it's westside and all but I could've gotten 2 pairs of shirts elsewhere for the same price.
Easy pass." —Kenneth N.
3. West Boulevard Cleaners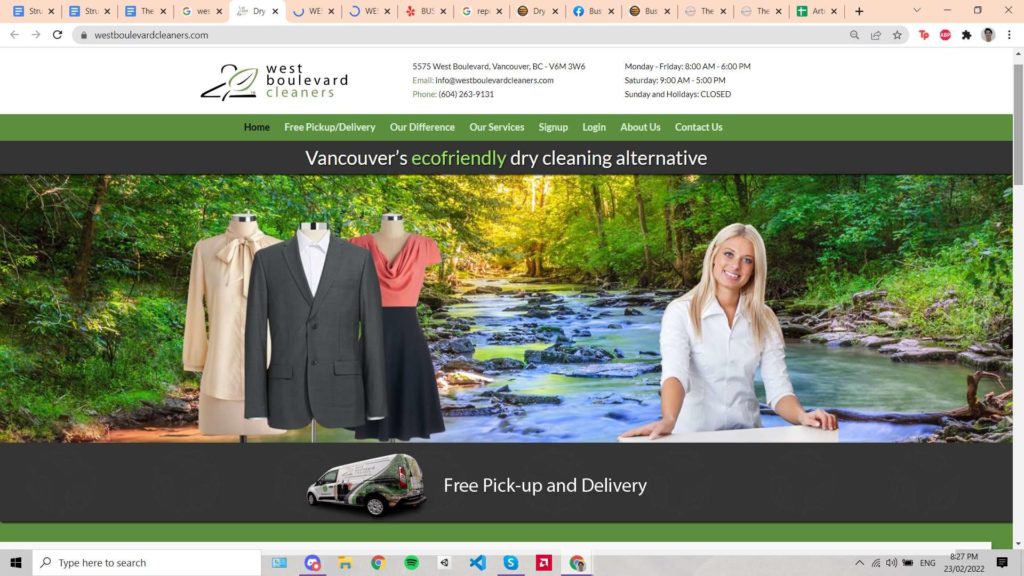 Test
Info
PRODUCTS
Linens, Shorts

Tie

Sweater

Pants

Drapes

Shirts

Furs

Tableware

Wedding Dresses

Coat

Suits

Wind Breaker

Sports Jacket

Leather Goods

Polyfil Comforter & Other Household Items

WEBSITE
https://westboulevardcleaners.com/
ADDRESS
5575 West Boulevard, Vancouver, BC V6M 3W6
CONTACT DETAILS
(604) 263 9131

Email: [email protected]

OPERATING HOURS
Monday to Friday 11:00am - 6pm

Saturday 11:00am - 5:00pm

Sunday Closed
| | |
| --- | --- |
| Criteria | Ratings |
| Quality | ★★★★★ (5/5) |
| Affordability | ★★★☆☆ (3/5) |
| Reliability | ★★★★★ (5/5) |
| Services Offered | ★★★★☆ (4/5) |
From the plethora of dry cleaners in Vancouver, the West Boulevard Cleaners are among the few shops that offer free laundry delivery and pick-up. Drivers will pick up your items to be cleaned during their scheduled routes and, after cleaning, leave your clothes where you ask.
This service, however, doesn't actually cover the whole of Vancouver —in fact, they only cater to the Westside, hence their name.
Regardless, registration for this free valet service is easy through their website. You'll be asked for basic credentials like your name and address along with your credit card number —they ask for this so they can automatically charge you after every dry clean.
What's nice is that even if you aren't along the scheduled route of their drivers for pickup, you can call them to set up the pick-up/delivery to be right at your apartment building. Just be sure someone's there to accept/deliver the laundry when they arrive between the hours of 9 to 5.
The first thing we like about this shop is how communicative they are. If they encounter issues when cleaning laundry, for instance, they quickly contact customers via email about it.
They can clean almost anything from shirts and wedding gowns to household items. The only exceptions and limitations of their services would be drapes, furs, and leather goods.
For stains and garments that they can't clean, they make it mandatory to inform you what they can and can't do. A lot of the people we talked to mentioned the staff being very helpful and friendly throughout the whole process.
While the store doesn't provide any dedicated free parking, there is metered parking right outside the shop. Quite the bummer, as it is another thing to add to your expenses if you are dropping by the shop.
Though the quality of service and products are great, their prices are competitive, charging laundered shirts at $6 and single down comforters at $60.
There are definitely better deals out there to get your clothing done on a budget, but given the overall convenience and quality of cleaning, we think these rates to be quite fair: you're getting what you pay for.
Free laundry pick-up and delivery on the Westside
Friendly staff
Smooth automatic payments via credit card
High-priced
No dedicated parking space
Customer Reviews
A bit high-priced but great quality
"I needed dry-cleaning for my winter coats to wear this year as well my brother had some suits to dry-clean. I was thrilled to know they are do pick up and delivery which I opted to due to COVID-19. I have an expensive black down coat that I had dry-cleaned in the past with another cleaner company and the black never looked the same (duller). I was shocked the black is back after dry-cleaning with West Blvd Cleaners, not dull at all!
I also had 2 more coats and they came back looking brand new. I do love the notes they put on the receipt e.g. "belt – stains when received will do our best." I made me remember that belt was exposed to the elements after opening the car door, I realized my belt was hanging outside for the ride in the rain (doh!) Stain is now gone.
The pricing is a tad higher than I expected but I am ok with it has the quality of dry cleaning is bar none.
" —Kenneth N.
Good quality and friendly staff
"A friend who's lived in Vancouver for decades recommended this cleaners very highly, so when my teenage daughter got some horrid stains on her new, formal prom dress (that she only wore ONCE), I decided this was the opportune time to try out this place (despite it being out of the way for us, and probably a bit more expensive than other dry cleaners).
There is no dedicated or free parking near this cleaners but there's tons of metered street parking. Bringing in the dress, the lady behind the counter was quick to note that there were "no guarantees" that they could get out all the stains, but she assured us that they'd do their best, and she marked all the stains with fabric post-it note arrows.
My kid and I thought about this dress the entire week, sending positive vibes out, with prayers, that they would be able to remove all the marks.
Today we went to pick up the dress. The lady at the counter was incredibly friendly and, upon inspection of the dress, we were DELIGHTED that they got EVERY mark and every stain OUT. It looked better than new (as there was a small mark on the front when we purchased the dress). It was a miracle.
We couldn't be happier with the service here." — K L.
4. Get Fresh Coin Laundry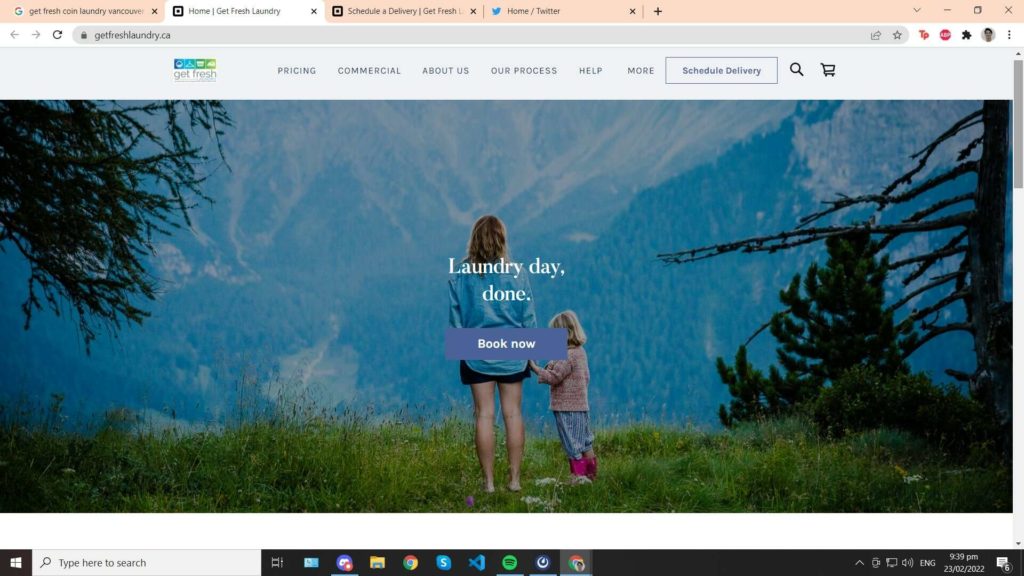 Test
Info
PRODUCTS
Blanket/Throw

Comforter/Sleeping Bag

Comforter/Sleeping Bag (synthetic fiber filled

Pillow (feather/down filled & synthetic fiber filled)

Pet Beds Laundering

Bathmats & Other Dry-clean only Garments

WEBSITE
https://www.getfreshlaundry.ca/
ADDRESS
2572 Kingsway, Suite A. Vancouver
CONTACT DETAILS
(604) 569 2559
OPERATING HOURS
Monday to Friday 8:00 am - 8:00 pm

Saturday to Sunday 10:00 am - 6:00 pm
| | |
| --- | --- |
| Criteria | Ratings |
| Quality | ★★★★★ (5/5) |
| Affordability | ★★★☆☆ (3/5) |
| Reliability | ★★★★☆ (4/5) |
| Services Offered | ★★☆☆☆ (2/5) |
Another one to add to Vancouver's rollcall of family-owned dry cleaning businesses, Get Fresh Coin Laundry has a knack for maintaining customer satisfaction. When it comes to hospitality and laundry, we give the trophy to them.
From a free WiFi connection and friendly employees to an on-the-house ¼ cup of liquid detergent, they make dry cleaning not feel like a chore. When we interviewed their customers, people mentioned they also offer free coffee and softeners every Wednesday.
By the way, we noticed that they do sell liquid detergents and other laundry supplies, albeit at an expensive price.
Knowing this, it's probably best to buy supplies elsewhere if you're non a budget. We think it's nice, though, that they offer discounts if you're either a student or senior citizen.
Depending on how much laundry you've got, your average waiting time would be around 20-40 minutes. Certainly enough time to head out for a bit then come back or just enjoy the free coffee.
While the shop does provide ample parking space at the front and back of the building, you also have the option to have them deliver and pick-up your laundry for you via their valet service.
Aside from the dry cleaning and valet services, they don't seem to offer much else. In our opinion, they're a bit restricted in that area, unlike the other shops that offer services like clothing alterations and wedding gown cleaning.
Well-maintained machines
Friendly and helpful staff
Free WiFi and lounge area
Free coffee and softeners every Wednesday
Ample parking (front and back of shop)
Student discount (with valid ID)
Laundry supplies available for sale
Pricey laundry supplies
Not many services offered
Customer Reviews
Friendly staff, ample parking, free WiFi
"A few tips:
Park in the back 2 spots (see my tip) or behind the business directly is Chambers Street. Park about 1/2 down and it's not restricted to Residents or by time. Yay free!!!
Parking in front is not allowed from 3-6pm
They have a change machine
They have an ATM
They have liquid laundry detergent, bleach, and fabric softener for sale AND a chart for how much you'll need depending on load
They have a washroom!!!
These commercial machines are SUPER fast! Like 20 minutes?!?!?
Mega loaders do not have hot water
Lounge area
Free wifi
*The staff are SUPER friendly & even helped me fold my duvet
**Free soap Wednesdays!!!
***CLEAN & Friendly staff! This is gonna be my go to place for large loads & bedding.
My only negative is that the Double Loader looks really small." —Carolyn L.
Pricey laundry detergents
"I was worried I wouldn't be able to find a laundry place nearby that would help me clean my dog bed, but after being turned down at a nearby laundromat, I decided to give this place a try. It's a nice, clean laundromat, the machines look pretty new and appear to be in good working condition. The place was pretty busy on the Saturday that I went. Looks like you have the option of doing it yourself, or there is also a drop off service. They also do dry cleaning. Fast, friendly service. I dropped the dog bed off at about 2pm, and it was ready for pick up by 5pm in the cleanest, freshest condition I have seen it in years. Highly recommend this place.
Free wifi.
Free parking out front, and there are a few spots in the back as well.
Student discount available with valid student ID with drop off services.
Remember to bring your own laundry detergent/stain remover. They really charge an arm and a leg for it!" — John T.
5. Evergreen Cleaners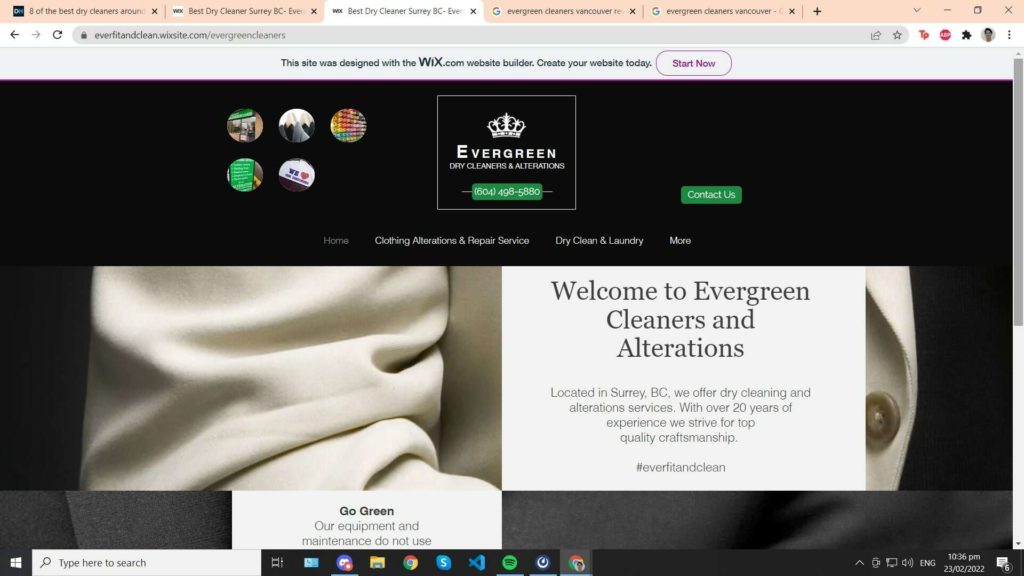 Test
Info
PRODUCTS
Drapery

Linen/Duvets

Sleeping Bags

Shirts

Beaded Dresses

Suits

Heavily Soiled Clothing

Delicate Fabrics

Leathered goods & repairs

Bridal alterations

Business attire

Couture alterations

Maternity alterations

Measurements

Hemming

Zipper repairs

WEBSITE
https://everfitandclean.wixsite.com/evergreencleaners/dryclean
ADDRESS
132, 8900 152 St. Surrey, BC V3R 4E4
CONTACT DETAILS
(604) 498 5880
OPERATING HOURS
Monday to Friday 8:30am - 7pm

Saturday 10am - 4pm

Sundays closed
Big fan of the environment, are you? So are the Evergreen Cleaners!
This shop is one of the few dry cleaning services in Vancouver that's eco-friendly. Like Busy Bee Gold, this shop doesn't use any chemicals that could harm either clothing or human health during their cleaning process.
Services they cater to include weddings, graduations, proms, and other general occasions. We think that being able to handle these types of events on a daily basis can be a great indicator of experience and dependability.
Jennifer, the shop's owner, has actually been in the clothing alterations industry for quite some time before moving into Vancouver, which explains where the 20 years of experience comes from. This also includes repairs, allowing you to have the tears on your garments fixed while you wait for your laundry to finish.
We should note that the English of some of their staff isn't great. Despite that, they're quite considerate and helpful, even going beyond opening hours to cater to customer interests.
The shop doesn't seem to have plans on offering valet services, though, so you'd have to pick-up and drop-off your laundry at this place yourself. But for the alterations from an experienced tailor, we think a trip to this shop would be well worth it.
| | |
| --- | --- |
| Criteria | Ratings |
| Quality | ★★★★☆ (4/5) |
| Affordability | ★★★★★ (5/5) |
| Reliability | ★★★★☆ (4/5) |
| Services Offered | ★★★☆☆ (3/5) |
Eco-friendly
Especially helpful and considerate staff
Affordable prices
Over 20+ years of clothing alteration experience
Some staff have inadequate English 
No valet service
Customer Reviews
Good quality and price
"Unlike the other review, I'm actually a customer. Minus the poor English this spot does a great job. They close at 6pm but let me drop stuff off after 6 this last time. For slacks, a shirt and a Blazer it was under $20. My clothes have always come back really good. So I guess as long as your a customer and not working next to these people they're great." —Sev K.
FAQs about Dry Cleaning
---
That wraps up our list of the best dry cleaning services in Vancouver. Hopefully, this helps you find the dry cleaner you need.
Looking for other cleaning services here in Vancouver? Check out our list of the best cleaning services in Vancouver.