The 5 Best Event Planners in Vancouver
Whether you're planning a small get-together or a lavish party, one thing's for certain: you'll need an event planner.
There are numerous factors that contribute to the success of an event. Event planning is a big deal, from assigning table programs to coordinating the venue.
If you're looking for the best event planners in Vancouver, we've compiled this list for you!
How Much Do Event Planners Charge in Ottawa
The cost of an event planner is determined by the type of event you are planning. You will most likely not spend more than CAD 8,000 on a wedding, birthday, or corporate year-end celebration.
However, if you want to have more extra services, such as photo booths or catering, those may be charged separately.
In the table below, we've listed the most common services available and their average estimated prices.
The Best Event Planners in Vancouver
Event planners are one of the most important services that any business can provide. You'd want to work with a reliable agency that can accommodate special requests and deliver a successful event.
They have a crucial role in planning and executing events for their clients, ensuring that they meet certain goals and reach out to their ultimate customers.
We've assessed the following companies based on the criteria below:
1. Filosophi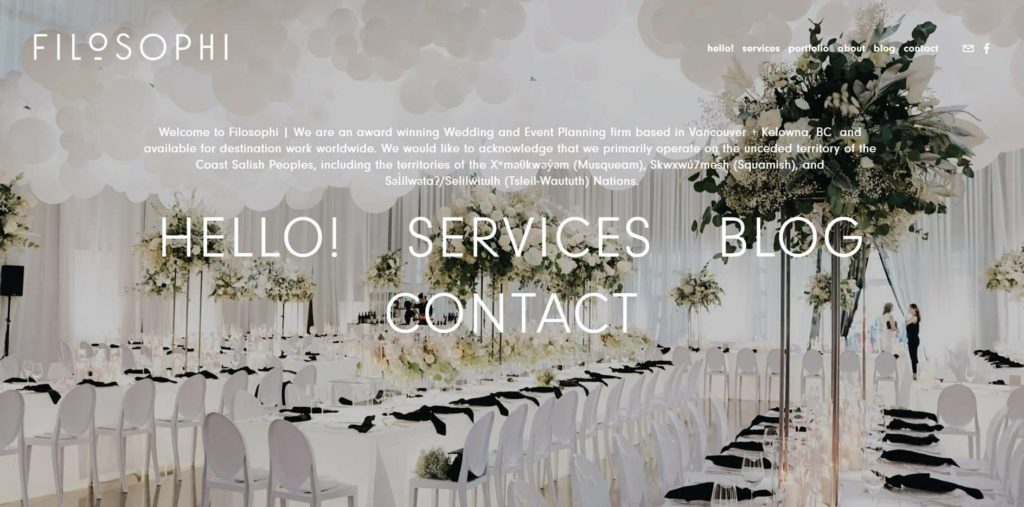 | | |
| --- | --- |
| CRITERIA | RATING |
| Range of Services | ★★★★☆ 4/5 |
| Pricing | ★★★★★ 5/5 |
| Customer Service | ★★★★★ 5/5 |
| Flexibility | ★★★★★ 5/5 |
| Staff Service | ★★★★★ 5/5 |
| Post-work Feedback | ★★★★★ 5/5 |
| Availability | ★★★★☆ 4/5 |
| Staffing | ★★★★☆ 4/5 |
| Operating Hours | ★★★★★ 5/5 |
Filosophi, which was founded in 2010, specializes in personalized event planning. This implies that they do not have a specific theme because they create events with distinct styles and ambiances.
We wanted to emphasize that this company has won the Professional BC Wedding Award for Best Event Planning from 2013 to 2020, which we believe adds credibility and trustworthiness.
Some of the event planning services they provide include elopement planning, for which Filosophi provides an all-inclusive package that includes planning, vendor sourcing, errands, and much more.
On the other hand, if you're planning on having a big wedding, Filosophi can also assist with full wedding planning. We think this is especially helpful as we all know how stressful wedding planning can be.
We also like how Filosophi provides clients with an estimate of costs immediately, so they know how much money they need to prepare.
Aside from weddings, Filosophi also plans corporate events, private parties, and other special occasions. We liked how their event planning packages are tailored to the needs of their customers.
In line with their personalized planning style, Filosophi also offers à la carte planning should clients need help with specific services such as sourcing a venue, decorations, and floorplan.
Filosophi does not currently provide additional services such as catering, photo booths, or music production.
However, we believe they are one of the best event planners in Vancouver because they provide their clients with unique and personalized planning.
Offers personalized event planning
Professional BC Wedding Award for Best Event Planning 2013 – 2020
Provides à la carte planning
Limited event planning services
No additional services
Customer Reviews
Organized and creative event planning
"As a vendor in the event industry myself, I have nothing but praises for Erin and the Filosophi team. Working with a creative, organized, reliable and professional to that level is a treat for us every time! We have created gorgeous events with Filosophi and every one of them was a walk in the park, as their team made all the technical aspects of producing the event very easy to navigate through and always tackled every hurdle." -Evan O.
Highly recommendable services
"Erin and her team are the most outstanding professionals in the industry. Without a doubt, our surprise wedding couldn't have been executed without the thoroughness, attention to detail, and solution centric personality that Erin embodies. She easily and quickly fostered a strong sense of trust (even for a gal like me who's decisive, creative and has a hard time letting go) which allowed me to be fully at ease amidst such a monumental time. LOVE the Filosophi team and highly recommend their services to anyone who wants things done right." -Christina D.
2. Umbrella Events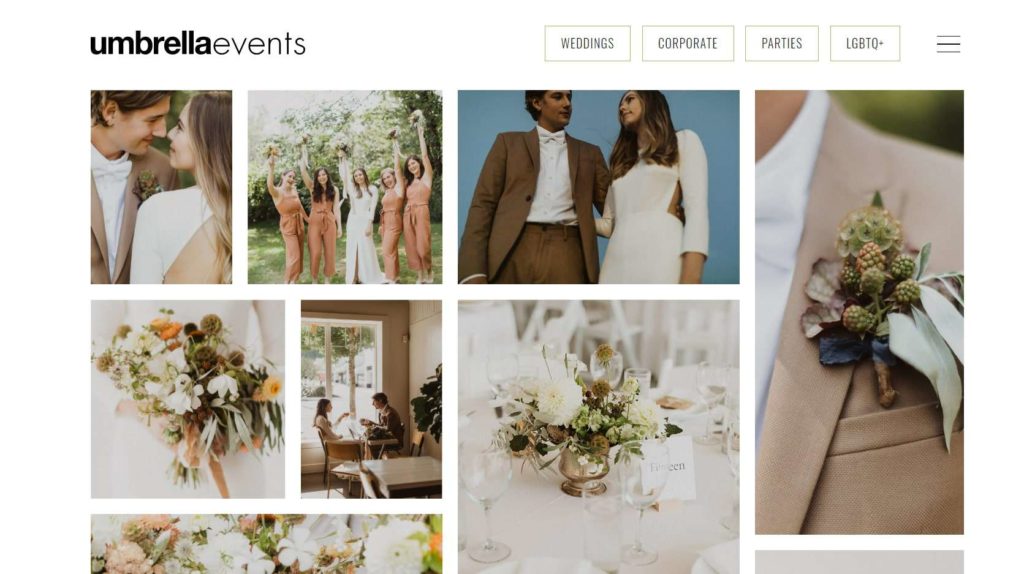 | | |
| --- | --- |
| CRITERIA | RATING |
| Range of Services | ★★★★★ 5/5 |
| Pricing | ★★★★☆ 4/5 |
| Customer Service | ★★★★★ 5/5 |
| Flexibility | ★★★★★ 5/5 |
| Staff Service | ★★★★★ 5/5 |
| Post-work Feedback | ★★★★★ 5/5 |
| Availability | ★★★★☆ 4/5 |
| Staffing | ★★★★★ 5/5 |
| Operating Hours | ★★★★☆ 4/5 |
Umbrella Events has been providing a variety of private and themed events in Vancouver since 2011, and they are also willing to accommodate clients from outside the city.
We immediately noticed that Umbrella Events provides various services, and we believe they may be what you need for your next event.
They can host various events, including weddings, business gatherings, birthday parties, anniversaries, dinner parties, and many more.
This business stands out because they offer a specialized LGBTQ+ wedding planning service. We believe this service helps LGBTQ+ couples create a special and memorable wedding.
They also list the starting prices for their wedding packages, which is another noteworthy aspect. We also value the fact that they offer wedding decoration assistance.
We want to point out, though, that their event packages are more expensive than some others on our list. However, given the variety of features in their packages, we believe this is reasonable.
Moreover, many of the clients we've talked to applaud how well-organized and thorough their event planning services were because they can pull off a successful event within a tight timeframe.
Overall, Umbrella Events truly deserved a spot as one of the best event planners in Vancouver for their complete and inclusive event planning services.
Can take projects outside the city
Numerous wedding planning packages
Offers LGBTQ+wedding planning
Relatively higher prices
Closed on weekends
Customer Reviews
Professional, communicative, and organized
"We had the best experience working with Cristie at Umbrella Events. We had a clear vision of what we wanted, and were able to take on the planning ourselves, but we hired Cristie for her month-of coordination services. She was fun, professional, communicative, and so very organized – all the other vendors complemented us when they received the schedule she prepared. She was receptive to all of our ideas, and executed everything perfectly. On the day of, we were able to relax, enjoy, and fully participate in the celebration, without having to worry about a single detail. We could not have done it without her and her team!." -Mary H.
Went above and beyond
"How do I summarize how incredible Cristie is? She was hands down the sole reason we were able to pull the most beautiful backyard wedding during a pandemic of all times! As if organizing a wedding on a regular day weren't hard enough we decided to do it in late August! We truly can't ever thank her enough for being so wonderful to work with. She thought of all the details we wouldn't have even considered until it became a disaster on the day of. Instead, we were able to enjoy ourselves and all of our guests and had the best time ever. She pulled off the most beautiful wedding for us, but most importantly she was amazingly positive, sweet and just a blast to work with. Cristie you are a GEM!! Thank you from the bottom of our hearts <3." -Gladys N.
3. DreamGroup Weddings + Events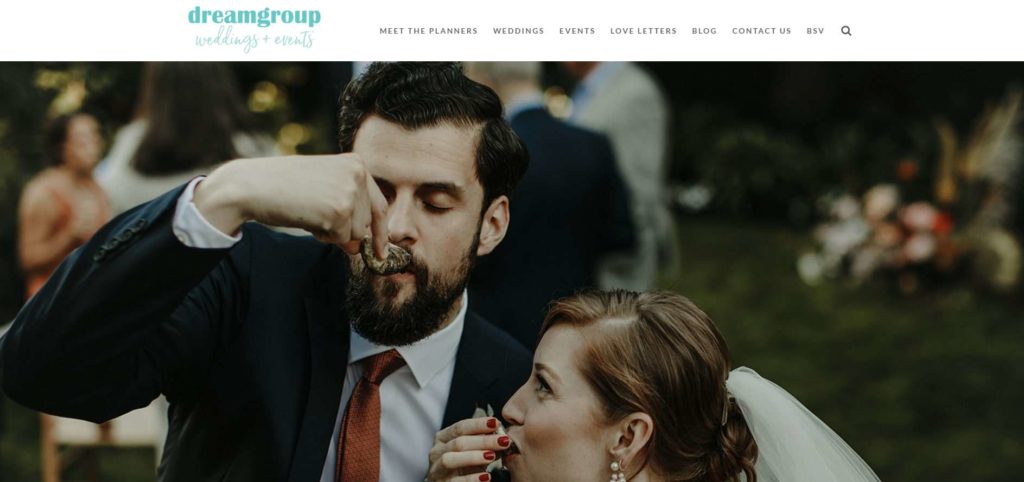 | | |
| --- | --- |
| CRITERIA | RATING |
| Range of Services | ★★★★★ 5/5 |
| Pricing | ★★★★☆ 4/5 |
| Customer Service | ★★★★★ 5/5 |
| Flexibility | ★★★★★ 5/5 |
| Staff Service | ★★★★★ 5/5 |
| Post-work Feedback | ★★★★★ 5/5 |
| Availability | ★★★★☆ 4/5 |
| Staffing | ★★★★☆ 4/5 |
| Operating Hours | ★★★★★ 5/5 |
Although most clients are familiar with DreamGroup as a wedding planner, this business has been offering event planning services since 2004.
DreamGroup has planned numerous events such as birthday parties, corporate dinners, fundraising events, awards shows, and many more!
The best feature of this establishment is its all-inclusive package, which also covers the decor and entertainment. As customers, we find this convenient because it saves time and is hassle-free compared to multiple providers.
In addition, we think they'd be ideal for big events given their extensive experience in that area.
As for their wedding planning services, DreamGroup offers full planning and design and intimate weddings.
We observed how meticulous this business is about wedding planning because they incorporate multiple meetings for both parties to stay on top of everything in their wedding packages.
Now, we're a little unhappy that DreamGroup requires a 50% deposit before job start.
However, we appreciate that they can plan events in as little as three weeks. We believe this establishes their dependability and enables them to handle last-minute event planning.
In fact, most customers we've spoken to are pleased with their services because they were able to handle a variety of requests and organize various vendors.
We believe their attention to detail makes them one of the best event planners in Vancouver.
Offers all-inclusive packages
Complimentary consultation
Specializes in big events
Full planning and design services available
Able to accommodate last-minute event planning
Doesn't provide base prices
50% deposit is required
Customer Reviews
Detailed and seamless event planning
"My husband and I were so thrilled with our choice to hire Dream group to help pull off our big day. Jill was our event coordinator and she made the whole wedding planning process a breeze. She was an excellent communicator, was very organized and detail oriented, professional and so wonderful to work with. Jill made everything flow seamlessly during our wedding and helped troubleshoot minor hiccups as they came along. She was able to execute our event exactly as we had imagined and we are forever grateful to her and the team." -Adelle Y.
Energetic staff and excellent execution
"My husband and I worked with Chrissie from Dreamgroup for our 50th birthday party. From day one, Chrissie was phenomenal. Great energy, super positive and excellent execution. We could not have asked for more from a party planner and believe me, we had a lot of requests and different vendors that needed to be coordinated and timed. The party was a super success and we are so grateful to Chrissie for all her hard work. Would use her again in a heartbeat, highly highly recommend her and Dreamgroup!!." -Sharlene G.
4. VESTI Events Inc.
| | |
| --- | --- |
| CRITERIA | RATING |
| Range of Services | ★★★★☆ 4/5 |
| Pricing | ★★★★☆ 4/5 |
| Customer Service | ★★★★★ 5/5 |
| Flexibility | ★★★★★ 5/5 |
| Staff Service | ★★★★★ 5/5 |
| Post-work Feedback | ★★★★★ 5/5 |
| Availability | ★★★★★ 5/5 |
| Staffing | ★★★★★ 5/5 |
| Operating Hours | ★★★★★ 5/5 |
CEO of VESTI Events Eugenia Gorkowa founded her own event planning business, specializing in corporate events, after more than 13 years in the industry.
Eugenia's experience working with some of the biggest names in the entertainment industry makes her more dependable and trusted, so we found this particularly appealing.
Another notable feature is that they offer consulting events with a dedicated team to assist with planning and execution. We also found that their concierge services conveniently include direct contact with many local businesses and vendors.
Their hybrid event planning is one of their most recent service additions. This service, which gives customers platforms to host online meetings and events, distinguishes VESTI Events from other companies.
In our opinion, we think VESTI Events is a go-to events company for big events such as weddings, corporate celebrations, and concerts.
In fact, the majority of the clients we spoke with praised their exceptional professionalism and can-do attitude for facilitating a successful event.
We found it a little disappointing that they don't give base prices. However, we know that total costs vary depending on various factors, so clients may need to contact them to learn more.
Nevertheless, given their wealth of event planning experience, we think VESTI Events is among the best event planners in Vancouver.
Open seven days a week
Specializes in corporate event planning
Years of experience
Offers hybrid event planning
Concierge services available
No base prices available
Limited range of services
Customer Reviews
Stayed on schedule and provided excellent event planning services
"Eugenia worked tirelessly to help my husband and I plan the most perfect wedding! She kept me calm as the day approached and did so much work behind the scenes to ensure the day ran smoothly. And it did! Thanks to Eugenia, we stayed on schedule, nothing was missed, and she remained calm, cool, and collected. I would recommend EG Event Productions to anyone who wants to throw an unforgettable party or plan an incredible event! Choosing EG Event Productions was the best choice we made! Thank you, Eugenia!." -Valdon M.
Great attention to detail
"Eugenia has the rare ability to bring your visions to life and exceed your expectations with her unparalleled imagination and attention to detail. She takes the time to understand her client's needs and creates unique events that fulfill all requirements. Her exemplary professionalism, friendly demeanour, enthusiastic commitment and get-things-done attitude made it a true pleasure to work with her. Eugenia created an unforgettable event for me and has my highest recommendation." -Christine V.
5. Smitten Events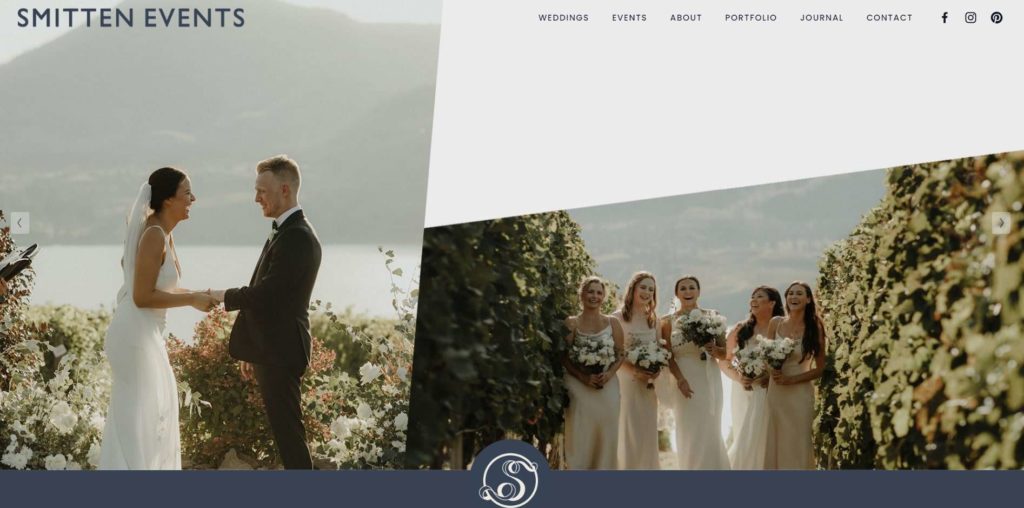 | | |
| --- | --- |
| CRITERIA | RATING |
| Range of Services | ★★★★★ 5/5 |
| Pricing | ★★★★☆ 4/5 |
| Customer Service | ★★★★★ 5/5 |
| Flexibility | ★★★★★ 5/5 |
| Staff Service | ★★★★★ 5/5 |
| Post-work Feedback | ★★★★★ 5/5 |
| Availability | ★★★★☆ 4/5 |
| Staffing | ★★★★☆ 4/5 |
| Operating Hours | ★★★★☆ 4/5 |
Smitten Events is a wedding planning and event production company founded in 2013, and we noticed right away that inclusivity is their top priority.
This company worked with clients and couples from all walks of life, and we particularly liked how they tailored their services to meet the needs and requests of their customers.
In our opinion, this places them as one of the best event planners in Vancouver. Moreover, its co-founders, Jordan and Devon, are organization and fine details experts. We believe that these are desirable characteristics to have in the industry.
Their services include full and partial wedding planning and two-month takeovers. Smitten Events also provides one-stop-shop packages that allow couples to have the best possible wedding at an affordable price.
When it comes to event planning, we immediately noticed that Smitten Events specializes in themed parties. We liked that they can accommodate almost any theme, from tropical to dinosaur parties.
Moreover, many customers we've spoken with have commented on how well-organized everything was, from the tables to the décor.
Now, we believe that even though Smitten Events has a small team of planners, this does not affect the quality of its services.
This is why we believe Smitten Events is a good option for event planning, and we highly recommend their services.
Promotes inclusivity 
Specializes in themed parties
Organized and detailed services
Small team
Limited wedding planning services
Customer Reviews
Diligent and easy to get in touch with
"Smitten Events, and Mariella in particular, did a great job as our wedding coordinator. Mariella guided us through planning a wedding. Mariella was diligent and easy to get in touch with. We really appreciated her guidance when it came to organizing last minute details. We were particularly grateful that all of our needs were clearly communicated to the kitchen and venue." -Lara B.
Amazing event planning services
"Highly recommend using Smitten for any events ! I used Smitten for my wedding in July and was lucky enough to have Robyn! She is amazing and truly works with you to ensure that you have the best day ever! Everything was taken care of and she worked very well with all the other vendors on my team. She is very organized and detail oriented and always kept in touch and made sure that along the way I wasn't overwhelmed. She truly was so crucial to keeping everything together ! Don't hesitate and book with Smitten- they are amazing!." -Chanel M.
FAQs about Event Planners in Vancouver
---
That's pretty much all we know about the best event planners in Vancouver. We understand how difficult it can be to put on a successful event, so we hope this list made things a little easier for you.
Just in case you need someone to capture your events, check out our list of the best photographers in Vancouver.