The 5 Best Flea Markets in Vancouver
Who doesn't enjoy a good old treasure hunt? This is just what flea markets offer: a hunt for vintage clothing, antiques, and collectible merchandise.
For this review, we handpicked only the best flea markets here in Vancouver. Want to know more? Read on!
The Best Flea Markets in Vancouver
Our reviews on each flea market are based on the following criteria:
1. Mintage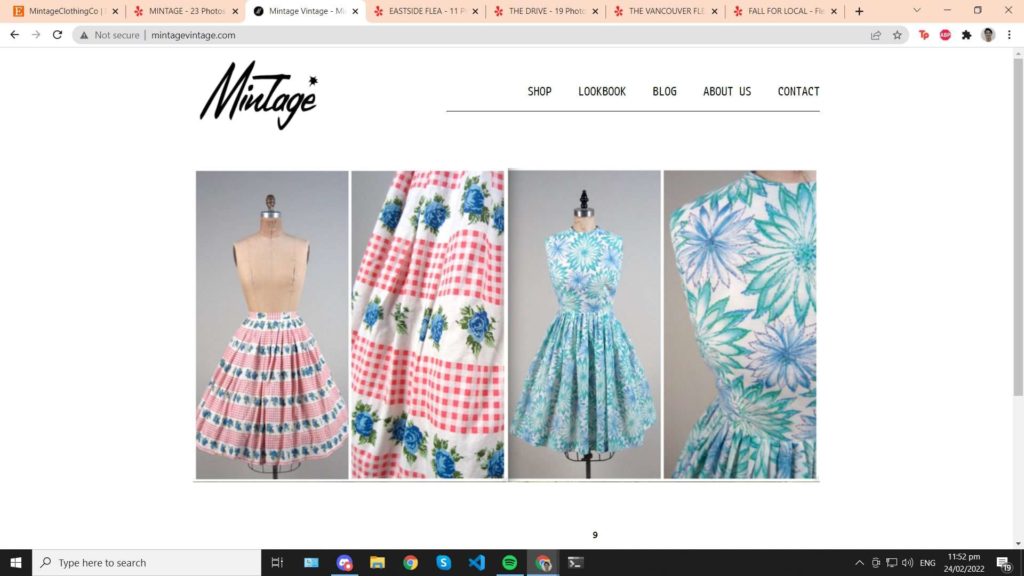 Test
Info
PRODUCTS
Jewellery & Accessories Clothing & Shoes

Home Decor

Wedding & Party Decor

Toys & Entertainment

Art & Collectibles

Craft Supplies & Tools

Vintage Products

WEBSITE
http://www.mintagevintage.com/
ADDRESS
1714 Commercial Drive Vancouver, BC V5N 4A3 Canada
CONTACT DETAILS
(604) 646-8243
OPERATING HOURS
Monday to Saturday 10:00 am – 7:00 pm

Sunday 11:00 am – 6:00 pm
Feeling vintage-obsessed? Mintage is a one-stop shop for anything vintage in Vancouver, from boots and accessories to toys, arts, and collectibles. We think their strength really lies in the diversity of their products, as you may well see.
We spoke to some regular customers and they mentioned they really enjoyed their wide selection of clothing, initially planning on only getting home decor only to leave with the jackets on-sale instead.
Even if you don't find what you're looking for or if you were simply planning to browse through, we think Mintage can still be a great place to be in for the reasons stated above.
What we found unique with Mintage is their item-fetching service, where you can easily request a staff member to find a specific type of item for you. We think more flea markets should incorporate this level of customer service.
Although the service is great, there are instances where customers didn't feel welcome in the market, noticing that staff tend to avoid eye contact, constantly sigh as if bored, and are borderline ill-tempered.
But, overall, we think it's a decent shop to visit and look through vintage wares at fair prices. High-priced items do exist in the shop but you could probably get a good dress or t-shirt for $5-$20 a piece.
| | |
| --- | --- |
| Criteria | Ratings |
| Quality of goods | ★★★★☆ (4/5) |
| Product variety | ★★★★★ (5/5) |
| Affordability | ★★★☆☆ (3/5) |
| Customer service | ★★★☆☆ (3/5) |
Wide selection of goods
Fair prices for most items
Item fetch service
A few unwelcoming staff
Some high-priced products
Customer Reviews
Great customer service
"Something old, something new… that should be the motto at Mintage. Many of the pieces at this funky Gastown shop are fully and completely unique, due to the fact that they combine vintage pieces with newer items, to make totally reworked fashion statements.
The thing I found most intriguing about Mintage was the fact you can fill out a form at the store to have the staff call around to try and find exactly the vintage item you're searching for. Now, that's customer service!" —Noah G.
Good quality clothing but quite pricey
"Pleasantly surprised by the quality of clothes, unpleasantly surprised by the prices. I am not in the market for a $14 tie, an $18 baseball cap, or a$24 tee shirt. Suspect this would appeal to someone attending a 40's party, or someone making a movie. If you are in the neighbourhood, near First and Commercial, have a look.Pleasantly surprised by the quality of clothes, unpleasantly surprised by the prices. I am not in the market for a $14 tie, an $18 baseball cap, or a$24 tee shirt. Suspect this would appeal to someone attending a 40's party, or someone making a movie. If you are in the neighbourhood, near First and Commercial, have a look." —Stephanie P.
2. Eastside Flea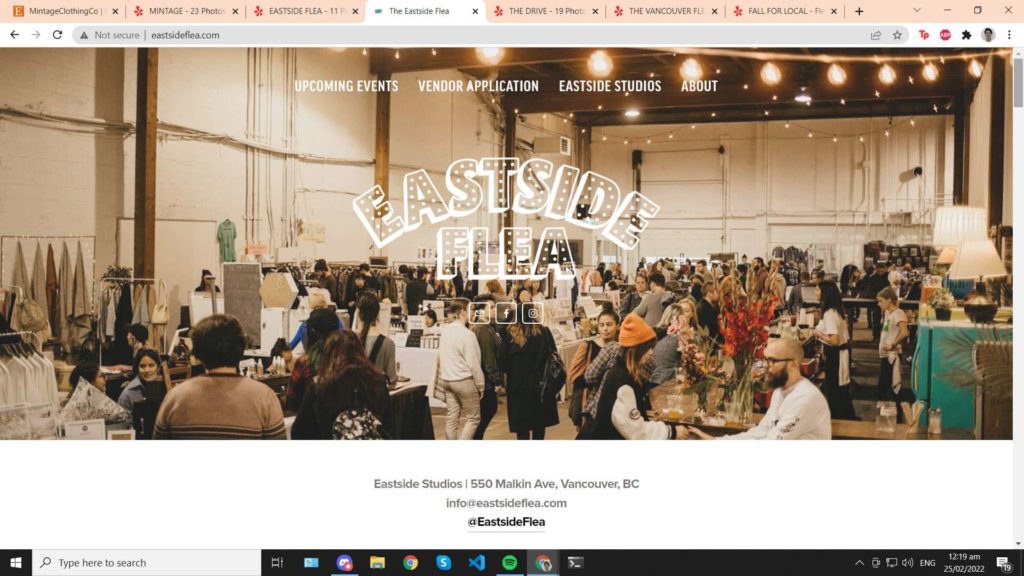 Test
Info
PRODUCTS
Artisanal Foods

Vintage Clothing

Locally handmade goods

WEBSITE
http://www.eastsideflea.com/
ADDRESS
550 Malkin Ave. Vancouver, BC V6A 3X2 Canada
CONTACT DETAILS

Email: [email protected]

OPERATING HOURS
Monday to Friday Closed

Saturday & Sunday 11:00 am - 5:00 pm (every other weekend)
For a modest $3, you can make your way into the famous Eastside Flea Market and enjoy their featured vintage clothing and handmade local goods. It's also worth noting that this pass usually lasts for the whole day, so you can freely leave and enter the market anytime.
Business days are normally held every other weekend, but with the restrictions imposed to prevent the spread of Covid-19, Eastside Studios has been limiting operations to a monthly basis. For the year 2022, future events are yet to be announced.
Regardless, in the monthly marketings the company had managed to arrange, seekers for vintage clothing and a good time were generally satisfied —the vending of microbrewed beer and food trucks just by the entrance playing a huge factor in this. We think you'll have a lot of fun in the Eastside market even if you aren't planning on buying anything.
In addition, the market also doesn't have any problems with dogs and actually lets you bring them inside while looking around. Just be sure that your pet's well-trained enough to avoid any problems or accidents with the local merchandise.
This shop's size is actually quite small compared to the other standing flea markets in Vancouver, though. There are only about 15 different stalls, mostly selling clothing and local jewellery.
With that, we think a diversity of products may be a prominent challenge for this community of shopkeepers. However, it's important to note that the vendors aren't always the same each month, so who knows, maybe we'll be getting a broader range of antiques in the months to come.
By the way, the prices aren't always going to be the most affordable. Other buyers we've spoken to also talked about this, telling us about their experience of almost purchasing candles priced at $60.
But still, we think this is a good place if you're looking for decent, vintage, secondhand clothing. The friendly faces you'll see make the experience a whole lot better as we found the store vendors are very passionate about their craft.
| | |
| --- | --- |
| Criteria | Ratings |
| Quality of goods | ★★★★★ (5/5) |
| Product variety | ★★☆☆☆ (2/5) |
| Affordability | ★★★☆☆ (3/5) |
| Customer service | ★★★★★ (5/5) |
Friendly staff and vendors
Dog-friendly
Great selection of vintage clothing
Beer and food trucks available 
Cheap entrance fee that lasts a day
Not much diversity in goods
Relatively small flea market
Customer Reviews
Worth the price
"Love this spot! Well worth the $3 entrance fee. Local vendors, trendy and vintage used clothing, environmentally sustainable food storage, and local artisans. Oh- did I mention that they have a bar (Caeser while shopping anyone?), food trucks, and other food vendors?! We walked away with natural deodorant, shampoo bar, local chocolate bar, a sweater and a vintage concert shirt for under $70. We will be back!
FYI- the Eastside Flea is only open every other weekend." —April H.
Quality products but few booths, friendly staff
"This flea market had 10 or less booths, mostly indie booths, a few clothing booths and a 'zine booth which made me fall in love with the place. I love 'zines and I'm always happy when someone makes the effort to actually put out a publication out there for the masses. This is off the actual festival grounds site which means that anyone can walk in whether you have a ticket for the actual show or not. I bought some awesome 'zines, cool vintage shirts (see review on that desperately) and connected with a few record booths. It wasn't that crowded at all. Everyone was super chill and friendly." —Shila B.
3. The Drive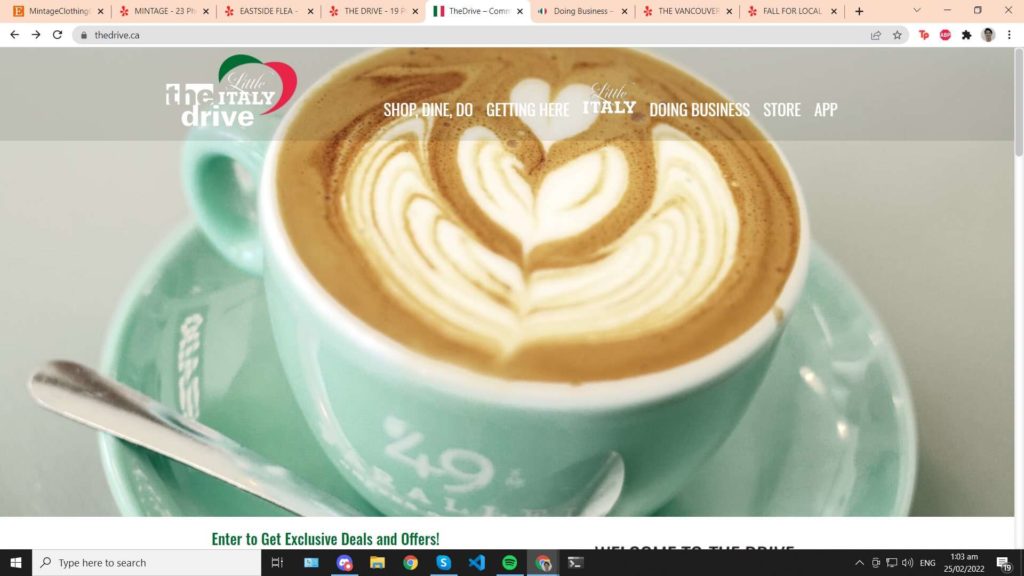 Test
Info
PRODUCTS
Clothing

Food

Books

Jewellery

Pet Supplies

Flowers

Furniture

Vintage

Antiques

Home Decor

WEBSITE
https://thedrive.ca/
ADDRESS
Commercial Drive Vancouver, BC V5N 4A3
CONTACT DETAILS
Monday to Friday 11:00 am - 6 pm

Saturday 11:00 am - 5:00 pm

Sunday Closed

OPERATING HOURS
Monday to Friday Closed

Saturday & Sunday 11:00 am - 5:00 pm (every other weekend)
The selection of items in The Drive is as broad and wide as the Commercial Drive road that spans it, offering an assortment of clothing, jewellery, antiques, and other necessities. From morning until evening, this market offers 22 blocks of exploration with over a total of 300 unique traders.
Bottom line? Lots of fun!
We think the long stretch is just perfect if you just wanna take a short walk by yourself or with your pet dog. They are especially welcoming towards the latter, with shops even going so far as to offer pet services and supplies.
It's important to note that while the market is filled with variety, they are mostly composed of convenience stores, food stalls, and not necessarily secondhand clothing like the other flea markets in Vancouver.
That said, for antiques and vintage gems, we recommend looking for them a bit harder but that shouldn't pose much of a problem. The whole neighbourhood practically knows each other, so simply ask around for what you're looking for and someone's bound to know.
How do we know this? Well, we interviewed the locals, of course, with a number of them giving positive feedback on the venue's ambience—everyone's just that friendly and chill there.
But what we really like most about this road market is its annually-held Italian Day. It's usually taking place in the month of June.
On this day, the whole street just explodes with vibrant music and colour. Usually, around 300,000+ people attend this event, but due to Covid-19, restrictions have been strictly imposed and the event was cancelled for the years 2020 and 2021.
For a brief background check and just a friendly FYI, The Drive represents more than 60 years of Italian heritage, so you can expect a lot of Italian coffee shops and restaurants. After an hour or two into your vintage treasure hunt, we recommend trying at least one of these places out.
Oh, and the other thing worth noting is their centralised rewards app called The Drive Rewards App, which is freely available in the Google Play Store and Apple App Store.
With every purchase you make, you're given an option to scan a QR code that gives you points in the app. You can use these points to obtain rewards like free coffee or a complimentary pastry from specific stalls.
If you're ever planning on heading to this flamboyant street yourself, we recommend first downloading that application so you can really get your money's worth.
| | |
| --- | --- |
| Criteria | Ratings |
| Quality of goods | ★★★★☆ (4/5) |
| Product variety | ★★★★☆ (4/5) |
| Affordability | ★★★★☆ (4/5) |
| Customer service | ★★★★★ (5/5) |
The Drive Rewards App
Annually-held Italian Day in the month of June
Diverse range of goods
Mostly food stalls, convenience stores, not many vintage shops
Customer Reviews
Great neighbourhood
"I love this hood.
I am dating myself here when I talk about this hood, however, I remember when it was truly Little Italy and my dad would take the family here once in a while. There are still some remnants of this area being little Italy, however, as the decades have passed and progression has been made the natural course of evolution will occur. I love this hood 'cause it is more alternative than the other hoods in the city. Most people know each other. Unlike other hoods there is a very open and less self centered nature of people and how they socialize with each other, especially at coffee shops. A lot of my favorite coffee shops are on the Drive. I recommend doing the full stretch walk and just browse in stores, take on of the coffees in hand on a summer's day and pet a dog. The alternative is welcomed with open arms." —Shila B.
Various food places
"The Drive is basically a Tourist attraction spot. Yes its also known as Little Italy. You will understand when you walk in this neighborhood. Its full of awesome food places. Lots of Italian bakeries and restaurants. Its also a very hippster place. Its interesting how I was at Comedy Mix one time and a comedian joked about the people on the drive are people with Arts degree and they are talented to live on the drive but they don't mix or stand out or get noticed at some other neighborhood. Well if you look around yeah there are a lot of musician on Commercial Drive or the Drive.
The Drive span on Commercial drive from Venables to Commercial Skytrain which is Broadway. Interesting." —Jamey R.
4. The Vancouver Flea Market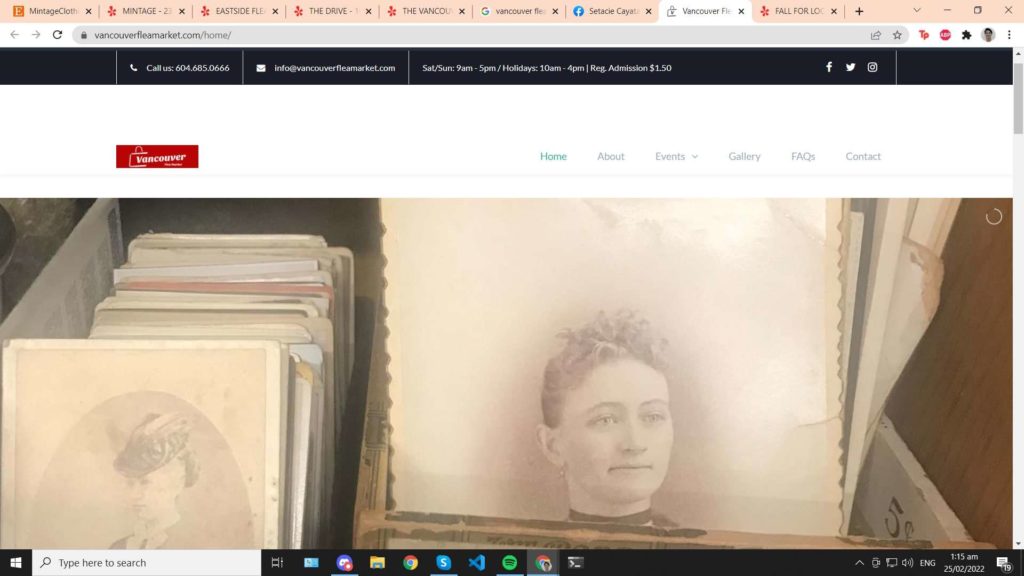 Test
Info
PRODUCTS
Vintage, Old & New toys, Collectibles,
WEBSITE
http://www.vancouverfleamarket.com/
ADDRESS
703 Terminal Avenue Vancouver, BC V6A 2M2 Canada
CONTACT DETAILS
(604) 685-0666

Email: [email protected]

OPERATING HOURS
Monday to Friday Closed

Saturday 9:00 am - 5:00 pm

Sunday 9:00 am - 4:30 pm

Holidays 10:00 am - 4:00 pm
Among the largest bazaars in Vancouver is the Vancouver Flea Market, which has been servicing the city since 1983. It's grown a lot since then, with the whole space spanning up to 40,000 square feet with roughly around 300 vendors on average.
We think the number of merchants is a good indication of how varied items can be. Shopkeepers also change regularly, so you can expect new sets of commodities every weekend.
The entry fee isn't all too bad either, pricing at $1.50 for a stamp that gives you an in and out pass all day while kids can go in for free. Take note that if you're bringing a car with you, though, you'll have to pay an extra $1.50/hour if you don't manage to find the free spots.
While business hours are said to start at 9 in the morning, we heard a lot of talk about vendors not being around until 10 am or 11 am and even leaving at an earlier time. So we recommend getting in between the hours of 1 pm to 3 pm to catch the good ones.
The management also happens to host a number of events on a consistent basis like record shows and vintage to modern toy expos. The genre of these occasions directly depends on the availability of certain vendors, so if you're lucky, then maybe you'll get a good batch during your stay in Vancouver.
During our interviews with the regular customers, they admit that it's mostly junk that's found in the flea market at not-exactly-affordable prices. But then again, that's generally how flea markets are.
Besides, others proved luckier, finding vintage gems of great value during their dive in the sea of bric-a-brac. Overall, it's a pretty standard mix!
| | |
| --- | --- |
| Criteria | Ratings |
| Quality of goods | ★★★☆☆ (3/5) |
| Product variety | ★★★★★ (5/5) |
| Affordability | ★★★☆☆ (3/5) |
| Customer service | ★★★★☆ (4/5) |
Lots of events, sales, and promotions
Diverse sets of products
Cheap entry and free admission for kids
Regular change of vendors
Some vendors arrive late and leave early
Requires some effort to find what you're looking for
Paid parking – $1.50/hr
High prices for most items that aren't really worth it
Customer Reviews
An experience, and not merely a shopping experience
"Don't think, when you enter this large old decrepit red building, that you are shopping, Think of it as a sort of sociological study of what some people believe has value. I suspect you will be surprised at some of the items you will find. Fans of vinyl should consider a few hours here. Fortunately, there is a snack bar and rest rooms available.
I've noticed many vendors are very friendly and like to chat, so perhaps some free advice is available. I saw one young couple having their stamp collection appraised.
So, keep an open mind, and if you are wondering what to do on a rainy Sunday afternoon………" —Chris D.
Best source of vintage toys & collectibles in town!
"If you like thrift store shopping, you'll like the flea market. If you enjoy meeting people from other cultures and hearing a variety of languages as you walk down the aisles, you'll like the flea market. If you don't like the above, I suggest you stick to commercial shopping malls.
Worth visiting frequently because stock & vendors change weekly. A wide range of vendors: some come for the day and set up a table with "garage sale"-type household items. Many are permanent vendors selling anything from used tools to vintage Barbie to antique furniture. Tons of cheap vinyl records, DVDs, video games. Most vendors will haggle if you are respectful.
Parking for $1.25/hour, but plenty of free parking on the side streets. Admission $1.25, & you can get a hand stamp so you can leave & come back. Cafeteria on site with a burgers & fries menu; other fast food places on the same street. Open at 9 am, but many regular vendors don't show up until 10 or 11. Check Vancouver Craigslist before you go, to narrow your search – several vendors advertise regularly there." —Suzie R.
5. 21st Century Flea Market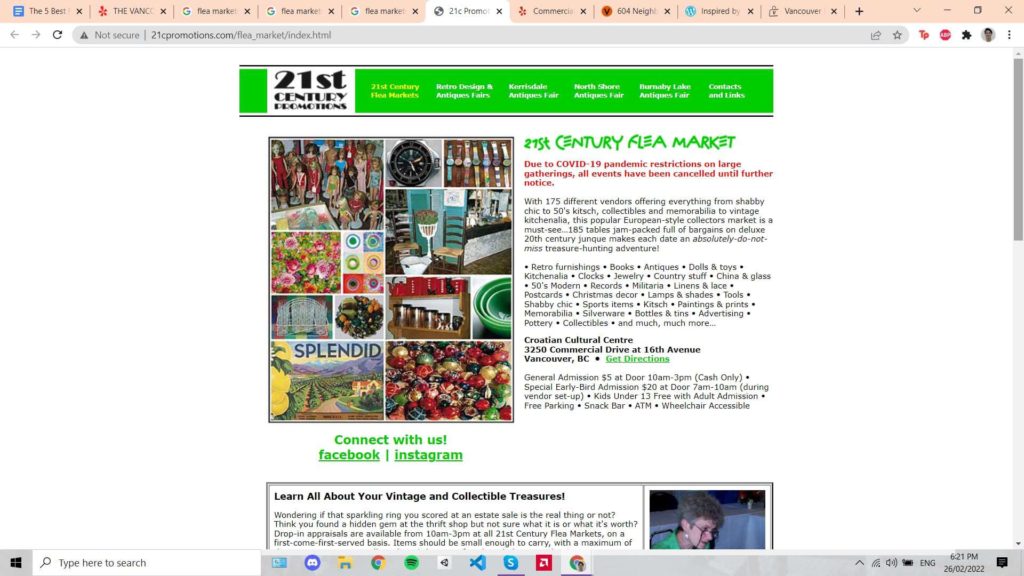 Test
Info
PRODUCTS
Retro furnishings, Books, Antiques, Dolls & toys, Kitchenalia, Clocks, Jewellery, Country stuff, China & glass, 50's Modern, Records, Militaria, Linens & lace, Postcards, Christmas decor, Lamps & shades, Tools, Shabby chic, Sports items, Kitsch, Paintings & prints, Memorabilia, Silverware, Bottles & cans, Advertising, Pottery, Collectibles
WEBSITE
http://www.21cpromotions.com/flea_market/index.html
ADDRESS
Croatian Cultural Centre 3250 Commercial Drive at 16th Avenue Vancouver, BC
CONTACT DETAILS
(604) 980 3159

Email: [email protected]

OPERATING HOURS
Saturday & Sunday 7:00 am - 3:00 pm
The 21st Century Retro Flea Market offers a wide range of items, from vintage collectibles to tools and other prized pieces. For this reason, we consider this shop as one of the places with better chances for you to find what you're looking for.
They're usually open once a month but since the Covid-19 pandemic, events have been very limited until further notice.
As for the door fee, it does come at a hefty $5 per head if you come in at 10 am but there's an early-bird admission that costs 2$ if you come in early around 7 am.
You'll be seeing lots of vendors still setting up their booths around this time, though, but we think it's a good opportunity for you to look around while they do.
What's nice is that children under 13 get in for free but they do have to come in with an adult, which is understandable enough.
We were especially excited when we found out about their unique drop-in appraisal gimmick that's open all day until closing time. This is where you bring a handheld item or two and let a professional identify its value for you, similar to shopkeepers in RPG games, if you're into those kinds of things.
It's first-come-first-serve and verbal appraisals are limited to only 3 items per person at $10 for 1 or $25 for all 3. The appraisal services are done through Gale Pirie who is an accredited and independent personal property appraiser and considered to be one of the best in British Columbia.
Do we really know she's the best? We didn't get a chance to ask but she is said to have appeared in the Canadian Antiques Roadshow so the experience is definitely there.
We highly recommend this shop for those who want to know the value of some of their vintage items or collectibles at home. If you're still on the hunt for treasure, though, the place still offers a variety of artefacts for you to look through.
| | |
| --- | --- |
| Criteria | Ratings |
| Quality of goods | ★★★★☆ (4/5) |
| Product variety | ★★★★★ (5/5) |
| Affordability | ★★★☆☆ (3/5) |
| Customer service | ★★★★☆ (4/5) |
Early-bird admission
Free entry for kids with adult supervision
First-come-first-serve appraisal services
Plenty of varied goods 
Limited events
Regular admission pricier than in other markets
Customer Reviews
Good bargains, unusual but well-made items
"This is an antique store and it's held once a month ranging from antiques and collectibles with good bargains. They sell vintage clothing and vintage fabrics, table cloths, teatalls, weaving, and that kind of things. You can get unusual and well-made things here." —Jessica Gowans.
Pleasant neighbourhood and friendly people
"Unique and interesting area, lots of great restaurants and fun things to do, fantastic bars, pubs and parks. Lots of organic food stores and a great community of friendly people." —remi101.
FAQs about Flea Markets
---