The 12 Best Hair Salons in Vancouver
If you're like us and take great care of your hair, you also know how important it is to find people who you can trust to cut and style it.
Since we're always looking out for great hair stylists, we decided to visit all of the hair salons in Vancouver to have our hair treated and trimmed. Here are the ones we consider the best hair salons in Vancouver.
How much does going to a hair salon in Vancouver cost?
The cost of getting different styling services done in the salon varies based on the length of the hair and the desired outcome. Here are the starting prices (excluding GST) for each salon on this list.
Salons
Cost
Salon Haze
Barber Cut: $45+
Haircut: $55+
Youth: $45+
Styling & Treatments: $45+
Colour Service: $35+
Hive Hair Spa
Lady's Cut $47 – 58
Gentleman's Cut $38 – 45
Kid's Cut $18 – 38
Wash & Blow Out $28
Wash & Style $30 – 35
Roots Color $70
Full Color $90
Design Perm $75
Digital Perm $160
Ionic Straightening $190
Pink Lime Hair Salon and Spa
Prices based on consultation
Poppy Hair Salon
Women's Cuts $50 – $90
Men's Cuts $45 – $85
Children's Cuts $35 +
DevaCurl Cuts $85
Blow Dry Style $40+
Updo with Curls/Flat Iron $75+
Root Colour $100+
Full Colour $130+
Highlights $145
Balayage $220+
Bleach + Tone $145+
Tone $30+
Cezanne Smoothing Treatment $350+
Keratin Smoothing Treatment $280+
Perm $180+
Deep conditioning, Botanical Hair Treatment
Add on with services $25+
Kokopelli's Hair Salon
Short haircut – $40 & above
Long haircut – $60 & above
Kids haircut – $25 & above
Bangs / Neck / Stash trim – $5 & above
Beard trim – Price upon consultationn
Bleach (Full) – $150 & above
Bleach (Roots) – $100 & above
Colour (all over) – $90 & above
Root touch up (solid colour) – $70 & above
Colour Camo – $35 & above
Highlights (Full) – $165 & above
Highlights (Half) – $130 & above
Short Balayage – $150 & above
Medium Balayage – $200 & above
Long Balayage – $280 & above
Toner – $35 & above
Blow and Style – $45 & above
Special Occasion – $85 & above
Hair treatment – $55 / Add on service – $25
Hair extensions – Price upon consultation
Permanent straightening – Price upon consultation
Permanent wave – Price upon consultation
Consultation – Complimentary
Extension Services
Application/Reapplication – $TBD by extension type and quantity
Other Brand Application – fee will apply
Blowouts – $55+
Styling (no wash) – $25+
Blending Cut – $30+
Clip-in Application (incl. styling) – $45+
Custom Extension Colouring – $1/gram of colour used on extensions
Brush Salon
List of All Services
Curly Hair Vancouver
Women's cut- $120
Men's cut- $55
Color- $90+
Highlights-$85+
Updo-$60+
Blowdry/style-$50+
Muse Hair & Beauty Salon
Haircut – $40 – $60
Shampoo & Blow Dry – $25 – $70+
Color – $30 – $250+
Japanese Straightening / Smoothing Treatment – $250 – $400
Perm – $50 – $250
Treatments – $25 – $80
Lure Salon
Haircut – $50 – $100
Blow out – $40 – $65
Specialty Styling – $85 – $150
Color – $70 – $180
Treatment – $40+
Texturizing Services – $100 – $200

FORME Hair Salon
Men's Cut – $45 – $65
Women's Cut – $40 – $65
Color – $80 – $280+
Perm – $40 – $280+
Treatment – $35 – $250+
The Best Hair Salons in Vancouver
Alright, let's now find out where we can find the best hairstylists in Vancouver! We checked these out ourselves besides talking to their clients so we could get a better sense of what each one offers.
1. Salon Haze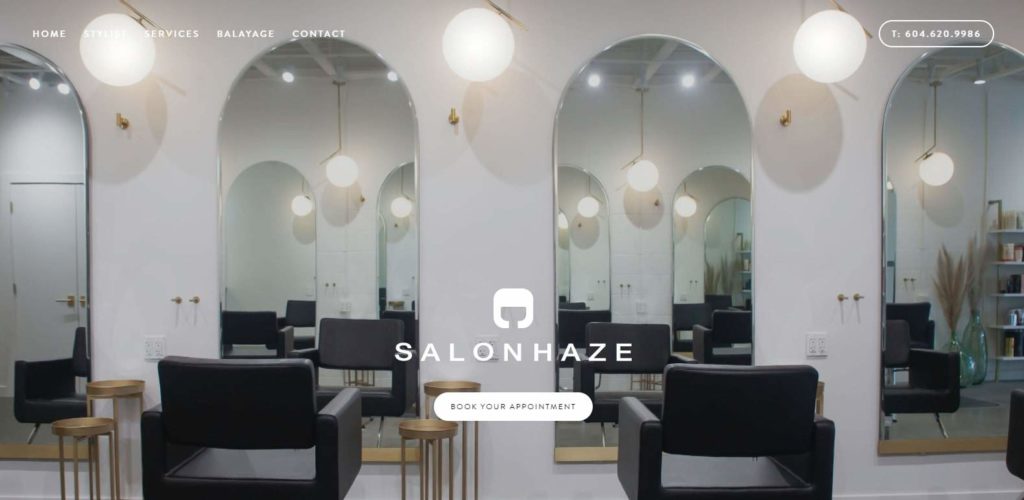 SERVICES
Haircuts
Conditioning Treatment
B3 Treatment
Keratin Treatment
Specialty Styling
Up Styling
Retouch
All Over Colour
Partial Highlights
Balayage
Gloss
Blonding
Color Correction
ADDRESS
2839 W Broadway, Vancouver, BC V6K 2G6, Canada
CONTACT NUMBER
604-620-9986
WEBSITE
https://www.salonhaze.com/
OPERATING HOURS
Monday-Friday: 9am–7pm
With a specialization in colouring services such as balayage and ombre, this hair salon is one of the best places to go if you want to make your dream hair a reality.
All hair stylists here are trained by Loretta Tom and Tim Kuo, who are Revlon professional educators. This makes sure that no matter which hairstylist you initially get, they'll be able to deliver you a consistently great result.
Getting an appointment here is pretty easy too. They reply pretty fast to their emails during work hours.
However, if you get an appointment, make sure the whole day is really cleared off. If you cancel within 48 hours of your schedule, you will be charged either $50 or $100.
But if you go through their service anyway, it's pretty much worth it. Their balayage here is amazing and they make sure that the style of the balayage will fit what the customer wants.
Even before the hairstyling starts, they will have an initial consultation with you, which is pretty great for those who have a specific hairstyling need.
Business hours here are a bit disappointing though. They aren't open the whole weekend and you can only visit them on the weekday.
Our experience with this salon is pretty good, though, despite a few hiccups here and there. Getting an experienced hairstylist making your dream hairstyle will help you overlook some of the disadvantages.
Trained hair stylists 
Has an initial hair consultation
Specializes in balayage 
Closed during the weekends
Has a cancelation fee
Customer Reviews
Attentive and detail-orients
"Wayne is attentive and detail-oriented with his consultation and hair colouring. I appreciate that he doesn't push unnecessary products on clients and gives them various options with where they can go with their hair choices. I felt that it was a collaborative effort between client and stylist, and he does some masterful work." – Alex Y
Professional experience
"Gigi has been my hair stylist for the past year. If you want to feel welcome with a professional experience go to Gigi! She is very caring and detail oriented. I highly recommend her❤️" – Elyna Lyth
2. Hive Hair Spa

SERVICES
Haircuts
Wash & Blow Out
Wash & Style
Roots Color
Full Color
Design Perm
Digital Perm
Ionic Straightening
ADDRESS
8257 Oak St, Vancouver, BC V6P 4A8, Canada
680 W Broadway, Vancouver, BC V5Z 1G1, Canada
CONTACT NUMBER
W Broadway: 604-559-0026
Oak Street: 604-267-0026
WEBSITE
http://www.hivehairspa.com/
OPERATING HOURS
W Broadway:
Tuesday-Friday: 11am-7pm
Sat & Sun: 10am-6pm

Oak Street:
Monday-Sunday: 10am-6pm
Although only one of their branches is open for a whole week, having two branches is enough to offset that as you can just visit the other branch if your preferred one is closed.
And a visit is worthwhile here: in Hive Hair Spa, a haircut isn't simply just a haircut. Aside from cutting the hair, they also do neck and scalp massages.
However, you won't be able to schedule an appointment here online. You'll need to call them first and for those of us with busy days, this might be a bit annoying when lines aren't cooperating.
That aside, we do like this salon's ambiance. The ambiance is relaxing and very welcoming, and it also smells good due to the incense they use – it doesn't have the normal chemical smell that salons usually have.
With all of that said, this is one of our highly recommended salons in Vancouver for people looking for a haircut without any frills. It's laid back, friendly, and has a nicely welcoming atmosphere that most will enjoy.
Includes massage in their services
Good ambiance
Two branches
No online scheduling option
One branch isn't open the whole week
Customer Reviews
Reasonably priced
"Very happy with my experience here ☺ Reasonably priced for great service, no hidden fees, and very friendly staff. I usually have a hard time trying out new places (trust issues, issues communicating in the past with stylists who didn't speak fluent English), but my stylist was very competent and it was easy to communicate exactly what I wanted to him. Their promo for first time visitors was very generous and made the experience even better! Will be coming again soon :)" – Linda Au
Worth the trip
"Best hair cut! Even though I have a long wait but the hair cut is less than 20 mins with the master stylist. It's amazing to see the stylist cutting it as if he is playing magic. Worth the trip to come all the way from seattle to here to have my hair cut." – Judy Chu
3. Pink Lime Hair Salon and Spa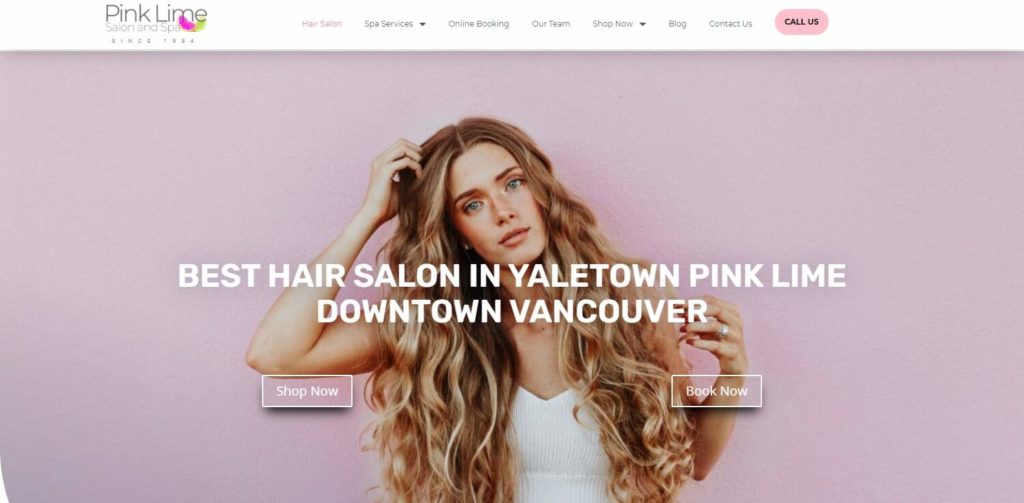 SERVICES
Haircuts
Dry Haircuts
Colour Services
Balayage
Styling
ADDRESS
1192 Hamilton St, Vancouver, BC V6B 2S2, Canada
CONTACT NUMBER
604-683-7444
WEBSITE
https://pinklimevc.com/
OPERATING HOURS
Monday-Wednesday: 9am-7pm
Thursday&Friday: 9am-8pm
Saturday: 9am-6pm
Sunday: 11am-5pm
Pink Lime has been around since 1997. Its customer base has been continuously growing day by day since then.
The first thing to mention is that they have a dry haircut service that allows those on the go to get a quick trim. The dry haircut option is also great for people with curly hair as it allows the hairstylists to follow the natural motion of their hair and create a look that is the best fit for them.
Although they don't accept cheques, they still have some other options for payment here. Additionally, there's also no hassle when booking them as they have an online booking option, which will honestly make your life easier too.
Note that getting a scheduled appointment with them is better as their place is very small and it can get crowded. If you end up being a walk-in to this salon, you'll most likely have to wait for a long time before it's your turn.
Despite those things, if you can use other modes of payment and can book your slot in advance, then going here is definitely worth it for their good-quality haircuts and experienced stylists.
Has been in business since 1997
Has dry haircut services
Can book an appointment online
Limited modes of payment 
Gets crowded quickly due to being a smaller salon
Customer Reviews
Professional and super friendly
"Came here with my mom and sister to get out hair styled for a wedding and absolutely loved it! Very professional and super friendly! They did a great job on our hair and whenever we're in Vancouver we will definitely be coming back!!!" – Megan Wischnewski
Skilled and knowledgeable staff
"I loved this place, very skilled and knowledgeable staff, i had Maryam for the highlight toning and brushing and Joseph for the consultation and haircut. My dry hair looks fresh and shining. Highly recommend this place" – Nada Wehbe
4. Poppy Hair Salon

SERVICES
Hair Cuts
Colour Services
Cezanne Smoothing Treatment
Keratin Smoothing Treatment
Perm
Deep conditioning, Botanical Hair Treatment
ADDRESS
2686 W 4th Ave, Vancouver, BC V6K 1P7, Canada
CONTACT NUMBER
604-568-4960
WEBSITE
https://www.poppyhairsalonvancouver.ca/
OPERATING HOURS
Monday: 10am – 5pm
Tuesday: 9am – 6pm
Wednesday-Friday: 9am – 8pm
Saturday: 9am – 5pm
Sunday: 10am – 5pm
Poppy Hair Salon is one of the newer salons on this list as it was only established in 2008. But don't underestimate them though as this salon has a lot to offer to its customers.
When you enter this salon, you'll immediately be welcomed, not only by the staff but by the decoration and stylings of this place. The interior design of this place also contributes to the warm and friendly ambiance that this salon exudes.
They exclusively use Aveda products for their styling products and honestly, this is a bit limited for us. Still, their products are pretty good, so we think many customers won't mind using those.
And we admit that using only one brand can also be somewhat beneficial to the customers.
The hairstylists are already used to that brand's products and the way they synergize with each other, which means they may well be better at using those than multiple brands' products. The benefits of specialization, basically.
Aside from that, this is a really great place to visit if you want to get a new hairstyle. Just make sure to schedule your appointment first as they don't accept walk-ins!
Great interior design 
Can schedule an appointment online
Only uses one brand
No walk-ins allowed
Customer Reviews
One of the best haircuts I have gotten
"Great service! So happy with my hair. I have long wavy thick hair and it can be hard to manage. Jolene cut my hair in layers without reducing my hair length. Definitely one of the best haircuts i have gotten in a very long time. She did not cut my hair too much which is something a lot of hair stylists do, she listened to what I said and gave me the haircut that I wanted. She also taught me how to style my hair. Loved my experience!" – nandita zaveri
Fairly priced
"Great 1st experience! I am a male with relatively curly hair which makes the cut quite tricky. One out of ten stylists can get it right and I found one at this place! Picked this Salon because its close to where I live and because of the reviews here. Josh did the cut. He figured very easy what I wanted without even asking, simply by looking at how I styled it. Definitely a talented person and truly professional. Fairly priced as well for the location and the amount of time spent on each cut. Will go there again and highly recommended." – Shahab Nakhaie
5. Kokopelli's Hair Salon

SERVICES
Cuts
Colour
Extension Services
ADDRESS
2052 Commercial Dr, Vancouver, BC V5N 4A9, Canada
CONTACT NUMBER
604-253-6950
WEBSITE
http://kokopellisalon.ca/
OPERATING HOURS
Monday-Sunday: 9am-8pm
When you visit Kokopelli's Hair Salon, make sure that you have your credit or debit card on hand as they don't accept cash here. We do understand why, though, as there's a pandemic ongoing and it's important to avoid contact as much as possible.
Aside from being a hair salon, this place is also a gallery where you can see different works of artists per month. This makes this salon really look classy.
This is also one of the few hair salons in Vancouver that provides hair extension services. They use the EMME hair line, which is made of 100% natural hair, to ensure that the extension will naturally blend in with your hair.
We also appreciate that they're open for longer hours compared to others. However, if you have a preferred stylist, many of them aren't in the salon the whole day: they have their own individual schedule.
But if you don't mind having different stylists all the time, then they have a lot of stylists here whom you can choose from whenever you're free.
Is also a gallery
Offers hair extension 
Longer hours 
Stylists have different schedules
Doesn't accept cash
Customer Reviews
Quality Results
"Talented friendly stylists, reliable quality results. These stylists will listen to you when you say what you want instead of rushing into a cut without hearing your specifications. My recent stylist gave me exactly the cut I wanted (asymmetrical short undercut styled for volume) and checked to make sure I was satisfied with it. If you're unsure where to go to get your next cut, consider supporting them."- Caitlin Toom
Reasonable prices
"Mish is a joy! She gave me a wonderful short cut, and truly took the time to listen before she started. Despite wondering if I had articulated my deal-breakers clearly, she got it spot on, and better than expected. I'll be back. A very talented hair stylist!!! Reasonable prices too!' – Natalie Charbonneau
6. Brush Salon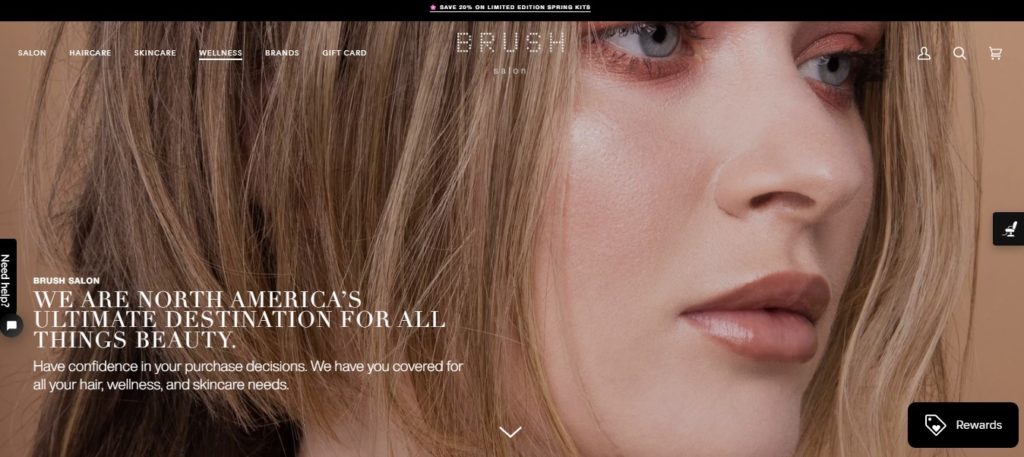 Everyone knows the struggle to find a good hairstylist. With Brush Salon, you can easily find one because they will ask you to answer a survey about who you are and what type of hair you have in order to find the perfect match.
Unlike others, they are one of the few salons that are truly environmentally conscious when it comes to disposing of wastes. After getting your chosen service, a $4 GCS fee will be included at your checkout.
Even if this is an additional charge, this is one of the simple ways we can help our environment.
Apart from these, with them, you do not have to worry about your budget because you can easily book a consultation with them and know how much it would cost to achieve the hair you absolutely desire.
Aside from salon services, what's great about them is that they also sell hair care, skincare, and wellness products.
So if you want to continue using the products the stylist applied to your hair, you can simply check their shop and click the checkout button.
Has an application you can download
Offers git cards
Has an extensive range of salon services, as well as products for hair care, skincare, and wellness
Customer Reviews
Here are some reviews from their clients:
"I've been coming to Brush for 3 years now and I love them even more than when I first visited them. When I first saw Michael my hair was long (down to my lower back) and very black. Three years later and my hair is healthy, shoulder length and blonde. It's been a long process to get my hair blonde – since going from dark to light can be damaging, but it's been a fun process and I've loved seeing my hair nice and light. So much so that I don't think I can go back to having raven black hair anymore. I always feel like I have a glam squad when I come in here. Since I have quite thick hair I tend to spend 5-6 hours in the salon w/ everything that gets done. Michael always colours my hair and John cuts it. John is fabulous. I show him a photo of the style I'm thinking and he brings that image to life for me. At this point, I trust their opinions so I usually show them a photo and if they have any other suggestions I tell them to just go for it. I also love the Olaplex treatment that they put in my hair. This leaves my hair feeling shiny, healthy, and strong, months after I get it done. For hair that is constantly getting coloured, this is amazing! Can't wait for their second location to open up in Mount Pleasant Brush brings all my hair dreams to life and I can't thank them enough! I tell all my friends about Brush, because they're just simply amazing!"
"I was able to get a walk-in appointment with Sabrina, a junior stylist. My hair was beat up and I hadn't gotten it done in over a year, so I really needed some TLC. She gave me amazing advice for the hair troubles I had, and my hair looks SO GOOD NOW! She knew exactly how to layer my fine texture, and gave me beachy waves to finish it off. So happy with her service and skills (and the price of booking with junior stylists here is very reasonable). Thanks Sabrina!"
7. Curly Hair Vancouver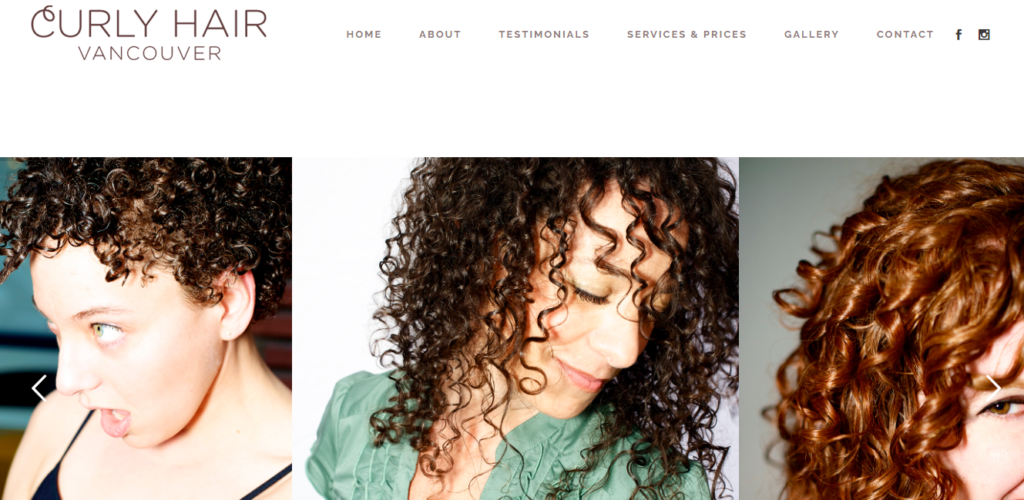 Curly Hair Vancouver Salon specializes in curly cutting, styling, and color services. It is founded and operated by Karyn Rudance, a highly trained curly hair stylist, and certified Master Color Technician through Wella.
With over 19 years experience she works with you in detail to create a cut, color, and finish that fits your face shape, personal style, lifestyle, and budget.
The salon offers a full range of cutting, coloring, event styling, and braid art, with easily accessible booking on the website. Wedding and photoshoot styles are also available on the website with the price quoted upon consultation.
We recommend this salon for its versatility and flexibility to design the hairstyle you've been dreaming of!
Outstanding hairstyles
Affordable rates
Experienced staff
Customer Reviews
Here are some reviews from their clients:
"I came to this amazing space to see Karyn R. Karyn cut my curly hair when I lived in Vancouver from 2008-10 and I have visited her twice since moving back down to the States because nobody cuts like her. Nobody. I work in the performing arts and my appearance is -like it or not- an important component of my "brand." Karyn works thoroughly takes her time with each curl as well as sculpting the greater mop that is my hair." – Sascha C
"I was very nervous about finding a new colorist when I moved to town, and I *scored* with Karyn Rudance- great color, just what I wanted, and a terrific cut too. Karyn is very cool and really works with you to make sure you get where you want to go. She's a master colorist and she says she specializes in curly hair, but mine is as straight as the proverbial stick, and I am still thrilled. Very, very good experience!" – Darcy C
8. Muse Hair & Beauty Salon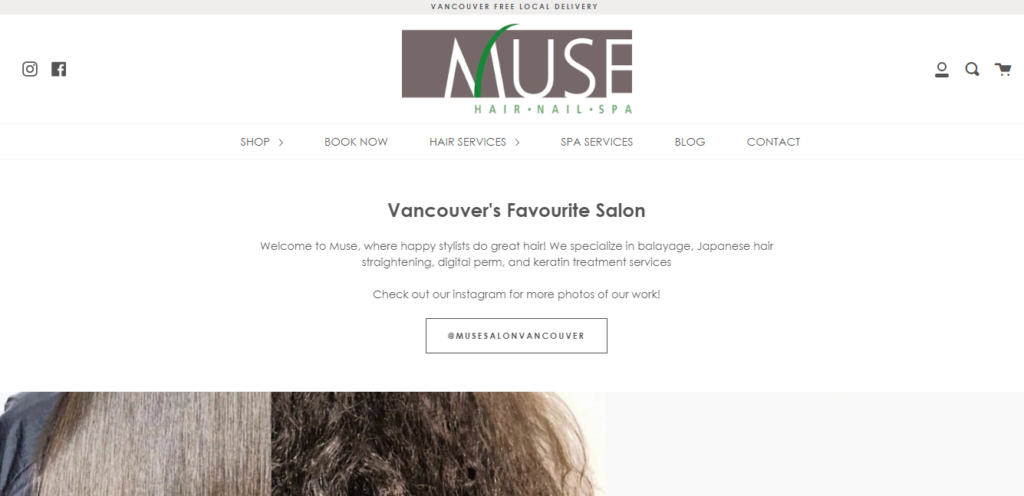 Muse Hair & Beauty Salon is a center that specializes in various hairstyling options with Japanese hair straightening among others as their center stage. Apart from this, clients can also avail themselves of spa services that they readily offer alongside their hairstyling services as well.
The website is comprehensive and full of information for clients who are new to the services that they offer which makes them a reliable resource to start with their hairstyling journey.
However, based on their website, their services are quite limited to specializing in hairstyling techniques. Clients may ask their hair stylists however if they can offer the said services, they desire that are not seen on their site.
Price ranges and a booking feature is available on their website which is excellent for contactless transactions and clients can have a hassle-free experience scheduling their treatment.
While they are highly commended for their accommodating customer service, there are mixed reviews when it comes to the quality of their services according to some reviews.
Price ranges available online
Booking available
Spa services are also offered
Rates could vary per hairstylist
Customer Reviews
Here are some reviews from their clients:
"Sally is the best hair stylist ever highly recommend. She decided everything, the color, and the cut which all turned out incredibly good. Selina the receptionist is super sweet and a great swag master! Great place!"
"Exceptional customer service. Great effort and dedication shown by Lay!"
9. Lure Salon
Lure Salon is one of Vancouver's renowned beauty salons that has been in the industry for a long time to offer consistent and excellent services to clients. They have since then had the chance to style and service popular individuals in the music and film industries such as Avril Lavinge, Dane Cook, and Sandy Samberg among others.
They offer both hair and make-up services in which clients can be serviced by the most certified professionals who have a diverse background on various techniques along with skills to back it all up.
Price ranges are readily available on their website along with reminders and a comprehensive table to avoid any confusion.
They are very strict with their appointment times and so should clients come in late, there will be an automatic deduction of their services but still be charged the full services.
Clients commend them for their clean and neat facilities and accommodating staff that has made clients comfortable and recommend them for their outstanding customer service and assistance.
Price ranges available online
Highly experienced stylists
Stylish and adequate interior

 
Closed on Sundays
Very strict appointment policies
Customer Reviews
Here are some reviews from their clients:
"Jade is DA BOMB! I came to her with very long hair and pretty damaged ends, worried about losing too much length. She gave me an amazing, refreshing haircut without losing much length at all, and gave me the most BEAUTIFUL ombré! My friends we're taking pictures to bring to their hair dressers. I won't go to anyone else!"
"Love this salon!!! I have been coming here for many years! All the staff are professional, courteous, friendly, and so great at what they do. Linda & Daniel have done a phenomenal job of gathering an amazing & talented crew that are caring, fun, and artistically creative! The salon is beautiful, airy & light with a relaxing ambiance. I always leave feeling like a new woman ready to take on the world again! Thanks Lure Salon!"
10. FORME Hair Salon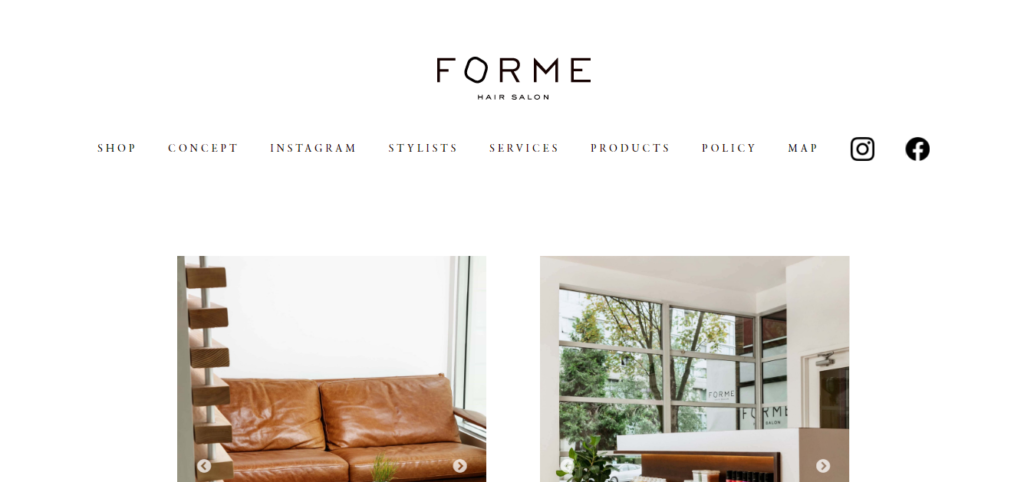 FORME Hair Salon is a minimalist shop that offers a wide range of hair care treatments for both men and women at competitive prices. They are proud to be an environmentally conscious salon in which all their decisions are geared toward reducing waste.
Clients will get to be serviced by internationally experienced professionals and stylists who have over 10 years of experience in Canada as well.
Their website can accommodate online booking with ease to accommodate contactless and flexible scheduling for both the independent stylist and the client.
It is important to note, however, that there is a 24-hour cancellation policy for this in which should clients be late for an appointment be late for 15 minutes cancel or rebooking may be made by the salon without prior notice.
The salon is also considered to be Green Circle Salon which means that they have a recycling and repurposing program in place in which waste is specially disposed of and used to clean the environment.
Sustainable practices implemented
Employs internationally experienced professionals
Accessible locations
Cancellation may be done if client is late for an appointment
11. Rush Salon

RUSH Salon in Kitsilano, Vancouver, is the place to go if you want a superb haircut. We are at awe for this salon enjoys pampering our clients and providing luxurious hair salon services to ensure that they look their best.
Their knowledgeable and enthusiastic workforce has received specific training and shares the same philosophy, allowing us to naturally deliver on this promise.
They also take pride in providing complete hair and makeup treatments. Haircuts, hair color, hair treatments, hair extensions, and wedding hair and makeup are all included.
To consistently please their guests by providing an engaging experience that comes from their hearts. We are committed to exceeding your expectations in every manner imaginable while offering exceptional customer service.
12. Juju Hair Lounge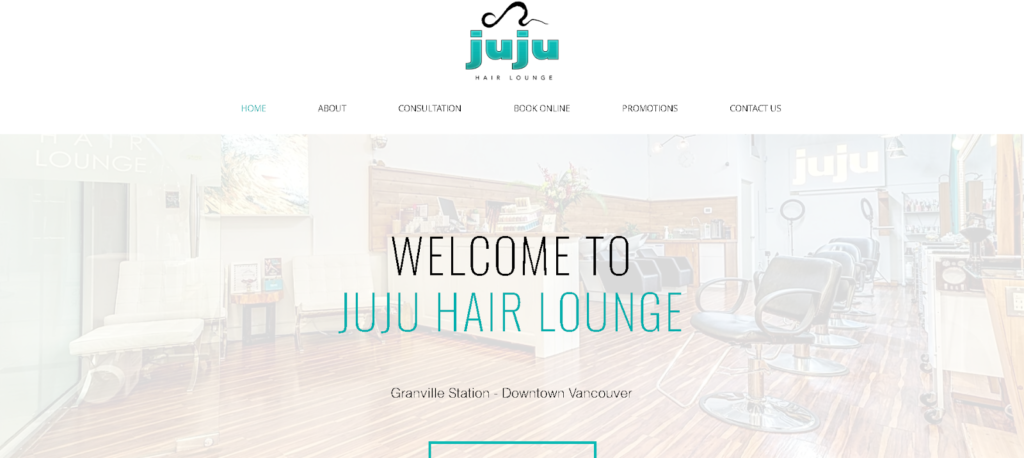 SERVICES
Online hair consultations and custom hair services
WEBSITE
jujuhairlounge.com
ADDRESS
678 Dunsmuir Street #60
Level C – Granville Station
Vancouver, BC, Canada
CONTACT DETAILS
[email protected]
604-674-5922
OPERATING HOURS
Tuesday – Friday, 11:00 AM – 7 PM
Saturday, 10:00 AM – 6 PM
Located in the heart of Downtown Vancouver, Juju Hair Lounge is a well-established and friendly hair salon that offers a range of custom hair services. From expert hairstyling to ammonia-free hair coloring, their team of talented hairstylists is dedicated to making your hair dreams a reality.
Upon entering Juju Hair Lounge, you'll be greeted by a warm and inviting salon atmosphere that immediately puts you at ease. The experienced stylists take the time to understand your preferences and create magic with their years of expertise. Whether you're looking for a simple haircut or a complete hair color makeover, they have you covered.
What sets Juju Hair Lounge apart is their commitment to providing personalized services. They offer free online virtual consultations, allowing you to receive expert advice on your hair care and styling goals from the comfort of your own home or office. Their easy consultation form ensures that you receive personalized recommendations tailored to your specific needs.
Convenience is key at Juju Hair Lounge. Situated inside the Granville Street Skytrain Station, next to Pacific Centre Mall, the salon is easily accessible by public transit. Whether you're a local or a tourist exploring Vancouver, their location makes it a convenient choice. You'll find yourself just a short walk away from popular attractions, including the Vancouver cruise ship port, Rogers Arena, BC Place, and major hotels.
Juju Hair Lounge's commitment to excellence extends to their salon experience. They prioritize client communication and strive to provide superior customer service. Their salon space reflects the laid-back West Coast vibe, with red cedar accents and local art adorning the walls.
When you visit Juju Hair Lounge, you can expect a warm welcome, attention to detail, and a personalized salon experience. Their mission is to deliver excellence in hair products and services while providing a supportive environment for their stylists. With their dedication to staying up-to-date with the latest trends and fostering creativity, you can trust that you're in good hands.
Escape the hustle and bustle of Downtown Vancouver and treat yourself to great hair at Juju Hair Lounge.
Friendly salon with personalized services and expert hairstylists.
Convenient location near popular Vancouver attractions and transit.
Warm and inviting atmosphere with attention to detail.
Customer Reviews
Thank you to steve and his wonderful team
"I went to this salon a few days ago, and receive not only the best haircut of my life but also quality experience. Steve is not only an amazing hairdresser but an amazing person; he makes you feel as though you are at home. The hospitality is impeccable and the energy is upbeat and open which makes your time there unique to any other salon. I will most definitely be going back. Thank you to steve and his wonderful team." – Stel Nikolaidis
Very thorough, skilled and understanding
"I had a poor experience at a different salon and made an emergency colour correction appointment at Juju with Jennifer. She was very thorough, skilled and understanding. She did a great job at correcting the tone of my hair and was very attentive to my concerns, and committed to getting the desired result. The other stylists were also very kind. I left the salon much happier and very appreciative of the service provided! Would recommend to anyone!" – Laura Bunyan
FAQs About Hair Salons
---
If you know an amazing salon in Vancouver that deserves to be on this list, then tell us so we can also review them!
And of course, self-improvement shouldn't stop with just a haircut. To help you with your self-improvement journey and make you look younger and healthier, you can look at our article on the best dietitians in Vancouver to find out who can help you best in your healthy new journey.