The 5 Best TV Repair Services in Vancouver
TV is still important, even now with more and more online video streaming and downloading options. For most people, going without TV is still pretty unimaginable.
This is why we think it's perfectly understandable if a broken TV sends you a bit off-kilter even today. Fortunately for you, we did a survey and contacted different TV repair services in Vancouver to find which ones are the most efficient and fastest in responding to your television issues.
How much does getting a TV repaired cost in Vancouver?
Well, let's start by pointing out that in most cases, getting a TV repaired will cost less than buying a new unit.
A new midrange TV the size of 50" from a lesser-known brand will cost about $500 plus, for instance. Compared to having a TV repaired, which usually costs just $100 or $200, it's definitely the bigger expense.

Here's a table showing how much it costs on average to get your TV repaired in Vancouver.
| | |
| --- | --- |
| Services | Cost |
| Backlight | $2/LED |
| HDMI Port | $200 for replacement parts and labor |
| TV Bulb | $60+ |
| Power Supply | $200+ |
| Screen | $100+ |
The Best TV Repair Services in Vancouver
Now let's check out the repair services that we found to be at the top of our survey as well as the best performers in our independent research.
1. Excel Electronics

| | |
| --- | --- |
| SERVICES | TV Repairs |
| ADDRESS | 2309 E Hastings St, Vancouver, BC V5L 1V6, Canada |
| CONTACT NUMBER | 604-291-2915 |
| WEBSITE | http://excelelectronics.ca/ |
| OPERATING HOURS | Monday-Saturday: 9am-8pm |
With 20 years of experience, Excel Electronics really excels in everything to do with TV repair. And we, along with their previous customers, can attest to that.
However, we find their online services a bit outdated, as there's no online scheduling for repairs. Despite that, their services are pretty amazing – so much so it's really no surprise that their previous customers all praised them.
Excel Electronics provides in-home services, by the way, but for those who want a quick diagnosis of their TV, it's better to just visit them in their place at Hastings Street. Just be wary of their parking, though, as there's a fee for parking on the street.
We also appreciate the student and senior discounts they have. Even though we're not a part of that demographic, it's still good to see people being generous with them.
They can also repair most of the major television brands.
Aside from us, other customers attest to their efficient service as they managed to diagnose the issues of different electronic appliances fast. They also gave the repaired appliances back to the customers in a short time frame.
Despite some hiccups with their website and in-real-life location, this company has really managed to serve customers amazingly.
20 years in the business
Has student and senior discounts
Repairs most TV brands
No online scheduling system
No free parking nearby
Customer Reviews
Repair was fast
"I just got my TV back from Terry, and it was a great experience. He replaced the backlights on my 50″ LG LED TV. When I phoned, he gave me two price quotes, one for a repair with locally sourced parts, and one using parts ordered from overseas that would take longer. I opted for the local since it was faster and only a $25 difference.
I don't have a car, so he was able to arrange to pick up and deliver my tv. He was able to work with my weird work schedule to arrange pickup and drop off. The repair was fast and the tv was delivered back to me in pristine condition. I used Excel because of the great google reviews, and I wasn't disappointed." – Talia Nielsen
Great service and great value
"Terry fixed my Electric Scooter that had damaged wires this summer. I thought I was going to have the write off the scooter but he was able to fix it perfectly and saved the scooter. Great service and great value." – Baxter Welch
2. Irootek TV & Appliances Service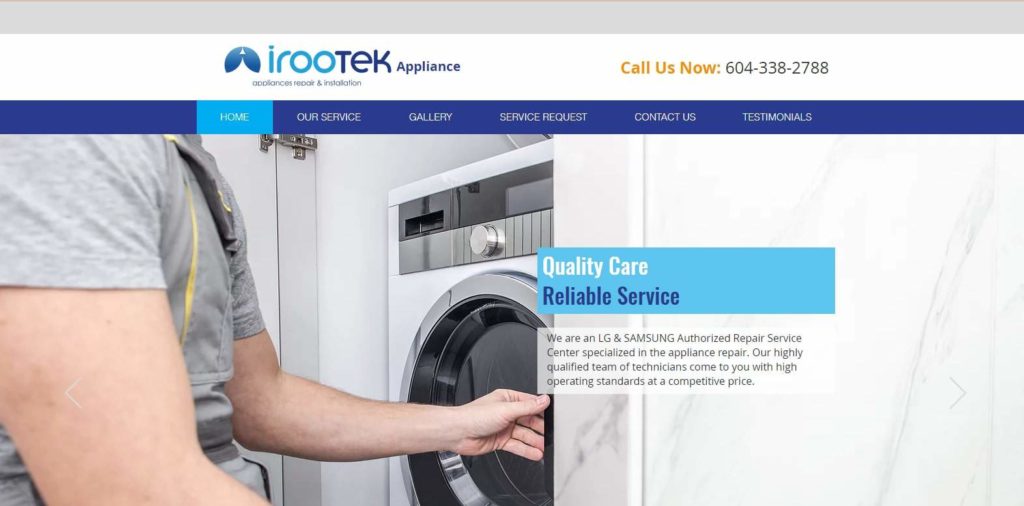 SERVICES
TV Repairs
Kitchen Appliances Repairs
Laundry Appliance Repairs
ADDRESS
8274 Manitoba St, Vancouver, BC V5X 3A2, Canada
CONTACT NUMBER
604-338-2788
WEBSITE
https://www.fixnow.ca/
OPERATING HOURS
Monday-Friday: 9am-5pm
Irootek is an authorized service centre for Samsung and LG but they can deal with more brands than just those two. They're one of the go-to companies for people looking for TV repair in Vancouver.
While the number of brands they service is limited, if you have those brands, then this is a great choice for a TV repair service for several reasons.
First, because they work on models from only a number of brands, their technicians tend to have more specialized skills than others. They're usually faster at fixing units from those brands than companies with no specialization, we hear.
Second, as a bigger company, they have the assets and resources to hire experienced technicians with about 15 or more years of experience. This means the technicians assigned to your television are likely to be more skilled than those who you may get from companies with less-strict hiring requirements.
We're a bit disappointed at their operating hours, though. But since they have an online request form and they dispatch technicians to your home as soon as they can, it's forgivable.
In short, this is a great choice for a TV repair service even with their limitations. Just check that they can work on the unit you have by asking them on their request form and if they do, you should be golden.
Authorized service centre for known TV brands
Experienced technicians 
Only open during the weekday
Only serves a limited number of brands
Customer Reviews
Professional service
"Professional service, arrived on time and worked quickly. Asked good questions and solved our issue in no time. Was also very respectful to Covid safe distances and precautions. Definitely recommend for any appliance repair needs." – Alex Hodgins
Very knowledgeable and professional
"I am very satisfied with the quality of service we received. Our excellent technician, Yoon, was very knowledgeable and professional. Follow up report after service was complete is another example of the very professional service provided. Thank you Kim. These guys are trustworthy, efficient, knowledgeable and friendly. They deliver high quality workmanship at a fair price. Highly recommend this company!" – Nancy McKay
3. Sortek Electronics

SERVICES
Office Equipment
Home Electronics
Industrial Electronics
ADDRESS
Unit 4, 259 1st St. East, North Vancouver, BC V7L 1B4
CONTACT NUMBER
604-988-4440
WEBSITE
http://www.sortek.ca/index.html
OPERATING HOURS
Monday – Friday: 10am to 6pm
Saturday: 10am to 2pm
Sortek Electronics is located in North Vancouver, which can be a bit far from the metro. Despite that, its services and convenient offerings are pretty good despite the location.
One of the things we like is that they have an advanced scheduling system so you can easily plan out your trip to Vancouver and you can also track your repair status with their website pretty easily.
They also have a $25 estimation fee for out-of-warranty repairs, which might be a bit much for some people. But with their 50 years of experience, it's understandable why they value their services on the high side.
We also appreciate that they have a 90-day service and parts warranty. Outside of the major brands, they are also familiar with many smaller TV ones, making them a good choice for fixing a TV in Vancouver.
So, for TV repair services nearby, we think you really can't go wrong with Sortek Electronics. Their versatility and convenient services help make up for their few drawbacks, like the estimate fee.
Advanced scheduling system
Repair tracking
90-day service and labour warranty
Can work with lesser-known brands
Customer Reviews
Honest, timely, & professional
"SORTEK is my go-to place for office equipment & home electronics. Over the years, they have provided honest, timely & professional service for a couple of our printers (e.g., ink jet & laser) as well as the odd TV-related issue. "Sorin", in particular, is efficient and helpful. His tips on what to look out for re: our home electronic devices are invaluable. Keep up the great work!" – Christina Wong
Friendly
"Soren is friendly knowledgeable and will give you the straight goods on what is. No nonsense just very dedicated to fixing your issue. Highly recommend them." – Brian Jenkins
4. Star Electronics

SERVICES
Computer Repair
TV Repair
Cell Phone Repair
Electronics Repair
ADDRESS
3475 Kingsway #3, Vancouver, BC V5R 5L5, Canada
CONTACT NUMBER
604-603-0011
WEBSITE
http://starelectronics.ca/
OPERATING HOURS
Monday – Friday: 11am to 7pm
Saturday: 11am to 5pm
Star Electronics is an all-around electronic repair shop managed by David He. He's actually the first thing we liked about this shop: David He is a trained technician and even has certificates from several manufacturers.
While there's no service and part warranty from Star Electronics, the quality of service here has been highly praised by many people. If you want more proof of their service, well, even manufacturers trust David He as Star Electronics is an authorized service centre for ViewSonic.
Their customer service is also top-notch, and they accept calls anytime even though they don't do any repair services on Sundays. Estimates and diagnostics are also free at Star Electronics, so if you want to know what needs to be repaired and how much the parts and labor for that specific issue will cost, you can simply enquire.
We also appreciate their no-fix, no-charge policy. Even if there are no warranties, this policy helps counteract that and helps avoid making the customer pay up if the television can't be repaired no matter what.
Run by a trained technician
Authorized Service Centre for ViewSonic
No fix, no charge policy
No warranties 
Not open on Sundays
Customer Reviews
Highly recommended
"Highly recommended. I have never been so satisfied with a tech repair shop. David helped me diagnose my issue, explained the possible causes and gave me a quote. I had done a lot of research at that point but I felt it was worth leaving it to the professionals. David had the part in stock, I was back to work later that day. Thanks pal." – kurt spivak
Excellent store and technician
"Very dependable and excellent store and technician for my TV, projector, karaoke system etc." – John He
5. Lions Gate TV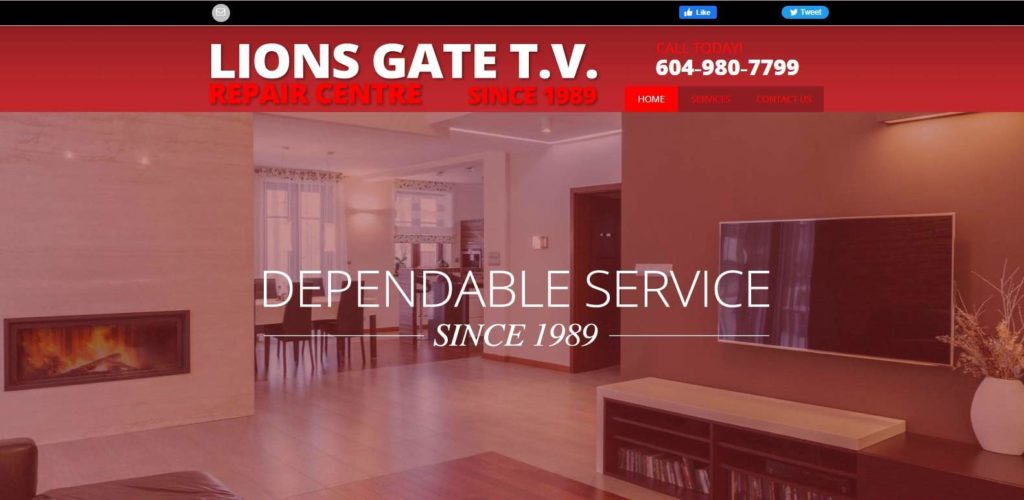 SERVICES
TV and Small Appliance Repairs
Stereo and Audio Equipment Repairs
Computer Monitor Repairs
Tube TV Set Repairs
Radio Tuner / Amplifier Repairs
Microwave Repairs
Vacuum Cleaner Repairs
IBM Compatible Computer Repairs
Small Electronic Device Repairs
CONTACT NUMBER
604‑980‑7799
WEBSITE
https://www.lionsgatetvservices.ca/
OPERATING HOURS
Monday – Friday: 9:30am to 5pm
Saturday: 10am to 2pm
While located in North Vancouver, this company offers its service to surrounding areas, including Metro Vancouver too. And even though they may be lacking in service warranties and have short business hours, Lions Gate TV can still go head-to-head against many known TV repair companies in Vancouver.
They have been repairing televisions since 1989. Aside from their expertise in repairs, their knowledge of Cantonese and Mandarin is also pretty convenient and makes Lions Gate easier to transact with for many Chinese people in Vancouver.
Other than the mainstream brands, Lions Gate TV can work with a wide range of less-known TV brands, by the way. We confirmed this with their customers.
They also accept extended warranties from Costco and London Drugs, so even those bigger retail shops completely trust Lions Gate TV to fix any small appliance like a TV. Always a good thing!
Overall, their quality of service is the main reason many Vancouverite trust them for TV repairs. While they don't carry service and labor warranties, their track record of great service has really made them one of the best TV repair services in Vancouver.
In the business since 1959
Can speak Mandarin and Cantonese
Accepts extended warranties from known retail stores
Can repair lesser-known TV brands
Located in North Vancouver
No service and labor warranty
Customer Reviews
Reasonable price
"The owner Ken provides honest, reliable and conscientious service for a very reasonable price. He really knows his stuff.
I contacted Ken in April regarding my outdoor TV (Sun Brite) which I couldn't get anyone else to touch because of the weather sealed enclosure and custom parts. He replaced the main board and it worked like new.
At the time he advised me that he also repairs appliances. A few day's ago my Bloomberg front load washer stopped working. He replaced the door lock and brushes in the motor and it works perfectly.
Will certainly call him for any other such repairs." – Sheena M.
Extremely knowledgeable
"I suspected either one or both of my TV speakers had blown after an ad came through an app at an overly high volume. After listening to raspy shows for a couple of months, I found Ken's business online when searching for the service and someone local.
Ken replied to my request for a quote quickly and came by for a service call where he was able to hear the issue for himself. He took the TV to do a more in-depth diagnostic, before replacing the speakers for me and testing to make sure they were working properly.
He dropped my TV back off with me and allowed me to test while he was here to make sure I was happy with the sound. Ken is extremely knowledgeable, his prices are reasonable, and his service is awesome. I would definitely recommend!" – Michelle C.
FAQs about TV Repairs
---
Now you know where to go if your TV breaks! These shops should get you back in couch potato mode in no time.
But while you're waiting for your TV to be repaired, why not go out and do some fun things around Vancouver? Here are some of the best things you can do in Vancouver!