The 8 Best Indian Restaurants in Vancouver
Indian cuisine offers a wide assortment of dishes that are vegan-friendly, vegetarian, and delicious. Because of this, Indian food has spread to almost every corner of the globe from America, to Southeast Asia, and of course, Canada.
Vancity in particular is home to dozens of exquisite restaurants offering Indian fare. So, to help you find a new eatery to frequent, we've compiled a list of the best Indian restaurants in Vancouver.
If you're not sure about any of these restaurants, we've added helpful info like reviews, summaries, and pros & cons to help you decide.
How much do Indian Restaurants Cost in Vancouver?
The majority of Indian restaurants in Vancouver are reasonably priced considering the large serving sizes they provide. But, to make sure you still get the best deals, we've provided basic price ranges for all our entries:
Restaurant
Price Range
Full Menu
Indian Delicacy
Appetizers $6.95 – $13.95
Tandoori dishes $12.95 – $18.95
Baked breads $2.50 – $4.95
Vegan/Vegetarian dishes $14.95
Chicken specialties $15.95
Lamb dishes $16.95
Beef dishes $$15.95
Seafood specialties $15.95 – $18.95
Biryani (rice) dishes $3.50 – $17.95
Desserts $5.95
Indian Delicacy's Menu
Raga Restaurant
Appetizers $5.99 – $14.95
Tandoori dishes $13.95 – $25.95
Baked breads $2.95 – $6.25
Vegetarian dishes $13.95 – $17.95
Specialty dishes $15.95 – $18.95
Rice dishes $5.25 – $22.95
Dessert $4.95 – $6.50
Raga Restaurant's Menu
Indian Roti Kitchen
Appetizers $4.99
Vegetarian Rotis $11.99 – $14.99
Specialty Rotis $12.99 – $16.99
Rice dishes $12.99 – $16.99
Side Orders $1.99 – $4.99
Desserts $4.99
Indian Roti Kitchen's Menu
Sula Indian Restaurant
Appetizers $10.75 – $13.75
Street food specials $11.75 – $12.75
Tandoori dishes $16.75 – $28.75
Vegetarian/Vegan dishes $15.00 – $16.75
Curry dishes $16.76 – $20.00
Rice dishes $5.00 – $19.00
Baked breads $3.50 – $5.50
Desserts $4.50 – $5.50
Sula Indian Restaurnt's Menu
Tasty Indian Bistro
Starters $7 – $12
Tandoori dishes $13 – $16
Vegetarian dishes $11 – $12
Chicken specialties $13
Lamb/Seafood dishes $14
Rice dishes $4 – $14
Baked Breads $1.25 – $3.50
Desserts $3 – $8
Tasty Indian Bistro's Menu
Davie Dosa Company
Starters $5 – $9
Appetizers $5 – $13
Dosas $9 – $17
Curries $13 – $16
Biryani $14 – $17
Desserts $5 – $7
Davie Dosa Company's Menu
Bombay Masala Indian Restaurant
Seafood Specialties $18
Combo Specials $15 – $17
Vegan Specialties $13 – $14
Biryani $15 – $19
Desserts $5 – $7
Bombay Masala Indian Restaurant's Menu
With this nifty cost guide you should be able to set a reasonable budget for your foray into the world of curry, spices, and delicious baked breads. In case you'd like a more in-depth look at the menus, we've also linked each one for your convenience.
The Best Indian Restaurants in Vancouver
The menus for each of our entries are quite long, so we can't exactly list each item in this article. At the very least though, you should have a decent grasp of how much you might spend at any one of these joints.
With that, it's time to unveil our picks for the Best Indian Restaurants in Vancouver.
1. Indian Delicacy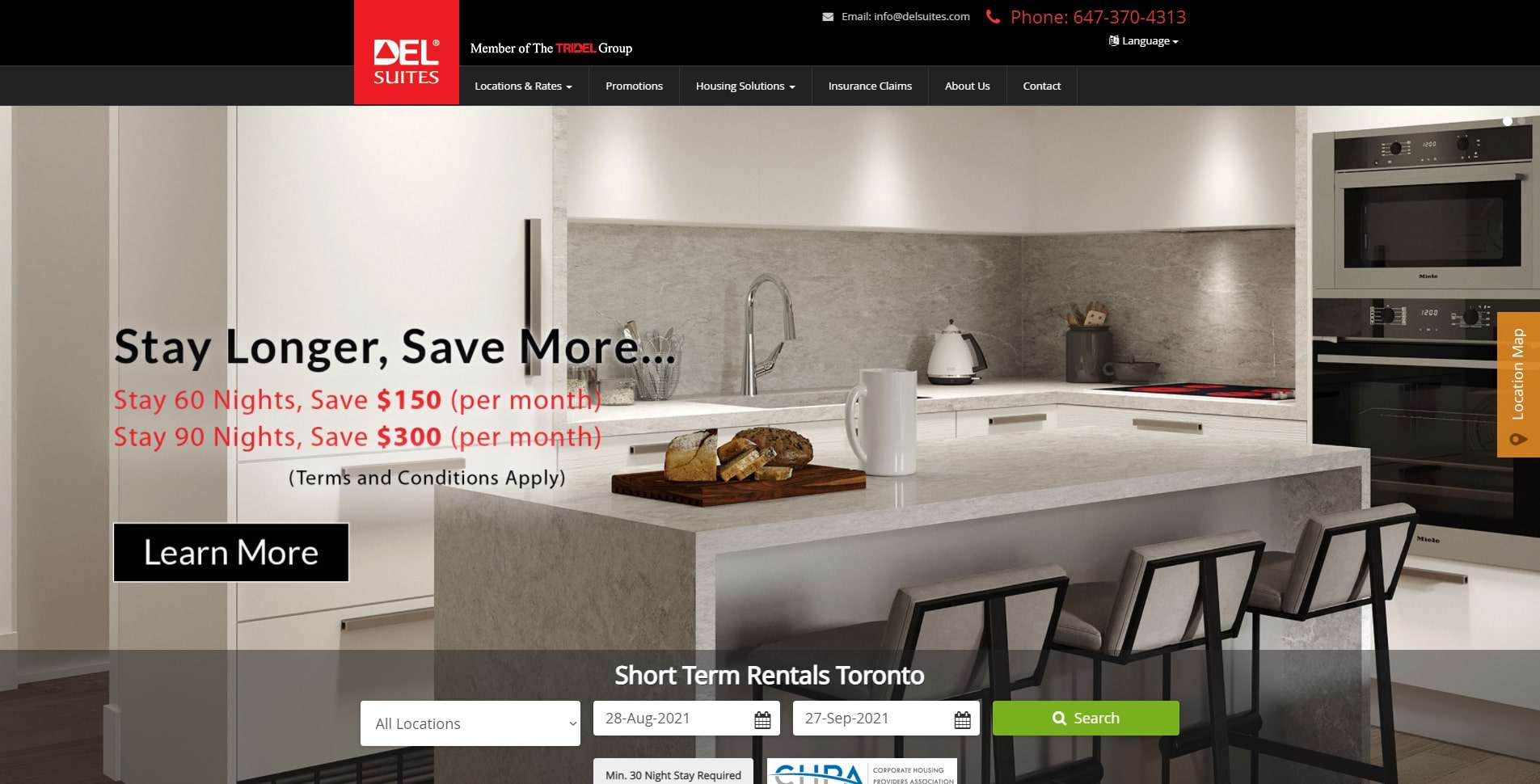 SERVICES
Tandoori cuisine
Lunch buffet
Curry
Naan
Vegetarian dishes
Vegan
WEBSITE
https://www.indiandelicacy.ca/index.html
ADDRESS
1130 W Pender St Unit 105, Vancouver, BC V6E 4A4, Canada
CONTACT DETAILS
Phone number: (604) 569-2122
Email:

[email protected]

OPERATING HOURS
Monday: 11:30 am – 2:30 pm, 4:30 pm – 9:30 pm
Tuesday: 11:30 am – 2:30 pm, 4:30 pm – 9:30 pm
Wednesday: 11:30 am – 2:30 pm, 4:30 pm – 9:30 pm
Thursday: 11:30 am – 2:30 pm, 4:30 pm – 9:30 pm
Friday: 11:30 am – 2:30 pm, 4:30 pm – 9:30 pm
Saturday: 4:30 pm – 9:30 pm
Sunday: 4:30 pm – 9:30 pm
Indian Delicacy is a traditional eatery that offers many classic dishes like curry, biryani, lamb, and more. Aside from this, the restaurant also offers vegan and vegetarian meals with dairy-free and gluten-free options.
This wide variety of culinary offerings is part of what makes Indian restaurants so special. Seafood, poultry, mutton, beef, and vegetables all have a strong presence on the menu and this place is no exception.
If it's your first time visiting an Indian eatery, it may be best to start with more common dishes. For this establishment, many patrons often opt for the butter chicken dish which is cooked in creamy tomato sauce and served over rice.
Now, if you're no stranger to Indian cuisine, you'll definitely want to explore Indian Delicacy's lamb varieties and tandoori sizzlers. This is because the special tandoor oven gives mutton dishes a fall-off-the-bone texture that pairs perfectly with most curry sauces.
Delicious butter chicken dish
Wide variety of Vegan/Vegetarian dishes
Offers dairy-free & gluten-free meals
Limited selection of Naan (Indian bread)
Short dessert menu
Customer Reviews
This eatery's butter chicken is a real hit with customers, and their other dishes also provide a similarly delicious experience:
"This place is a MUST TRY in Vancouver.. I've been eating Indian food all of my life and this was by far the best I've ever had. The tandoori shrimp was incredible, along with the butter chicken. Best pakora ever. Eat here, you won't be disappointed! We all left so happy and full!" – Jessica L.
"If you love Indian food this is a MUST TRY restaurant! I had the most delicious butter chicken – a best seller dish with oh so tender chicken thighs and so so so deliciously seasoned, creamy, buttery tomato based sauce that came with freshly made garlic naan bread" – Momo K.
2. Raga Restaurant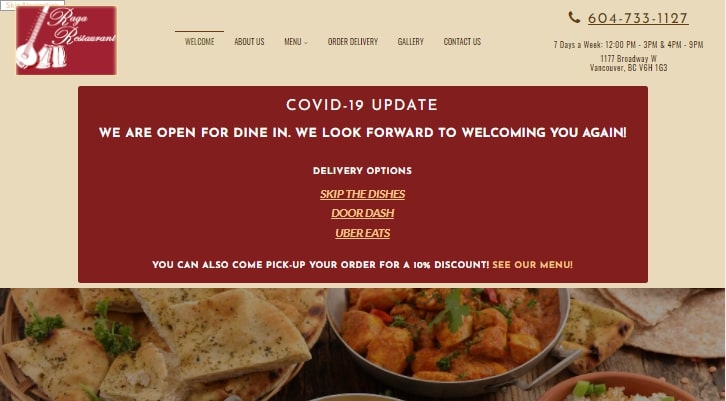 SERVICES
East Indian cuisine
Vegetarian dishes
Stuffed Naan
Takeout
Delivery
WEBSITE
https://www.raga-restaurant.com/
ADDRESS
1177 W Broadway, Vancouver, BC V6H 1G3, Canada
CONTACT DETAILS
Phone number: (604) 733-1127
OPERATING HOURS
Monday: 12 pm – 3 pm, 4 pm – 9 pm
Tuesday: 12 pm – 3 pm, 4 pm – 9 pm
Wednesday: 12 pm – 3 pm, 4 pm – 9 pm
Thursday: 12 pm – 3 pm, 4 pm – 9 pm
Friday: 12 pm – 3 pm, 4 pm – 9 pm
Saturday: 12 pm – 3 pm, 4 pm – 9 pm
Sunday: 12 pm – 3 pm, 4 pm – 9 pm
Given the many competitors in Vancouver, it can be tough to stand out as an Indian dining establishment. Raga stays ahead of the culinary game by consistently providing good food with fresh, locally sourced ingredients.
To take things a step further, this restaurant also serves many traditional Indian favorites like pakoras, onion bhajis, samosas, and chutney. If you're unfamiliar with any of these, there's no need to worry since Raga's staff are more than happy to explain and recommend dishes.
This strategy of serving locally-sourced, high-quality dishes has helped carry the restaurant through 40 years of operation. Each dish on the menu was derived from age-old recipes used by the most affluent families in india.
As a result of these tried and tested techniques, many notable stars have turned their taste buds towards the Raga Restaurant. Among these celebrities were Mel Gibson, Kurt Russel, Ravi Shankar, and Mickey Rooney.
Accepts group reservations
Wheelchair accessible
Uses fresh, locally-sourced ingredients
Has served Indian cuisine for over 40 years
Pick-up orders receive a 10% discount
Can be packed during dinner time
Some dishes can be pricey
Customer Reviews
Though it's a bit tucked away, any avid fan of Indian cuisine will tell you that this place is a prime choice:
"To be honest I had seen this place around for years and years and always thought it looked nice but empty. Granted I wasn't usually in the area around the normal meal rush hours, but it made me never think twice about trying it. When I finally did, I ended up going back two more times within a week. It's that good. I mean honestly, you open up the menu and right off the bat you see the fact that they got ranked in the top 10 Indian restaurants outside of India. This is no false claim. It's that good. Vegetable pakora is like my main go to for an appetizer at most Indian restaurants, but I think Raga has now ruined all other pakora for me. It's just so much better. Everything I have had is amazing. The people are all so friendly here as well. It makes you want to go back. Everything about this place is amazing."- Patrick M.
"Flavorful and tasty foods, quick service, and a impeccably clean environment. Our server was very helpful and professional: offered recommendations, alternative combos, and asked us very diplomatically whether we were hoping to have leftovers (he felt we may have been ordering too many dishes for the table – and he was right). The food quality was great! Stuffed naan was delicious – couldn't taste the dried mango but the signature stuffed chicken one was tasty! Tandoori chicken was delicious smoky from the grill and juicy inside. Lamb masala was good, eggplant bharta was okay. Overall I think: stuffed naan > tandoori chicken > curry. (They didn't have the dessert I wanted because they were adjusting the menu.)" – Morgana C.
3. Indian Roti Kitchen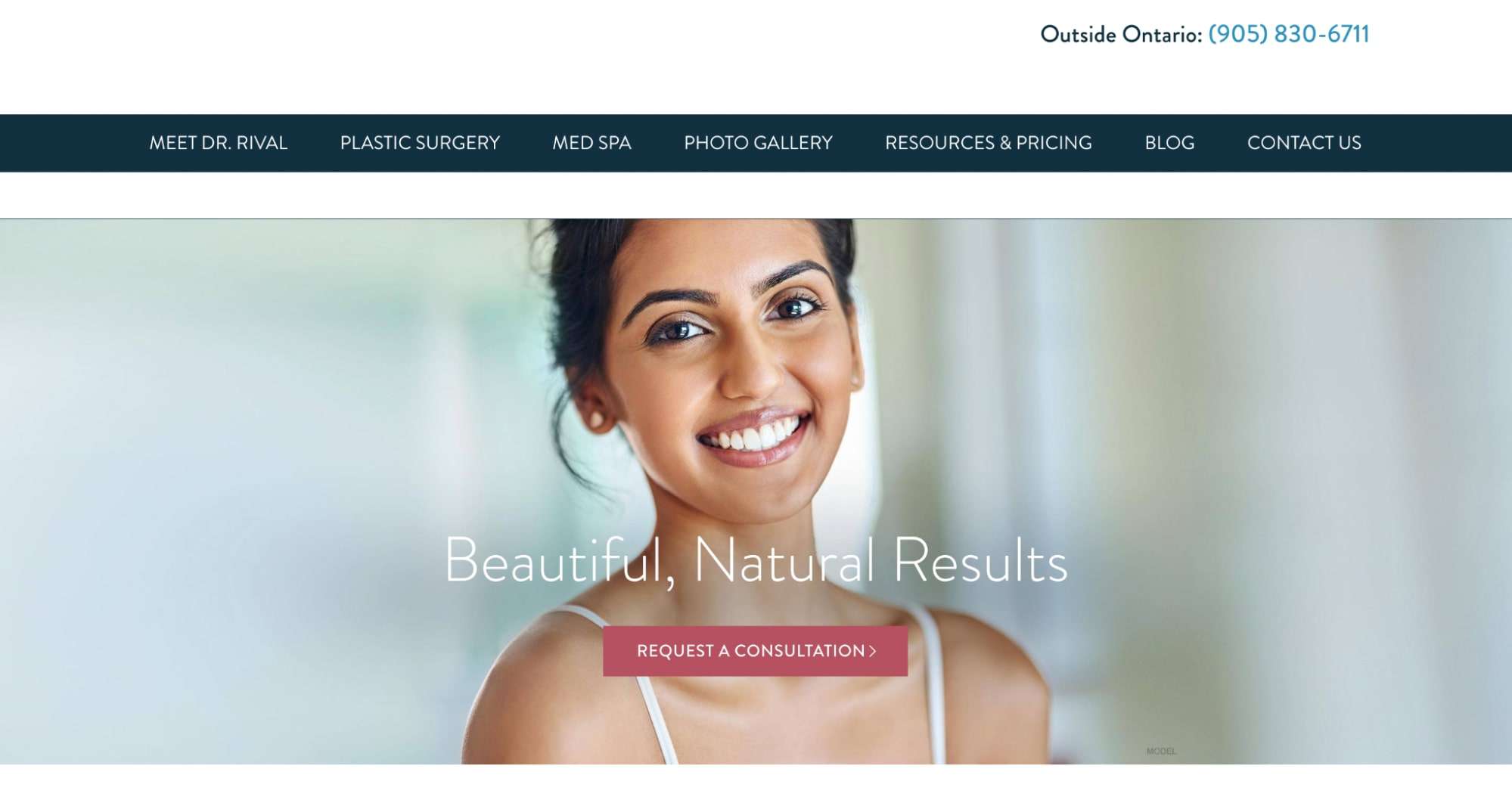 SERVICES
Roti
East Indian foods
Vegetarian dishes
Curry
Biryani
Takeout-only
Delivery
WEBSITE
https://indianrotikitchen.com/
ADDRESS
2961 Cambie St, Vancouver, BC V5Z 2V7, Canada
CONTACT DETAILS
Phone number: (604) 876-3767
Email:

[email protected]

OPERATING HOURS
Monday: 4 pm – 9 pm
Tuesday: 4 pm – 9 pm
Wednesday: 4 pm – 9 pm
Thursday: 4 pm – 9 pm
Friday: 4 pm – 9 pm
Saturday: 4 pm – 9 pm
Sunday: 4 pm – 9 pm
As their name implies the folks at the Indian Roti Kitchen proudly claim Roti as one of their specialty dishes. While almost all Indian restaurants serve this type of bread, the Roti Kitchen takes things a step further by adding fillings and toppings.
Some of this place's most popular Roti dishes include the Lamb, and Butter Chicken Roti as well as the Aloo Gobi Roti. Depending on your tolerance for spices, you can choose from a spice level of 1 to 6 with one being plain and 6 being relatively spicy, but still flavorful.
If you're one of many Vancouverites that subscribes to an alternative diet, this eatery has you covered. A large portion of this restaurant's menu is devoted to vegan and vegetarian roti variations made.
The only issue with the Indian Roti Kitchen is the fact that they only allow take-out, delivery, or pick-up orders. But, as long as you don't mind stepping out or waiting a bit for some delicious food, this shouldn't be too much of a problem.
Extremely popular Lamb Roti dish
Specializes in stuffed roti
Tons of vegan and vegetarian offerings
Opens relatively late
Does not offer dine-in services
Customer Reviews
The Indian Roti Kitchen's stuffed roti dishes have filled the bellies of many Vancouver citizens over the years:
"First time here, had Lamb Roti (spicy), suggested by attendent. Great taste, lamb chunks were properly cooked in a delicious gravy wrapped in a large portion roti (bread). Nicely cooked ,hot and spicy meal. Enough for dinner serving for one. You can select from range of spice, I selected the max spicy one which was okay as per Indian taste. Only take out, no dine in option when I went. Neat & clean packing. Roti got soft after some time due to gravy, will try rice option next time." – Ajay P.
"Fantastic Indian food. Typically my issues with Indian food is I feel very greasy after eating it. This is the only Indian food place I've found where the taste is amazing, portions are good and I feel great after eating it. Whenever I'm in the neighborhood, I try to pop by for their lamb curry roti. Typically this last me about two meals given the size. Also the woman who takes the orders (the owner I think), was very nice so that's a plus. Definitely check this place out."- Alexandre R.
4. Sula Indian Restaurant
SERVICES
North and South Indian cuisine
Curry
Tandoori breads
Catering
Cocktails
Indian Beers
Wines
WEBSITE
https://sulaindianrestaurant.com/
ADDRESS
4172 Main St, Vancouver, BC V5V 3P7, Canada
CONTACT DETAILS
Phone number: (604) 874-5375
OPERATING HOURS
Monday: 4:30 pm – 9:30 pm
Tuesday: 12 pm – 9:30 pm
Wednesday: 12 pm – 9:30 pm
Thursday: 12 pm – 9:30 pm
Friday: 12 pm – 9:30 pm
Saturday: 12 pm – 9:30 pm
Sunday: 12 pm – 9:30 pm
The Sula Indian Restaurant offers a unique blend of both North and South Indian cuisine. In case you're wondering, the former differs from the latter by using more meat and dairy products as opposed to vegetables and seafood.
This blend of offerings ensures a healthy selection of vegan/vegetarian foods and regular meat-based dishes. To wash all of this delicious grub down, Sula also offers various traditional drinks and imported Indian beers.
If you'd prefer a more sophisticated drink you can also opt for one of their in house cocktails or a nice glass of Wine. Regardless of which beverage you choose, it would be wise to bring a friend or two since these folks serve particularly large dishes.
Should you enjoy Sula's Indian fare you'll be happy to know that they also offer catering services. This means you can have heaping helpings of their dishes delivered straight to your gathering or event.
Large servings
Offers catering services
Serves imported Indian beers
Blends North and South Indian cuisines
Uses non-traditional ingredients for recipe substitutes
Opens late on Mondays
Customer Reviews
Sula has become the go-to Indian restaurant for many people because of its blend of North and South Indian foods:
" … So I was super happy to check out Sula Indian Restaurant on Main Street with a girlfriend, as it came highly recommended by our mutual girlfriend. Between the two of us, we shared the Butter Chicken and Gobi Aloo, along with Garlic Naan for me and Tandoori Naan for her. Everything was super delicious! We chose a Medium spice level for the Butter Chicken and it had the perfect kick to it! The Naans came out warm and fresh. The Gobi Aloo tasted great as well. We had enough leftovers for dinner. Overall it was a yummy lunch! Also received great service. Highly recommend!"- Jurn L.
"By far the best Indian food I have ever had! The portions are big, we had left overs for lunch the next day. The restaurant is nicely decorated and the service is top notch. This will be our go to from now on. I can't wait to go again!" – Elle F.
5. Tasty Indian Bistro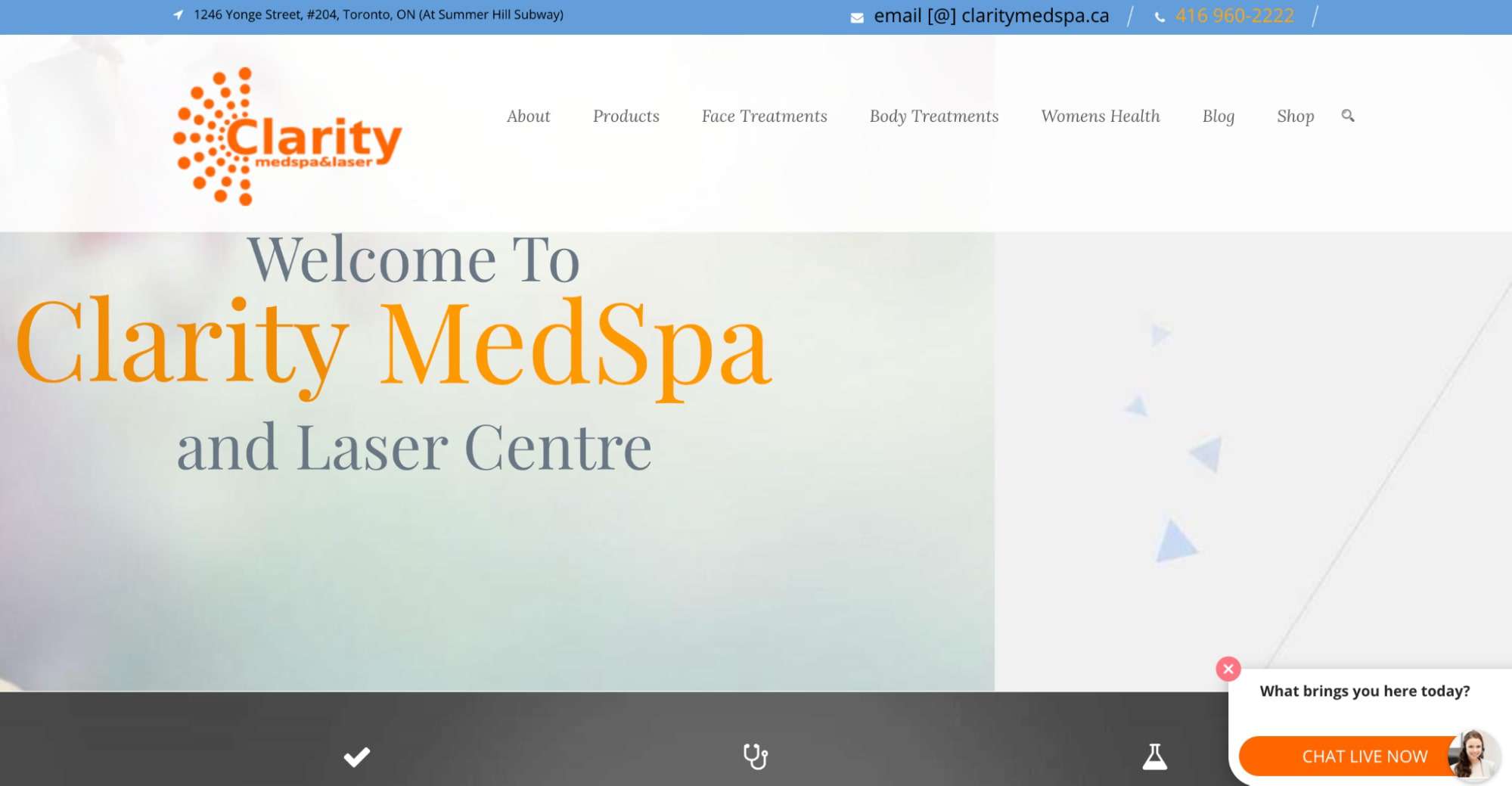 SERVICES
Tandoori cuisine
Craft cocktails
Takeout
Delivery
Pick-up
Curry
Naan
WEBSITE
https://tastybistro.ca/
ADDRESS
1261 Hamilton St, Vancouver, BC V6B 6K3, Canada
CONTACT DETAILS
Phone number: (604) 423-3300
Email:

[email protected]

OPERATING HOURS
Monday: 11:30 am – 12 am
Tuesday: 11:30 am – 12 am
Wednesday: 11:30 am – 12 am
Thursday: 11:30 am – 12 am
Friday: 11:30 am – 12 am
Saturday: 11:30 am – 12 am
Sunday: 11:30 am – 12 am

Tasty Indian Bistro is one of the few restaurants on our list that departs from the styles of traditional Indian eateries. We say this because they offer a healthy mix of cocktails, wine, and fusion Indian dishes.
To expound on this, these folks have your standard curry, naan, and lamb offerings but they also have sliders, dim sum, and salads. Many would consider this fusion of cuisine a breath of fresh air from your typical Indian restaurant.
The idea of blending different dishes doesn't stop with main courses because this eatery also has western desserts like red velvet cake, ice cream, and brownies. Now we know what you're thinking – "what about the classics?".
Not to worry, as this establishment also serves staples like kheer, falooda, rasmalai and gulabjamun. If you're looking for an Indian restaurant that mixes new and old dishes, this is definitely a place to consider.
Mixes western foods with Indian cuisine
Long list of dessert dishes
Closes late at 12 midnight
Not ideal for those who prefer traditional foods
Limited vegan offerings
Customer Reviews
With its deliciously unique modern approach to Indian cuisine, this restaurant has gained tons of well-deserved attention:
"My husband and I truly enjoyed this delicious Indian restaurant with great ambience and a very friendly staff. They have some of the amazing signature drinks and flavourful punjabi food created with a twist while balancing all the different spices. We loved everything we ordered especially their tasty paneer sliders and tandoori halibut. Our server was so calm, friendly and did make suggestions for food as per our likings. Service was fast and the food quantity was good for the price. We were not able to try their desserts since we were full with the other delicacies but definitely on the list for next time." – Namrata J.
"It is simply an amazing Indian restaurant I vancouver. Gobi manchurian is just very flavorsome. The other outlet of tasty indian bistro is good too. We tried hara bhara kabab there and it was different that want I have tried in india too. Different in delicious way. Ambience is amazing. Staff is good. Tandoori momos were good too. They cater very well to every need." – Bijal P.
6. Davie Rosa Company
SERVICES
Starters
Dosas
Curries
Biryani
Side and Breads
Desserts
Non-Alcohol
Alcohol
Delivery
Take-Out
WEBSITE
https://daviedosacompany.com/
ADDRESS
1235 Davie St, Vancouver BC V6E 1N4
CONTACT DETAILS
Phone number: +1 (604) 669-5899
Email:

[email protected]

OPERATING HOURS
Sun – Thursday 09:00 – 22:00
Fri & Saturday 09:00 – 23:00
Davie Dosa Company is a restaurant in Vancouver that specializes in Unique South Indian cuisine. Founded back in 2017, the restaurant aims to deliver authentic south Indian dishes along with delicious cocktails for a delectable and exotic culinary experience.
The restaurant uses only local produce and products as their ingredients and makes sure that all dishes, chutneys, and sauces are from scratch and fresh. They also offer their own reinvented dishes such as the traditional Masala Dosas that will surely tingle the customer's taste buds and interest.
They also make it to a point to deliver excellent customer service along with equally beneficial practices for environmental change such as utilizing energy-saving strategies and eco-friendly products. Furthermore, their menu is available on their website should customers want to know what they would like to try should they wish to dine there and experience the exotic Indian cuisine experience.
We recommend this restaurant for customers looking for Indian dishes that are molded and reinvented to be more contemporary and modern but still retains the traditional essence of the dish.
Delicious and fresh dishes
Utilizes eco-friendly strategies
Reinvented Indian cuisine
May have fairly long waiting time
Customer Reviews
Here are some reviews from their customers:
"I was craving a Masala Dosa, and this place didn't disappoint. Beautiful crepes filled with seasoned potatoes served with coconut and tamarind chutneys. Of course it came with the traditional soup as well. We also got the spinach and "cottage cheese" (paneer) served with rice and a rice flour bread and a mango lassi each. There were meat offerings for non vegetarians. The waitstaff was very pleasant. I'll be back" – Rachel S.
"Walked in on a Sunday afternoon for a brunch and I'm glad we did.
The dosas are delicious and the accompanying sambar (lentil curry) and chutneys are very good too. We had 3 types of dosas and filter coffee. I must say that this was the best filter coffee I have had in Vancouver.
My dosa was so crisp that I couldn't mould it to have it with my Cajun chicken . When explained to the server, it was promptly replaced by a right consistency one and it was so delicious.
Highly recommended from an Indian girl who is not a South Indian and yet grew up on this food back in Mumbai.
Go for it!" – Pranjali P.
7. Bombay Masala Indian Restaurant
SERVICES
Seafood Specialties
Vegan Specialties
Tandoor Specialties
Chicken Specialties
Delivery
Take-Out
WEBSITE
https://bombaymasala.ca/
ADDRESS
4473 W 10th Ave, Vancouver, BC V6R 2H8
CONTACT DETAILS
Phone number: 604-224-1111
Email:

[email protected]

OPERATING HOURS
Everyday: 11:30AM – 10:00PM
Bombay Masala Indian Restaurant is a restaurant that aims to create and let customers experience authentic and contemporary Indian cuisine in Vancouver. Having a previous experience in a popular experience named Bombay Kitchen and Bar, the said restaurant offers not only the said menu from the bar but also adds unique dishes to further a unique dining experience.
They also accommodate their meals and orders for delivery and pick up and so customers can enjoy hassle-free and convenient dining experiences and transactions as well. Furthermore, they also accommodate table reservations and online ordering services on their website.
They are comprised of a team of hardworking individuals who are driven to deliver only the best dining experience to their customers may this be dine-in, take-out, and pick-up. They are also highly acclaimed to serve portions and flavors that put a great value on money.
We recommend this restaurant for customers looking for authentic, delectable, and genuinely portioned dishes, especially within Indian cuisine. Combined with the outstanding and diligent staff and a pleasant dining experience, they are highly commended for their overall performance in customer service and dining experience.
Portions put great value for money
Exquisite and authentic Indian flavors
Accommodating staff
Customer Reviews
Here are some reviews from their customers:

"Very good food, medium was just the perfect spiciness for us, very pleasant. The servings are just the right size, not huge, but certainly not small. Well worth the money. The interior is also nice."
"Had our first meal (take out) from this great addition to the neighbourhood last night. FANTASTIC! I'm from the UK where curry is a hugely important and delicious part of the national diet, and this is the best Indian food I've had in my 15 years in Canada. Highly recommend and can't wait for an opportunity to dine in. PS If you are concerned about heat don't be, 'mild' was genuinely mild."
8. Bombay Kitchen and Bar
Bombay Kitchen and Bar only serves mouth-watering and authentic Indian cuisine. Whether you want to dine-in, take out, or deliver, they will still make you experience their first-class service.
In comparison to other restaurants, you are able to book a reservation with them through their website. With a few simple clicks, you will get to taste their scrumptious delicacies.
What's great about them is that when you order online, your meal will be delivered to you for free.
If you have an event and want a caterer that can surprise your guests, contact them and they will see what they can do for you. They only use the freshest ingredients in their meals making them more flavorful and appealing.
Authentic Indian food
Affordable rates
Customer Reviews
Here are some reviews from their customers:
"Wonderful and friendly staff, amazing service, food, and great ambiance"
"I loved the garlic naan, dry chilli chicken, and Rada chicken"
FAQs About Indian Restaurants
---
Now that we've covered some of the best Indian restaurants in Vancouver, you're all set to begin your next culinary adventure. Before you start ordering dishes by the platter always remember to watch your portions and your spice levels to avoid any unwanted leftovers.
If you've put on some extra weight because of one too many dishes, we can help you cut the calories with a list of the best personal trainers in Vancouver. Like all our other lists, you'll have access to reviews, pros & cons, and other helpful data to make choosing a trainer easier.