The 5 Best Janitorial Services in Vancouver
If you need janitors for your property, you're on the right page, as we've gathered a list of the best janitorial services in Vancouver for today's article. We've also thrown in some helpful reviews, insightful backgrounds, and other helpful info.
Before we dive into the list, let's familiarize you with the average cost for janitorial services, however.
How Much Do Janitorial Services Cost in Vancouver?
The cost of cleaning a space can often change based on the complexity of the job and the size of the space to be cleaned.
To give you a general idea, we've put together a cost guide:
| | |
| --- | --- |
| Service | Cost |
| Basic cleaning (vacuuming/dusting) | $100 – $200 |
| Carpet cleaning | $30 – $40/hour |
| Floor waxing | $0.30 – $0.50/sq foot |
| Commercial-scale cleaning | $0.20 – $0.50/sq foot |
As you can see, the costs and rates will vary with each job. This is because each task requires different levels of work and service time.
Generally, larger cleaning jobs will be charged in terms of square footage as opposed to the amount of time spent cleaning. This helps large companies save a bit more on cleaning costs overall.
The Best Janitorial Services in Vancouver
Now that you have a general idea of how much janitorial services can cost here, it's time to see what Vancouver has to offer.
Each of the entries on our list excels in specific practices, so it's best to keep this in mind when choosing your service provider.
1.   Pacific West Cleaners
SERVICES
Office cleaning
Disinfection
Commercial cleaning
WEBSITE
https://www.pacificwestcleaners.ca/
CONTACT DETAILS
Phone number: (604) 512-2943
Email:

[email protected]

OPERATING HOURS
Monday: 9 am – 9 pm
Tuesday: 9 am – 9 pm
Wednesday: 9 am – 9 pm
Thursday: 9 am – 9 pm
Friday: 9 am – 9 pm
Saturday: closed
Sunday: closed
Pacific West Cleaners is an excellent cleaning service for businesses and offices that receive lots of traffic throughout the workday. These folks use cutting-edge technology to provide a high quality of service and cleanliness.
Starting with their vacuums, they make use of high filtration units, which are proven to remove 99.7% of air particulates. Because of this, their vacuum system ensures a much higher level of air quality and dust removal as opposed to conventional vacuums.
Of course, good air quality is pointless if the surrounding areas still contain bacteria and viruses. Knowing this, Pacific West uses a revolutionary electrostatic disinfection spray to properly sanitize all manner of surfaces.
Along with this spray system, the company also uses "Vital Oxide, " which is a powerful hospital-grade disinfectant. All of these measures allow them to efficiently deal with bacteria and viruses such as MRSA, Swine Flu, Avian Flu, Norovirus, and many more.
Offers customizable cleaning packages
Uses extremely advanced cleaning technology
Capable of dealing with a wide variety of bacteria and viruses
All disinfectant products are hospital-grade
The company does not have a physical office
Customer Reviews
Pacific West has managed to leave great impressions on their clients:
"We have hired Pacific West Cleaner for where I worked before now I've also hired them for my new work to clean our office. I've always been happy with their service. They are always reliable and have a great fair price. Very friendly couple , I HIGHLY RECOMMEND THIS COMPANY!" – Melita J.
"Serena and the Pacific West Team have been immensely professional, personable and beyond accommodating to meet our company's needs. We are thrilled with the quality of their service and would highly recommend them!" – Rachel R.
2.   JAN-PRO Vancouver
SERVICES
Office cleaning
Disinfection
Commercial cleaning
WEBSITE
https://www.jan-pro.ca/
ADDRESS
4259 Canada Way #215, Burnaby, BC V5G 1H1, Canada
CONTACT DETAILS
Phone number: (604) 430-4229
Toll-free number: (888) 977-1444
OPERATING HOURS
Monday: 8:30 am – 5 pm
Tuesday: 8:30 am – 5 pm
Wednesday: 8:30 am – 5 pm
Thursday: 8:30 am – 5 pm
Friday: 8:30 am – 5 pm
Saturday: closed
Sunday: closed
An effective cleaning company needs to be able to handle both small and large clients. Fully aware of this, JAN-PRO ensures a high level of skill in its technicians through rigorous training and certification.
In addition to this, these folks know that every business is different in terms of the types of cleaning services required. This is why the company offers a wide range of monthly cleaning packages for family-owned shops and corporate giants alike.
Through the use of their EnviroShield system, JAN-PRO is capable of offering hospital-grade sanitation services. Along with this, their cleaning products are also eco-friendly, non-toxic, and non-corrosive.
This means that a client's property and wellbeing are well protected against chemical damages and stains.
Last but not least, this company's work is backed by a 100% satisfaction guarantee to ensure that no client pays for less-than-adequate service.
Uses eco-friendly, non-toxic cleaning products
Caters to both small businesses and large corporations
Offers a 100% satisfaction guarantee on all work done
Technicians are fully-trained and certified
The company charges higher than smaller janitorial services
Customer Reviews
Whether it's big offices or cozy shops, this company has proven that it can get the job done. But don't take our word for it. – here are some reviews:
"We have used JAN-PRO for our office cleaning for a few years now, and we love them. Alfredo is who works with us, and he is such a nice man and makes sure that he is doing a great job. We feel totally taken care of by Alfredo. Cindy, the quality assurance and Operations Manager is also very good. They have mastered the art of customer service. They are very quick to respond when we need to make any changes. Thank you JAN-PRO and Alfredo!" – Gillian A.
"Jan-Pro has been our office service provider since we reopened our office after the pandemic. Since we've returned, we've had much higher standards and requirements to ensure the safety of our staff. The quality of service, speed and varieties of service offerings have made us feel extremely confident and comfortable working in the office again. We are so happy with Jan-Pro's work that we keep trying to find more reasons to get them in to our other spaces! Thanks for the great all around service!" – Jessica D.
3.   Foster Janitorial
SERVICES
Office cleaning
Commercial cleaning
Strata cleaning
WEBSITE
https://fosterjanitorial.com/vancouver/
ADDRESS
1188 Howe St #2306, Vancouver, BC V6Z 2S8, Canada
CONTACT DETAILS
Phone number: (604) 360-8979
Email:

[email protected]

OPERATING HOURS
Monday: 8 am – 8 pm
Tuesday: 8 am – 8 pm
Wednesday: 8 am – 8 pm
Thursday: 8 am – 8 pm
Friday: 8 am – 8 pm
Saturday: 8 am – 8 pm
Sunday: 8 am – 8 pm
Foster Janitorial has been providing cleaning services all over British Columbia for over 10 years. They've built up a long list of clients from various places including Chilliwack, Abbotsford, Burnaby, and of course, Vancouver.
To distinguish itself from the competition, this particular company has expanded services that cater to less common cleaning needs.
These services include full bathroom cleaning and sanitation as well as door handle disinfection, toilet paper replacement, soap dispenser refilling, and waste disposal.
Along with these services, Foster Janitorial also carries out basic cleaning of IT equipment.
To make sure every job is carried out with the utmost care and diligence, every member of the Foster team is handpicked for their knowledge and experience. Clients with extensive cleaning and maintenance needs will benefit greatly from this company's combination services.
Available for work on the weekends
Offers combined cleaning and maintenance services
Caters to multiple companies across British Columbia
Not ideal for smaller businesses due to their high rates
Customer Reviews
The Foster Janitorial team has left nothing but clean offices and happy clients in their wake:
"Foster Janitorial service is amazing and well experienced. The crew just mind their work and they don't create any kind of noise or trouble. I would suggest you all to go for them for all your Janitor needs. Keep up the good work guys." – Rahul R.
"Fosters Janitorial Crew are the guys you want to hire to get the job done efficiently. in and out with no noise or clutter left behind. Fosters crew are polite and experienced and they will power wash ever nook and cranny of your building for beyond satisfying results." – Meemee S.
4.   HD Top Building Maintenance
SERVICES
Commercial cleaning
Strata cleaning
Office cleaning
Floor waxing
WEBSITE
https://www.hdtopbuilding.com/
CONTACT DETAILS
Phone number: 604-716-9399
Email:

[email protected]

OPERATING HOURS
Monday: 9 am – 9 pm
Tuesday: 9 am – 9 pm
Wednesday: 9 am – 9 pm
Thursday: 9 am – 9 pm
Friday: 9 am – 9 pm
Saturday: 9 am – 9 pm
Sunday: 9 am – 9 pm
Among the best janitorial services in Vancouver, HD Top is one of the few companies that specialize in commercial strata maintenance. This makes them an excellent option for high-rise property owners and condominium managers.
Aside from your basic cleaning services such as carpet cleaning, tile waxing, and vacuuming… these folks also carry out power washing and window washing on building exteriors. Of course, this doesn't come without risks.
To protect the interest of the company and its clients, HD Top is fully bonded and insured for up to $5 million in workplace accidents and other occurrences. Along with this, they have attained an A+ rating with the Better Business Bureau to help give clients peace of mind.
Since no two properties are alike, this company also offers flexible plans to fit any client's needs.
Well-suited to commercial strata cleaning
Fully bonded and insured
A+ rated business with the BBB
The company's skilled workforce entails large service costs
Customer Reviews
Here's what clients had to say about HD Top's excellent services:
"HD Top Building Maintenance is a great janitorial provider. Their service is amazing and I would highly recommend anyone looking for a janitorial provider to contact them." – Doug M.
"Incredible janitorial service. Staff are extremely friendly and helpful. If you want good quality commercial cleaning in Vancouver then these guys are the ones. Havent had a single problem with them for years." – Hamdon H.
5.   REHOBET JANITORIAL SERVICES LTD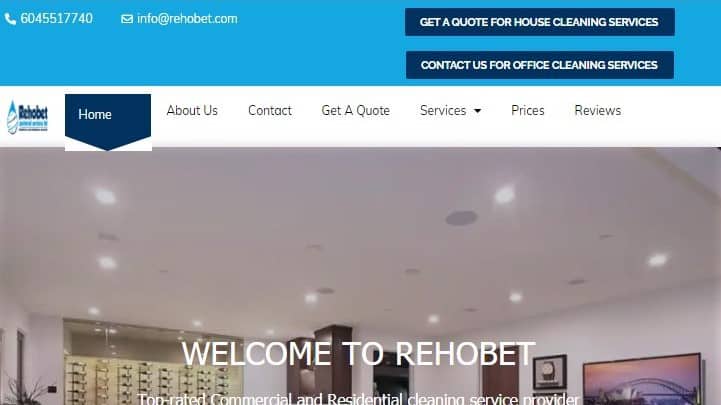 SERVICES
Janitorial services
Move-in cleaning
Move-out cleaning
Apartment cleaning
Disinfection
Office cleaning
WEBSITE
https://www.rehobet.com/
CONTACT DETAILS
Phone number: 6045517740
Email:

[email protected]

OPERATING HOURS
Monday: 7:30 am – 7:30 pm
Tuesday: 7:30 am – 7:30 pm
Wednesday: 7:30 am – 7:30 pm
Thursday: 7:30 am – 7:30 pm
Friday: 7:30 am – 7:30 pm
Saturday: 7:30 am – 7:30 pm
Sunday: closed
In an industry filled with huge companies and tons of competition, REHOBET gets by with old-time values and a ton of elbow grease. As an independently owned service, this company is under the watchful guidance of a single man by the name of Kebrom.
Having worked in the janitorial industry for a little over 5 years, Kebrom has first-hand knowledge about the qualities of a good cleaning service. He works on every job with a single small team by his side.
This hands-on approach allows Kebrom to constantly ensure a high quality of service with each job. Along with this, he can also make sure that clients always receive the best customer service.
Despite being a small company, REHOBET is still bonded and insured for $2 million in workplace accidents.
Independently owned and directly managed by one person
Bonded and insured for $2 million
The small team ensures a high quality of service with each job
Larger spaces can take longer for the small crew to clean
Customer Reviews
These clients were extremely happy with the service they received from REHOBET
"The two men that came to our home were absolutely wonderful. They were very thorough and efficient with their time. I was more than impressed with them with job they did. The company website is so convenient because you can get your quote and even pay online. I have already recommended them to others." – Christina M.
"The service was great. They were on time, very professional, organized and did a great job overall. Very thorough. I would recommend REHOBET to anyone looking for quality janitorial service." – Jeff A.
FAQs About Janitorial Services
---
That wraps up our list of the best janitorial services in Vancouver. Now that you're up to speed, all that's left is to pick your provider of choice.
If you're a homeowner who wants to keep your space spick and span, then you'll want a reliable cleaner too.  Thankfully, we've got you covered with a comprehensive list of the best cleaning services in Vancouver.