The 13 Best Interior Designers in Vancouver
Working with an interior designer can sometimes mean the difference between a dream come true or a blunder brought to life. To make sure you don't experience the latter, we've made a list of the best interior designers in Vancouver
Every entry on our list has its own specific design styles and tastes. To help find the one best suited to your projects, we've also included company breakdowns, customer reviews, and other important data.
How Much Does an Interior Designer Cost in Vancouver?
When it comes to interior services, clients can be charged in one of two ways. These two methods consist of a lump-sum payment or an hourly fee.
Lump-sum payments can run anywhere from $1,000 to $10,000. This is because the size and complexity of a job will vary with each and every project.
Hourly fees have a much smaller price range because they are mainly affected by the designer's experience level. To give you a general idea, we've compiled a basic cost table:
| | |
| --- | --- |
| Service | Price range |
| Freelance interior designer | $50 – $100/hour |
| Boutique firm | $75 – $150/hour |
| Large interior design firm | $250 – $500/hour |
It should be noted that large design firms rarely ever take on single-room projects. The reason for this is that large firms aren't able to maximize their capabilities on smaller contracts.
The Best Interior Designers in Vancouver
Now that we've covered basic interior design costs, we can move on to our list. So without further ado, here are our picks for the best interior designers in Vancouver.
1. Cutler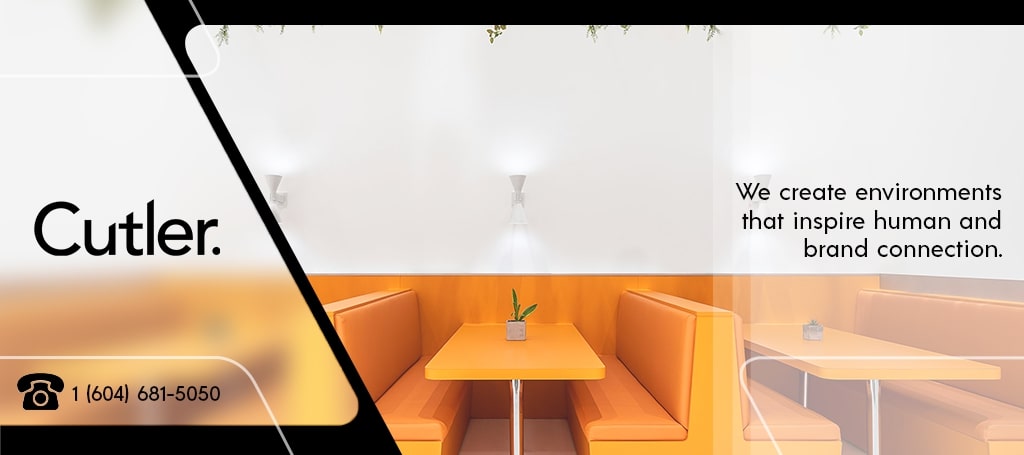 SERVICES
Concept development
Furniture, fixture & equipment package
3D visualization
Spatial planning
Building permits & building code
WEBSITE
https://www.cutlerdc.com/
ADDRESS
195 Alexander St 2nd floor, Vancouver, BC V6A 1B8, Canada
CONTACT DETAILS
Phone number: (604) 681 – 5050
Email:

[email protected]

OPERATING HOURS
Monday: 9 am – 5 pm
Tuesday: 9 am – 5 pm
Wednesday: 9 am – 5 pm
Thursday: 9 am – 5 pm
Friday: 9 am – 5 pm
Saturday: Closed
Sunday: Closed
Cutler is a medium-sized design firm composed of 13 individuals with various backgrounds in architecture, interior design, and computer rendering. As a result of their diverse team, this firm is able to take clients through the entire design process from start to finish.
Clients working with Cutler can look forward to meeting any of the company's seven full-time interior designers. Throughout multiple consultations, a project will slowly come to life with various tweaks based on a client's taste.
Ultimately, the project will culminate in a final 3D rendering that clients can virtually walk through. This next-level process allows clients to truly get a feel for their designed space and in turn, make last-minute tweaks or adjustments.
The only issue clients may have with Cutler is the fact that they only work on commercial projects.
Regardless, the company has built up a reputation as a great commercial designer. The firm has even worked with massive brands like Adidas, Samsung, Geox, and Nespresso
Provides 3D renderings of completed designs
Highly experienced team
Works with several major brands and retail stores
Only works on commercial projects
Customer Reviews
Despite only working with commercial clients, Cutler has still found tons of success in the interior design market:
"My office was designed by Cutler, and it makes me love coming to work. They made the space very user-friendly, in addition to being very stylish and relaxing. I get multiple compliments a day on how beautiful the space is, and I couldn't agree more! Cutler and his team are an absolute pleasure to work with." – Joanna R.
"Working with Cutler was a great experience. We worked with them on two projects, and they were professional, reliable, and built an amazing product for us. I cannot recommend them highly enough." – Stefan H.
2. Renocon Design Centre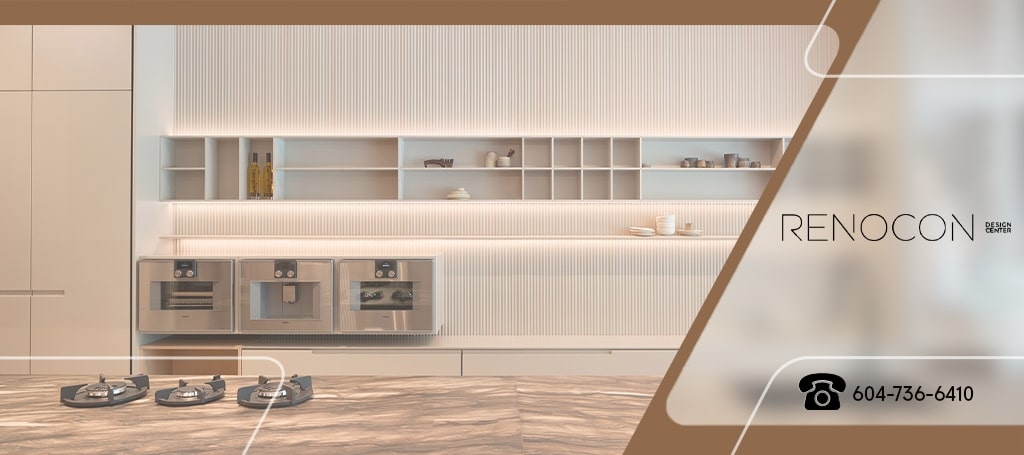 SERVICES
Residential interior design
Commercial interior design
WEBSITE
http://www.renocondesign.com/
ADDRESS
320-638 Broughton St. Vancouver, BC V6G 3K3
CONTACT DETAILS
Phone number: (604) 736 – 6410
Email:

[email protected]

OPERATING HOURS
Monday: Closed
Tuesday: 9 am – 5 pm
Wednesday: 9 am – 5 pm
Thursday: 9 am – 5 pm
Friday: 9 am – 5 pm
Saturday: Closed
Sunday: Closed
Renocon Design Centre has over 12 years of experience helping clients design, source, and construct both commercial and residential projects. With a highly skilled design team, and exclusive partners in construction, this firm is an excellent start-to-finish service provider.
This firm was made with the goal of providing a stress-free option for clients to conceptualize spaces and bring them to life. The company accomplishes this by placing designers, construction samples, and contractors at a client's fingertips.
As a result of their quick and easy approach to design projects, Renocon has secured hundreds of residential contracts. Many of the firm's projects carry modern design aesthetics, but clients can always request different styles of design.
What sets these folks apart from other construction firms is the creation of a design booklet for each and every client. This booklet contains all the specifications required for a designed space including layouts, tile specs, fixtures, and even finishes.
With this booklet, clients can provide construction firms with all the details needed for a project. In turn, this makes looking for a contractor quick and simple.
Provides full service from design up to construction
Allows clients to work with partnered contractors or independent companies
Provides a project manager with each client to oversee construction
Renocon's one-stop-shop approach costs more than other firms
Customer Reviews
To help reduce client stress, Renocon offers exemplary customer service. This has resulted in hundreds of five-star reviews:
"This company is really committed to service. We came in with an urgent need for flooring and Milan made it simple. The team provided great advice on the product, and we were able to get it installed quickly. Everyone we dealt with was professional. Best of all – my floors look fabulous. Thank you Renocon! Great job and i will be recommending you." – Kim C.
"I have worked with this company for many years, Great work, ethical , trust worthy and doing things right. Milan is always a pleasure to work with and displays great knowledge within the field. Thanks guys keep up the great work!" – Ash K.
3. Designs For Life Home Staging & Interior Design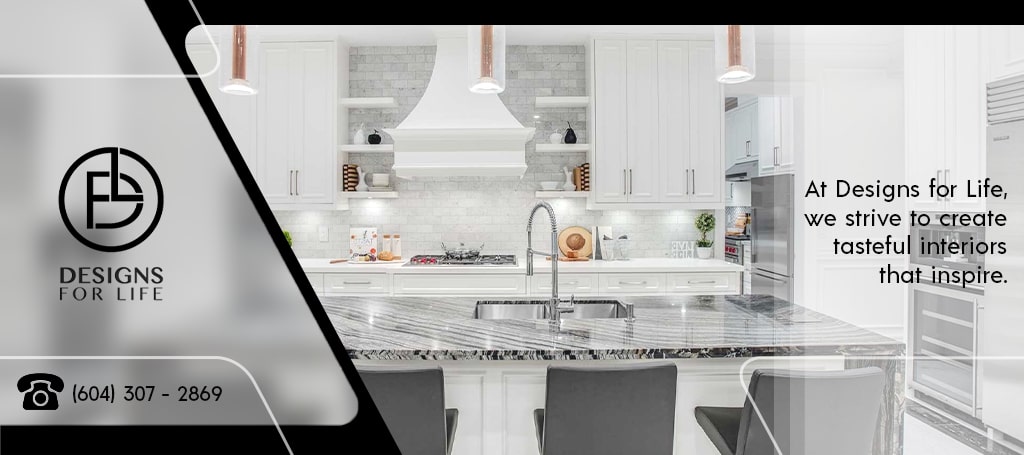 SERVICES
Interior Design
Interior Decorating
WEBSITE
https://www.designsforlife.ca/
ADDRESS
1175 15th St W, North Vancouver, BC V7P 1M7, Canada
CONTACT DETAILS
Phone number: (604) 307 – 2869
Email:

[email protected]

OPERATING HOURS
Monday: 10 am – 5 pm
Tuesday: 10 am – 5 pm
Wednesday: 10 am – 5 pm
Thursday: 10 am – 5 pm
Friday: 10 am – 5 pm
Saturday: Closed
Sunday: Closed
The folks at Designs For Life have a knack for creating uniquely grand interiors using modern design elements. Their work can be seen in luxury homes all throughout Vancouver and other areas in the lower mainland.
To ensure a high level of quality with each and every project, this firm employs a 6-step design process. The first step involves an initial consultation to discuss ideas, possibilities, the scope of work, and the project budget.
The next two steps involve concept development and client presentations to refine the overall design. Once finalized, the firm moves forward with final pricing and the procurement of construction materials.
When everything is in place, the team at Designs For Life helps clients select a trustworthy contractor for final installation. Throughout this whole process, clients can consult the firm to address any concerns with regard to construction and design execution.
Has plenty of experience with luxury home interiors
The firm takes responsibility for ordering all construction materials
Offers home staging services for house-selling
Designs for life strictly works on residential projects
Customer Reviews
This firm's ability to consistently create luxury designs has earned it tons of praise from clients all over Vancouver:
"the best Interior Designers are the ones that have a great eye for detail. They can turn a house into a home. Kamelia, the owner of DFL, is one of them. she has exquisite taste in design. highly recommended!" – Naz N.
"Had the pleasure to work with Kamelia and the team.
Love their modern style and quality of staging products. Modern staging at a very affordable price. Highly recommended!!" – Gezim I.
4. Curated Home By Chrissy & Co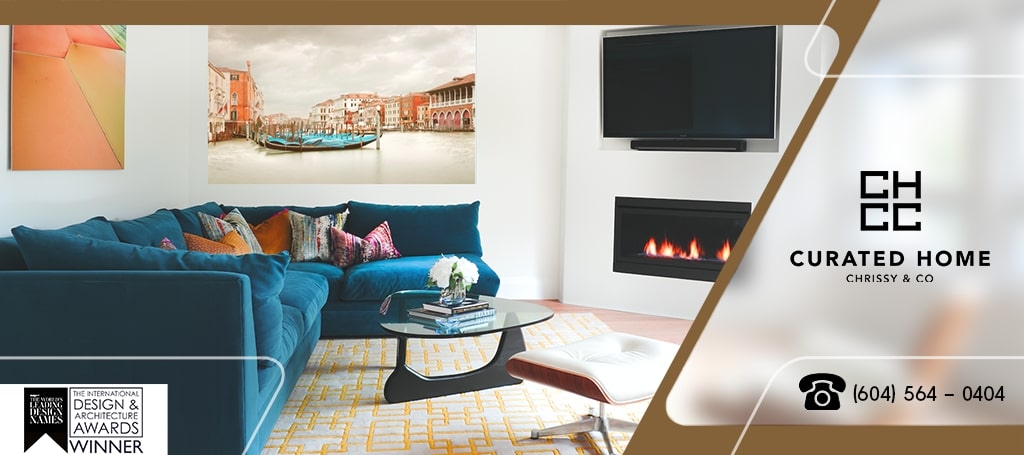 SERVICES
Furniture and decoration
Residential interior design
Blueprint design and space planning
WEBSITE
www.chrissyco.com
ADDRESS
1637 West 3rd Ave, Vancouver, B.C. V6J 1K1
CONTACT DETAILS
Phone number: (604) 564 – 0404
OPERATING HOURS
Monday: 10 am – 6 pm
Tuesday: 10 am – 6 pm
Wednesday: 10 am – 6 pm
Thursday: 10 am – 6 pm
Friday: Closed
Saturday: Closed
Sunday: Closed
Curated Home is a small design firm that specializes in home renovations and extraordinary commercial interior design.
As their portfolio shows, these folks prefer to use geometric designs for all their commercial projects. In turn, this creates aesthetics unseen in other firms.
On the residential side, this firm prides itself on being able to add refining touches to all kinds of floor plans. In doing so, the firm's designers are able to make small homes feel larger than they actually are.
Along with this, Curated Home also has a knack for designing bathrooms that mesh nicely with their client's lifestyles. To do this, the firm's lead designers sit down with a client to explore their daily routine and create a bathroom that conforms specifically to their needs.
All in all, this firm is a great option for clients looking to add a personalized touch to their home or office.
Highly skilled at bathroom and kitchen renovations
Offers unique commercial designs
Offers an exclusive furniture line
Customer Reviews
Here's what clients had to say about this firm's excellent services:
"What a stunning space! And Chrissy is truly gifted in interior design! She has exquisite taste and I trust her completely. She is so passionate about design and it shows. She also puts so much care into her projects and her clients. I have absolutely loved getting to know Chrissy. Highly recommend her and her team!" – Gina B.
"Love this place!! Not only does the store look impeccable, the people are amazing! I was impressed by the knowledge and the care that went into their recommendations. For a little store they have everything from decor all the way to custom furniture. If you want someone to help elevate your style, this is the place to go. Love it!" – Bronwyn B.
5. Kerr Design Build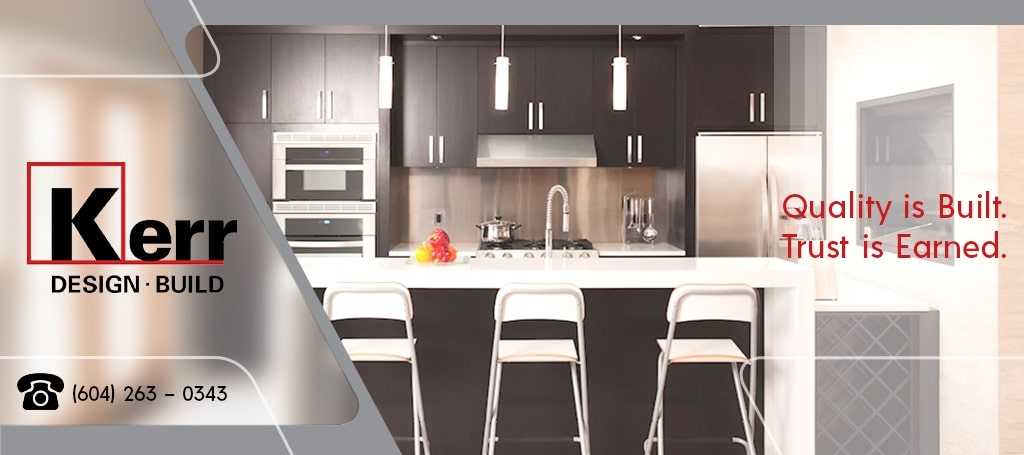 SERVICES
Residential interior design
WEBSITE
https://kerrdesign.build
ADDRESS
1676 W. 75th Ave. Vancouver, BC V6P 6G2 Canada
CONTACT DETAILS
Phone number: (604) 263 – 0343
Email:

[email protected]

OPERATING HOURS
Monday: 9 am – 5 pm
Tuesday: 9 am – 5 pm
Wednesday: 9 am – 5 pm
Thursday: 9 am – 5 pm
Friday: 9 am – 5 pm
Saturday: closed
Sunday: closed
Kerr Design Build has over 30 years of experience designing and building dream homes all over the greater Vancouver area. Over its long service life, this company has also won multiple awards for new builds and renovations alike.
Among the firm's recognitions are a National Sam Award from the Canadian Home Builders' Association, and several Georgie awards for excellence in homebuilding.
As further proof of capability, this firm is also fully licensed with the Provincial Homeowner Protection Office.
The reason these folks have so many awards is partially their large team of closely linked designers and contractors. By merging these two bodies, designs can be brought to life with serious attention to every minute detail.
The other half of the firm's success is owed to the Kerr Design Build system, which pairs clients with a rep who takes them through every aspect of their construction project. Ultimately, this helps avoid cost overruns, extended schedules, and a lack of accountability.
Great for custom home projects
Uses an exclusive team of contractors working with designers
Offers multiple warranties on all work done
The firm's large team results in larger labor costs
Customer Reviews
With reviews like this, it's easy to see why Kerr Design Build is an award-winning firm:
"Kerr Construction and Design has been a very good choice for my design and execute needs. The design process was really helpful in picking plans, colours, hardware, and making all of those decisions that are so stressful. The construction branch of the company is extremely considerate and customer-oriented. Billing is done every two weeks, and I get a text in the morning telling me what will happen that day. The project is still underway but has been far easier than I thought it would be." – Susan T.
"The Kerr team was amazing! They explained clearly and candidly how their design & build process works. They seamed very honest and transparent in their approach to construction. I felt very comfortable discussing my plans and my budget with their sales rep. He provided my with a detailed review of my project with a genuine budget range. I was very enthusiastic to get started on my kitchen renovation. Unfortunately, I was unable to secure funding from my bank. In 2017, when I reanimate my renovation plans, I'm coming back to Kerr." – Deirdre P.
6. PURE Design Inc.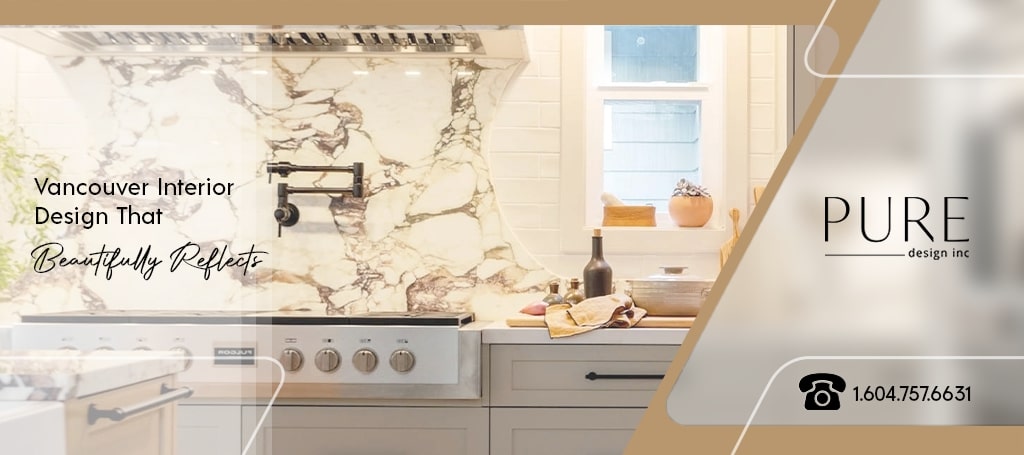 Ami McKay, the interior designer and creative director at PURE Design Inc., is known for setting design trends in Canada and the United States with her sustainable product design, contemporary interiors, and gorgeous, healthy spaces.
It is the client's personal style and vision that drive Ami and PURE Interior design and build team to provide for them. People like them because Ami always strive to make her projects unique to each client!
What's unique about them is that Ami McKay is one of Canada's most published interior designers. Her works can be seen in magazines such as Style at Home Magazine, House and Home Magazine, Architectural Digest, Gray Magazine, and Western Living Magazine.
Unlike other companies, PURE Design Inc. can make your dreams come true! Just let them know your ideas and they will turn it into reality.
The design and build team is well equipped to assist
Has been recognized as a top interior designer and a visionary entrepreneur
Operating hours are unavailable on their website
Customer Reviews
Here are some reviews from PURE Design Inc.'s previous clients:
"Working with Ami freom PURE for the past year has been a true pleasure. Ami's vision for the design of our home took into account our own style which she blended seamlessly with some prior renovations we started a couple of years earlier. Ami is incredibly upbeat and optimistic- no problem is too difficult to tackle! She is creative and innovative with solutions and is willing to be very flexible to incorporate our needs and wants! She has a high level of professionalism and customer service is a definite focus. We are looking forward to seeing it when it is entirely completed, but so far our home looks amazing and it beautifully reflects who we are as a family! Thank you to the PURE Team!"
"Ami McKay is a very talented designer. Ami is professional, reliable, and a joy to work with! We initially hired Ami to review our kitchen plan. After meeting with her, we quickly realized that she could transform our new house into something special. Ami worked within our tight budget and helped us with lighting, furniture, and materials selection. It was a pure pleasure working with Ami. She is generous with her time and responds quickly to questions"
7. Trim Studio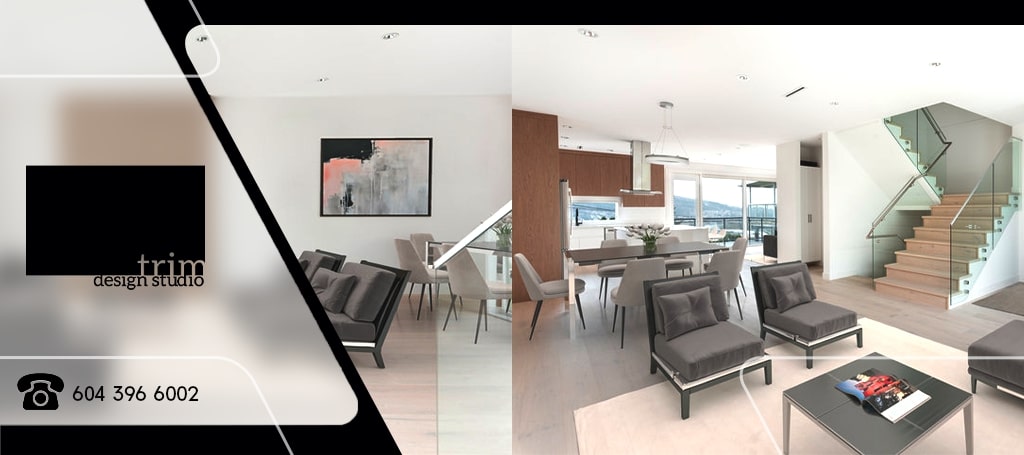 Trim Studio offers Interior design and Home design. Unlike other companies, these services include other contents such as concept creation, mood board, and technical drawings for interior design and spec package, design sketches, and permit plans set for home design.
What people like about them is their professional, fast, cost-efficient, and creative designs! Another is that they make sure to listen to their clients ideas, communicate well, and execute a vision that both parties are happy to move forward with.
Choosing Trim Studio will be the correct first step in achieving your desired design! You can definitely not go wrong with them and their skills!
Amazing designs
High-quality results
Goes an extra mile in their projects
Gives what they promise
Operating hours are unavailable on their website
Customer Reviews
Here are some reviews from Trim Studio's previous clients:
"Rodrigo and his team did an amazing job at designing our Southern Gulf Island Bunkie. We gave Rodrigo a stack of photos of different elements we liked and he put together an amazingly cool designed tiny home. It is exactly what we had in mind when we started this process and were so happy to work with Trim Studio." -Kris & Ali Alexander, Home Owners, Galiano
"As a general contractor, I am really fortunate to have found Rodrigo and Agne. I have worked with them on two projects since 2018. They are very dedicated, professional, thorough, responsive, hardworking, and committed to excellence. It was my pleasure to work with them and I look forward to collaborating again with Trim Studio on future projects." -Hossein Bahrami, Director, Caniversal INTLS Ltd.
8. Beyond Beige Interior Design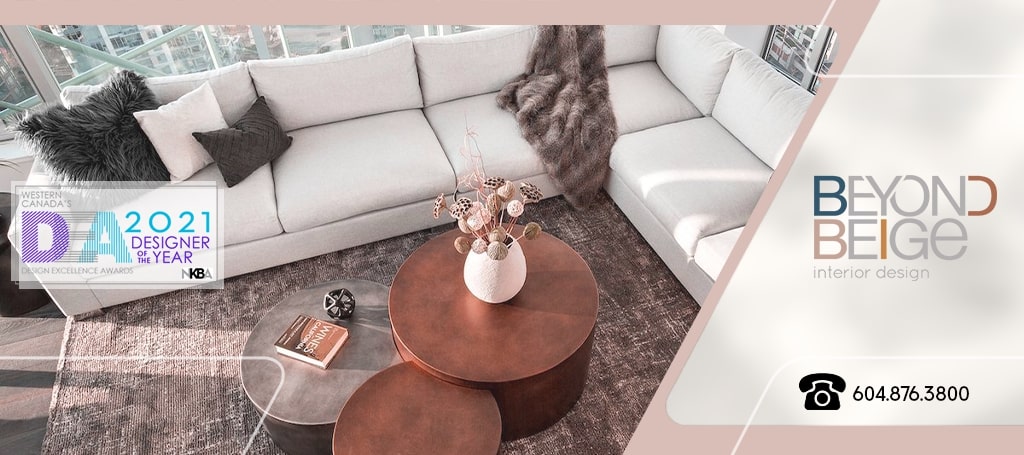 Beyond Beige Interior Design takes pride in their numerous designer awards. According to their website they have won a total of 47 awards!
A thing that makes them unique from other companies is that they are filled with strong, powerful, and amazing women interior designers. With all of their work experiences combined, they can definitely serve their clients with utmost respect and professionalism.
According to some testimonials of their previous clients, they recommend Beyond Beige Interior Design because they are always invested in their projects. From start to finish, BBID cares about their clients needs and is open to any requests big or small.
Dedicated team
Designs and concepts are amazing
Knowledgeable team members
Operating hours are unavailable on their website
Customer Reviews
Here are some reviews from Beyond Beige Interior Design's previous clients:
"We are thrilled with what Reisa and her team created in our 2400 sq ft Penthouse renovation located in Lower Lonsdale, North Vancouver. Each time we work with Reisa she manages to come up with so many excellent finishes and materials. She designed our booth seating request in our 12′ island and totally transformed the Master bedroom and Ensuite plus so much more all while staying within our budget agreed upon. BB Design is wonderful to work with and we will never go elsewhere for all of our future design and projects. Thank you so much! Lin & Christian"
"Reisa and her team are design wizards. They conjured a visual theme and atmosphere for our office renovation that was clean, modern and professional. The design also incorporated some elements from our website and business cards. We have received many compliments from our clients and others who have since visited our new office. The design concept was definitely beyond beige. And equally important, from the ownership perspective, Reisa sourced a highly capable general contractor, her team communicated regularly with us, and she kept the project on time and on budget. It was a first class experience from start to finish."
9. Inside Design Studio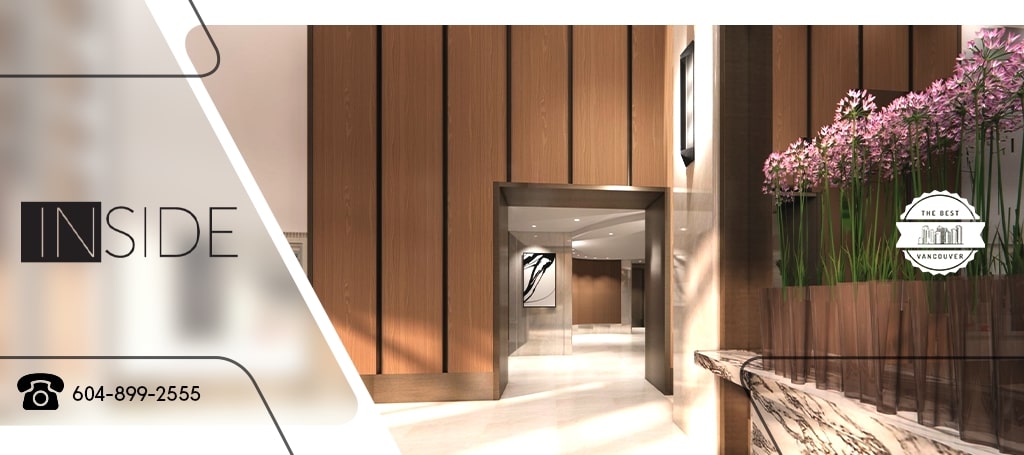 Inside Design Studio delivers exceptional interior design to elevate your space and exceed your market expectations. They have been in business since 1997 and are focused on multi-family, commercial, and modern hospitality design.
With a reputation for innovative design and precise project management, their team brings together expertise from around the world to push design boundaries.
What people like about them is their creative vision that make's their buyer's dream come to reality. Another is how they are expert at space planning and functionality.
In comparison to other companies, they only have a five-step process in serving their clients. These are client consultation, schematic design, design, development, construction documentation, and construction administration.
Creative ideas
Professional team
Listen to all requests of the client
Operating hours are unavailable on their website
Customer Reviews
Here are some reviews from Inside Design Studio's previous clients:
"We have become regular clients of Inside Design because in addition to being a great design team, they listen carefully to all our requests and deliver organized, well-managed projects, every time." — Paula Arsens, FS Financial Strategies
"Inside Design Studio has consistently delivered, over a number of projects, custom design elements that are a perfect fit for the space and true to a modern design aesthetic." — Bernard Casumpang, Great Canadian Gaming Corporation
"Thank you both for your creativity, professionalism, collaboration, responsiveness, flexibility and hard work in successfully completing the design work on our guestrooms & corridors." — Tony Cary-Barnard, Westin Hotels
10. Simply Home Decorating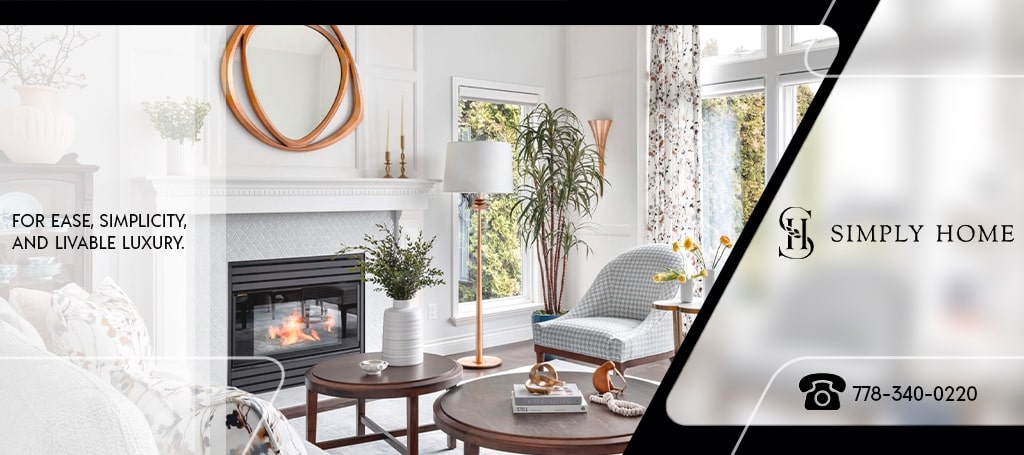 Simply Home Decorating delivers style and ease to busy families who want to make the most of their homes.
Lori Steeves, Founder and Creative Director of Simply Home Decorating, has been in the industry for over 20 years. She can definitely take what you already love about your home and add the right furniture, finishes, and accessories to create the perfect home of your life.
What people like about them is their very easy 3-step process in availing their services. First step is discovery call. Then design discovery session. Lastly, the signature design service.
Working with Lori will give you peace of mind. She never imposes her own aesthetic. Instead, she draws out and pull together the preferences of her clients in a way that it will work for their space.
Easy to work with
Organized team
Have a clear design process in place
Operating hours are unavailable on their website
Customer Reviews
Here are some reviews from Simply Home Decorating's previous clients:
"It was a pleasure working with Lori and Simply Home Decorating. She understood our goals immediately and brought our ideas to reality. Lori's customer service, professionalism and attention to detail are superb."
"You have this 'X-ray vision' that cuts right to the problem and then comes up with brilliant suggestions. The outcome far surpasses any hopes I had for my home office. It's so functional and beautiful, and really captures who I am."
11. Design Living Interiors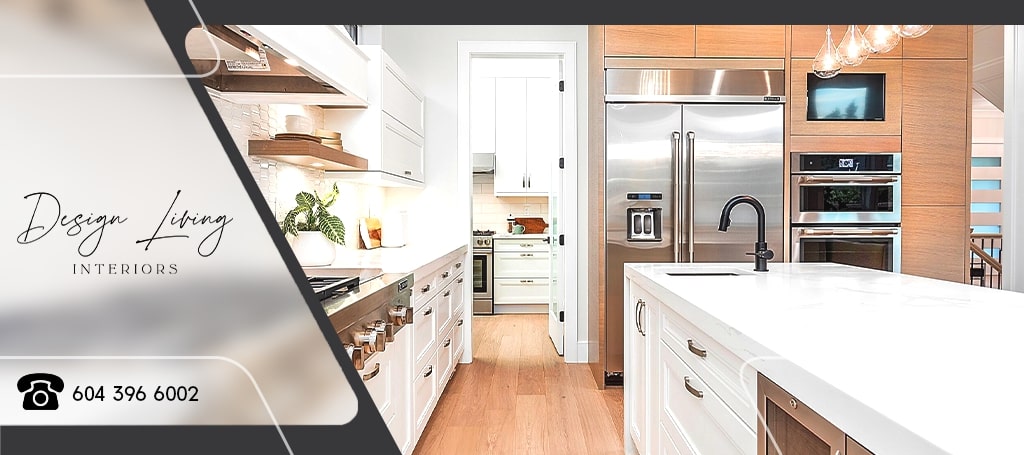 SERVICES
Commercial and Residential Design, Home Renovation, Furniture and Styling
WEBSITE
https://www.designlivingltd.com/
ADDRESS
4520 Deerfield Crescent, Richmond, BC V6X 2Y5
CONTACT DETAILS
(604) 285-2988 |

[email protected]

OPERATING HOURS
Contact for more details
Design Living Interiors is a growing team of 5 professionals who are fueled by their passion to design both residential and commercial spaces that are highly personalized and greatly suit the lifestyle of their clients.
They are a full-service interior design company that strives to make clients' vision of their spaces become a reality and have a perfect balance of functionality and creativity.
The company has a systematic approach of consultations in which they strive to get to know the client's needs, wants, and style preferences.
The company also makes sure to efficiently monitor the project to its very completion as they oversee the design and material implementation that is to be used during the whole technical construction process.
Furthermore, the company also offers a wide array of home improvement and renovation services that are easily combinable such as Space Planning, Project Management, Concept Development, Construction Drawings, Detailed Millwork Drawings, Kitchen and Bath Detail Plans, Liaise with Professionals, and Interior Styling among others.
Wide array of services offered
Experienced and efficient staff
Customer Reviews
Here are some reviews from their clients:
"I really appreciated all of Pam's help with our renovation. I am so comfy in my lovely home and her suggestions just made everything work so well." – Pam Munro
"Design Living Interior has the best interior designers in the industry, they are very professional, efficient and listen to the customer's needs and make it into reality. Pam is very knowledgeable in building and designing areas and she is very professional in terms of finding solutions under complicated situations, turning what we wanted into reality. Highly recommended." – Sally Xia
12. Space Harmony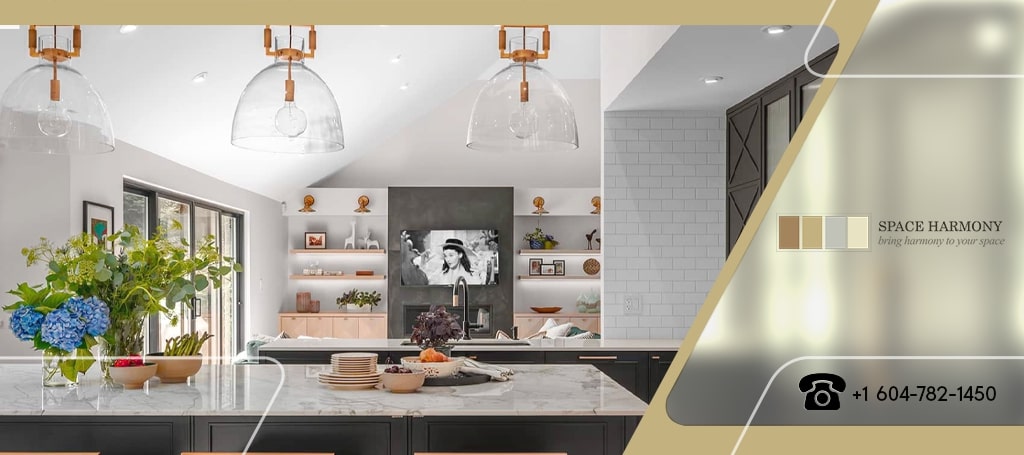 Space Harmony is an interior design agency that accommodates both residential and commercial settings. Specializing in high-end interiors, all their projects are geared toward creating marketable places.
While they have their own approach in designing each interior, they root their designs to what is best for the place and what the interest of the clients are. This can clearly be seen in their diverse and individually unique portfolio which is easily accessible on their website.
They have a complete team of experts, from tradesmen to contractors and artisans so that clients can be assured that all decisions done are adequately consulted by the needed specialists and have an all-in-one service.
Able to design all types of projects and functional rooms, they have an adaptable approach that enables clients to have a stress-free experience with them since they offer flexible schedules, personalized plans, and all at competitive prices.
Their reviews highly commend them for their warm and welcoming interaction and consultation meetings along with excellent work ethics from the company from the very beginning of the project up until its final phases.
Multi-awarded
Specialized in high-end residential and commercial projects
Provides start-to-finish design package
Highly regarded by their past clients
Customer Reviews
Here are some reviews from their clients:
"I met Negar Rehaini through my realtor upon purchasing my townhome. There was an immediate connection with her talents and compassion for her client. She extremely interested to learn about the expectations for this project and to find out about my tastes in decorating/finishing. She was great at presenting relevant choices to me, thereby saving me endless time and frustration as I am not a shopper. It really was uncanny how perceptive she was reading my preferences! She completely employed my design concepts, offering insightful suggestions when I was getting carried away with the moment. The project turned out to be difficult due to issues with strata/city, but Negar maintained an upbeat positive attitude guiding the project through difficult times.The end result has been spectacular with a definite "WOW!" factor to all who have seen the before and after images! She makes you feel like you are her only client, not just another client! Bravo!" – Dr. Ron Melnyk, Homeowner
"I hired Negar Reihani, the owner of Space Harmony to do a complete renovation of my condo in Vancouver. The entire experience of dealing with this company was above anything I would expect. From the design to the gutting the entire unit to the finishing, furniture, right down to the kitchen and bathroom necessities, everything was done above my expectations. The final result was absolutely perfect! Negar has an eye and understanding of what her clients want and she fulfills that need and more. I would highly recommend Space Harmony for any renovation and/or design projects." – Dr. Sylvano Marino, Homeowner
13. Rodrozen Designs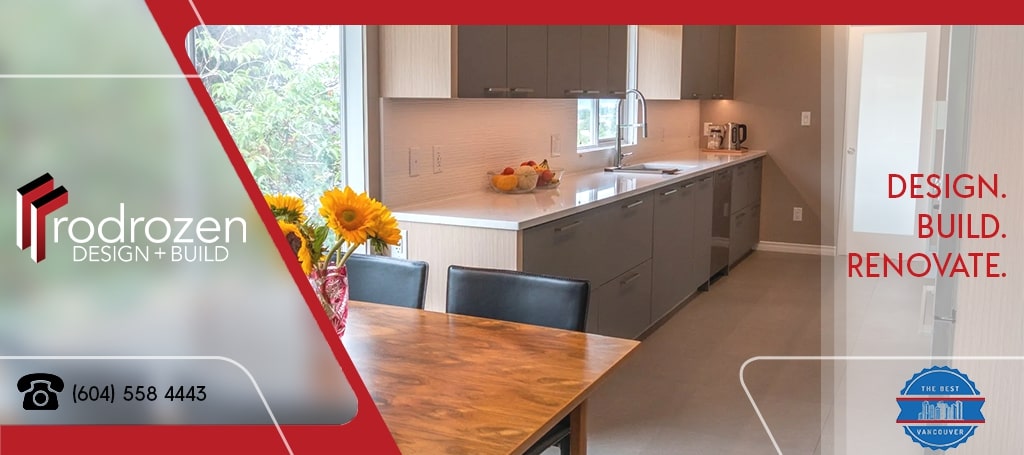 SERVICES
Interior Design, Renovation & Construction, Residential & Commercial Projects
WEBSITE
https://www.rodrozen.com/
ADDRESS
1463 W. Pender St., Vancouver, BC V6G 2S3, Canada
CONTACT DETAILS
(604) 558 4443


[email protected]

OPERATING HOURS
Monday to Friday: 8:30 AM – 5:00 PM
Weekends: By Appointment
Rodrozen Design + Build is a full-service interior design and construction firm based in Vancouver, British Columbia. Since 2004, their lead designer, Derick, has been at the forefront of modern, contemporary design, creating masterful space arrangements.
They have over 20 years of experience in the residential and commercial sectors, designing condo renovations, new warm homes, sophisticated working and sales environments, and stunning strata lobby redesigns.
Their design philosophy is unique in that they listen to you, who you are, how you live, and what you enjoy, and then incorporate your lifestyle into your project. They draw on a wide range of influences and keep our inspiration open; they design everything from subtle and poignant to bold and daring. To create stunningly unique spaces, we go deeper and create details that are beautifully unexpected.
Their discerning approach extends to the people they hire to work for you. They've spent years scouting the Lower Mainland's most qualified and exacting artisans, craftspeople, and tradespeople. They stand confidently behind them, knowing that our standards are the same as theirs.
And, while they take great pride in the end result, they also take care of you throughout the process. They understand the financial and emotional investment you have made in your home, and they honor that investment at every stage of the process.
Top of the line service
Member of the Great Vancouver Builders' Association, Awarded with Renomar Renovators Mark of Excellence
Weekends are by appointment only
Customer Reviews
Here are some feedbacks from their clients:
"I have worked with Rodrozen Designs twice now for good reason. The experience of recreating and transforming a space with the expert guidance of Derick, a gifted designer, was inspirational and life changing. Derick can look at a space and immediately know how to make a project come alive, always with the guidance of the client's taste. The process is exciting and life altering. My condo received a Georgie award; it was renovated on time, and within the budget discussed. I can't recommend this company enough." – Patty Silver
"We worked with Derick and his team on a total redesign of our condo including opening the kitchen, creating a new den, total redesign of the baths and bedrooms. Working with Derick was a total pleasure – he listens, offers great design suggestions, overcomes surprises (when we opened walls) with flair. He delivered the entire project from design, through demolition and full construction, all the way to the furniture, placing of the pictures and the flowers and chocolates at the end. All this was done on schedule and on agreed budget and in the best spirit of cooperation." – Bella Haasz
FAQs About Interior Design
---
That concludes our list of the best interior designers in Vancouver. If you've found your designer of choice, all that's left is to call them up for a consultation.
And if you've found a designer but still need a contractor… We've got you covered with a similar list of the best construction companies in Vancouver.