Things to Do in Vancouver When You're Bored
Vancouver is a city full of activities to keep you entertained, especially when you're bored, have nothing else to do, or want to get away from it all! It's no wonder that plenty of people have settled here to get a good balance between nature and city life.
Fun Things to Do in Vancouver When Boredom Strikes
From shopping at Granville Island Public Market to visiting the city's famous beaches, mountains, and parks, Vancouver has something for everyone.
Keep reading as we list down some of the best things to do in Vancouver to cure your boredom!
1. Shop and Dine at Granville Island Public Market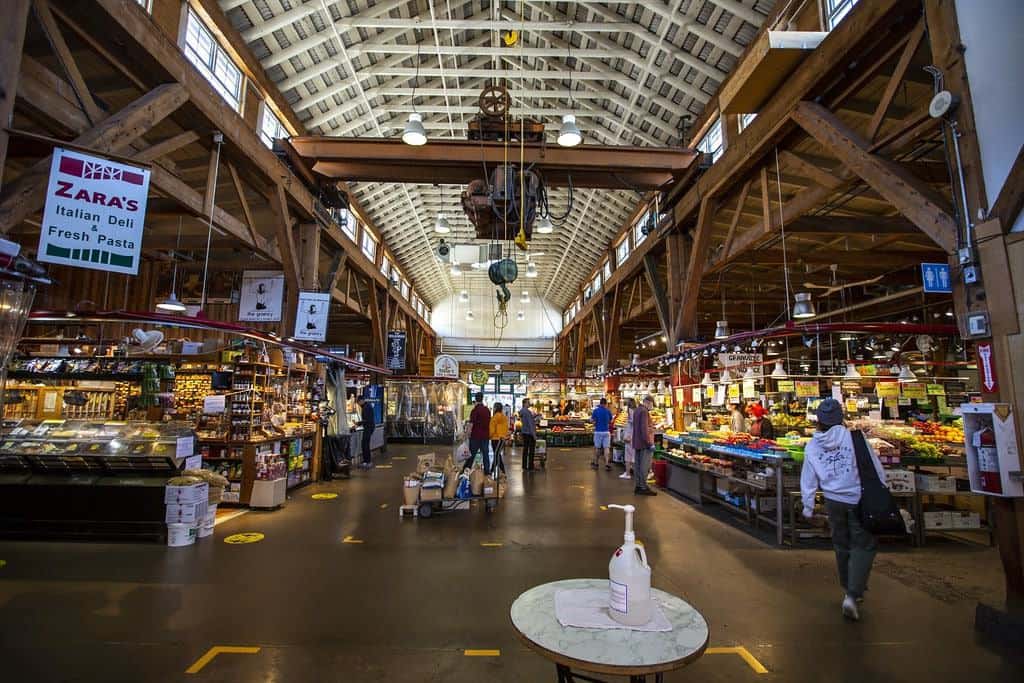 Image by Flickr via https://www.flickr.com/*
The Granville Island Public Market is an indoor market located at 1689 Johnston Street, and it's one of the best places to visit when you're bored. It opens at 9 a.m. daily for seven days a week, excluding holidays.
This public market features diverse dining options, boutiques, fresh produce, and cafes. Many of the vendors are friendly, family-run businesses that have been operating for generations!
That's not all – Vancouver's Granville Island Public Market is a must-visit for any food lover! With over 50 stalls offering delicious delicacies, there's something for everyone.
However, if you arrive early on Granville Island, we recommend visiting a great breakfast place that opens an hour before everything else.
The Breakfast Table is a quaint restaurant that infuses various cuisines into their dishes. They are also an excellent vegetarian restaurant, with many vegan options available, including their best-selling vegetarian benedict.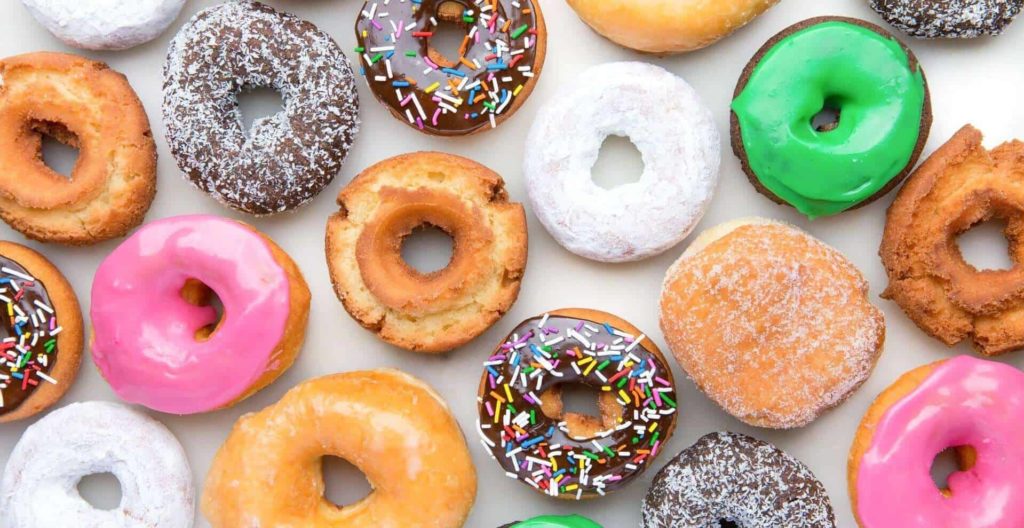 Image by Lee's Donuts via https://www.leesdonuts.ca/
If you have a sweet tooth, on the other hand, stop by Lee's Donuts! You'll find classic favorites like chocolate and vanilla to more unique options like mango, honeydew, and coconut.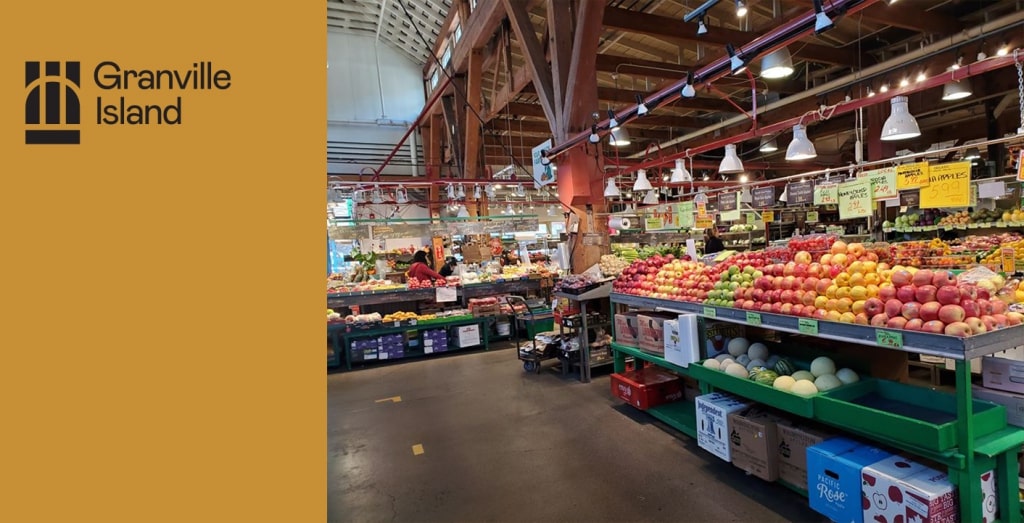 Image by Granville Island via https://granvilleisland.com/
If you're not sure what you want and are open to browse your options, one of the best parts of the market is the food court. Here you will find a variety of cuisines to choose from, all made with fresh, local ingredients.
Tips and Tricks
If you decide to eat outside, keep an eye out for seagulls, who will occasionally swoop down and steal your food if you aren't careful.
Granville Island offers free parking until 11 a.m. only. However, remember that parking spaces are limited, so arrive as early as possible!
BONUS: Visit the Granville Island Brewing nearby the Public Market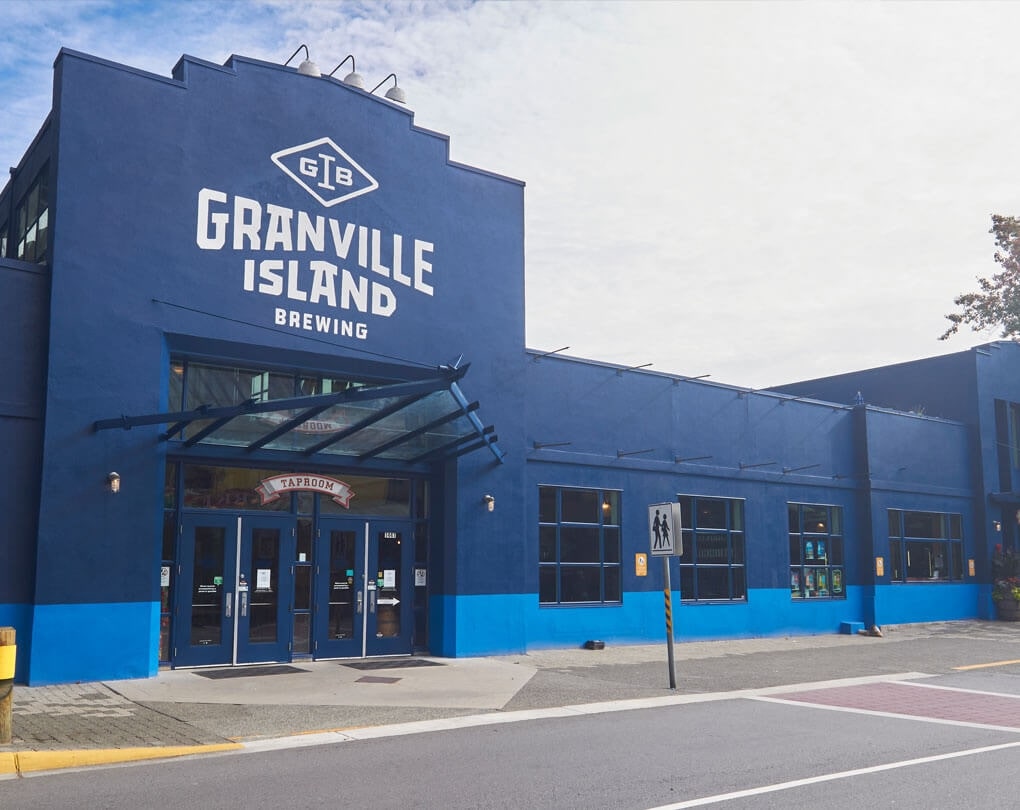 Image by Granville Island Brewing via https://www.gib.ca/en-CA
If you decide to go to the Granville Island Public Market, then make some time to pass by Granville Island Brewing. They're one of the best breweries in Vancouver and well worth a visit!
They offer a variety of craft beers and pints, all of which are brewed on-site. You can tour the brewery and sample some of its products in the tasting room. They also have a large selection of burgers & poutine!
2. Get a Tan at Kitsilano Beach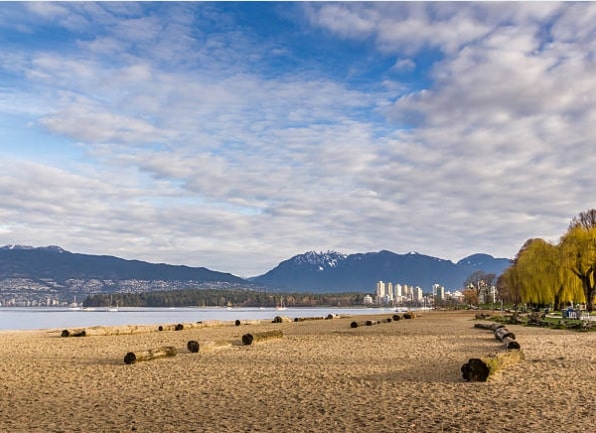 Image by iStock via https://www.istockphoto.com/
Kitsilano Beach is famous for its stunning beauty and many great destinations. From restaurants and cafes to parks, beaches, and pools – there's always something for everyone on Kitsilano Beach.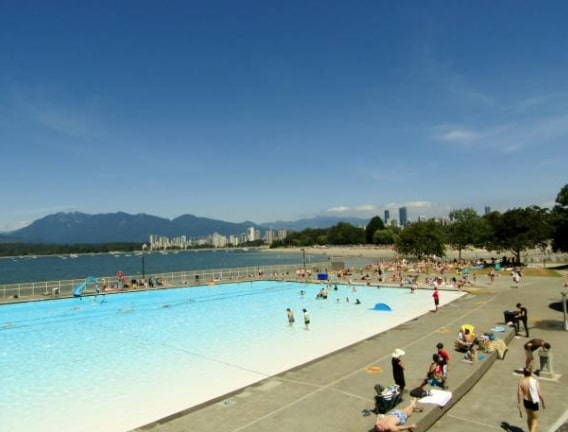 Image by iStock via https://www.istockphoto.com/
We have to say it's the perfect place to take a dip and cool off on a hot summer day. The water is clean and refreshing, and the beach is well-maintained.
There are plenty of lifeguards on duty so that you can swim with peace of mind. If you get tired of swimming, you can always relax on the beach or walk along the nearby seawall.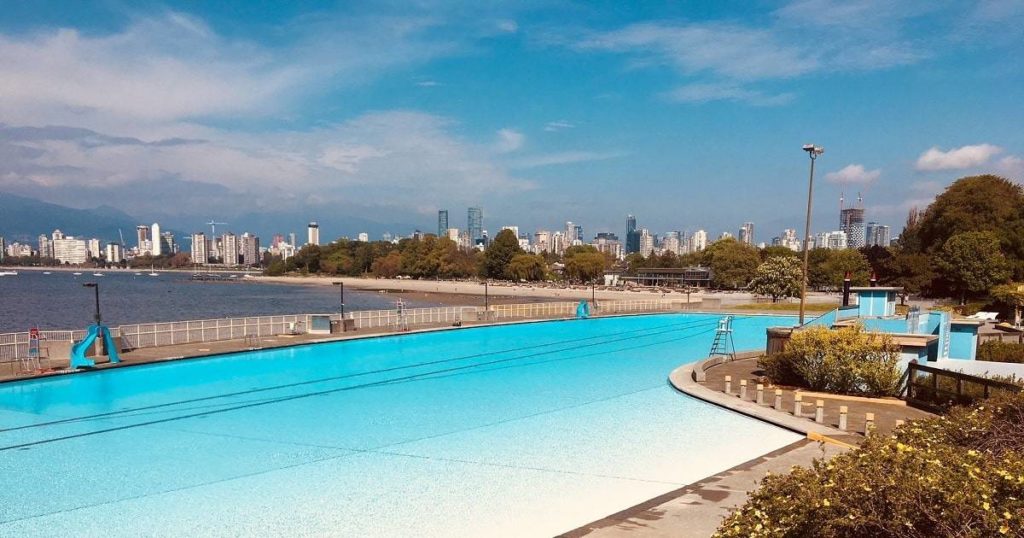 Image by the City of Vancouver via https://vancouver.ca/
Aside from that, there's also Kitsilano Pool, an outdoor summer pool and the only saltwater swimming pool in Vancouver. This pool is conveniently located near Kitsilano Beach, cafes, and the Kitsilano neighborhood.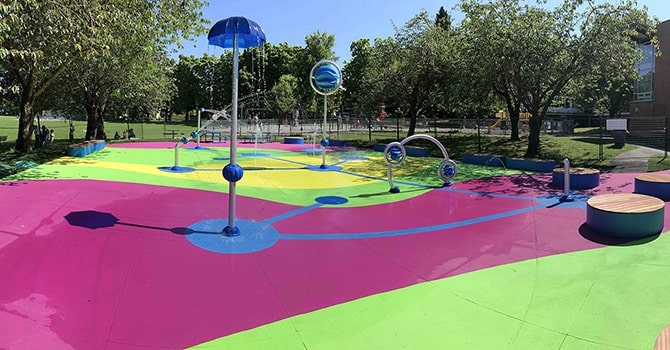 Image by the City of Vancouver via https://vancouver.ca/
This heated swimming pool features two slides and a waterpark where kids can enjoy various spray types with a vibrant paving design.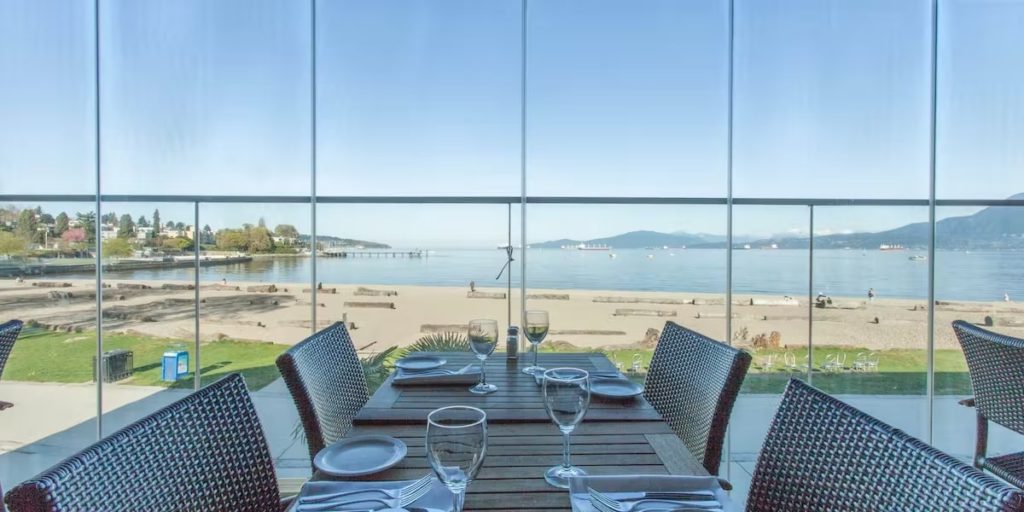 Image by The Boathouse Restaurant via https://www.boathouserestaurants.ca
Kitsilano beach also has a wide variety of dining options to choose from! Whether you're looking for a casual bite to eat or a nice sit-down meal, there are plenty of options.
While you're here, we recommend you drop by The Boathouse Restaurant. This restaurant offers plenty of fresh seafood that's locally sourced worldwide.
Their seafood menu costs around CAD 27 to CAD 43. Some dishes we recommend include their northwest seafood pasta, mixed seafood grill, and a tasty bowl of prawn and chicken curry.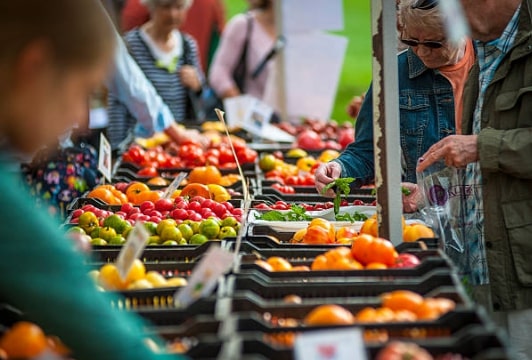 Image by iStock via https://www.istockphoto.com/
Now, you may also want to try planning your trip on a Sunday so you can drop by Kitsilano Farmers Market as well! Open from 10 a.m. to 2 p.m., this market has over 50 vendors offering locally-sourced produce, handmade crafts, and more!
Visitors can also purchase craft beer, wine, and spirits, which they can drink at community tables while enjoying live music. But if you're more after a laid back vibe, there's also plenty of food and coffee shops.
Tips and Tricks
Kitsilano Beach has plenty of community-sourced live music and entertainment on the Showboat Stage during summer. These free outdoor concerts take place in June, July, and August.
Kitsilano is also nearby some of the best art galleries in the city. While in the neighborhood, we highly recommend you visit the H.R. MacMillan Space Centre, Vancouver Maritime Museum, and Museum of Vancouver.
3. Score Rare Finds at Mount Pleasant
Image by City of Vancouver via https://vancouver.ca
You've probably heard of Mount Pleasant and felt like it was a little too far out of the way. If you haven't been there yet, let's just say you're missing out.
The neighborhood boasts many restaurants, vintage shops, and a fun vibe, making it a great place to visit. There's plenty of local shops and restaurants to explore as well as sights and sounds to enjoy!
If you're looking for a unique shopping experience, check out some of the area's vintage shops! You'll find various items, from clothes to furniture stores to unique little knick-knacks.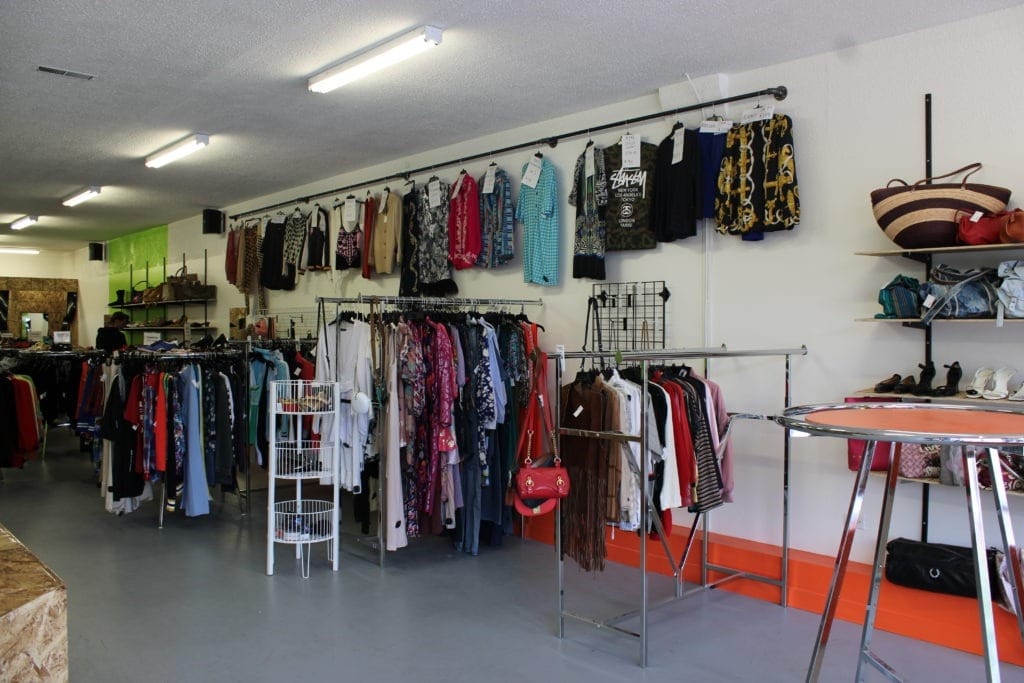 Image by Mount Pleasant Vancouver via https://mountpleasantbia.com
If you're a big fan of vintage clothing, we highly recommend you drop by Stoxx Vintage and Rewind Resale. They have a diverse collection of classic, rare, and quirky items for all ages at affordable prices!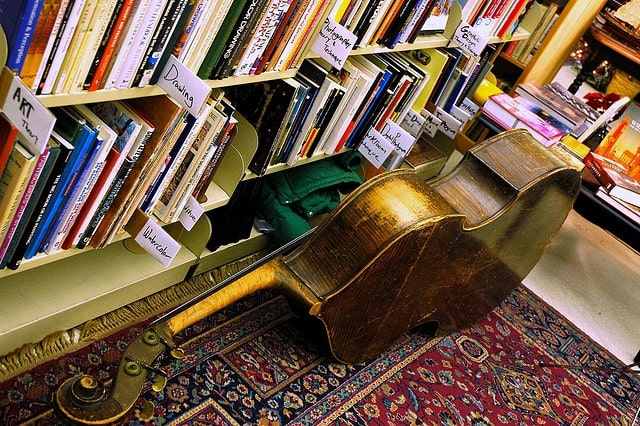 Image by Kitsilano via https://www.kitsilano.ca/
Now, no vintage run would be complete without hunting for some books, and Pulp Fiction Independent Bookstore is the one to go to. It is one of Canada's largest bookstores, with over 80,000 books ranging across multiple genres!
It also has a great selection of affordable new and second-hand books, and its shelves are relatively easy to navigate. They also have friendly and knowledgeable staff that can provide insightful book recommendations that suit your taste.
BONUS: Explore the Heritage Buildings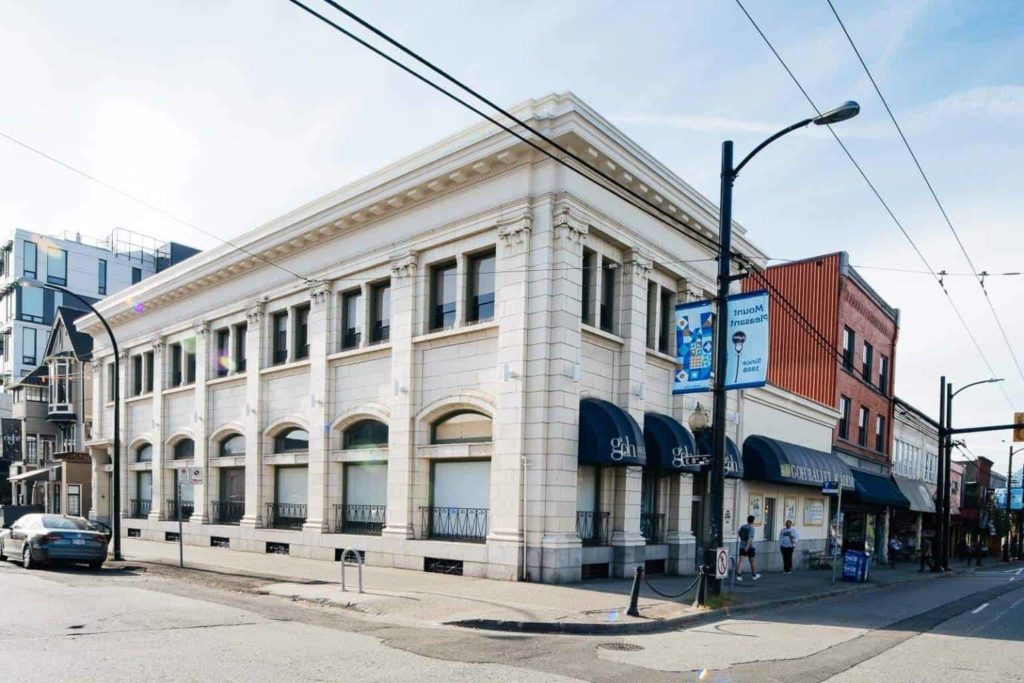 Image by RDH Building Science via https://www.rdh.com/our-case-studies/goh-ballet-academy/
If you're already in Mount Pleasant, why not explore the heritage buildings as well? There are some exciting ones to see and perfect for a photowalk!
Not only will you learn a lot about the area's history, it's a great way to get some exercise!
First, check out The Goh Ballet Academy (pictured above) was built in Mount Pleasant in 1912. This two-story neoclassical revival structure is constructed with brick masonry and lacquered terra-cotta facades.
A decorative terra-cotta ledge runs along the building's uppermost portion on the south and east elevations. You can spot this building at 2345 Main Street.
Next, you should definitely pass by the Ashnola Apartments, a historic building with 17 apartments and three commercial spaces for rent. This Edwardian-style structure was designed by Braunton & Liebert and built by Tolman & Co. in 1912.
The exterior of the structure is built with bricks and fenestration, and it has a decorative pediment that sits atop its western face. Check out this heritage building located at 2152 Main Street.
Finally, you can't leave Mount Pleasant without peaking at The Bank of Montreal. Located at 7150 Kerr Street, it was constructed in 1929 and is made of stone and yellow or brownish bricks from the Clayburn Brick Plant in Abbotsford.
4. Go Cycling at Stanley Park

Image by the City of Vancouver via https://vancouver.ca/
Stanley Park is a large urban park right in the city's heart. It offers many activities and attractions to keep you entertained.
One of the best things to do at Stanley Park is cycling, as the park has plenty of biking trails along the Seawall. This bike route offers safe, well-maintained cycle paths with scenic waterfront views.
Their 9-kilometer bike path connects to the Vancouver Cruise Terminal, the University of British Columbia, and Pacific Spirit Park.
Stanley Park is also home to several annual events, annual charity fundraisers, the Seawall race, light displays, and many more, so check the calendar.
Tips and Tricks
There is plenty of wildlife in Stanley Park, such as raccoons, squirrels, and birds. However, please do not feed them, as the Park Board has penalties for those who do so.
The park operates a one-way cycling system, so ensure you only cycle counter-clockwise around the park.
5. Hike the Grouse Grind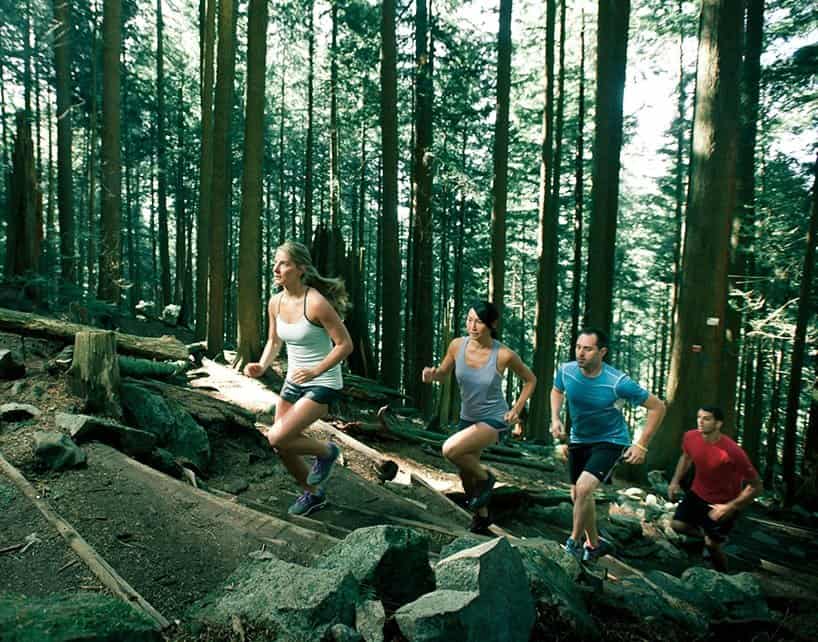 Image by Grouse Mountain via https://www.grousemountain.com/grousegrind
If you're looking for a challenge and an incredible view, look no further than the Grouse Grind.
This popular hiking trail is located just outside of Vancouver in North Vancouver's Grouse Mountain Provincial Park. The trail is approximately 2.9 kilometers (1.8 miles) long and has an elevation gain of 853 meters (2,800 feet).
The average time to complete the hike is between one and two hours, but experienced hikers can complete it in as little as 45 minutes. There's a small fee of CAD 20, but it's well worth it for the experience.
Tips and Tricks
Bring plenty of water bottles! The Grouse Grind is pretty steep, so it's best to keep yourself hydrated throughout your hike.
The Grouse Grind is a one-way trail, so you can't go back. If you don't want to pay for a Skyride ticket, you can descend the mountain via the BCMC trail.
---
Vancouver is a great city; there are endless things to do and places to go when you're bored. If you're feeling a tad adventurous, here's how you can make the most of your time in this beautiful Canadian metropolis.
If you're still up for it, check out these articles to make the most out of your trip: