Cheap Things to Do in Vancouver
Vancouver has many unique attractions that are all worth your time. If you plan on traveling around the city, there are many things to do and places to visit that don't cost a lot of money.
Affordable Places to Go in Vancouver
Vancouver is a city full of affordable things to do. In fact, it's well-known for its diverse and reasonably priced cuisine, mighty mountains, grand parks, and public art scene.
Keep reading as we list down some of the best cheap things to do in Vancouver:
1. Bike Around Stanley Park

Image by the City of Vancouver via https://vancouver.ca
Cycling in Stanley Park is undoubtedly one of the best things to do in Vancouver. If you have your own bicycle and cycling gear, we recommend strapping on your helmet and riding around Vancouver's largest and best-known park.
Stanley Park is a 405-hectare natural West Coast rainforest with pristine views of the ocean, North Shore mountains, and towering trees along the famous Seawall.
Cycling is very popular in the park. In fact, as soon as the sun comes up, you'll see cyclists riding along the park's many bike paths.
If you're planning to cycle
Now, just in case you don't have your own bicycle or you left it at home, don't worry. There are plenty of bike rental shops near the park, which cost around CAD 7 – 10 an hour.
Tips and Tricks
The Seawall is a one-way bike path that runs counterclockwise. It's elevated relative to the pedestrian lane, so don't drive off while you're taking in the sights.
Cycling around Stanley Park usually takes 1 to 2 hours, depending on how fast you are and how frequently you stop to take photos, admire the view, or take a breather.
2. Hike the Grouse Grind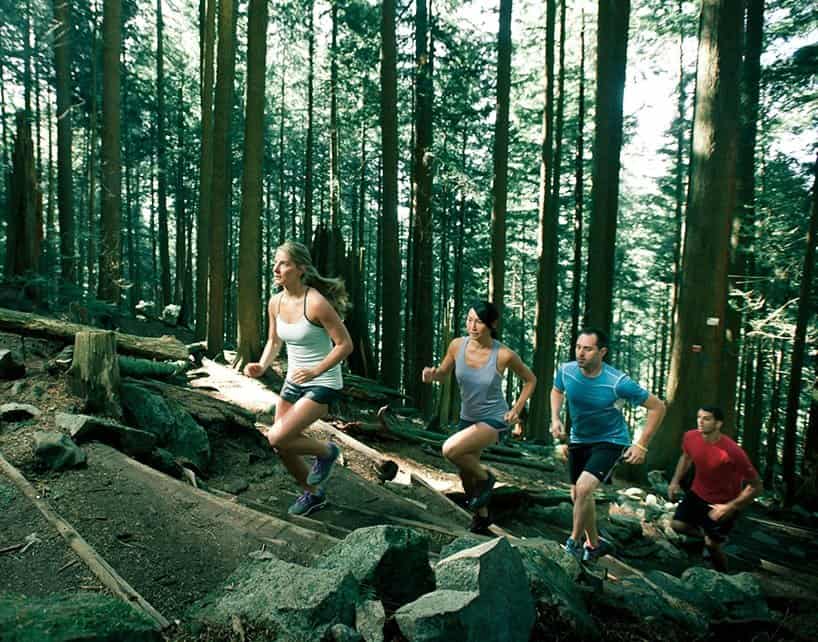 Image by Grouse Grind via https://www.grousemountain.com
| | |
| --- | --- |
| RATES | CAD 20 |
| ADDRESS | North Vancouver, BC V7K 1X8, Canada |
| WEBSITE | https://www.grousemountain.com/ |
| OPERATING HOURS | Monday - Friday: 07:00 AM - 07:00 PM |
| BEST TIME TO VISIT | 11:00 am or early in the afternoon |
If you're looking for a cheap way to burn calories in Vancouver, we highly recommend taking on the Grouse Grind challenge.
The Grouse Grind, also known as 'Mother Nature's Stairmaster,' is known to challenge climbers because it requires maximum physical strength and endurance to complete. The trail runs 2.5 kilometers up the face of Grouse Mountain.
This attraction is a strenuous workout because you will be climbing. It's one of Vancouver's most notorious hiking trails, with exactly 2,830 steps up a steep mountain.
Once you arrive at Grouse Mountain, the trail begins at the east of the Grouse Mountain Gondola. It's easy to spot because hikers will most likely be stretching and warming up.
You walk past the gate, over the small bridge, and before you know it, you're on your way up! Expect nothing but steep climbs and breathtaking mountain views, so make sure to take photos.
The Grouse Grind takes approximately 2 to 2.5 hours to complete, depending on your fitness level.
Although climbing the Grouse Grind is free, you'll have to pay a fee of CAD 20 to ride the Skyride back down, as downhill travel is not permitted.
Tips and Tricks
You can track your performance and see how you rank against other climbers with a Grind Timer Card. This card contains a radio frequency chip that allows you to time your climb.
Bring plenty of water bottles as the hike gets steep, so it's wise to keep hydrated!
3. Explore Main Street's Murals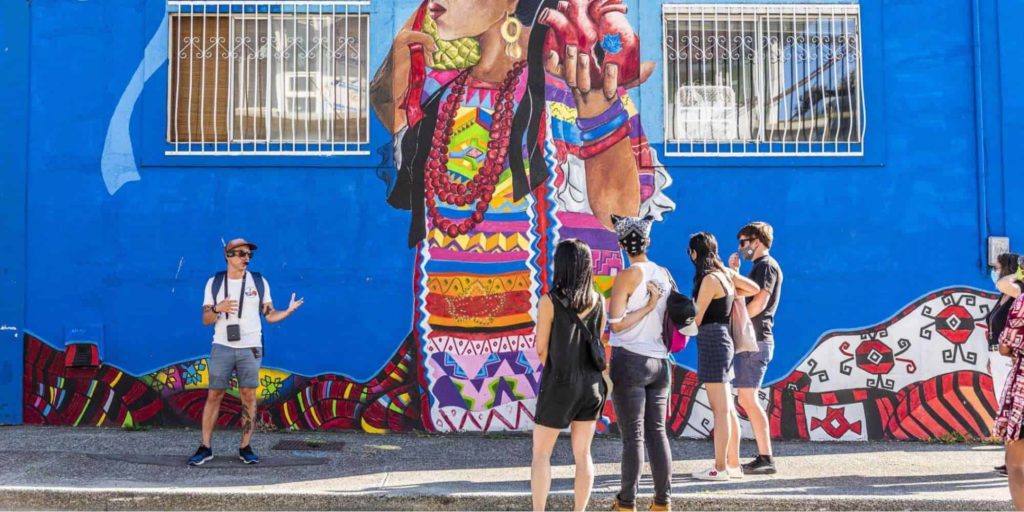 Image by Vancouver Mural Festival via https://vanmuralfest.ca/
| | |
| --- | --- |
| RATES | FREE |
| ADDRESS | 2410 Columbia St, Vancouver, BC V5Y 3E6, Canada |
| WEBSITE | https://vanmuralfest.ca/ |
| OPERATING HOURS | Monday - Friday: 10:00 AM - 05:00 PM |
| BEST TIME TO VISIT | Early in the afternoon |
Main Street is one of the most well-known streets in Vancouver. It stretches from Waterfront Road to Kent Avenue in the south, along the north arm of the Fraser River.
We recommend you explore the murals on Main Street if you're an art lover or an artist looking for inspiration. It's completely free and well worth your time.
Most of the murals in the area are located between 4th and 12th Streets, as well as Cambie and Main Streets. Try to find parking near the corner of Main and 8th so that you can easily go on your self-guided tour.
Make sure you make the most of your exploration! If you need help navigating the area and finding the murals, we recommend you download the VMF app.
Tips and Tricks
Make plans to attend the annual Vancouver Mural Festival in August. This is the time of year when many murals are painted on the sides of buildings on and around Main Street.
From June until October, the Main Street Farmers Market is open, where you can score the city's best meat, baked goods, and diverse food options.
4. Explore the Gardens at Queen Elizabeth Park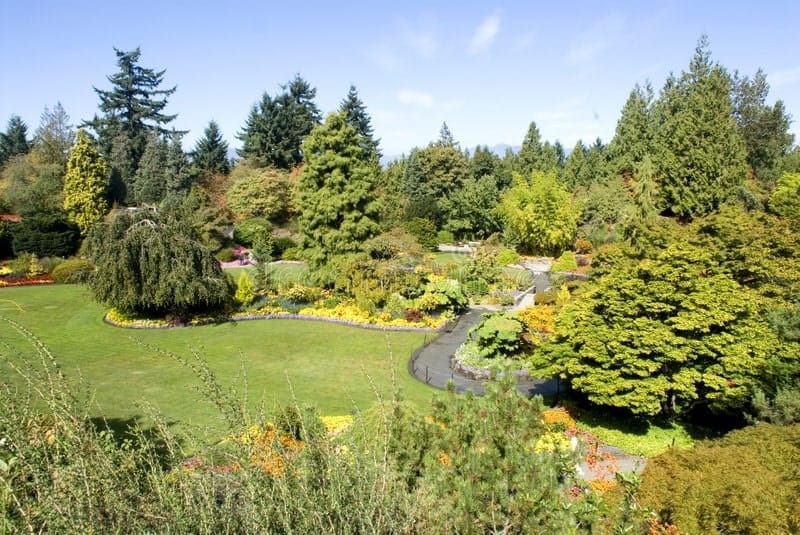 Image by the Dreamstime via https://www.dreamstime.com/
Queen Elizabeth Park is a 130-acre park on Little Mountain's summit. The park is known as Vancouver's horticultural jewel because it contains a variety of plants as well as specially selected ornamental trees and shrubs.
We recommend you explore the Quarry Gardens once you arrive. It's located west of the Bloedel Conservatory and is home to various trees, shrubs, perennials, flowers, and other plants.
In particular, The Rose Garden is also quite lovely, with many rose varieties. They even have hardy hybrids and the Explorer series cultivated in Saskatchewan.
This park features stunning views of the city, beautiful gardens and arboretum, lovely fountains, and well-kept flower beds. There's even a lovely sculpture where you and your loved ones can leave a lock and a key dropbox.
Queen Elizabeth is also home to the Bloedel Conservatory, which houses hundreds of tropical plants and free-flying birds, and is also a must-see. This conservatory is home to over 500 exotic plants and flowers in a temperature-controlled environment.
During December, the conservatory lights up. It hosts plenty of family activities such as scavenger hunts, admiring the Christmas lights, and many more.
Tips and Tricks
There's free parking on Cambie Street, West 29th Avenue, and Midlothian Avenue near the park's northern end, but we recommend arriving early because parking spaces are limited.
If you happen to be visiting Queen Elizabeth Park on a weekend, stop by Riley Park Farmers Market for a large selection of fresh and local produce.
5. Visit the Roedde House Museum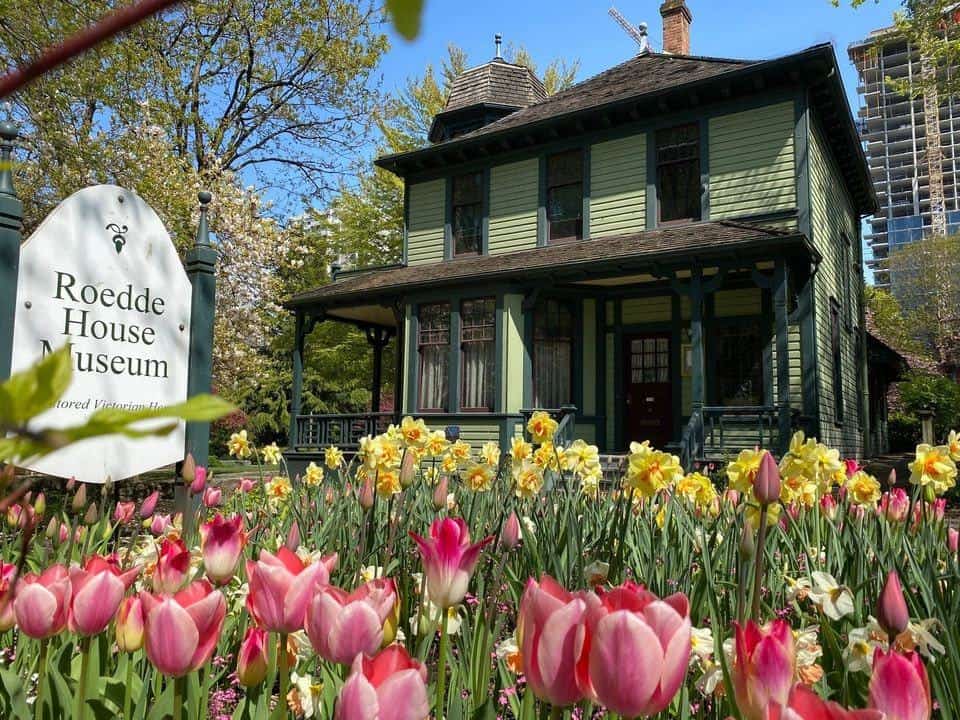 Image by Roedde House via https://www.roeddehouse.org/
RATES
CAD 3.78 - 7.56
ADDRESS
1415 Barclay St, Vancouver, BC V6G 1J6, Canada
WEBSITE
https://www.roeddehouse.org/
OPERATING HOURS
Wednesday - Friday: 01:00 PM - 04:00 PM

Sunday: 01:00 PM - 04:00 PM

BEST TIME TO VISIT
Spring and Summer
If you want to learn more about the history of Vancouver, a trip to the Roedde House Museum is a great idea. It's especially known for its late-Victorian history.
Located near the Coal Harbour, this historic Victorian House is full of period features and artefacts, and provides an intimate look at how people from the 19th century lived.
The house has 10 rooms total: three bedrooms, a kitchen, and pantry, a bathroom, a dining room, a parlor, and a collections room. Matilda's sewing room is one of the bedrooms, and who is the wife of the house's owner, Gustav Roedde.
The museum holds various events and exhibitions, all of which contribute in their own way to the culture of Nashville. In addition to that, there are porch jazz concerts, classical music concerts, and many more.
Tips and Tricks
The guided tours last about half an hour, so you can expect to stay for up to 45 minutes, depending on the guide and the visitors' curiosity.
The museum can also be rented as a wedding venue and for other special events. It can accommodate over 50 guests.
---
The best part about these activities is that they're typically either free or inexpensive, meaning you'll have more money to spend on vacations and exploring the city.
If you live in Vancouver, try out some of these cheap things to do for a fun, low-cost way to explore the city.
If you still need more activities to make the most out of your Vancouver adventure, read our article on the best things to do in Vancouver.