The 14 Best Massage Salons in Vancouver
Stressed out from work? On this page, you can check out the different massage salons in Vancouver that not only will help you relax but also help you remove different muscle pains.
We went to different massage salons in the area to find out which ones are worth visiting and will make you feel like you're on cloud nine! Here are the ones we ended up pegging as the top options.
How much does going to a massage salon in Vancouver cost?
Massage therapy is included in the ICBC if prescribed by a doctor. Alongside that, it's also often part of extended insurance so it won't be a huge bother to your wallet.
Even without that though, many massage salons don't have high fees. Here is a list of the price range for the massage therapy service that some of our chosen massage salons offer.
Massage Salon
Rates
Comfy Spa
30 min – $40.00
45 min – $55.00
60 min – $70.00
75 min – $90.00
90 min – $105.00
105 min – $120.00
120 min – $140.00
Honey + Garlic Health Studio
30 min: $80 (incl GST)
45 min: $100 (incl GST)
60 min:$120 (incl GST)
75 min: $150 (incl GST)
90 min: $180 (incl GST)
Mountainview Movement Massage and Wellness
30 min: $60
45 min: $95
60 min: $120
75 min: $135
90 min: $170
Leelawadee Thai Spa
Thai Oil Massage:
60 min: $75.00
90 min: $112.50
2 hrs: $150.00
Davie Village Registered Massage Therapy
30 min: $75
45 min: $100
60 min: $120
75 min: $150
90 min: $175
Burrard Massage Therapy
30 min: $80
45 min: $105
60 min: $125
75 min: $145
90 min: $165
Wellness HQ
Chiropractic Services: $75 – $85
Physiotherapy: $105 – $110
Acupuncture: $120
Kinesiology: $105
RMTs: $79 – $110
Oceana Massage
Book an Appointment
Kiku Wellness Japanese Zen Spa
60 min: $88
90 min: $128
120 min: $180
My Foot Reflexology & Massage City Square Vancouver
Foot Reflexology 30: $43
Foot Reflexology 60: $75
Upper Body Massage 30: $43
Upper Body Massage 60: $75
Full Body Massage $95
Humanity Wellness
Book an Appointment
Registered Massage Therapy 30 min: $80
Registered Massage Therapy 45 min: $110
Registered Massage Therapy 60 min: $130
Registered Massage Therapy 75 min: $170
Registered Massage Therapy 90 min: $190
Absolute Spa at Fairmont Hotel Vancouver
Book an Appointment
Packages: $275 to $820
Massage Non-RMTs: $138 to $188
Massage With RMTs: $140 to $210
Medi-spa-microdermabrasion: $189 to $295
Skincare: $31 to $220
Body Treatments: $60 to $201
Hand & Foot: $31 to $108
Waxing: $34 to $84
Intent Health Clinic
45 Minutes: $115
60 Minutes : $138
72 Minutes: $172
90 Minutes: $207
The Best Massage Salons in Vancouver
If you want to know more about massage salons and massage therapy, we also answered some of your frequently asked questions at the end of the article!
1. Comfy Spa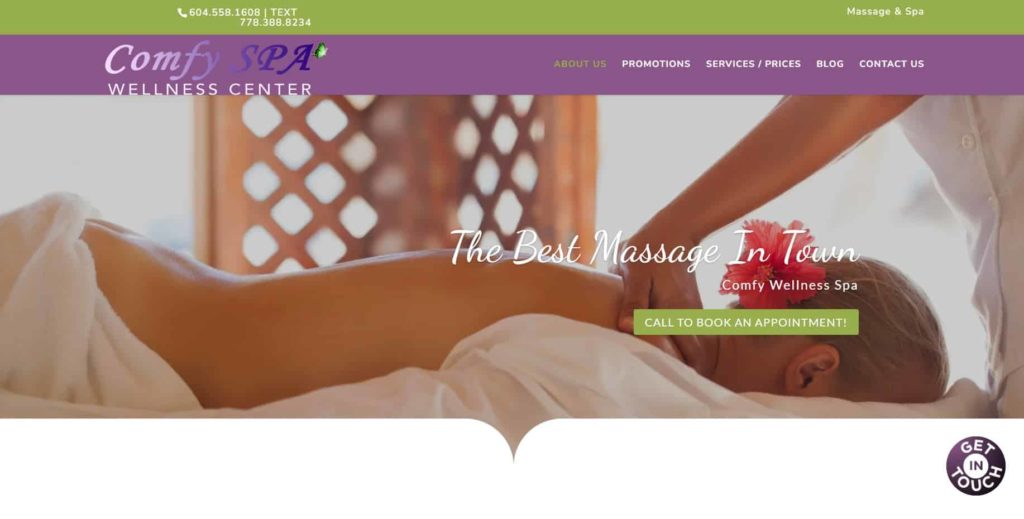 Comfy Spa is a facility that provides its clients with various massage and wellness treatment services ideal for overall health and skin wellness ideal for clients looking for a relaxing means to relieve stress and increase overall well-being.
May it be bodily tensions or other sorts of painful aches, we like that they are adequately equipped and trained for TUINA healing methodologies to ensure that a balanced treatment is done for clients.
Offering other Traditional Chinese Meridian Massage treatments, their treatments are very inclusive and comprehensive wherein they are able to provide clients a wide plethora of benefits for sustainable periods of time.
Note though that there are some complaints when it comes to the quality of their massage therapies which interested clients may need to be aware of beforehand.
Overall, with their excellent and relaxing facility ambiance, friendly and accommodating personnel, and comfortable environment, we highly recommend interested clients to check them out.
Discounted and promotional prices offered
Comfortable and relaxing facility ambiance
Effective massage therapies offered 
Slight complaints on the services offered
Customer Reviews
Here are some reviews from their clients:
"This place is amazing! The massages you get here are RMT quality but not RMT prices. I have been going for years, and I have never had a bad massage. Thank you for fixing my back :)"
"I suffered chronic lower back pain for a while, and after trying several treatments without much success, I found comfy spa through best google review and decided to give this massage store a try. The therapists here are trained well and made sure to check in with me throughout the session to make me comfortable and get the most out of the experience."
2. Honey + Garlic Health Studio

SERVICES
Massage Therapy
Physiotherapy
Acupuncture
Facial Acupuncture
Professional Counselling
Chiropractic
ADDRESS
3205 Fraser St, Vancouver, BC V5V 4B8, Canada
CONTACT NUMBER
604-879-5023
WEBSITE
https://honeyandgarlic.ca/
OPERATING HOURS
Monday-Friday: 8am-8pm
Saturday & Sunday: 9am-5pm
This place is a pretty known wellness centre in Vancouver. We found that they have a lot of loyal customers who can attest to the quality of their services here.
As a wellness centre, they also offer different types of massages. Other than getting services from a registered massage therapist at this place, expect an initial assessment first so they will know the type of massage you need.
Included with their initial assessment is patient education. So, you can be assured that you can take some self-care knowledge home.
Now, if you're the kind of person who tends to use cash, make sure to bring alternative modes of payment here as they don't accept cash right now. Despite that, we don't think this is a major issue.
They also accept insurance here, which is great if your provider also allows it. And they have a rather nice online reservation system, which is really easy to use and helps erase the need to call for just reservations alone.
Offers assessment to personalize your massage 
Has patient education resources
Easy to use online reservation system
Customer Reviews
Care about their patients
Every single person in there is such a kind soul. They all care about their patients and have a huge heart. I can only say amazing things about them. I currently go there for 4 different services and wouldn't change them for the world! – Fernanda Loria Pratt
Friendly staff
Had my first visit at Honey + Garlic with Alexa and couldn't be happier. They have all health and safety measures in place, the staff are friendly and Alexa was very knowledgeable and transparent. She investigated the root of my problems, rather than fix the symptoms, and I will definitely be going back! – K C
3. Mountainview Movement Massage and Wellness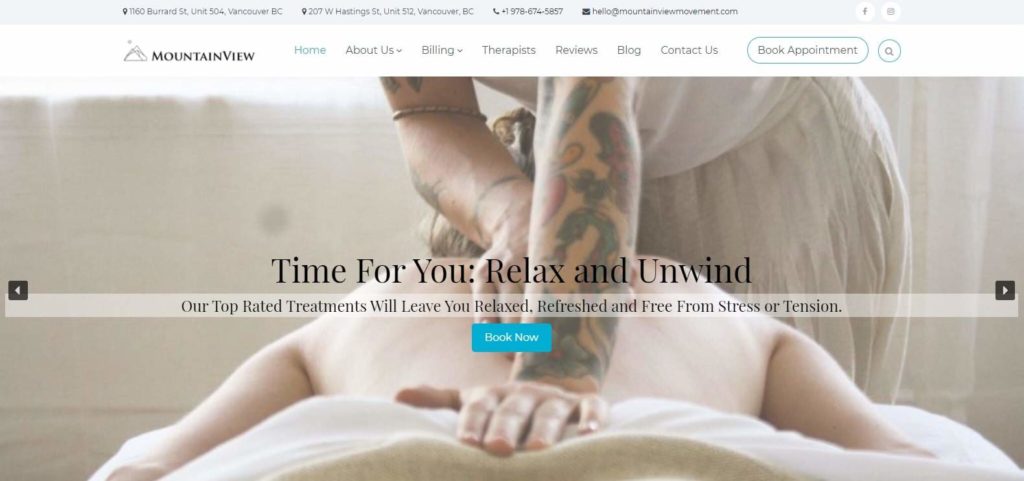 SERVICES
Relaxation Massage
Deep Tissue Massage
Sports Massage
Lymphatic Massage
Acupuncture & Cupping
Prenatal Massage
Trigger Point Therapy
Swedish Massage
ADDRESS
207 W Hastings St Unit 512, Vancouver, BC V6B 2N4, Canada
70 W Cordova St, Vancouver, BC V6B 1C9, Canada
1160 Burrard St #504, Vancouver, BC V6Z 2E8, Canada
CONTACT NUMBER
978-674-5857
WEBSITE
https://mountainviewmovement.com/
OPERATING HOURS
Monday-Sunday: 7:30am-9pm
While we had a few parking issues (the nearest free carpark is pretty far away), everything else went very smoothly here.
To start with, they have more than 20 RMTs with different specialties, so that gives you quite a few options.
Moreover, aside from their registered massage therapists, we love the customer services they offer here. To make things easier for clients, for instance, they offer direct billing to insurance companies so you won't need to file your own.
Other than relaxation massages, they also have more specialized ones available. Some of their other types of massages are lymphatic drainage massage, prenatal massage, and sports massage.
After your massage treatment, they even offer patient education so you can continue caring for your well-being with the help of the exercises and instructions that the RMTs here give.
However, we find their online booking unintuitive – it doesn't even work sometimes! So, we hope this gets fixed soon.
Other than that, everything else in this massage salon struck as pretty solid. We think they really deserve a visit from those who need more specialized massage care.
Offers direct billing
Different branches for convenience
Has many RMTs you can choose from
Massage includes patient education 
Free parking is a bit far
Hard to use online booking system
Custom Reviews
100% would recommend
"It was my first time going to Mountainview and it definitely won't be my last. Kaitlyn was so welcoming and professional. 100% would recommend. The only downside is parking can be tricky but it depends on the time of day. Otherwise, it was a great experience." – Kelsey Dech
One of the best massages I have ever received
"AMAZING! One of the best massages I have ever received. I booked with Arielle last minute last week after I really aggravated my neck and back. She's awesome! She really listens and focuses on areas you really need work on. Very professional but relaxed. I love that I can book last minute online – so convenient. Not only is the space quiet and beautiful, the staff are extremely talented and friendly. This is my go-to spot now, and I'm so happy that I found Mountainview!
-Danielle" – Blue Studio
4. Leelawadee Thai Spa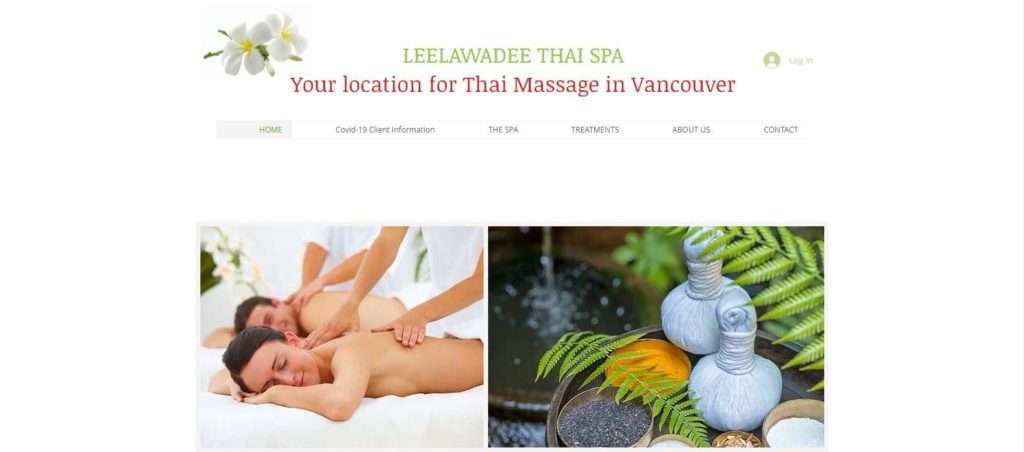 SERVICES
Thai Oil Massage
Reflexology
Deep Tissue Massage
Body Scrub
Aromatherapy Massage
ADDRESS
889 Helmcken St, Vancouver, BC V6Z 1B1, Canada
CONTACT NUMBER
778-886-3675
WEBSITE
https://www.leelawadeethaispa.com/
OPERATING HOURS
Monday-Sunday: 10am-9pm
While they have shorter business hours compared to other establishments on this list, Leelawadee Thai Spa has a lot of great things to offer its customers.
For one thing, they have a great reputation as one of the tried and tested places in Vancouver – they have been around since 2003, actually. Their patrons told us that they love them for the consistent quality of their service.
Just be aware that they have no option for online booking when you go here. Despite that, we love how easy it is to just call them and ask for a service.
Aside from singles massage, they also cater to couples and have rooms for them. Yep, there's no need to get a special booking here if you and your significant other want to have a simple, relaxing day.
As you may expect from a Thai spa, their Thai massage is also pretty good. Even if that's not your thing, they also have other types of massages that you can get such as deep tissue massage and aromatherapy massage.
So, if you're looking for something that will help you get a deeper massage, then maybe Thai massage is for you.
Has been around for about 12 years
Has couples massage
Unique Thai massage 
Offers other massage services 
No online booking system in place
Shorter business hours
Customer Reviews
Best experience in history
"Been a returning customer. Today we have the best experience in history. Me and my girlfriend did a 90 minute deep tissue massage. Both masseuse gave us the best pressure on our necks and back. We are very satisfied, definitely coming back." – ulysses886
Professional and kind staff
"I had an amazing experience here. Great spa with very professional and kind staff. I would recommend to anyone looking for place to destress and relax!" – shaajeevan thualsithasan
5. Davie Village Registered Massage Therapy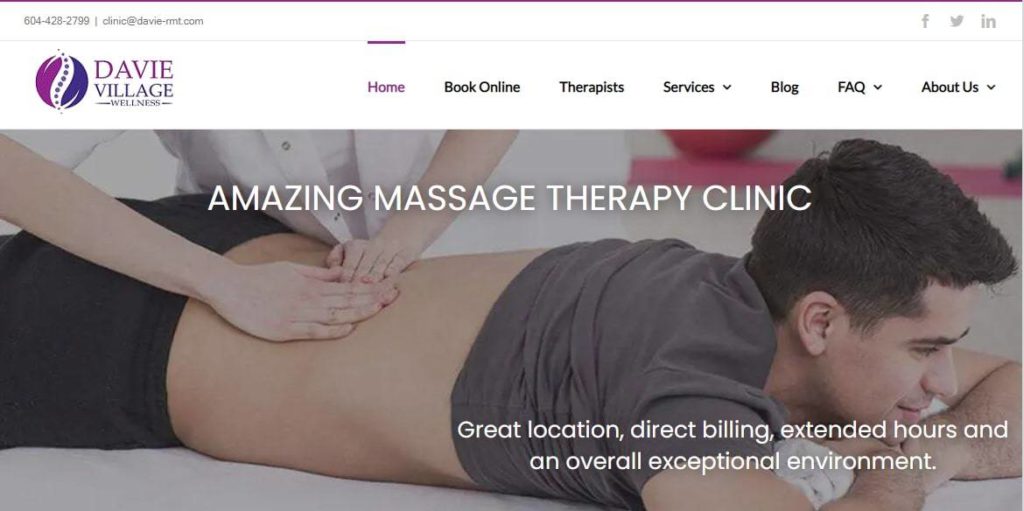 SERVICES
Myofascial Release Massage
Joint Mobilization
Pregnancy Massage
Deep Tissue Massage
Sports Massage
Swedish Massage
ADDRESS
1160 Burrard St #308, Vancouver, BC V6Z 2E8, Canada
CONTACT NUMBER
604-428-2799
WEBSITE
https://www.davie-rmt.com/
OPERATING HOURS
Monday-Sunday: 7:30am-9:30pm
We absolutely appreciate how long the office hours are here. Even after work, you can drop by here and get a relaxing massage.
However, since Davie Village Wellness is composed of different independent RMTs, booking here might be a bit more difficult than other massage salons. They currently have 5 different RMTs and you might need to call first to know when they will be at Davie Village.
Some of the RMTs also don't do direct billing here. It's better to message the massage therapist you're planning to work with to know whether they do direct billing or not.
Now, thus far, their independent-RMT setup seems like an issue – but really, having independent RMTs for this massage salon is also one of this salon's pros. With independent RMTs, you can choose one with a specialization that fits your needs better.
And in a way, the different schedules for the individual RMTs actually makes it so you can easily find one that can fit your busy day, most of the time. And yes, some of them even extend their time to 9pm.
Overall, we recommend this salon for those looking for something relaxing after normal office hours. The long business hours mean it's usually open even when others aren't.
Long business hours
Independent RMTs
Different specializations 
Some RMTs don't offer direct billing 
RMTs might have different schedules 
Customer Reviews
Outstanding Service
"It was my first time with Kyrill Fourik. Having tried more than ten RMT, Masseurs from different Centres I am looking for a specific massage, masseur that gets the true tension releasing, stress relieving therapy and consistency. And I was very surprised how straightforward his techniques were and was the perfect fit for me. He was able to assess immediately sore parts. Hits the tight, right spots, very sensual and alleviated my stress, anxiety. I am a Fitness Coach, Trainer for work and as well as a gym rat (everyday workout) so I really enjoyed the massage. Kyrill is very charming, friendly, professional and kind. Outstanding service! Their Protocol COVID19 procedures made me very safe as ever as well. Clean, tidy facility. Very Grateful!
The receptionist at the clinic was quite helpful and pleasing as well. I am very much satisfied with the service that I am already their regular client. Thank you so much for making me relaxed, happy! Keep it up!" – Drew Guerrera
Relaxed, invigorated, and smarter
"Davie Village Registered Massage Therapy and Acupuncture is hands down the best place to receive outstanding treatments in Vancouver.
Kyle is an amazing massage therapist. I had a problem with my left shoulder from weight exercises. He assessed it and quickly identified and explained the problematic muscle. Not only did he alleviate the pain but also taught me the stretches I could do at home and the importance of using proper form and weights. After a few sessions, my left shoulder was pain free, and now I periodically go to Davie Village Registered Massage Therapy and Acupuncture to relieve muscle tension as a preventative measure. After every session, I feel relaxed, invigorated, and smarter with more knowledge about human body.
Also, the online booking system is a breeze, and the staff are always friendly.
Highly recommended!" – Go Yanagisawa
6. Burrard Massage Therapy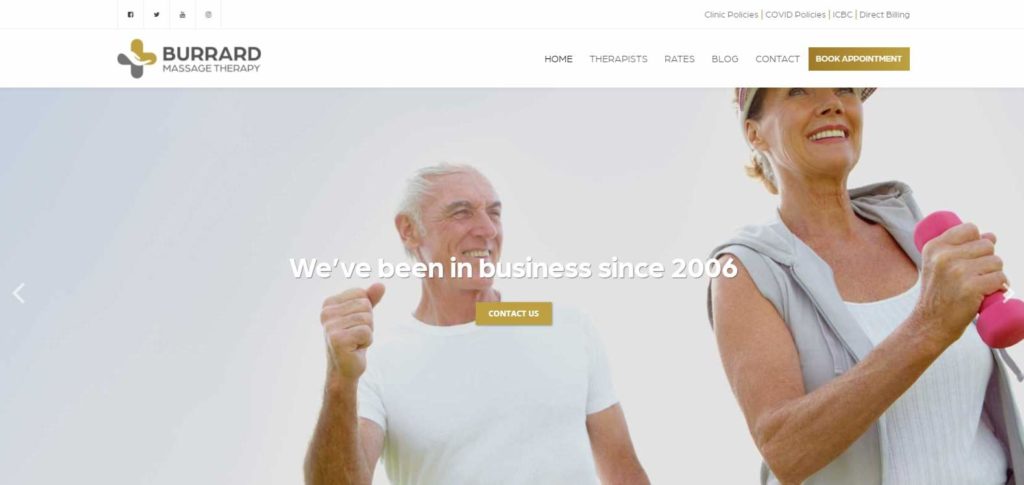 SERVICES
Registered Massage Therapy
Acupuncture & Cupping
ADDRESS
808 Nelson St Unit 406, Vancouver, BC V6Z 2H2, Canada
CONTACT NUMBER
604-569-3483
WEBSITE
https://vancouverrmt.ca/
OPERATING HOURS
Monday-Friday: 8am-8pm
Saturday: 8am-6pm
Sunday: 11am-6pm
With 15 registered massage therapists in this salon, we're sure you can easily find one specializing in a technique that you prefer. They even have acupuncture!
Interestingly enough, this massage salon also offers another traditional therapy method: cupping. They also have massage therapists here that focus on that technique, with years of experience in the method.
They actually have many massage therapists in this salon. However, many of them don't work here full-time, so scheduling with a specific one can sometimes be a pain.
On the bright side, many of their therapists here are bilingual or multilingual. This is great as Vancouver is diverse and many may want to speak their native language when relaxing under a message.
There's also easy parking nearby at the Nelson Mall. Just make sure to visit early, though, as they don't have designated parking for the massage salon and it might take you more time to find a parking space.
Other than the parking convenience, we also like how easy it is to book online here and how you can even choose the massage therapist to meet even for initial consultations.
15 RMTs with different specialization 
Offers traditional therapy methods 
Multilingual RMTs
Has car parking nearby 
Easy online reservation system
No designated parking spot for customers
Different schedule of RMTs
Customer Reviews
Professional and nice
"I just had a massage with Taylor. She was very nice and professional and did a fantastic job.
The clinic is very clean and comfortable. The staff were all very professional and nice.
I will definitely be going back 👍" – Calvin Young
Can't suggest it enough
"I am so happy to have Burrard Massage Therapy nearby! I love the convenience of their online book system, as well as all the info and rates upfront on their site.
I've had fantastic experiences with Rebecca (acupuncture), as well as my go-to RMT's Andrea and John. I always leave having learned something new and feeling so much better!! It's a great clinic and I can't suggest it enough." – Kris B
7. Wellness HQ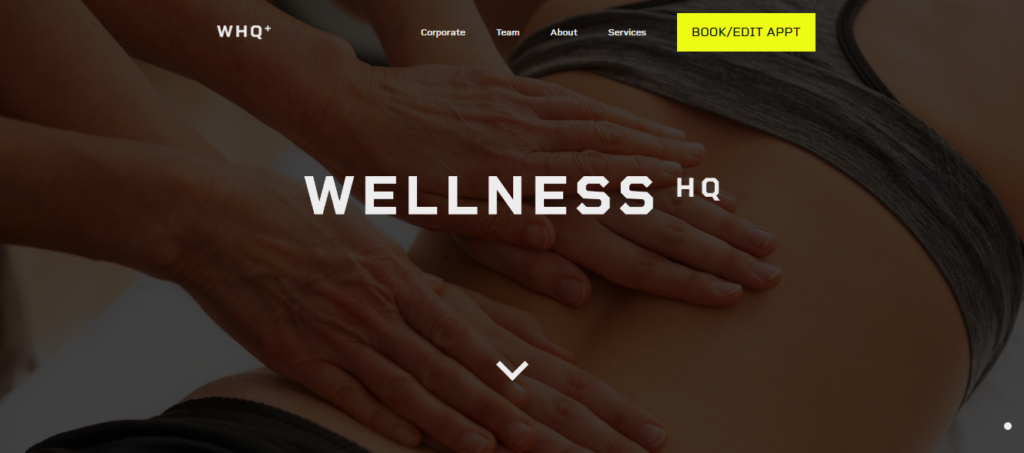 Wellness HQ is a clinic that is more than ready to help you resolve your wellness issues and achieve your goals as well. They offer a wide variety of packages which you can choose from that fits your preferences and budget.
They offer a multidisciplinary approach to healing and resolving any bodily issues you might have. May it is from an injury or an accident, they are geared with up-to-date knowledge and strategies so that they can offer you reliable advice and treatments with optimal impact.
Their services include manual therapy, massage therapy, and acupuncture among many other treatments and wellness programs to help resolve your issue. Furthermore, they make sure to employ only the most qualified personnel and experts for the job so you can be assured that you are in good hands.
We recommend this clinic for your wellness goals due to their genuine care for your well-being and competitive rates that will put your money to excellent value.
Wide range of services
Innovative strategies
Multidisciplinary approach
Customer Reviews
Here are some reviews from their clients:
"Services received at this clinic are excellent! The clinic is clean and well organized. staff are friendly and helpful. The Doctors and practitioners are very professional and knowledgeable. My special thanks to Tony Wu, Jonathan Yu, Peter Chang, and Lisa Cheung. This clinic is highly recommended."
"Online booking was a breeze and there's free parking on site. I visited here to treat my constant back pain. I have never been a fan of physio so I decided to give acupuncture a try even though I was a little skeptical. Dr. Jenny Yeh was very intuitive in explaining the processes and putting my mind at ease. The procedure was completely painless and she was also able to give me some advise on ergonomics. I left the session already feeling better, it's been more than 24 hrs now and my back is definitely much less painful than before. Will return for further treatments. Highly recommend."
8. Oceana Massage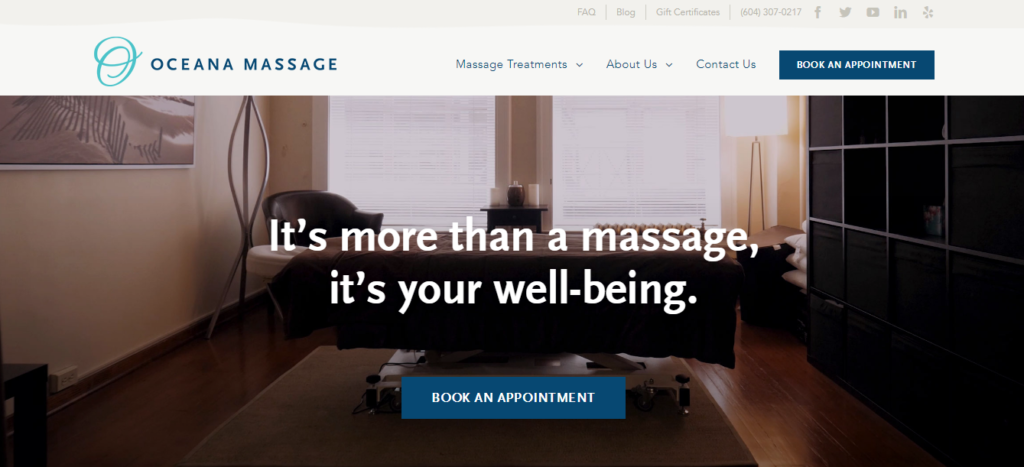 Oceana Massage is your go-to place for relaxation and space where you can de-stress from all of life's problems. They offer award-winning massages that are tailored to suit your needs and wellness.
They offer premium massages that will not only promote your physical well-being but also provide you with emotional and spiritual support. If you are looking for holistic massage services, then this is just the one for you.
Similar to visiting a spa, their staff and specialists make it a point to let you experience a relaxing and hassle-free experience with them. Their warm and calming environment is also enhanced by their choice of facilities for a whole package of soothing time all throughout.
We recommend them for your massage needs due to their dedication giving you a space to heal at competent rates and amazing customer service.
Booked per session
Rejuvenating massage services
Customized treatments
Does not accommodate walk-ins
Customer Reviews
Here are some reviews from their clients:
"I had a massage with Matty in December 2017, and it was exactly what I hoped for! Friendly, comforting, welcoming and relaxing atmosphere in a beautiful room and building. I was warm and totally at ease the whole time, and by the end of the massage I was incredibly relaxed and free of muscle tension. Plus, I was super appreciative of the text-message reminder before my appointment. I definitely recommend Oceana!"
"Susan of Oceana massage is a very caring and nurturing practitioner. She is an amazing listener and it's obvious she is super passionate about massage and all the benefits that it offers. I have referred several people to Susan who all appreciated her warm and welcoming personality and her excellent massage skills. She is well-known for her pre-natal massage and I know several people who have experienced it and absolutely loved it."
9. Kiku Wellness Japanese Zen Spa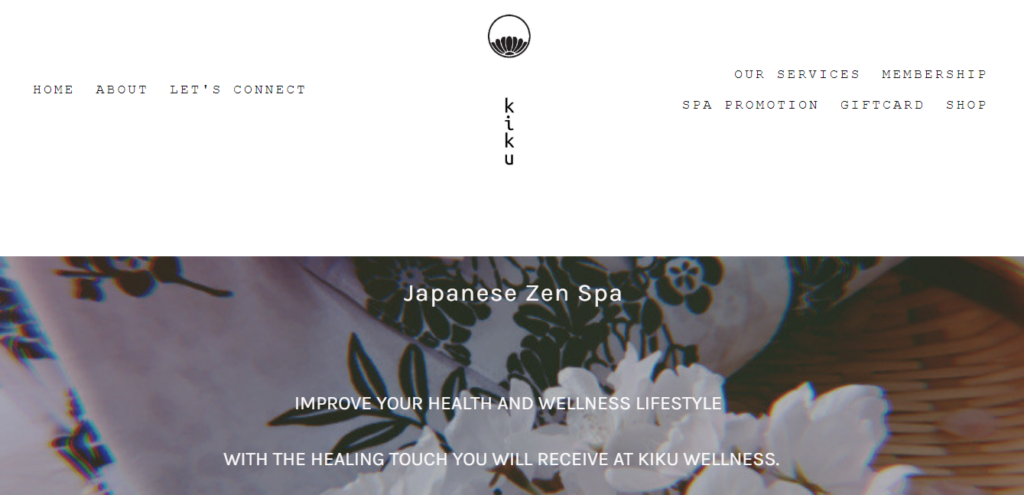 Kiku Wellness Japanese Zen Spa is a center that offers both well-known and traditional oriental spa treatments and practices that centers on Japanese hospitality – Omotenashi. Striving to let clients have an immersive 5 sense experience, their location, products, and services are carefully complimented for that matter.
Each of their products is also adequately background checked and even comes from traditional Japanese wellness routines which gives better and natural results. Apart from this, however, there are numerous spelling errors on their website which could contest their credibility.
Furthermore, all their packages, both limited and regular, are clearly stated and priced on their website. Though it is observed that these packages only accommodate up to 2 people and have limited packages and information for larger groups.
The spa also offers free membership and even auto-renews monthly where members can have highly personalized services among other perks as well. Though should clients wish to cancel their subscription, they need to cancel 30 days in advance for it to be processed one time.
Fantastic facility aesthetics
Pleasant experiences
Authentic Japanese therapies
Packages are only for single and couple
Customer Reviews
Here are some reviews from their clients:
"My wife and I had the 90-min Japanese Zen Bliss Facial and Body Massage for Two with Natsuko and Yuka and it was absolutely amazing!! Everyone was very kind and welcoming and the massage was exactly what the title says "Zen Bliss"! I was more relaxed and rejuvenated then I have been in years after this massage!! The expertise of the girls was evident and made for a great experience; would definitely recommend a massage at Kiku Wellness, you won't regret it!"
"My partner and I went for a couple's massage for our anniversary and the experience couldn't have been any better! Cozy place with very relaxing music. The beds are warmed up so no need to worry about uncomfortable temperatures. The massage itself was amazing. Very professional, good communication throughout the massage to ask about your comfort, and both Aki and Ayaka were super nice. Definitely coming back!"
10. My Foot Reflexology & Massage City Square Vancouver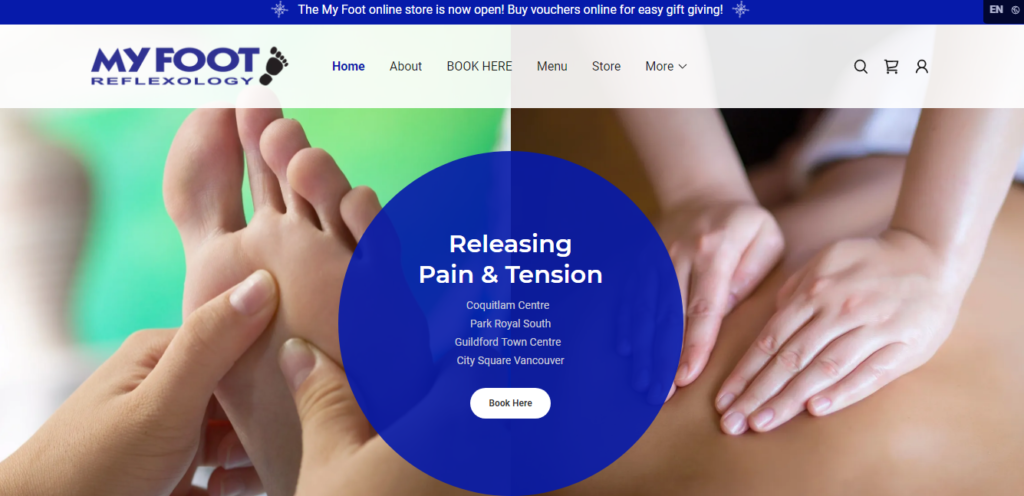 My Foot Reflexology & Massage City Square Vancouver is a company that offers a wide range of massage therapies and reflexology services ever since 1996. It has since then been expanding its scope and grown to 4 other locations to accommodate more clients better.
My Foot Reflexology & Massage City Square Vancouver is a company that offers a wide range of massage therapies and reflexology services ever since 1996. It has since then been expanding its scope and grown to 4 other locations to accommodate more clients better.
All of their methodologies are based on 5000 year old practices and Chinese Tuina art as well. While this is may be efficient for some individuals, some clients may prefer a much modern approach for treating their specific illness and condition.
Testimonials are readily available at their website which will do excellent when it comes to guiding new clients on what to expect from their services. Furthermore, they employ only use licensed therapists and train these individuals under the syllabus of the RHHA.
They also feature a store for their products along with the corresponding price ranges to better help clients navigate their services and book for it as well.
Wide range of add-on services
Highly experienced
Oriental approaches
Operation hours unavailable
Customer Reviews
Here are some reviews from their clients:
"Just had my weekly back massage at the Park Royal Reflexology location and BOY, do I feel great! Came in today with a head-cold and all stuffed up; Tom, with his usual care and attention, managed to relax my tense shoulders and eased the ache in my head. I usually get a deep-muscle massage but asked for a 'gentler' routine today and he obliged, with just the right amount of pressure. What a great place to relax to loosen up those tense muscles!" – Carol W (Park Royal Location)
"
What can we say other than… Ahhh. The beautiful and passionate therapists at My Foot Reflexology put everything into making us feel good. Every time. Every therapist. They care. The friendly counter staff make you feel welcome… It's always about the customer. It's an easy place to lose yourself from the day to day and relax. Ahhh." – Warren, Leesa & Ruby Hanna (Coquitlam Location)
11. Humanity Wellness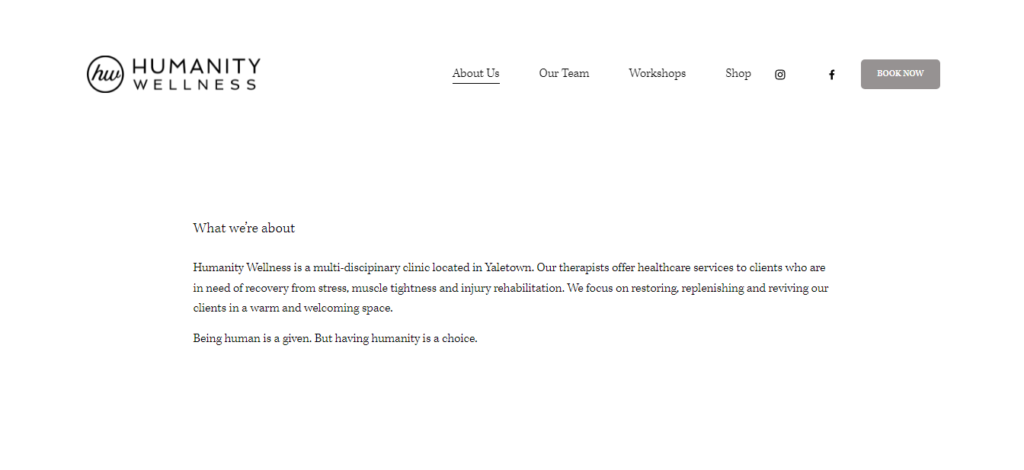 SERVICES
Registered Massage Therapy
Acupuncture
Workshops
ADDRESS
1008 Homer St #318, Vancouver, BC V6B 2X1, Canada
CONTACT NUMBER
[email protected]
WEBSITE
https://www.humanitywellness.ca/
OPERATING HOURS
Monday- Friday 7 AM – 8 PM
Saturday- Sunday 10AM – 2 PM
Humanity Wellness is a place is known as a multi-disciplinary clinic that provides healthcare services to clients who would like to recover from stress, muscle tightness, and injury rehabilitation.
Their aim is to provide you with restoration, replenishment, and revive your whole well-being in a warm, welcoming space. Since their main goal is to target you as a whole, they also sell candles, body and bath, and self-care products that you may use at the comforts of your home.
As a multi-disciplinary clinic, they provide their services to all ages from kids below 12 years of age to pregnant women.
They have 4 registered professional experts that provide services such as Registered Massage Therapy, Acupuncture, and Workshops. Like on March 14, 2022 (Monday), they would be having a Prenatal Sound Bath and Acupuncture from 6:30 PM to 7:45 PM.
Booking an appointment through their website needs some tweaking though as it only shows you their calendar for Registered Massage Therapy. But we cannot find their calendar for the Acupuncture appointments. Maybe the price of this service will show once you sign up. Hopefully, they will be able to improve it.
Also, due to COVID-19, certain protocols must be followed when visiting Humanity Wellness. Wearing medical masks is mandatory, especially in common areas. You may view their policy here.
Aside from that, we definitely recommend this clinic on their holistic multi-disciplinary approach to their client's needs.
Caters to a wide range of clients
Registered professional experts
Multi-disciplinary approach
Direct bills to Pacific Blue Cross, Telus Health, and Sun Life
No price for their Acupuncture service found online
Limited number of registered professional experts
No free parking
Customer Reviews
Here are some reviews from their clients:
"As a physiotherapist, I am super picky about which RMT's I send my clients to. I honestly think it would be impossible to find an RMT that is more of the full-package than Sarah Arnold. Professional, warm, strong, passionate, and an amazing therapist who cares whole-heartedly about her client's recovery and well-being. If you can manage to snag an appointment with this gem of a therapist, do it. Plus, her new space is lovely!" – Katrina Sovio, PT
"After working with other RMTs in the past, I have been privileged for the last few years to have Sarah as my therapist. I am a runner and horse-rider, with the usual intermittent aches and injuries that affect many of us. Sarah has treated me, advised me, and taught me home-care exercises to keep me active in my sports. She is a real treasure and I recommend her work highly." – Mark Welsh
"Sarah Arnold is a deeply conscientious, caring, and skilled RMT with an impressively insane work ethic. She's got superb people skills and always remembers things about her clients. Her clinic perfectly merges an orthopedic approach in a spa-like setting (e.g. heated towels). If you're able to book in with her, consider yourself very, very fortunate. And be sure to ask to see pictures of her dog!" – Jessica Poon
12. Absolute Spa at Fairmont Hotel Vancouver

For more than 20 years, Absolute Spa Group managed by the 360 Degrees Health & Wellness Company Inc. has been the go to place of local Vancouverites and tourists from all over the world.
This spa group has multiple branches where they offer a 5-star world-class spa experience that delights all guests as they not only provide premium quality spa but also continued home spa education care.
Just this February 1, the Century Plaza Hotel Team moved downtown at Absolute Spa of Fairmont Hotel Vancouver.
Aside from the packages, RMTs, and signature massages that we love, they also offer skin care, medi-spa-microdermabrasion, hand, foot & body treatments, and waxing.
It doesn't stop there. This place ensures that you are in good hands with their expert technicians, uses cruelty-free products, and provides you with targeted treatments.
You don't have to feel alone when going here as they also offer group reservations from 5 to 100 individuals. Plus, they will customize your package in a way that fits any type of budget.
You can definitely say that Absolute Spa of Fairmont Hotel Vancouver is a one-stop shop for your pampering needs.
Expert therapists and estheticians
Couples treatments at no extra charge
Located in the stunning Fairmont Hotel Vancouver location
Can accommodate large groups and evening treatments
No free parking
No direct billing for RMTs massage
Customer Reviews
Exceptional on so many levels
"I have been coming to Absolute SPA at the Fairmont/ Vancouver hotel on Georgia EVERY week for more than a year and a half.
I have a DEEP Tissue/ Sports massage for 90 minutes. TINA is my RMT masseuse and she is exceptional on so many levels that I had to keep coming to this SPA. She has an amazing understanding and is intuitive. I love her sense of humour and she is the best listener .
I am doing great now, but I went through a difficult time. Tina was there for me and through massage and her understanding I leave feeling amazing!! Thank you Absolute Spa. Thank you Tina." – Giglet
Absolute spa and absolute customer service!
"My friend and i came for manicures after a trip that had largely been cancelled due to covid-19. The spa was still open and we were provided with absolutely excellent customer service!! We went early and enjoyed the sauna and eucalyptus steam rooms. Then we relaxed on comfy chaise chairs until our appointment. Our nail technicians were so friendly and did a great job. At the end they gave us tea and banana bread and we just relaxed for a while before heading home. Super clean facilities, all staff were incredibly friendly and welcoming, and all in all a great experience. We will go back again next time!" – Amberweb2
13. Intent Health Clinic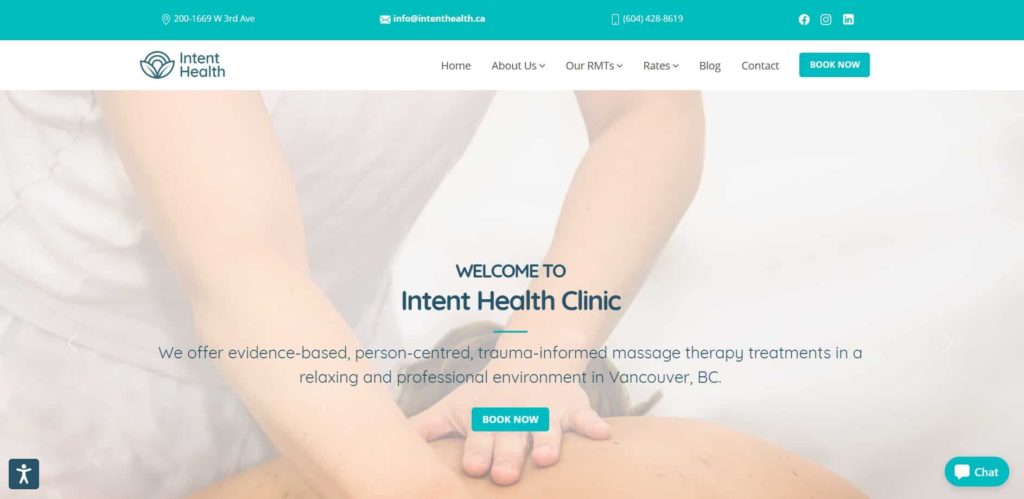 SERVICES
Registered Massage Therapy
ADDRESS
1669 W 3rd Ave #200, Vancouver, BC V6J 1K1, Canada
CONTACT NUMBER
+1 604-428-8619 / [email protected]
WEBSITE
https://intenthealth.ca/
OPERATING HOURS
Monday: 9:00 AM – 7:30 PM
Tuesday: 10:00 AM – 8:30 PM
Wednesday: 9:00 AM – 8:30 PM
Thursday: 9:30 AM – 8:30 PM
Friday: 9:30 AM – 7:30 PM
Saturday: 9:00 AM – 7:00 PM
Sunday: 11:00 AM – 6:00 PM
Intent Health Clinic is a facility that offers evidence-based, person-centred, trauma-informed massage therapy treatments.
Their wide range of massage therapy services are offered to help their clients relieve and treat their body aches and pains, as well as enhance their overall health and quality of life for sustainable periods of time.
Moreover, their treatments can treat a wide range of conditions like ankylosing spondylitis, carpal tunnel syndrome, musculoskeletal injuries including sprains, strains and fractures, and so many more. An entire list can be found on their website.
Past clients vouch for them and commend their professionalism and inclusivity when accommodating clients.
Furthermore, we like that their facilities are designed for the maximum comfort where clients can feel relaxed and safe throughout their time in the clinic.
One thing to note though is that they have a strict cancellation policy that they follow. Clients need to get in touch and cancel their appointment 24 hours beforehand or they might have to pay the entire price for the service.
All in all, we highly recommend them for their massage services!
Versatile and customizable treatments
Exemplary facilities and techniques employed
Convenient online booking available
Strict cancellation policies in place
Customer Reviews
Here are some reviews from their clients:
"Working with Ivy was a great experience! Communication was clear, she was so calm and made me feel completely at ease. I felt so much better after my appointment. I'm looking forward to my next session with her!"
"I am so glad i found the R<Ts here. This is a place of healing. They are knowledgeable , professional, kind, and very good at what they do. Seing them ahs helped me immensely."
14. My Spa Beauty and Wellness Center
SERVICES
Therapeutic Massage & Body Care
Skin Care
Beauty
Spa Packages
WEBSITE
myspabc.ca/
ADDRESS
1003 Cambie street (inside AX Art Atelier)
CONTACT DETAILS
(604) 677-8301
[email protected]
OPERATING HOURS
Monday – Saturday, 11:00 AM – 9 PM
Sunday, 12 PM – 9 PM
My Spa BC is a luxurious spa located in Vancouver, offering a wide range of spa treatments and services aimed at promoting relaxation and rejuvenation. With a focus on providing a haven for privacy and tranquility, My Spa BC ensures that every guest experiences a revitalizing and balanced lifestyle.
The spa offers various therapeutic massages, including foot reflexology, Chinese meridian, deep tissue, aromatherapy, lymphatic drainage, hot stone, and prenatal massages. These massages are tailored to the specific needs and preferences of each guest, providing a personalized experience that promotes overall well-being.
In addition to massages, My Spa BC also provides body care treatments such as full body exfoliation scrubs, fondue moor mud body wraps, infrared sauna wrap treatments, and cellulite toning body treatments. These treatments aim to invigorate the body, improve skin vitality, and promote detoxification.
For those seeking skincare services, My Spa BC offers eye care treatments, facials, diamond dermabrasion, and traditional Chinese herbal facials. These services address various skincare concerns, including anti-aging, hydration, radiance, and acne.
The spa also provides spa packages that combine different treatments for a comprehensive and indulgent experience. Packages like Dynasty, Ylang-Ylang, and Love offer a combination of foot reflexology, body massages, and exfoliation scrubs, allowing guests to enjoy multiple treatments in a single session.
With its trained therapists, luxurious treatments, and commitment to customer satisfaction, My Spa BC provides a sanctuary where guests can relax, replenish, and pamper themselves.
Luxurious spa in Vancouver promoting relaxation and rejuvenation.
Personalized therapeutic massages tailored to individual preferences.
Wide range of body care and skincare treatments available.
Sales pitches can be a bit lengthy
Customer Reviews
I've gotten massages and facials and they have all been great
"Purchased a Groupon awhile ago to try this massage place out as it's close to my home and have been a regular customer ever since. The prices can't be beat, the spa is super clean and they follow Covid guidelines to a tee. Yivon and Lucy are amazing. I've gotten massages and facials and they have all been great." – Jessica Lamirande
Really nice facial from Lucy very relaxing until the end
"Really nice facial from Lucy very relaxing until the end. My biggest pet peeve with places like this is when they try start selling you products during your treatment. With about 15-20 minutes to go, out came the sales pitch. Treatment time is for relaxing. Talk products to me afterwards not during." – Kylie Fisher
FAQs About Massage
---
And that's it for the best massage salons in Vancouver!
By the way, did you know that exercise can also help lessen your stress levels? Here are the best tennis courts in Vancouver where you can play a quick game of tennis for fun and to also help your body lessen the stress.