How much spending money do I need for a week in Vancouver?
Hey there! We know that Vancouver is just one of those cities that has a distinct charm that draws you in. We should know, we mean, we're here too aren't we?
Well, fellow travelers, we understand that one of your biggest concerns here is how much money you would need. So that's why we're here to give you the lowdown on how much spending money you need for a week in Vancouver.
How much money do I need for a week in Vancouver?
You would need around CAD 142 to CAD 194 worth of spending money for a week in Vancouver for a solo traveler, CAD 200 for couples, and CAD 800 for a family of four, per day.
These estimated prices exclude air fares, attraction entrance fees, and other expenses that may be specific to your travel plans, like renting a car or buying souvenirs.
The Cost Of Visiting Vancouver
Flights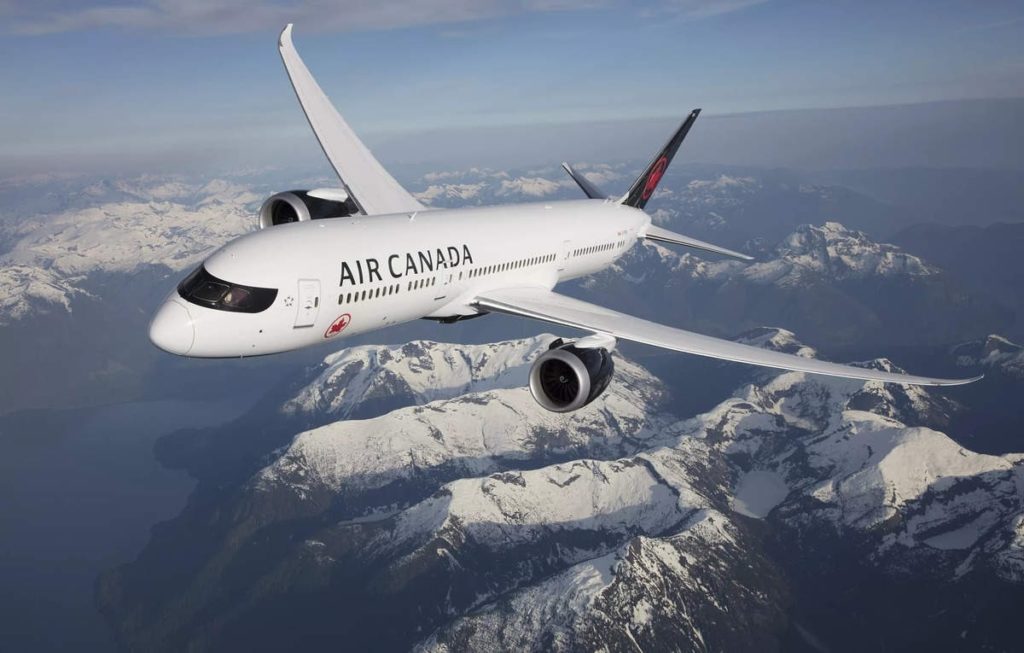 The best time to fly to Vancouver is from March to May and from September to November as this is when the weather is mild and hotel rooms are offering bargain rates.
But the cheapest time to fly to Vancouver is in November as flight tickets are 26% cheaper! But just to give you an idea, check out the table below to see the average price of air fares.
| | ECONOMY | FIRST-CLASS |
| --- | --- | --- |
| Solo Traveler | CAD 332 - 679 | CAD 691 - 1,575 |
| Couples | CAD 664 - 1,358 | CAD 1,382 - 3,150 |
| Family of Four | CAD 1,328 - 2,716 | CAD 2,764 - 6,300 |
Data from Champion Traveler via https://championtraveler.com/
Of course, the airline you choose can make a significant difference in the cost of your flight to Vancouver. While some airlines prioritize affordability, others focus on providing a luxurious experience for those willing to splurge.
If you're wondering which airlines fly directly to Vancouver, here are a few popular options to consider:
Transportation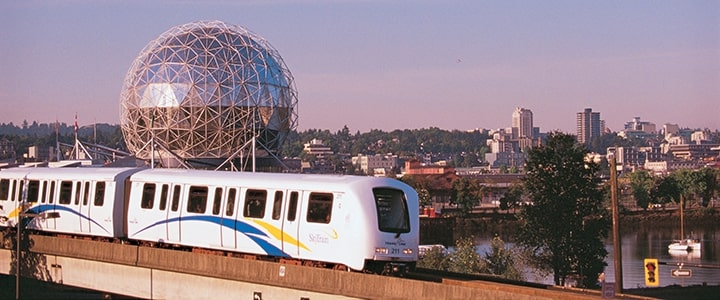 Vancouver's public transit system is pretty convenient and efficient. In fact, it's been ranked as the 22nd best public transit network in 60 major regions globally. But we're getting off topic.
So, if you're flying into Vancouver International Airport, you have two options. You can take a taxi, which will cost you around CAD 35-CAD 40, or you can take the SkyTrain, which only costs CAD 9 for a one-way ticket.
Once you're in the city, you'll have a few options for getting around. The most popular option is the public transit system, which includes buses, trains, and ferries.
| MODE OF TRANSPORTATION | AVERAGE ESTIMATED COST |
| --- | --- |
| SkyTrain | CAD 2.05 - 8.65 |
| TransLink Buses | CAD 8.45 - 10.75 |
| Greyhound | CAD 14 - 242 |
| HandyDART | CAD 2.05 - 102.55 |
| SeaBus | CAD 2 - 5.90 |
| West Coast Express | CAD 4 - 38.25 |
| Aquabus | CAD 40 - 380 |
| Taxi | CAD 3.35 - 30 |
There's also the Compass Card, which is a reloadable fare card that can be used on any mode of public transportation in the city (so you may want to get one of these).
| TYPE OF PASS | Category | 1 - Zone | 2 - Zone | 3 - Zone |
| --- | --- | --- | --- | --- |
| Monthly Pass | Adult | CAD 102.55 | CAD 137.10 | CAD 185.20 |
| Day Pass | Adult | CAD 11 | CAD 11 | CAD 11 |
Data from Translink via https://www.translink.ca/transit-fares/pricing-and-fare-zones
But if you want to have your own private ride, car rentals are also an option. This may be more expensive than public transit, but hey, if you're willing to pay extra for comfort, that's no problem.
| TYPE OF CAR RENTAL | PRICE RANGE PER DAY |
| --- | --- |
| Standard Car (compact or economy car) | CAD 35 - 50 |
| SUV or minivan | CAD 60 - 80 |
| Luxury cars (Sports car or luxury SUV) | CAD 150 - 600 |
Data from Expedia, Katak, Enterprise, and Hertz via their own websites
Accommodation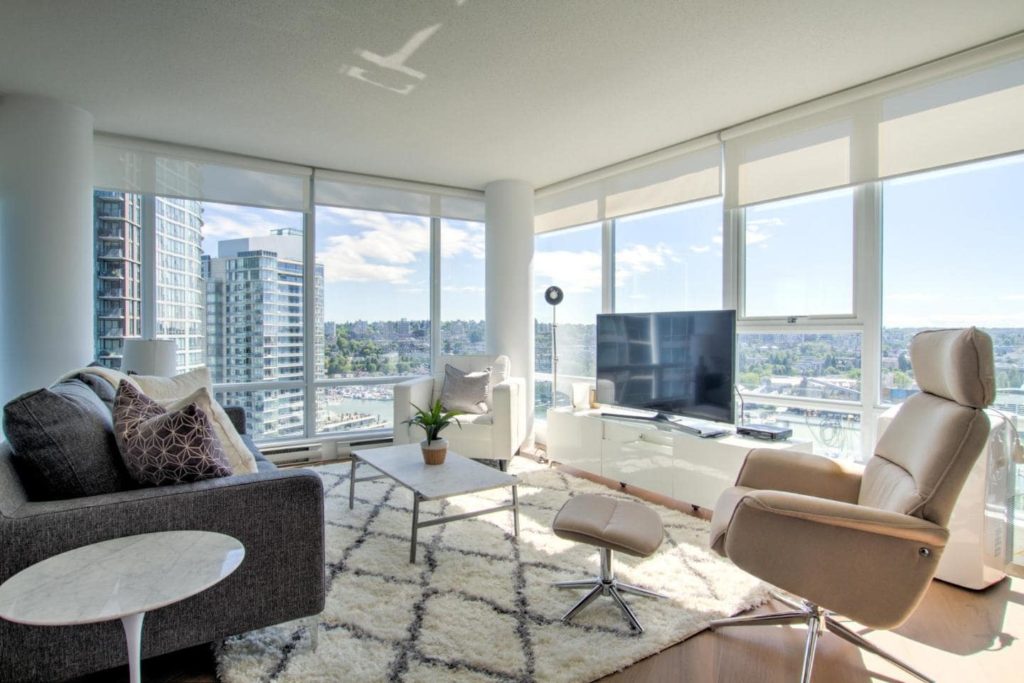 If you're planning a week-long trip to Vancouver, one of the biggest expenses you'll likely face is the cost of accommodation. But don't worry; we're here to help you get a better idea of how much you'll need to spend.
First things first: the average price for hotels in Vancouver is CAD 163 per day, with a median price of CAD 153.

Food and Drinks
We now head to the factor that you'll be spending on every day during your trip in Vancouver: food and drinks. If you're like us, we get hungry pretty fast so it's important that you know how much food and groceries cost here.
So, groceries in Vancouver for a single person can average around CAD 300 to 400 per month, according to Numbeo. 
| TYPE OF PRODUCT | AVERAGE COST |
| --- | --- |
| Milk (regular), (1 liter) | CAD 2.91 |
| Loaf of Bread | CAD 3.64 |
| Rice (1 kg) | CAD 4.76 |
| One dozen eggs | CAD 5.20 |
| Local Cheese (1kg) | CAD 16.45 |
| Chicken Fillets (1kg) | CAD 16.76 |
| Beef Round (1kg) | CAD 18.25 |
| Apples (1kg) | CAD 4.80 |
| Banana (1kg) | CAD 1.85 |
| Oranges (1kg) | CAD 4.80 |
| Tomato (1kg) | CAD 5.11 |
| Potato (1kg) | CAD 3.87 |
| Onion (1kg) | CAD 2.76 |
| Lettuce (1 head) | CAD 3.39 |
| Water (1.5 liter bottle) | CAD 2.49 |
Data from Numbeo via https://www.numbeo.com/
But if you prefer to have ready-to-eat meals, you can also dine out! But we have to admit, it's a bit more expensive to do this, so we don't recommend it.
| TYPE OF PRODUCT | AVERAGE COST |
| --- | --- |
| Meal, Inexpensive Restaurant | CAD 25.00 |
| Meal for 2 People, Mid-range Restaurant, Three-course | CAD 100 |
| McMeal at McDonalds (or Equivalent Combo Meal) | CAD 12 |
| Domestic Beer | CAD 7.50 |
| Imported Beer | CAD 9 |
| Cappuccino | CAD 5.01 |
| Coke/Pepsi (0.33 liter bottle) | CAD 2.69 |
| Water (0.33 liter bottle) | CAD 2.44 |
Data by Numbeo via https://www.numbeo.com/
While dining out can be a convenient option for those who prefer ready-to-eat meals, it's important to consider the cost. Eating out regularly can quickly add up and become a significant expense.
Entertainment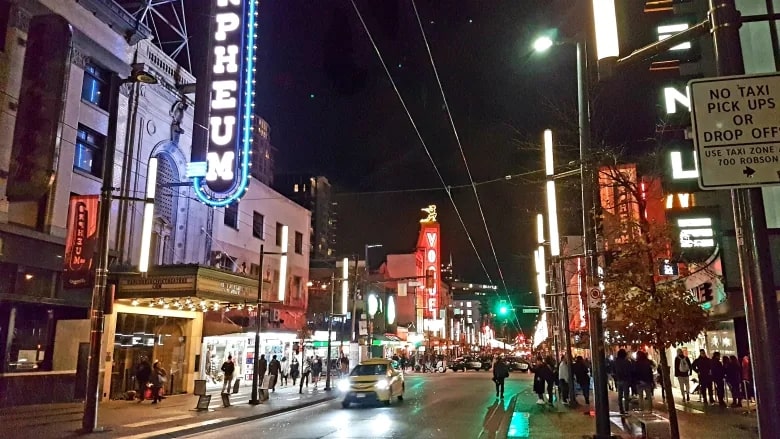 There's no doubt that one of the major reasons you're here is to experience the city's famous attractions, vibrant nightlife, and unique festivities, so we think it's safe to say you've got to know how much this will cost.
Movies? Concerts? Sports events? While these are not necessarily crowd favorites, you've gotta know how much it costs because, who knows, maybe you decide to see the Canucks or your favorite musician.
| ENTERTAINMENT | AVERAGE COST |
| --- | --- |
| Movie ticket and a snack | CAD 13 - 15 |
| Concert tickets | CAD 116 |
| Sport events | CAD 50 - 140 |
Data from Numbeo via https://www.numbeo.com/
But if you're here to see the famous landmarks in the city, like Stanley Park, Grouse Mountain, Granville Island, or the best ski resorts, then you're in for a treat.
But hey, don't get discouraged! They're not as expensive as you think. Have a look at the table below to see some of the city's must-visit places and their price range.
| ATTRACTION | PRICE RANGE |
| --- | --- |
| Capilano Suspension Bridge | CAD 24.95- 62.95 |
| Vancouver Aquarium | CAD 39.95 - 51.95 |
| Grouse Mountain | CAD 36 - 179 |
| Science World | CAD 22.50 - 33.20 |
| Sea to Sky Gondola | CAD 25.95 - 69.95 |
| Dr. Sun Yat-Sen Classical Chinese Garden | CAD 12 - 32 |
| Museum of Anthropology at UBC | CAD 18 - 22 |
| Vancouver Maritime Museum | CAD 11 - 38 |
| VanDusen Botanical Garden | CAD 3.70 - 7.40 |
| Museum of Vancouver | CAD 15 - 20 |
In fact, Vancouver's famous attractions provide discounts such as student discounts or early bird deals. These discounts can help you save money while still allowing you to experience all that Vancouver has to offer.
But that's not all, there are also plenty of cheap things to do in Vancouver, you'd also be surprised to know that some of them are free of charge! This includes Stanley Park, Lynn Canyon Suspension Bridge, Queen Elizabeth Park, and many more!
Souvenirs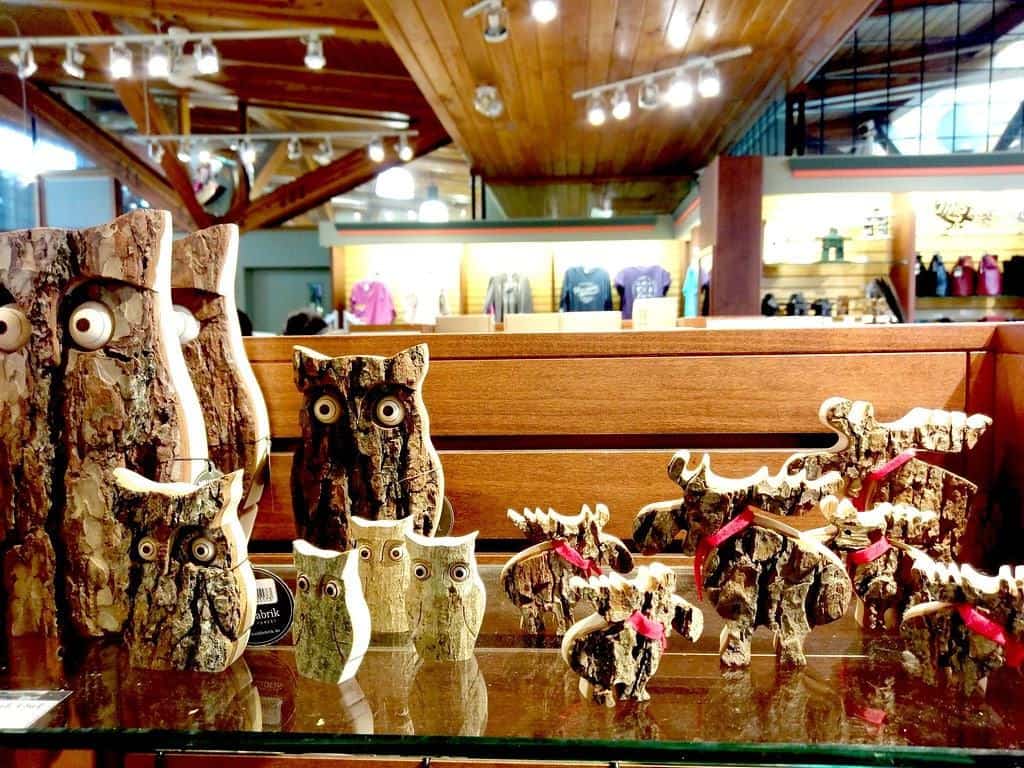 Yes, we're including this because we're sure that you'd want to take home some items that Vancouver is known for.
But as much as we all love to indulge in good eats and bring home a little piece of our travels, it's important to keep these expenses in mind when planning your budget.
The city has plenty of souvenir shops and markets where you can find everything from jewelry and magnets to locally-made crafts and clothing. 
But if we're being honest, if you'd like to take a piece of Vancouver home with you, we highly recommend you go for the goods made by Canadian Indigenous artists like the Cowichan Valley Sweaters.
Budget Tips When in Vancouver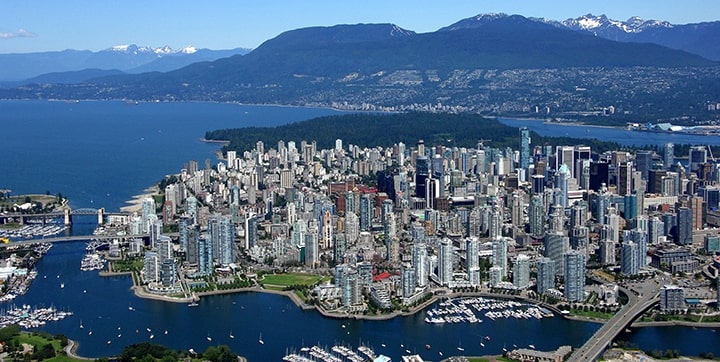 1. Book Your Flight Early
First up, book your flight early. Listen, airlines love to hike up air fares the closer to travel dates get, so please don't procrastinate on booking your flight tickets.
Alternatively, you can check websites like Flight Hub or Kayak to compare prices and find the best deals.
Plus, if you're planning a trip to Vancouver during peak season (June to September), or for a special event, such as a wedding or concert, booking early is especially important.
2. Score Accommodations outside the City Center
Now, don't get us wrong; we love downtown Vancouver, but if you're like us, then you probably want to save some molaah, so it's best to look for accommodations outside the city center.
Another tip is to book directly with the hotel, hostel, or homeowners, as this will save you a lot of money on agent fees and service charges.
One great way to save money on accommodations is to consider alternative options like Airbnb or Couchsurfing. These platforms offer a variety of unique and affordable options for travelers, from spare rooms in local homes to entire apartments.
Oh and another thing, try to score a place where you can cook! (This will comes in handy later)
3. Cook-in Instead of Dining Out
We know that eating out is one of the best parts of traveling as it's a great opportunity to experience local cuisine and try new foods, but every meal can quickly add up to your expenses.
That's why we recommend that you consider cooking meals at your accommodation. The city also has plenty of grocery stores where you can score good deals on fresh produce, meat, and snacks.
4. Score Groupons
Groupons are a budget traveler's best friend. Seriously, they can save you a ton of money on all sorts of activities and restaurants in Vancouver.
And there's likely a Groupon out there for whatever you're interested in. If you're a budget traveler, Groupons are definitely worth checking out!
5. Take Advantage of Free Attractions
Vancouver has plenty of free attractions that are just as fun and exciting as their paid counterparts. You could go biking in Stanley Park or jog in the Seymour Demonstration Forest.
If you're more into the sun and waves, head over to Kitsilano Beach. On the other hand, if you want a challenging activity, hike the Grouse Grind in Grouse Mountain.
Oh, and the city also has numerous parks, beaches, and hiking trails that are completely free of charge.
6. Travel during Off-Season
Vancouver's off seasons are during November to mid-December, January, and February to mid-March.
If you're able to travel during the off-season, you can score some serious deals on accommodations and activities. Not only will prices be lower, but you'll also avoid the crowds and have a more authentic experience of the city.
7. Visit the Vancouver Art Gallery on a Tuesday
You may wonder how specific this tip is but it's because admission to the Vancouver Art Gallery is by donation on Tuesdays! That's right, you can pay what you can afford to see some amazing works of art.
8. Look for the Happy Hours
Let's say you just can't resist the temptation of eating out. Don't worry, we understand, and here's a tip for ya! Make sure to look for restaurants that offer happy hour specials.
Many places in Vancouver have discounted food and drinks during certain hours of the day (usually from 3 p.m. onward), so you can enjoy a nice meal without breaking the bank.
9. Bring a Water Bottle
Vancouver has many water fountains and bottle filling stations so make sure to bring a water bottle when you're out and about. Don't worry, the water is monitored by the city staff, Vancouver Coastal Health, and Metro Vancouver so it's safe to drink.
10. Maximize the City's Free WiFi
Another awesome fact about Vancouver is it's actually one of the largest free public WiFi providers in North America! It's called #VanWiFi, so no need to purchase or rent a pocket WiFi.
So, how do you exactly connect to this free WiFi? First, select the network name from your device's WiFi settings menu.
Next, open your browser and you will be redirected to the WiFi terms and conditions page. Read and accept and, voila! You're connected.
---
Well, after a long journey, we're finally done. We hope this article has helped you figure out how much you need to budget for your 7-day Vancouver trip.
Now, just in case you're having trouble filling your itinerary, read our article on things to do in Vancouver to help you add more places and activities.