The 5 Best Tailors in Vancouver
Whether you just want a bespoke suit or just need a simple alteration, we can't deny that tailors are pretty important. This is why we went to different tailors here to alter some of our most expensive suits to see if they can handle that challenge.
Here are the best ones for us!
How much are tailored clothes in Vancouver?
Even with experienced tailors, having a custom suit handmade will take weeks so expect the labor cost for it to be high. It can also be more expensive depending on your size as the tailor might need to buy additional fabric.
The table below just shows the common pricing for alterations around Vancouver.
| | |
| --- | --- |
| Type of Clothing | Cost |
| Pants | $12+ |
| Formal Clothes | $18+ |
| Wedding Gowns | $35+ |
| Shirts | $12+ |
| Pants | $20+ |
| Jackets | $20+ |
| Skirts | $20+ |
The Best Tailors in Vancouver
With all of that out of the way, let's now find out which ones are the best tailors in Vancouver!
1. Townline Tailors Inc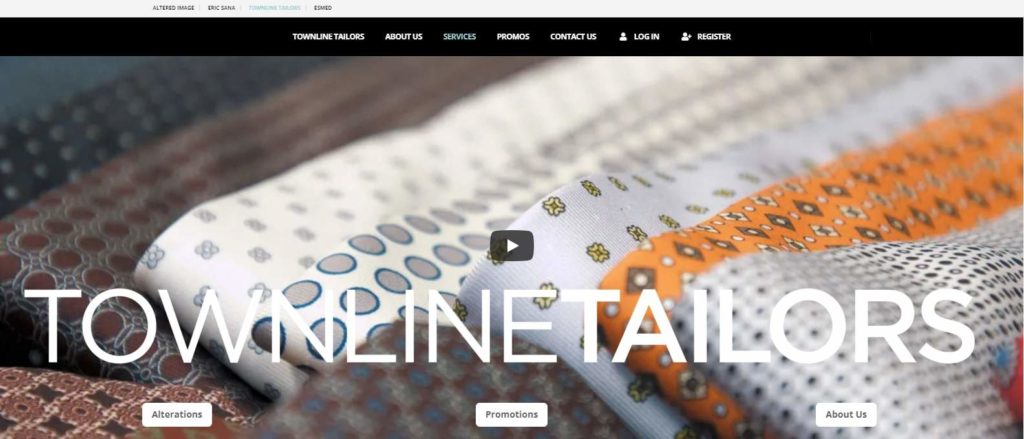 SERVICES
Tapering
Taking In/Letting Out
Shortening and Lengthening
Replacements
Zipper & Button Replacements
Repairs
ADDRESS
541 Howe St, Vancouver, BC V6C 2C2, Canada
CONTACT NUMBER
604-684-6105
WEBSITE
https://alteredimage.net/townlinetailors/
OPERATING HOURS
Sunday & Monday: Closed
Tuesday – Friday: 10AM – 5:30PM
Saturday: 10AM – 3 pm
With more than 30 years of tailoring clothes for Vancouverites, this tailoring shop is a favorite for many locals thanks to their quality craftsmanship and their justified cost.
While their hours are disappointingly short, their services more than make up for it. Aside from the normal tailoring and alteration services, they also have a service warranty for those who aren't satisfied with the initial alteration or tailoring done.
They can also make custom shoes aside from custom clothes. And what's also great about them is that they have a wedding package where you can get tailored suits and bridesmaid dresses for a lower price than just getting them individually.
So, while they don't have the longest working hours or any online conveniences such as online booking, Townline Tailors still have a lot to offer to their loyal patrons.
30 years of experience
Has a service warranty 
Can make custom shoes
Has a wedding package
Short business hours
No online booking option
Customer Reviews
Professional opinion
"I was treated extremely well, the service from Mark was exceptional. They made f me feel very welcome and comfortable as they provided their professional opinion on the fitting of the pants I got altered and the other that they put a nice cuff on. They both fit and look great! – Eddy Gooch
Extremely efficient
"Sheila was very pleasant and extremely efficient. She was probably the best experience I've ever had with a seamstress or tailor. Excellent job on a very bad rip I had in a skirt." – Sarah Mansfield
2. Paradise Fashion Studio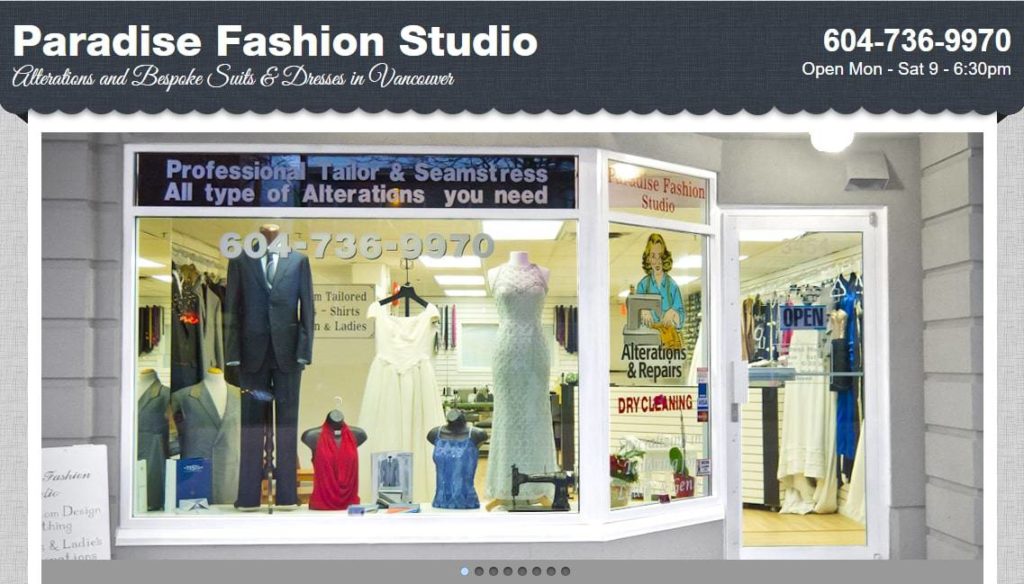 SERVICES
Alteration
Tailoring Services
ADDRESS
3454 W Broadway, Vancouver, BC V6R 2B3, Canada
CONTACT NUMBER
604-736-9970
WEBSITE
http://www.paradisefashionstudio.com/
OPERATING HOURS
Monday-Saturday: 9am-6:30pm
Paradise Fashion Studio creates bespoke suits and dresses but also offers alteration services to its customers. Run by Ali Rayhani, this tailoring studio has been around since 1991.
Ali Rayhani previously worked with Harry Rosen so we're sure that he has more than enough experience with luxury suits and dresses. The shop can also do different types of clothing alterations, like swimwear and sportswear, outside of the normal wedding gown and tuxedos.
It's also very convenient that they're open even on Saturdays. While they don't have an online scheduling form, it's pretty easy to talk to their customer service.
Aside from tailoring, they can also do dry cleaning. It's a pretty convenient added service, we think.
Despite some shortcomings, the great tailoring that Paradise Fashion Studio offers is basically still among the best in Vancouver. They put out work that consistently satisfies clients (we asked their patrons!) and make dealing with them an easy matter.
Has been around since 1991
Run by an experienced tailor
Full hours on Saturdays
Accepts dry cleaning
No online scheduling
No service warranty
Customer Reviews
Excellent quality of work
"At this point, Ali has tailored my entire professional wardrobe, and I will continue to use him for the coming years. He offers an excellent quality of work and is very well priced.
I would easily recommend him to anyone." – Matt
Professional tailoring
"High quality, professional tailoring at paradise fashion studio! Thank you for turning dresses that were too big for me into the perfect fit. Owner is also friendly, humble, and kind." – Fiona Chang
3. Busy Bee Gold

SERVICES
Dry Cleaning
Tailoring and Alteration
ADDRESS
704 W 6th Ave, Vancouver, BC V5Z 1A5, Canada
CONTACT NUMBER
604-872-1519
WEBSITE
https://www.busybeegold.com/
OPERATING HOURS
Monday-Friday: 7:30am-6pm
Saturday: 8:30am-5:30pm
Although more known for its dry cleaning service, Busy Bee Gold is also a great place for tailoring and altering needs. They have been around since 1981 so they have a lot of experience in this kind of business.
There's no service guarantee here but they do the best they can in any job. And trust us, many people aside from us can attest to their quality of service too.
Their tailoring and altering services require you to meet them so they can know the best way to make sure that your clothes are fitted. This personalized service is good, as their process isn't just the normal measuring done in other shops.
However, they're pretty limited in their payment options. They do accept credit cards and cash but we hope that they'll start allowing people to pay digitally soon too.
Aside from that, we also like that Busy Bee Gold has a great appointment form – it's very easy to use and decipher.
They also have 3 seamstresses and tailors on-site to ensure quality control.
With these kinds of services, it's really no wonder why many people would say that they're one of the best tailoring services in Vancouver. This is despite them specializing in dry cleaning, even.
Has been in business for about 40 years
Personalized service
Has an intuitive scheduling form 
No option to pay online
No warranty
Customer Reviews
Great tailors
"I've had several pairs of pants hemmed and taken in at the waist and the quality is always great! Service is friendly and efficient, and the wait times aren't too long. Great tailors!" – Shanna Wickens
Reliable
"Super nice service and very reliable. We get clothes cleaned when things are precious, and tailoring of shirts, pants, repairs and all come back above and beyond expectations." – Kirk Chantraine
4. Modernize Tailors
SERVICES
Tailoring
Alterations
ADDRESS
5 W Pender St, Vancouver, BC V6B 1R3, Canada
CONTACT NUMBER
604-685-0610
WEBSITE
https://www.modernizetailors.com/
OPERATING HOURS
Tuesday-Thursday: 11am-6pm
Saturday: 11am-5pm
Modernize Tailors is the oldest tailoring shop on our list. Established in 1913 by Kung Lai Wong, this tailoring shop is known for creating bespoke suits for Sean Connery and Arnold Schwarzenegger.
It's currently run by the fashion designer, Mia Wu, who was previously an intern at this shop. What's also interesting about this shop is that not only do they tailors sew but they can also design and draw their own custom designs.
Don't expect that you'll be measured immediately if you visit them through walk-in, though. Most people can only visit them right now if they have an appointment.
It's also better to book an appointment in advance, since they're only open for 4 days a week.
Aside from that, unlike other bespoke suit shops that can be found in Vancouver, what they offer here isn't just a multiple-choice type of suit template where people choose from a limited number of cuffs and other parts. Modernize Tailors actually make each suit almost entirely from scratch, so make sure that you have some time for extra fittings after your initial visit.
This makes them one of the best places to go for custom-tailored clothing in Vancouver. Of course, this may also mean they may not be ideal for those who want a suit ASAP and don't care about ultra-customization.
Has been around for more than 100 years
Served  high profile clients
Specializes in custom, tailor-made suits
By appointment only
Only open for 4 days a week
Customer Reviews
Great service
"I bought several masks from here and asked for unique alterations to each and Mia was incredibly responsive and helpful with getting the alterations done and getting them to my house quickly! Super great service, the masks fit excellently, exactly how I want, would highly recommend." – CA W
Truly personalized and bespoke
"I'm very thin, so when it came time to get a suit for my wedding I knew I needed something custom. To be honest, I was dreading the process – I had never worked with a tailor before and didn't have a clear idea of what I wanted – only that I was looking for something a bit different, distinctive, and off the beaten path. Mia and Chris read me well, made me feel comfortable very quickly, and they generously (as well as artistically/creatively) helped me navigate the myriad of options to produce a truly personalized and bespoke result which exceeded my expectations. My 3-piece suit (and custom shirt) was a big hit at the wedding, and I'll be proud to wear these fine garments for many years to come. I got an extra pair of pants in a different fabric for more flexibility, and overall I feel that my investment has returned excellent value. My schedule can be quite challenging, so I appreciate that communication was flawless, and their flexibility was much appreciated. Zero regrets. I am excited to return to work with Mia and Chris again in the future as I expand my wardrobe. Thank you both so much!" – Jeff Cullen
5. Master Tailors Ltd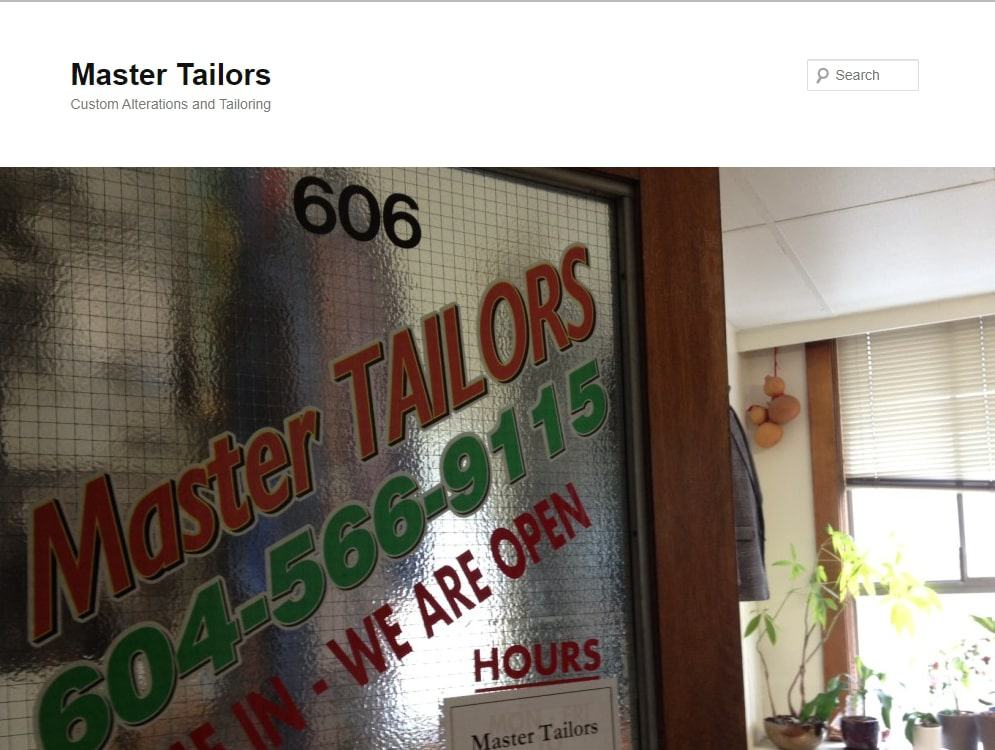 SERVICES
Hemming
Sewing
Repairs
Tailoring
ADDRESS
825 Granville St #606, Vancouver, BC V6Z 1K9, Canada
CONTACT NUMBER
604-566-9115
WEBSITE
http://mastertailors.ca/
OPERATING HOURS
Monday-Friday: 11am-7pm
Even though the people at this shop are more focused on alterations, they can also do custom clothes when asked by their clients.
They may be open part-time for now but their turn-around rate for different tailoring services are still good. This tailoring store closes rather early, so just make sure that you talk about concerns and inquiries early on.
What we love about this shop is that the measurement is almost always spot-on. Even after just one fitting, the measurements are right and the clothes fit perfectly.
This shop has also always been efficient in handling customers and based on other reviews, many will agree with us. Even with a lot of customers, they can tailor your clothes perfectly and you will also get it on time, or sometimes, even earlier!
Other than that, we think they're a bit lacking in terms of online scheduling too. While other companies have some form of online inquiry or communication, this company doesn't even have one and you need to go the old-fashioned route just to get a schedule.
Their 10 years in the business has made them one of the most reliable tailoring companies in Vancouver. We highly recommend this company for those looking for quick alteration services.
10 years of experience
Efficient altering service
Focuses on alterations
No online scheduling services
Short office hours
Customer Reviews
The best job every time
"I've only been here a couple of times for basic alterations. Tapering pants, hemming, and most lately, letting out a pair of my favorite trousers. (which I was nervous about because of there value.)
These people do the best job every time! Never disappointed. Plus the venue is so old-school and very poetic. It looks like something out of a Harry Potter book.
Love Master Tailors! Thanks guys." – daly thompson
Price were also very fair
"I had gone here before for simple fixes like replacing a zipper but I had a formal gown that needed some alterations (shoulder straps shortened, bodice and waist taken in as well as a multi layer hem). I was a little concerned as in the past (at other bridal shops) it usually took multiple fittings before it was right and I only had about 10 days before the event. They got it fitting like a glove on the first fitting so I walked out with it 3 days earlier than expected. Their prices were also very fair, almost $50.00 less than I was quoted by another tailor shop. This is a family business so I had a lovely chat with the young daughter that was playing in the shop while her mom was pinning the gown" – Tiffany Matsui
FAQs About Tailors
---
And that's it for the best tailors in Vancouver! If you're thinking of getting a suit for special occasions, just call one of them!
By the way, we also have other articles that we're sure can help you get other things looking good besides your clothes. For example, check out our article on the best interior designers in Vancouver to know where you can go to make your house look as cool as you.