The 5 Best Vegetarian Restaurants in Vancouver
Are meat-eating people starting to annoy you with their claims about vegetarian and vegan food being bland? Well, bring them to the restaurants on this list and watch them change their mind about plant-based food, then!
We reviewed the best vegetarian restaurants in Vancouver and even included food recommendations that even vegetarian-food skeptics will love. But first, let's talk about how much it will cost!
How much does eating in the best vegetarian restaurants in Vancouver cost?
Let's talk about the price range for each restaurant.
Most of Vancouver's top vegetarian restaurants cost more than $10 per dish, but some companies offer group meals and some dishes can be good enough for two people.
Here are their price ranges at the time of writing:
Restaurant
Price
Chau Veggie Express
$6.25 – $15.00
Heirloom Vegetarian Restaurant
$14.00 – $21.00
MeeT
$7.00 – $17.00
The Naam Restaurant
$6.00 – $18.00
The Acorn Restaurant
$8.00 – $25.00
Chef's menu: $64.00 per person
Take note though, this table doesn't include the taxes. And again, mind that prices can change at any time due to factors like supply issues for their ingredients.
The Best Vegetarian Restaurants in Vancouver
Since you now know how much to bring for each restaurant, let's now head down to the reviews.
1. Chau Veggie Express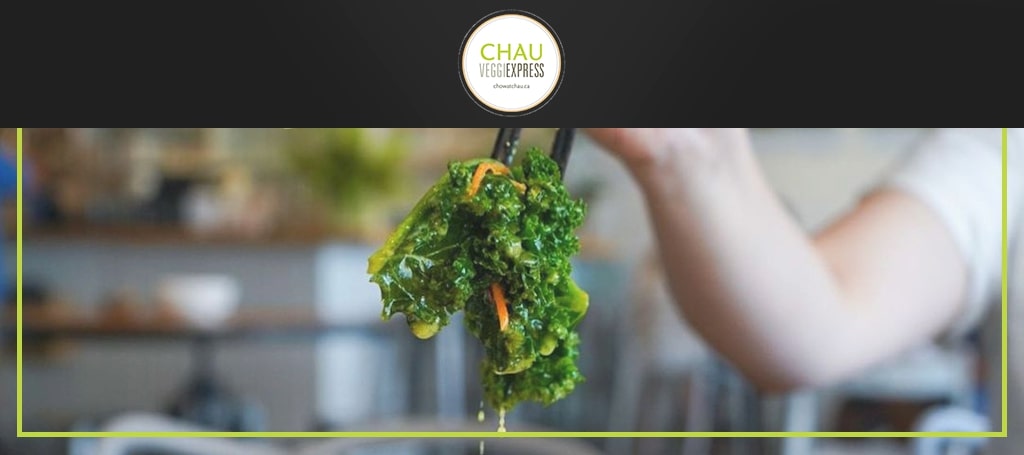 This restaurant is an offshoot of Chau Kitchen, Vancouver's first Vietnamese deli.
What they serve here aren't the typical Vietnamese dishes you can find in other restaurants.
With names such as 'Tropical Rainstorm Bowl' and 'Midnight Swim Bowl,' this restaurant gives diners a more distinct modern Western vegetarian restaurant vibe.
Don't let that fool you, though. This restaurant still tastes distinctly Vietnamese.
Aside from offering vegetarian and vegan options, this restaurant also has gluten-free options available so you can try out their amazing dishes here even if you have gluten allergies.
With that said, we have a few issues with this restaurant still.
First, they don't accept advanced reservations. Seating here is on a first-come, first-served basis, making it quite hard to find a seat during peak hours.
Second, they're closed on Mondays. And it would really be nice to eat a great plant-based pho to keep out the Monday blues, don't you think?
What We Recommend: Golden Temple Soup – With a light turmeric coconut broth, this soup offers a great complex flavour.
It's really creamy and actually a bit spicy, as expected from a curry broth. The vegetables included also complement the dish as they don't overpower the taste.
Overall, this is a flavorful soup, and it being a vegan dish doesn't detract from it. Instead, it highlights the flavour more.
Authentic plant-based Vietnamese dishes
Offers gluten-free options for some dishes
Doesn't accept advanced reservations
Closed every Monday
Customer Reviews
Many people, even non-vegetarians, love the food here according to the reviews:
"This place is so good. There is evidently so much love and care put into the food, it's so flavourful, good portion sizes, and reasonable pricing (not dirt cheap, but you get what you pay for). I have no complaints!! My go to is the golden temple soup- it NEVER disappoints. I'm not even vegetarian ;)" – Hannah Hart
"My view on vegan food has forever changed after my friend took me to Chau Veggie Express. The curry bowls had a variety of vegetables which makes them healthy and they were also cooked to perfection. The spring roll was crispy and delicious. I would definitely come here more often" – Ambrose Siu
2. Heirloom Vegetarian Restaurant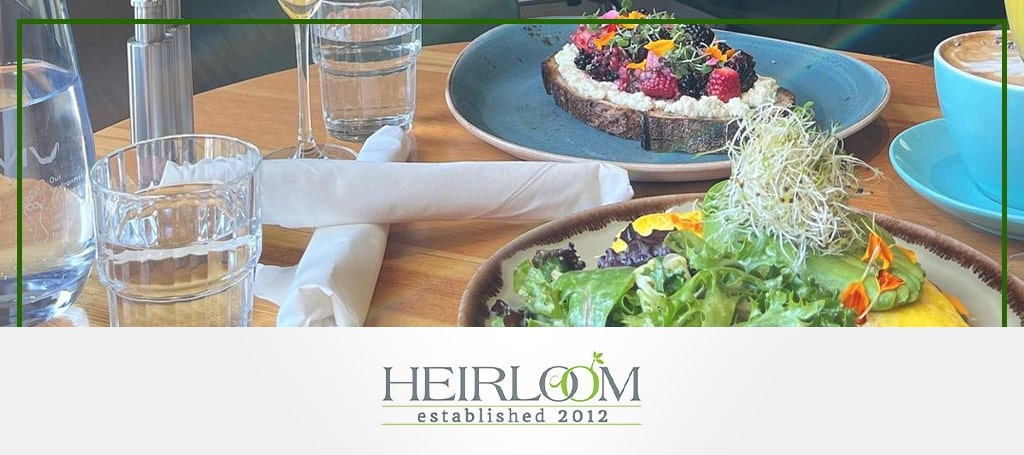 SERVICES
● Dine-in
● Takeout
● Delivery
ADDRESS
1509 W 12th Ave, Vancouver
CONTACT NUMBER
(604) 733-2231
WEBSITE
heirloomveg.ca
OPERATING HOURS
Monday – Friday: 11:00 AM – 10:00 PM
Saturday – Sunday: 10:00 AM – 10:00 PM
MENU
heirloomveg.ca
Opened in 2012, Heirloom Vegetarian Restaurant commits itself to the founder's vision of a socially conscious restaurant.
A good thing about this restaurant is that the majority of the ingredients for the dishes here are sourced locally.
So, whenever you eat here, you're not just supporting this one local business, but many other smaller local businesses they sourced ingredients from.
This restaurant also has a nice interior, in our opinion. It feels so homey that eating here feels like just eating at your best friend's house – that is, if your best friend makes amazing vegetarian and vegan dishes.
Other than their food, they also have a good amount of wine, cocktails, and beer that you can order.
By the way, we think that their The Ultimate Vegan Caesar cocktail goes well with everything. But, well, your mileage may vary.
Moreover, they have a pretty extensive menu with gluten-free and vegan dishes. Note that they have a different lunch and dinner menu.
However, you should know that you can't order from their brunch menu during the weekdays as it's only available during the weekends.
They also don't accept reservations, so good luck getting a table during peak hours. You'll really need to be in this restaurant early just to get a table, as this is a popular restaurant.
What We Recommend: KFC – No, not that kind of KFC. This KFC is a lot more friendly to animals.
This has fried cauliflower and a great Korean-style sauce. The sauce is made of gochujang and Korean chilli, giving it that nice spicy kick.
If you know anyone who still thinks that vegetarian food tastes bad, this dish might be able to change their minds.
Locally-sourced ingredients
Serves cocktails and wine
Has gluten-free and vegan options
Doesn't accept reservations
Different lunch and dinner menu
The brunch menu is only available during the weekends
Customer Reviews
Here are the reviews from customers praising the delicious food here:
"Amazing aesthetic and decor with a vibrant and bright ambience. It pairs very well with the stellar vegan and veggie food options, especially the delicious vegan buttermilk pancakes. I'd recommend this to anyone looking for healthy food options in Vancouver that does not sacrifice taste and flavor!" – Vaughn Dabney
"This restaurant has such a cozy dining area! Food was absolutely delicious. Lavender oat milk latte was so delicious, you must try it. Definitely coming back!" – Jess H
3. MeeT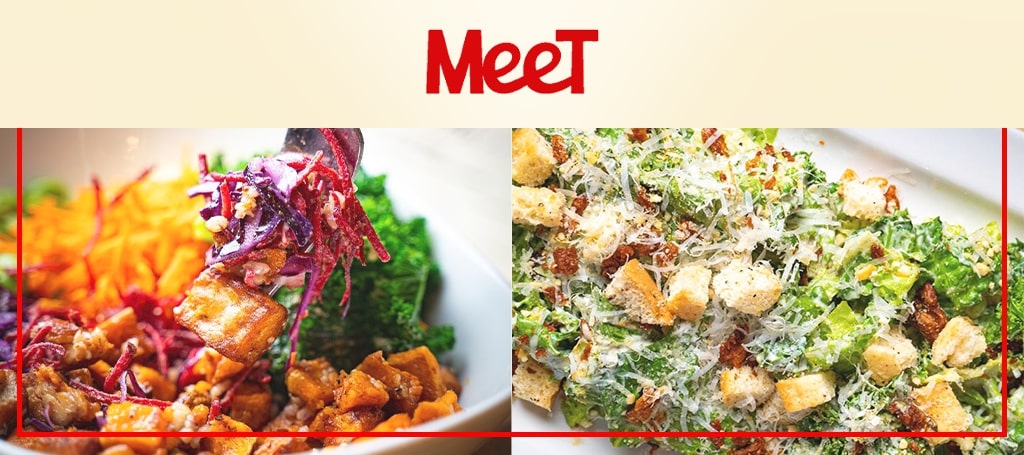 SERVICES
● Dine-in
● Pickup
● Delivery
ADDRESS
Main St. Branch: 4288 Main St, Vancouver
Gastown Branch: 12 Water St, Vancouver
Yaletown Branch: 1165 Mainland St,
CONTACT NUMBER
Main St. Branch: (604) 696-1010
Gastown Branch: (604) 696-1111
Yaletown Branch: (604) 696-1165
WEBSITE
meetonmain.com
OPERATING HOURS
Main St. Branch:
Tuesday – Friday: 11:30 AM – 2:00 PM; 6:30 PM – 11:00 PM
Saturday – Sunday: 1:00 PM – 8:00 PM

Gastown Branch:
Monday – Friday: 11:00 AM – 11:00 PM
Saturday – Sunday: 10:00 AM – 11:00 PM

Yaletown Branch:
Sunday – Thursday: 11:00 AM – 11:00 PM
Friday – Saturday : 11:00 AM – 12:00 AM
MENU
https://www.meetonmain.com/
MeeT was established in 2013 to prove that vegetarian comfort food can also be tasty. With them continuously winning awards for being one of the best vegetarian restaurants in Vancouver, it's safe to say they've managed to reach their goal.
Serving burgers, mac and cheese, and poutine, this joint isn't that different from a lot of other fast-food restaurants out there. Except, of course, this one is plant-based.
This restaurant takes allergies seriously too. They process ingredients like nuts separately to eliminate the chances of cross-contamination with their dishes.
The number of branches they have is a bit of a double-edged sword for us though.
It's nice to just jump to a different branch, especially if one branch is full that day.
However, there are some exclusive menu items for just one branch, such as the Gastown branch having a brunch menu while others don't have one.
Another issue we also have is that MeeT doesn't take reservations. And even though they have a waitlist, it's also an in-person one so you won't even know if the restaurant is full before you visit the actual location.
What We Recommend: The Mighty Mac – This is honestly the ultimate comfort food.
Imagine this, mac n' cheese (or mac'n'cheez, as they call it here), their signature burger patty, jalapenos, onion strings, and chipotle mayo.
Who wouldn't love that? The cheese they use tastes fantastic and everything in this burger really blends well.
It's very rich in flavour and it definitely hits the spot for us. We're sure that we'll be ordering this again the next time we're here.
Can modify food to remove allergens
Different branches to visit
Doesn't accept advanced reservations
Only has an in-person waitlist
The brunch menu is only available in one branch
Customer Reviews
According to these reviews, even non-vegans and non-vegetarians love this restaurant:
"Had The Big Yum to go. Very tasty vegetarian food that tastes just as good as if meat was in it. Lots of variety of nice vegetables in the dish in a very yummy nutty soy like sauce. Good stuff that tasted umami and rich. Nice sized filling portions as well. The Karma apple soda was also a good addition to the meal." – Munchica
"This place had been on my radar for some time and when I finally got to Vancouver, it was an easy YES to going there. I've never had vegan calamari but regular calamari was always one of my favorite things. My expectations were low because most "fish" alternatives are just not there yet and while this wasn't really calamari, it tasted fantastic. I also ordered their Mac and cheese and was absolutely thrilled. Everything was tasty and the restaurants vibe is exactly what I crave.
My guy ordered the burger with a side of poutine fries and while I didn't try them personally, he swears they were the best things ever." – Christina Perez
4. The Naam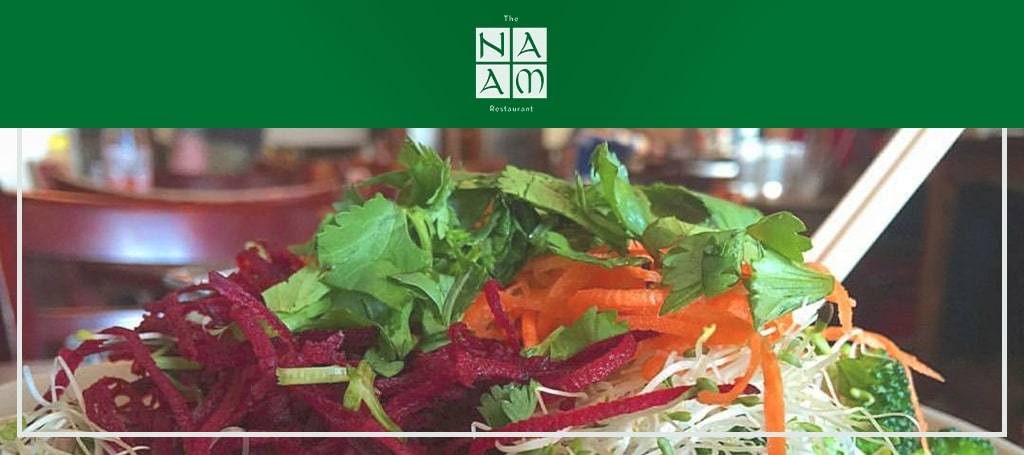 The Naam opened in 1968 as a vegetarian cafe. It was the first vegetarian restaurant in Vancouver and it still remains popular to this day.
This place is not just an ordinary restaurant though. The Naam has supported many local artists by having a rotating exhibit featuring local artists.
Going here is basically a 2-in-1 deal. You get to eat delicious food while you surround yourself with art.
They also have an extensive menu that includes classic brunch food, Mexican dishes, burgers, and many more. Other than their food menu, they have an excellent selection of wine and beer that gets discounted during happy hour.
Despite that, a downside of their happy hour is that it's a bit early and it's not available during the weekends.
Another minor issue with this restaurant is that their all-day breakfast menu isn't available the whole day and is only available during the weekdays from 11:00 AM until 4:00 PM.
This restaurant doesn't accept advanced reservations too, so keep that in mind if you want to visit The Naam.
What We Recommend: The Gold Dragon Bowl – This is honestly one of the best dishes we've tasted.
It has sesame fries, veggies, tofu, cheese and miso gravy on top. The bowl is filled to the brim and the miso gravy is to die for.
If you really want a fulfilling and delicious meal, go ahead and order this!
Their menu includes a lot of dishes and international cuisine
They offer happy hour
Has an art exhibit in their restaurant featuring local artists
No reservations
The breakfast menu is only available for a limited time
Happy Hour is only available during the weekday
Customer Reviews
Many of their customers also love the atmosphere and food of this restaurant:
"Visiting YVR and found The Naam. Very cool that it has a long history in the area. Had the Thai noodles and the spinach feta enchilada. Very good. Large portions. Also had Caesar salad which was good but the dressing seemed to be over-powering after a few bites. Still good though. Enjoyed the unique atmosphere and great service." – Ken R.
"eating at The Naam is such a beautiful experience – the interior decoration and detail to the ambience and food is just stunning.
i absolutely loved the croissant melt! i really want to go back and try other dishes, but I loved it too much to try anything else ☺️
nothing but good vibes, views, food and service :)" – Tanya Raja
5. The Acorn Restaurant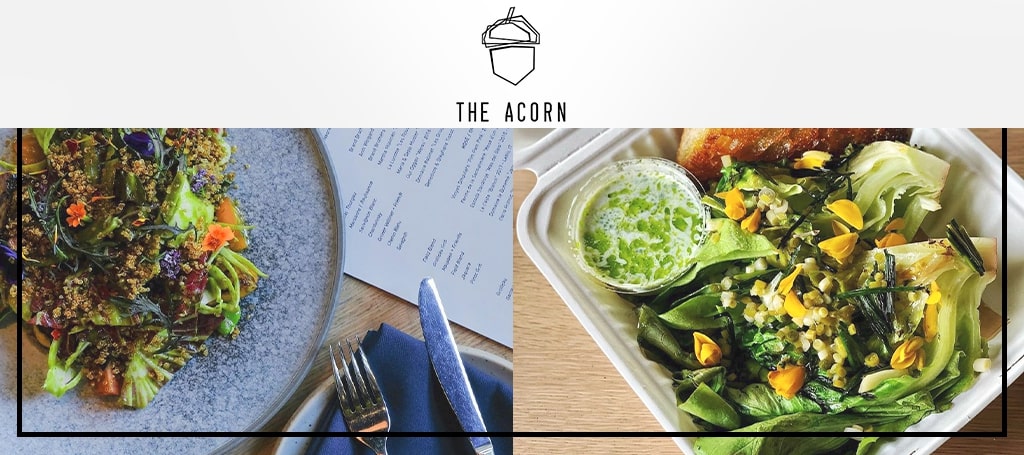 The Acorn is an award-winning restaurant and has been lauded by many as one of the best vegetarian restaurants in Vancouver and the world. This really isn't surprising, though, as this restaurant is excellent for many reasons.
One of those reasons is that this restaurant has great seasonal dishes that serve the plant-based crowd and the foodie crowd. The flavours here are so amazing that you won't even believe that you're eating vegetables.
Another reason is that you won't get tired of the meals here. Served with fresh ingredients, the recipes here are very creative and aren't just a vegetarian version of a meat-based dish.
The Acorn also offers a tasting menu if you want to try out the best they can offer.
Now, a minor nitpick we have is that this restaurant doesn't have WiFi. Don't expect that you can just browse your social media just to get out of some awkward dinner conversations.
They are also only open from 5:30 PM onwards and flavours open in the morning. You basically have to wait until dinner just to eat here.
What We Recommend: Shiitake – If you can only order one thing from The Acorn, order this one.
Made with leek, kelp, and lemongrass. This one has complex flavours due to the addition of the lemongrass emulsion.
And as they said, you eat with your eyes and well, this dish will really fill your eyes as it has a great presentation. Overall, this is a must-try here due to its flavours and presentation.
An award-winning restaurant
Creative dishes
Only open during dinner
No WiFi
Customer Reviews
Here are some of the reviews from customers:
"I see others have said the same, "I am not a vegetarian or vegan". I am one of those. However, I do try to eat healthy. Case in point originally wanted fish and chips, but decided on Acorn, because of patio seating with Covid and all and its positive reputation. The food is very good, but after only have small plates was craving for something a bit more substantial so ordered "Asparagus". What stood out to me was the outstanding customer service. All the staff were very attentive and very pleasant. Acorn did not disappoint. All in all a nice evening Spring patio dinner." – Warren W,
"Amazing overall culinary experience. Every dish had a unique flavor and was delicious." – Michael O'Farrell
FAQs About Vegetarian Restaurants
---
You now know Vancouver's premier vegetarian restaurants. Why not visit those restaurants and prove those naysayers wrong?
If they still won't listen to you, though, we have other articles that feature vegetarian restaurants too. Or, you can also bring them to the best vegan restaurants in Vancouver to taste more amazing plant-based food.