The 10 Best Appliance Repair Companies in Vancouver
Appliances make our lives easier, but when they break down they can have the opposite effect. So to help out, we've compiled a list of the best appliance repair companies in Vancouver.
With this knowledge, you'll have an idea of where you can go if your appliances ever fail you. We also added the backgrounds, contact info, services, and websites for each business.
Now without further ado, let's see which of these services works for you!
How Much Does Appliance Repair Cost in Vancouver?
Generally, appliance repairs can range from $135 to $300; this can rise due to the cost of parts and other fees. But for reference, most homeowners report spending an average of $220 for repairs.
Most repair services charge hourly and others include a fee for visiting homes. It's important to consult your repair specialist about how they calculate these costs.
It would also be wise to ask if they accept credit cards and if they offer any guarantees. Repair costs for appliances will vary, But to give you an idea, we've whipped up this table:
| | |
| --- | --- |
| Type of Appliance | Average Cost of Repair |
| Washing Machine | $155 – $600 |
| Dryer | $130 – $500 |
| Fridge/Freezer | $260 – $520 |
| Fridge Compressor | $25 – $260 |
| Oven Range | $130 – $260 |
| Dishwasher | $130 – $260 |
| Small Appliances (Microwaves, Sink Disposals, etc.) | $90 – $18 |
The Best Appliance Repair Services in Vancouver
Now that you know how much repairs will cost, it's time to unveil our list of the best repair companies in Vancouver.
Take a look, and see which business offers the best service for you.
1. Apollo Home Appliance Repair Co.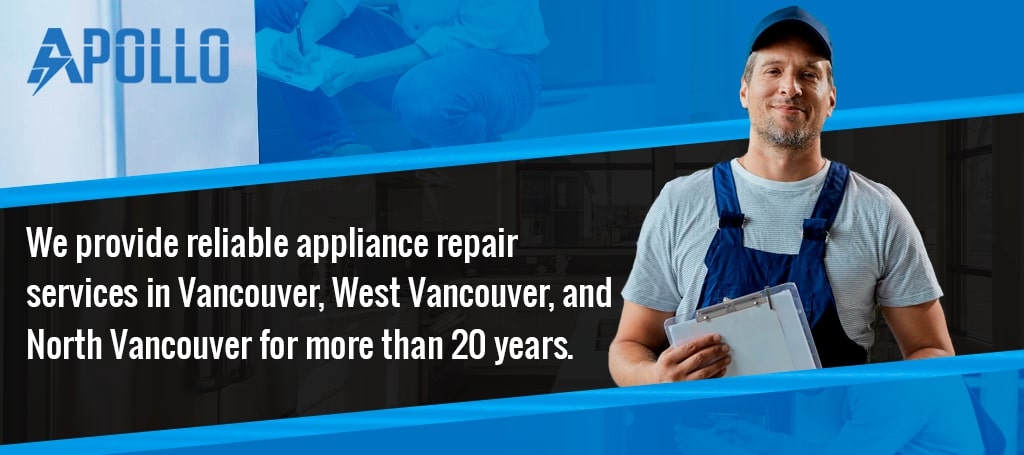 BEST FOR
Large appliance repair
SERVICES
Refrigerator repair
Washer/Dryer repair
Oven & Stove repair
Dishwasher repair
WEBSITE
https://apolloappliancerepair.com/
CONTACT DETAILS
Phone number: (604) 626-9594
Email:

[email protected]

OPERATING HOURS
Monday: 8am – 6:30pm
Tuesday: 8am – 6:30pm
Wednesday: 8am – 6:30pm
Thursday: 8am – 6:30pm
Friday: 8am – 6:30pm
Saturday: 9am – 5pm
Sunday: 10am – 5pm
Apollo Home Appliance Repair Co has over 20 years of service experience. They provide quick and dependable service all around the city of Vancouver.
Their call response time is so quick, a technician could be at your home the very same day. If need be, a technician could start work as early as 7:30 am or stay as late as 6 pm.
The company also offers a 90-day warranty and only uses factory-certified parts. This gives you peace of mind and the assurance that your repaired appliances will stay fixed.
Transparency is an important aspect of any service industry. The business recognizes this and takes the time to educate clients about their services.
To add to its impressive track record, Apollo repairs over 30 major brands. These include household names like Samsung, KitchenAid, and GE to name a few.
Though the company doesn't have a physical office, its website makes everything easy. You can quickly get a quote for repairs and schedule appointments with their online forms.
Uses only factory-certified parts for appliance servicing
Extremely quick response times for inquiries
They offer a 90-day warranty on repairs
Technicians can be very flexible with repair schedules
The preliminary diagnostic charge can be expensive
The company does not service smaller appliances
Customer Reviews
It's hard to leave a good impression on a client, but Apollo Home Appliance Repair Co has left hundreds. They have done this year after year without fail.
If you add up all the reviews it's easy to see why these folks are some of the best appliance repair companies in Vancouver.
But don't take our word for it, Here's what some clients have to say about the service they received:
"I called Apollo when my dryer wouldn't turn on. As I have a vacation rental downstairs, the guest was upset to say the least. After calling three other companies who didn't answer the phone or wouldn't come for days, I called Apollo who was here in less than two hours, fixed the dryer, explained why the part had "shorted out" (too much lint in dryer vent – could have caused a fire) – told me to have it cleaned every three years (who knew that?) then called the duct cleaning company for me and got a price. Very pleased, nice friendly guy, would highly recommend." – Sandra S.
"This was the first time we used Apollo Appliance, but based on the reviews decided to use instead of our 'normal' company, very glad that we did. The repair person called in the morning, confirmed time for arrival and arrived on time. Diagnosed the issue with our dishwasher within 5 minutes, replaced the pump (had the part in his truck!) and was on his way within a short period of time. The repair person was personable and helpful. We will call if we have any other problems with our appliances. Thanks again!" – Shawn M.
2. Priority Appliance Service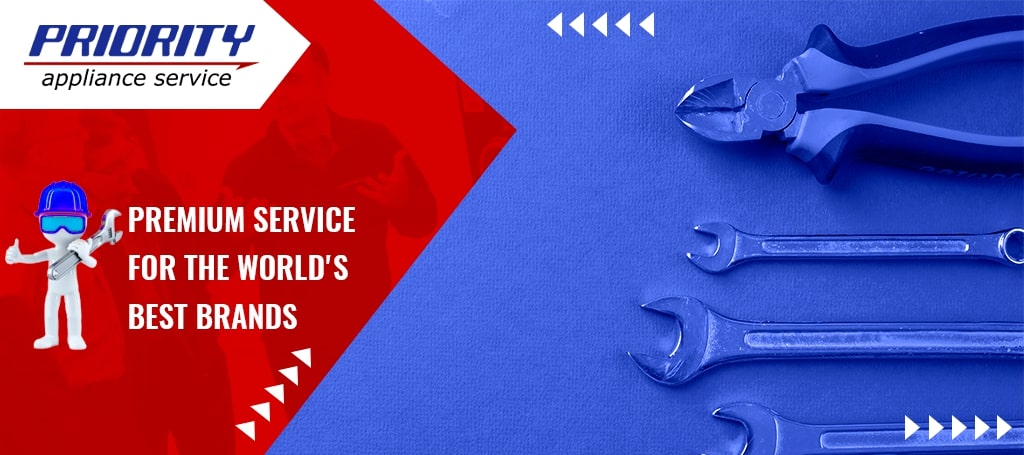 BEST FOR
Premium in and out of warranty service
SERVICES
Refrigerator repair
Grill repair
Coffee machine repair
Oven range repair
Washer/Dryer repair
Freezer repair
Microwave repair
Dishwasher repair
Wine cooler repair
Range hood repair
WEBSITE
https://priorityappliance.com/
ADDRESS
120 – 4611 No. 6 Road Richmond, BC V6V 2L3
CONTACT DETAILS
Phone number: (604) 736-9897
Toll-free number: (800) 219-0105
Email:

[email protected]

OPERATING HOURS
Monday: 8 am – 4pm
Tuesday: 8am – 4pm
Wednesday: 8am – 4pm
Thursday: 8am – 4pm
Friday: 8am – 4pm
Saturday: Closed
Sunday: Closed
Out of all the entries listed, Priority Appliance Service has the most experience. The company takes great pride in over 40 years of appliance repair; naturally, this has led to an excellent reputation.
This business offers warranty service for brands such as Frigidaire, Electrolux, Ultraline, & Viking. Aside from those listed, priority also services twenty other brands out of warranty.
If you've got a broken appliance, chances are this company has what it takes to fix it.
With Priority, you won't have to worry about inexperienced technicians. Their technical staff consists of dedicated and qualified professionals.
As a show of pride and confidence, the business website even has profiles on each technician.
You can get a service quote and a schedule online in 2 simple steps. Priority makes it a breeze to seek out and enlist the help of their technical team.
This systematic approach further shows their long service record.
A wide array of repair services
Offers warranty services for many brands
Well-trained service providers
Expansive network of technicians available
No service on Saturdays and Sundays
Weekday hours are limited due to the pandemic
Customer Reviews
Here's what some clients had to say about their experience with this company:
"The service was great right from the first phone call. We had to get special parts ordered but I was kept updated on the status of the parts. Then in a shorter time than promised, Dominic arrived and fixed my oven door. He was very knowledgeable about some other questions I had and I really appreciated his advice. Their staff is courteous and professional. Their work is excellent. I will be calling them again if I need appliances fixed!" – Cheryl A.
"I had a great experience with Priority Appliance. Stephanie phoned me to arrange the service date, and she was so friendly and efficient. The technician Dominic was able to fit me in as an extra call for a sooner date than was originally available. He arrived on time and was very polite, kept his work area clean, and explained everything very clearly. I would definitely recommend Priority Appliance!" – Stephanie N.
3. Number One Appliance Service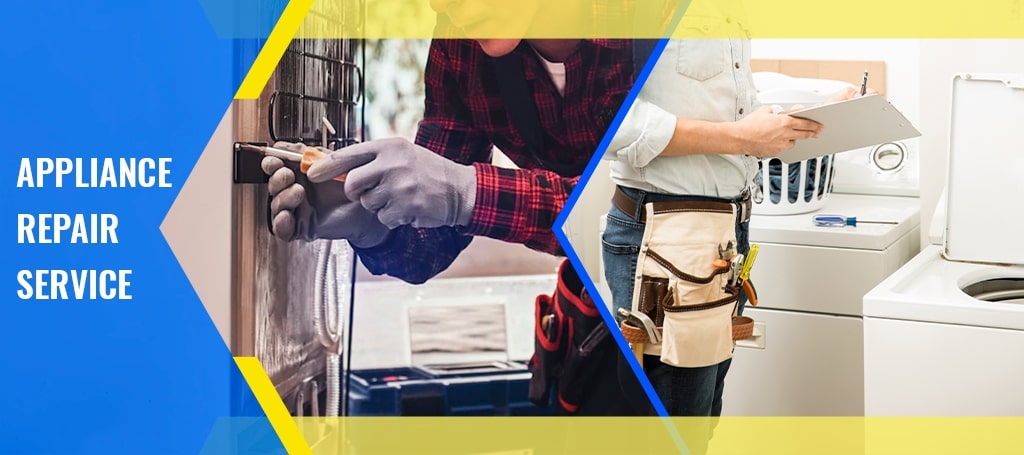 BEST FOR
Same day/Next day service
SERVICES
Fridge repair
Washer repair
Dryer repair
Oven repair
Stove repair
Dishwasher repair
Refrigerator repair
Gas appliance repair
WEBSITE
https://appliancerepairservice.ca/bc/
ADDRESS
Vancouver City, Vancouver, BC V6Z 2X6, Canada
CONTACT DETAILS
Phone number: 604-710-4942
OPERATING HOURS
Monday: 8am – 7pm
Tuesday: 8am – 7pm
Wednesday: 8am – 7pm
Thursday: 8am – 7pm
Friday: 8am – 7pm
Saturday: 8am – 4pm
Sunday: 8am – 4pm
Number One Appliance Service takes the third spot on our list of the best appliance repair companies in Vancouver. This is due to their newcomer status as a repair service.
But don't let that fool you – this company still offers a variety of appliance repairs. What sets this business apart from others is its focus on gas appliance repairs.
As a newer business, they are eager to provide timely service for a competitive price. This translates to either same day, or next day service right after a call.
To ensure quality repairs, Number One Appliance Service uses factory-certified parts. They also pair this with a 3-month warranty.
Though the company may be a spring chicken, its technicians are not. As a matter of fact, each technician has at least 10 years of service experience.
The website is not as refined as other companies' sites but it's still easy enough to schedule an appointment.
Very skilled technicians
Same-day or next day service
Available on weekends & holidays
Competitive pricing
Relatively new business
Small technical team
Customer Reviews
This business has made a great start in the appliance service industry. These reviews are proof of that:
"Sergiy is fantastic! He was great at communicating and exceeded my expectations of service. His pricing is reasonable and he was able to fix our dryer easily and quickly. This guy is a friendly, honest hard worker!!! I'd recommend him to everyone. He showed up exactly when he said he would – even texted to confirm the night before and when he was about 15-20mins away. Don't hesitate – this is the guy to hire." – Victoria K.
"Sergiy was nothing short of amazing – noticed the washer was full of water and not spinning/ operating. Googled "appliance repair" and this popped up with lots of good reviews. Called, and Sergiy picked up saying he would call /text me right after he was done current job. Sent him picture of the washer/dryer model, and he said he would be there shortly. Knew exactly what the problem is due to his immense experience, and fixed it in no time with spare part he knew he needed. Friendly, fast – will definitely use Sergiy again – thanks Sergiy!" – Stephen N.
4. Newtech Appliance Repair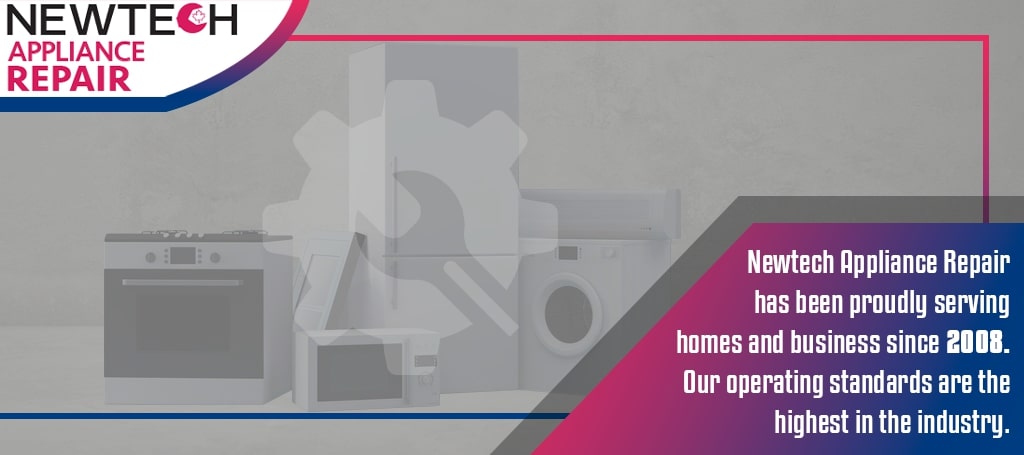 BEST FOR
Certified appliance services
SERVICES
Refrigerator repair
Washer repair
Dishwasher repair
Dryer repair
Electric and gas cook top repair
Electric and gas range repair
Electric and gas stove repair
Garburator repair
Microwave repair
WEBSITE
https://newtechappliances.ca/
CONTACT DETAILS
Phone Number: 604-773-0096
OPERATING HOURS
Monday to Saturday 8:00AM to 6:00PM
Sunday: 9:00 AM to 2:00 PM
Newtech Appliance Repair's technicians are 100% certified in appliance services, and hold class "C" gas ticket permits in order to deliver safe services to all appliance service projects and sealed systems and refrigeration repairs.
They have been proudly serving homes and businesses since 2008, with an operating standard that is the highest in the industry. They are also courteous, considerate, and professional when working in your home.
You can rest easy knowing that your technicians are factory trained to deal with major home appliance repairs. In addition, they stay up-to-date with current and new technologies in home appliance service.
Can repair older models of appliances
20 years of combined experience
Available 7 days a week
Rates are unavailable online
Customer Reviews
Here's what some people have to say about them:
"Our dishwasher wasn't working and it was a bit frustrating since we just moved to the new place. Amin came to have a look at it as soon as he could and found out what was wrong with it promptly. The part came faster than expected and he got our dishwasher working again! I'm glad for the fast and thorough service. I will be recommending his service to friends and will use his service again. Thank you!"
"Had a problem with a older model fridge that ended up needing a board and other work. Admin came in short notice, the following day after I contacted him the night before. I sent him the model # at that time and described to him the problem. He came the next day with parts and fixed it on the spot. Second time I used NewTech in last 2 months. Good, reliable and professional. Wouldn't hesitate to recommend him on any repair jobs on appliances. Last time it was a washer. Great job, Amin."
5. Better Care Appliance Repair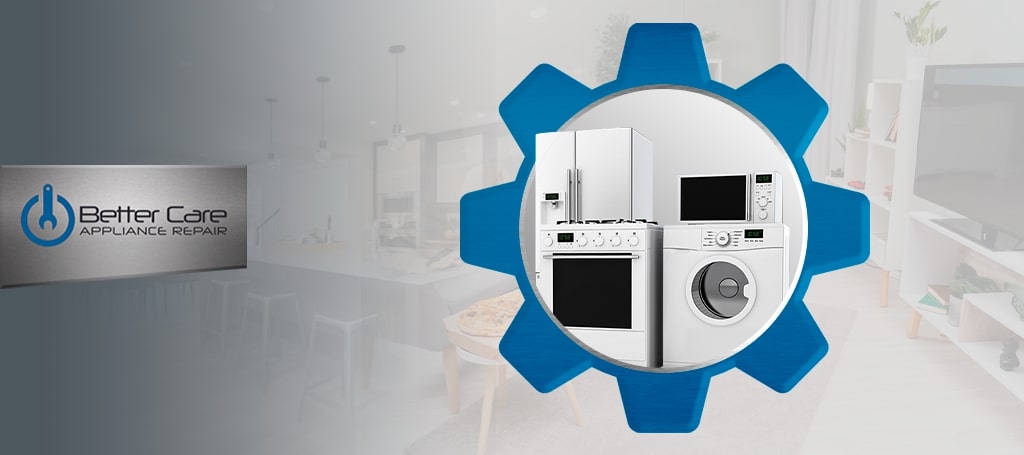 BEST FOR
Single-visit repairs
SERVICES
Cooktop repair
Oven range repair
Refrigerator repair
Washer/Dryer repair
Dishwasher repair
Coffee machine repair
WEBSITE
https://bettercareappliances.ca/
ADDRESS
48 W 20th Ave, Vancouver, BC V5Y 2C1, Canada
CONTACT DETAILS
Phone number: 778-986-8277
Email:

[email protected]

OPERATING HOURS
Monday: 8 am – 8pm
Tuesday: 8am – 8pm
Wednesday: 8am – 8pm
Thursday: 8am – 8pm
Friday: 8am – 3pm
Saturday: 8am – 8pm
Sunday: 8am – 8pm
Better Care is a prime example of a company that lives by its name.
This repair service covers most large appliances. They also offer 24hr emergency appliance repair meaning a quick repair in times of need.
The company makes a point to keep their repair vans well-stocked. This means that they complete most visits within the first visit, saving you time and money.
To go along with this, Better Care also boasts the most serviced brands. All in all, this business repairs over 70 name brands, including both new and old models.
This is the top appliance repair company in Vancouver for older machines.
Services new and old models
Prompt service times
Available for service until 8 pm
Well-stocked service parts
Some old models will lack parts
Service can be more expensive due to spare parts
Customer Reviews
Here are some raving reviews and miracle machine restoration stories:
"Outstanding experience with Better Care Appliance Repair! Alex fixed the issue with my dryer quickly and efficiently and generously offered to inspect my other appliances to ensure they were in proper working order. He also shared some great tip on how to clean and maintain them. I highly recommend Better Care!" – Samantha F.
"Our old washer stopped working and Don from Better Care Appliances was at our house shortly after we called. He was super helpful, professional and explained all the steps. And was really fairly priced, Will definitely use them from now on for all our appliance repairs. Highly recommend!" – Aaron S.
6. Pete's Appliance Repair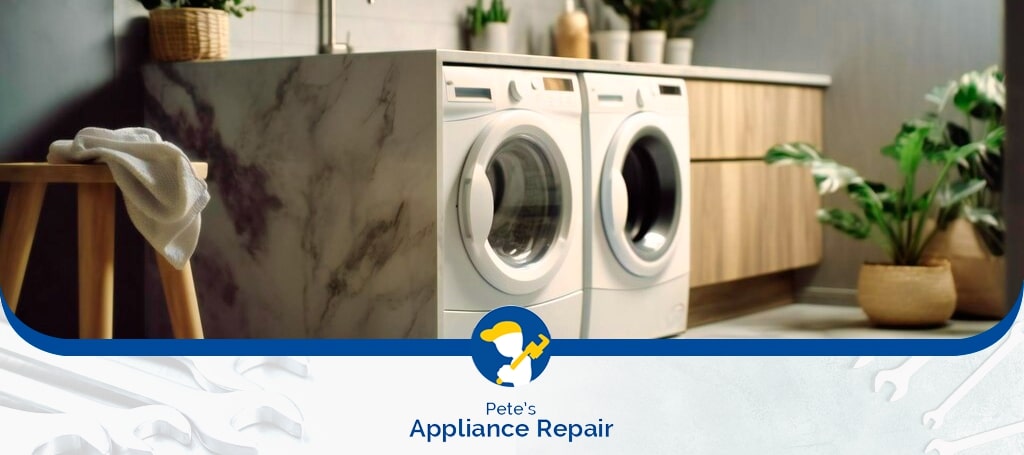 BEST FOR
A more personal service experience
SERVICES
Dishwasher repair
Washer/Dryer repair
Refrigerator repair
Oven range repair
Small appliance repair
WEBSITE
https://petesappliancerepair.ca/contact-me/
CONTACT DETAILS
Phone number: 778-887-7383
OPERATING HOURS
Monday: 8:30am – 5pm
Tuesday: 8:30am – 5pm
Wednesday: 8:30am – 5pm
Thursday: 8:30am – 5pm
Friday: 8:30am – 5pm
Saturday: 8:30am – 12pm
Sunday: Closed
Pete's Appliance Repair is the only one-man repair service on this list.
Even large businesses have a hard time making timelines for all their clients. But Pete manages to provide reliable and prompt repairs all by himself.
This speaks to his drive and unique customer service. Though pete services only a handful of appliances he does an amazing job.
Because it is a one-man business, he is always accountable when it comes to schedules. There is also an opportunity to save money as there are fewer overhead costs.
Scheduling may be a bit more difficult, but the service you'll receive is definitely worth it. Like his competitors, Pete uses factory parts and offers warranties on his work.
For personable service and skilled craftsmanship, Pete's is a prime choice.
High level of service
Flexible work times
Affordable rates
Available on weekends
Scheduling can be tight
There is only one technician
Customer Reviews
Here are some testaments to Pete's excellent work:
"I contacted Pete's Appliance Repair because my dishwasher door was broken. Pete promptly responded to my call and came out to fix my dishwasher the next morning. The door was repaired in a short time and the cost was very reasonable. Pete was professional and also provided some maintenance tips to keep my dishwasher in good working order. I wouldn't hesitate to call Pete again and recommend him to my friends." – Carla Y
"I found Pete through a recommendation on my neighbourhood's online community – and am so glad I did! When our washing machine was on the fritz a few months ago, Pete was incredibly responsive to my messages, showed up on time, did a great job fixing my machine and charged a very reasonable fee for his services. Pete not only is a skilled repair professional, but runs a solid business. I have recommended him to all my friends in the neighborhood." – Sabrina D.
7. Quick Appliance Repair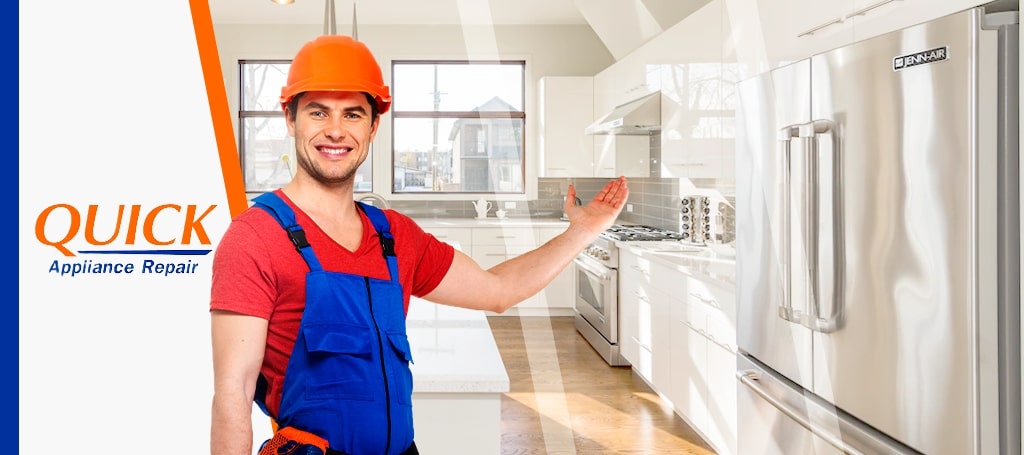 BEST FOR
A more personal service experience
SERVICES
Dishwasher repair
Washer/Dryer repair
Refrigerator repair
Oven/Stove repair
WEBSITE
https://www.quickappliancerepair.ca/
CONTACT DETAILS
Phone number: 604-259-5946
OPERATING HOURS
Monday: 8:30am – 5pm
Tuesday: 8:30am – 5pm
Wednesday: 8:30am – 5pm
Thursday: 8:30am – 5pm
Friday: 8:30am – 5pm
Saturday: 8:30am – 12pm
Sunday: Closed
True to their name, Quick Appliance Repair gives emphasis to their speed and makes sure to never keep you waiting.
They understand the importance of each appliance, and that's why they have prepared and alerted their crew of specialized technicians to take care of damages and small appliance repair. They are organized in their work and have excellent knowledge on top of state-of-the-art equipment so that most problems are solved right on the spot.
Furthermore, they are a dynamic company that easily adapts to the new world and has full knowledge of the needs of new appliances and can serve the people of British Columbia with extreme consistency and respect.
Free estimates
Licensed and insured
Same-day repairs are available
Service warranty
Rates are unavailable online
Customer Reviews
Here's what some people have to say about them:
"My dryer always hummed whenever we use it. I finally consulted with a professional from this company. He was timely, courteous, and well-prepared. He did a diligent inspection of the unit and gave an accurate diagnosis. Within the same day, he made it quieter and more efficient. I recommend their services to everyone."
"If we have another concern, we will hire this company again. We told them about our dishwasher issue, and their expert came over immediately. He figured why the dishwasher was not cleaning the dishes completely. We were impressed that he addressed our concern professionally and quickly."
8. TechCare Appliance Repair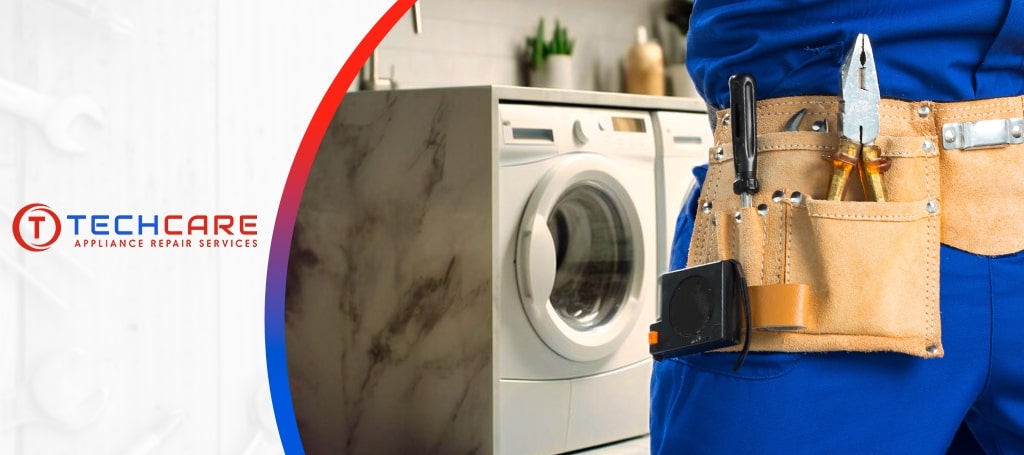 BEST FOR
Quick repairs
SERVICES
Refrigerator repair
Washer/Dryer repair
Oven, Stove, and Microwave repair
Dishwasher repair
WEBSITE
https://techcareappliances.ca/
CONTACT DETAILS
Phone number: 604-818-4205
OPERATING HOURS
Monday to Sunday: 8AM-7PM
TechCare Appliance Repair's services are available to all those in the greater Vancouver area. Their technicians are trained and licensed and can service all the brands of appliances.
They service and repair most brands, including LG, Samsung, Bosch, Amana, Electrolux, Fisher & Paykel, Frigidaire, GE, KitchenAid, Whirpool, Miele, Maytag, Kenmore, Jenn-Air, Blomberg, and more.
All labor and parts are 100% guaranteed. Their experienced professionals carry a wide-range of quality parts in their trucks so that repairs are done as quickly as possible.
It is important to take note that they only install new, manufacturer recommended parts. They guarantee that their technicians are repared and arrive on time.
They will not perform any repairs without your prior approval and no hidden charges are involved.
Unlike other companies, they also work in all lower mainland areas, such as Coquitlam, Port Coquitlam, Langley, West Vancouver, Burnaby, Surrey, Maple Ridge, Port Moody, and North Vancouver.
Their techs are trained in every type of home appliance
They'll be there on time and repair quickly
Offers free quotes
24/7 customer care services
Base rates are unavailable online
Customer Reviews
Here's what some people have to say about them:
"Max came out to the North Shore especially to shift our washer dryer back, so our cupboard door would close. He insisted on not charging us too. Apart from that, Max worked so expertly, fast and efficiently and was extremely polite. Nothing was too much trouble for him. I would thoroughly recommend him to do anyone and we have already lined up some more work for him. A true professional."
"Max has come to our place a few times to help fix our appliances, this last visit was for our washer. Max is always reliable, professional, knowledgeable and takes great care to ensure repairs are done in a timely manner and for a fair price. I will continue to use his wonderful services for all future appliance repairs! Thanks Max!"
9. Vancouver Appliance Repair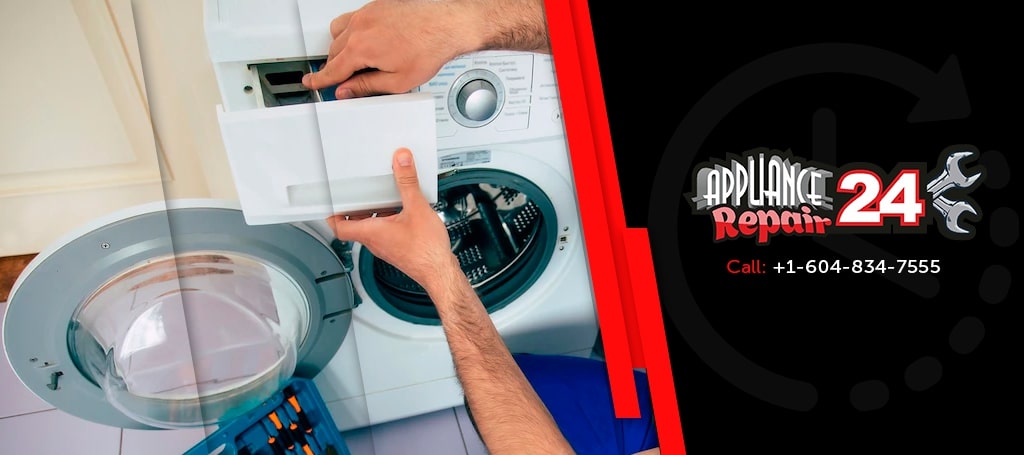 BEST FOR
Wide range of service repairs
SERVICES
Dishwasher Repair
Dryer Repair
Fridge and Freezer Repair
Washing Machine Repair
Oven, Range, and Stove Repair
WEBSITE
https://appliances-repair.ca/
CONTACT DETAILS
+1-604-834-7555


[email protected]

OPERATING HOURS
Contact for information
If you are looking for a professional service company that offers best-in-class appliance repair, then look no further than Vancouver Appliance Repair. We love how they offer all types of appliance repairs, but their specialty is fridge repair.
In comparison to other companies, what made us recommend them is the fact that they offer same-day service, including 24-hour service, and can repair any brand or model of appliance.
With this, they will be able to take care of your household appliances no matter what the issue is. No matter how important the appliance is for you, they will be there to fix it.
The Vancouver Appliance Repair Experts will provide you with the best customer service and fast turnaround time for all of your appliance repairs needs!
24/7 service
Familiar with almost all brands of appliance
Prices are not mentioned online
Customer Reviews
Here is a testimonial from one of their clients:
"I had nothing but a great experience with Appliance Repair. The technician was knowledgeable, corteous, and efficient. He had the part we needed and was able to fix my refrigerator on the spot. I highly recommend this company." – Jack Stanley
Here is another one:
"Great customer service, on time, professional, and reasonable! The technician was very professional and arrived promptly on schedule to fix my oven. I can happilylly say my oven now works perfectly. I'll recommend them to people I know" – Alice Thompson
10. A.R.E Appliance Repair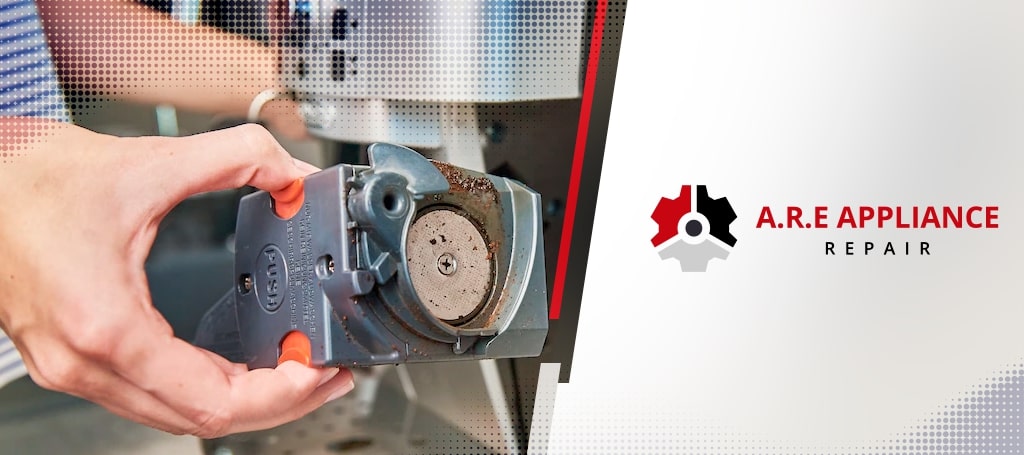 A.R.E Appliance Repair is a reliable service provider for various appliance repairs since they not only cover a wide area to service but also service numerous appliance brands such as Whirlpool, Speed Queen, and Marvel among others. Having been in the industry for over 20 years, they have since then been able to bring over a thousand satisfied customers under their experience.
The technicians they employ are specially screened to give the client peace of mind since each of the said individuals is background checked and guaranteed to be highly trained and skilled. While they claim to offer affordable rates for their services, price rates are not readily available for the reference of the clients.
Their website could also use improvement when it comes to user interface and could greatly benefit the clients visiting the site so that they could easily navigate to acquire the information they need. Furthermore, their service descriptions could also be revised to give more useful information to their clients.
While they are able to deliver impeccable results as seen on their various reviews, if the appliance desired to be served is not included – a free consultation will readily be available at all times.
Open all week
Trustworthy professionals
Commendable client experience
Website could be improved
Customer Reviews
Here are some reviews from their clients:
"Excellent service, quick and on time. I booked the appointment and the technician was at home the next day. We are very happy with A.R.E Appliance's service." – Troy B.
"Pocket-friendly and on-time service. I recommended them to one of my friends too and they became another happy customer now." – Thomas
FAQs About The Best Appliance Repair Companies in Vancouver
---
That concludes our top picks for the best appliance repair services in Vancouver.
Now you have all the information you need to find the right solution to your machine problems. Whether it's a wonky washing machine or a wrecked oven range, there's a wide variety of fixes!