The 6 Best Limo Services in Vancouver
Do you want to make a grand entrance? With these best limo services in Vancouver, we've got you covered for an unforgettable experience.
These businesses were chosen because we believe they have the greatest and most stylish fleets. They also have the most experienced and courteous drivers.
Let's have a look at our top recommendations for the best limo services in Vancouver!
How Much Do Limo Services in Vancouver
We understand how competitive pricing may be. The cost of a limo service is determined by the vehicle model, package features, and the number of hours you expect to rent the car.
Here are the average estimated prices of renting a limousine service in Vancouver:
| Service Type | Estimated Cost per hour |
| --- | --- |
| City Tour Limousine Service | $115 - $280 |
| Events/Party Limousine Service | $600 - $1,000 |
| Corporate Limousine Service | $650 - $1,000 |
| Airport Limousine Service | $95 - $300 |
Best Limo Services in Vancouver
Hiring a limousine service is ideal for any type of occasion, big or small.
Using a limousine service for weddings, concerts, and large-scale events will add that particular touch while also reducing the stress of transportation preparation.
We searched the entire city for the greatest limousine services to ensure that you receive only the best. To do so, we used the following criteria:
1. KJ Limousine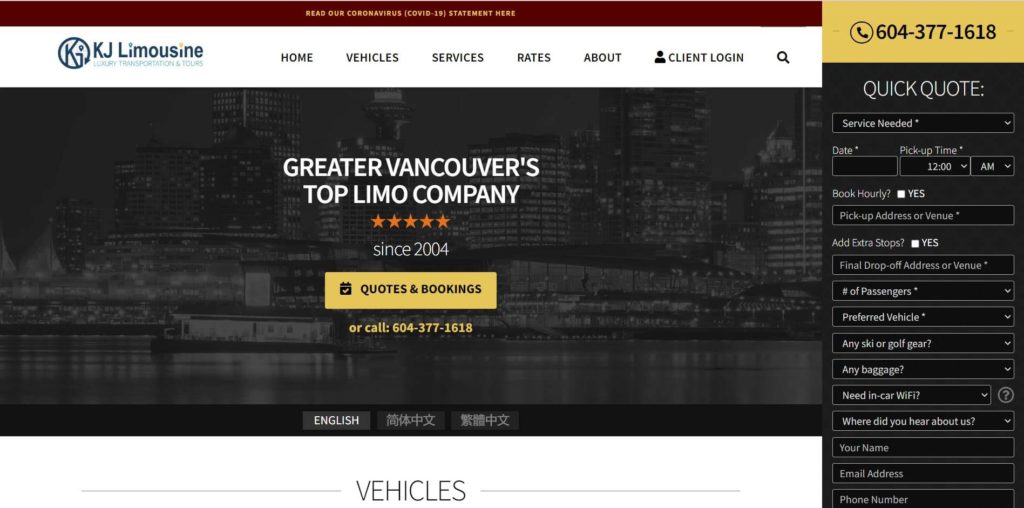 SERVICES
YVR Airport Limo

Limo to Whistler

Private City Tours

Cruise Ship Transfer

Vancouver to Seattle

Wedding Limo

Wheelchair Accessible Limo

Mountain Destinations

Corporate Limo

Special Event Limo

Graduation/Prom Limo

ADDRESS
Not specified
CONTACT DETAILS
Phone: 604-377-1618
OPERATING HOURS
Open 24 hours everyday
WEBSITE
https://kjlimousine.com/
| | |
| --- | --- |
| FEATURES | ★★★★★ 5/5 |
| STYLE | ★★★★☆ 4/5 |
| CUSTOMER SERVICE | ★★★★☆ 4/5 |
| PRICING AND PAYMENT OPTIONS | ★★★★★ 5/5 |
KJ Limousine began offering limousine services in 2004 and has since expanded from one limousine to an entire fleet of luxury vehicles.
Their fleet consists of a Ford Expedition Max, Ford Expedition SUV Limo, Ford e450 Minibus, Ford 15 Passenger Van, Lincoln Town Car Sedan, and a Lincoln 120 Krystal Town Car.
We particularly like that all of their vehicles are in excellent condition because KJ Limousine replaces them every seven years. This is a massive plus in our opinion because it ensures the safety of passengers.
Furthermore, this company assures its customers that all of its drivers have completed their extensive chauffeur training program. Aside from that, KJ Limousine also provides ice and clean glassware for client use.
Another thing that caught our attention is that they prioritize the safety of their customers. They emphasize the number of passengers permitted on each of their vehicles, and they also ensure that you're in good hands by providing 24-hour customer service.
The majority of consumers we've spoken to praise their dedicated 24-hour customer assistance as they can easily contact their concerns and requests.
KJ Limousine's fleet of vehicles is modern and sleek in appearance. We like their sophisticated vehicles because they elevate the overall experience and are appropriate for almost any occasion.
Take note, that this company's pricing and payment options are determined by their flat and hourly rates. They accept Visa, MasterCard, American Express, as well as cash and certified checks.
Stylish collection of vehicles
24/7 Customer Support
Trained chauffeurs
Requires $200 refundable deposit
Tax not included in rates
Customer Reviews
Fair prices and accommodating drivers
"Booking was easy and the fees were reasonable. They were also very accommodating. Our driver was very friendly and on time.." – Lucie M.
Punctual service and spotless vehicles
"This is the second time using KJ Limo and they are by far the most professional personal transportation company. They are extremely prompt in replies, friendly, on time and communicative. We scheduled a personal driving service from Vancouver to Seattle and the driver kindly introduced himself the day before, arrived early before scheduled time and treated us very well asking if we needed to make an additional stops, offered water and made sure we didn't forget anything before we departed. The vehicle was clean, spacious and in great condition. I would highly recommend them and will continue to use their wonderful services in the future. 5 stars in my books!." -Jessica W.
2. City Limos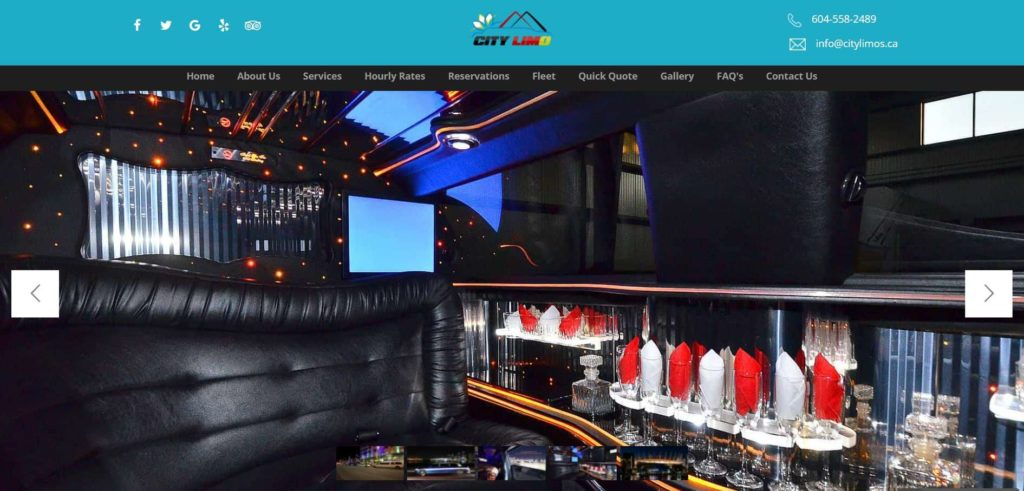 SERVICES
Airport Limo Service

Wedding Limousine

Ferries Limousine

Cruise Ship Limousine

Corporate Limousine Services

Graduation/Prom Limousine

Coquitlam Limousine

Richmond Limousine

Surrey Limousine

Langley Limo

Whistler Limousine

Burnaby Limousine

Vancouver Limousine

Special Event Limo

Graduation/Prom Limo

ADDRESS
7950 Prince Edward St, Vancouver, BC V5X 3R6, Canada
CONTACT DETAILS
Phone: 604-558-2489

Email: [email protected]

OPERATING HOURS
Open 24 hours everyday
WEBSITE
https://www.citylimos.ca/
| | |
| --- | --- |
| FEATURES | ★★★★★ 5/5 |
| STYLE | ★★★★☆ 4/5 |
| CUSTOMER SERVICE | ★★★★☆ 4/5 |
| PRICING AND PAYMENT OPTIONS | ★★★★★ 5/5 |
City Limo's fleet immediately drew our attention as it boasts a collection of stylish fleets that could seat more than ten passengers.
They offer a Luxury Sedan, a Luxury SUV, and a Luxury Van that can accommodate 6-11 passengers. Apart from that, they also have luxury vehicles that can accommodate up to 14 passengers!
Another thing we found impressive is that they also offer a Stretch Limousine, a Super Stretch Limousine, and a White/Tuxedo Stretch SUV Limousine in their fleet. We find this convenient for customers who want to travel in style with their family and friends.
We also like how they offer services throughout the Lower Mainland and Fraser Valley, including a wide range of cities and much more.
Their Stretch SUV Limousine is what sets them apart. These types of limousines are longer than standard limousines in order to accommodate more passengers, which we believe is ideal for celebrations
The majority of consumers we've spoken to praised their vehicles' well-designed interior. Particularly the fiber optic and fancy opera coach lights, three flat-screen TVs, two iceboxes, and a nice bar with flutes.
Plus, City Limos provide basic decoration free of cost!
What's more, is that they provide complimentary ice and water in their limousines for weddings and graduations.
Unfortunately, City Limos require at least a minimum of two-hour rental for customers to book a ride. They also charge by the hour – their rates do not include taxes, fuel surcharge, and tips.
Nevertheless, we're glad to learn that all of their vehicles can accommodate infant car seat requests. Furthermore, their vehicles have plenty of trunk space for luggage.
Can accommodate a large number of passengers
Provides free basic decoration
Complimentary ice and water services
Requires a minimum of 2 or 4-hour booking time
Rates do not include taxes, fuel surcharge, and parking fees
Customer Reviews
Flexible pick-up and drop-off services
"We used City Limousine for our wedding. They were flexible with our pickup and drop off needs. They were early, clean, and provided excellent service. It was very affordable as well. I would not hesitate to use them in the future." -Erika T.
Excellent services
"Our experience with City Limousine was excellent. Starting with Bal who was very helpful when I was booking, to Sunny, our driver, who was prompt, courteous and very professional. We will definitely book with them again in the future and I highly recommend anyone else to as well as their pricing is also much more reasonable than other companies I had previously looked into." -Krystal N.
3. Excellimo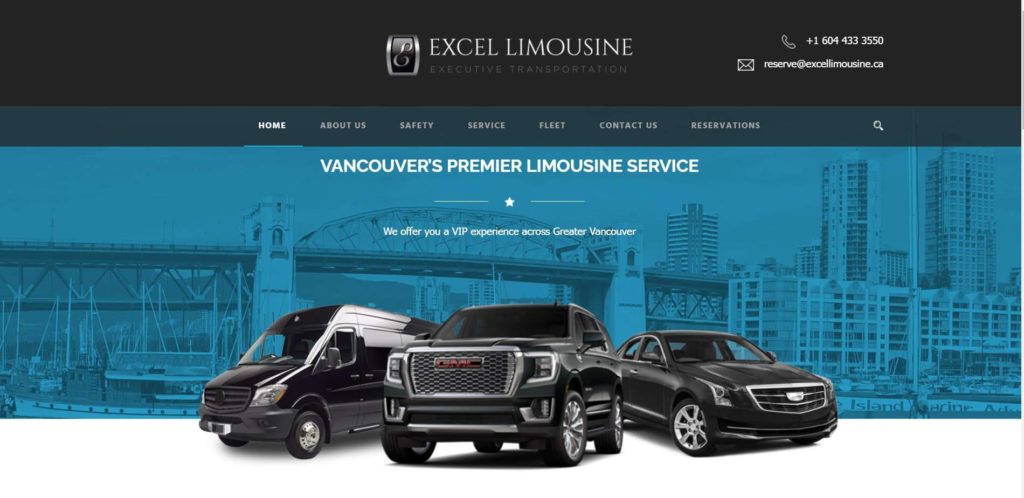 SERVICES
Airport Transfers

Corporate Transportation

Whistler Transportation

Cruise Ship Transfers

Sightseeing Tours

ADDRESS
7176 Nanaimo St, Vancouver, BC V5P 4L9, Canada
CONTACT DETAILS
Phone: 1-866-433-3550

Email: [email protected]

OPERATING HOURS
Mondays to Sundays - 09:00 AM - 10:00 PM
WEBSITE
https://excellimousine.ca/
| | |
| --- | --- |
| FEATURES | ★★★★★ |
| STYLE | ★★★★☆ |
| CUSTOMER SERVICE | ★★★★☆ |
| PRICING AND PAYMENT OPTIONS | ★★★★★ |
Excellimo has been providing luxury ground transportation throughout Greater Vancouver for over 20 years.
Their service area includes Vancouver International Airport and Vancouver, Whistler, and Victoria.
We found it impressive that Excellimo houses black and elegant vehicles as this gives customers a stylish and luxurious limousine experience.
We particularly like that their cars are safe because they are replaced every 3 to 4 years. Their vehicle fleet includes luxury sedans, SUVs, limousines, vans, and mini-buses.
Moreover, they perform semi-annual vehicle inspections and have a $10,000,000 liability insurance policy.
In terms of design, we noticed that all of their vehicles are black on black, with leather interiors and tinted windows. We immediately see that the company prioritizes its customers' comfort and privacy.
What makes this establishment unique is it offers sightseeing tours. We find this convenient for people who are new in the area and would like to see all the tourist spots in Vancouver.
Another thing we found impressive is that their drivers are local Vancouverites who can show you around the city and point out some of the best tourist attractions in the city.
What also caught our attention is that no matter how big or small of a group you are, Excellimo can provide vehicles that can accommodate a maximum of 23 passengers!
In terms of pricing and payment options, Excellimo provides hourly and daily rates upon request. This is ideal for trips and events where you don't know how long they will last.
They accept payments via Visa, Mastercard, American Express, and Diners Club.
Can accommodate up to 23 passengers
Has a liability insurance policy
Offers daily rates
Annual driver evaluations based on customer feedback
Limited payment options
Limited number of vehicles
Customer Reviews
Polite drivers and clean vehicles
"I've used Excel several times, and each time they've been amazing. Their drivers are on time, curious, helpful, polite and the cars are clean and kept up. It takes a lot for me to post about a company, but Excel has earned my loyalty and I will be using them in the future!." -Serge W.
Excellent customer service
"We hired Excel from both Vancouver to Whistler and back. Both drivers arrived early, were very polite and loaded/unloaded our bags. Vehicles were pristine and drivers very friendly and safe. Highly recommend them to anyone." -John K.
4. Royal Limo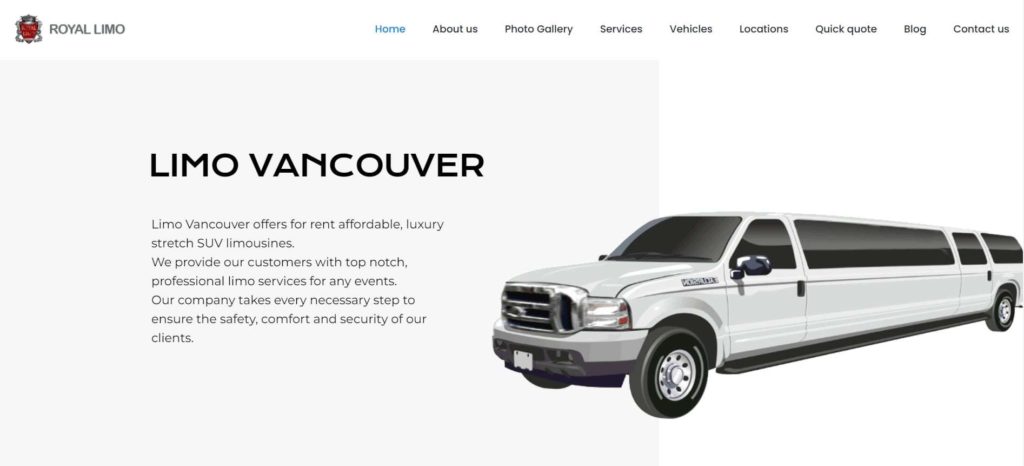 SERVICES
Airport Transfer

Birthday Limousine Service

Events Limousine Service

Graduation Limousine

Service Weddings Limousine

Service Wine Tours

ADDRESS
209-8738 French Street, Vancouver, BC. V6P 4W7
CONTACT DETAILS
Phone: 604-727-0950
OPERATING HOURS
Open 24 hours everyday
WEBSITE
https://www.royallimo.ca/
| | |
| --- | --- |
| FEATURES | ★★★★★ 5/5 |
| STYLE | ★★★★☆ 4/5 |
| CUSTOMER SERVICE | ★★★★☆ 4/5 |
| PRICING AND PAYMENT OPTIONS | ★★★★★ 5/5 |
For over 15 years, Royal Limo has provided safe and reliable limousine services and competitive rates in all cities in the Lower Mainland, including Whistler, BC.
Unfortunately, this company only has four luxury vehicles available for rent. However, this doesn't mean their services are not worth listing in our review.
All of their vehicles offer luxurious comfort and are well-known for their smooth ride and high level of passenger safety. Every detail of their vehicles makes us feel unique and lavish.
We particularly like that Royal Limo vehicles can accommodate up to 13 passengers.
What's more is all their vehicles are equipped with high-definition LCD televisions, multi-chromatic fiber optics, opera land mood lights, an advanced Hi-Fi audio system, a CD player, an amplifier, and a cherry-finished mirrored bar.
One feature that distinguishes Royal Limo is its special offer rates. This company provides discounted rates for luxury limousines such as their sightseeing limo specials, wedding limo service specials, Whister limo specials, and Wine Limo tours.
These discounted services require no minimum rental time and a huge discounted rate for large groups of customers. Plus, they offer affordable rates for luxury vehicles starting at just $425 for a ride to Whistler!
Moreover, many of the customers we've spoken to comment on how clean their vehicles are, and how courteous and punctual their drivers were. Most customers praised Royal Limo's exceptional services and fair pricing.
Their rates are determined by the number of hours you rent their services; the more hours you rent, the lower the cost.
It is important to note, however, that their fees do not include taxes, a fuel surcharge, or a standard driver's gratuity.
Offers special discounted rates
No minimum rental time for wedding limousines
Only has four vehicles
Charges 'stand-by' rates for driver waiting time
Customer Reviews
Accommodating drivers
"What a sick night! We kicked it off right picking up the girls with the limo. It's a classy ride, clean and fancy. The girls absolutely loved it. Mike, our driver, was accommodating and professional. He's very easy going and is definitely going to be my go-to limo guy." -Justin S.
Professional service
"We had a great time using Royal Limo for our wedding day. The pickup and drop offs were done on time and professionally and the limo driver was very helpful. Would recommend them for weddings or any other special occasions." -Raluca M.
5. Limo Book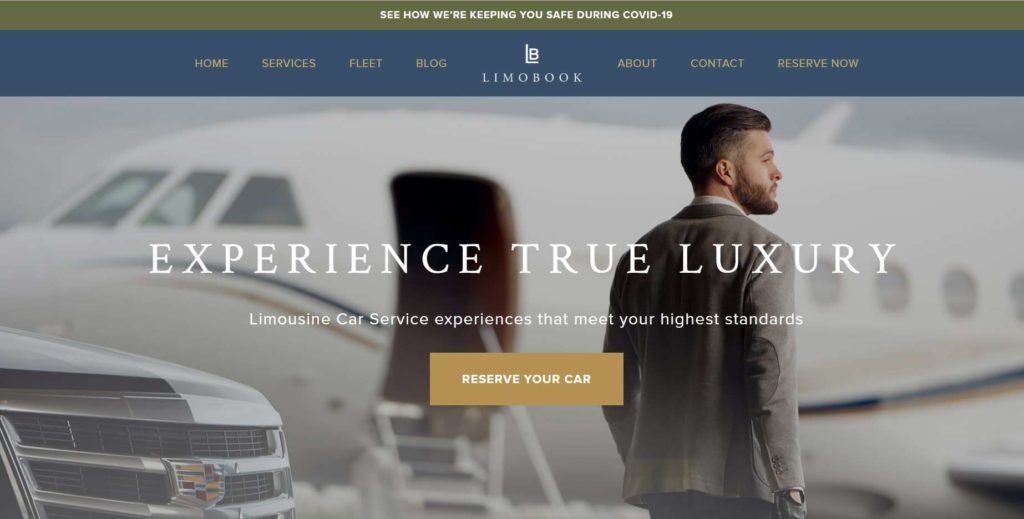 SERVICES
Airport Car Service

Luxury Tours

Corporate Transportation

Wedding Transportation

Event Transportation

Whistler Limousine Service

ADDRESS
215-151 West First Avenue, Vancouver, B.C. V5Y 0A5
CONTACT DETAILS
Phone: +1-604-200-1224
OPERATING HOURS
Open 24 hours everyday
WEBSITE
https://www.limobook.ca/
| | |
| --- | --- |
| FEATURES | ★★★★★ 5/5 |
| STYLE | ★★★★☆ 4/5 |
| CUSTOMER SERVICE | ★★★★☆ 4/5 |
| PRICING AND PAYMENT OPTIONS | ★★★★★ 5/5 |
Despite being relatively new to the transportation industry, Limo Book has been serving executives and travelers with utmost hospitality.
Looking at their vehicle fleet makes us feel well-cared for, as they have six high-end luxurious cars that can seat up to 13 passengers!
Their collection of cars includes a BMW 74OLE that can hold up to three passengers. They also have a Cadillac Escalade and a Lincoln Navigator that can accommodate up to six passengers.
In addition to that, they also have a Mercedes Metris that can hold up to seven passengers and another Mercedes vehicle, a Mercedes Maybach Van that can accommodate four passengers.
What sets them apart is the Mercedes Executive Jet Van. This vehicle can accommodate up to thirteen passengers which we find convenient for customers traveling in large groups.
Another thing we found impressive is their personalized services. Limo Book accommodates reservations and special requests such as decorations, ice and glassware, and many more!
Another thing that caught our attention is that they can accommodate multiple pick-ups and drop-off locations.
Furthermore, their services include parking fees, wifi, baggage handling, an iPAD-generated sign with your name displayed, and fleet GPS tracking.
The majority of consumers we've spoken to praised their services as they offer low-cost car service that is ideal for everyone, whether you are an executive or a student visiting Vancouver on a budget.
We also like that their customer service is available 24 hours a day, seven days a week, which reduces the hassle of contacting them if run into problems.
Competitive rates
24/7 customer support
Variety of vehicles
Offers customized services
No hidden charges
No standard rates displayed on website
Non-refundable deposit fee
Customer Reviews
Consistent high-quality service
"It started with an inquiry, and they responded timely manner. Andre was able to put together everything in an short time frame. And I was already impressed. The vehicles were clean and loved the thoughtful considerations. There was bottles of Fiji water for clients. And Andre was extremely welcoming. The Jet V12 had an nice interior design ans also had wifi, smart systems and an good sound system.Thank you for your service! Definitely recommended." -Hanson W.
Approachable and friendly drivers
"We had several great experiences going up Whistler with Limobook. The drivers are very attentive and helpful. Our kids get car sick easily, so every time we mentioned it to the drivers, they were cognitive of that. All in all great experience." -Lera C.
6. Destiny Limousines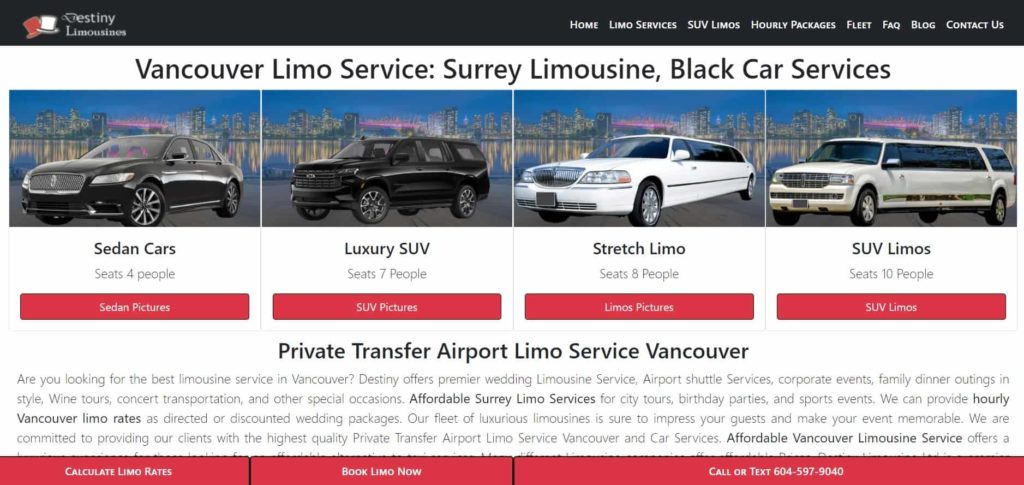 SERVICES
Limo Services, SUV Limos, Hourly Packages, Fleet
ADDRESS
8033 156A Street Surrey, BC V4N 0X6

1285 West Broadway Vancouver, BC V6H 3X8

CONTACT DETAILS
Phone: 604-597-9040 | Toll Free 1 (877) 455-7627 | Mobile 604-319-2278
OPERATING HOURS
Monday 8:00 AM - 11:30 PM

Tuesday 8:00 AM - 11:30 PM

Wednesday 8:00 AM - 11:30 PM

Thursday 8:00 AM - 11:30 PM

Friday 8:00 AM - 11:30 PM

Saturday 8:00 AM - 11:30 PM

Sunday 8:00 AM - 8:00 PM

WEBSITE
https://www.destinylimousine.ca/
| | |
| --- | --- |
| FEATURES | ★★★★★ 5/5 |
| STYLE | ★★★★★ 5/5 |
| CUSTOMER SERVICE | ★★★☆☆ 3/5 |
| PRICING AND PAYMENT OPTIONS | ★★★★★ 5/5 |
Destiny Limousines is a company that makes available a wide selection of luxury cars and limousines that are ideal for private transfer and airport limousine services in Vancouver. With fully furnished cars and professional drivers, their services are of top-notch quality from pick-up to drop-off.
We like that their services are flexible to accommodate various events such as weddings, sports events, family gatherings, and even tours to let clients experience hassle-free and comfortable transportation services in the area.
Furthermore, all of their vehicles and chauffeurs have gone through extensive and government-authorized checks and screenings so that clients can be ensured that their services are secure and insured.
Though note that there are mixed reviews regarding their customer services
Nonetheless, with their reliable liability insurance in place, 24/7 service availability, and reasonable rates, we recommend them to clients in the area looking for accommodating limousine services in the city.
Extensive screenings employed
24/7 support available
Liability insurance available
Mixed reviews on customer service
Customer Reviews
Here are some reviews from their clients:
"I always use destiny limousine at least 5-6 times a year and never had any problem . i highly recommend destiny limo to my friends and family."
"Reliable Limousine service for all your luxury transportation needs."
FAQs about Limo Services in Vancouver
---
That's about everything we have on the best limo services in Vancouver. We hope our listicle has helped you pick out a service for your next trip or event!
Not sure where to go? Check out our review on the best things to do in Vancouver.