5 Best Demolition Services in Vancouver
If you're looking for contractors to help you with any demolition in Vancouver, you should only get services from the best. To help you out, we handpicked the top demolition services in the area!
Feel free to use this review to see which of these companies would suit your needs best.
How much are demolition services in Vancouver?
The price of demolition services varies greatly due to a number of factors, with the size of the area being the biggest factor. You can refer to the table below to see how much the different services would cost during demolishing.
| AUTO PART TYPE | ESTIMATED PRICE RANGE |
| --- | --- |
| Abatement | $400 - $2,000 |
| Demolition Permits | $400 - $1.200+ |
| Demolition Proper | Depends on square footage; expect $15,000 above |
Top Demolition Services in Vancouver
To find the best demolition contractors in Vancouver, we sifted through each and every company and picked the top ones based on the following criteria:
1. Done Right Demolition & Excavating Contractor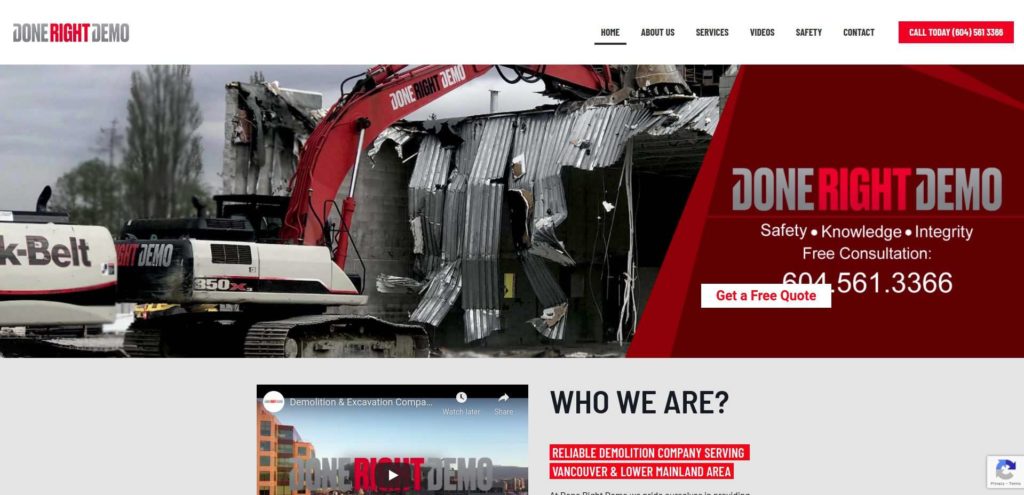 Test
Info
SERVICES
Residential Demolition

Commercial Demolition

Selective Demolition

Asbestos Removal

Excavation

WEBSITE
https://www.donerightdemo.com/
ADDRESS
338-3381 Cambie Street, Vancouver, BC V5Z 4R3
CONTACT DETAILS
604-561-3366

Email: [email protected]

OPERATING HOURS
Open 24 hours, 7 days a week
| | |
| --- | --- |
| Criteria | Ratings |
| Customer satisfaction | ★★★★★ (5/5) |
| Scope of services | ★★★★★ (5/5) |
| Number of years in business | ★★★★★ (5/5) |
Done Right Demolition and Excavation is a contractor that seems to do its best to live up to its name. With its 50 years in the business, it certainly has enough experience to impress most.
Done Right has a wide array of services aside from demolition and asbestos removal, such as shoring shotcrete, aggregate recycling, excavation, and land clearing, among others.
This makes the company well-suited for large-scale and commercial demolition contracts, although they also provide services for residential clients.
In addition, Done Right's lines and office are open 24/7 so you can ask them questions at any time of the day. They are also willing to provide a free quote estimate when you give them a call.
These services combined translate to very happy customers. We interviewed a handful of them and all they had were praise and recommendations.
Most of them took note of how staff members are professional and sincere when dealing with customers. Others talk about how workers finish their work on schedule without cutting any corners, regardless of how big the area is.
Done Right earns a spot on the list for their years in giving quality service, as well as for the trust and respect they built over the decades.
Open 24/7
Offers a wide range of services
Offers free on-site estimates
Specializes mostly in commercial demolition 
Customer Reviews
Professional and sincere workers
Done Right Demo is an excellent company to do business with. Imran is professional and sincerely wants to make sure his client's have a positive experience. He went above and beyond in servicing us, always made himself available, and was very easy to deal with. We would not hesitate to recommend Done Right Demo. And they have great, competitive prices too! – Wendy, Google Reviews
Completes jobs on schedule
Jay and his crew did an excellent job demoing my garage and excavating my back yard in preparation for my coach house. They completed the job well within the time promised. I would recommend Done Right Demo to anyone in need of demos or excavating services. – Kevin, Google Reviews
2. Rocky Demolition & Junk Removal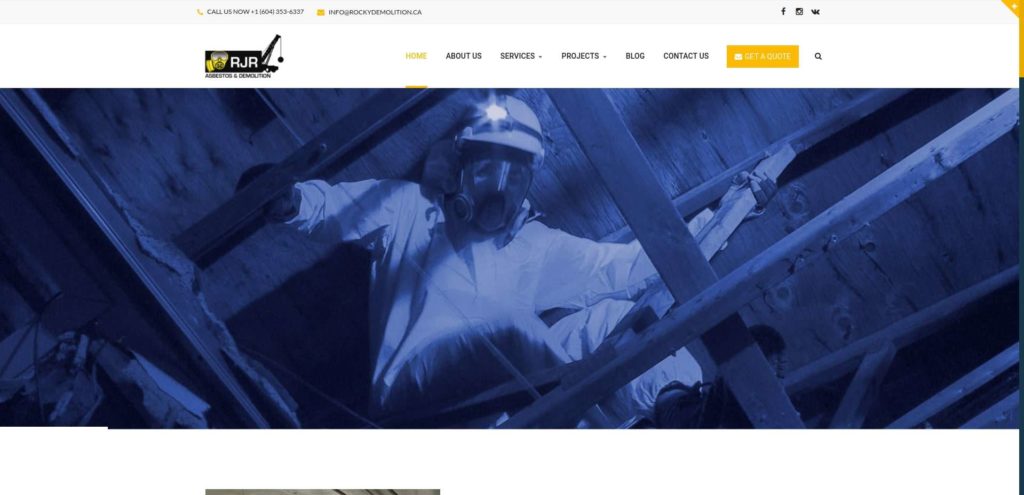 Test
Info
SERVICES
Residential Demolition, Commercial Demolition, Asbestos Removal, Asbestos Testing, Hazardous Material Collection
WEBSITE
https://rockydemolition.ca/
ADDRESS
#204 275 Gilmore Avenue, Burnaby V5C 4P9
CONTACT DETAILS
Email:

[email protected]

604-353-6337
OPERATING HOURS
Monday to Friday: 8:00 AM to 6:00 PM

Saturday: 9:00 AM to 4:00 PM
| | |
| --- | --- |
| Criteria | Ratings |
| Customer satisfaction | ★★★★☆ (4/5) |
| Scope of services | ★★★★★ (5/5) |
| Number of years in business | ★★★★☆ (4/5) |
Rocky Demolition & Junk Removal is a demolition company that, despite having its headquarters in Burnaby, provides services to Vancouver and surrounding areas.
Rocky Demolition offers small and large-scale, residential and commercial demolition. They also do asbestos testing and removal for residential and commercial customers.
What we like about Rocky Demolitions is that they make the entire process convenient for their clientele.
The company itself will handle all the necessary paperwork and permits, do all required assessments, and handle all the demolition and excavation backfilling. What's more is that they now offer material recycling so that the debris from the demolition will not go to waste.
Another strength of Rocky is that the company not only specializes in deconstruction and recycling, but also hazardous material removal.
This makes the company a great option if you wish to have a building with suspected asbestos cleared and demolished as efficiently as possible.
To get a clearer picture of how the company works, we interviewed a handful of their previous clients. Most of them took note of how the company finishes their work on schedule while keeping the area clean.
Others took note of the owner and the staff, whom they say were polite, professional, and transparent in all stages of the work.
Really the only critique is that we have is that their office is not in the Vancouver area. Despite this, their support hours is open 24/7, so feel free to give them a call whenever you see fit.
Support hours is 24/7
Has a gallery to show you recent projects
Specializes in hazardous material removal
Headquarters is not in Vancouver
Customer Reviews
Consistent and transparent communications
I had a pleasant experience with Rocky Demolition company. They did a great job removing hazardous material from my house and delivered the site clean and on time. Their communication was great every step of the work and I knew what was going to be done with details. Peyman is a solid professional at his work. Highly recommend! – Masoud, Google Reviews
Polite and punctual workers
Great experience dealing with Rocky demolition. Peyman and his crew were punctual, polite and efficient in demolishing our kitchen, bathroom and doors. Highly recommended to anyone who needs any demo work completed professionally. – Andrew, Google Reviews
3. Coastal Demolition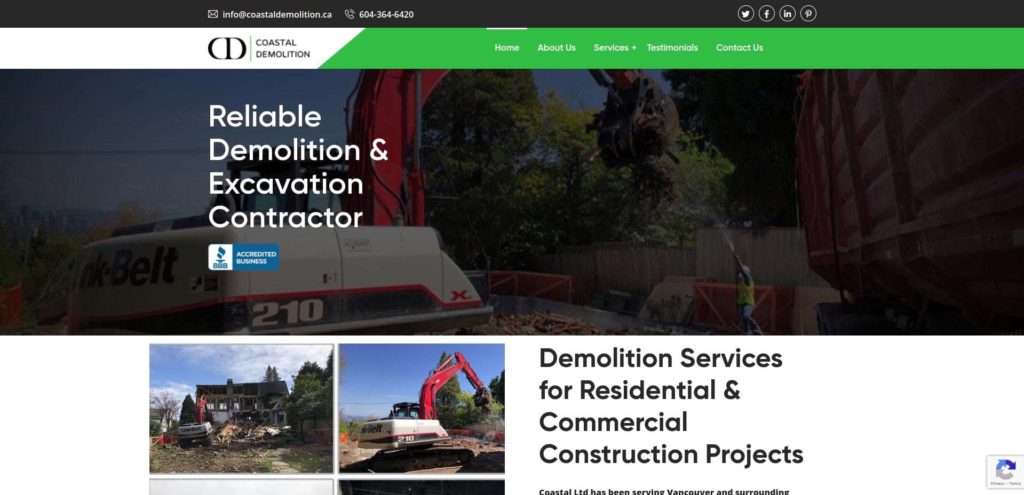 Test
Info
SERVICES
Industrial Demolition

Residential Demolition

Asbestos Removal

Concrete Removal

Interior Demolition

WEBSITE
https://www.coastaldemolition.ca/
ADDRESS
410-2818 Main Street, Vancouver, BC V5T 0C1
CONTACT DETAILS
604-364-6420

Email: [email protected]

OPERATING HOURS
Open 24 hours, 7 days a week
| | |
| --- | --- |
| Criteria | Ratings |
| Customer satisfaction | ★★★★☆ (4/5) |
| Scope of services | ★★★★☆ (4/5) |
| Number of years in business | ★★★★☆ (4/5) |
Coastal Demolition is a demolition contractor in Vancouver that has earned the trust of the locals despite only having around a decade under its belt.
Like other companies, Coastal Demolition offers residential and commercial demolition as well as asbestos removal. However, they seem to be one of the top choices for green, interior demolition.
Coastal's green interior demolition supposedly requires great care since they will dismantle the entire interior of the structure and recycle as much of the materials and debris as possible.
They also do concrete cutting and slab removal, which improves their interior demolition service.
To see how this service went, we interviewed some of their previous clients who hired the contractors for interior demolishing of their restaurants, office spaces, and other commercial structures.
These clients took note of how professional and friendly the staff were, as well as how clean, swift, and organized they worked. Others praised how the quotes they got were affordable.
What makes these services better is that the company is open 24/7 for any queries and bookings you may have. Coastal is also open for free consultations, which is a huge plus.
All of these combined make Coastal Demolitions a good choice for all demolition needs, but we recommend them specifically for their interior deconstruction services.
Open 24/7
Does interior deconstruction and demolition
Offers free consultations
One of the youngest in the industry
Customer Reviews
Professional, responsive, and friendly staff
It seems every building older than 2010 probably has some asbestos. The issue is how to deal with it.
We're doing a complete interior renovation of a commercial building and I decided to get some samples tested. I did that myself. When they came back 1-5% asbestos, I had to call someone who does abatement.
John at Coastal Demolition was professional, responsive and friendly. Friendly goes a long way in my books. He did a site survey and suggested we do a full environmental test. We had a third party testing company come in. That was good value for money because we knew just what to remove. John came back with a quote which I felt was reasonable based on the work involved. He lined up everything, brought in a subcontractor (that's fine – these are big jobs and that's how they get done) and they had it all done, start to finish in less than 2 weeks. The asbestos is gone.
The work was done correctly, quickly and the price was fair. That's all you can ask for.
I would hire Coastal Demolition if I have a future similar project. I happily provide my 5-star review. – Paul, Google Reviews
Great pricing
I would highly recommend Coastal Demolition. They did an awesome job for my office, which needed asbestos removal and interior demolition. Great people and great price! – Wasim, Google Reviews
4. BC Green Asbestos Removal & Demolition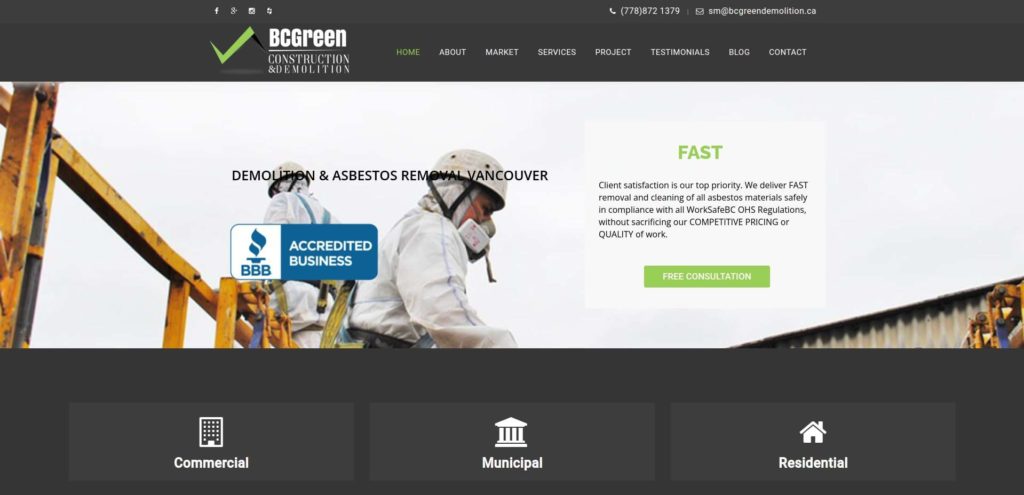 Test
Info
SERVICES
Commercial Demolition

Residential Demolition

Municipal Demolition

Asbestos Removal

Lead Removal

Mold Removal

WEBSITE
https://www.bcgreendemolition.ca/
ADDRESS
Vancouver Location 170-422 Richards Street, Vancouver, BC V6B 2Z4 North Vancouver Location 105 Bowser Avenue, North Vancouver, BC V7P 3H1
CONTACT DETAILS
778-872-1379

Email: [email protected]

OPERATING HOURS
Open 24 hours, 7 days a week
| | |
| --- | --- |
| Criteria | Ratings |
| Customer satisfaction | ★★★★☆ (4/5) |
| Scope of services | ★★★★★ (5/5) |
| Number of years in business | ★★★★☆ (4/5) |
Next on our list is BC Green Asbestos Removal and Demolition. They offer services similar to the other contractors, but with a few niche specializations.
BC Green offers demolition and cleanup services for commercial, residential, and municipal clients. They promise that their demolition services are swift, clean, and up to health standards.
We interviewed their previous clients and the company seems to honor their promises. Their past customers praised BC Green for their quick work, clean post-demolition work, and courteous staff.
However, their quality service may come with a slight bump in their labor costs. One of their customers commented on how BC Green's services were slightly more expensive, but they did not mind the cost because they believed it was worth it.
BC Green seems to specialize more in hazardous material removal than they do in demolition. The company does not only provide asbestos abatement services, but also mold and lead removal.
This makes BC Green a good option if you need to deconstruct a building made prior to the 1970s.
Another strength of the company is that they have two offices in Vancouver that are open 24/7 which could make it convenient for you and other potential customers.
Open 24/7
Two offices in the Vancouver area
Shows pictures of previous projects
Services focus more on hazardous materials
Quotes may be relatively more expensive
Customer Reviews
Prompt and courteous staff
Saeed was courteous and prompt to reply to any of my questions. His team did an efficient job with removing the tiles that had lead glaze, in my home and left the place very clean and tidy. Their prices for the service was competitive and I would recommend them. – Miche, Google Reviews
Quick service
We hired Saeed and his team to remove drywall from our kitchen renovation and were impressed with their attention to detail and quick turn around time. We would 100% hire them again and highly recommended this company – Brandie, Google Reviews
5. Unbuilders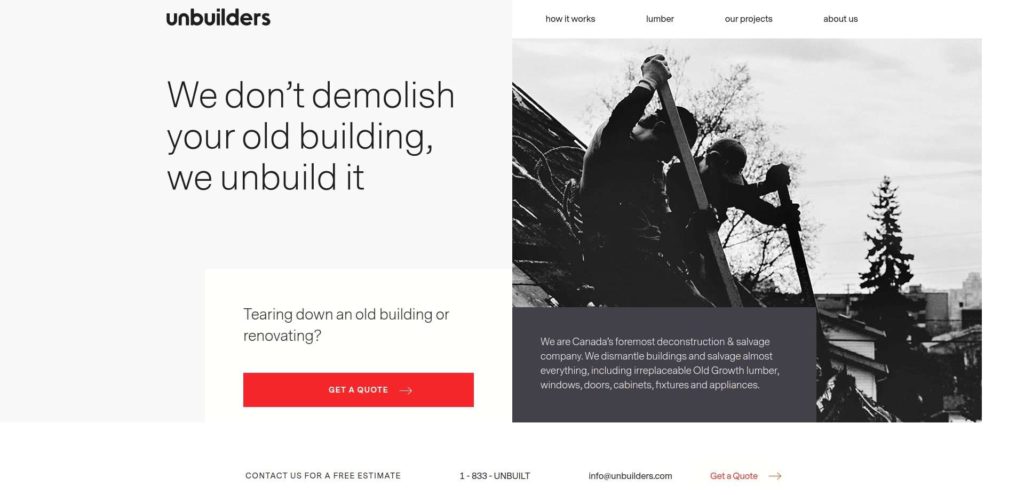 Test
Info
SERVICES
Deconstruction

Material Recycling

WEBSITE
https://unbuilders.com/
ADDRESS
8729 Aisne Street, Vancouver, BC V6P 3P1
CONTACT DETAILS
1-833-862-8458

Email: [email protected]

OPERATING HOURS
Monday to Friday: 7:30 AM to 4:00 PM
| | |
| --- | --- |
| Criteria | Ratings |
| Customer satisfaction | ★★★★★ (5/5) |
| Scope of services | ★★★☆☆ (3/5) |
| Number of years in business | ★★★☆☆ (3/5) |
Unbuilders does exactly what the name says: they deconstruct buildings and structures with utmost care.
Unbuilders have a very limited scope of services unlike their competitors. They were also founded in 2018, making them one of the youngest companies in Vancouver when it comes to the industry.
However, this does not mean they are not worth considering for your next deconstruction project.
Unbuilders has a different demolition process compared to other companies. After inspecting the building, their carpenters will begin to deconstruct the structure layer by layer to minimize the amount of waste and reclaim as much material as possible.
The materials and components they get will be processed for transport, reuse, remanufacturing, and reselling. The company claims that every project they have only has a 5% waste rate.
With such methods, Unbuilders is a good option if you wish to have your building deconstructed in as eco-friendly a way as possible.
We interviewed their previous clients and they all confirmed that the company really does keep wastes to a minimum. Aside from being environmentally conscious, the company is also praised for their quiet, swift, and thorough work and their professional staff.
Unbuilders earns a spot on our list for their quality innovative and unique approach to deconstruction and demolition, despite being the youngest in the industry with a limited range of services
Deconstructs buildings with minimal waste
Sells reclaimed old growth wood
Offers free estimates
Limited range of services
Customer Reviews
Professional staff
I am an enthusiastic recipient of Unbuilders amazing work ethic. Obviously I was excited to have the chance to unbuild: reuse, repurpose, recycle the majority of our garage or we wouldn't have contacted them to start with.* What I didn't expect was the professionalism. Staff arrived early, and were helpful and respectful towards us, our property, our garden and our neighbours. The garage was built around a lovely wisteria. It was very important to me that it not be harmed. They avoided damaging it by leaving that corner of the garage to the very end.The team worked consistently and as quietly as can be expected during such a project. They stacked all of the materials carefully not making mess other than on their tarps. After the sorted and impressively stacked materials were removed, clean up included sweeping, hosing down and rolling a magnet to pick up any errant rails, screws, staples. A five star experience. – Margie, Google Reviews
Innovative and eco-friendly company
Working with Adam at Unbuilders was a seamless, positive experience. You can really feel the passion behind the work they do. Innovative, environmentally conscious company — I learned a lot about old-growth heritage lumber working with them! Highly recommend. – Theodora, Google Reviews
FAQs about Demolition Services in Vancouver
---