The 5 Best Wedding Venues in Vancouver
So, you've finally found your partner and now you're both ready to get married. You're probably looking for the best place to tie the knot too!
Luckily, we have a list here of the best wedding venues in Vancouver. This can help you find the perfect place for your vows.
We'll review each venue to give you a better idea of what to expect from each one. But first, let's talk about what you can expect to pay for these things.
The Cost of Wedding Venues in Vancouver
The table we've provided below will serve as a guide for you to get an idea of how much different wedding venues cost. Keep in mind that some venues offer packages while others do not.
| Venue Type | Lower Cost | Higher Cost |
| --- | --- | --- |
| Event Center | $2,183 | $24,823 |
| Private Club | $2,361 | $16,143 |
| Banquet Hall/Restaurant | $2,388 | $23,506 |
| Historic/Landmark Building | $4,013 | $22,566 |
| Museum | $4,444 | $12,744 |
| Brewery | $4,712 | $11,859 |
| Hotel/Resort | $5,921 | $76,714 |
| Barn/Farm | $5,389 | $14,347 |
| Park/Garden | $7,286 | $12,359 |
Top Wedding Venues in Vancouver
By now, you probably already have an idea of how much wedding venues cost. Now, it's time to take a peek at some of the best wedding venues in Vancouver.
Our list will provide you with wedding venues for both small and big ceremonies. We've also jotted down a short preview of their amenities, facilities, and customer reviews.
1. Pinnacle Pier Hotel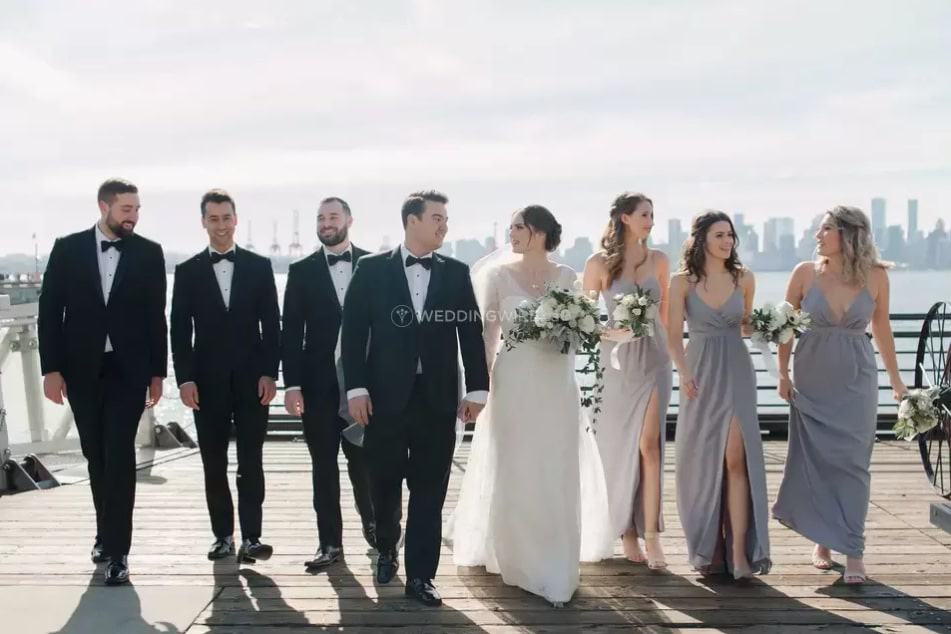 | Test | Info |
| --- | --- |
| SERVICES | Bridal suite, catering / bar, clean up, event planning, event rentals, liability insurance, outside vendors, set up |
| WEBSITE | https://www.pinnaclepierhotel.com/ |
| ADDRESS | 138 Victory Ship Way, North Vancouver, Canada |
| CONTACT DETAILS | +1 604-986-7437 |
| OPERATING HOURS | Hours of service may differ |
Pinnacle International is known to be one of Canada's leading manufacturers and builders of luxury condominiums, commercial developments, and hotels. The company has been developing and managing construction and ensign in Vancouver for more than three decades now.
Pinnacle International offers its customers a wide variety of hotel amenities and services at Pinnacle Pier Hotel.
These include a health club, a business center, in-room dining, lobby restaurant and lounge, underground parking, high-speed wireless Internet, complimentary luggage storage, Pier 7 restaurant and bar, a gift shop, and function space.
Facility-wise, the hotel has 8,000 square feet worth of area. We think this is a good size for big weddings.
There are three types of function spaces here too. These include the Pinnacle Ballroom and Ballroom Foyer, which can accommodate up to 500 guests for reception and 330 for seated dinner.
The second one on our list is the Pier Salon and Pier Foyer that covers 2,400 square feet and is excellent for wedding receptions as well as dances. It can hold 80 guests for a banquet-style reception.
Lastly, they have the Rooftop Terrace Ceremony Venue (also available in a package), which is an outdoor terrace that covers 1,200 feet.
We think most will love this function space if they want a bit of added drama for an event: it gives a panoramic view of the Vancouver City Skyline and Burrard Inlet as well as the harbour. It does have a limit, though, as it can only accommodate 150 guests.
Even better, this venue is good for those who want to bring their furry family members during the event: it's pet-friendly.
Other facilities include a fully-equipped fitness center, steam room, jacuzzi and sauna, and a swimming pool. With this in mind, we can honestly say that they have everything covered for you and your guests.
| | |
| --- | --- |
| FEES | COST |
| Reception Site | $3,023.00 |
| Plated Service (per head) | $70.00 |
Indoor and outdoor setting
Event planning is already included
Pet-friendly rooms
Very long list of facilities 
Customer Reviews
COVID plans..
The Pinnacle was so flexible as our plans pivoted and changed with Covid. In the end we did a take-out picnic for our 10 wedding guests as that was what was legal at the time. Laura was responsive, knowledgeable, and positive through all the changes – We will definitely recommend the pinnacle and hope to use their services in the future.
Fabulous experience!!!!
Got married at The Pinnacle Hotel at the Pier on August 11th 2018. Best decision we made, and we got to meet Talia (The Hotel's wedding Coordinator). Talia became my go-to person for all things weddings. Can't believe how patient she was with answering our several wedding questions. She gave us advice, communicated extremely well, and her warm smile made our visits and dealings with her very pleasant. The staff was just as wonderful. Food was amazing. Our guests couldn't stop praising and talking about the food. If you're on the fence about booking with The Pinnacle, my husband and I recommend you take that leap of faith. Meet Talia and the fabulous staff. We promise you won't regret it.
2. Swaneset Bay Resort and Country Club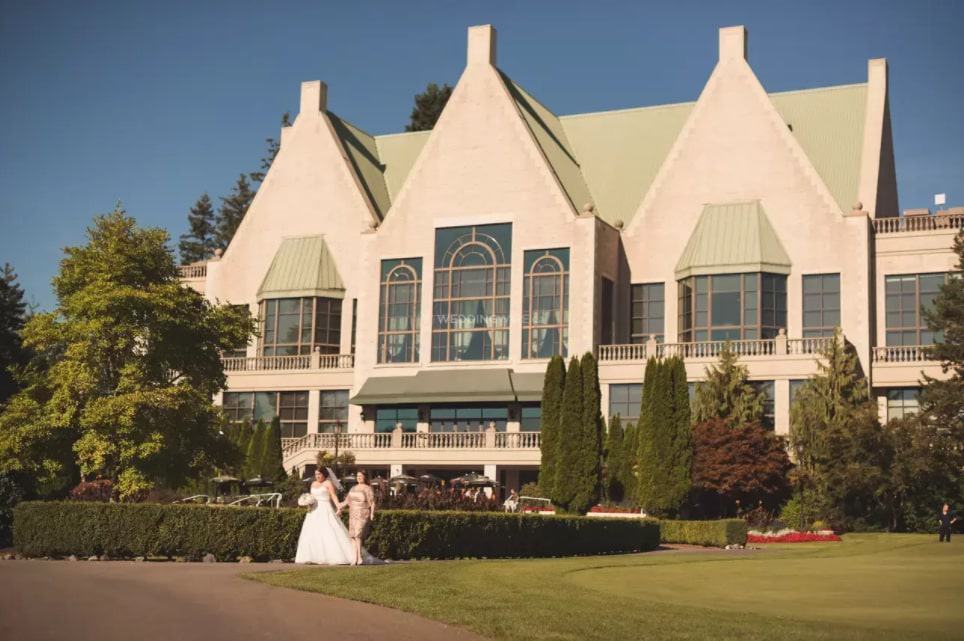 Test
Info
SERVICES
Bridal suite, catering/bar, clean up, event planning, event rentals, liability insurance, outside vendors, set up
WEBSITE
https://www.swanesetevents.com/
ADDRESS
16651 Rannie Rd, Pitt Meadows, Canada
CONTACT DETAILS
+1 604-465-9380
OPERATING HOURS
Monday-Wednesday: 11am-7pm

Thursday-Sunday: 11am-7:30pm
Swaneset Bay Resort and Country Club are located at the Coastal Mountains in Pitt Meadows. The entire chateau-style club covers a whopping 65,000-square-foot area and in our opinion, we think it's best described as a fairytale wedding location.
The club offers both indoor and outdoor seating to accommodate anywhere from 200 to 350 guests. Wedding receptions will be held at their Grand Ballroom on the third floor of the resort, which can accommodate 350 guests as well.
Couples will be offered their own event manager to cater to all their needs as well as guide them in planning the entire event.
It's also worth noting that all of the venue's packages will include the use of the bridal room, use of ground for photo taking purposes, use of the baby grand piano, complementary rehearsal with the wedding party, customized seating plans, linen signing table with chair, and the setup of ceremony chairs.
There are different areas you can choose from at Swaneset to tie the knot, by the way.
First, we have the Center Spotlight, which can cater to up to 200 guests with 60-foot ceilings, a tone of elegance, and a great view.
Next up is The Sunset Patio. Seating up to a hundred guests, this area is for couples who like a more intimate ceremony, backed up with a nice view of the sunset.
The third one on our list and our favourite is the Garden Birch Terrace, which can accommodate up to 175 guests. This area has one of the most breathtaking views a wedding could have of the Coastal Mountains.
Last but not the least, Swaneset has the Main Lawn area that can hold up to 350 guests.
| | |
| --- | --- |
| FEES | COST |
| Reception Site | $3,023.00 |
| Plated Service (per head) | $70.00 |
| Center Spotlight Ceremony | $1,750 |
| Sunset Patio Ceremony | $1,500 |
| Main Lawn Ceremony | $1,500 |
| Birch Terrace Ceremony | $1,500 |
Excellent facilities
Good accommodation
Good for both indoors and outdoors
Customer Reviews
Cherished Wedding Memories
This venue offers location/set up options for the ceremony, lots of space for reception, great food and awesome staff. Danielle was a pleasure to work with and all the staff who assisted with the event were amazing. All the guests loved the food and the classy décor. Danielle worked with us regarding safety measures and restrictions at this time. Her commitment towards everyone's safety was much appreciated and guests felt comfortable. This venue is well worth considering and has our recommendation.
They were the best option we could have gone with
I can not emphasize enough how amazing this venue and its coordinator was. The venue is SO stunning and so first class regardless of weather- it is a stunner! Our coordinator, Danielle, was 20/10. She went above and beyond in accommodating, in organizing, and keeping everything flowing smoothly. She not once appeared stressed or flustered and to us, everything went so smoothly. She was also present and made sure we were happy. Her assistant was AMAZING as well! Then there was the BUFFET FOOD. Every guest raved how it was the best buffet and food they have ever had. I am only sorry we didn't eat more! Just first class!
3. John M.S. Lecky UBC Boathouse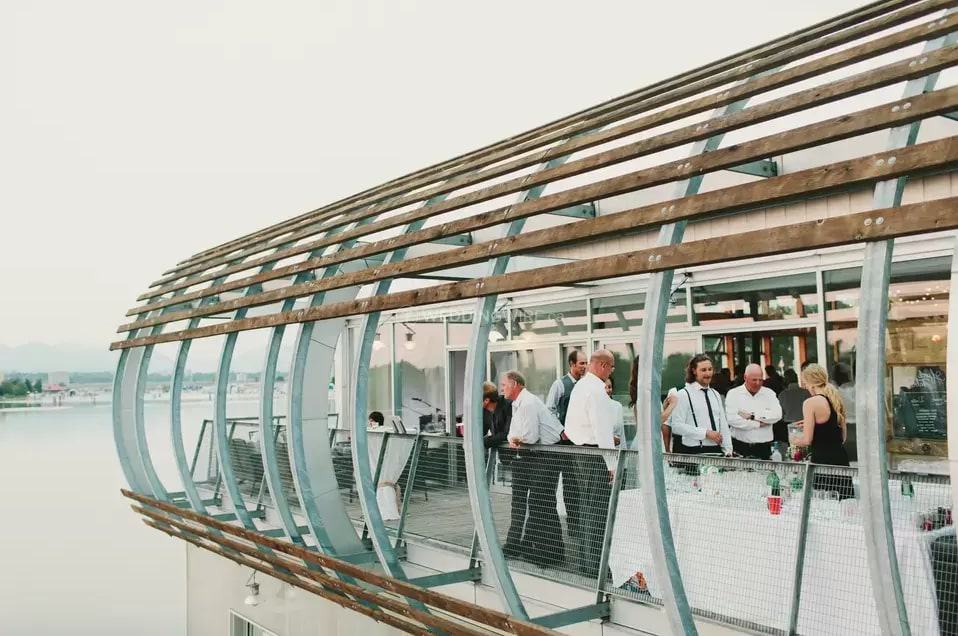 | Test | Info |
| --- | --- |
| SERVICES | Bridal suite, clean up, event planning, event rentals, liability insurance, lighting / sound, outside vendors, set up |
| WEBSITE | https://ubcboathouse.com/ |
| ADDRESS | University of British Columbia, 7277 River RD, Richmond, Canada |
| CONTACT DETAILS | +1 604-827-2011 |
| OPERATING HOURS | Monday-Friday: 10am-9pm |
The floating facility John M.S Lecky UBC Boathouse is located at the historical Fraser River. This boathouse is known to be home to the Thunderbird Community Rowing, UBC Rowing, and the St. George's Rowing Programs.
The boathouse also offers couples a breathtaking boat and an on-water wedding venue. It has far-reaching boat dock space as well as an event hall.
They provide a wide variety of services to choose from, like indoor and outdoor ceremonies, cocktail hour, and reception. For seated functions, they can accommodate up to 150 guests, while standing cocktail receptions can hold up to 185.
Adjacent fireside lounge and patio are also available, as well as a complimentary 1-hour wedding rehearsal, flexible floor plan, ramp access, and on-site lift for those who need it.
Since they are partnered with their own linen provider, All Occasions Decor, UBC Boathouse also provides linen rentals. This is a nice and convenient service if you want to skip looking for your own linen.
The rates will include facility tables and chairs, wifi, built-in PA audio system, PowerPoint ready projection system, servery kitchen, complimentary use of lower dock cocktail hours, shared access to washrooms and change rooms, a 150 square foot boardroom, and an on-site venue coordinator for the entire event.
| | |
| --- | --- |
| FEES | COST |
| Reception Site | $2,500 |
| Plated Service (per head) | $10 |
On-water experience
Good facilities
Smoke-free zone
Good for large events
Not good for those who get seasick
Can only accommodate up to 185 guests
Customer Reviews
Great experience – flexible and accommodating, especially through COVID-19
Everyone at UBC Boathouse has been amazing to work with, especially given everything going on with COVID-19 and needing to reschedule our June 2020 wedding to June 2021. What could have been a very stressful situation was made so much easier because of how accommodating and understanding they were. We would highly recommend them based on their responsiveness, flexibility and just simply being good humans!
A perfect spot and experience!
The venue was absolutely perfect for our wedding! The location and space were gorgeous, and the staff was incredibly supportive throughout the entire process. Their preferred vendors were also fantastic, and very much appreciated.
4. Sage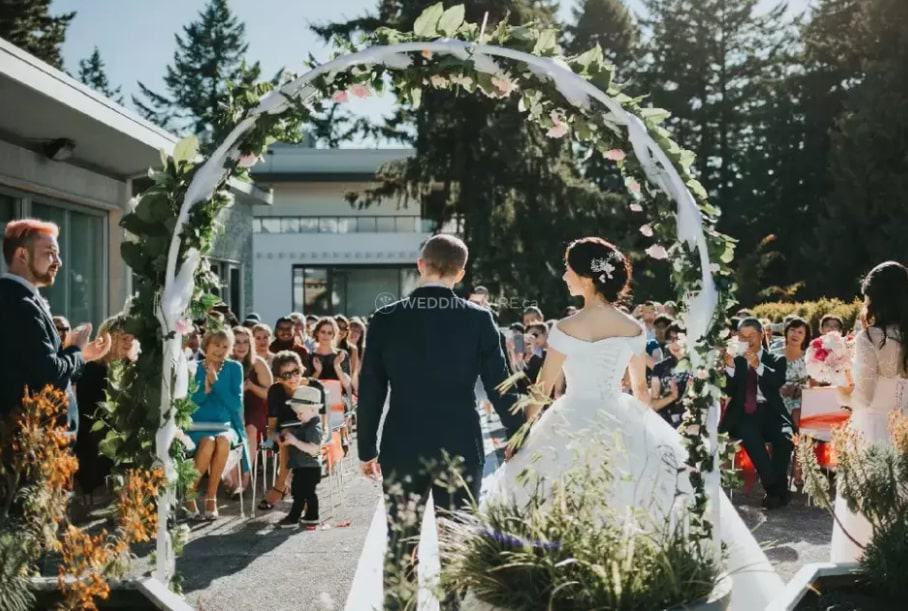 | Test | Info |
| --- | --- |
| SERVICES | Bridal suite, cake, catering/bar, clean up, event planning, event rentals, lighting/sound, outside vendors, set up |
| WEBSITE | https://food.ubc.ca/ |
| ADDRESS | 6331 Crescent RD, Vancouver, Canada |
| CONTACT DETAILS | +1 604-822-0968 |
| OPERATING HOURS | Hours of service may differ |
Sage Restaurant and Catering is only stationed within the University of British Columbia Vancouver Campus grounds. Specifically, the Leon and Thea Koerner University Centre.
This restaurant is known for catering modern West Coast cuisine to its guests and is accompanied by a spectacular view. Sage is a good place to hold weddings and other events and ceremonies as their facilities are newly renovated.
Sage Restaurant is a caterer, reception venue, and ceremony location all in one.
The restaurant can accommodate up to 250 guests and offers a breathtaking view of the ocean and floor-to-ceiling windows. The venue has a mid-century architecture to it as well as a fireplace.
Sage also provides a few other function areas for your wedding, and the first one is the UBC Garden. This area features a bunch of roses and is accompanied by a view of the mountains as the backdrop.
For a more cozy vibe, the Seminar and Patio area is good for small weddings for 55 guests. Fun fact, Queen Elizabeth stayed in this very suite when she visited back in the 1960s.
Next, we have the Ideas Lounge that can hold up to 70 guests, and the Sage Courtyard is newly renovated and can hold up to 80 guests.
It is safe to say that we highly recommend the Sage venue for those who are looking for an intimate place for their weddings and other ceremonies.
| | |
| --- | --- |
| FEES | COST |
| Reception Site | $500 |
| Plated Service (per head) | $57 |
Good for small weddings
Excellent view
Good facilities
Budget-friendly
Cannot accommodate a large number of guests
Customer Reviews
Highly recommend it!
Sage was very accommodating in planning a wedding during COVID! Nicky in particular was fantastic in answering all our questions and seeing our vision come to life. Nicky is like a pseudo wedding planner and very knowledgeable. The Sage venue itself is fantastic because there are multiple different settings allowing for reception/ceremony indoors or outdoors. We had a buffet for our reception and we're shocked at how good the food was!
The dream team experience
The breadth of experience and knowledge of the team, led by Nicky Lau, was excellent. They led us through the entire planning process and helped trouble shoot our questions with grace and kindness. The venue itself provided stunning mountain and ocean views and the patio is surrounded by soaring evergreens. We highly recommend Sage for your wedding venue.
5. Stanley Park Pavilion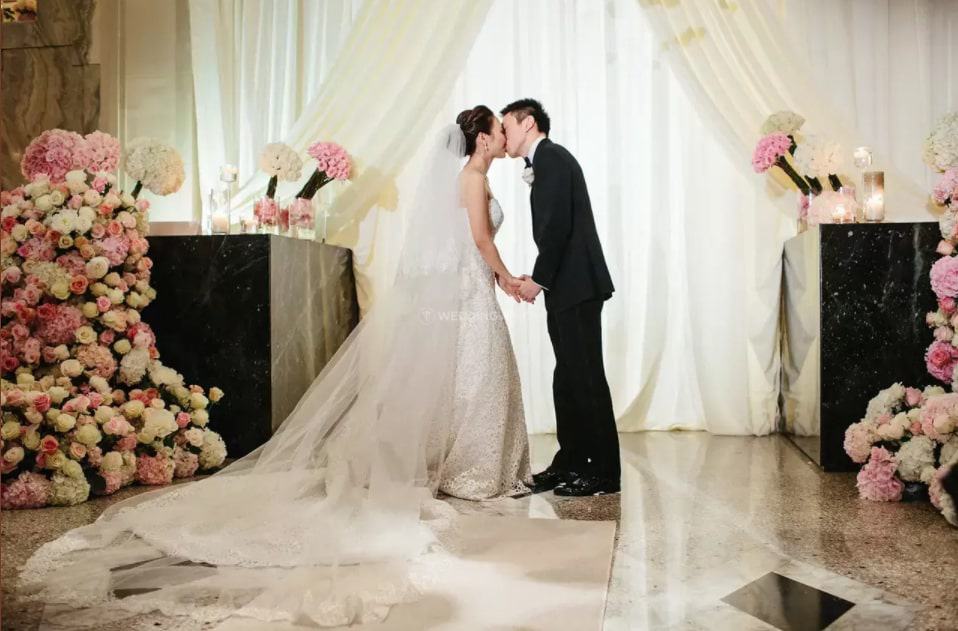 | Test | Info |
| --- | --- |
| SERVICES | Accommodations, bridal suite, cake, catering/bar, clean up, event planning, event rentals, liability insurance, set up |
| WEBSITE | https://stanleyparkpavilion.com/ |
| ADDRESS | 610 Pipeline Rd, Vancouver, Canada |
| CONTACT DETAILS | +1 604-602-3088 |
| OPERATING HOURS | Daily: 9am-5pm |
Founded in 1911, Stanley Park Pavilion is known to be the oldest property that is still up and running to this day. It is also known for being the central meeting and socializing area for its guests back in 1913.
Today, the Stanley Park Pavilion is under the Capilano Group's management and has become one of the most well-known and sought-after banquets and wedding venues.
The pavilion offers couples both outdoor and indoor wedding ceremonies which will take place at the Formal Garden that can seat up to 210 guests. A venue coordinator will also be present at all times to help and guide everyone.
Their wedding package includes access to the Tea Room and Lord Stanley Ballroom, in-house consultation, birthday room, self-access coat room, podium, banquet round or long tables, tableware, glassware, linens, and shuttle services.
Another good information we got is that couples can choose whether they want an intimate ceremony or a grand ceremony since the pavilion has function rooms for either of the two.
| | |
| --- | --- |
| FEES | COST |
| Reception Site | $19,500 |
| Plated Service (per head) | $69 |
Well known and sought after wedding venue
Facilities and function areas are good
Wide spaces for guests
On-site wedding planner
Relatively expensive
Can only cater 210 guests
Customer Reviews
Our Fairytale Wedding at Stanley Park Pavilion
Stanley Park Pavilion was our dream wedding venue. Buket and the SPP team are extremely accommodating and made it easy to tailor our wedding to exactly how we dreamt it would be. Buket has lots of experience and was hands-on in helping us make logistical decisions that made our day go smoothly.
The venue package is thoughtfully done – down to having a spa water station put out for the ceremony – making our guests feel like VIP! The transition from ceremony to cocktail hour to dinner was seamless. We're forever grateful to have had our wedding here. Thank you again!
Beautiful venue!
In addition to being a stunning spot to get married, the team and Stanley Park Pavilion were a pleasure to work with. They are responsive, reliable, and take the time to make suggestions based on your vision. I would recommend this vendor without hesitation 🙂
A Guide on What to Consider Before Choosing A Wedding Venue
Budget range
One of the main factors couples should consider before looking for a wedding venue is the price they are willing to pay. Every venue has different price ranges. Some have packages, some do not.
How many guests do you have?
Some venues can only accommodate small weddings while others can go up to 500 or more. So, it is best to make sure you keep tabs on your invites so you'll know which one you're getting.
Wedding date
Most wedding venues are completely booked during peak season, which is why it is very crucial for you to book as early as possible so other couples won't bag your preferred date. This can also lead to delays and such.
Theme and location
It is best to visualize well where you want your wedding to be held and what you want it to be. Indoor? Outdoor? Near your house? Location is also the key to choosing the best wedding venue for you as it sets the atmosphere for you and your perfect day.
FAQs About Wedding Venues in Vancouver
---
Related Resources For Weddings in Vancouver