Top 5 Wedding Photographers in Vancouver
Weddings require months of planning, which is why it's essential to document all of the special moments so you can look back on them later.
Hiring a professional wedding photographer is one of the best ways to capture special occasions and relive those memories.
We've got you covered if you're looking for the best wedding photographers in Vancouver.
How much do wedding photographers cost in Vancouver?
Wedding photography fees can vary depending on a variety of factors such as how many photographers you require, how long your ceremony will last, and how far away your wedding venue is.
We've compiled a list of how much these services may cost you so you can plan ahead.
| | |
| --- | --- |
| SERVICES | ESTIMATED PRICE RANGE |
| Pre-Wedding Shoots | $1,150 – $3,000 |
| Wedding Packages | $5,000 – 30,000 |
| Outdoor Weddings | $12,000 – $20,000 |
| Whole Wedding Coverage | $20,000 – $30,000 |
| Elopement Packages | $7,000 – $25,000 |
| Livestream Services | $350 – $800 |
Top 5 Wedding Photographers in Vancouver
Wedding photography is a highly intimate experience. You're looking for someone to create memories for you, not just take snaps of your day.
We've assessed the following companies based on the criteria below:
1. Demin Photography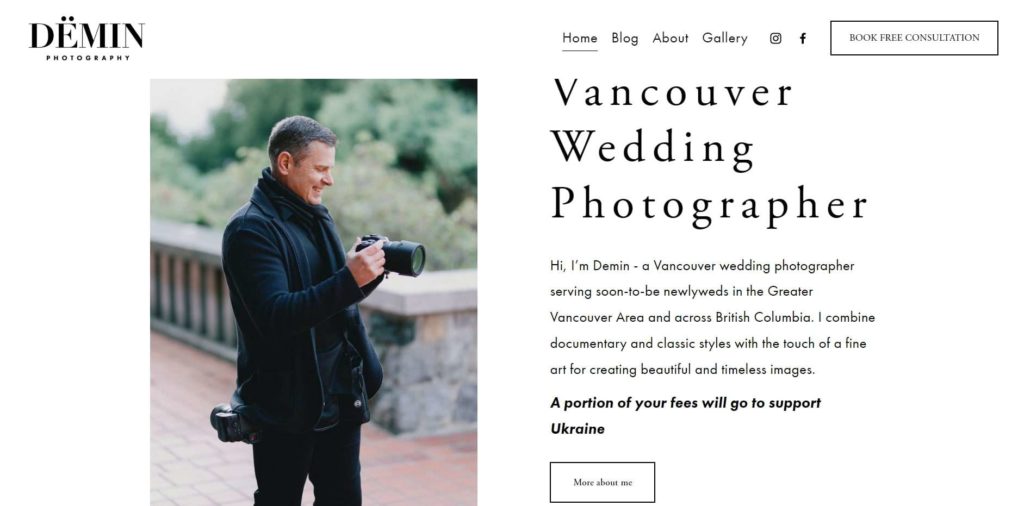 | | |
| --- | --- |
| SERVICES | Wedding Portfolio Engagement PortfolioWedding Stories and EngagementsCorporate and Family EventsFine dining and FoodCorporate HeadshotsReal EstateProduct and E-commerce |
| ADDRESS | 1055 W Georgia St Suite 2100, Vancouver, BC V6E 3P3 |
| CONTACT DETAILS | Phone: 604-800-2019 |
| OPERATING HOURS | Mondays to Sundays – 09:00 AM – 08:00 PM |
| WEBSITE | https://deminphotography.com/ |
| | |
| --- | --- |
| Criteria | Rating |
| Services and packages | ★★★★★ (5/5) |
| Availability | ★★★★★ (5/5) |
| Reputation | ★★★★★ (5/5) |
| Customer Service | ★★★★☆ (4/5) |
Demin Photography is one of the most established wedding photographers in Vancouver because of its wide range of services and top-notch customer service.
This company provides portfolio services for weddings and engagements, corporate and family event shoots, fine dining and food photography, corporate headshots, real estate coverage, and product and e-commerce services.
Moreover, they also offer Go-Pro highlights upon request.
Looking through their online gallery, we noticed that Demin captures the simple details and transforms them into priceless photographs.
We like how this company captures couples in their most natural state while combining the beauty of nature and natural light to produce high-quality photographs.
Another thing we found impressive is they create beautiful and timeless images by combining documentary and classic styles with a touch of fine art. They also capture candid shots that highlight the natural bond between the people in the photographs.
We also appreciate how accommodating this establishment is. The majority of consumers we've spoken to praise their customer service, with many customers stating that Demin goes out of its way to exceed their expectations every time.
It is also important to note that Demin has been named as one of the top Vancouver wedding photographers by Giggster, Peer Space, and Wedding Wire as this boosts the company's credibility and reputation.
Offers free consultations
A portion of their collected fees will go to support Ukraine
Offers Go-Pro services
No price transparency
Long turnaround time for photographs
Customer Service
Professional and fun to work with
"I highly recommend Demin! He is such a great photographer and it's always a pleasure to work with him. His laid-back style makes everyone feel at ease and makes the whole experience more enjoyable and stress-free. I will keep recommending him to my clients and to everyone." -Regine J.
Hospitable services
"Demin was professional and organized. My wife and I aren't big posing for pictures type people, however he made us comfortable and the photos turned out beautifully. Highly recommend him." – Draven D.
2. Sachin Khona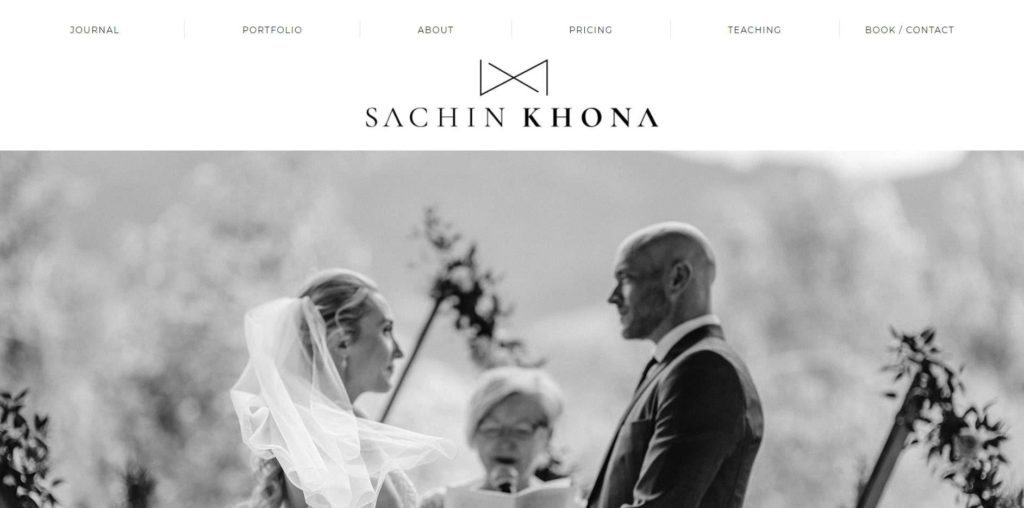 | | |
| --- | --- |
| SERVICES | Elopements and WeddingsCouple Sessions and PortraitsWhole day, Half Day and Hourly Coverage |
| ADDRESS | #170 – 422 Richards StreetVancouver, BC, V6B 2Z4 |
| CONTACT DETAILS | Phone: 604-728-6820Email: [email protected] |
| OPERATING HOURS | Open 24 hours |
| WEBSITE | https://sachinkhona.com/ |
| | |
| --- | --- |
| Criteria | Rating |
| Services and packages | ★★★★☆ (4/5) |
| Availability | ★★★★☆ (4/5) |
| Reputation | ★★★★★ (5/5) |
| Customer Service | ★★★★★ (5/5) |
This business specializes in capturing artistic and truthful moments of happiness through storytelling that conveys genuine emotion among couples
Since then, it has been servicing Vancouver, British Columbia and surrounding areas. They also offer wedding photography services outside Canada.
We noticed right away that the owner, Sachin Khona, is very passionate about his job, and it shows through his work. He was awarded The Wedding Industry Achievement Award and the BC Wedding Awards, making him an established wedding photographer.
This establishment offers elopement and wedding packages for $2,950 and couple sessions and portraits for $950.
This may appear to be a more expensive package than the others on our list, but we believe it is a fair deal given that their packages include multiple additional services.
These additional services include fully edited, high-resolution images and online gallery and slideshow story, an hourly coverage, and a print store for your loved ones.
We only wish this was an all-inclusive price so that budgeting would be simpler. However, you can get in touch with them to get the full pricing brochure.
Nevertheless, we like that Sachin Khona can accommodate almost all corners of the world. So whether you are from America, Europe, or Asia, this establishment is ready to be at your service.
While most photographers have their own unique style, Sachin Khona focuses on creating documentary-style weddings, and we think it makes them more personal and heartfelt.
Specializes in documentary-style photography
Offers international services
Packages include numerous additional services
Awardee of The Wedding Industry Achievement Awards (2017 & 2018)
Pricey rates
Only takes limited bookings per year
Only does wedding photography
All-around photographer
"Sachin is an All-Star. I'm usually a shy guy and used to being behind the camera but Sachin had me feeling comfortable and confident on my wedding day. We loved all of his photos, but what I loved most was the raw moments he captured during the wedding. It's not something everyone can capture and it adds so much more to the album." – Adam H.
Amazing services
"My wife and I wanted family photos in a documentary style and we quickly realized that Sachin was the perfect photographer to take them. He was professional, amazing with our girls (and dog!) during the actual shoot and delivered images that we will be displaying in our home for years. We couldn't be happier with the outcome – thank you Sachin!." -Mathias F.
3. Jelger and Tanya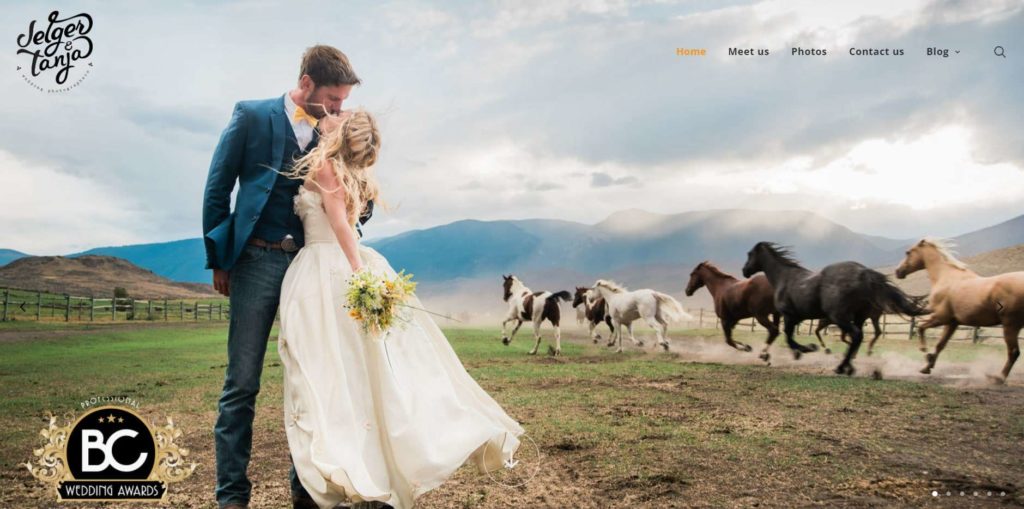 SERVICES
Events and Parties
Portraits
Wedding and Engagement
Adventure Elopements
Beach Wedding
Candid Photography
Couple Photography
Destination Photography
Elopement Packages
Pre-wedding Shoots
ADDRESS
425 E 11th Ave, Vancouver, BC V5T 4K8, Canada
CONTACT DETAILS
Phone: 604-716-7992Email: [email protected]
OPERATING HOURS
Open 24 hours
WEBSITE
https://jelgerandtanja.com/
| | |
| --- | --- |
| Criteria | Rating |
| Services and packages | ★★★★☆ (4/5) |
| Availability | ★★★★★ (5/5) |
| Reputation | ★★★★★ (5/5) |
| Customer Service | ★★★★★ (5/5) |
Jelger and Tanya believe that starting over in a foreign country with your partner is a must. That's why they both quit their careers and moved to Canada to capture breathtaking photographs.
We like that this company values spontaneity and adventure, and it shows.
Another thing that caught our attention is that Jelger and Tanya's photography style is a mix of nature, adventure, and intimacy. They focus on taking pictures of people in motion in a spontaneous manner, as this makes photographs more genuine.
This establishment offers a variety of wedding services! This includes indoor, outdoor, mountain, forest shoots, and even helicopter weddings!
We have received an abundance of positive reviews about their services. Most customers noted that they were satisfied with Jelger and Tanya's ability to make wedding photography sessions natural and enjoyable.
Another thing we found impressive is their blog with beautiful wedding venues that customers can use as inspiration.
Moreover, Jelger and Tanya have traveled to many different parts of the world to capture the most beautiful and heartfelt photographs of their clients which we found impressive.
Overall, Jelger and Tanya definitely deserve a spot on our list for their top-notch photography services, spontaneous and unique photography style, and flexibility.
Spontaneous style of photography
Accommodates multiple shoot locations
LGBTQ-affirming company 
Flexible when it comes to shooting locations
No price transparency
Only does wedding photography
Customer Service
High-quality and creative photography service
"Hiring them was the best decision ever! We absolutely love our photos from our elopement. Jelger and Tanya are so nice and very creative. Would hire them again. :)." -Katharine B.
Enjoyable experience
"Jelger and Tanja are amazing! We hired them for our elopement in North Vancouver. They are a lot of fun to work with, had great ideas, and my husband and I are so happy with our wedding photos. We were married on a VERY rainy day and they were game for an outdoor, soaking-wet ceremony that ended with some amazing pictures. They put us at ease and we didn't have to worry about posing or anything like that; it was all very natural and enjoyable! I would recommend them to anyone!." -Majesta E.
4. Karizma Photography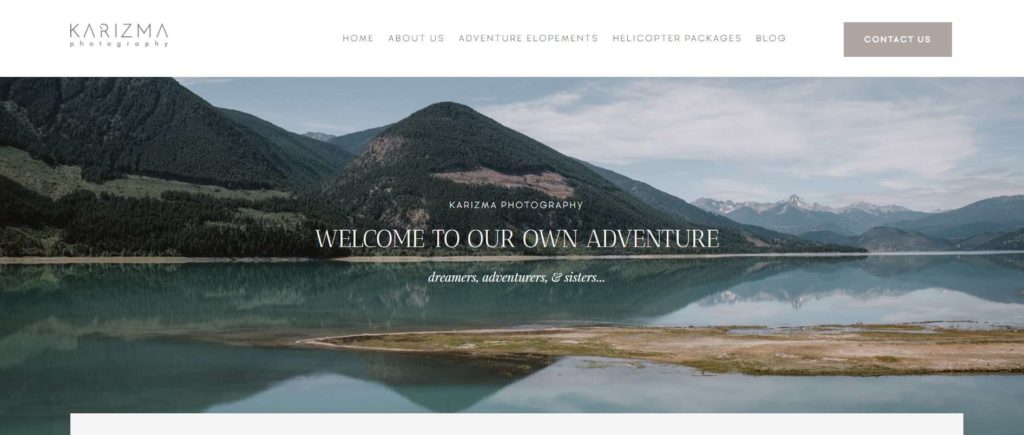 | | |
| --- | --- |
| SERVICES | Wedding and EngagementAdventure PhotographyElopement PackagesHelicopter WeddingsOutdoor and Mountain ElopementsOutdoor and Mountain WeddingsVow RenewalsSpecial Events |
| ADDRESS | Vancouver, BC, Canada |
| CONTACT DETAILS | Phone: 604-782-4425Email: [email protected] |
| OPERATING HOURS | Open 24 hours |
| WEBSITE | https://www.karizma.photography/ |
| | |
| --- | --- |
| Criteria | Rating |
| Services and packages | ★★★★☆ (4/5) |
| Availability | ★★★★★ (5/5) |
| Reputation | ★★★★★ (5/5) |
| Customer Service | ★★★★★ (5/5) |
Karizma Photography was founded by two sisters, Natalia and Tatiana, who wanted to empower couples to celebrate their commitment to each other in the most adventurous and unique way possible.
What we like best about this company is the perfect balance of personalities and photography styles that these sisters provide.
This establishment offers a blend of organization and strong attention to detail while providing a laid-back and enjoyable photography session.
Karizma encourages couples to craft their wedding shoots by providing them with the most incredible locations in British Columbia.
They make certain to capture the natural environment around you to complement your emotions.
The majority of the reviews we've received have come from satisfied customers who praised Natalia and Tatiana for their incredible work.
They also appreciated how caring and cheerful they are, which made the entire photography session smoother.
Another thing we found impressive is that all of their photography packages include 4to 12 hours of coverage, personalized planning assistance, vendor recommendations, edited full-resolution images, and travel fees.
Unfortunately, they do not photograph weddings with more than 25 guests. Nevertheless, this business charges no additional costs for travel anywhere in British Columbia.
Another thing we found impressive is that Karizma shoots a wide range of adventure sessions for $2,450, from surprise proposals, engagement photos, and vow renewals to adventure elopements.
Another service they provide is helicopter elopement packages for $3,500, which include up to three hours of photography coverage.
Overall, we believe that Karizma deserved a spot on our list because of their detailed and enjoyable style of photography that has garnered many loyal customers.
Specializes in outdoor photography
Travel fees are included in rates
Fast turnaround time
Packages include up to 12 hours of coverage
Does not accommodate weddings with more than 25 guests
Only offers services within Vancouver 
Customer Service
Unique and amazing services
"Natalia & Tatiana are amazing!!! It was such a privilege having them photograph our engagement shoot and wedding!! We can not express enough how great of an eye they have for memorable moments. They truly captured our big day in such a beautiful way. There is something so unique about the emotions and angles they manage to capture that tells such a perfect story. They are always in the perfect spot at the perfect time. It was such a great decision to hire Karizma Photography for our wedding! We are blown away!." – Stephanie B.
"Natalia & Tatiana were absolutely amazing to deal with. We couldn't have been happier with the experience and results. They made sure we had or dream mountain top adventure wedding. We decided on Mount Currie and we're not let down! We trusted their judgement on changing the date, to make sure we had perfect weather for the helicopter elopement. The pictures were stunning and amazing. They really captured the breathtaking views and made us comfortable and had fun while doing the photo shoot. They were also very responsive in a timely manner to any questions/ concerns. Thank you girls for making our dream helicopter elopement come true!!." – Alisia H.
5. Ronnie Lee Hill Photography
| | |
| --- | --- |
| SERVICES | Events and PartiesFamily and Group PhotographyHeadshots and PortraitsWedding and EngagementAdventure PhotographyElopement Photography |
| ADDRESS | 2636 E 22nd Ave, Vancouver, BC V5M 2X7 |
| CONTACT DETAILS | Phone: 604-369-3960 |
| OPERATING HOURS | Mondays to Sundays – 10:00 AM – 07:00 PM |
| WEBSITE | https://www.ronnieleehill.com/ |
| | |
| --- | --- |
| Criteria | Rating |
| Services and packages | ★★★★☆ (4/5) |
| Availability | ★★★★★ (5/5) |
| Reputation | ★★★★★ (5/5) |
| Customer Service | ★★★★★ (5/5) |
Ronnie Lee Hill is a Vancouver-based wedding and elopement photographer specializing in wild and adventurous storytelling.
It is worth noting that this business has been listed alongside some of the most amazing local talents on Junebug Weddings as one of the best photographers in Vancouver.
This proves the establishment's reputation and dependability and is supported by reviews from many satisfied customers.
While most photographers have their own unique style, Ronnie Lee Hill specializes in adventurous photography.
Most customers recognize and appreciate her ability to transform something as simple as a candid photo in the woods into something more beautiful.
Another thing we found impressive is that she manipulates light and composition in such a way that your wedding feels glamorous, yet natural and romantic.
We particularly like that this establishment offers special packages for destination weddings. Another thing that caught our attention is that they provide extended coverage for moments in the vicinity of the location you wish to mark the occasion.
The starting price point for wedding packages is $2,950. Aside from this, Ronnie also does engagement shoots, family photoshoots, travel, and portraits.
On a whole, this establishment is ideal for couples who are looking for a photographer with an adventurous and romantic style.
Specializes in wild and adventurous photography
Accommodates destination weddings
Listed as one of the best wedding photographers in Vancouver, BC on Junebug Weddings
Limited price transparency
Limited range of packages
Customer Reviews
Talented and creative photographer
"Ronnie is everything you could ever ask for in a wedding photographer! She has the creative eye, talent and personality to make magic happen. I couldn't believe how wonderfully she captured the moment while also including the natural setting. She makes you feel comfortable and has fun with her work–she's also not afraid to help direct others when needed which is a BIG bonus. We're so very happy to have found the perfect photographer for our day :)" -Sarah F.
"Ronnie was an integral part of our wedding. From falling in love with her portfolio to discovering she's even more charming than her photos, she made everything about our wedding easier. When our plans changed from a 100+ person event to an elopement on the island, Ronnie was helpful, easygoing and up for anything. She brought endless creative ideas, practical tips for walking down a steep forest trail in a wedding dress, and even corralled our very small (but very rowdy) group of friends. The photos are incredible, and we HIGHLY recommend Ronnie to anyone looking for a unique eye to capture their wedding day." -Katharine M.
FAQs about Wedding Photographers in Vancouver
---