5 Best Patent Lawyers in Vancouver
If you are looking to secure the rights to a patent, you deserve only the services of the best patent lawyers in Vancouver.
In this review, we picked the best patent lawyers and firms that we believe could help you the most. Continue reading to see which ones are included in the list and learn more about what they can offer.
How much are the services of patent lawyers in Vancouver?
Patent lawyers in Vancouver charge differently especially if you hire them to do most of the work. Although the fees vary, you can use the table below to get a general idea of how much it would cost to secure a patent with an attorney's help.
| Service | Price |
| --- | --- |
| Drafting the patent | $5,000 to $15,000 |
| Filing a patent application | $400 |
| International patent applications | $3,500 to $4,500 |
| Patent prosecution | $1,000 to $10,000 |
| Patent maintenance | $100 to $450 annually |
Top Patent Lawyers in Vancouver
To make this list, we sifted through all the patent firms and patent lawyers in Vancouver and picked the best using the following criteria:
1. Nexus Law Group LLP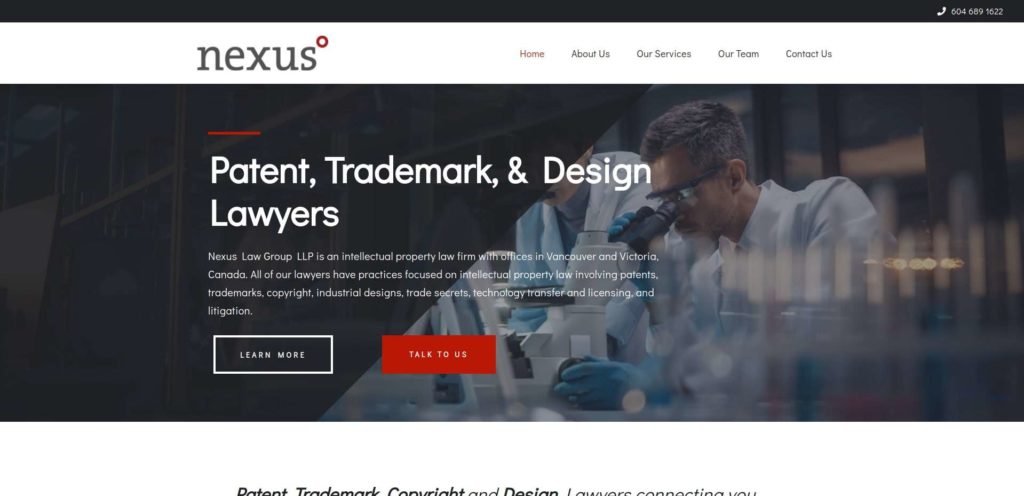 Test
Info
SERVICE
Prior Art Searches

Patentability

Infringement

Validity Opinions

Patent Licensing

Preparation

Filing

Persecution

Due Diligence

Patent Litigation

WEBSITE
https://nexuslaw.ca/
ADDRESS
777 Hornby Street #2000, Vancouver, BC V6Z 1S4
CONTACT DETAILS

Email: [email protected]

1-604-689-1622

OPERATING HOURS
Monday to Friday: 9:00 AM to 5:00 PM
| | |
| --- | --- |
| Criteria | Ratings |
| Years of experience | ★★★★★ (5/5) |
| Range of services | ★★★★★ (5/5) |
| Customer satisfaction | ★★★★☆ (4/5) |
Nexus Law Group LLP is a firm of patent lawyers in Vancouver and Victoria. Although based in Canada, they also handle patent and intellectual property law in the country and internationally.
Nexus Law has 3 patent lawyers and trademark agents with around 2 decades of experience in the field each. Together with their staff, they provide a wide range of intellectual property-related legal services.
Specifically, Nexus Law handles patents for mechanical, electrical, and computer technologies. They also work with biotechnology and chemical patents, which is a plus for those with non-technology related inventions.
One of the things we like about them is that a client can employ their services for the entirety of the process. Nexus Law handles everything from prior art searches and preparation to filing, licensing, prosecution, and litigation.
Another thing we like is that Nexus Law's website answers most of their clients' possible questions. They detail the filing process from start to finish which could give clients an idea of what to expect and how long it might take for them to get a patent.
However, we did not find some information on their website such as the founding date of the group. We found this information on other websites.
We believe that some clients would appreciate knowing the amount of experience that these attorneys have in the field to make it easier to build trust and confidence.
Regardless, their previous clients we interviewed seem to have had a great experience in dealing with the firm. Most of them praised the team for being knowledgeable, honest, and professional.
Informative website
15+ years in the industry
Lacks certain information about partners
Customer Reviews
Knowledgeable, honest, and professional team
Clint really knows his stuff. Him and his team were very helpful to us when we were checking to see if a new product of ours would violate a patent. Clint was available when we needed him and gave us our options honestly and professionally. He didn't try to sell us on anything and his prices were fair and reasonable. Would definitely come back to Nexus if i needed anymore help with IP law. – Jennifer
Team readily available
Clint Lee and the team at Nexus Law helped us with a trademark infringement issue. Clint was readily available to offer sound legal advice to our team and supported us through the process as we eventually came to a resolution. – Stephen
2. Voyer Law Corporation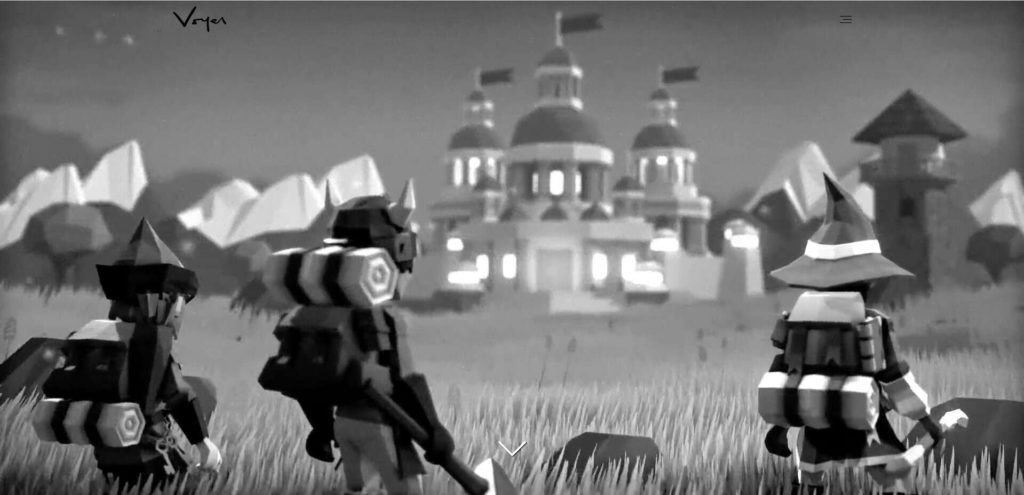 Test
Info
SERVICE
Patent Registration

Patent Maintenance

Trademarks And Copyrights

Intellectual Property Strategy And Enforcement

Patent Challenges

Trade Secrets

WEBSITE
https://voyerlaw.com/
ADDRESS
403-134 Abbott Street, Vancouver, BC V6B 2K4
CONTACT DETAILS
604-230-9293

Email: [email protected]

OPERATING HOURS
Monday to Friday: 8:00 AM to 8:00 PM
| | |
| --- | --- |
| Criteria | Ratings |
| Years of experience | ★★★★☆ (4/5) |
| Range of services | ★★★★★ (5/5) |
| Customer satisfaction | ★★★★★ (5/5) |
Voyer Law Corporation is a firm of patent lawyers in Vancouver and handles a variety of legal work in both Canada and the US.
One of the things we like about them is that the firm's team is composed mostly of lawyers that practice in both Canada and the US. We believe that having knowledge of two countries' laws allows them to efficiently serve clients who wish to secure patent rights locally and abroad.
Some clients may take note that the firm is relatively young since it was only put up in 2013. However, there is no need to worry as the team has been in the field for longer than the firm had been established.
In a decade, Voyer Law Corporation has had multiple clients, including a lot of video game studios.
We interviewed some of their previous clients, and they took note of how professional, responsive, thorough, and knowledgeable the lawyers are in their specific fields.
Voyer Law does work in fields ranging from patent, copyright, and trademark registration, challenges and litigations, management of trade secrets, and more. What makes the firm's wide range of services better, in our opinion, is that they offer some of them under packages.
Voyer Law accepts flat fees for legal packages they offer. Most of these service packages are for intellectual property assignment agreements and company incorporations, but they added a note at the bottom of their website.
The note says that some other services may be provided for a flat fee, but they first have to assess the scope of the matter. Although this provides no assurance that they'll offer a flat fee for patent work, you can try contacting them to see if they have what you are looking for.
Offers some services on flat fee
Transparent on pricing
Offers legal services for US and Canadian patents
Customer Reviews
High level of knowledge and expertise
Very impressed with my experience working with Kellen and his team. I would highly recommend their services if you are looking for a reliable and thorough firm to handle your business. Their level of expertise and knowledge is unmatched. Five stars! – Erin
Professional and responsive lawyers
Kellen was extremely professional, responsive, and thorough. We couldn't have navigated through our current funding deal without his help, and his process for reviewing and amending contracts was very informative. Highly recommended! – Ricardo
3. Gowling WLG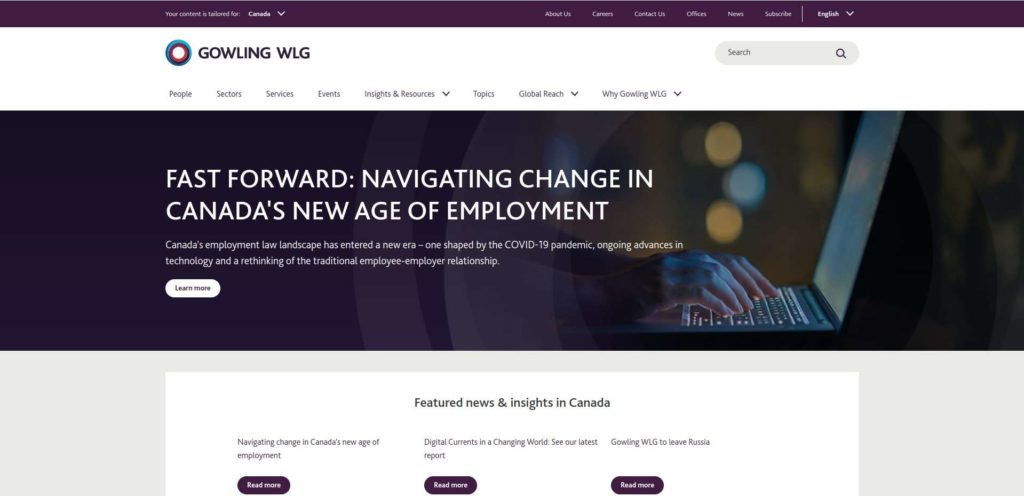 Test
Info
SERVICE
Patent Prosecution

LItigation

Arbitration

Mitigation

Competitions

Patent Listings

Patent Licensing

Trade Secrets

Taxes

WEBSITE
https://gowlingwlg.com/en/
ADDRESS
550 Burrard Street, Suite 2300, Bentall 5, Vancouver, BC V6C 2B5
CONTACT DETAILS
Phone: 1-604-683-6498

Fax: 1-604-683-3558

OPERATING HOURS
Monday to Friday: 8:00 AM to 5:30 PM
| | |
| --- | --- |
| Criteria | Ratings |
| Years of experience | ★★★★★ (5/5) |
| Range of services | ★★★★★ (5/5) |
| Customer satisfaction | ★★★★★ (5/5) |
Gowling WLG is an international network of lawyers with firms all over the globe. Their team consists of corporate lawyers, litigation lawyers, and patent lawyers in Vancouver and the rest of Canada, the US, Europe, and a handful of other countries.
The firm's international standing is its biggest strength in our opinion. With patent agents and lawyers worldwide, Gowling WLG can offer a wide range of services especially to multinational organizations looking to protect their rights in multiple countries.
Gowling WLG's services include drafting and filing stage to portfolio management, arbitration, audits, disputes, and maintenance. In addition, they also work in the field of intellectual property, corporate law, and most other legal fields you can think of.
Another thing we took note of is that the firm's website has information on their firm's partners and heads. Every necessary detail about them, including their emails and phone numbers, are available online.
This is a good thing for clients who wish to see the experience of the firm's legal professionals before choosing to take a chance and get their services.
However, being filled with so much information, the website becomes cluttered and slightly difficult to navigate. You will be greeted with large walls of text at every section, making them hard to read and understand.
Regardless, we believe that their myriad services combined with their over 1,500 legal professionals worldwide makes the firm a good choice for individual inventors to large corporations alike.
Has a global network of patent lawyers
Specializes in a variety of intellectual property fields
Website
Website has walls of text
Customer Reviews
Has expertise in various fields
I'm biased here, because I have used Gowlings quite a bit for my job, but they are an excellent firm with a great deal of expertise in a lot of areas.
Their physical office is breathtaking.
Great support staff as well. – Ben
Professional and compassionate lawyers
Michael Adlem: a partner in the firm. He represents class, professionalism, compassion, thoughtfulness, and impeccable thinking. If he is at Gowlings, the whole firm is a reflection of those qualities! – Iven
4. Clark Wilson LLP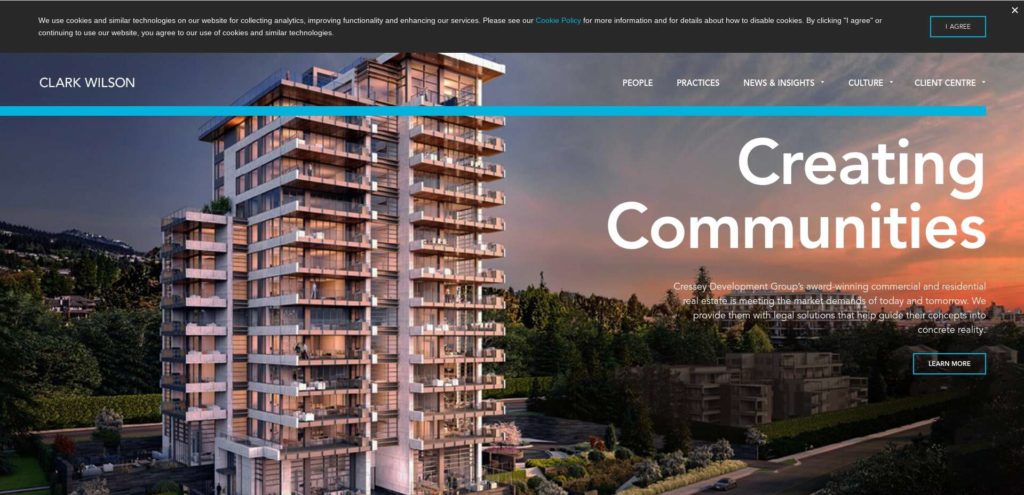 Test
Info
SERVICE
Intellectual Property Registration And Protection

Enforcement

Audits

Related Services

WEBSITE
https://www.cwilson.com/
ADDRESS
900-885 West Georgia Street, Vancouver, BC V6C 3
CONTACT DETAILS
Phone: 604-687-5700

Fax: 604-687-6314

OPERATING HOURS
Monday to Friday: 7:30 AM to 5:30 PM
| | |
| --- | --- |
| Criteria | Ratings |
| Years of experience | ★★★★★ (5/5) |
| Range of services | ★★★★★ (5/5) |
| Customer satisfaction | ★★★★☆ (4/5) |
Clark Wilson LLP is a firm of corporate and intellectual property lawyers in Vancouver. Despite being based in Vancouver, the firm serves the entirety of British Columbia and Canada.
With hundreds of lawyers and a history you can trace back to a century ago, Clark Wilson has built a reputation locally and internationally. We know this because they list down their work highlights and clients on their website.
The information they list and their transparency is another of their biggest strengths. Aside from their fields, Clark Wilson LLP also alphabetically lists every single legal professional they have on their team.
Information regarding their team's specializations, their contact info, and other helpful data are included. In our opinion, this allows the firm to establish rapport with clients quickly and easily as the data shows the firm's and staff's competencies.
To see how Clark Wilson performs outside their highlight reel, we talked to some of their previous clients. Most of the people we talked to praised how the team was professional and a pleasure to work with.
We also checked online reviews and saw critical comments. There are some that say the firm is reasonable and helpful, albeit respond slowly.

These harsh comments have been around for a while, but the firm has not responded to any of them. This situation makes it hard to confirm whether or not the reviews are from real clients or not.
Despite these, Clark Wilson LLP's track record, transparency, and list of important clients are enough evidence to show that they deserve a spot on this list.
Lists information about every professional they have
Provides legal services for IP and related fields
Does not respond to critique
Customer Reviews
Patient and considerate lawyers
Mr. Whelan and his assistant have been amazing to deal with. They have been patient and considerate of the sensitivity of the situation. I highly recommend Mr. Whelan and the firm. – Danielle
Professional and empathetic staff
I've attended information seminars and webinars over the years but recently needed employment law guidance and contacted Andrea Raso. She gave the guidance needed and was both professional and empathetic, an absolute pleasure to work with. I highly recommend Andrea and the Clark Wilson team for companies or individuals who need employment law advice. – Pam
5. Oyen Wiggs Green & Mutala LLP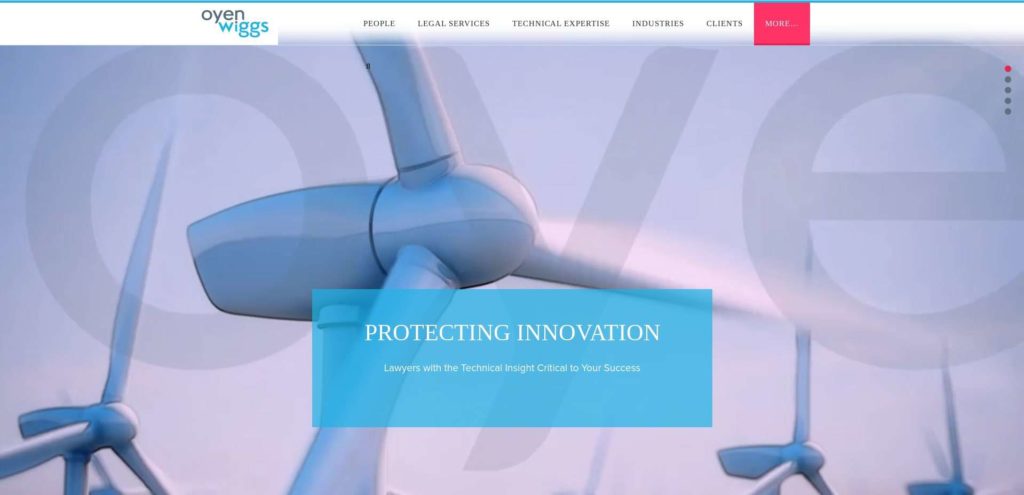 Test
Info
SERVICE
Patent Filing, Intellectual Property Evaluation

Patentability Searches

Validity Opinions

Licensing

Portfolio Management

WEBSITE
https://patentable.com/
ADDRESS
480 - The Station, 601 West Cordova Street, Vancouver, BC V6B 1G1
CONTACT DETAILS
Phone: 604-669-3432 Fax: 604-681-4081 Toll-free: 1-866-475-2922
OPERATING HOURS
[Entry's operating hours and days]
| | |
| --- | --- |
| Criteria | Ratings |
| Years of experience | ★★★★★ (5/5) |
| Range of services | ★★★★★ (5/5) |
| Customer satisfaction | ★★★★☆ (4/5) |
Oyen Wiggs Green & Mutala LLP, or Oyen Wiggs for short, is an independent firm of intellectual property lawyers in Vancouver. Unlike other firms, Oyen Wiggs only works in the fields related to intellectual property rights.
This focus has allowed them to build a sizeable client base since their establishment in 1977.
The firm offers services including patent filing and evaluation, searches, and validity opinions, as well as trademark and copyright filing and IP licensing.
One of the things we like about Oyen Wiggs is the composition of their team. Aside from the intellectual property lawyers, the firm's partners are also noteworthy because they have degrees in various fields of sciences.
The partners have knowledge of the fields of biotechnology, mechanics and engineering, physics, electrical and computer technology, and other sciences.
In our opinion, this setup allows the firm to have a deeper understanding of the inventions that may come their way. A deeper understanding may lead to more efficient work especially when it comes to prior art searches due to their familiarity with the scientific niche.
Another thing we like about Oyen Wiggs is the amount of information they are willing to share. Aside from their team's bio, they also put up downloadable primers for their clients.
These primers have information about the basics of patents and trademarks which allows possible clients to learn about the steps to take and the processes that they will have to accomplish.
Despite having this kind of information, we wish that the firm specifically listed down the extent of their services. In doing so, they would make it easier for customers to read and understand exactly what they have to offer.
Regardless, we believe that Oyen Wiggs is a good choice for those who invented important and complex scientific works.
Diverse team of professionals
Transparent with team's information
Includes downloadable primers
Information on site slightly lacking
Customer Reviews
Pleasure to work with
Jayde and the team at Oyen Wiggs exceeded expectations in delivering IP protection. It was a real pleasure working with them. – Nigel
Hardworking professionals
I would highly recommend Larissa Leong and Jayde Wood of this firm, they are both incredibly hardworking and dedicated professionals who know the law inside and out. – Elizabeth
FAQs about Patent Lawyers in Vancouver
---
More Resources for Your Legal Needs