The Best Photographers in Vancouver
A picture paints a thousand words. If you've ever been captivated by a picture, then it's easy to see the truth in this old adage.
But just as a quality image can captivate viewers, a lackluster image can often have the opposite effect. So, a pro photographer can truly go a long way.
To help you choose from Vancity's many distinguished photographers, we've put together a comprehensive list chock-full of reviews, ratings, breakdowns, and FAQs.
How much does a photographer cost in Vancouver?
Like all highly skilled services, professional photography can carry a hefty cost depending on the type of photo that you need. For the most part, photographers will charge either an hourly rate or a fixed package rate.
To make sure you know what you're investing in, we've drawn up a table of services offered by some of our entries as well as their respective rates below:
Photo studio
Fees & rates
Laura Shortt Photography
Photoshoot deposit – $250 (credited towards headshots/portraits)
Single portrait or headshot – $375
Headshot package – $900
Portrait package – $1800
Vancouver Headshots Photography
Actor headshots package – $375
Mini headshot package – $225
Acting student headshot package – $350
Kids & teens headshot package – $275
Business headshot package – $350
Hair and makeup services – $25 to $200
Sachin Khona Photography
Elopements and wedding shoots – $2,950
Couple sessions & portraits – $950
Full-Day wedding coverage – $4,950
Half-day wedding coverage – $2,950
Mengatto Photography
Photoshoot deposit – $200 (credited towards photo packages)
Maternity shoot – $995
Newborn/baby shoot – $435 to $695
Family shoot – $435
Birthday shoot – $295 to $395
Engagement shoot – $435
Headshots – $395
Tomasz Wagner Photo & Films
Elopement photography – $1750
Wedding photography – $5400
Engagement photography – $950
Wedding videography – $5000
Elopement videography – $1750
8mm film – $5000
For many folks, $5,000 can be a lot to ask for any type of photography service. But, when it comes to photographers, you often get what you pay for and there's nothing worse than seeing your moments and memories from the worst angles possible.
While price is certainly not a guarantee that your pictures will be perfect, a higher rate will usually entail a higher level of skill from your chosen photographer.
So, while there's no need to break the bank, it would be wise to invest in your lensman.
The Best Photographers in Vancouver
To make sure we're truly providing you with a list of the best options in Vancouver, we've analyzed each of our entries based on the following criteria.
Now that we've covered the rates of our photographers and the standards used to select them, it's time to unveil our list.  Without further ado, here are our selections for the best photographers in Vancouver.
1. Laura Shortt, Laura Shortt Photography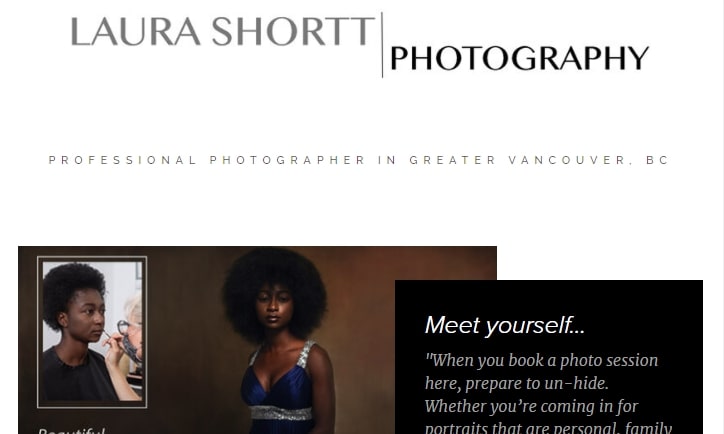 SERVICES
Corporate headshots
Portraits
Maternity photos
Glamour shots
WEBSITE
https://www.laurashortt.com/
ADDRESS
4395 Fraser St, Vancouver, BC V5V 4G4, Canada
CONTACT DETAILS
Toll-free number: 1 (855) 847-9991
Email:

[email protected]

OPERATING HOURS
Monday: 9 am – 5 pm
Tuesday: 9 am – 5 pm
Wednesday: 9 am – 5 pm
Thursday: 9 am – 5 pm
Friday: 9 am – 5 pm
Saturday: 9 am – 5 pm
Sunday: closed
Laura Shortt is an extremely artistic photographer who, in her own words, has a penchant for exploring the beauty in all of her subjects. Because of this, she often specializes in capturing strong, profound portraits of women.
Laura's client handling skills have been honed over several years of working closely with different subjects. This makes her very easy to work with since many clients feel comfortable with expressing themselves in the studio.
From what we can gather, many of Laura's previous clients are very pleased with her ability to capture the essence of a subject. Along with this, we've also found tons of positive feedback on her highly personable approach to photography.
Aside from artistic portraits, Laura's skills also translate well to standard headshot photography. In the past, she has worked with small business owners and corporate executives to create professional photos for various purposes.
While we're on the topic of her previous work, we'd be remiss if we didn't mention that Laura's photos have actually been used by Vogue. To be more specific, Laura's portrait of Akosuya Miki, a model, was used as a featured photo for vogueitalia.com.
As it's one of the world's premier fashion authorities, producing a photo worthy of Vogue is no small feat. With this in mind, we feel confident in saying that Laura is an excellent choice for clients who want to capture an artsy, glamorous self-portrait.
Now, if you're looking for an event photographer, It may be best to check out our other entries. Though she certainly knows her way around a camera, Laura's lack of experience in other fields of photography restricts her to in-studio portrait sessions.
Excellent for artistic portraits
Work has been featured in Vogue
Regularly works with female models
Comfortable with Boudoir and nude portraits
Generally restricted to headshots and portraits
Not ideal for event photoshoots
Customer Reviews
She is both professional and very knowledgeable
"Laura is truly the sweetest and kindest photographer you could ever meet and work with! She guided me every step of the way. From outfit choice, makeup, and posing. She is both professional and very knowledgeable on posing and finding the right angles which work for your body. She made me feel comfortable throughout the entire time I was in front of the camera. I had a wonderful and fun experience. I would definitely recommend booking a session with her!" – Victoria I
Positive energy, great skills, good communicator
"Working with Laura was fantastic. Positive energy, great skills, good communicator – everything you'd want from a photographer. Her prices are a bit higher than average, but the quality definitely reflects that. If you're around the Vancouver area, she's a great choice." – Linden S.
2. Ian Redd, Vancouver Headshots Photography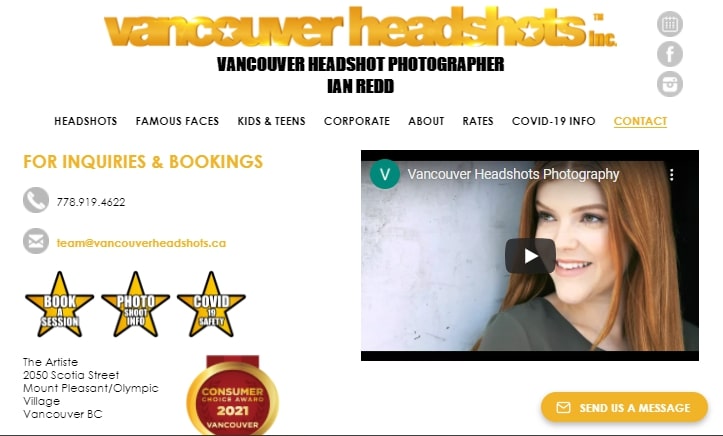 SERVICES
Headshots
Professional portraits
Corporate photos
WEBSITE
https://www.vancouverheadshotphotographer.ca/
ADDRESS
507-2050 Scotia St, Vancouver, BC V5T 4T1, Canada
CONTACT DETAILS
Phone number: (778) 919-4622
Email:

[email protected]

OPERATING HOURS
Monday: closed
Tuesday: 10 am – 6 pm
Wednesday: 10 am – 6 pm
Thursday: 10 am – 6 pm
Friday: 10 am – 6 pm
Saturday: 10 am – 6 pm
Sunday: 10 am – 6 pm
Ian Redd is the head lensman of Vancouver Headshots Photography. As his studio's name suggests, Ian specializes in the art of headshot photography, which is easier said than done considering the different subjects and emotions involved in such photos.
From kids and teens to executives and actors, Ian has worked with an extremely diverse base of clients. A large number of his works are professional headshots for actors starring in shows and films like Riverdale, Ghostbusters, Star Trek, and Altered Carbon.
Suffice it to say that his ability to create photos worthy of the entertainment industry makes Ian uniquely suited for budding actors and A-list celebrities alike. Of course, Ian's experience also lends itself well to professionals from other industries such as business and marketing.
As evidence of this, countless clients have praised Ian and his team for their ability to direct subjects extremely well. We believe this will be helpful to clients who have trouble with posing and establishing their presence during a photoshoot.
To help clients find their best angles during a shoot, this studio also has a full in-house hair and makeup team. This can be quite helpful if you can't find the time to head to a salon before your photoshoot.
Overall, Ian's skill set makes him an excellent option for anyone in search of a proper professional headshot. The fact that this studio supplements its photo services with hair and makeup options also adds convenience that isn't always found in other photo studios.
Regularly works with actors
Great at directing subjects during shoots
Offers an in-house hair and makeup service
The studio is closed on Mondays
Restricted to headshot photoshoots only
Customer Reviews
He and his team were absolutely fantastic.
"Ian Redd and his team at Vancouver Headshots Photography are simply the best. I was honestly a bit nervous (I hadn't had professional headshots taken in years, not since the start of the pandemic) and a friend of mine recommended him to me as the best in Vancouver. He and his team were absolutely fantastic. Professional, upfront about the pricing, timely, and Ian gave a wide selection of shots. I only went for the smaller package, but even with the two look headshot package, there was a lot of choice in what the final product looked like. I'll be using his services again, and I can't recommend him enough." – Patrick O.
My son loved his experience – even though he hates changing outfits.
"Ian Redd & his studio team @ Vancouver Headshots Photography were great! I liked that they provided a bunch of information before hand so we could come prepared (since we were from Alberta). Everything was seamless before and during the shoot. I loved the way Ian interacted with my son to get shots and that his assistant was there to make sure everything was always in place for the shot. I got to sit back and enjoy! My son loved his experience – even though he hates changing outfits. I am impressed and have not even seen the photos yet!" – Kandis B.
3. Sachin Khona, Sachin Khona Photography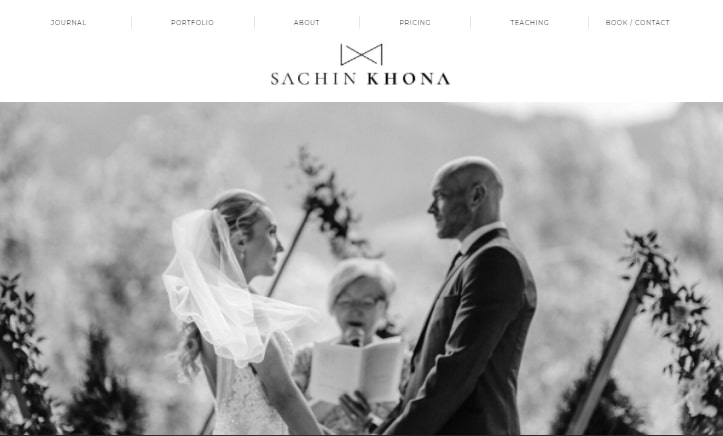 SERVICES
Wedding photography
Documentary-style photography
WEBSITE
https://sachinkhona.com/
ADDRESS
170-422 Richards St, Vancouver, BC V6B 2Z4, Canada
CONTACT DETAILS
Phone number: (604) 728-6820
Email:

[email protected]

OPERATING HOURS
Open 24/7
Sachin Khona is a one-man wedding photographer who is well-known for documentary-style photoshoots. For those who are unfamiliar, documentary-style photography focuses on telling a story through real, straightforward shots.
By using this specific style of photography, Sachin is able to capture weddings, engagements, and elopements in a more nostalgic light. The accuracy of documentary-style photography also helps ensure that crucial points of an event are captured in great detail.
Since he works alone, Sachin is solely responsible for recording every moment of a wedding from the prenup to the reception. This often leads to him building strong connections with couples, which in turn helps them feel more comfortable in front of the camera.
By making his clients feel more at ease, Sachin's presence becomes less intrusive to subjects. This allows him to capture extremely intimate moments that would otherwise be spoiled by the presence of a photographer.
Although he is based in Vancouver, Sachin has also expressed his willingness to travel abroad to cover international weddings. This can be handy if you're planning on having a destination wedding outside of the Great White North.
Given his ample experience, unique style, and friendly demeanor, Sachin can be a great option for those who want to capture their wedding in great detail. The fact that he works alone also means that he can move around wedding venues without drawing too much attention.
Uses a unique style of photography
Develops strong connections with clients
Covers domestic and international weddings
Relatively high service rates
Only covers weddings/elopements
Customer Reviews
Sachin is an All-Star
"Sachin is an All-Star. I'm usually a shy guy and used to being behind the camera but Sachin had me feeling comfortable and confident on my wedding day. We loved all of his photos, but what I loved most was the raw moments he captured during the wedding. It's not something everyone can capture and it adds so much more to the album." – Adam H.
We couldn't be happier with the outcome – thank you Sachin!
"My wife and I wanted family photos in a documentary style and we quickly realized that Sachin was the perfect photographer to take them. He was professional, amazing with our girls (and dog!) during the actual shoot and delivered images that we will be displaying in our home for years. We couldn't be happier with the outcome – thank you Sachin!" – Mathias F.
4. Cris Mengatto, Mengatto Photography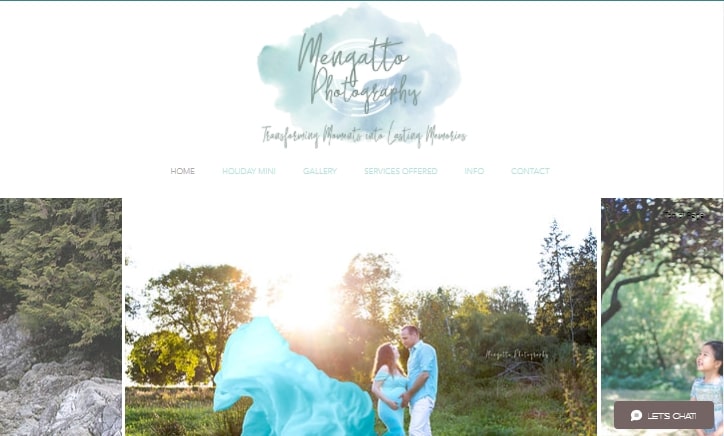 SERVICES
Maternity photos
Baby photos
Family photos
Engagement photos
Photobook crafting
Wedding photos
Headshots
Commercial photos
WEBSITE
https://www.mengatto.com/
ADDRESS
1333 Haro St #904, Vancouver, BC V6E 1G4, Canada
CONTACT DETAILS
Phone number: (778) 877-8344
Email:

[email protected]

  
OPERATING HOURS
Monday: 8 am – 7 pm
Tuesday: 8 am – 7 pm
Wednesday: 8 am – 7 pm
Thursday: 8 am – 7 pm
Friday:8 am – 7 pm
Saturday: 9 am – 6 pm
Sunday: 12 pm – 6 pm
Among the entries on our list, Cris Mengatto is one of the most versatile photographers in terms of overall skill. We say this since she regularly participates in maternity shoots, newborn shoots, special events, and commercial photography.
Along with these traditional photoshoots, Cris also offers more unique options such as cake smashes and underwater shoots. This can be especially fun for clients who want to try a different kind of photo experience.
Among her numerous services, Cris is particularly gifted when it comes to capturing babies and toddlers, regardless of how active they are. Many clients attribute this to her ability to make photoshoots fun for kids through the use of toys, props, and sometimes even parents.
The majority of Cris's portfolio consists of children's photos and maternity shots. Naturally, this makes her slightly more suited to expectant mothers or parents who want to capture some heartfelt memories with their children.
But with that said, Cris still has plenty of experience in almost every other aspect of photography. As stated earlier, she has produced professional-grade headshots, advertisement photos, and even prenup shoots.
Taking all of this into account, we believe Cris is a jack of all trades with an edge in children's photography. With this in mind, she's able to cater to a wide variety of clients which makes her a great option for general photography services overall.
Great with kids
Offers underwater photography
Has a very wide skill set
Offers an additional scrapbooking service
Photo sessions must be reserved months in advance
Not suited to covering large events
Customer Reviews
She also managed to capture huge smiles from our one year old son!!
"We would highly recommend Cris! We had such a great experience for our fall family photoshoot! She also managed to capture huge smiles from our one year old son!! She delivered an amazing selection of photos. We loved them all so much we had trouble choosing! We will be booking her again in the future! Thanks Cris!" – Siobhan M.
She was patient with our newborn baby and very gentle
"Cris was amazing to work with for our maternity and newborn photos! She was very professional and organized and quickly answered our questions. She got to know our family so that she could capture the best photos of us. She was patient with our newborn baby and very gentle. In the midst of COVID we felt safe having our photos taken by Cris. We highly recommend her as a maternity/newborn/family photographer and will definitely be using her expertise again in the future to capture our family memories!" – Nicole D.
5. Tomasz Wagner, Tomasz Wagner Photo & Films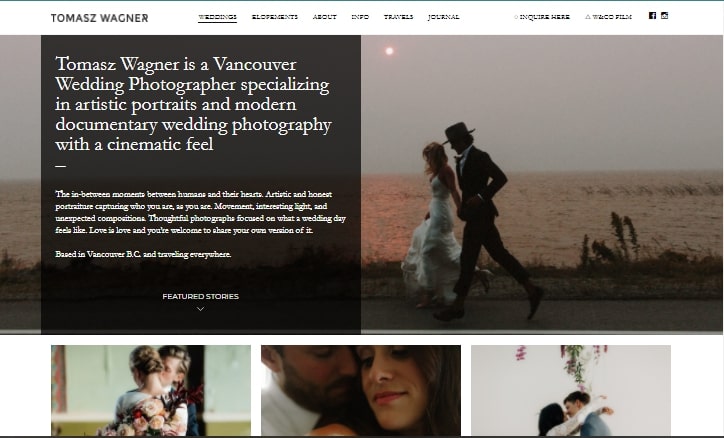 SERVICES
Wedding photos
Wedding portraits
Documentary photos
Wedding videography
WEBSITE
https://tomaszwagner.co/
ADDRESS
336 E 1st Ave, Vancouver, BC V5T 4R6, Canada
CONTACT DETAILS
Email:

[email protected]

OPERATING HOURS
Monday: 9 am – 7 pm
Tuesday: 9 am – 7 pm
Wednesday: 9 am – 7 pm
Thursday: 9 am – 7 pm
Friday: 9 am – 7 pm
Saturday: closed
Sunday: closed

Much like one of our other entries, Tomasz Wagner has chosen to focus exclusively on covering weddings and elopements. What sets Tomasz apart is that he is one of the few lensmen on our list who can boast strong skills in both photography and videography.
Sometimes photos aren't enough to help you relive your special day in vivid detail. Because of this many people often hire film crews alongside photographers to maximize their overall wedding coverage.
The benefit of working with Tomasz and his team of videographers is the fact that you'll only need to hire one studio. In addition to this, Tomasz's studio is one of the few that offers photos and videos in both digital and super 8 film formats.
While this may seem insignificant or outdated, many clients have expressed their satisfaction in being able to relive their special day through a customized film. If a client so desires, Tomasz is even willing to build a storyline around a wedding to give a more cinematic feel.
Though we haven't had the privilege of watching his films, Tomasz's portfolio is filled with highly stylized shots similar to those one would see in a magazine. This modern documentary photo style blends raw personalized shots with unique perspectives and filters.
We must admit, Tomasz's services come at quite a high cost, but this is likely due to his eccentric style of documentation. In exchange for highly stylized wedding photos and a custom wedding film, many clients would say that the investment is well worth it.
Creates custom super 8 wedding films
Offers both photography and videography services
Employs a highly skilled team of videographers
Super 8 film services can be upwards of $7,000
Not ideal for those who prefer traditional wedding photos
Customer Reviews
He is worth his weight in gold!!!
"Tomasz has 5/5 for good reason! He was an absolute pleasure to work with and we couldn't be happier. We'd received the advice that you want to invest in a photographer, and it was completely worth it. He is worth his weight in gold!!!" – Darcy M.
Fantastic photographer, and also a lovely person!
"We could tell as he was taking our photos that Tomasz was passionate about his job as a photographer, which was so charming and refreshing to see, and which also 100% showed in his photos, which made us (like, normal looking humans) look basically magazine-worthy. Fantastic photographer, and also a lovely person!" – Nusha B.
FAQs About Photography
---
That concludes our selections for the best photographers in Vancouver. As you can see, each of our entries excels at different styles of photography.
The question of which photographer is best for you depends entirely on your specific wants and needs. As a rule of thumb, it would be wise to look for a photographer with ample experience in the style and subject matter of your choosing.
If you intend to participate in a photoshoot you'll no doubt want to look your best for the camera.  To do our part, we've prepared a similar list of reviews and breakdowns for the best dermatologists in Vancouver.