Take it from us: Davie Street is undoubtedly one of downtown's most vibrant and diverse streets. There's just lots to do here, and we often find ourselves spending the whole day exploring!
So if you've soaked up enough of Vancouver's parks and beaches, why not head over to Davie Street for a change of scenery? We promise, you'll enjoy it here.
What Is Davie Street famous for?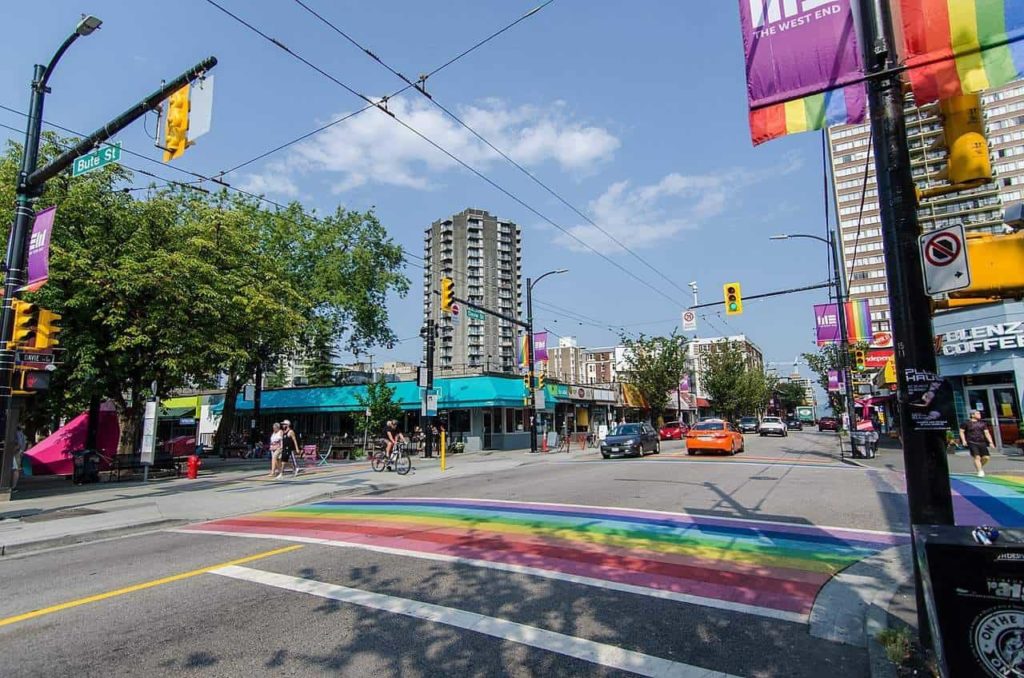 Davie Street is famous for its vibrant LGBTQ+ community and its role as the epicenter of Vancouver's LGBTQ+ scene. It's a place where diversity, acceptance, and celebration are embraced wholeheartedly.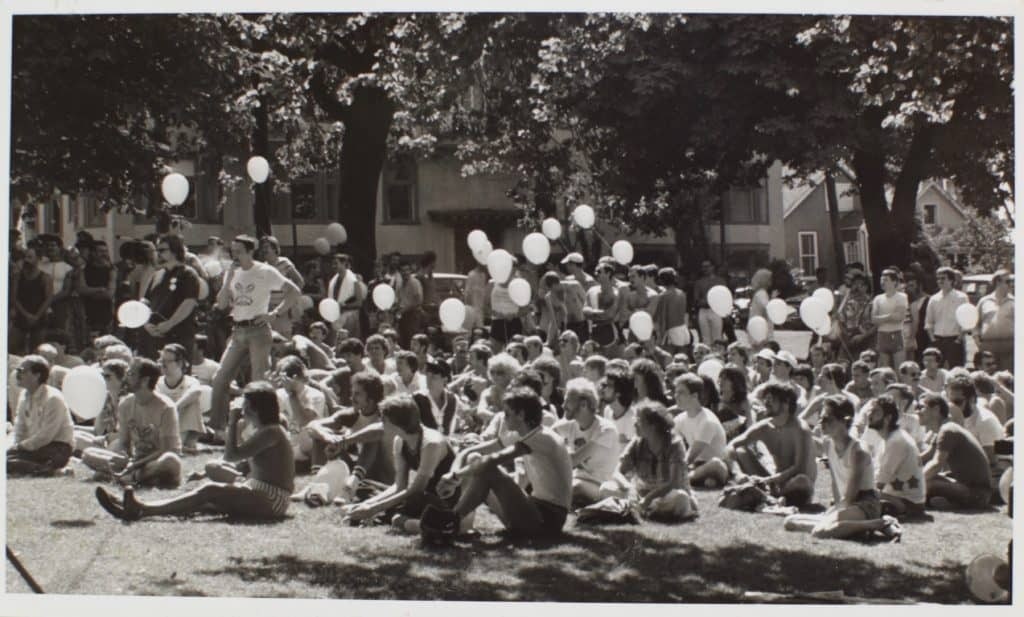 Here's a little history for you: When the Gay Alliance for Equality held its first rights demonstration in 1971, gay-friendly businesses began to move into this area.
The first gay pride celebration took place here the following year, and it eventually developed into a major parade every summer!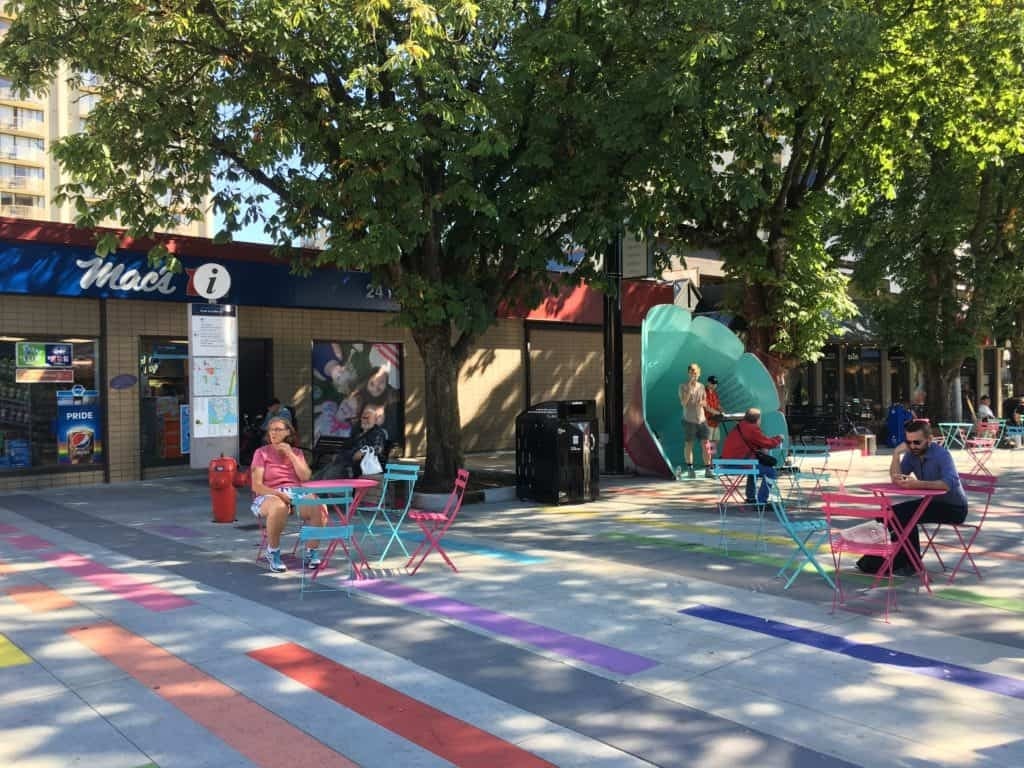 Since then, Davie Village has been a safe haven for the LGBTQ+ community in Vancouver. The streets are lined with rainbow flags, bustling nightclubs, trendy bars, and fabulous drag shows.
It's also known for its incredible dining options, from cozy cafes to international cuisine. Ultimately, Davie Street is not just a destination; it's a symbol of inclusivity, love, and self-expression.
Best Time to Go
The best time to go to Davie Street in Vancouver is during the summer months of June to September. During this time, the temperature is around 20° to 22°, making it perfect for outdoor activities and exploring the vibrant street life.
If you want to avoid the crowds, it's best to visit Davie Street in the early morning or late afternoon as it can get crowded at night as this is when the street comes alive with bustling nightlife and popular bars and clubs.
Things to Know
Currency: Canadian Dollar
Language: English
Calling Code: +1
How to Get To Davie Street
From Vancouver International Airport
From YVR, take the Skytrain and get off at the Yaletown-Roundhouse station in Downtown Vancouver. Then, ride the C23 bus up to Davie and Bute Streets.
From Horseshoe Bay (BC Ferries Port),
Once you get off the port, you can take the 250 or 257 bus, as both will take you to Downtown Vancouver. Once you see Georgia and Burrard Streets, get off the bus and catch the 2, 22, 32, or 44 bus, as all of these drop off at Davie Street.
From Tsawwassen (BC Ferries Port),
From the Tsawwassen Ferries, catch the 620 bus from the terminal and get off at the last stop, which is Bridgeport Station.
Then, ride the Skytrain from Bridgeport to the Yaletown-Roundhouse Station. From there, you can catch the C23 bus up to Davie and Bute Streets.
Ride the Granville Island Ferry and get off at the Aquatic Centre Dock. Then walk up the hill until you reach Davie Street.
What to Do in Davie Street
Drop by the Jim Deva Plaza
Address: 1200 Bute St, Vancouver, BC V6E 1N3, Canada
Phone: +1 604-696-0144 ext. 225
Website
The Jim Deva Plaza should be a must-visit when you're in Davie. It's hard to miss; just find the rainbow crosswalks at Davie and Bute, and you'll be at the heart of Vancouver's vibrant LGBTQ+ community.
The plaza is named after Jim Deva, a prominent LGBTQ+ activist, and features a large "megaphone" soap box commemorating Deva's extensive advocacy work for free speech and gay rights.
Get Spiritual Advice from Juan the Psychic
Do you have any unanswered questions weighing heavy on your mind? Let me help you! https://t.co/Imji2ZuDdu #Astrology #Psychometry #PhotoReading pic.twitter.com/V3n6ZMkXOz

— JUAN THE PSYCHIC (@JUANTHEPSYCHIC) August 17, 2018
Address: 1026 Davie St Suite 310, Vancouver, BC V6E 1M3, Canada
Phone: +1 778-990-9785
Website
Whether you need it or not, consider dropping by Juan The Psychic for some spiritual guidance. Juan is a third-generation psychic, and all we can say is that if you decide to swing by here, come with an open mind and heart.
All you have to do is sit down with Juan and allow him to tap into your energy and provide you with insights and guidance. We highly recommend the experience.
Grab a Cold One at The Fountainhead Pub
Address: 1025 Davie St, Vancouver, BC V6E 1M5, Canada
Phone: +1 604-687-2222
Website
The Fountainhead Pub has been a staple in Davie for over 20 years and is known for its lively atmosphere and large beer selection on tap. Inside, there's a pool, darts, and a large TV screen for sports enthusiasts.
Get the Big F@%#ing Glass and enjoy a cold beer here after a long day of exploring Davie. Just make sure to also order chicken wings along with your beer; they're cooked to order and the Scotty's Fried Chicken Wings are a local favorite.
Where to Shop in Davie Street
Visit the Little Sister's Book and Art Emporium
Address: 1238 Davie St, Vancouver, BC V6E 1N3, Canada
Phone: +1 604-669-1753
Website
The Little Sister's Book and Art Emporium is famous for its unique selection of books and art pieces. If you're a bookworm, you'd be very happy to shop here, as you can score incredible used books for a great price.
What makes this bookstore unique is its variety of LGBTQ2+ books, new and used, ranging from artistic to erotic to informative. You can also score shirts, accessories, and other merchandise that showcase LGBTQ2+ pride and support.
Quick Nickel Clothing
Address: 1736 Davie St, Vancouver, BC V6G 1W3, Canada
Phone: +1 604-689-8910
Website
When it comes to discounted fashion items, Quick Nickel Clothing definitely tickles our fancy. This store has been the West End's go-to since 1989, and you can score just about anything from menswear, women 's clothing, accessories, and even jewelry.
Mine & Yours
Address: 418 Davie St, Vancouver, BC V6B 2G3, Canada
Phone: +1 236-521-9036
Website
Looking for discounted, authentic designer pieces? Fine, we're not going to gatekeep. Just beside JJ Bean is Mine & Yours, where you can score second hand designer clothing, shoes, and accessories.
They curate a wide selection of high-end brands like Gucci, Prada, and Chanel, and their staff is very knowledgeable, so don't be afraid to ask for recommendations or assistance.
Where to Eat in Davie Street
Score on Davie
Address: 1262 Davie St, Vancouver, BC V6E 1N3, Canada
Phone: +1 604-632-1646
Website
Score on Davie serves epic Caesars, and no, we don't mean the salads. When we say Caesars, we mean the legendary cocktails topped with classic fried favorites like hot wings, corn dogs, tempura, and tater tots.
Want our advice? Get the 'Checkmate' Caesar ($60) and tell us if you're still hungry. This meal includes a pulled pork slider, mac and cheese hotdog, burger, onion rings, and hot wings… need we say more?
Manoush'eh
Address: 620 Davie St, Vancouver, BC V6B 2G5, Canada
Phone: +1 604-440-4402
Pricing: $
Website
Manoush'eh is a small, cozy spot on Davie Street that serves the national pie of Lebanon: the manousheh. Want our advice? Get the original manousheh first so you can get a head start before trying the other delicious flavors they offer.
Once you try the original manousheh, you'll be hooked on its delicious combination of fresh dough, tangy za'atar spice blend, and rich olive oil. Pair this with their lentil soup or creamy hummus, and we swear it's a match made in heaven.
Arike Restaurant
Address: 1725 Davie St, Vancouver, BC V6G 1W5, Canada
Phone: +1 604-336-9774
Pricing: $$
Website
If you're fond of African and Canadian cuisines, come to Arike Restaurant. This award-winning restaurant has been named the best in African and Caribbean cuisine by Vancouver Magazine in 2022.
Arike offers a singular tasting menu where you get a taste of global flavors, as in dry aged beef and suya (Nigerian grilled meat) cooked with confit onion or cassava fries, which really beats traditional French fries.
Tom Sushi
Address: 1175 Davie St, Vancouver, BC V6E 1N2, Canada
Phone: +1 604-336-0855
Pricing: $$
Website
Good sushi is hard to come by, but Tom Sushi is definitely worth a try. Chef Tom Jeon combines traditional Japanese flavors with the west coast, and the result? A unique and delightful fusion of culinary artistry.
Get the Salmon Amaebi Zuke Donburi. This sweet and sour dish topped with soy sauce is best paired with Japanese sake in moderation (this is a reminder that just because sake doesn't taste like vodka, it doesn't mean you should underestimate its power!).
La Belle Patate
Address: 1215 Davie St, Vancouver, BC V6E 1N4, Canada
Phone: +1 604-569-1215
Pricing: $
Website
Lâche pas la patate! (Don't let go of the potato!). La Belle Patate is an authentic Québécois restaurant that serves over 38 different types of poutine, including fries, curds, and gravy.
Don't be afraid to get creative and add chicken, pork, and ground beef, and don't forget to wash it down with a cold bottle of beer.
Helka Cafe
Address: 1102 Davie St, Vancouver, BC V6E 1X4, Canada
Phone: +1 604-428-8180
Pricing: $$
Website
This one-stop brunch spot at Davie is the perfect first stop to grab breakfast like their famous Works Bowl—hashbrown with poached eggs and Hollandaise sauce—paired with an espresso drink (or mimosas).
There's some outdoor seating, but more inside. The staff is very efficient, and you get your orders pretty quickly.
Where to Stay in Davie Street
Sandman Suites Vancouver
Address: 1160 Davie St, Vancouver, BC V6E 1N1, Canada
Phone: +1 604-681-7263
Pricing: $$
Book Now
Sandman Suites is a 24-story all-suite hotel along Davie Street, and it provides guests easy access to some of Vancouver's famous landmarks: Stanley Park, English Bay Beach, and Granville Island.
Inside the hotel is a fitness centre, outdoor pool, restaurants, meeting rooms, and banquet facilities. Sandman Suites is also a pet-friendly hotel so selected rooms allow guests to bring their pets along.
Sonder The Sunset
Address: 1111 Burnaby St, Vancouver, BC V6E 1P4, Canada
Phone: +1 438-795-6650
Pricing: $$
Book Now
If you're looking for a minimalist stay, then Sonder The Sunset is the way to go. You're greeted by a vibrant red-blue awning at the entrance, and inside are contemporary-designed rooms with sleek furniture and clean lines.
The rooms here are also very spacious, as they were originally designed as apartments. Each room has a balcony, fully-equipped kitchenette, and a Roku so you can watch your favorite shows.
Residence Inn by Marriott
Address: 1234 Hornby St, Vancouver, BC V6Z 1W2, Canada
Phone: +1 604-688-1234
Pricing: $$$
Book Now
Nestled in the vibrant heart of Downtown Vancouver, the Residence Inn by Marriott offers modern and smartly designed studios with fully equipped kitchenettes.
The property has a luxurious yet homey vibe, which is enhanced by their services—a daily breakfast buffet, a 24-hour fitness center, an indoor pool, and an outdoor terrace area where guests can relax and lounge.
The Burrard
Address: 1100 Burrard St, Vancouver, BC V6Z 1Y7, Canada
Phone: +1 604-681-2331
Pricing: $$
Book Now
Staying at the Burrard feels like you're in a Tim Burton film, with its quirky and eclectic decor. The hotel has a whimsical charm in every nook and cranny, from the neon signage and teal walls to the palm tree courtyard.
You'll stay in rooms with Nespresso machines, aluminum office chairs, and playful aesthetics like oddly shaped lamps and vintage-inspired artwork (they also offer free calling anywhere in North America).
Apps to Download for a Trip to Davie Street
Vancouver Transit Live: Real-time bus schedule updates help you stay on top of your commute.
iOs | Android
Paybyphone: Pay for meter parking with the touch of a button, set text reminders, and have your receipts emailed to you.
iOs | Android
Yellow Cab: Book a taxi and schedule a pick-up anywhere in Vancouver.
iOs | Android
Street Food Vancouver: Locate food trucks and carts near your area.
iOs | Android