The 6 Best Art Schools in Vancouver
Looking for the right place where you can hone, build or improve your skill in arts? You're on the right page: our reviews today are about the best art schools in Vancouver.
Here, you can also find various programs that you can get into, depending on what career in art you want to pursue, as well as some background information about each of the schools that can be helpful to you.
How much does going to an art school in Vancouver cost?
The cost of going to art schools varies thanks to a number of factors, not least being the programme you take. Still, we put together an estimate of the tuition fee ranges for these schools below.
However, take note that they may change in the future, as schools do revise tuition fees often.
Art School
Tuition Range
Visual College of Art and Design of Vancouver
Domestic: $8,986.85 – $45,639
International: $35,644.75 – $57,771.34
Capilano University
Domestic: $4,934 – $14,646
International: $77,325
LaSalle College Vancouver
Domestic: $24,000
International: $26,000
Emily Carr University of Art and Design
Domestic: $2,770
International: $48,125
Vancouver Film School
Domestic: $33,750
The Best Art Schools in Vancouver
The schools provided on this list were carefully reviewed and picked to help individuals decide which art school is right for them. These ones stood out based on the various programs and services they offer.
1. Visual College of Art and Design of Vancouver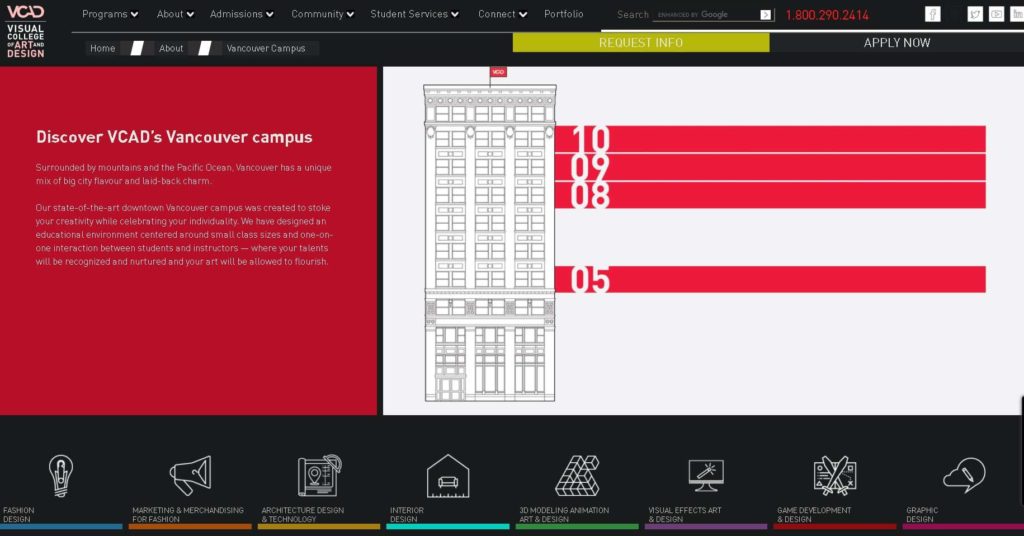 SERVICES
Fashion Design
Marketing and Merchandising for Fashion
Architecture and Design Technology
Interior Design
Interior Design with Co-op
3D Modelling Animation and Art & Design
Visual Effects Art and Design
Game Development and Design
Graphic Design
ADDRESS
626 West Pender Street, in the centre of downtown Vancouver, British Columbia.
CONTACT NUMBER
1-800-290-2414
WEBSITE
https://www.vcad.ca/about/vancouver-campus/
OPERATING HOURS
Monday-Friday: 7:45am-10pm
Saturday: 8am-6pm
The Visual College of Art and Design was established as a branch of the Victoria College of Art and Design. VCAD's programs range from animation, interior design, web design, fashion, and graphic design and can be found in different locations such as Mississauga, Calgary, and Vancouver.
The Vancouver campus is located within walking distance of several coffee shops, art galleries, shopping, and entertainment districts. That's a convenience a fair number of students will appreciate, in our opinion.
However, it does come with a downside: noise can be pretty high in the area. This is one thing to consider if you're sensitive to that or would prefer a quieter academic environment.
That said, the school is well-known for providing its students with a versatile space for study. It's one where they can hone and accentuate their creative skills.
VCAD's campus in Vancouver was built to help an individual sharpen and flourish in their artistry, in fact. Among other things, students can do that with the help of their state-of-the-art VCAD Student Lab.
The lab is armed with industry-standard PCs and iMacs with software and hardware fully updated with the programs the students need to use in their field. This includes the complete Adobe Creative Suite and complete Microsoft Office Suite, among others.
Aside from the VCAD Student Lab, various professional machines are also provided such as sewing machines, video, and photography equipment, cutting tables, and more.
The Visual College of Art and Design also has online classes for those across the country. The school provides a wide range of programs online and we think this will help the students maintain a balance between work, study, and life.
With all of this in mind, we highly recommend giving The Visual College of Art and Design a look. As far as we can see, the school is heavily invested in providing the best for its students and is certainly equipped with the facilities for it.
Excellent facilities, fully equipped with software and hardware
Online classes available
The location allows easy access by bicycle, transit, or cars
Near a busy and loud street
Relatively high tuition fees
Does not offer on-campus housing
2. Capilano University
SERVICES
Arts and Sciences
Business and Professional Studies
Education, Health and Human Development
Fine and Applied Arts
Global and Community Studies
ADDRESS
2055 Purcell Way North Vancouver, BC V7J 3H5
CONTACT NUMBER
604-986-1911
WEBSITE
https://www.capilanou.ca/
OPERATING HOURS
Monday-Friday: 8:30am-4pm
The Capilano University was named after a very important leader of the Squamish Nation of the Coast Salish Peoples, Chief Joe Capilano. The campuses are also located on the ancestral territory of the Squamish Lil'wat, Sechelt, Musqueam, and Tsleil-Waututh Nations.
CapU enrols a ton of students and takes a total of 11,600 students each year. The university is well known for performing arts, film, and animation.
In any case, there are several things to like about CapU, in our opinion.
For instance, individuals get on and off-campus student services that offer access to notable academic advisors and support. These include health and wellness, athletics and recreation, academic support, academic advice, career development, and CapU Residence housing.
Students will also have access to various learning facilities like gyms, studios, and theatres – which can also serve as recreational facilities, come to it.
Based on the school's events and student services, we like how Capilano University offers the students a helping hand. They seem to support as well as challenge them to help hone and accomplish their skills on and off-campus.
Capilano University also offers online classes. They use various tools to support the courses delivered: Kaltura for streaming and video creation, Microsoft Teams and WebEx for videoconferencing, and eLearn for their learning management system.
That's another nice point of convenience for those who intend to take courses at this school, as it means location won't be much of an issue.
However, we do have to note something that may cause some to think twice before applying at this university: the fees are on the high side if you're an international student. If you're in that category, you may want to look elsewhere if money is a concern.
On-campus housing is available
Financial aid is supported
Superb student resources and support
Many scholarship offers
High fees for international students
3. LaSalle College Vancouver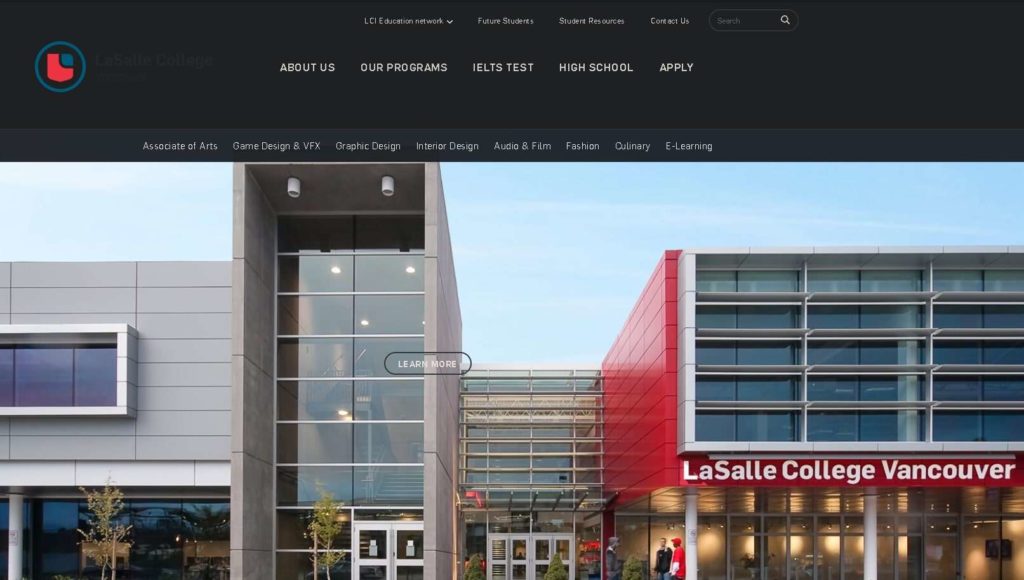 SERVICES
Game Design and VFX
Graphic Design
Interior Design
E-Learning
Audio and Film
Fashion
Culinary
Associate of Arts
ADDRESS
2665 Renfrew St, Vancouver, BC V6MDA7, Canada
CONTACT NUMBER
+1 866-717-8080
WEBSITE
https://www.lasallecollegevancouver.com/
OPERATING HOURS
Monday-Friday: 7am-11pm
Saturday: 8am-6pm
Sunday: 10am-2pm
LaSalle College Vancouver is an ESL school that slowly expanded and concentrated on programs that are design-based.
Today, these programs include the following: 2D/3D Animation, Graphic Design, Jewelry Design, Interior Design, Artistic Make-up Design, Fashion Merchandising, and Fashion Design, and Video Game 3D Modelling.
LCV is now widely known to be the top undergraduate school in Canada for the category of Video Game Design. The school is also known for having professors who are industry-experienced, as well as a very welcoming environment.
One notable professor we found is founder of gaming company Ludos Factory, Prof. Marcel Casarini. Casarini started teaching Game Design at LCV in 2016.
If you want to learn more about LaSalle College Vancouver's professors and campus, it's actually very easy to do so. The college even encourages the public to visit their campus in order to get a glimpse of what it is like as a student under their roof!
A guided tour is included during campus visits as well. The tour will be filled with discussions with professors and other students as well as meetings with the support staff.
As for the location of the campus, it is very conveniently situated in Metro Vancouver. In fact, its proximity to several transport lines makes it an easy commute for the students from just about any part of the city.
For public transit access, for example, LCV is located just a few minutes away from the Renfrew SkyTrain. There are a total of three SkyTrain lines, so students have different routes they can choose from when traveling to and from the campus.
And it's a massive campus – about 80,000 square feet. It's a well-equipped one as well, with modern learning facilities such as fashion labs, industrial kitchens, green screen rooms, and other state-of-the-art technology and equipment for every individual.
Various scholarships are also offered by LCV. These range from entrance scholarships to talent, athletic and indigenous scholarships.
E-learning is also offered by LCV for all ages and geographical locations – another point in their favor. E-Learners are provided weekly virtual classes as well as self-guided learning with user-friendly programs and downloadable courseware.
Strong modern courses, such as for Game Design
Situated near a lot of main transport lines and services for easy commute
Good e-learning program
Many scholarship offers
Small classes
4. Emily Carr University of Art and Design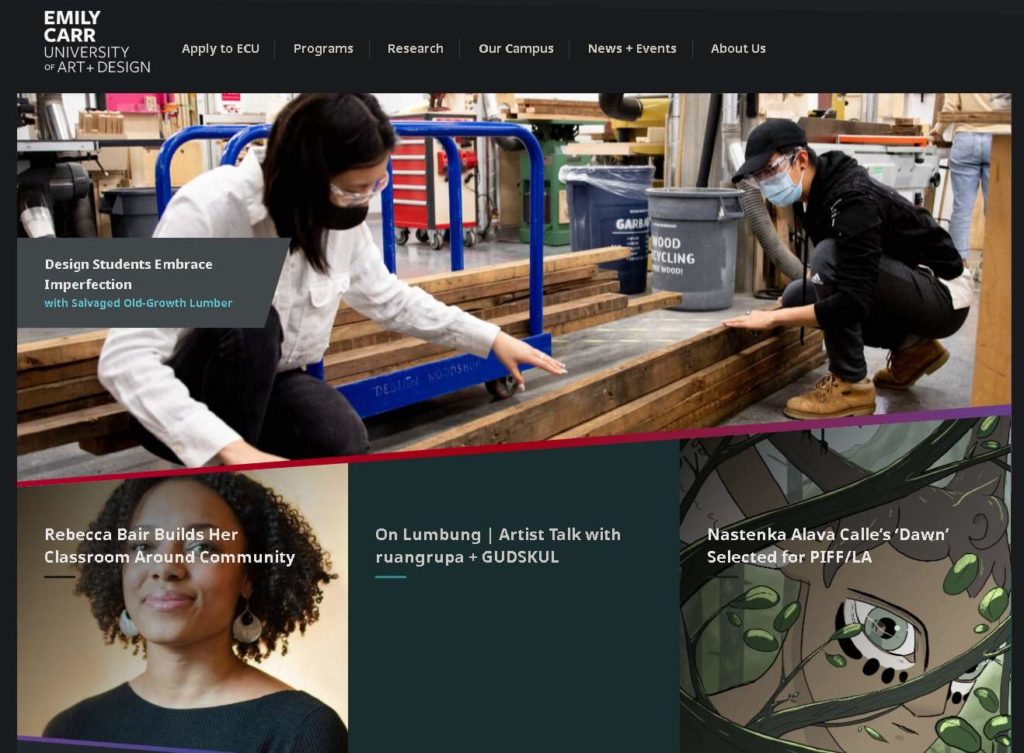 SERVICES
First-Year Foundation
2D + Experimental Animation
3D + Computer Animation
Art + Text
Ceramics
Communication Design
Critical + Cultural Practices
Curatorial Practices
Drawing
Film + Screen Arts
Illustration
Industrial Design
Interaction Design
New Media + Sound Art
Painting
Photography
Print Media
Sculpture + Expanded Practices
Social Practice + Community Engagement
Visual Arts
Writing
Master of Fine Arts
Master of Design
ADDRESS
520 E 1st Ave, Vancouver BC V5T 1E1, Canada
CONTACT NUMBER
+1 604-844-3800
WEBSITE
https://www.ecuad.ca/
OPERATING HOURS
Monday-Friday: 7:30am-1am
Saturday and Sunday: 8:30am-11pm
Emily Carr University of Art and Design is a postsecondary organization that was founded back in 1925. The university is one of British Columbia's oldest and is the only school that only concentrates on learning design, media and arts professionally.
The 26,600 square meter campus was the first-ever purpose-built center for media arts education, design, and virtual arts in the country. The university even earned itself the title of the top university in Canada when it comes to teaching art and design.
ECU also snagged the number 30 on the World University Rankings this year.
At Emily Carr University, students will be able to practice and flourish their skills and talent when it comes to designing and creating. The university aims to not just give the individuals a lesson on how to create, but also help them learn why they create.
Environment-wise, the students at Emily Carr University of Art and Design will be at the center of a creative and dynamic atmosphere.
The university offers its students 11 undergraduate programs, two graduate degrees, a Master of Digital Media, classes, programs, and certificates.
While ECU does not offer on-campus housing, we think it's good that they do offer safety and security for their students, a student's union, clubs and student initiatives, food services, and aboriginal gathering places.
ECU also has its own shops and studios facility wherein students can find guidance in their field of interest. The studios include animation, ceramics, wood design, film + screens, photography, print media, metal, and WIP Lab amongst others.
Ranked 30th in the World University Rankings 2021
Superb facilities
Focuses solely on art and design
Does not offer on-campus housing
5. Vancouver Institute of Media Arts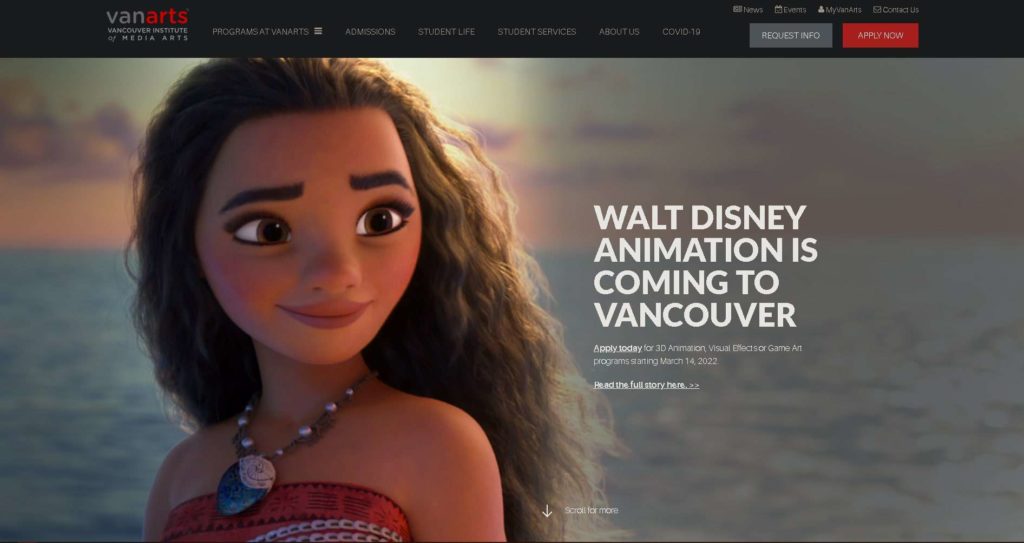 SERVICES
2D/3D Animation
Acting for Film and Animation
Broadcasting and Online Media
Professional Photography
Game Art and Design
Visual Effects for Film and TV
Web Development and Interactive Design
ADDRESS
333 Terminal Ave #400, Vancouver, BC V6A4C1, Canada
CONTACT NUMBER
+1 604-682-2787
WEBSITE
https://www.vanarts.com/
OPERATING HOURS
Monday-Friday: 8:30am-4:30pm
Academy-Award-winning director/animator Lee Mishkin was VanArts' founding program director. If that doesn't give you an idea of this school's pedigree in this area, nothing will!
For over 25 years, the Vancouver Institute of Media Arts has helped students develop their skills in different areas of media art. These include Character Animation, Game Art and Design, Visual Effects Production, Acting for Film and Television.
VanArts' goal is to unravel the creative skills, passion, and potential of each student by offering them top-notch and world-class faculty. Their professors have years of experience under their belts.
Even more telling is the success of their former students. Vancouver Institute of Media Arts is known for having graduates working at Marvel, Disney, big gaming companies, movies, and TV series.
For example, recently there were a handful of VanArts graduates that were involved in the making of Marvel's Eternals, Shang-Chi, Dune, and Ghostbusters.
What's more, their classes are good for those who prefer more one-on-one or personalized learning. You see, VanArts also offers small class sizes with adaptable and specialized curriculum to help students focus more.
The school also offers student services such as housing, academic policies, health and safety, communications and IT, career support, and alumni services.
Graduates are known for working in big companies like Disney and Marvel
Financial aid available
Relatively high tuition fee
No on-campus housing
No e-learning programs
6. Vancouver Film School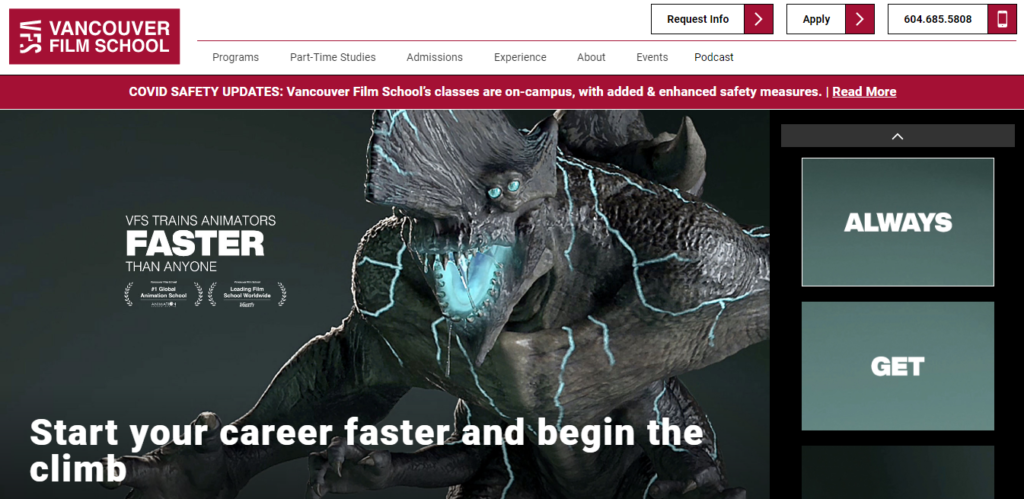 SERVICES
3D Animation & Visual Effects
Acting for Film & Television
Animation Concept Art
Classical Animation
Creature Animation
Digital Design
Film Production
Game Design
Makeup Design for Film & Television
Programming for Games, Web & Mobile
Sound Design for Visual Media
VR/AR Design & Development
Writing for Film, Television & Games
Acting Essentials
English for Creative Arts
ADDRESS
198 West Hastings Street Vancouver, BC, Canada V6B 1H2
CONTACT NUMBER
+1 604-685-5830
WEBSITE
https://vfs.edu/
OPERATING HOURS
Monday-Friday: 9am-5pm
The Vancouver Film School is an educational institute that aims to provide its students with all-around experience and knowledge in all aspects of entertainment industry production. With a global reputation of up to 47 percent and a consistent and high-quality stream of alumni since its inception.
They currently have a roster of 15 postsecondary programs that can stimulate experiences within the industry while also assisting their students in gaining more technical knowledge that they require in order to have standards that are aligned with the industry.
Because they accommodate physical classes, they provide students with counseling to help them settle in the area, such as housing, ESL support, and student events to enrich their learning experience.
It is important to note that their courses only run for a full year, which may put a strain on the students' schedule; however, part-time studies are available for students looking for a more short-term option.
They are highly recommended as one of the top film schools in the country for their jam-packed and individualized courses – all of which can be applied for online. Furthermore, all information and descriptions are readily available online, allowing students to quickly determine which course is best for them.
Counseling for students' concerns is readily available
Immersive approach
Highly professional and experienced teachers
The tuition fee is rather costly
Limited accommodation for foreign students
BONUS ENTRIES
If you aren't confident that you can get into one of the aforementioned art schools in Vancouver, here are a few other institutions that you can consider enrolling into first:
1. White Horse Art and Design Center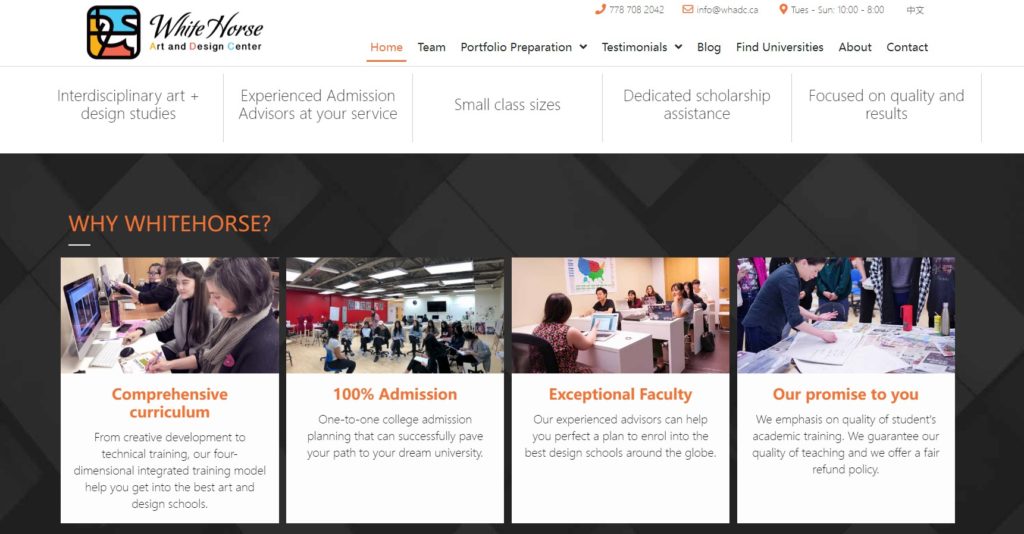 White Horse Art and Design Center is an art and design education center that promises students 100% admission into their dream design schools. We took a look at their services to see how they achieve that.
Obviously, they have instructors who train young students in portfolio preparation. Each of their admission advisors are certified and a product of professional degrees from Chinese, European, and American design institutes.
This makes them perfect for their jobs since they have valuable insights that they impart to their mentees.
Rather than a classroom setting, they also offer one-on-one college admission planning, which means their teachers can allot all their focus and attention to just one student.
They even have an interdisciplinary art approach, combining teaching methods to better suit each mentee's needs and pacing.
Since each enrollee has their own learning style and preferred pace, this is great as it means most if not all the students' needs and wants will be met.
Plus, if you're planning to apply for a scholarship, you won't have to worry much because they have impressive scholarships offered. The $4,938,000 they've allotted for scholarships over the years is a testament to that.
It's also worth noting that they're a Chinese-focused school, which is a trait that definitely differentiates them from many other centers.
Ultimately, we think they're a solid center because of the expertise of their teachers and innovative fundamental classes. They're probably not ideal for those with neither an interest in Asian aesthetics nor an Asian heritage, though.
$7,878,000 Accumulative scholarship
Team of tutors from prestigious universities in Europe and America​
100% admission rate​
Ideal for those with an interest in Asian aesthetics or those with an Asian heritage
Tuition fees are not mentioned on their website
2. The ArtWay Studio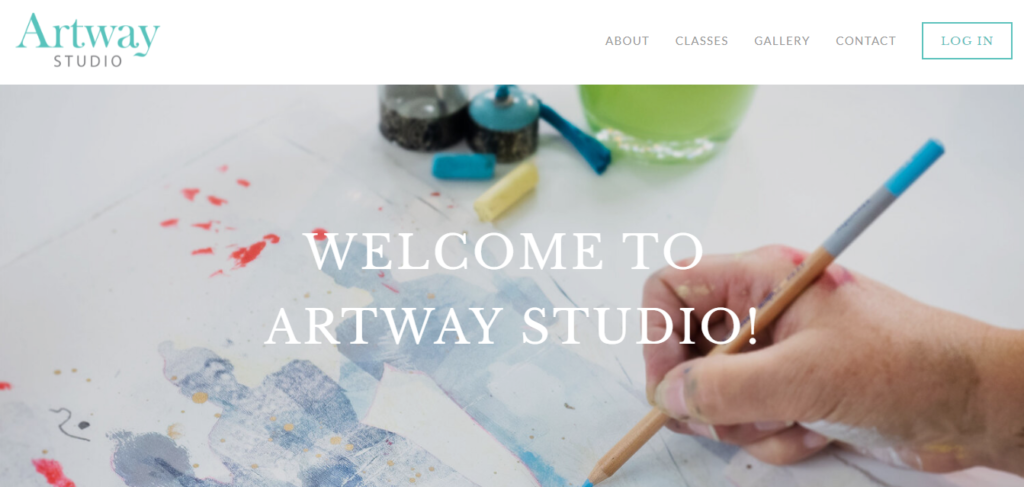 The ArtWay Studio's instructors use various techniques and media to enhance students' mind process and flow when it comes to creating art.
They're known for taking a holistic approach to instruction. We ourselves favor this approach for younger artists, as it helps them deepen their knowledge of art and learn about the importance of intent behind every piece they make.
They have a wide range of classes as well. Some of the media that they have sessions for are charcoal drawing, acrylic painting, printmaking.
From color combination to learning the basic and complex brushstrokes, they have more than enough courses for those who want to explore different art techniques.
This is great, especially for beginners, since it gives people the opportunity to see which art form they prefer to pursue.
They also offer intensive workshops if you'd prefer sessions that are much shorter in length. Currently however, they only have one for encaustic painting, which will teach you how to create works of art with heated beeswax, colored pigments, and oil paint.
Given the range of classes and their teaching approach, we feel that this studio can provide great foundations if you're still on the green side as an artist.
However, if you're already quite experienced, it may be best for you to check out other options. In fact, depending on your age and skill, it may be worth your while to try applying to one of the universities or art schools on our main list.
Affordable class rates
Accommodating instructors
Innovative techniques
A Guide on Finding the Right Art School
Searching for the perfect art school is relatively difficult if you've no idea how to go about it. Below is a guide to help you find the art school that fits you perfectly.
Programs, Career options, and Research
Of course, before you start looking for an art school, you have to make sure to do your research first. There are a lot of programs under "Art". This could be through graphic design, fashion design, photography, game design, etc.
So ask yourself first, "What career do I want to get out of the program I will choose?" Then, find the school that seems to offer the best program or track for your goals.
You can also check where their graduates end up work-wise. It is best to also research alumni and their achievements and accomplishments – some art schools flaunt their high achievers on their websites and that is the best place to look.
Facilities and Location
This has to be one of the most important things to keep in mind. Where your school is located plays a huge role in finding the school that fits you as well as the facilities they have.
If you want an easy commute, it is highly recommended you find a school that is near you, or at least where commuting isn't too much of a hassle.
Facilities-wise, you need to search for an art school where your needs can be accommodated. A good school with good facilities and environment is a huge win for the rest of your student life.
Faculty
Another thing to keep in mind is to also look for a school where the faculty who will be teaching you actually know what they are doing (and have professional experience in it).
This means you are more likely to succeed if your instructors are professional working artists with exceptional portfolios under their belt.
FAQs About Art Schools
Related Articles for Schools/Colleges in Vancouver