The 8 Best Acting Schools in Vancouver
Being an actor isn't always glamorous. Many of them don't even become great at acting in an instant: most have to train for years before getting starring roles.
To help you build your own skills for this career, we asked different actors in Vancouver which ones they think are the top acting schools here.
We checked them out, asked what students and graduates thought of them, and today, we'll talk about the ones that topped our list.
How much does going to an acting school in Vancouver cost?
Getting into a full-time program can be expensive. So you can budget better, here is the list of the fees for each acting school on this list.
Acting School
Fee
Railtown Actor's Studio
$540-$550 per class
LeBlanc School of Acting
Kids Classes: $375-$425
Tween Classes: $425
Teen Classes: $550
In-Person Classes: $550
Private Classes: $425-$675
Workshops: $275
Story Institute Acting School
Diploma Program: $10,900
Vancouver Institute of Media Arts
$22,750
Vancouver Academy for Dramatic Arts
Dramatic Arts Program: $12,500
Part-Time Programs: $520
Vancouver Film School
Art Essentials Program: $7,750 – $10,750
Vancouver Acting School
Acting FTV Diploma: $11,400 – $13,400
Vancouver Young Actors School
Fundamentals: $169.99
Some schools here offer discounts and scholarships to students. For those who don't have the money, you can ask the schools for their available scholarship requirements and apply for one.
The Best Acting Schools in Vancouver
The schools on this list were selected using myriad factors, from the success of their graduates to their reputation among students. Even programmes were inspected when we looked at all of our options.
Here, we'll provide notes on what we think of each school. Note that we also have a guide on finding the right acting school for you and we answered some frequently asked questions about acting schools at the end of this article.
1. Railtown Actor's Studio

| | |
| --- | --- |
| ADDRESS | 1037 Broadway W Unit 4, Vancouver, BC V6E 1M3, Canada |
| CONTACT NUMBER | 604-602-1312 |
| WEBSITE | https://railtownactors.com/ |
| OPERATING HOURS | Monday-Friday: 10am-4pm |
This school was founded by John Cassini and Kate Twa, who are also phenomenal actors known for their work on stage and on TV.
This acting studio accepts anyone, from actual beginners without resumes, to intermediate ones that want to improve their acting. And well, with this acting school, you will really get great training.
Students here are given a non-judgmental environment where they can make mistakes and correct those mistakes. With experienced actors supervising these classes, it's pretty great to get advice from them.
Besides that, they also have different classes. Those who want to study the script and learn how to techniques and preparation tools that can help the actor really become their character can enroll in their scene study class.
Meanwhile, if you prefer to work on a film set, they have a class that will prepare you for that.
Other than the classes here, they also have Railtown Lab which allows budding artists to debut their own shows and work.
With amazing support for artists here, we definitely recommend this to everyone who wants to improve on their acting ability and wants a safe place where they won't be judged if they make mistakes.
Non-judgmental environment 
Different types of acting classes 
Dedicated lab for artists
Applicable for beginners without a resume
Scholarship funding available
No after hours and weekend schedules
No diploma or certification classes offered
No classes for child actors
Student Testimonials
In-depth knowledge of play, scene, and character, clean studio
"Railtown Actors Studio is a private acting school with 12 week programs taught by Kate Twa, Jon Cassini, Edward Foy, and Daniel Bacon. They also have workshops, and shorter programs. For the 12 week scene study courses, you must have an interview prior to being allowed in class. In the 12 week program you're paired up with a scene partner and work often the same scene for 12 weeks, preparing you with in depth knowledge of the play, scene, and character and allowing yourself to see how far you can go, bringing your real emotions to the scene. This place is not about memorizing the lines and just doing it. It goes far beyond what is imagined. I've had multiple "thespian" friends come here for training and they've all said it's fantastic.. so I had to try it myself. The studio itself is clean, well kept, and very nice on the inside. A great space for actors to come tape, get coaching, and to learn. If you're serious about acting, and already have acting experience or schooling, then this is a great place for you to come and help perfect your craft." – Harrison H.
Makes students feel confident, recommended for all levels
"I attended the film intensive with John Cassini and he helped me "shake the rust off". After the class I feel confident and back on track. I highly recommend Railtown Actors Studio to actors of all levels." – Natalie Harris
2. LeBlanc School of Acting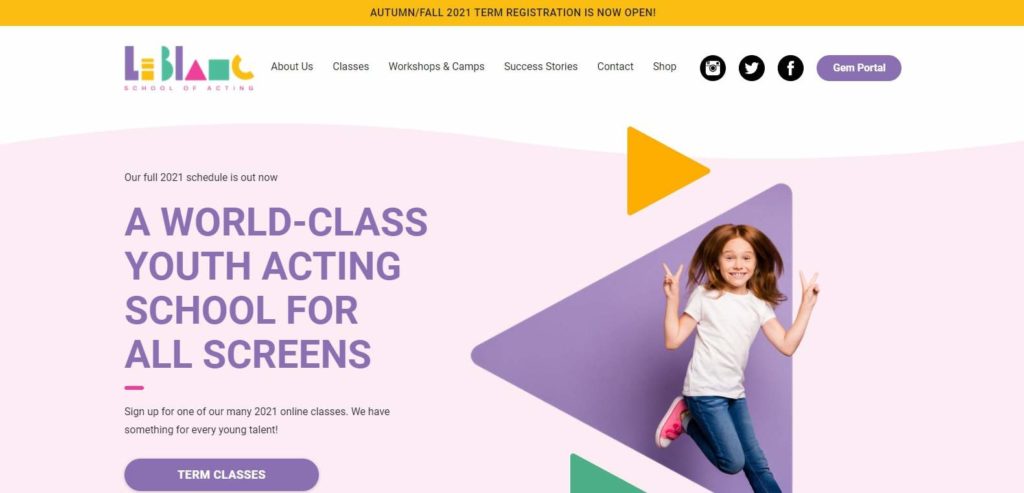 SERVICES
Group Classes
Private Classes
Workshops
ADDRESS
196 W 3rd Ave #204, Vancouver, BC V5Y 1E9, Canada
CONTACT NUMBER
778-867-5227
WEBSITE
https://leblancschool.com/
LeBlanc School of Acting specializes in acting classes for kids and teenagers who want to be in film and/or television. The curriculum here is specially designed for the youth and is meant to actively engage them while also teaching them acting.
They have different terms and classes for different skill levels. Right now, they are also conducting their classes digitally so they can ensure that your children will be safe and virus-free.
Other than the group classes, they also have private classes. Their one-on-one coaching helps personalize their advice more and helps teach the student techniques that will emphasize their strengths further.
This Vancouver-based acting school also has great success stories already. Some of their students have been cast in some leading shows and movies such as Paw Patrol and The Babysitters' Club, to name a few.
If you don't want to fully commit to their classes just yet, they still have their workshops which focus on more specialized acting aspects.
We highly recommend this acting school for those who have children interested in acting. Their engaging classes and different options will really help your child grow as an actor.
Expertise in children's acting classes
Offers specialized classes and workshops
Has private and one-on-one classes 
Successful and popular students
Classes limited to child actors
Currently limited to digital classes
Student & Parent Testimonials
Engaging, active, innovative and fun
"Both my children have started to train with Leblanc School of Acting. The classes are engaging, active, innovative and fun. My kids 12 and 7 years old both love the group classes and private coaching. The instructors work in the industry and truly know what it takes to make it in "the biz". Honestly the best thing we got out of this pandemic was a chance to be able to train with LeBlanc. Had we not all flipped to Online classes for everything a class with them would have meant a trip out to BC (which would also be worth it!) but now you can train with the best from home! If you are reading this thinking should I sign up, the answer is YES, you won't be disappointed! Thank you LeBlanc for making acting class so fun and engaging for my kids!" – Jenn Sellers
Cannot recommend this school enough
"LeBlanc is truly outstanding. I have attended many acting classes as a former actor myself, and what these amazing (and kind!) instructors are teaching our children is absolutely – second to none, brilliant. They cheer for our children, they lift them up, they teach them, they help them grow. We've been at LeBlanc for just almost a year now (online only so far!), and it has truly transformed my son. He is now incredibly comfortable on Zoom, to the point that he has booked two roles from Zoom callbacks. I completely credit his abilities over zoom with his LeBlanc training! He is truly growing as an actor and is learning from his incredibly talented peers, gaining a true understanding of how this industry works and functions! His scene work has also completely transformed and evolved with the incredible tools in his belt now thanks to his training, and I cannot recommend this school enough!!" – Elana Jacobson
3. Story Institute Acting School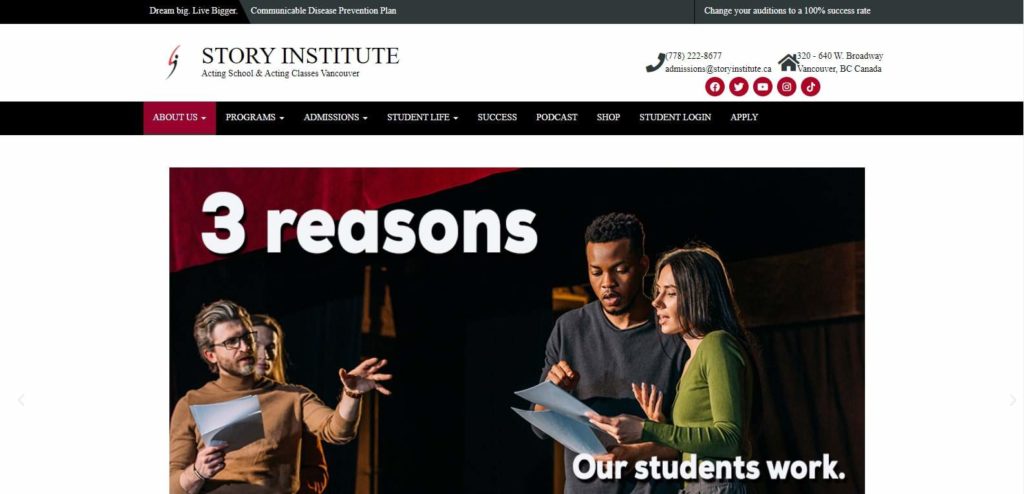 SERVICES
Full-time Diploma Program
Part-time Acting Class
ADDRESS
640 W Broadway #320, Vancouver, BC V5Z 1G4, Canada
CONTACT NUMBER
778-222-8677
WEBSITE
https://storyinstitute.ca/
OPERATING HOURS
Monday-Sunday: 9am-11pm
With a diploma program, this acting school provides various forms of support to students here. More than just acting lessons, they also teach how the industry and the business side work so students can be ready if they decide to head to the film and television route.
Students who enter this acting school will not only be acquainted with film and television acting but also with voice acting. They train their students for video games and animation voice acting too, to help them enter the voice acting industry if they find that they prefer that instead.
Not interested in a diploma program? Well, they also have audition and voice acting classes. Those classes usually take 12 weeks and they also have a youth version of those classes.
However, there are a lot of perks to enrolling in the actual diploma program here.
They provide free coaching for auditions to their students, for instance, and even demo reels for when they graduate from the program and start auditioning with different agents.
Aside from that, they also have a tuition assistance program. As long as a student from their diploma program volunteers at least 4 hours to a charity for each month of their training, they'll be able to lessen the tuition by $1000.
Overall, this is a great acting school in Vancouver to enroll in as the perks of being a student here are one-of-a-kind. We think it will really give you an advantage over many other actors.
Holistic diploma programs and part-time classes
Voice acting classes available
Tuition assistance program 
Provide demo reels and audition coaching to graduates 
Offers youth acting classes
Purpose Scholarship gives students $1,000 at graduation if they volunteer 4 hours/month for their 6 months of training
Free coaching and self-taping for students
Teach the craft and business of acting
Training is applicable to non-recorded media
Classes have varying schedules
Student Testimonials
Further my opportunities
"First class and I already know I'm in the right place to enhance my skills and further my opportunities within this acting field. Michael Coleman is the real deal and truly cares about his student careers!" – Shelley Williams
Amplifies it to the professional level
"Story institute has amazing part time classes that help you continue training. The full time diploma is what you NEED to take your training to the next level, especially if you attended a previous institution it really takes what you were taught and amplifies it to the professional level you need to be to work in the industry. Great place to meet likeminded people to continue your work in and out of the classroom." – Sidney Quesnelle (Batarang Kisses)
4. Vancouver Institute of Media Arts

| | |
| --- | --- |
| ADDRESS | 333 Terminal Ave #400, Vancouver, BC V6A 4C1, Canada |
| CONTACT NUMBER | 604-682-2787 |
| WEBSITE | https://www.vanarts.com/ |
| OPERATING HOURS | Monday-Friday: 8:30am-4:30pm |
Vancouver Institute of Media Arts boasts a high number of industry placements. They have graduates who have gone on to work in blockbuster movies too.
Their Acting for Film and Television program is a one-year program that takes up about 30 hours a week. The program includes practical training in film and television, along with voice acting.
The curriculum here aims to build strong foundational skills in acting and then, letting those grow throughout the different terms. Students also get to join a full-length play on their third term as a part of the ensemble.
For their 4th term, the students will be part of a short film shoot and a full play in a professional theatre. These teach students how to be more comfortable in front of the camera and on-stage.
The school also brings in casting and talent agents, actors, and directors for lectures on the industry. These occasions let those professionals share their expertise with students.
What many actors like most here, though, is their small class size. Smaller classes allow mentors to focus more on the individual students and spot mistakes in their techniques.
And as it's a school on media arts, students can collaborate with other students from other faculties to make their own short films, or network if they choose to.
With so many opportunities available here, it's really no surprise the Vancouver Institute of Media Arts is highly recommended by many actors. We found a lot to like about it ourselves!
All-around media arts school
Offers one-year program 
Practical application of acting lessons are available
Immersion with professionals in the industry 
Small class sizes
High placement percentage
No after hours and weekend schedules
Limited to acting for recorded media
No classes for youth and child artists
Student Testimonials
Incredibly knowledgeable and well-versed in the industry
"The year I spent in the AFTV program wasn't only the best thing for me as an actor but the best thing for me as a person. Working closely with Chilton Crane, Bruce Dawson, and many other instructors was exactly what I was looking for when I set out to start my journey as an actor. The small classes allows for in depth one on one work with all of the instructors, of whom are incredibly knowledgeable and well versed in the industry. It's also noteworthy how well they have been able to adapt to online classes amidst the past year, maintaining the same level of quality and professionalism they would if it were in person. This school should definitely be on your radar if you are pursuing a creative career." – Cole Farquhar
Taught me how to really bring these characters to life
"VanArts is an amazing school and taught so much more than I thought there was to acting. The acting teachers here taught me how to really bring these characters to life and even helped me discover things about myself in my own personal life. Even in the beginning of the pandemic they were quick to find a solution and adapted very easily so we didn't lose any opportunities, if anyway we were able to do a lot more! Thank you VanArts, this was, by far, one of the best years of my life." – Darien Bailey
5. Vancouver Academy of Dramatic Arts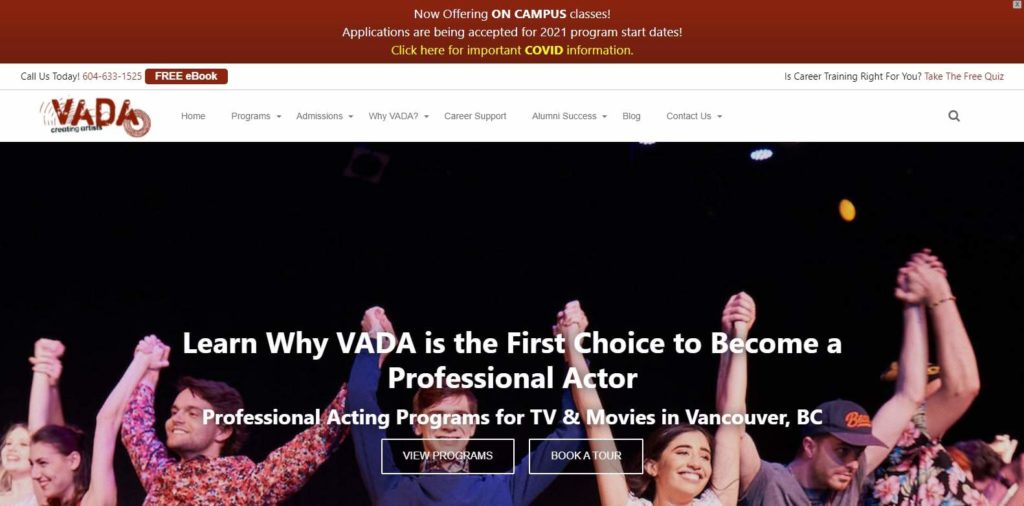 | | |
| --- | --- |
| ADDRESS | 900 Helmcken St, Vancouver, BC V6Z 1B3, Canada |
| CONTACT NUMBER | 604-633-1525 |
| WEBSITE | https://vadastudios.com/ |
| OPERATING HOURS | Monday-Friday: 9am-6pm |
Vancouver Academy of Dramatic Arts or VADA has one of the highest actor-to-agency placement rates, with over 80% of their graduates being able to get into an agency just after 3 months of finishing the program. If that's not a strong reason to recommend them, we don't know what is!
From what we've seen, they're particularly committed to getting their students great roles in and out of Vancouver. In fact, their Dramatic Arts Diploma program also teaches students standard American dialect and even flies their students to LA.
Students here will also be able to learn the tech side of acting. They will be taught how to operate a camera, do lighting, and find angles.
Knowing this information is also helpful as when the time comes, they might need to record their own demo reel. And of course, with a demo reel, actors would want to have the best angles and lighting to show their best side.
The trip to LA included in the program is also really great for those who are looking to grow their industry connections and learn from different people inside the industry too. Yes, opportunities exist out of LA – but there's no denying that a lot of amazing ones are concentrated there.
Besides that, budding actors can also get a scholarship here as they have different scholarship opportunities for those who show great potential.
High acting agency placements
Additional lessons in technical aspects of acting 
Unique and holistic curriculum
Has a trip to LA 
Scholarship funding available
Limited to acting for recorded media
Student Testimonials
All of my coaches were professional actors
"I moved to Vancouver from Ireland over a decade ago to train full time at VADA. It was one of the best decisions I've made. Being so far away from home, it was a comfort to see how friendly and welcoming everyone was from the second I arrived. when I started the course it was great to know that all of my coaches were professional actors, so we were getting first hand information from pros who were actually out there doing what they taught. I performed in the end of year showcase and was delighted to win an award for my monologue performance and also sign with an agent who had attended. I graduated with a solid foundation needed to pursue a successful career in film and TV and am very grateful for that." – Florence
A safe place to learn, grow, and find yourself
"As a someone who has just started getting into acting, I could not recommend VADA more. Simon has been so supportive and helpful, with getting me going, and teaching me everything I need to know. As have all of the staff, and teachers. Truly is a safe place to learn, grow, and find yourself." – Sophie Sedláček
6. Vancouver Film School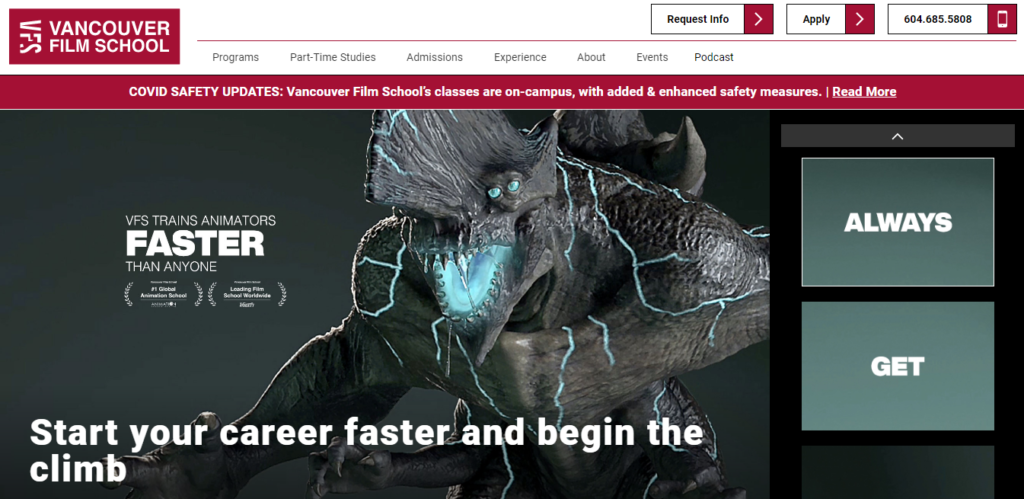 | | |
| --- | --- |
| ADDRESS | 198 West Hastings Street Vancouver, BC, Canada V6B 1H2 |
| CONTACT NUMBER | +1 604-685-5830 |
| WEBSITE | https://vfs.edu/ |
| OPERATING HOURS | Monday-Friday: 9am-5pm |
Vancouver Film School is an educational institute that is geared to help their students have all-around experience and knowledge when it comes to all things in the entertainment industry production. With a global reputation of up to 47% and promises a consistent and quality stream of alumni since their founding.
They currently have a roster of 15-post secondary programs that is able to stimulate experiences within the industry but also help their students have more of a technical knowledge that they need to be equipped to have standards aligned with the industry.
Since they accommodate physical classes, they offer students counseling to help them settle in the area such as housing, ESL support, and student events that will help enrich the learning experience.
It is important to note that their courses only run for a full year only which could put a strenuous strain on the students' schedule however, there are part-time studies that are available for students looking for a more short-term option.
Among one of the top film schools in the country, they are highly recommended for their jam-packed and individualized courses – all of which can be applied online. Furthermore, all information and description are readily available online so that students can easily assess which course is for them.
Accommodates students from various continents
Counsels students that are centered on their specific needs
Highly specialized courses
Tuition may be higher for foreign students
Student Testimonials
Here are some reviews from their students:
"That year and a half [in Acting for Film & Television and Acting Essentials] was probably the scariest time in my life… it was also the absolute best." – Emilie Ullerup
"I still love seeing the alumni and faculty at auditions, whether I'm auditioning or reading with them. We are all peers, and there to support each other in our triumphs and struggles." – William C. Vaughan
7. Vancouver Acting School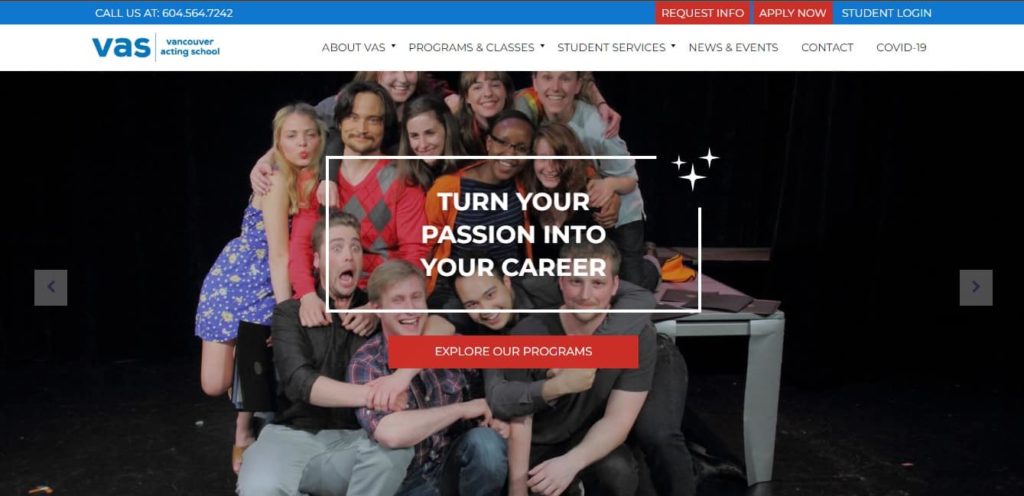 ADDRESS
210-112 E 3rd Ave Vancouver, BC, Canada V5T 1C8
CONTACT NUMBER
604.564.7242 /

[email protected]

WEBSITE
https://vancouveractingschool.com/
OPERATING HOURS
Monday: 9:00 AM – 10:00 PM
Tuesday: 9:00 AM – 10:00 PM
Wednesday: 9:00 AM – 10:00 PM
Thursday: 9:00 AM – 10:00 PM
Friday: 9:00 AM – 10:00 PM
Saturday: 10:00 AM – 5:00 PM
Sunday: 10:00 AM – 5:00 PM
Vancouver Acting School is a educational facility that provides a range of curricula especially for aspiring actors, writers and other professionals in the creative industry. They are also highly accredited and have also acquired partnerships with organizations such as PTIB, EQA, and UBCP among many others.
We like that their programs are comprehensive and highly comprehensive in a way that students can be assured that they have mastered necessary pre-requisite courses before moving unto more professional subjects.
Furthermore, they also have a variety of student services that can help both domestic and international students have additional support such as financial aid, housing, and transportation.
Note that their programs require a certain level of English language fluency which can quite be a challenge for international students who are more fluent in their native language.
Overall, with instructors active in the industry, immersive environment, and several acting and writing opportunities, we highly recommend individuals looking to master acting and writing in the creative industry to consider them as an excellent option.
Student aid programs available
Highly certified and recognized curriculum
Highly proactive and experienced professionals
Fluency in English is expected
Student Testimonials
Here are some reviews from their clients:
"Great instructors, solid programs both full and part-time. Outstanding Theatre concervitory."
"As a parent of a recent grad of the 6 month acting program and the 9 month Hanks Conservatory, I have watched our son Tanner Bornowsky develope into a professional. This is because of the program instructors, Tanners hard work and dedication and his fellow actors making pushing him. In the 1.5 years Tanner has been in Vancouver developing as an actor he has booked 5 commercials and three series episodes. Alot of credit goes to a great agent, a dedicated actor and an incredible school."
8. Vancouver Young Actors School
ADDRESS
210 – 112 East 3rd Avenue, Vancouver, BC, V5T 1C8
CONTACT NUMBER
Phone: 604-568-5449
E-mail: [email protected]
WEBSITE
https://vancouveryoungactorsschool.com/
OPERATING HOURS
Monday: 9:00 AM – 8:00 PM
Tuesday: 9:00 AM – 8:00 PM
Wednesday: 9:00 AM – 8:00 PM
Thursday: 9:00 AM – 8:00 PM
Friday: 9:00 AM – 5:00 PM
Saturday: 10:00 AM – 5:00 PM
Sunday: 10:00 AM – 5:00 PM
Vancouver Young Actors School is a local elite training facility for kids and teens who are aspiring to become professional actors. From the fundamentals of acting down to other emerging techniques of today, their coaches can help their students make the most out of their lessons and apply each one on screen.
Aside from this, they also accommodate free workshops and mentoring for students looking to apply their lessons in the industry later on.
Furthermore, their class sizes are small to better accommodate each student and to ensure that each one gets individualized attention whilst in class.
Though note that though they accommodate 1-on-1 sessions and classes, there might be limited slots and schedules due to their small class sizes.
Overall, with their highly experienced coaches, collaborative facilities, and interactive programs, we highly recommend them to parents who wish to helps their children reach their actor dreams and aspirations.
Individualized attention and lessons
Holds free workshops and mentoring
Employs latest techniques in acting
Slots may be slightly limited
A Guide on Finding the Right Acting School for You
Finding the right acting school can be hard as they all have something great to offer. So, here is our guide to help you find the acting school that fits you.
Research
It's really best to research the curriculum first as you need to see if they have classes that will fit with what you want. This is especially helpful if you already have some experience as a beginner's acting class won't do that much to help you.
You can also check the location of each acting school to see which ones fit your time best.
Check your budget
Going to an acting school might be a bit expensive so it's best to have a max budget of how much you're willing to spend for an acting school. If you already have shortlisted candidates for acting schools, you can also check the fees for each school and see if they just fit your budget.
Audition
If you already have a list of your chosen acting schools, start preparing for an audition or interviews. Many schools would at least want to see the skill level of potential students.
And if you don't get into your dream acting school, don't sweat it. There are other great schools out there!
FAQs About Acting Schools
---
If we missed any great acting schools, feel free to tell us so we can review it!

By the way, if you're a budding actor and want to get in the industry already, you can check out our article on the best talent agencies in Vancouver to see which ones can help you become a star!