The 16 Best Movers in Vancouver
Moving to a new home? Today, we'll try to ease your burden by helping you find the best movers in Vancouver you can rely on.
In this comprehensive guide, we've sourced figures on how much movers charge in Vancouver, answered the most common questions people have about hiring movers, and shared valuable information about our top picks for moving companies in the city.
If you're ready, let's get started on all of these!
How Much Does Moving Cost in Vancouver
There are many factors that affect moving costs including the distance, size and amount of items to be transported, and the season. You'll need to request a quote from the movers and this usually involves home inspection.
However, to give you an idea of the pricing, please refer to the table below for the average cost based on the size of your home and the average hourly rates of local movers.
It is important to note that these prices don't include additional fees for extra services such as packing, storage, and specialized moving services for high-value or oversized items.
The Best Movers in Vancouver
Now for our top picks for the best movers in Vancouver, read this section to find out what makes each of them stand out, the range of services they offer, and other important details.
1. Metropolitan Movers Vancouver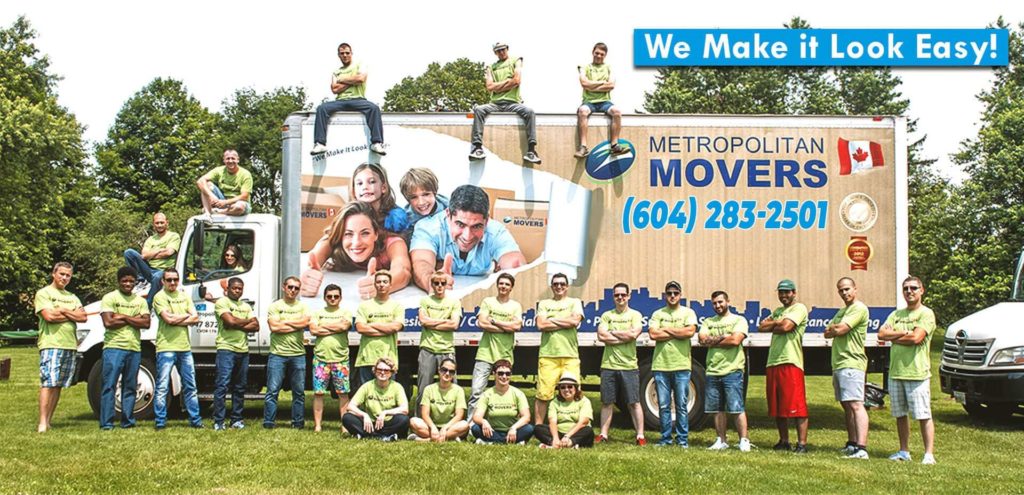 Metropolitan Movers Vancouver is an award-winning moving company headquartered in Vancouver. It has been operating since 2010 and has an A+ rating with the Better Business Bureau.
Some of the awards they have won include the Canadian Franchisees Choice Award and the Top Choice Award between 2014 and 2018. Their professionally trained and certified movers provide a comprehensive range of services for both residential and commercial clients — from packing to the unloading of your belongings in your new property.
Many customers love them for being upfront about costs and their flexibility in scheduling. They can arrange the move during the weekend or even the evening such that there will be limited disruption to your day-to-day activities.
Customer Reviews
Below are some of the reviews from their past clients:
"The two movers that were assigned to us were quick, efficient, polite, and took very good care of our belongings. Nothing was damaged and it was overall a painless process. They even reconfigured our L-shaped sofa to better suit our new place. Would definitely hire again." -Sean Armenta
"My wife and I moved from our home of 20 years, we had a grand piano and some other antique furniture, I was so worried about them as they have been in our family for generations. Michael and his team were so professional and careful they wrapped everything twice and took their time with handling my special items. It wasn't the cheapest rate but after reading the reviews I decided to go with Metropolitan Movers and I am so glad we did! They were very polite, careful and professional." -Austin Miller
"I couldn't be happier with the moving service I got from Metropolitan Movers. They showed up on time, the 3 gentlemen worked so hard to pack and move all my stuff. We ended up doing 2 runs with 2 full truck loads. They were super professional, didn't break anything and didn't complain once. I just had to treat them for pizza as a thank you. Would definitely recommend them."-Jameson Patil
2. Home Run Movers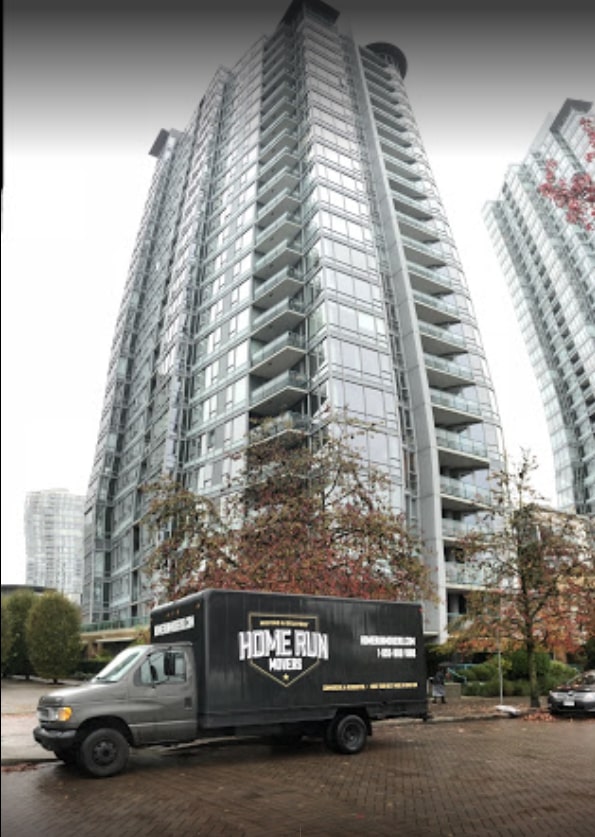 Home Run Movers is a moving company based in Vancouver that specializes in small and medium commercial moves. However, they also offer residential moving, delivery service, and junk removal.
They can handle oversized items in your household such as pianos, lumber, and equipment. As long as it fits their truck, they can come pick it up and transport it to your desired location.
Aside from their prompt and efficient service, customers love that they don't charge extra for fuel, stair fees, and other hidden costs. As an added bonus, they go the extra mile to donate, repurpose, or recycle your junk so you can save money.
Customer Reviews
Check out some of the reviews from their past clients:
"Great service provided by Ty and his team. They were professional and polite the entire time. Our apt building is not the easiest to navigate and they made sure nothing was damaged. Thank you very much for your help." -Jia Wei
"Absolutely the best, on time, fast, dependable, efficient, caring, clean movers. Did I mention happy at what the do – proud of their work! We have some very unusual art pieces and this is the 2nd time we've used them – hard to trust anyone else! YES I recommend them – but book them waaaay ahead of your move – everyone loves them! Thanks Ty and your guys were amazing." -Jeffrey Armstrong
"Ty and his team helped to move my household from Vancouver to Cranbrook BC, a move of more than 800 km. It was an absolute pleasure to deal with him, everybody we interacted with was friendly, polite, and professional. We always knew where our stuff was, Ty communicated really well throughout the process, and made the whole move go really smoothly. A real pleasure. Thanks again!!" -Cindy Radyn
3. Ferguson Moving & Storage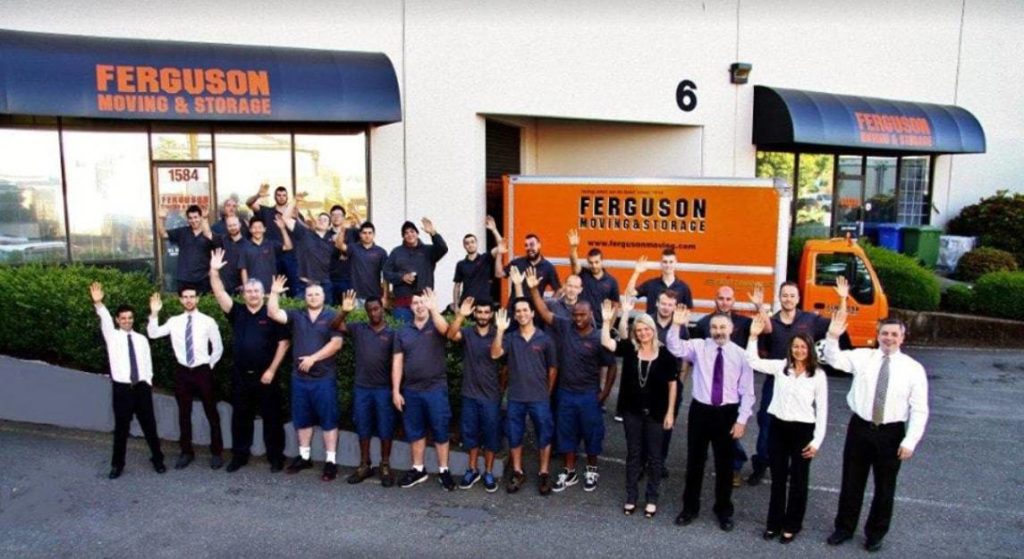 Established in 1916, Ferguson Moving and Storage is one of the oldest moving companies in the city. What started as a warehouse-style storage provider has since expanded to include moving services.
At present, they offer local, long distance, and international residential moving, office moving, packing, and storage services. When you partner with them, you will be assigned a dedicated move manager who will arrange everything and recommend additional services you might need.
What's great about them is that you wouldn't have to pay extra if the move took longer than planned. Aside from packing services, they also sell new packing supplies and used ones at 30% off if you opt to do it on your own.
Customer Reviews
Check out what their past clients have to say:
"My father was moving from Vancouver island to Coquitlam at a difficult time in his life. Ferguson moving provided our family with prompt professional service and peace of mind. We were kept up to date with pick-up and drop off. All our questions were answered immediately during the entire process. All precious cargo was safely delivered. Thank you Ferguson Moving for providing the interest, care and concern every step of the way." -Tami Sikina
"I used Ferguson Moving & Storage, Richmond a few weeks ago for my cross town move. It could not have gone more smoothly. I used the packing service as well as the move service the following day. Greg was highly accessible and accommodating from day 1. The movers worked hard and were cheerful the whole day, I'm not kidding. Because I no longer have a man at the house, I had to ask a lot of them. They came back twice to help me with a bed adjustment and to flip another huge piece and came back after I was mostly unpacked to get my boxes and paper. Five stars. Highly recommended." -Shannon Bonne
"The moving was so smooth and professional. The team moved everything flawlessly in a timely manner and I did not have to worry about anything. All furniture was carefully wrapped. It was a very good experience. 10/10, highly recommend" -Wenchen Zhao
4. Salmon's Transfer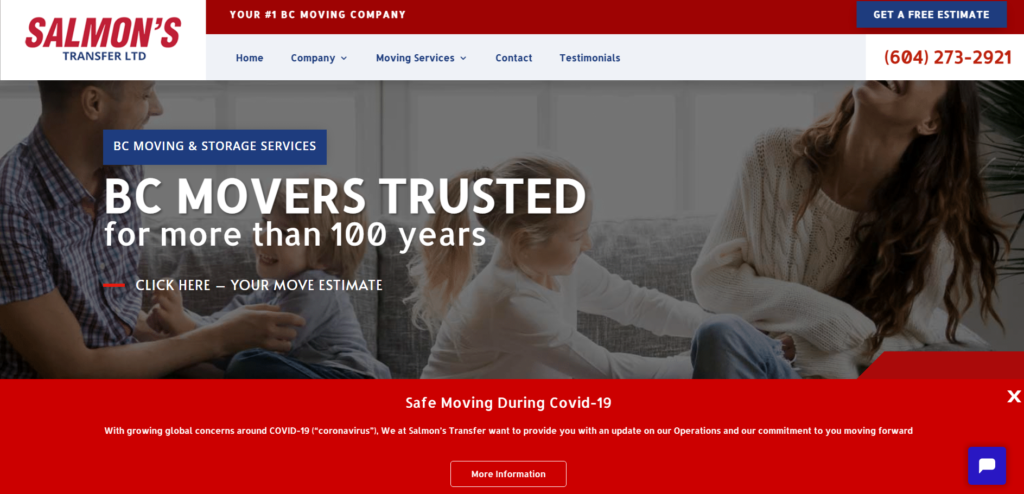 Salmon's Transfer is one of the only employee-owned moving companies within Canada. With its growing operations, Salmon's Transfer has thrived over the last 50 years providing piano, office relocations, and local and long distance moving across Canada and North America.
With over 25 trucks and trailers and a 30,000ft bonded and insured warehouse, Salmon's Transfer has proven to be a name you can trust.
Ever since their establishment in 1913, their team has been working hard to provide a stress-free, local and long-distance moving service for families and businesses.
Located in Richmond, they are a premiere moving company in Greater Vancouver that has a Platinum Agent for Atlas Vanlines (Canada) Ltd. They also have a 30,000 sq. ft. storage facility just for you, regardless if you need it short or long-term.
Customer Reviews
Below are some of the comments from their past clients:
"We have used Salmon's Transfer for 2 moves so far, 1 personal move in the pouring rain, and 1 renovation move – this move on very short notice for a number of oversized appliances that also required storage. It is a dream to have professional movers after doing many moves ourselves. Their drivers were professional and careful, had positive attitudes, and they knew how to move the awkward, large and heavy pieces without damage. We made a last minute and time-sensitive request to move appliances off a renovation site. Salmon's bent over backwards to provide the transport and saved us work of having to find and rent sufficient storage large enough and at a decent price. Their storage, in our case, was competitive cost wise to personal storage at UHaul, but they could store our extra height and weight items. Having them arrange transport to and from our site made the emergency move hassle free. Thanks to all at Salmon's who have helped us."
"We used Salmon's Transfer to have a piano picked up from Coquitlam and delivered to our home in west Vancouver. Kirk is in charge of piano transfers and was super responsive, by phone and email. He also offered the best quote of a few local delivery places – at around $400, we paid over $200 less than some of the other quotes. The delivery guys were fast, efficient and polite. They didn't come in the window we were given, but they did call sometime afterward to confirm a later window. Since it was a Saturday, the timing didn't matter too much. The piano arrived in good condition. Thanks Kirk & team!"
5. 2 Burley Men Moving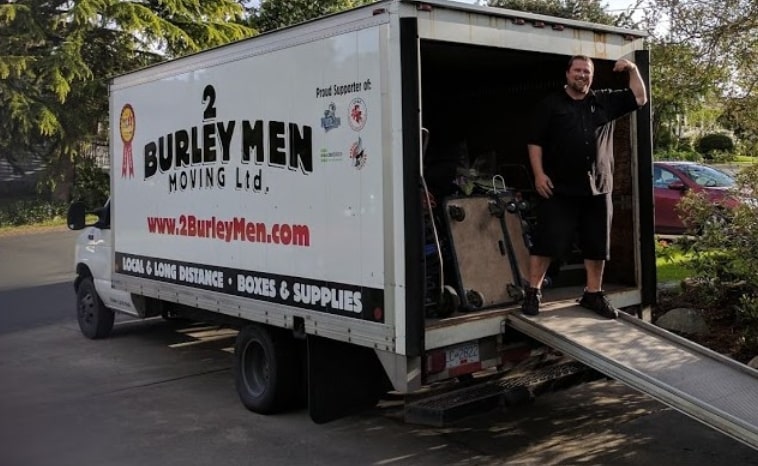 2 Burley Men Moving is a Vancouver-based moving company established in 2007. It offers a wide range of services including local and long distance residential moving, storage, and packing supplies.
They have trucks driving throughout British Columbia and Alberta on a daily basis. According to them, they complete over a thousand moves per month.
They can get you as far east as Toronto, along with other areas you can find on their website. They also have secure yet affordable storage and packing supplies.
From boxes and tape to shrink-wrap, you'll find everything you need to pack your belongings properly here. That's a lot of convenience from a single service, which we always like!
Customer Reviews
Here are some testimonials from their past clients:
"They moved me on Valentine's Day and in the snow!! Props to them!! They backed in my old driveway and loaded up. Then we drove to my crowded parking lot of my new place and they made it work! Amazing. I boxed everything nice before they arrived. They wrapped my dresser doors shut and moved it all in one go. Huge truck they have!" -Victoria Williams
"Paul Q and Ainsworth did a great job moving us from the Vancouver area to Vancouver Island. They arrived on time with plenty of equipment, and worked quickly and efficiently. They were careful with our items and with not damaging walls when they moved. Our stuff arrived at our new home in great condition. I would definitely use them again!" -Nyssa Lamminen
"Outstanding service in all aspects. I appreciated the email , text and call to confirm my move date. They showed up right on time. Tyrone and Ainsworth were very careful and wrapped my furniture. They worked efficiently and very well together. I highly recommend." -Valerie Taylor
6. BigSteelBox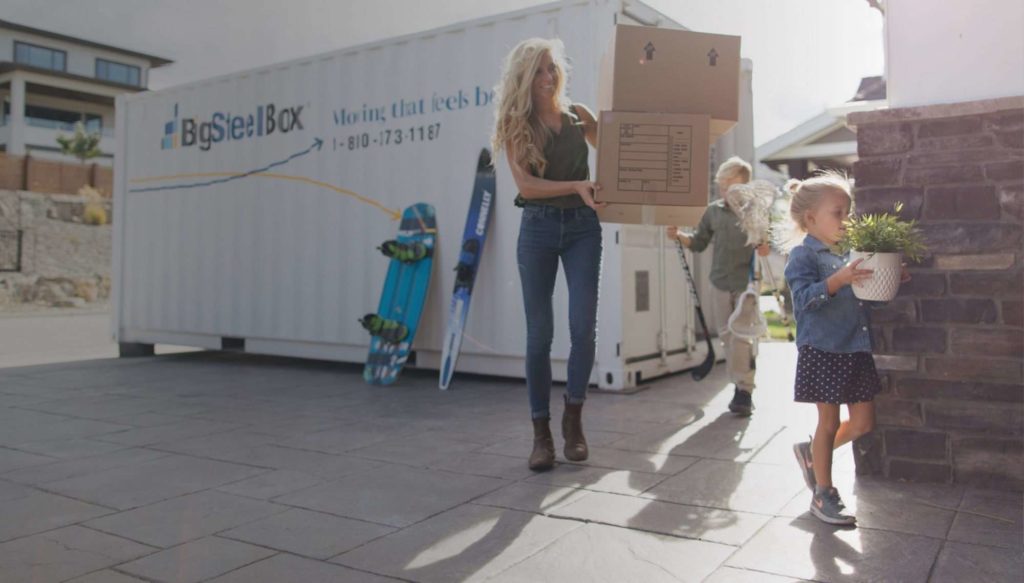 BigSteelBox is a family-owned business founded in 1999. It has multiple locations across British Columbia, Ontario, Alberta, Saskatchewan, and Manitoba.
The beauty of using BigSteelBox is that you can take your time and pack at your own pace. Aside from local and long-distance moving, they specialize in renting and selling shipping containers.
These shipping containers can be used for moving, storage, or as container offices. They are secure and can be modified to include spray home insulation, doors and windows, as well as electricals.
Customer Reviews
Below are some of the comments from their past clients:
"These guys are great. Had my belongings moved from a storage locker from one province to another. I had the pleasure to have Jagger Gravel look after my move. I called and emailed him a million times and he was always so pleasant. It was loaded by a super great friend of mine from a locker into a Big Steel Box. From there it was brought to a safe storage location in the current province for a few days until I could get a city permit to park on my street. It was there when they told me, picked it up as promised. There were many things out of my control, but it went like clockwork. Thanks Jagger you are a star!!!!" -Linda Norton
"Very friendly service, very accurate estimate, no hidden fees. Made the best moving experience between provinces in Canada. Punctual, friendly truck drivers. Always available to answer any questions and requests. Made the most of your time, delivering earlier as possible in the day. Moved my hole house on time. You'd need to do the physical work thou, if you are not into moving all the heavy objects you should spent more money and hire movers. Items all arrived just as they left my place, nothing was broken or damaged in anyway. I would do this again I would use them again, and yes, I would totally recommend them to friends and family." -Sergio Enrique Cuquerella
"We moved from BC to Manitoba, and our experience was excellent on both ends of the move. Both locations to drop the boxes were tricky, and the drivers aced it both in Maple Ridge and in Winnipeg. Communication with the offices was prompt and responsive, and they could not have been more helpful! Drivers in both provinces were expert and delivered and picked up not just on time, but notified us when they were close as well. It was a difficult and somewhat stressful move, but the experience with Big Steel Box was the easy part of the move….they are fantastic, friendly, helpful, and expert. I would not hesitate to recommend them!" -Sherry Bellamy
7. Cheap Movers Vancouver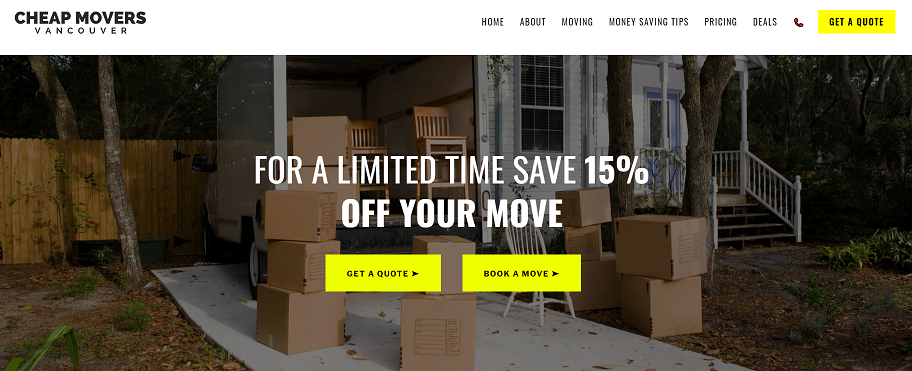 Cheap Movers Vancouver starts each project by taking a close look at the exact inventory of your move through an in-home, video, or online estimate, the navigation factors (parking, best access, etc.), and how to best protect your home and possessions during the moving process.
They then go through some of their money saving options to make your move as affordable and stress-free as possible. Compared to other companies, they have a unique approach where they save money without sacrificing the quality of the move.
With some of the most experienced movers in the business and the largest fleet, they are one of the most reliable movers out there.
Customer Reviews
Below are some of the comments from their past clients:
"On time, polite and efficient. Well done!"
"The movers were so kind and did everything in a timely fashion. Their attitude was so upbeat and they were so positive about everything even though my move was in the evening and I assume that they have been moving all day and must have been tired. These great guys even helped me reconstruct my bed, as I am really bad with assembling furniture and would've struggled with it on my own. I also booked extremely last minute and was able to get in the next day! There was no damage to my belongings and no scratches on the wall. Great quality for a great price!"
8. Hercules Moving Company Vancouver

Hercules Moving Company Vancouver has started its path in Toronto, performing local residential relocation and piano moving. They then expanded their range of services covering the business industry, with the same quality as for residential.
After a few years, they started to offer long distance moving services in Canada and cross-border moving services to those who are in the USA. One year ago, Hercules Moving Company became an official overseas moving company conducting international moves worldwide.
As you can see, they've invested a lot of time and effort to differentiate themselves from all of the other moving companies by developing a comprehensive step by step moving system.
Customer Reviews
Below are some of the comments from their past clients:
"Recently did a cross country move from Toronto to Vancouver with Hercules Moving Company, and was blown away by their service. Their movers are professional, honest, efficient and punctual, and all of my belongings arrived undamaged. I've used many other moving companies over the years, and Hercules was by far the best! I will say, they do cost more than other moving companies, but you're paying for quality and professionalism."
"I was extremely impressed by HMC and highly satisfied with the service the Company provided, especially that provided by Anna T (Relocation Specialist) and the wonderful HMC staff whom collected and delivered my personal items with speed and care. Deciding on which removal firm to trust with your personal belongings is always a daunting task. As part of the process of choosing the right Company for my requirements, I contacted over 10 companies and spoke to many representatives. Each company had a similar pitch as one would expect, however, prices varied considerably for the exact same move. In one instance, the difference was ~$15k. Furthermore, I found that a few companies not only attempted to outdo the other on price, however, also bad-mouthed the "competition" in order to win the business. My goal, as is the case with most people, is to source a moving company that is able to offer trust, reliability, communication, speed, and at a reasonable cost. I found this in HMC. From the very start, Anna T was a pleasure to deal with. She was attentive to my needs, honest, and very responsive. Anna T was also very accommodating, always working to provide solutions to all possible concerns that I had. The rate she was able to offer was competitive, and after much back and forth, and following many conversations with other companies, I decided on utilizing the services of HMC. Anna T provided me with updates throughout the process which was reassuring. The gentlemen who collected my items, and delivered them (whose names I do not recall), were very professional and took great care with my possessions. My items arrived on time as agreed, without any damage which I was extremely grateful for as anything can happen during such moves. I cannot recommend HMC highly enough, especially Anna T and the individuals who physically moved my items each of whom represented HMC very well, and I look forward to my next move with them."
9. Rainforest Moving and Storage
Whatever your move requires, Rainforest Moving and Storage's experienced crew knows that no two projects are alike and that each client has particular needs. They offer expertise for planning your move and can handle any moving challenge with practical solutions and professionalism.
Their moving professionals strive to make each moving project, whether large or small, commercial or residential, as smooth and stress free as possible. Each member of their staff, from the helpful sales consultants, experienced packers, skilled crews and vehicle operators, is fully trained and committed to providing the highest standard of personalized service in the industry.
Furthermore, they are one of the most trusted movers in Vancouver, Richmond, Surrey, Delta, North Vancouver, Langley, Burnaby, and New Westminster.
Customer Reviews
Below are some of the comments from their past clients:
"Rainforest moving helped us move across the lower mainland and also rented us durable plastic moving boxes. The boxes were much better than the cardboard ones I had previously used. The service was right on. The owner, James, was very responsive, yet not pushy. I recommend them and would use them again."
"On time, friendly and efficient. A stress free experience from making the reservation to the end of our move. We will use them again!"
10. 1Pro Moving and Shipping

1Pro Moving and Shipping offers a wide variety of moving services that could suite everyone's needs and budget. Whether you need help for a simple move around the block to shipping a container anywhere in the world, they have a fast and efficient moving system that can help you get where you need to go.
Their employees are all experienced movers and packers whom they drug tested and background checked. They work with you from beginning to end, quickly answering all your questions and easing any concerns you may have.
Furthermore, they have been in business for over twenty years with an outstanding reputation, long list of references, and 0 claims with the Better Business Bureau ( BBB).
Customer Reviews
Below are some of the comments from their past clients:
"Rainforest moving helped us move across the lower mainland and also rented us durable plastic moving boxes. The boxes were much better than the cardboard ones I had previously used. The service was right on. The owner, James, was very responsive, yet not pushy. I recommend them and would use them again."
"On time, friendly and efficient. A stress free experience from making the reservation to the end of our move. We will use them again!"
11. BC Movers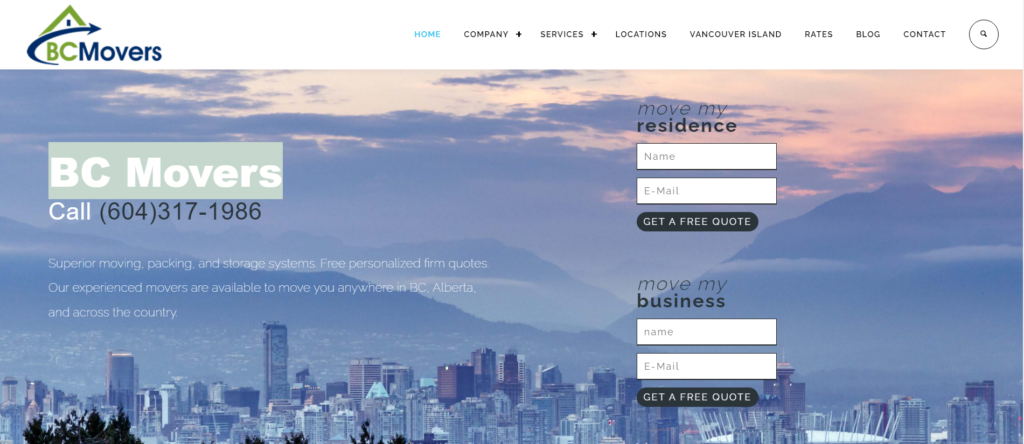 BC Movers is a local moving company with local values. They believe that every job should be done as carefully as if their own belongings were being moved.
They use many ways to move your belongings safely and carefully, and cutting corners is not one of them. They take care during all points of transit to protect your belongings from contact damage.
Their movers have the experience and equipment to make this happen without taking extra time.
BC Movers also uses a variety of rollers, dollies, pads and wrap to protect against damage. Their drivers have clean driving abstracts.
Customer Reviews
Below are some of the comments from their past clients:
"The movers who assisted me were polite, friendly, and very fast! They handled my items with care and asked me questions if they were unsure how to pack or where to put something, ensuring that I was happy with how everything was handled. I also appreciate that they wore masks the entire time. I had some of my items delivered to storage, but did not go with the movers as I had to clean for my suite inspection. I went the following day to make sure everything was in order and the storage unit was very efficiently packed with care. This move has been stressful, but BC Movers definitely made it a lot easier for me!"
"Accommodated short notice scheduling. Friendly and hard working movers. Showed up on time, worked carefully and at a good pace. Fair price. No extra fees. No damage to possessions. Have worked with a lot of moving companies and would recommend."
12. Movex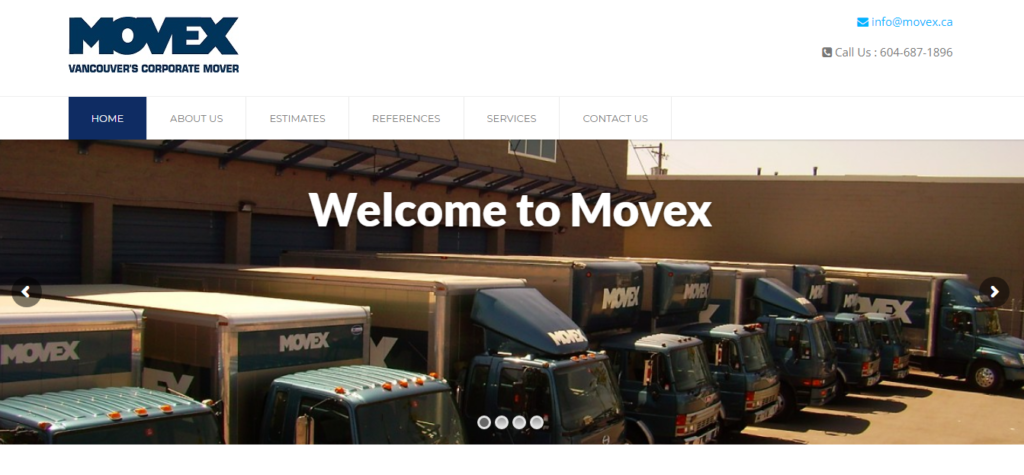 Movex is an independent and professional moving company that is specifically geared toward commercial purposes ever since the year 1981. They are the whole deal as their staff is also adequately trained in disassembly and assembly of various systems and equipment.
Internal relocations are also one of their specializations as they accommodate all types of jobs may it be big or small as long as it is within your premises as they are fully equipped with a fleet of trucks that are modern and functional. Furthermore, should you wish to dispose of some items and furniture, look no more as they also offer a full range of disposal services.
They also have a modern storage facility that is complete with equipment and an adequately heated 20,000 square foot which is complete with security alarms and a fire resistive feature as well.
Complete with the proper equipment and staff for the job, this is a moving company that you should consider should you need commercial moving services due to their uncanny balance of professionalism and excellent service.
13. Nibia Movers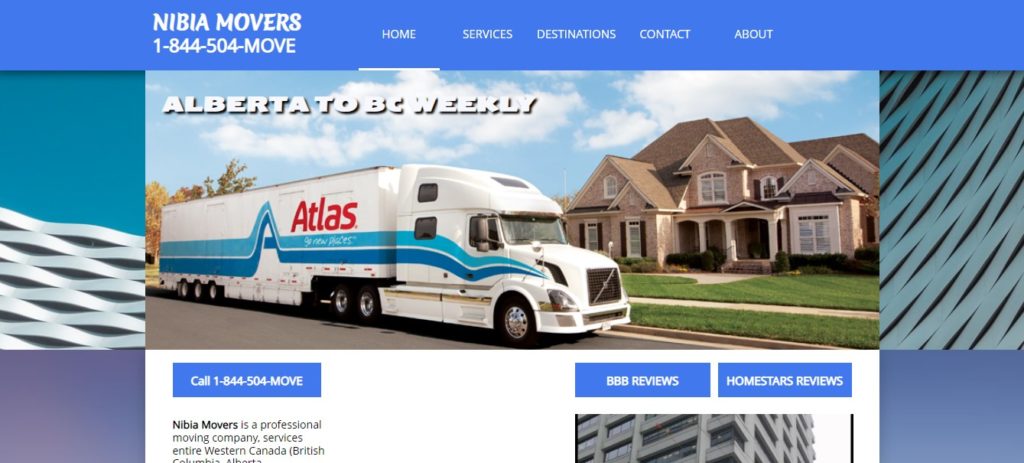 Nibia Movers is a professional moving company and a van lines agent that also services moves across Canada, USA, and Worldwide. From move management, packing, loading, transporting, unpacking, short and long-term storage to vehicle transportation, they can serve you.
No matter how few or many things you need to move they can accommodate you. What makes them better is how they are aware of the differences in every move.
Unlike others, their staff members are more than willing enough to meet with you and your tailor to discuss the moving plan.
Their additional moving supplies will keep your special items safer than ever in order to avoid breakage during the move
Customer Reviews
Below are some of the comments from their past clients:
"Bought a home and sold and my Calgary condo within a week. Purchaser wanted possession ASAP so I had to move within 21 days. Andrey, Marina and their crew came to my rescue and had me moved as they promised without any problems. They are very efficient, friendly and the wrapping of my items was done with extreme care. I highly recommend NIBIA Movers."
"Andre and his team were incredible to help me and my family move! They did two moves for us a home move and also a Business move. Everything Got put where it needed to go, and he even came back a day later just to help me set up my new office. His guys helped me build racks I needed done which I could of never done on my own! This was such a genuine and kind gesture (sorry to say we dont see much of these days) True workers but better said, servants with pure hearts who just want to bless people into new spaces! For our home move , Andre showed up with 7 strong men I had so much peace- he showed up with a whole army!! The team was pleasant to work with. Every other mover gives you a time and never shows up on time. Andre was early! ( not very common) I really appreciate Marina also who comes to help she is a sweet woman ( his beautiful wife) who assists Andre and it this special moving team I will hire again and only refer Nibia. Nothing was damaged and a mild drawer broke in the move, but Andre fixed it and told me how to siimply glue something back together. i have so much confidence in this company and do hope Andre and Marina'S Moving Business Nibia will prosper greatly! Bless you guys and again thank you for helping me and my family"
14. Edgemont Moving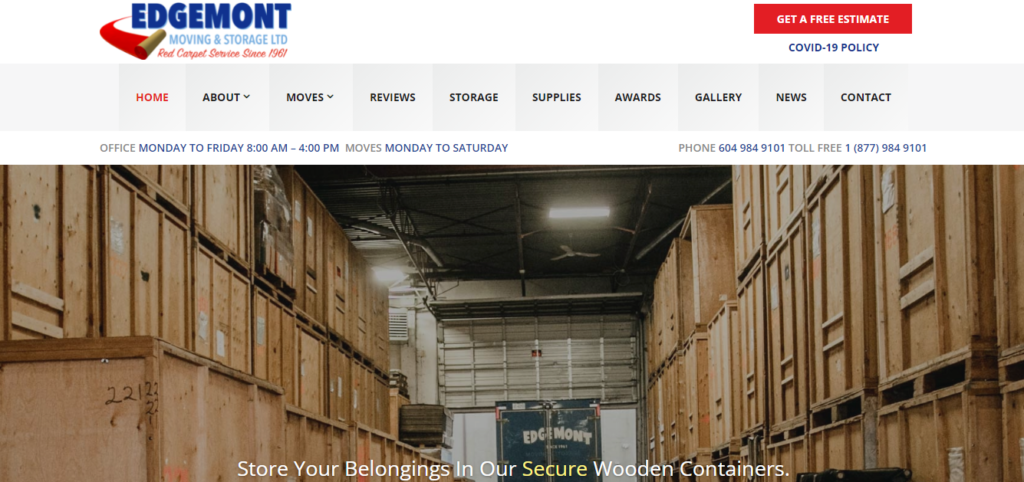 Edgemont Moving is a company that provides full-service moving and storage necessities in its areas of scope. Established back in 1961, they are among one of the companies that have been recognized and awarded for their quality and consistent services.
With over 60 years in the industry, they have since then been able to help clients move their items across Canada and internationally as well.
We find it commendable that their services are tailored and geared to accommodate commercial and residential moving, and storage needs to ensure that the most efficient and secure approach is employed in the specific setting.
Employees are all fully reliable for each job that they do since the company has performed a thorough screening and is fully insured, bonded, and licensed which we think is a solid basis of the company's overall reliability.
We recommend this company due to their swift and prompt performance and feedback that has left numerous clients with a pleasant moving experience.
Customer Reviews
Here are some reviews from their clients:
"I wanted to tell you that your entire team, every one of them, MikeF., Daniel and Martin, did a great job for us. I appreciated their care with our things and their care with walls, door frames, etc. They worked hard, had very good client communication skills and I would highly recommend them to anyone." – Charlotte Mougeot
"I would like to give a great big thank you to your wonderful movers on Friday, October 7th, 2011. The move could not have gone smoother for my 90-year-old father, Ashley C. Your crew were fast, professional, and most of all, so respectful. It will be a pleasure recommending Edgemont Movers to friends and family in the future. Thanks from a very grateful daughter!" – Denise B
15. My City Movers
My City Movers earns its spot as one of the best movers in Vancouver. This professional moving company wasn't awarded as the Best Vancouver Movers for 7 consecutive years for nothing.
We like the variety of services that they can offer. They have packing services, local and long distance moving, commercial moves, office moves, and storage services.
What's more is that they even offer rentals of reusable moving bins and we think it's great that their packages for this include free delivery/pick up for 1 location.
Another thing we like about them is that they offer a free estimate for their services.
If you'll be availing their storage service, there's no need to worry because the place has video surveillance and has no public access.
We've come across some feedback from the past that says that their moving services are great, but they lack in terms of customer service. However, more recent ones have shown that they've greatly improved in this aspect.
Overall, we've heard more positive than negative things about them, so we still believe they're one of the best choices in the area.
Customer Reviews
Here are some reviews from their clients:
"I just used My City Movers for a quick move of things from a shipping container into my grandmother's new one bedroom place, with one other stop along the way to drop off some things and pick up a couple boxes. I am very pleased with the service, the employees, and that everything was on time. Easiest move I have done and well worth the money spent."
"So impressed with how smoothly everything went! Just a dream to work with and so accommodating to specific needs for downsizing, storage, and shifting furniture to other family members. Staff were friendly, well organized, and extremely hardworking."
16. Smoother Movers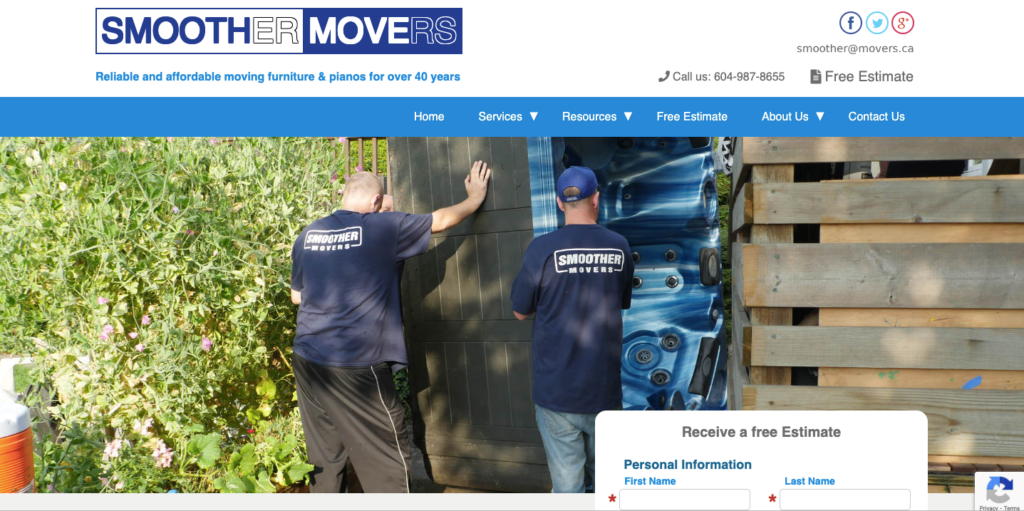 Next on our list is Smoother Movers.
This company all started in 1981 owning just one truck servicing Canadians. But because of good word of mouth about the services they provide, they have been packing and relocating families and companies for over 40 years now.
Smoother Movers is a mid-sized moving company that serves Vancouver and the lower mainland. They specialize in piano relocation, which is something that not all movers can do. Rentals and sales of packing supplies, plastic bins and wardrobes for transporting clothing, and fitted covers for sofas and mattresses are among our offerings.
In addition to that, they also have storage services where you can store your load in our safe storage facility, ensuring that it is properly padded and piled.
You have peace of mind in availing of their service as they have a USDOT/Motor Carrier license and are licensed and insured to move in British Columbia. They can pass on savings to our thousands of satisfied clients because of our minimal overhead and high volume business.
Customer Reviews
Here are some reviews from their clients:
"I needed to move from my apartment April 26 in a hurry, and how do you get two guys to do the work of ten? Call Smooth Moves. Josh and Adam were lifesavers – super nice, courteous, and caring throughout the whole situation. It almost felt like 3 moves in one because furniture had to be moved out and moved for mine to be moved in at the new residence. They did it all, and were beyond friendly while doing it. The cost of the move was so reasonable I was shocked. They even removed three old mattresses and box springs for disposal. Talk about making my life easy! They were early, didn't leave until the job was done and done right – and kept asking if they could help with anything else. I will never be able to thank them enough for helping me during this difficult time – these guys and Dylan are amazing. If you ever need anything, call them – you will be so happy you did. Thanks from Anna-Lisa – you have a lifelong fan :)" – Lisa Wiliams
"Smooth moves is the way too go. They showed up on time, with positive attitudes and a good work ethic. We moved from a 2 bedrooms apartment into a house within 3 hours. They knew all the tricks and were very well organized. Blaine, Gab, and Jordan were super personable and funny! We were so lucky to have them help us move into our first home. We will definitely recommend your company going forward. Can't thank you guys enough!" – Ryan Roberts
FAQs About the Best Movers in Vancouver
---
Moving can be a lot of work, but hiring professional movers can ease your physical burden. So if you're planning to settle in a new location, save some time by using this article as a quick reference for finding a moving company you can trust.
Have you tried any of the best movers in Vancouver who made it to our list? We'd love to hear about your experience!