15 Best Physiotherapy Clinics in Vancouver
Vancouver is a big city, and there are a lot of physiotherapists out there promising effective treatments and quick recovery. We know how difficult it can be to decide whom to trust with your health.
In this article, we made a list of the best physiotherapy clinics in Vancouver. This should make the task of finding the right therapist easier than ever!
The Best Physiotherapy Clinics in Vancouver
Before we get into the details of each physiotherapy clinic, let's start with a price comparison table of their most basic services. This can help you narrow down your choices instantly as you can immediately see which one fits your budget.
Continue scrolling past the table, though, if you want to learn more about how each clinic can help you and for more detailed price lists of their specialized services.
1. Main Street Physiotherapy Clinic
Established in 2009, Main Street Physiotherapy Clinic was the first physiotherapy clinic in the vibrant Main Street/Queen Elizabeth Park area.
Now, it's one of the best physiotherapy clinics in Vancouver. With a team of 11 physiotherapists, it offers a full range of hands-on treatments and client education solutions.
What's great about them is that they offer 1-on-1 personalized treatment and you'll see the same physiotherapist in your next session. They also have complete facilities, including private rooms and a gym on-site.
With the extensive experience of their physiotherapists and friendliness of their front desk staff, it has become the go-to physiotherapy clinic in Vancouver. From sports injury and workplace accident rehabilitation to therapy for joint replacement or other medical conditions, Main Street Physiotherapy Clinic is a pretty good choice.
Customer Reviews
Below are some of the reviews from their past patients:
"I've seen Kate Kennedy here and she is absolutely incredible. Very patient, kind and friendly and explains things thoroughly and simply. So happy this place and Kate were recommended to me. Will be staying with them. The receptionists I've spoken to have all been really warm and great to deal with as well." -Kailey H
"Mike Wall has been my physiotherapist for years and has been an amazing help not only with injuries but also with prevention. He is a caring guy who incorporates different modalities to ensure your well-being. He is knowledgeable, compassionate, thorough, and realistic with a focus on our goals and returning to the activities that we hold most dear. Thank you Mike for all you have done to keep me fit enough to participate in my life!" -Dave Robens
"Great, friendly office staff greeting you at the door and managing phones, billing and all the other tasks of the office setting. Knowledgeable rehabilitation staff, fitting treatment to needs. I would not have been able to be still working if not for Aart (it is a good thing). I have experienced therapy with most of the fantastic rehabilitation staff at Main Street. From back manipulation, developing core exercises, lymphatic massage, pain management, to yoga for core stabilization this group does it all. A big thanks from me!" -Laura Frith
2. North Vancouver Physiotherapy & Sports Clinic
North Vancouver Physiotherapy and Sports Clinic is one of the top physiotherapy clinics serving North Vancouver, West Vancouver, and the North Shore. It is part of an allied health group with presence in 9 locations at the lower mainland in British Columbia.
As a multidisciplinary clinic, it uses various therapeutic techniques such as exercise programmes, joint manipulation, Muscle Energy Technique, and ice and heat therapy to help patients recover quickly.
Their team of 6 physiotherapists can treat patients who have suffered from sports injuries and work accidents, as well as those who have undergone surgery and have underlying medical conditions.
While they work closely with medical doctors to provide the best results, they are also experts in alternative treatments such as acupuncture and IMS dry needling.
Customer Reviews
Check out some of the reviews from their past patients:
"So glad I found this clinic online. Friendly, efficient, professional, effective are just a few of the words that come to mind. A month ago I thought I'd never be able to run the local trails again, but thanks to Klara and her incredible knowledge and physio skills I'm back out there enjoying every minute… So much to be thankful for at 72 years young." -Brian Park
"I went here to check and rehabilitate a one of my knees that has been severely injured before. Josh did a thorough assessment and quickly determined what underlying issues were causing my pain. He gave me exercises to do at home and was very friendly and helpful, answering all my questions along the way. It took only a few sessions and I'm back to feeling good as new. The staff at front desk were also very helpful and friendly. As someone who has been to physiotherapy many times before, I highly recommend this place." -Nicolás Guerrero
"My regular treatments with Jami Boyd were game changing. This is the best physio I've had to help me heal from my injuries, and she also worked with my other service providers to ensure continuity of care. I have been empowered by the exercises that I was prescribed. Their aim is to get you to your best, not have you be dependent on them. It's a wonderful location too." -John AL-Zubaydi
3. Alaia Physiotherapy Sports + Wellness
Alaia Physiotherapy Sports + Wellness is a leading physiotherapy clinic in Vancouver that offers physiotherapy, registered massage therapy, and clinical Pilates. It has a team of five registered physiotherapists who have diverse skill sets and areas of expertise.
When you visit Alaia, you'll find yourself at ease in their modern boutique clinic and private treatment rooms. Whether you're consulting for optimal healing, relaxation, or better mobility, they'll be able to recommend the most suitable programme for you.
Beyond physiotherapy, they also offer workshops and classes for injury prevention, health, and wellness, as well as performance. Some of their most popular workshops are for meditation, golf, and marathons.
Customer Reviews
Here's what past patients have to say about their service:
"My experience with the team at Alaia has been fantastic. I've worked with Troy, James and other physios at Alaia. They are very knowledgeable, and have great insights that have really aided my rehab following an MVA. I also feel they are awesome communicators, both in terms of motivation, as well as explaining fairly complicated medical issues to a layperson. Front desk staff are very personable, responsive & helpful. Great location & space. Alaia are an awesome group." -Brendan McEwen
"Very pleased with Alaia Physiotherapy. Went there with serious pain in my lower back. Had my first two sessions with Katrina and this already helped me a lot, but when she left me on the capable hands of James while she was away for a couple of weeks is when things really took a definite turn. Just 24 hours after my first session with James, my pain was 80 per cent gone. I couldn't believe it. And a couple of more sessions with them, first with James and then with Katrina again was all I needed. Very good professionals. I highly recommend them!" -Francesc Izquierdo
"Great experience with Alaia Physiotherapy! James has been fantastic and provided me with treatment and insight into the 'why's' behind my knee pain. He provided a full assessment and treatment plan tailored to my needs – all round very friendly, professional and an awesome space & location!" -Georgie Tucker
4. MJ Physio
MJ Physio is a Vancouver-based physiotherapy clinic with a focus on preventive physiotherapy. Its team of four physiotherapists and a personal trainer have over 100 years of combined clinical experience and shared dedication to helping patients maintain an active lifestyle.
What makes MJ Physio different is its holistic approach to treatment. They consider all factors such as major stressors at work and in your home, body health, genetics, nutrition, lifestyle, and habits.
When you visit MJ Physio, your preferred physiotherapist will perform a thorough evaluation of your condition and design a personalized treatment plan specifically for you. This typically includes hands-on treatment by a registered physiotherapist and a Home Exercise Plan that you can do on your own for faster recovery.
Customer Reviews
Here are some comments from their past clients:
"I went to so many different physio therapy and chiropractor places, and they all did not help my herniated disk problem. Krishna and Muralidhara Ram helped me and fix my problem. Spinal decompression, IMF needling fix my problem. (I hated needling, but Ram is extremely good at it) Thank you!" -Korban Torsun
"Went to MJ Physio, after hurting my ankle. Straight away Dr. Ramadass knew what degree of ligament sprain it was and proceeded with treating it. All the staff were very nice and helpful also." -Gary Stephens
"I have a chronic case of tennis elbow and I started with MJ Physio in December. The staff are wonderful and my therapist Krishna is so knowledgeable. I did have a range of therapies which included shock therapy which started out extremely painful but worked so well. I now look forward to getting this treatment. I had acupuncture, massage, heat, and exercises to do at home. My recovery has been amazing. Thank you to the best treatments I could have possibly had. Amazing place." -Cindy Pechlaner
5. Focus Physio and Wellness
Focus Physio and Wellness is a multi-disciplinary clinic right at the heart of Vancouver's Olympic Village. It offers a wide range of physiotherapy, massage therapy, kinesiology, intramuscular stimulation, and clinical Pilates services.
With a diverse team of 6 registered physiotherapists, 5 registered massage therapists, and 2 kinesiologists, it can serve a wide range of patients suffering from different conditions. It can even perform specialized Pelvic Floor Physiotherapy, which not all clinics offer.
Through Pelvic Floor Physiotherapy, pelvic dysfunctions that are normal parts of aging or common during pregnancy can be resolved or prevented.
When you visit Focus Physio, you know you're in good hands the moment you see its facilities. These include a full gym, a functional trainer, and a squat cage for strength and conditioning, as well as equipment for running assessment.
Customer Reviews
Check out some of the testimonials from their past clients:
"Both Marina (RMT) and Molly (Physio) and wonderful. Really informative and helpful, warm, and full of appropriate expertise. Both help me stay (or return me to being) mobile and pain free, which I'm really grateful for!" -Alida Thomas
"Aaron is great and knowledgeable. He shows interest and has a experience to backup his physiotherapy teachings. He takes his time to explain things in detail. This facility is top knotch." -Shahab Nazemi
"The service with the receptionist is never anything but lovely. All the employees are very kind. I do enjoy the online booking as I'm not a person who enjoys talking on the phone. Book ahead they get busy but so worth the wait. Amazing staff." -Amanda Matheson
6. Vancouver Physiotherapy Hub
Located in the heart of downtown, Vancouver Physiotherapy Hub is a Vancouver physiotherapy clinic, with 20 years of experience providing care to clients all over the lower mainland. They are a leading multidisciplinary clinic, with a team of highly specialized physiotherapists that are trained in a variety of therapies, including IMS, sports physio, pelvic floor physio, and premier motor vehicle accident program.
At Vancouver Physiotherapy Hub, their unique approach to physiotherapy mirrors the individual needs of your body. They know the importance of one-on-one treatments, which means that you are our only priority in a treatment session.
Vancouver Physiotherapy Hub's mission is to be Vancouver's most trusted and respected physiotherapy provider. Their clinic is conveniently located in downtown Vancouver. Their physiotherapists are committed to delivering the highest quality of care and exceptional customer service.
7. West End Physiotherapy
West End Physiotherapy Clinic is a multidisciplinary clinic offering registered massage therapy, exercise therapy, and physiotherapy in downtown Vancouver for clients interested in expert guidance in rehabilitation.
Their team is concerned with both prevention and rehabilitation. They prevent or lessen some physical problems, whether they are a result of injury, disease, repetitive strain, long periods of inactivity or other causes.
They also help reduce pain and enable people to remain active, become stronger and more flexible, and aids in preventing further injury.
Customer Reviews
Check out some of the testimonials from their past clients:
"I am so happy with the treatment I received from Bryan Yau over the last couple of weeks. He really helped me deal with some debilitating back pain and muscle spasms. I look forward to getting treated by him again in the future, whether it is to deal with more muscle pain or simply to help me ease tension and relax."
"I had a great greeting by Paulina and a wonderful session with Bryan Yau. Looking forward to going back next week."
"This place is great. Things run on time. Front office staff are excellent and courteous. I went for physio for an injury and once the diagnosis was done there was a clear treatment plan even when I had to switch therapists. I received precise instructions on the exercises and feedback as my condition improved. The therapist took the time to show me how to do each one. Best of all, it worked!"
8. Westcoast SCI

Westcoast SCI strives to staff a team of healthcare professionals committed to elevating the standards of care for everyone, to consistently aim to be better, now and for future generations.
It is their mission to inspire a healthier community by being honest, caring, and knowledgeable physiotherapists who take an integrative approach to support patients, communities, and each other.
Their personalized, research-driven, active-based care is tailored to your individual needs and long-term health. Your program and recovery will be custom for you, with complete care from manual therapy to exercise therapy delivered by a team of cutting-edge and compassionate physiotherapists and kinesiologists.
Customer Reviews
Check out some of the testimonials from their past clients:
"Head physio session with Peter, really professional approach, perfect communication and description what is happening to my knee and what need to happen to make it 100% work. Coming back soon and can only recommend to others."
"I started working with Jasdeep at Westcoast Physio last year and she and the whole have been great! Very thorough with the initial assessment and put together a comprehensive plan I could follow and complete easily at home. Also really liked that they had a Patient Portal where I can track my exercises. Seen some great improvements so far with my injured shoulder. Highly recommend a visit!"
"What stood out to me immediately about Westcost SCI is captured perfectly in a portion of a recent email newsletter from them. I've copied it below. This one-on-one time and complete dedication to the individual patient for the entire duration of the appointment is such an excellent patient-experience. I had been frustrated in the past at other clinics by the overlapping appointments, where you get maybe 10 or 15 minutes of time with the therapist."
9. Physiomed
Whether you're suffering from pain or injury, need help with a chronic condition, are looking to improve your athletic performance, or want to be more proactive about managing your health and weight, Physiomed can help you.
Their approach to helping you achieve your peak health is commendable as they go beyond simply treating symptoms. Rather, they focus on addressing the underlying or structural causes that can undermine your recovery and prevent you from achieving your optimal health.
They also have over thirty clinics and hundreds of highly skilled healthcare professionals from over a dozen disciplines, including physiotherapy, chiropractic care, chiropody, massage therapy, nutrition, and naturopathy.
Customer Reviews
Check out some of the testimonials from their past clients:
"The decompression procedures make a big difference to pain areas. Also, Dr Samji uses sound frequency which is great too. The overall experience and the various treatments altogether work really well with pain relief that is sustaining. The staff is also friendly and helpful"
"Wow first time I was at Physiomed to be honest I was not sure if it will work I took an appointment and explain that I have a pain on my knee for almost 2 months now I had my first session and after that my knee did not hurt at all I could bent it and I had a good night sleep which I could not before with the pain that I had on my knee I am on my second session now and look forward for my next session next week. Thanks you Doctor Samji."
"I've had 5 Shockwave treatment and adjustment sessions with Dr Samji, and it had made a big difference in my health. I was straighter, my posture have improved, my back, neck and shoulder pain have lessened considerably and I feel so much happier. It's amazing how much your disposition changes when not in pain. I am 70 years old and these treatments made significant health benefits in my life."
10. Burrard Physiotherapy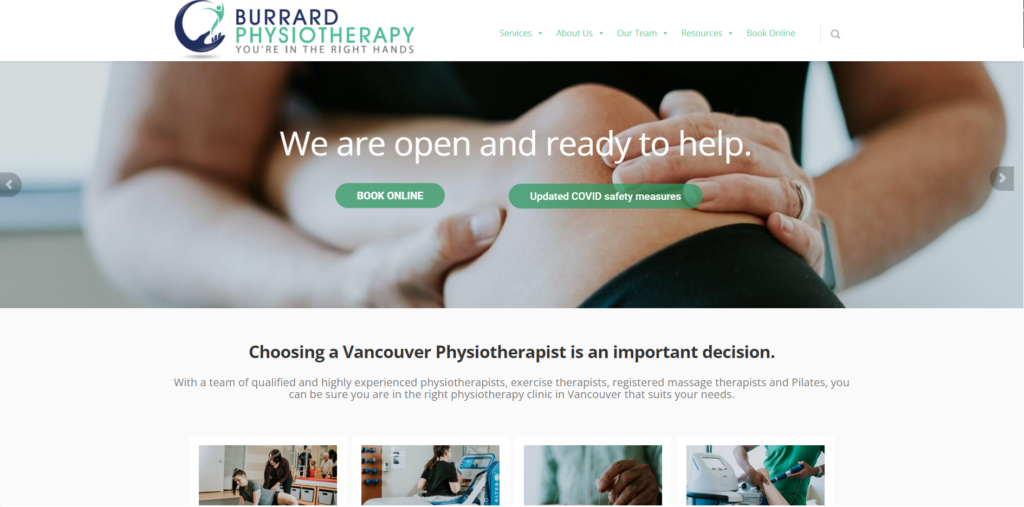 Burrard Physiotherapy has 12 highly skilled physiotherapists, 2 massage therapists, kinesiologists, yoga instructor, pilates instructor and exercise therapists in-house, allowing them to offer a wide variety of services to clients.
The clinic is a product of joint efforts of two well-known and outstanding physiotherapy clinics in downtown Vancouver. These were merged around the mid-2000s to become what it is today.
Their team of therapists have multiple levels of training and education over and above their original degrees. A basic principle of the team is also high dedication to an active lifestyle, making them more committed to providing the most care possible for clients' recovery and wellness.
One bonus for us is that their reception area has free coffee and tea, showcases local art, and is overall very comfortable. This has been proven by clients to ease the tension upon your first visit.
Customer Reviews
Here are some recent reviews written by clients:
"Efficient staff. Very friendly. For my first appointment I felt like I got a thorough examination. The use of their gym facility was convenient, especially during COVID times when my building gym is closed. I left feeling fluke I was in good hands and my injuries will be improved."
"Immediately felt like I was in good hands here. Within minutes the issue was identified followed by thorough explanations and treatment. Very friendly staff. Will recommend to everyone I know."
"Kaitlyn Casper is the best! My partner and I have been seeing her for a few years now. She has helped both of us recover from different sports injuries, a tricep reattachment surgery and also issues with such as knee pain and overall body alignment. She is incredibly kind, thorough and genuinely cares about her patients. She gets super curious to help diagnose and treat different issues. Also, if you're looking for IMS that is super effective and also gentle, she's your gal. We have nothing but good things to say about Kaitlyn! Thank you for everything."
11. Main Yan Physiotherapy Clinic
Main Yan Physiotherapy Clinic is a facility that specializes in treating and providing all of your physiotherapy needs that are caused by various factors that you have encountered in your life. They provide these services in an extremely professional way that makes you feel cared for and respected in every aspect of their treatment procedure.
The clinic makes it a point that you are able to have access to their facility with utmost convenience since they want to help treat you in any way that they can. They also offer free underground parking should you have a vehicle so you don't have to worry about the safety of your car and focus on getting better and treated.
They are highly certified and accredited since they are a member of various organizations that are interrelated to their field of expertise such as the Canadian Physiotherapy Association, the Physiotherapy Association of British Columbia, and the Hong Kong Physiotherapy Association among others. Furthermore, they are also a WorkSafeBC and ICBC registered treatment provider so rest assured that you are in the right hands if you are getting treatment from them.
We highly recommend this clinic for any of your physiotherapy needs due to their superb niche when it comes to balancing professionalism, a caring attitude, and excellent skills in the field that will surely bring relief to your bodily issues.
Customer Reviews
Here are some reviews from their clients:
"Three months ago, I couldn't even do a pullup due to a trampoline injury. My shoulder and neck tensed up so much that I couldn't sleep, at times felt like I needed to be admitted into the emergency room. Through a friend's recommendation, I received ongoing treatments from Dr. Yan. Within this short period of time, the tension subsided and diminished. The best part was that I was about to continue with my pole sports training. As a competitive athlete, I became the Canadian Men's Pole Champion; Also, the US Northwest Men's Pole Champion this month. Many thanks to Dr. Yan for the medical expertise and special care to prepare reinvigorate my body back to its youthfulness!"
"I am taking this special occasion to thank you for taking care of my neck pain. I mentioned before that at least over twenty years, I used to have a lot of pain. I have been seeing specialists and physiotherapists, but the pain was always there. I have also taken many different strong prescription pain killers. Last year my husband convinced me to see you. After several visits, believe it or not, I am not anticipating further pain. Again, I am so thankful and thank you very much, keep up the good work."
12. Launch Rehab
Want to live a better life through movement? Well, you are in luck because we introduce to you Launch Rehab.
They are a therapy studio that provides clinical expertise that is focused on enhancing the health and wellbeing of people.
What makes them stand out from their competitors is that their registered physiotherapists apply proven and precise treatment techniques. Through this, they are able to provide effective and quality care to their patients.
Aside from this, they have 12 types of treatment under their physiotherapy. Some of these are Manual Therapy, Active Rehabilitation, Work Simulation, Gradual Return to Work Planning, Vestibular Therapy, and way more!
And did we mention that sessions with them are available for claims with WorkSafeBC, ICBC, and MSP? They are also able to provide direct billing with private health insurance providers.
13. Limelight Wellness Centre
Limelight Wellness Centre is one of the top options for you because it's a one-stop-shop for alternative health and wellness therapies, as well as aesthetic skin care!
Here, you'll be given the utmost care through their one-on-one treatments with their highly experienced and knowledgeable team.
They offer an extensive list of physiotherapy services—from manual therapy to shockwave therapy. Not only that, they also have rehabilitation services like acupuncture, osteopathy, chiropractic care, and more.
You can even hit two birds with one stone on your visit and take care of your skin, too. You have many procedures to choose from for this!
Booking a free consultation with them isn't a hassle. You can easily do so through their website or by giving them a call.
We've seen a lot of great feedback about them overall. Although there are some reviews that mention issues with their service, the good news is that these are only isolated cases.
There really isn't much reason to not give them a shot, and that's why we've added them to our list.
Customer Reviews
Here are some reviews from their clients:
"I have been to limelight wellness centre for several laser hair removal and physiotherapy sessions. They were super organized when booking appointments, and they were super flexible with my busy schedule. I can not be happier with my full-body laser hair removal.
I have dealt with many physiotherapists in my life. I have to say doctor Sarmadi is number one on my list. He told me I do not need any treatments when I had a frozen shoulder, and I had to wait for a couple of months before I start doing any treatments. I believe they valued my time, and I am super satisfied with my experience. Highly Recommended." — Tayebeh Taba
"As a first time physiotherapy patient my experience was beyond expectation. It was an extremely pleasurable and helpful experience.
Alireza Sarmadi is a very professional, knowledgeable and supportive physiotherapist. He was able to diagnose my problem after hard knee surgery and treat it within a small period of time. I would highly recommend this clinic." — Mohammadreza Mahmoudi
14. Lee's Physiotherapy Clinic
Lee's Physiotherapy Clinic is another great choice to try out for physiotherapy. While their staff members have rich clinical experience, they still continuously learn more about their field.
They offer various services including intramuscular stimulation (IMS) therapy, manual therapy, modalities like shockwave therapy, exercise therapy, osteopathy and acupuncture.
To make sure everything is convenient for you, they offer longer business hours, online booking, and direct billing to insurance.
Moreover, they also provide multilingual service. They have staff who can speak English, Cantonese, French, Tagalog, Mandarin, Italian, Spanish, and Vietnamese!
If you want to be on the path of wellness, Lee's Physiotherapy can guide you along the way.
Customer Reviews
Here are some reviews from their clients:
"I got whiplash due to a rear-end collision (plus desk job health problem) and visited Hennie Ng at Lee's. Hennie is caring and knowledgable, providing insightful suggestions on top of treatments that have made my neck and shoulder better. The staffs are nice and helpful as well. Definitely recommended!"
"I had knee pain for a few years and visited a few physiotherapists. My knee problem was never cured until I went to see Tony Hui. His recommendations including unique stretching exercises have really helped. I no longer have knee pains and walk fine now. I highly recommend Tony to anyone who has mild, serious or persistent problems which require professional physiotherapy"
15. Vancity Physio
Vancity Physio is a wellness clinic that delivers results-oriented physiotherapy treatments to enhance an individual's strength, mobility, and function. They also have various facilities at St. Paul's and West Broadway to better accommodate more clients in the area.
We like that they are able to give their session both in-person and virtually to better accommodate clients who have busy schedules and are unable to physically visit them.
They also have sufficient amenities and equipment to ensure that clients get both the proper treatment and to have the most efficient option in helping their bodies recover from injuries.
Aside from this, they only employ certified and adequately trained professionals for the job and even accept ICBC and WorkSafeBC patients to make the most out of their services.
Note however that they have limited availability during weekends and clients may need to book an appointment day prior.
Customer Reviews
Here are some reviews from their clients:
"Booked with Ranko to deal with very painful TMJ. He was extremely knowledgeable, analyzed and explained the situation, and made some suggestions that have resolved the issue very quickly. Highly recommended." – Sian
"Came to see Tim after many years of living with an unresolved shoulder problem. In my first session with Tim, I felt I received an accurate diagnosis and an excellent plan going forward to resolve my 50-year-old hockey injury. I left feeling optimistic and relieved and look forward to my next session." – Gordon
FAQs About the Best Physiotherapy Clinics in Vancouver
---
Not all physiotherapy clinics provide the same quality of service. We understand your struggles and hope that this guide can help you find the right physiotherapist for your specific condition.
Have you tried any of those included in our list of the best physiotherapy clinics in Vancouver? Share your experience with us!