The 9 Best Gift Baskets in Vancouver
The gift of giving is a true joy and a gift basket is a popular gift to friends and family.
We, like most people, have difficulty deciding on a gift for someone, especially if the recipient does not express their preferences.
Whether you're looking for an anniversary gift for your partner or a way to celebrate moving into your new home, we've got you covered. We've compiled a list of the best gift basket stores in Vancouver!
How much do gift baskets cost in Vancouver?
Both givers and recipients of gift baskets appreciate the concept's creativity and uniqueness.
The price of a gift basket is determined by the products included inside, such as food, wine, or fruits. We list the estimated cost of various gift baskets so you can have an idea of how much to prepare.
| Type of gift basket | Price range |
| --- | --- |
| Wine and Cheese | $120 - $140 |
| Gourmet | $190 - $300 |
| Fruit | $40 - $300 |
| Chocolate and Sweets | $50 - $200 |
| Celebration | $20 - $200 |
| Customized | $150 - $300 |
Best Gift Baskets in Vancouver
Gift baskets are filled with delightful goodies and tasty treats that are ideal for the holidays.
It is simple to order and can save you a lot of time and money. Gift baskets are an excellent choice for the "hard-to-buy-for" person, that's why we included shops with numerous basket options for you to choose from.
The following criteria aided us in handpicking the best gift basket shops in town:
1. Saul Good Gift Co.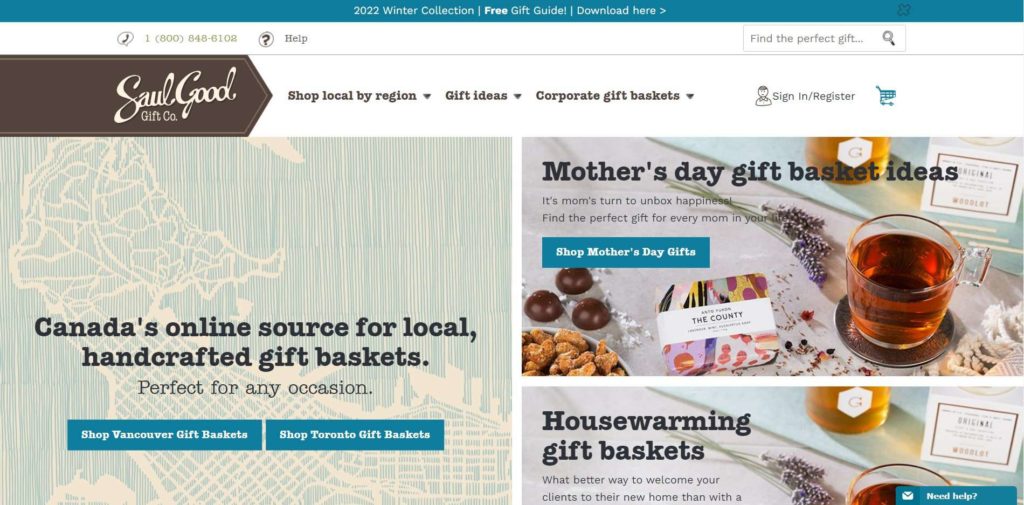 Test
Info
PRODUCTS
Mother's Day Gift Baskets

Gifts Less Than $100

Care Packages

Gourmet Gift Baskets

Chocolate Gift Baskets

Spa Gift Baskets

New Baby Gift Baskets

Housewarming Gift Baskets

Luxury Gift Baskets

ADDRESS
210-128 West Hastings St, Vancouver, BC V6B 1G8
CONTACT DETAILS
604-210-2932
OPERATING HOURS
Monday - Friday: 9:00 AM to 5:00 PM
WEBSITE
https://www.itsaulgood.com/
| | |
| --- | --- |
| Variety | ★★★★★(5/5) |
| Customer Service | ★★★★★(5/5) |
| Price | ★★★★★(5/5) |
| Payment Options | ★★★★☆(4/5) |
If you plan to order your gift baskets from Saul Good Gift Co., you better prepare your to-buy list. When it comes to variety, this store has a large selection of gift baskets to choose from.
This shop has got you covered, from birthday gift baskets to newborn and wedding celebrations. Their products are brimming with hand-picked, locally made, gourmet delicacies for your loved ones.
Unfortunately, it is important to note that this establishment does not provide vegan or kosher options to its customers. When you request it, they may be able to substitute a vegan item for a non-vegan item.
We particularly like that Saul Good Gift Co. uses locally sourced items from artisans. Wine and chocolates are among the many products they buy from local shops.
It is important to note that if you want to include a bottle of wine or spirits in your basket, you would need to give them a call, they will then provide you with a list of their recommended local wine stores in town.
Their baskets are all handcrafted and filled with the best-tasting local treats from British Columbia, Ontario, and Alberta.
Another thing that caught our attention is that they also have corporate gift baskets available. To make things easier for their clients, Saul Good Gift Co. even has its own Winter Collection Gift guide for corporate gift ideas, which you can browse.
Another reason why we love this store is because of its same-day delivery option in Vancouver. However, there is a $20 shipping fee for this service, and you must place your order by 11 a.m.
In addition, if your order is valued at $99 or more, you will receive free shipping within Canada.
Hand-crafted baskets
Supports local businesses
Offers same-day delivery
No vegan and kosher options
Only offers deliveries
Customer reviews
Outstanding customer service
"I 100% recommend this company. I was looking to send a gift basket and someone had referred me to them. The first time I ordered from Saul Good Gift Co. I was able to witness the tremendous amount of care and attention that was put into these gifts. I had ordered a gift to send to someone during a difficult time. Phillip, the Operations Manager, had saw the message and chose to follow up with me to see if the recipient is picking up the parcel from the post office. Seeing that the package had not been promptly picked up – Phillip took the time to email me to ensure that I follow up with the recipient to pick up the parcel. Outstanding service with such care. Truly a lot of heart goes into each of these gift packages – thank you and will buy from you all again!." Calvina C.
Helpful staff and accessible website
"Online site was easy to use. Representative was helpful and attentive. Gorgeous product!." Barbara M.
2. Pacific Basket Company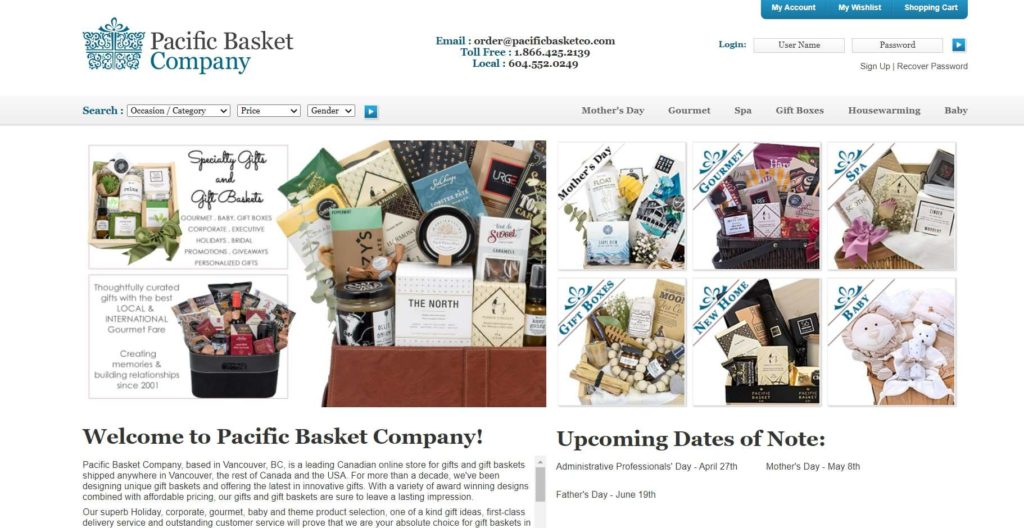 Test
Info
PRODUCTS
Baby Gift Baskets

Birthday Gift Baskets

Chinese New Year Gift Baskets

Christmas Baskets

Corporate Gift Baskets

Easter Gift Baskets

Mother and Father's Day Gift Baskets

Gourmet Gift Baskets

Housewarming Gift Baskets

Spa Gift Baskets

Valentine's Day Gift Baskets

Wedding / Anniversary Gift Baskets

ADDRESS
812 E Cordova St, Vancouver, BC V6A 1M4 Canada
CONTACT DETAILS
604-552-0249
OPERATING HOURS
Monday - Friday: 9:00 AM to 5:00 PM
WEBSITE
http://www.pacificbasketco.com/
| | |
| --- | --- |
| Variety | ★★★★★(5/5) |
| Customer Service | ★★★★★(5/5) |
| Price | ★★★★★(5/5) |
| Payment Options | ★★★★☆(4/5) |
The Pacific Basket Company has been creating one-of-a-kind gift baskets for over a decade.
It is a leading Canadian online store for gifts and gift baskets shipped anywhere in Canada and the United States.
We like that they use a variety of packaging such as bamboo, wicker, wood, metal, paperboard, faux leather, and environmentally friendly containers for their baskets.
They also offer a diverse collection of gift baskets for different occasions and themes such as gourmet, picnic, fruit, corporate, birthday, congratulatory, Christmas, graduation baskets, etc.
The Pacific Basket Company is also notable for being the pioneer of personalization. They make tailor-made baskets, allow you to customize any of their gifts, and even create a keepsake just for you!
Additionally, they accept orders for personalized ribbons at $5 a piece. They also offer services such as incorporating your promotion material into their baskets.
Plus, they do not charge additional fees to include your promotional material.
Unfortunately, they do not offer free delivery on all their gift baskets. The delivery cost varies depending on the size, weight, and location of the order.
Nevertheless, you don't need to set up an account to order online. It's that quick and easy!
Should you decide to set up an online account with Pacific Basket Company, you can build a wishlist of your gift ideas and print them as your brochure. You can also see your order history and address book and save your billing information for quicker transactions.
As for payment methods, Pacific Basket Company accepts all major credit cards, such as MasterCard, Visa, American Express, UnionPay, and Diners.
Moreover, many of the customers we've spoken to comment on how simple it was to customize their gift baskets online and how lovely the gift baskets were.
Numerous customization options
Offers perks for account holders
No free delivery offers
Limited customized orders during Christmas season
Customer reviews
Exceptional customer service
"Amazing customer service. They were able to fulfill my order on a super short notice – including delivery. Many thanks to Oliver who went above & beyond to help me out." Dominika R.
Consistent high-quality products
"This is my 3rd time ordering and every time the baskets have exceeded expectations! If you're wanting to send to someone out West, you want to use this company! Incredible attention to detail!." Betti S.
3. Vancouver Gift Baskets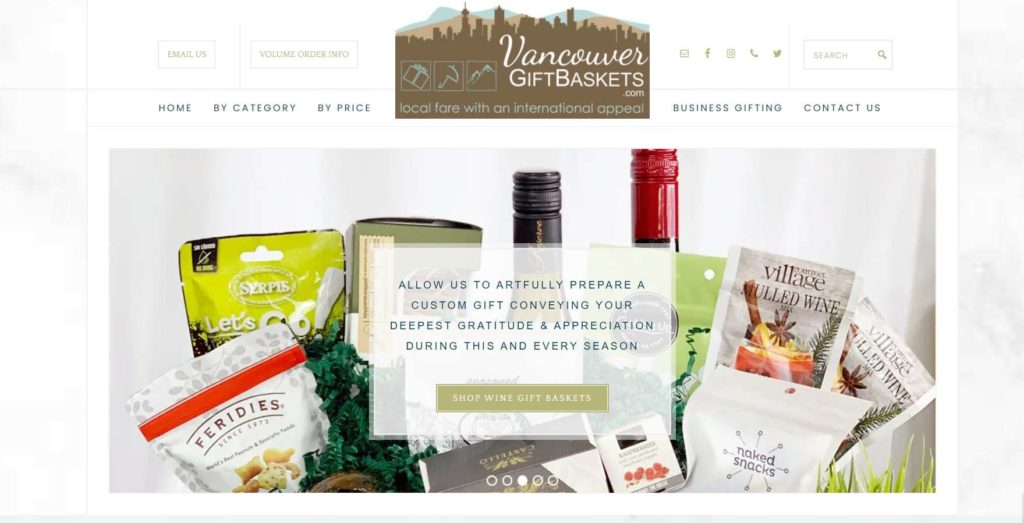 Test
Info
PRODUCTS
Gift Boxes

Wine and Spirited Gifts

Vancouver BC Gift Baskets

Gift Baskets for Him and Her

Newborn Gift Baskets

Gourmet Selections

ADDRESS
170 – 422 Richards St Vancouver, BC Canada V6B 2Z4
CONTACT DETAILS
604-274-2758
OPERATING HOURS
Monday - Friday: 08:30 AM to 5:00 PM
WEBSITE
http://www.vancouvergiftbaskets.com/
| | |
| --- | --- |
| Variety | ★★★★★(5/5) |
| Customer Service | ★★★★★(5/5) |
| Price | ★★★★☆(4/5) |
| Payment Options | ★★★★☆(4/5) |
Vancouver Gift Baskets has sent out unique, well-designed gift baskets throughout Vancouver for nearly 31 years.
We were struck by how open and transparent this company is. They talk about their deep love for their job and how much they appreciate their customers' support.
This shop is unique because it is a supplier for Vancouver BC's Premiere Convention and Conference for Local Gift Baskets & Boxes. They provide delivery to hotels, offices, residences, conference centers, customization, and various packaging options.
Another thing we found impressive is that Vancouver Gift Baskets always has five gift boxes on standby. These gift boxes are always ready to go, plus they get an automatic next-day delivery upgrade as a bonus.
Another feature worth noting is that they have a free reminder service which serves as an alarm for a special occasion. Gone are the days when you could forget an important event!

You can send them an email with a list of dates and recipients, and they will gladly remind you as the date approaches.
Direct supplier for BC's Premiere Convention and Conference for Local Gift Baskets & Boxes
Offers ready to go gift baskets
Free email reminder service
No payment methods listed on the website
Two email addresses that may confuse customers
Customer reviews
Pleasant and accommodating staff
"A special someone really needed a cheerful boost today, so Vancouver Gift Baskets was the way to go for same-day delivery (by 11am!). We were a tad past the cut-off time, but thankful that Carole made it happen for us. She provided excellent customer service and was a delight to speak with." Aisha B.
"Carole was extremely pleasant and easy to deal with. Order process was efficient and the recipient of the basket was thrilled. Can't ask for anything more!." Char W.
4. Granville Island Delivery Co.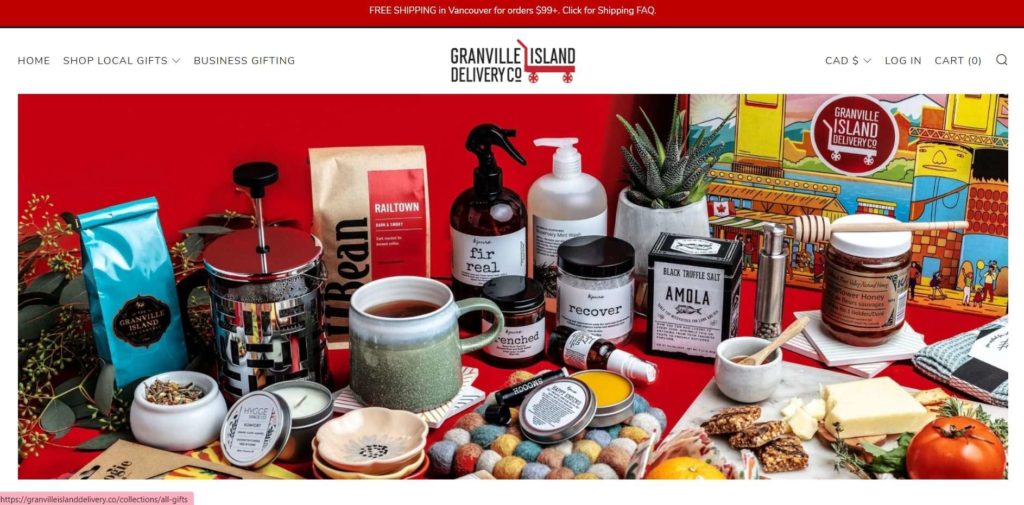 Test
Info
PRODUCTS
Gourmet Gift Baskets

Wellness and Self-Care

Home Gift Baskets

ADDRESS
1494 Old Bridge St #4, Vancouver, BC V6H 3S6, Canada
CONTACT DETAILS
604-728-5846
OPERATING HOURS
Open 24 hours
WEBSITE
https://granvilleislanddelivery.co/
| | |
| --- | --- |
| Variety | ★★★★☆(4/5) |
| Customer Service | ★★★★★(5/5) |
| Price | ★★★★★(5/5) |
| Payment Options | ★★★★☆(4/5) |
The Granville Island Delivery Co is one of the top choices for the best gift baskets in Vancouver if you want something a little more upscale for your corporate clients, family, or friends.
This business creates special and local gift baskets with every item being hand-selected and tested by their team. Moreover, when you purchase from them, you also support a thriving community of small businesses.
We like how they cater to those on a tight budget. They offer gifts of less than $250, $200, $150, and $100.
We believe that this is ideal for those who have a specific budget in mind, as it simplifies the shopping process.
Aside from that, they accept bulk gift orders, and gift basket customization.They can also ship to multiple addresses.
You can collaborate with them on annual gifting programs, employee rewards and incentives, and a variety of other projects.
Unfortunately, this business does not offer next-day shipping. However, if your order doesn't have cured meats and cheeses, they will do their best to accommodate next-day delivery.
Plus, they offer free shipping in Vancouvers for all orders over $99.

It is important to note that Granville offers sugar and spice vegan and gluten-free gift boxes as this widens their customer range. However, as for other dietary requirements, they cannot provide them during this time.
Overall, we think Granville Island Delivery Co. deserves a spot on our list as the company's passion fuels the business to become a world-class gift basket provider.
Ships to multiple addresses
Offers free shipping
Open 24 hours
No payment methods listed on the website
Limited dietary options
Customer reviews
High-quality items and great packaging
"I had ordered multiple gift boxes during the holidays for our leadership team all over BC and Ontario. Amanda and Michelle went above and beyond and everyone loved their boxes! The products are quality items and the packaging is eye catching. We will 100% be using them for future events and gifts. Thank you again!." Danielle C.
Easy online service
"I ordered online a basket for Christmas for some friends. The system works very well, it is easy to place your order and choose the delivery date. It arrived on the selected date and everything was just fine; my friends were delighted with the basket. The choice of items is really good, it is an amazing present." Cesar C.
5. Green & Green | Gifts with Flair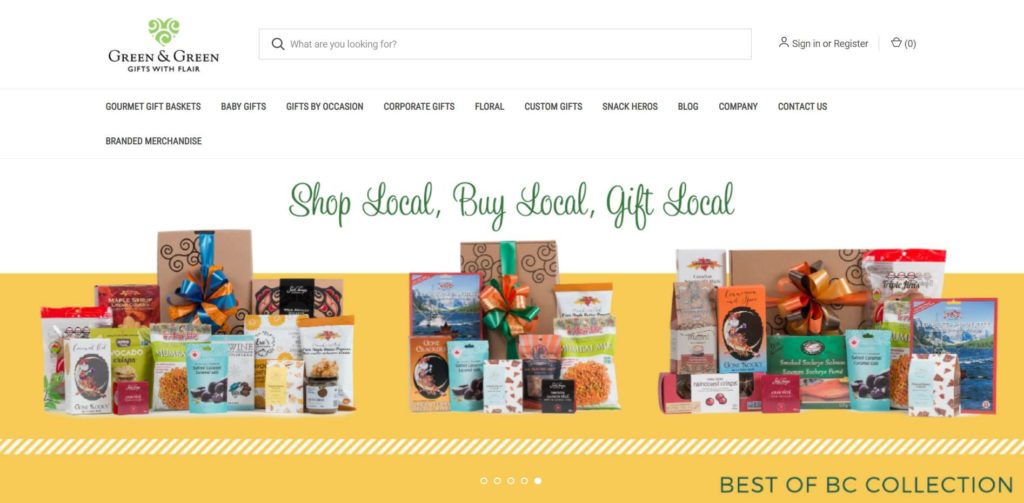 Test
Info
PRODUCTS
Gourmet Gift Baskets

Baby Gifts

Gifts by Occasion

Corporate Gifts

Floral Gift Baskets

Custom Gifts

ADDRESS
1576 Rand Avenue Vancouver, BC, V6P 3G2 Canada
CONTACT DETAILS
604-689-5027
OPERATING HOURS
Monday - Friday: 9:00 AM to 5:00 PM
WEBSITE
https://greenngreen.com/
| | |
| --- | --- |
| Variety | ★★★★☆(4/5) |
| Customer Service | ★★★★★(5/5) |
| Price | ★★★★★(5/5) |
| Payment Options | ★★★★☆(4/5) |
Green & Green was established in 1993 and ever since then, the business has prospered as an enterprise that values the tradition of gift-giving.
They offer a variety of gift baskets ranging from gourmet, corporate, floral, baby, occasion, and customer gift baskets.
Green & Green is unique in that, in addition to their extravagant gift baskets, they also offer snack packages. They are available to satisfy your cravings, whether chips, candies or nuts.
What's more, is that they can ship to any address globally. Once you place an order, they will provide you with your estimated shipping and delivery dates.
Unfortunately, no delivery fees are listed on their website, so you'll need to give them a call to find out the rates for your location. They do, however, offer estimated transit times for their products within Canada.
It's worth noting though that you'll be charged $5 if you provide an incorrect address. Moreover, if the shipping company fails to deliver your gift after several attempts, you'll be charged $10.50.
When it comes to pricing and payment methods, Green & Green offers its products at a reasonable cost. We like that they accept almost all major credit and debit cards, as well as Amazon Pay, Apple Pay, Paypal, and many other payment methods!
When it comes to customer service, we appreciated that their gift consultants went above and beyond to help us find the perfect present.
They asked us numerous questions in order to assist us in resolving the challenge of selecting different gifts for various occasions.
Most of the customers we spoke to praised their edible gifts, which ranged from tasty French cookies and European chocolates to delicious chocolate-coated cherries and sea-salt caramels, Virginia peanuts, and the most decadent Italian coffee.

Overall, Green & Green is one of the best gift basket stores in Vancouver because it provides exceptional and timely service to its customers.
Offers snack baskets
Diverse edible products
Can ship worldwide
No delivery fees listed on the website
Customer reviews
Superb products
"Zero hesitation in sourcing gifts from Mindy and the Green & Green team. Nothing but rave reviews from recipients. In fact, the only complaint I've ever heard is how impossible the carefully selected items are to resist. I think that person might have been on a diet or something." -Tom B.
Fast and efficient customer service
"Fast, efficient service with knowledgeable staff, and quality gifts. I use Green & Green Gifts for all my online gift shopping – they have everything! 🙂 If there is ever an issue with a shipping address, or unable to deliver to the recipient, staff is quick to contact you and have the issue resolved." -Jessica C.
6. OM Gifts & Baskets
| | |
| --- | --- |
| Variety | ★★★★★(5/5) |
| Customer Service | ★★★★★(5/5) |
| Price | ★★★★★(5/5) |
| Payment Options | ★★★★☆(4/5) |
Our experience with OM Gifts & Baskets was a delightful voyage through the realm of thoughtful gifting. From the moment we placed our order, their efficiency was akin to a well-choreographed dance – timely and perfectly executed.
The quality of their gift baskets is nothing short of exceptional; each item curated with the precision of a master artisan. It's as if they've mastered the art of turning ordinary moments into extraordinary memories, one carefully chosen truffle at a time.
In the grand symphony of gift-giving, OM Gifts & Baskets hits all the right notes. The seamless delivery left us feeling like royalty receiving a package of treasures. Promptness is their forte, and they execute it with the grace of a seasoned performer.
As connoisseurs of cost-effectiveness, we appreciate the value OM Gifts & Baskets brings to the table. Their pricing is a harmonious blend of affordability and opulence, ensuring that our budget remains intact while our recipients revel in the opulence of gourmet delights.
Offers snack baskets
Diverse edible products
Can ship worldwide
Customer reviews
Raving Fan
"OM Gifts & Baskets exceeded my expectations! From order to delivery, their efficiency is unmatched. The quality of the gift basket left my recipient in awe. Definitely my go-to for thoughtful and elegant gifts."
Delightful Experience
"Our experience with OM Gifts & Baskets was pure delight. The delivery was prompt, and the quality of the items surpassed any other gift basket service we've tried. The cost-effectiveness is the cherry on top. Highly recommended!"
7. Canadian Crafts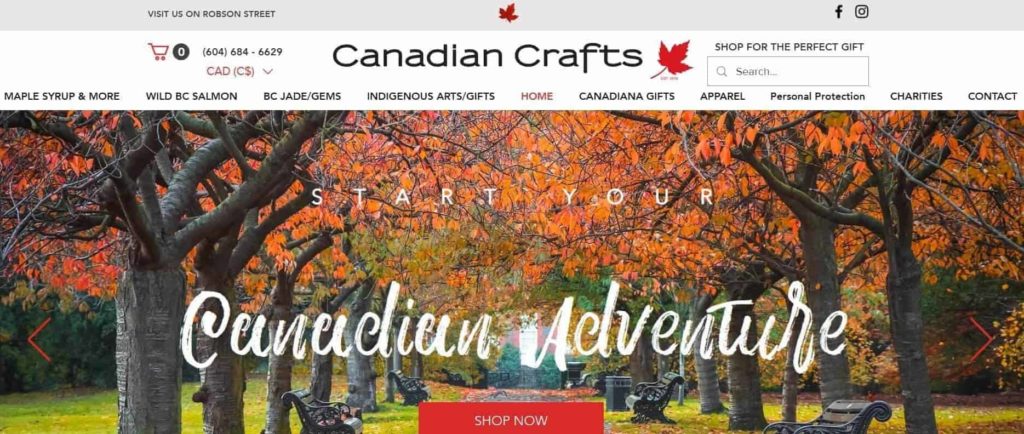 Test
Info
PRODUCTS
Gift Baskets

Indigenous Art

Wild BC Salmon

Maple Syrup

Apparel

Decor

ADDRESS
1023 Robson St, Vancouver, BC V6E 1A9, Canada
CONTACT DETAILS
Phone: +1 604-684-6629
OPERATING HOURS
Monday - Sunday: 11:00 AM - 07:30 PM
WEBSITE
https://www.cdncrafts.com/
| | |
| --- | --- |
| Variety | ★★★☆☆(3/5) |
| Customer Service | ★★★★★(5/5) |
| Price | ★★★★★(5/5) |
| Payment Options | ★★★★☆(4/5) |
Since 1979, Canadian Crafts has been a go-to souvenir shop for Vancouverites and tourists, selling almost all authentic gifts from Vancouver.
They have a great selection of accessories, apparel, maple syrup, and wild BC salmon from selected BC fisheries.
What we liked most about this store is they're easily accessible via public transportation as they're located on Robson Street. We also think it's an added incentive that they offer free shipping for orders over CAD 99.
What we found most impressive is they have gift baskets that contain distinctly Canadian goodies such as maple syrup, cookies, and other accessories such as socks and mugs with the Canadian flag.
However, we're not fans of the fact that they only have a limited gift basket selection because we believe it limits customers' options.
Nevertheless, we liked that they sell hand-crafted wood carvings and drinkware, which you can add to your gift baskets.
We also think it's ideal that they have a wide selection of knickknacks so that consumers can add different products to their gift baskets.
Overall, we believe that Canadian Crafts deserves a spot on our list as they provide authentic Canadian gift baskets.
Authentic gifts from Vancouver
Great selection of souvenirs
Accessible store
Free shipping for orders over CAD 99
Custom gift baskets
Limited gift basket selection
No vegan and kosher options
Customer reviews
Friendly and respectful staff
"My girlfriend and I were visiting Vancouver and decided to grab a few gifts for some relatives. After searching through our options, we found Canada Crafts. The staff here are extremely nice and respectful." -Esko H.
Top-notch customer service
"I'm always hesitant to place online orders through smaller businesses due to some unpleasant experiences in the past, but I was completely blown away with the customer service from Canadian Crafts!!." -Tiffany H.
8. Studio Full Bloom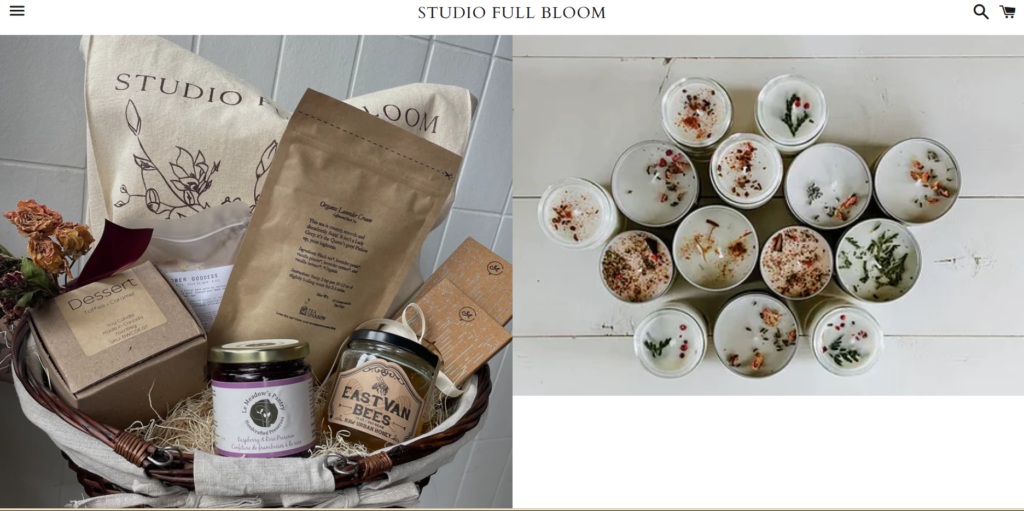 | | |
| --- | --- |
| Variety | ★★★★☆(4.5/5) |
| Customer Service | ★★★★★(5/5) |
| Price | ★★★★★(5/5) |
| Payment Options | ★★★★★(5/5) |
Studio Full Bloom not only captivates with its breathtaking floral arrangements but also entices with thoughtfully curated gift baskets, embodying the spirit of local craftsmanship.
Their gift baskets feature a carefully curated selection of locally made, all-B.C. artisanal products, promoting and supporting the vibrant community of craftsmen and producers in the region.
The conscientious curation of environmentally friendly and ethically made products underscores Studio Full Bloom's commitment to responsible business practices, providing customers with a guilt-free and sustainable gifting option.
With them, customers have the flexibility to pair these artisanal gifts with the shop's beautiful flower bouquets and arrangements, creating a customizable and thoughtful gift package suitable for various occasions.
The emphasis on local and artisanal products may result in a higher price point for the gift baskets, which could be a consideration for budget-conscious shoppers seeking more affordable gifting options.
Local and Artisanal Goodies
Environmental and Ethical Considerations
Complementary Options
Potentially Higher Price Point
Customer reviews
"From the get-go, Valerie was such a joy to work with. I was looking for a bridal bouquet and boutonnière for my elopement and I wasn't super sure what I wanted. Valerie asked me some questions to help get a vision, and I pulled some pictures from her Instagram page for inspiration. Valerie quickly put together a contract and made everything so easy; we did all of this via email, which was so helpful. On the day I picked up our arrangements, everyone was so kind, and genuinely so excited for our elopement that I had to run outta the store before I started crying because everyone was being so sweet. And the arrangements themselves were GORGEOUS. I couldn't have dreamed of anything better. Valerie and her team far exceeded my expectations, and I am so grateful to them for making the process, and our big day, so easy. Thank you, Valerie!"
"Studio Full Bloom did all the flower arrangements for my wedding and we couldn't be happier! All the arrangements were exactly what we wanted, beautiful, fresh, colourful, and smelled amazing. This florist was so easy to work with and seemed genuinely excited about their work. Hands down, I'd recommend them to anyone for any floral occasion."
9. Field and Vine Gift Co.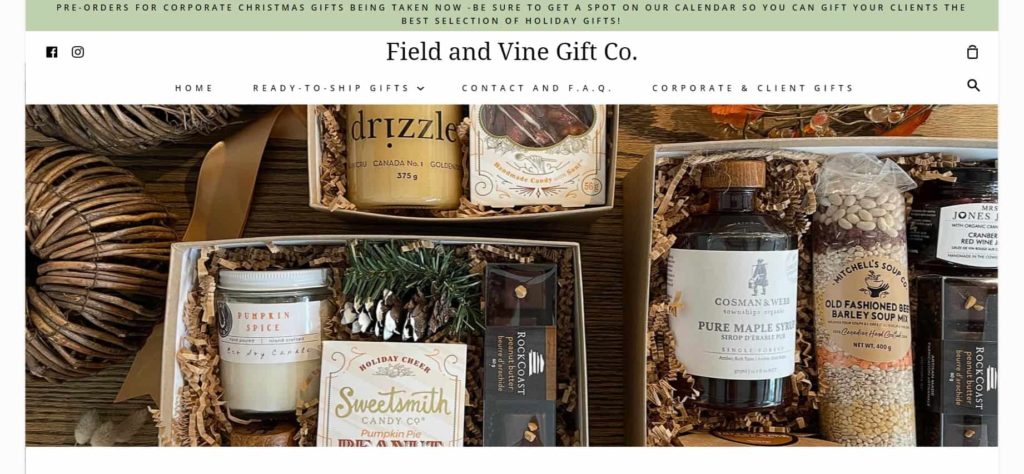 Test
Info
PRODUCTS
Housewarming Gift Boxes

Spa & Self Care Gift Boxes

Thinking of You & Sympathy Gift Boxes

Appreciation Gift Boxes

New Baby & Expecting Parents Gift Boxes

Congratulations Gift Boxes

Gourmet Food & Drink Gift Boxes

Birthdays & Celebrations Gift Boxes

Corporate & Client Gift Boxes

Under $100 Gift Boxes

Holiday Collection 2023 Gift Boxes

ADDRESS
875 Garnet Rd Cobble Hill, BC V0R 1L3
CONTACT DETAILS
[email protected]

250.701.1131

OPERATING HOURS
24/7
WEBSITE
https://www.fieldandvinegiftco.com
| | |
| --- | --- |
| Variety | ★★★★★(5/5) |
| Customer Service | ★★★★★(5/5) |
| Price | ★★★★☆(4/5) |
| Payment Options | ★★★★★(5/5) |
Field and Vine Gift Co. emerges as a provider of simply beautiful, luxury curated gift boxes, specializing in artisan foods, home goods, and local specialties.
Offering holiday pre-orders provides customers with the opportunity to plan and secure their gifts in advance. The flexibility to add a preferred delivery date or customize gifts according to specific preferences adds a personal touch, catering to the diverse needs of gift-givers.
Furthermore, the availability of same-day delivery, particularly for Vancouver Island, reflects a commitment to meeting urgent gift-giving needs. This option caters to those who may have forgotten special occasions or find themselves in a time crunch, enhancing the convenience of the service.
While the mention of shipping corporate gifts at special rates is positive, the exact details of these rates are not provided.
Nonetheless, Field and Vine Gift Co. presents an enticing option for individuals seeking luxury-curated gift boxes with a focus on artisanal and local products. The convenience of holiday pre-orders, customization options, and corporate gifting specialization contribute to the appeal of their services.
Luxurious Curation
Holiday Pre-Orders and Customization
Corporate and Client Gifting Specialization
Flat shipping rates unavailable
Customer reviews
Here are some reviews from their clients:
"Heidi was absolutely amazing to deal with. She went above and beyond everything I was looking for in a more tailored gift and the turn around time was impressive. Absolutely recommend!"
"Field and Vine in Cobble Hill is a wonderful and well-priced place to purchase gift baskets. Twice I purchased their Comfort of Home gift basket as gifts. The customer service is quick, friendly and helpful and the basket items are high quality and exciting. This is the best gift basket experience one could ask for – the different high quality local products are just one thing that make these baskets so special. Purchased on Etsy."
FAQs About Gift Basket Stores in Vancouver
---
That's about all we have to say about the best gift basket stores in Vancouver. Hopefully, we've provided you with a wealth of information on where you can shop for gifts for your upcoming event.
While looking for gifts, you may find yourself considering other options.
Check out our review of the best flower delivery services in Vancouver, or if you're looking for something a little more sparkly, read our review of the best jewelry stores in Vancouver!