The 5 Best Companies for Crane Services in Vancouver
Crane services are used to lift and transport large objects or materials from one location to another.
From access to forklifts to repair and maintenance to lifting equipment, many companies offer their services to the people of the city.
If you're looking for the best crane services in Vancouver, read on and find out what makes these crane companies our top choices.
How Much Do Crane Services Cost in Vancouver
The cost of crane services is determined by the size of cranes required. Some may only require small mobile cranes, whereas others may require larger tower cranes for more expansive construction projects.
On average, renting a crane that includes assembly and dismantling can cost up to CAD 800,000 on average. Some companies also provide general construction hoisting for under CAD 50,000.
In the table below, we've listed the most common types of crane services as well as their average estimated cost.
| TYPES OF TIRE SERVICE | AVERAGE ESTIMATED COST |
| --- | --- |
| Tower Crane Assembly and Dismantle | CAD 60,000 - 800,000 |
| Industrial Lifting | CAD 20,000 - 80,000 |
| Steel Erection | CAD 20 - 30/square foot |
| General Construction Hoisting | CAD 100,000 - 50,000 |
| Modular Installation | CAD 150 - 300/square foot |
The Best Companies for Crane Services in Vancouver
The best companies with crane services are the ones that are doing their job efficiently, without compromising on quality. They are also the ones that deliver on their promises without ever creating issues for themselves and their clients.
We've assessed the following companies based on the criteria below:
1. GWIL Crane Service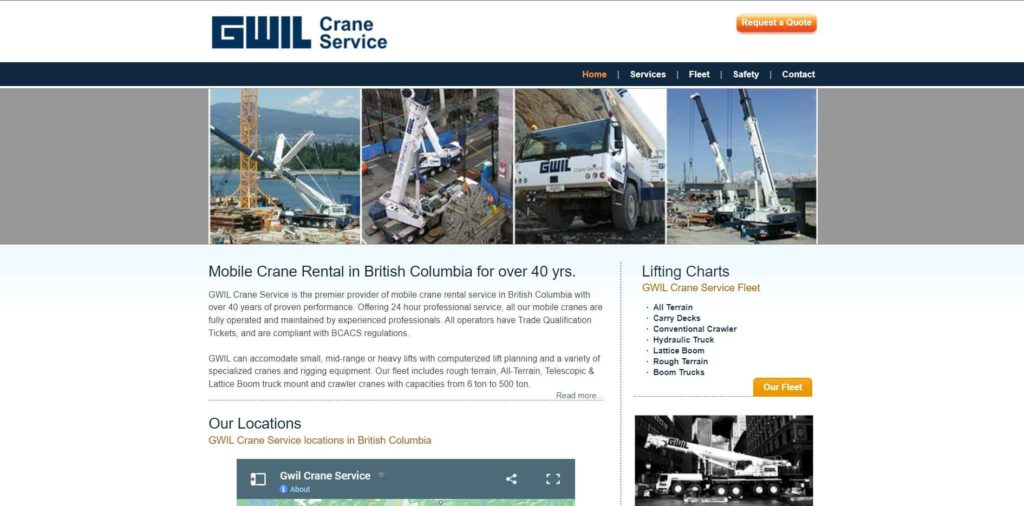 Test
Info
SERVICES
Small & Mid-Sized Lifts

Heavy Lifts

Tower Crane Assembly and Dismantle

Tilt-Ups

Refinery and Pulp Mill Work

Air Conditioner Units

Steel Erection

Ship Loading

General Construction Hoisting

ADDRESS
5337 Regent St, Burnaby, BC V5C 4H4, Canada
WEBSITE
http://www.gwilcrane.com/index.html
CONTACT DETAILS
Phone: 800-665-1997

Email: [email protected]

OPERATING HOURS
Monday - Friday: 09:00 AM - 06:00 PM
| | |
| --- | --- |
| CRITERIA | RATING |
| Service Area | ★★★★☆ 4/5 |
| Availability | ★★★★★ 5/5 |
| ⮕Operating Hours | ★★★★★ 5/5 |
| ⮕Fleet | ★★★★★ 5/5 |
| Customer Service | ★★★★★ 5/5 |
| ⮕Customer Feedback | ★★★★★ 5/5 |
| ⮕Staff Service | ★★★★★ 5/5 |
| Reputation | ★★★★☆ 4/5 |
For over 40 years, GWIL Crane Service has provided mobile crane rental services in British Columbia.
This company has a diverse fleet ranging from 6 to 500 tons. They rent cranes for all terrain, carry decks, conventional crawlers, hydraulic trucks, lattice boom trucks, and folding booms.
We believe that GWIL's crane rentals are ideal for commercial and industrial corporations with big moving and lifting requirements. This is because they have a plethora of crane rentals with various capacities.
What we liked best about this company is that they offer a 24-hour professional service. All their cranes are fully-operated and maintained by their experienced staff.
This, in our opinion, makes them efficient because all of their machines are preserved and thoroughly checked.
Moreover, all of their crane operators have Trade Qualification Tickets, which means they have completed and passed the necessary skills training.
Now, we were a bit disappointed that they could only accommodate clients in Vancouver and Castlegar. We also wished they provided their base prices so customers could know how much their rentals and services cost.
Nonetheless, we believe GWIL Crane Service deserves a spot on our list because they offer a variety of crane rentals for small to large projects.
Can accommodate small, mid-range or heavy lifts
Computerized lift planning
Large fleet of crane rentals
No base prices provided
Only covers two locations
Customer Reviews
Knowledgeable crew
"Very knowledgeable crew and goes above and beyond the job👍." -Kenneth W.
Professional and high-quality work
"We had the 270t on our job site, Mark,Rob and Jay were the team. Great job done, safety number 1 and very professional. I would highly recommend!." -Brodie S.
2. SHEPS Crane and Industrial Moving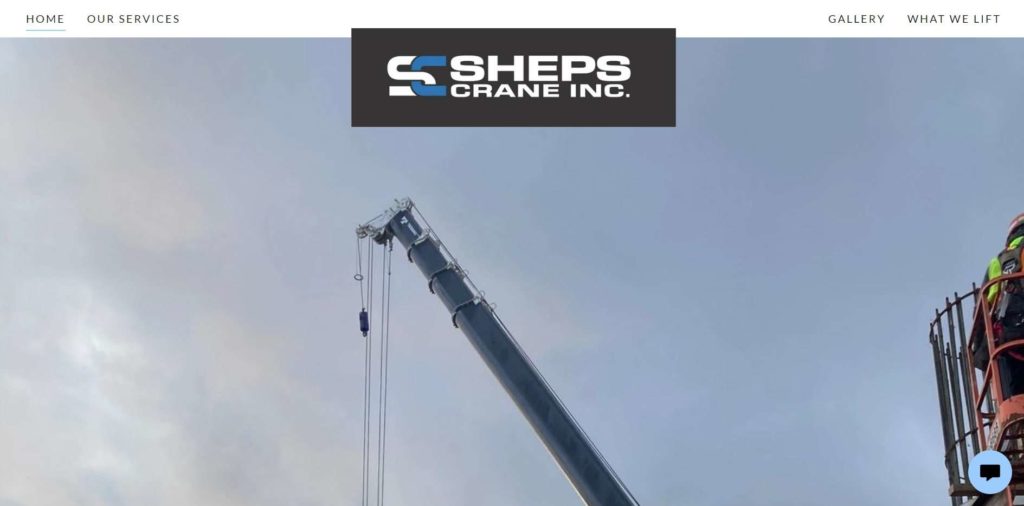 Test
Info
SERVICES
30 Ton To 350 Ton Mobile Crane Services

Industrial Machinery Moving and Installations

Rough Terrain Crane Rentals for Projects

Crawler Crane Rentals And Foundation Contracting

Transportation Freight Forwarding And Storage Solutions

ADDRESS
44476 Freshwater Dr, Chilliwack, BC V2R 6A3, Canada
WEBSITE
https://shepscrane.ca/
CONTACT DETAILS
Phone: 604-316-1509 Email: [email protected]
OPERATING HOURS
Monday: 07:00 AM - 07:00 PM

Tuesday: 07:00 AM - 05:00 PM

Wednesday - Sunday: 07:00 AM - 07:00 PM
| | |
| --- | --- |
| CRITERIA | RATING |
| Service Area | ★★★★☆ 4/5 |
| Availability | ★★★★★ 5/5 |
| ⮕Operating Hours | ★★★★★ 5/5 |
| ⮕Fleet | ★★★★★ 5/5 |
| Customer Service | ★★★★☆ 4/5 |
| ⮕Customer Feedback | ★★★★★ 5/5 |
| ⮕Staff Service | ★★★★☆ 4/5 |
| Reputation | ★★★★★ 5/5 |
SHEPS provides mobile cranes, transportation, and industrial moving solutions in Vancouver, Surrey, Abbotsford, and Chilliwack. This company provides a wide range of cranes and equipment ranging from 30 to 350 tons.
A nice touch is that all their services include 24-hour emergency support, which we found helpful because customers can receive assistance anytime.
In addition, we found it impressive that they also offer industrial machinery moving and installations. We were pleased to learn that all of their machines are subject to weekly maintenance, which we believe keeps them safe and efficient.
Aside from that, SHEPS provides rough terrain, crawler crane rentals, and transportation freight and storage solutions.
Another thing that drew our attention was their impressive work portfolio. We like their well-documented projects because they give clients a sense of what it's like to do business with them.
Furthermore, many customers we've spoken with have commented on how professional their staff was in delivering services on time and completing the job faster than expected.
However, we would like to point out that SHEPS doesn't have an online booking system, so clients may have to call in to get an appointment with them.
Even so, we strongly recommend SHEPS Crane and Industrial Moving because, contrary to its name, they can also provide crane and equipment rentals for residential and commercial properties.
BC Crane Safe Certified Operators
24-hour emergency support
Offers industrial moving services
Rentals dedicated for rigging
Offers a truck and trailer service
Comprehensive work portfolio
Rentals closed on weekends
No online booking system
Customer Reviews
Reliable crane services
"We've used Shep's cranes over the last year quite a few times. It's nice to have a crane service that we can rely on to actually show up and get the job done without any surprises. I've used may different crane companies and it's easies to tell the service at Shep's comes from years of experience around crane." -Brad C.
Fast turn-around time
"We used Sheps Crane Service on a recent project. Jared was extremely knowledgeable and provided exactly the crane we needed to complete the job. They were on time and had the job completed faster than expected. I will deffiently be using them again for our future projects." -Dalen F.
3. Cooper Equipment Rentals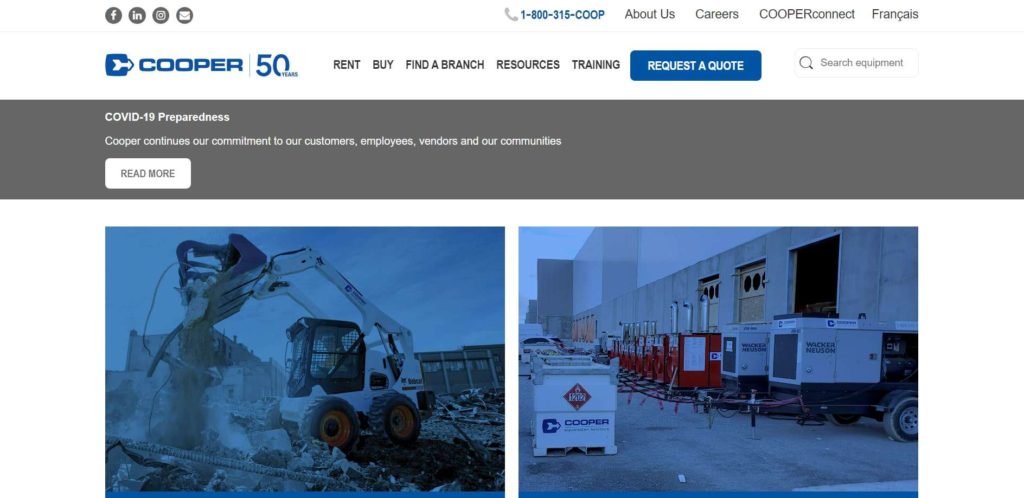 Test
Info
SERVICES
Equipment Rentals

Climate Control

Trench Safety

Pump Solutions

ADDRESS
3525 Lougheed Hwy, Vancouver, British Columbia V5M 2A6
WEBSITE
https://cooperequipment.ca/
CONTACT DETAILS
Phone: 604-265‑7278

Email: [email protected]

OPERATING HOURS
Monday - Friday: 07:00 AM - 05:00 PM
| | |
| --- | --- |
| CRITERIA | RATING |
| Service Area | ★★★★☆ 4/5 |
| Availability | ★★★★☆ 4/5 |
| ⮕Operating Hours | ★★★★★ 5/5 |
| ⮕Fleet | ★★★★☆ 4/5 |
| Customer Service | ★★★★★ 5/5 |
| ⮕Customer Feedback | ★★★★★ 5/5 |
| ⮕Staff Service | ★★★★★ 5/5 |
| Reputation | ★★★★★ 5/5 |
Cooper Equipment Rentals, founded in 1972, specializes in renting and selling new and used industrial equipment.
We believe the company's moving and lifting capabilities are unaffected despite only having two crane rentals.
Their cranes have a lifting capacity of up to 8 tons and a width range of 24″ to 78″. This makes them capable of handling small to large projects.
What we found particularly impressive about Cooper Equipment Rentals is their wide selection of industrial equipment for rent and sale.
This company, in our opinion, is ideal for clients who need equipment for large construction projects. They offer everything from scaffolding and ladders to concrete equipment and large aerial lifts.
We also appreciate that they provide their prices on their website. We think this is helpful for potential customers to know how much they need to prepare.
Now, most customers we've spoken with have praised their services, stating that their staff goes above and beyond to ensure high customer satisfaction.
Their prompt service and a quick turnaround time is due largely in part to their high-quality equipment.
All in all, Cooper Equipment Rentals is one of the best companies with crane rental services in Vancouver, as their top-notch equipment delivers excellent and timely results.
100% Canadian-owned and operated
Aerial lift equipment available
Offers climate control equipment
Has 55 branches
Transparent pricing
Only has two crane rentals
Closed on weekends
Customer Reviews
High equipment equipment
"These guys are great!!! Equipment is always good, and they brought cold Gatorade's to site the other day when it was super hot out! Way to go guys for being so awesome!." -Tommy B.
Prompt service
"What more can I say about Cooper Equipment! You guys are fantastic with prompt service and top notch equipment. Makes moving dirt piles a breeze!." -Jeff F.
4. Premier Crane Services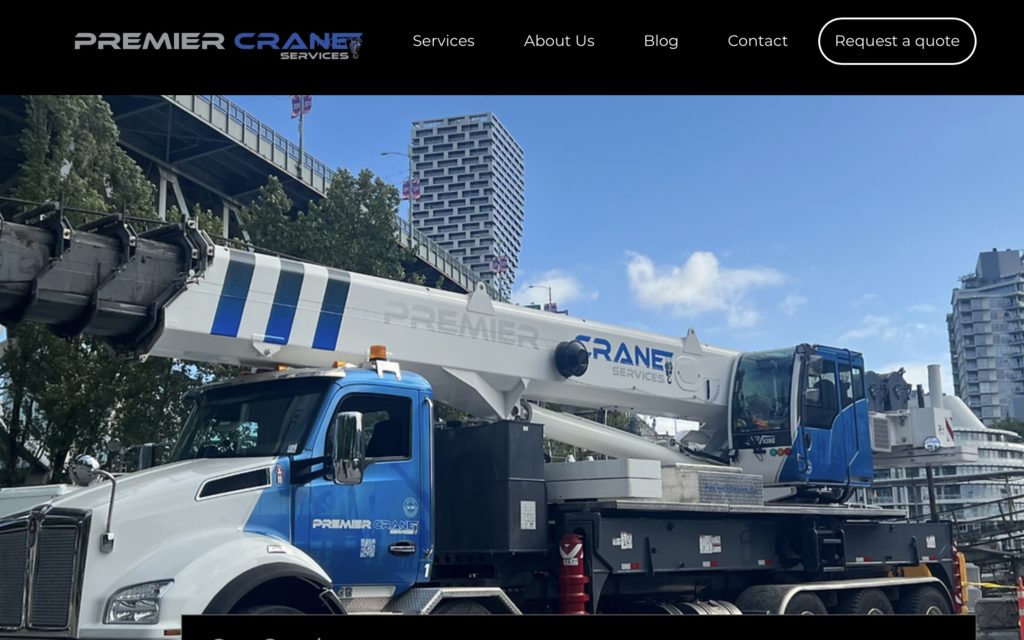 SERVICES
Civil Materials Lifting, Civil Materials Placement, and Structural Steel Lifting and Placement
ADDRESS
8151 13th Ave. Burnaby, BC, V3N 2G3
WEBSITE
https://www.premiercrane.ca/
CONTACT DETAILS
778-316-2356


[email protected]

OPERATING HOURS
By appointment basis
At Premier Crane Services, we were astounded by the unparalleled level of professionalism and comprehensive range of crane solutions offered.
From the outset, their commitment to excellence was evident through their prompt and attentive service.
Our experience with Premier Crane Services was marked by their ability to address our unique requirements swiftly, underlining their dedication to customer satisfaction.
Convenience reigns supreme at Premier Crane Services. Their seamless booking process and well-organized scheduling showcased their meticulous attention to detail.
We found their state-of-the-art equipment selection truly impressive, each piece a testament to their commitment to safety and efficiency.
Our project timelines were met with precision, an invaluable feat in the fast-paced world of construction.
Reputation speaks volumes, and Premier Crane Services has earned an enviable one. Their track record of successful projects and positive industry feedback validated our decision to choose them.
The competence of their skilled operators was evident as they navigated complex tasks with finesse. Trust in their expertise was quickly established, alleviating any concerns we might have had.
While Premier Crane Services offers top-tier solutions, their pricing remains refreshingly competitive. Our bottom line was positively impacted by their transparent cost structure.
We appreciated their willingness to work within our budget, making quality crane services accessible without compromising on excellence.
The value they provide is evident not just in their services, but also in the cost savings they offer.
Sadly, they can get busy during peak days. We recommend booking them ahead of time.
State-of-the-art equipment for swift operations
Track record of successful projects
Competitive pricing without compromise
Customer Reviews
"Premier Crane Services exceeded my expectations. Their operators' skill and attention to safety were commendable. A reliable choice for any construction project."
5. Eagle Crane Service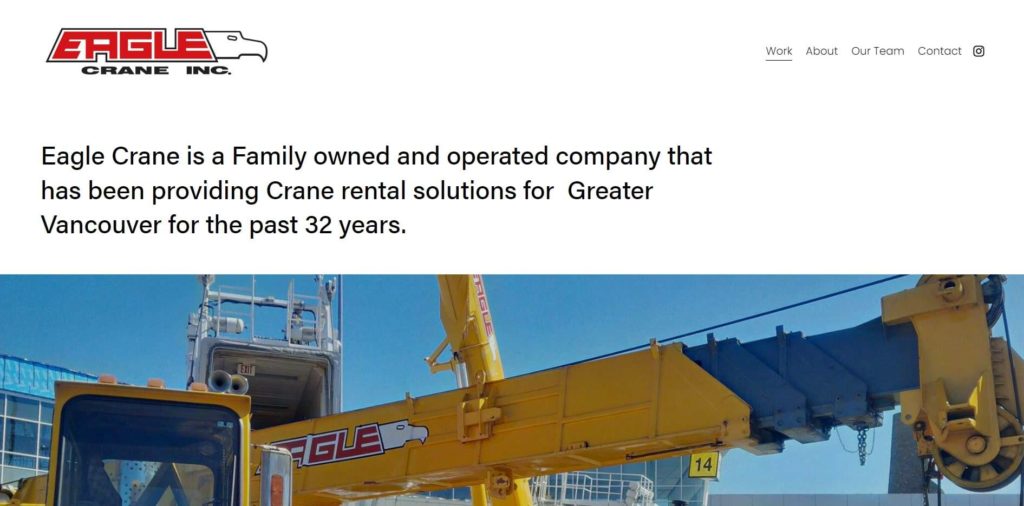 Test
Info
SERVICES
Steel Erection

Modular Installation

Emergency Services

Industrial Lifting

HVAC Services

Film Industry

ADDRESS
17944 96 Ave, Surrey, BC V4N 4B1, Canada
WEBSITE
https://www.eaglecrane.ca/
CONTACT DETAILS
Phone: 604-951-1166
OPERATING HOURS
Open 24 hours
| | |
| --- | --- |
| CRITERIA | RATING |
| Service Area | ★★★★☆ 4/5 |
| Availability | ★★★★★ 5/5 |
| ⮕Operating Hours | ★★★★★ 5/5 |
| ⮕Fleet | ★★★★★ 5/5 |
| Customer Service | ★★★★★ 5/5 |
| ⮕Customer Feedback | ★★★★★ 5/5 |
| ⮕Staff Service | ★★★★★ 5/5 |
| Reputation | ★★★★☆ 4/5 |
Eagle Crane has been providing crane rental solutions in Greater Vancouver since 1989.
They are available 24 hours a day and seven days a week, to accommodate clients. They also have emergency services available in case of an accident.
Perhaps what distinguishes them from the others on our list is that they have dedicated film equipment. These include rigging grip support, stunt gripping, lighting, and construction.
They also provide HVAC services, steel erections, modular installations, and industrial lifting. Eagle Crane Service has cranes ranging from 22-ton boom trucks to 200-ton all-terrain cranes, which allows them to handle a wide range of projects.
Now, despite having a small team of crane operators, we believe this does not affect their skills. All of their staff are ITA (Industry Training Authority) certified which means they have completed the required training to provide high-quality service.
In fact, the majority of the customers we spoke with stated that they chose Eagle Crane Service because of excellent references from previous satisfied clients.
In conclusion, we believe that Eagle Crane Service is one of the best crane service companies in Vancouver because of its proven track record in the moving and lifting industry.
Open 24 hours a day, 7 days a week
Has emergency services
Film industry equipment available
ITA (Industry Training Authority) certified
Small team of crane operators
No base prices provided
Customer Reviews
Competent team and dedicated services
"I cannot stress how important it is to hire a company that has the experience, equipment and staff to get the job done.… you got it their name is EAGLE CRANE. We lovingly built our home and needed it to be lifted and transported to its new location. Another company (not mentioning any names….uugghhh) had talked a good talk about what they could do, but when it came to the day to execute the lift the equipment brought to site was less than and could not do the job. So the mad search began, with some excellent references EAGLE CRANE came to site, quoted and booked us in EAGLE CRANE'S competent team are dedicated to delivering exactly the task at hand and ensuring a safe timely completion. You saved our home from a possible disaster. If you need the BEST craning services out there do not look any further then EAGLE CRANE. Job well done, thanks again Trevor and team members, you totally rock!." -Marion B.
Quick and professional
"Eagle Crane lifted our new hot tub over our house into the back deck. We got a call that the crane was on its way. Their operator Josh arrived on time and was quick and professional. Their quote was exactly what they said. Gladly recommend Eagle Crane for anyone who needs one!." -Rick P.
FAQs about Used Auto Parts in Vancouver
---
That's about it for the best crane services in Vancouver. We hope this list has assisted you in locating a reputable crane company that is suitable for your lifting or moving needs.
Just in case you're looking for a company that can help you build or renovate your property, check out our list of the best construction companies in Vancouver.