The 5 Best Dog Grooming Shops in Vancouver
Do you want to take your dog to the groomer? Whether it's a little pampering or a full-on makeover, we've got you and your pet covered.
We'll be going over our picks for the best dog groomers in Vancouver for this list. We'll also discuss how much the service costs, as well as other frequently asked questions about dog grooming in the city.
How Much Does Dog Grooming Shops in Vancouver
Dog grooming salons frequently provide a wide range of services for your pet. Whether it's a simple trim or a full grooming package, the cost of these services vary and is determined by the features included in the package you choose.
We've compiled this list to give you an idea of how much it can cost to pamper your pet.
| SERVICE TYPE | ESTIMATED COST |
| --- | --- |
| Full Grooming | $35 - $70 |
| Bath and Brush | $30 - $90 |
| Nail Trimming and Grinding | $10 - $15 |
| Dematting | $7 - $10 |
| Deshedding/Undercoat | $20 - $40 |
Best Dog Grooming Shops in Vancouver*
Are you ready to give your dog a new look and smell? The establishments on this list offer excellent grooming services that will assist you in keeping your pet's coat and skin healthy.
We've assessed the companies we've included on this list based on the following criteria:
1. Clip Art Pet Grooming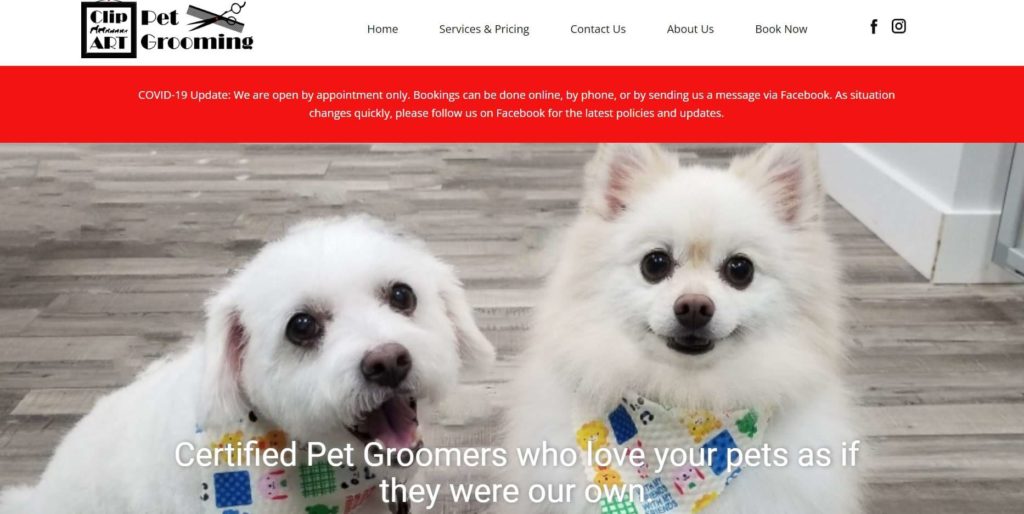 SERVICES
Haircuts by Breed

Grooming Packages

(Pawdicure

Deshedding Treatment

Complete Bath & Brush

À la carte Services

ADDRESS
#15-1161 The High Street Coquitlam, BC V3B 7W3
CONTACT DETAILS
Phone: 604-474-2237

Email: [email protected]

OPERATING HOURS
Mondays to Wednesdays - 09:00 AM - 05:00 PM

Closed on Thursdays

Saturdays and Sundays

Fridays 09:00 AM - 05:00 PM

WEBSITE
http://www.clipartgrooming.ca/
| | |
| --- | --- |
| FEATURES | ★★★★☆ 4/5 |
| RANGE OF SERVICES | ★★★★☆ 4/5 |
| CUSTOMER SERVICE | ★★★★★ 5/5 |
| PRICING AND PAYMENT OPTIONS | ★★★★★ 5/5 |
Craig McDowell, the founder of Clip Art Grooming, specializes in dog care as a certified dog trainer and pet groomer.
So whether you want a full groom or just maintenance for your dog, this establishment has you covered. They offer haircuts and bathing packages by breed as well as à la carte services for those who only want a specific service.
We appreciate that Clip Art Grooming provides a variety of à la carte services. These include pawdicure, ear cleaning and plucking, teeth brushing and breath spray, and many others.
We believe that this service is best for customers who prefer to put together their own package. This allows them to get the most out of the services they need, which we find convenient.
Clip Art Grooming bases all of its prices on your dog's breed, coat condition, and length of service. We believe this is reasonable, given that some dogs dislike bathing and thus require more time to groom.
Another thing that caught our attention is their Medi-boost service which costs $5. Clip Art Grooming applies a topical pain reliever to your pet's skin, allowing them to be relieved of achy muscles, joints, and skin.
Unfortunately, Clip Art Grooming can only accommodate customers who book an appointment.
Nevertheless, booking an appointment with Clip Art Grooming is super easy as they provide customers with 24/7 online booking services. Plus, this establishment also offers e-Gift certificates that you can give other pet owners!
Offers à la carte services
Medi-boost service to heal sore muscles
Offers e-Gift vouchers
Limited range of services
Salon can get noisy sometimes
Customer Reviews
Expert and excellent services
"I was hesitant to take my dog to a groomer but after checking out the reviews for this place, I thought it wouldn't hurt to try. My dog will NOT let us clip his nails and we really needed to get them done, as well as a bath and a couple other extra services. I think I warned them twice that my dog may be a bit reactive but the person providing the service was very confident and asked a couple questions about my dogs behavior. When I picked up my dog, he said that he had zero issues with him. I was so relieved! My dog was perfectly groomed and his nails nice and trimmed. Will definitely go back again. Thank you!." -Ashley D.
Flawless and convenient
"Wonderful grooming experience even during COVID 🙂 Dog's nails and paw hairs are well trimmed after his pawdicure. Sanitary trim was well done as well! Even dealt with his unruly ear hair for free. Highly recommended. Definitely will be back even if it's a bit out of the way! Also, online booking is very convenient as well." -Kitty Y.
2. Dharma Dog Services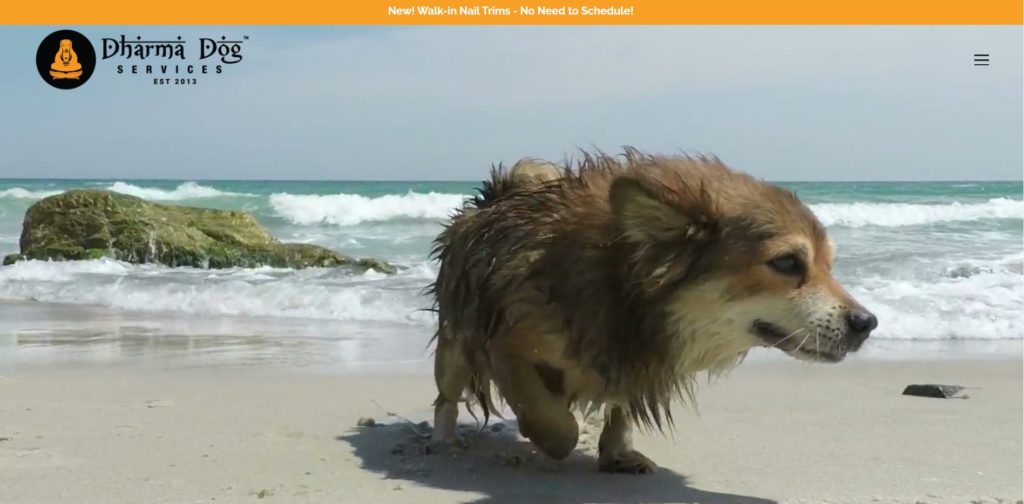 SERVICES
Bath and Tidy

À la carte Services

Full Groom Dog

Dental Services

Nail Trims

ADDRESS
7239 Fraser St, Vancouver, BC V5X 3V8, Canada
CONTACT DETAILS
Phone: 604-327-3649
OPERATING HOURS
Tuesdays to Saturday - 09:00 AM - 05:00 PM

Closed on Sundays and Mondays

WEBSITE
https://dharmadogservices.com/
| | |
| --- | --- |
| FEATURES | ★★★★★ 5/5 |
| RANGE OF SERVICES | ★★★★★ 5/5 |
| CUSTOMER SERVICE | ★★★★☆ 4/5 |
| PRICING AND PAYMENT OPTIONS | ★★★★☆ 4/5 |
Dharma Dog offers a comprehensive range of services to nurture and improve your canine's daily life. We immediately noticed that they prioritize creating a calm and stress-free environment in order to create a good grooming experience.
Dharma Dog believes in positive reinforcement, and its staff is well-trained to care for dogs of all shapes, sizes, and temperaments. If there is a disciplinary issue, you will be notified, and they will work with you to implement training to resolve the issue.
This business offers dog bath packages, full grooming, and À la carte services.
What sets them apart from others is their dental cleaning services. This service consists of removing tartar and plaque as well as brushing stains, teeth, and gums that are perfect for maintaining your pet's oral health.
This session will last approximately an hour, and you will be given a pet report card to keep track of your dog's dental appointments. Furthermore, they offer discounts if you return in 6 months!
Another thing to note is that Dharma Dog Grooming only uses hypoallergenic, all-natural products. We like how these products are good for both dogs and the environment.
Another thing that caught our attention is that they accept last-minute requests and walk-ins, but space is not guaranteed, this is why they highly advise customers to call ahead or make a reservation.
Unfortunately, in order to ensure a slot when you visit their store, you must make a reservation. However, we like that Dharma Dog conveniently gives customers the option to set a regular grooming schedule.
Overall, we believe this establishment is deserving of recognition on our list because of its wide range of services and flexible grooming schedules that has earned them a large number of loyal customers over the years.
Offers dental cleaning services
Active social media presence showcasing happy dog customers
Uses local and organic products
Offers discounts 
Requires reservations
Does not accept biters and dogs with aggressive personalities
Customer Reviews
Amazing and professional service
"We can't thank Dharma dogs enough for the amazing service. Our little Maltese has high anxiety and tends to show teeth when anyone approaches him around his feet and face. After a horrible experience with another local groomer, we found Dharma and explained our concerns. They were happy to take him in and went over the process with us. Their professionalism and attention to detail was amazing. They were even able to work around his face without a muzzle. Next time we will be bringing both our dogs in. We live in NV, but don't mind the drive. Thanks again for taking such good care of our Brady." -Nazreen S.
Exceptional handling of dogs
"We have 2 anxious rescue dogs that we were always scared to bring to the groomer. Kayla is absolutely amazing with them! She has such a calming presence and makes our dogs and us feel completely at ease. I wouldn't want to bring them anywhere else. Thank you!" -Michelle G.
3. Unleashed Dogs Spa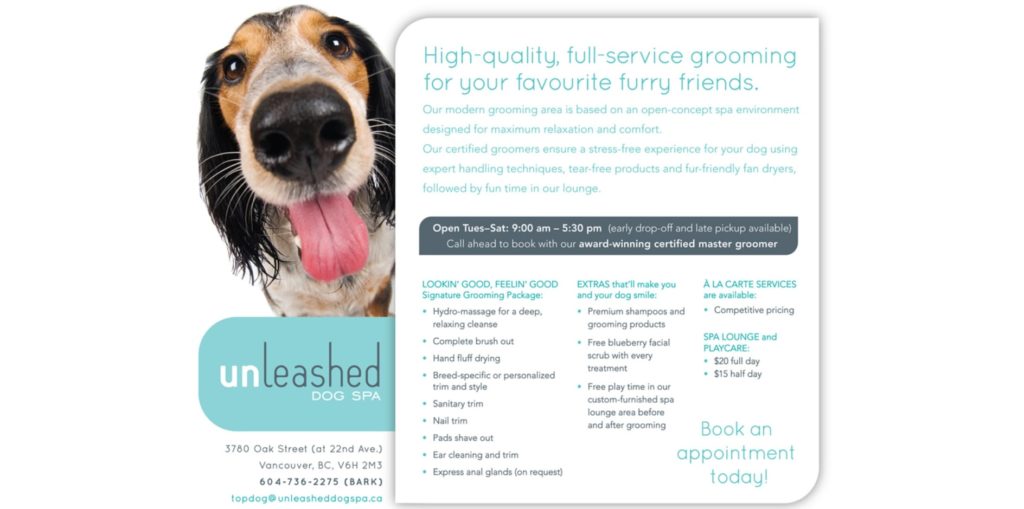 SERVICES
Hydro-massage

Complete Brush Out

Hand Fluff Drying

Breed-specific or personalized trim and style

Sanitary Trim Nail

Trim Pads

Shave Out

Ear cleaning

Trim Express Anal Glands

ADDRESS
3780 Oak Street, Vancouver, BC, V6H 2M3
CONTACT DETAILS
Phone: 604-736-2275

Email: [email protected]

OPERATING HOURS
Tuesday to Saturdays - 09:00 AM - 05:30 PM
WEBSITE
http://www.unleasheddogspa.ca/
| | |
| --- | --- |
| FEATURES | ★★★★★ 5/5 |
| RANGE OF SERVICES | ★★★★☆ 4/5 |
| CUSTOMER SERVICE | ★★★★☆ 4/5 |
| PRICING AND PAYMENT OPTIONS | ★★★★★ 5/5 |
Unleashed Dogs Spa's packages include their Signature Grooming Package, à la carte services and other extras such as premium shampoos, blueberry facials, and free playtime.
The majority of consumers we've spoken to praise their modern grooming area, where dogs receive high-quality, full-service grooming. Their store is white and grey in color, with pillowed cushions in sculpted metal hoops connecting the curved glass barrier between the retail space and play area.
We love that this establishment offers free playtime in their custom-furnished spa lounge before and after grooming. We think this is a good space for dogs to de-stress and relax after grooming.
Another thing that caught our attention is that they advise their customers to call ahead so they can book with their award-winning certified master groomer. However, it is unclear if they accept walk-ins or if an appointment is required.
Nevertheless, we have received nothing but positive reviews about Unleashed Dogs Spa. We particularly like that they prepare a relaxing grooming environment for dogs, making it one of the strengths of the business.
Moreover, many of the customers we've spoken to commend the business for its modern and sleek store, and its fair prices.
Overall, this establishment has earned its place on our list because of its welcoming facility and top-notch grooming services.
Offers extra pampering services
Free playtime before and after grooming
Competitive prices
Clean facilities
Unclear whether they accept walk-ins
Limited packages available
Customer Reviews
Sanitized shop and friendly staff
"Very clean and inviting! Staff is professional and friendly. I was pleasantly surprised with the play area for the pups to lounge and relax before and after grooming. Definitely competitive pricing. Will definitely be back! Recommend booking well in advance!!." – Angela M.
Reasonable prices
"Took my dog here on two occasions so far. The first was fantastic. The dog looked great coming out. Everyone was pleasant and the price was reasonable. No complaints. I love the little doggy play area. Love it." -Jennifer M.
4. Ball and Biscuit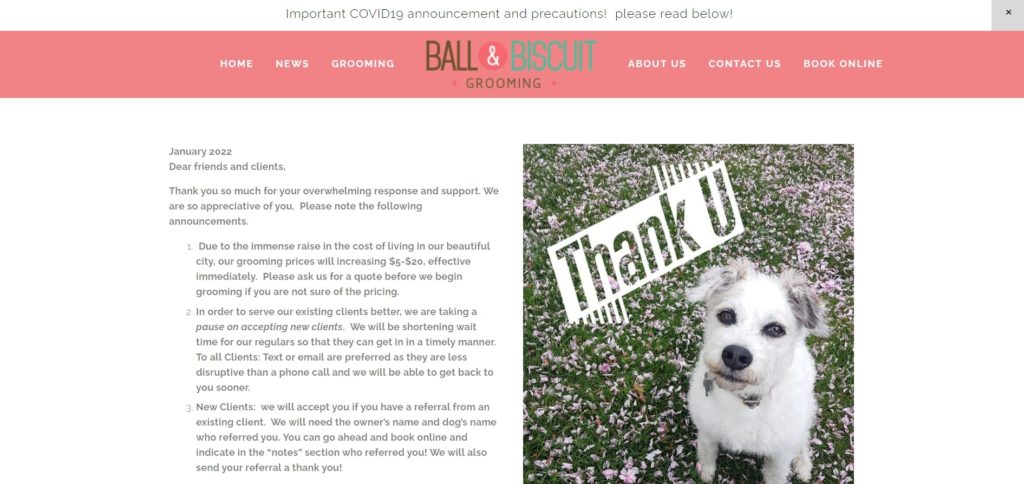 SERVICES
Full Groom

À la carte

Services Bath and Tidy

Nail Trim

Pad Shaving and Paw Shaping Face

Muzzle trim

Flea Bath

Dematting Deshedding/Undercoat

Express Bath

ADDRESS
1078 Kingsway, Vancouver, BC V5V 3C6
CONTACT DETAILS
Phone: 604-682-1899
OPERATING HOURS
Tuesdays to Fridays - 09:30 AM - 05:00 PM Saturdays - 09:00 AM - 04:30 PM
WEBSITE
https://ballandbiscuit.ca/
| | |
| --- | --- |
| FEATURES | ★★★★☆ 4/5 |
| RANGE OF SERVICES | ★★★★☆ 4/5 |
| CUSTOMER SERVICE | ★★★★★ 5/5 |
| PRICING AND PAYMENT OPTIONS | ★★★★☆ 4/5 |
Ball and Biscuit is one of the most established dog grooming services in Vancouver. Carrie, the owner, is a dog lover who has decided to start her own dog grooming business so that she can have intimate interactions with both dogs and their owners.
Ball and Biscuit's services include a full groom, bath and tidy, express bath, and à la carte services such as nail trimming, de-matting, and de-shedding.
We like how this business prioritizes the safety of its clientele. Here at Ball and Biscuit, they use all-natural products and have experienced groomers to give you the peace of mind that your dog will be well cared for.
Unfortunately, this establishment is not currently accepting new clients unless they have been referred by existing customers in order to better serve their existing clients.
In addition to that, Ball and Biscuit also announced that they will be increasing their prices to $5-$20 for their grooming services due to the immense rise in the cost of living.
Nevertheless, we have received numerous reviews from happy customers about their stress-free grooming services. Most clients note that the groomers are gentle and they make sure dogs are comfortable and calm before grooming.
The majority of consumers we've spoken to praise their excellent services and affordable prices that are perfect for those who are on a budget.
Moreover, their staff is also well-trained, knowledgeable, and professional They offer services specially designed for dogs of all breeds and sizes as well as those with special needs.
Uses all-natural grooming products
Offers affordable prices
Friendly and helpful staff
Grooming prices will increase from $5 – $20
New clients by referral only 
By appointments only
Customer Reviews
Top-notch groomers
"Our pup LOVES going to Carrie for grooming. She runs into the building every time, and is so happy after her grooming. She comes home perfectly coiffed and looking fancy! I highly recommend." -Holly C.
Consistent exceptional services
"We love ball & biscuit! Our dog loooooves Carrie and her team and always comes out smelling so good and with the best shaped bum (he's a corgi)! They are super gentle with the dogs and really care for them. Consistently amazing services. Best groomer in the city. Highly recommend!." -Sammi H.
5. Woofs and Whiskers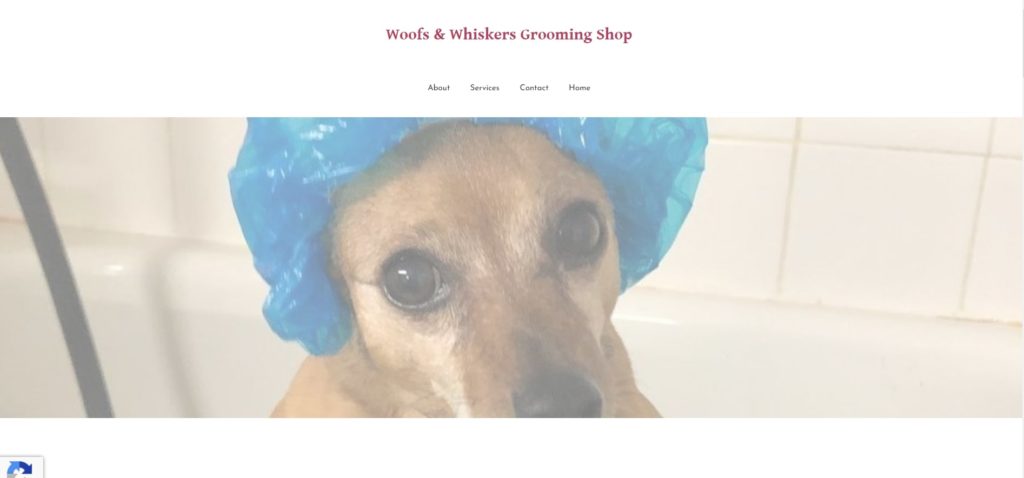 SERVICES
Full Grooms

Tidy Grooms

Cat Grooming

ADDRESS
14715 108th Avenue, Surrey, B.C,V3C 1V9
CONTACT DETAILS
Phone: 604-498-6006
OPERATING HOURS
Mondays to Fridays - 10:00 AM - 03:00 PM

Saturdays - 10:00 AM - 02:00 PM

WEBSITE
https://woofsandwhiskersgroomingshop.com/
| | |
| --- | --- |
| FEATURES | ★★★★★ 5/5 |
| RANGE OF SERVICES | ★★★★☆ 4/5 |
| CUSTOMER SERVICE | ★★★★☆ 4/5 |
| PRICING AND PAYMENT OPTIONS | ★★★★★ 5/5 |
Whoofs and Whiskers Pets Grooming Shop is a Pet Grooming Shop located on 108th Avenue. They have been serving both cats and dogs for years!
This business specializes in grooming dogs and cats of all sizes and breeds. Their full groom package includes a full bath and blow-dry, as well as eye cleaning, ear plucking, nail clipping, and a haircut of your choice!
Whoofs and Whiskers also offer full grooms and tidy grooms for your pup. However, they do not do de-matting as they are concerned that it can be painful to your dog and can cause injuries.
The majority of clients we've spoken to praise their services as well as their reasonable prices. Many of their customers appreciate that their groomers are passionate about their work, and it shows in their services.
While they have a full price list for their grooming services on their site, you'll have to inquire about rates by breed.
It is also important to mention that they groom pets by appointment only.
This is so their customers can be sure to get the time they need with their pets or the time they would like to have their pets groomed. *
On a whole, Whoofs and Whiskers deserve a spot on our list of the best dog grooming services in Vancouver.
This is because of their exceptional grooming services that have received numerous positive feedback from loyal customers. *
Offers cat grooming services as well
Affordable prices
Passionate groomers
By appointment only
Limited packages available
Customer Reviews
Noteworthy services
"Awesome experience with Woofs & Whiskers. I brought my little puppy Mylah in for her first grooming and when I dropped her off, she was given a warm welcome. Excellent grooming done by Teri. And Mylah met Radar there and fell in love." -Gisele K.
Friendly groomers
"Teri is the most friendly and loving groomer i have ever met. She really take's the time to make sure you and your pet are comfortable during grooming. Her customer service is outstanding. I highly recommend her. She is fabulous." -Barbra S.
FAQs about Grooming Shops in Vancouver
---
Looking for someone to look after your favorite pet? Check out our list of the best dog daycare in Vancouver!