The 5 Best Ice Cream Parlors in Vancouver
Nothing says summer like a decadent scoop of ice cream nestled neatly in a freshly made waffle cone. While not all places are blessed with delicious dairy establishments, Vancity is a special exception with an ice cream industry as big as the lower mainland.
Now, figuring out which shop is best can be quite the tall order, especially since there are so many choices.  Luckily we've got the latest scoop on the best ice cream parlors in Vancouver along with reviews, summaries, and pros & cons for each place.
How Much Does Ice Cream Cost in Vancouver
Most of the best things in life are free, but the best ice cream can still cost a couple of dollars. Thankfully, the majority of entries on our list are reasonably priced with great value-for-money in terms of serving sizes.
To help you get acquainted with each parlor's prices, we've put together this convenient cost table:
Rain or Shine Ice Cream
Single, 1 flavor – $4.5
2 flavors – $5
Double – $6
Kids cup – $3.5
Flight, 4 flavors – $9
Pint – $9
Waffle cone – add $1
Gluten free cone – $0.50
La Casa Gelato
7" round cake – $28
10" round cake – $47
10' x 10" square – $70
Single cone or cup (1 flavor) – $5
Double cone or cup (2 flavors) – $7
Triple cone or cup (3 flavors) – $9
Dipped cone – add $2.25
½ liter (1 flavor) – $10
1 liter (2 flavors) – $17
Earnest Ice Cream
Single – $5
Double – $7
Hot fudge sundae – $7
Pint – $11
Bella Gelateria
1 flavor – $5.50 (cup) or $6.75 (cone)
2 flavors – $6.75 (cup) or $8.00 (cone)
3 flavors – $8.00 (cup) or $9.25 (cone)
Half kilo (2 flavors) – $19.00
One kilo (3 flavors) – $38.00
Italian milkshake – $7.75
Cookie/Gelato – $6.30
Macaron/Gelato – $6.85
Uno Gelato
Gelato Pint – $13.00
Gelato Cups by a Dozen – $54.00
As you can see, ice cream is relatively affordable and you won't have to break the bank to get the good stuff.
The Best Ice Cream Parlors in Vancouver
Now that you know how affordable great ice cream can be, we're willing to bet that you're just dying to pick up a fresh scoop. So, let's get on with the show and introduce you to the best ice cream parlors in Vancouver.
1. Rain or Shine Ice Cream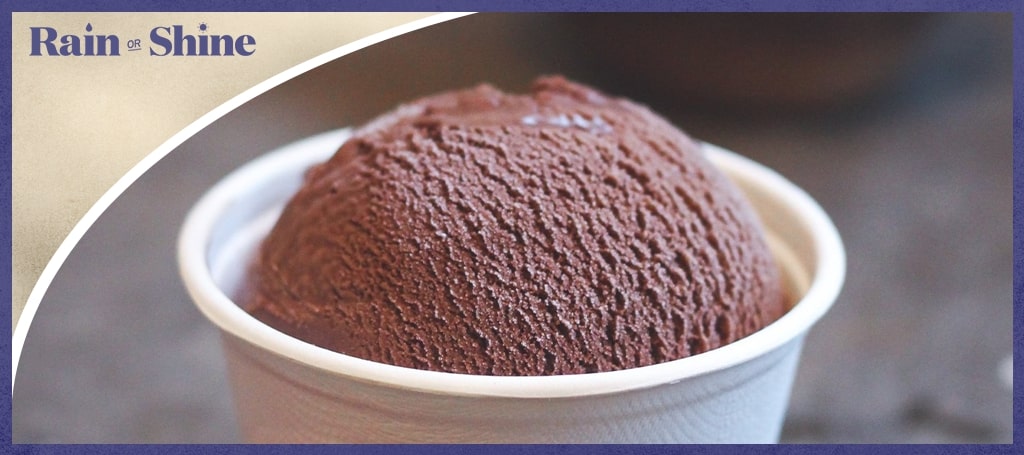 SERVICES
Seasonal ice cream
Ice cream cakes
Vegan ice cream
Ice cream truck rental
Dine-in
takeout
WEBSITE
http://rainorshineicecream.com/
ADDRESS
1926 W 4th Ave, Vancouver, BC V6J 1M6, Canada
CONTACT DETAILS
Phone number: (604) 428-7246
OPERATING HOURS
Monday: 12 pm – 10 pm
Tuesday: 12 pm – 10 pm
Wednesday: 12 pm – 10 pm
Thursday: 12 pm – 10 pm
Friday: 12 pm – 10 pm
Saturday: 12 pm – 10 pm
Sunday: 12 pm – 10 pm
Rain or Shine Ice Cream is known for its delicious seasonal flavors and locally sourced ingredients. This company has several physical locations as well as a mobile food truck and catering service.
As it's a gourmet ice cream parlor on wheels, many Vancouverites flock to street corners and line up around the block for a scoop from Rain or Shine. But ask anyone and they'll tell you that these folks are great at handling long queues.
This company puts a focus on using locally sourced ingredients to create all of its dairy products. To ensure a steady supply, Rain or Shine is even partnered with dozens of farmers all around the lower mainland.
While some flavors may not always be available year-round, many patrons enjoy the endless cycle of new offerings with every season. Given this variety of flavors, patrons often go for the parlor's 4-flavor ice cream flights to make the most of every visit.
Uses locally-sourced ingredients
Offers ice cream service rentals
Extremely quick service
Short but unique list of ice cream flavors
Limited options for ice cream flavors
Customer Reviews
Many Vancouverites will gladly brave rain and bad weather to enjoy this parlor's delicious ice cream:
"Wow. This was delicious. I can't believe how good the flavours I mixed were. I got Cracked mint and the malted chocolate w/ honey comb. It was incredible. Definitely recommend and check it out. Felt really comfortable with the covid safe set up and they had the line moving real quick." – Imran A.
"One of my favorite places in Vancouver out of the five places I tried for ice cream. The cone is indeed one of the best cones I've had, it is crunchy and not extremely sweet. The price is right and even though there is usually a line up, it goes fast."- Daniela G.
2. La Casa Gelato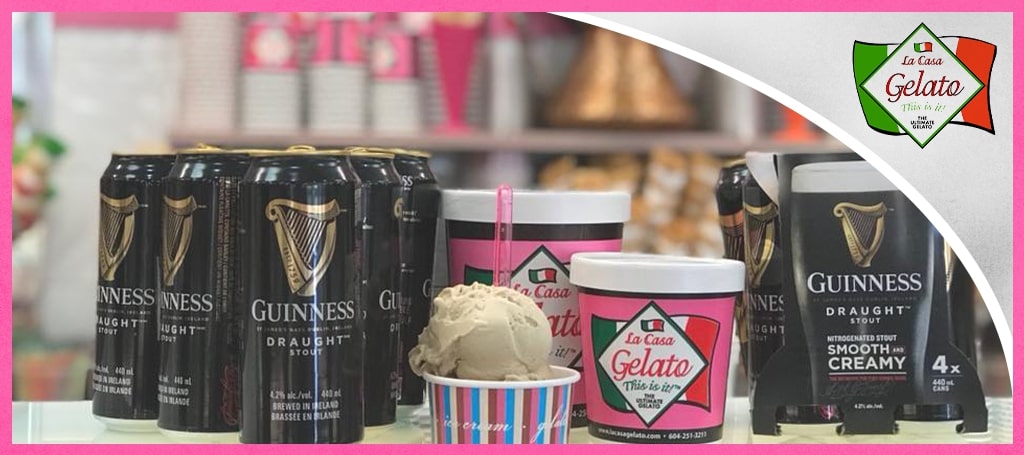 SERVICES
Gelato
Sorbetto
Yogurt
Gelato cakes
Italian pastries
Handmade chocolates
Dine-in
Takeout
Delivery
WEBSITE
http://lacasagelato.com/?wphyperspeed=1616383031
ADDRESS
1033 Venables St, Vancouver, BC V6A 3R9, Canada
CONTACT DETAILS
Phone number: (604) 251-3211
OPERATING HOURS
Monday: 1 pm – 10 pm
Tuesday: 1 pm – 10 pm
Wednesday: 1 pm – 10 pm
Thursday: 1 pm – 10 pm
Friday: 1 pm – 11 pm
Saturday: 1 pm – 11 pm
Sunday: 1 pm – 11 pm
Alright, so this place isn't exactly an ice cream parlor per se, but ice cream and gelato are practically cousins in the dairy dessert family. If that still doesn't convince you, this place's gelato is made with milk instead of cream and it's also gluten-free and fully vegan.
To its credit, La Casa Gelato offers a similar but delightfully different take on ice cream. With its smooth velvety texture and wide assortment of flavors, you'll find it hard to dislike gelato once you've given it a try.
Speaking of variety, these folks offer plenty with no less than 238 unique flavors in-house at any given time. To quiet any naysayers or doubtful critics, this number was officially verified and made a record in 2019 by the Guinness World Record organization.
If you've had your fill of gelato but you still want more, these folks also have fruity sorbets and yogurts. Last but not least, this establishment also offers gelato cakes, Italian pastries, and even handmade chocolates.
Guinness World Record holder for most flavors
Gluten-free, dairy-free, nut-free, and vegan selections
Also has fruit-based sorbets and yogurts
Offers gelato cakes, pastries, and handmade chocolates
Difficult to choose from so many flavors!
Customer Reviews
With 36 years, and 588 total flavors to its name, La Casa Gelato is more than capable of standing among the best ice cream parlors in Vancouver:
"This gelato place is worth the trip! They have a parking lot across the street and a cute outdoor area covered by trees and lights where you can sit. They have very good COVID protocols in place, and it's like being at a fair indoors. There are SO many flavours to choose from! You'll definitely find a flavour for you." – Annie L.
"I visited here at the weekend! It seems very busy all the time. After about 15 minutes line up, we finally to our turn. I was really surprised about huge amount of ice cream flavor – 238. You even can have some example for all types! I choose durian ice cream, and the taste is really delicious. I am sure will be back here many time! Parking is available around" – Nancy V.
3. Earnest Ice Cream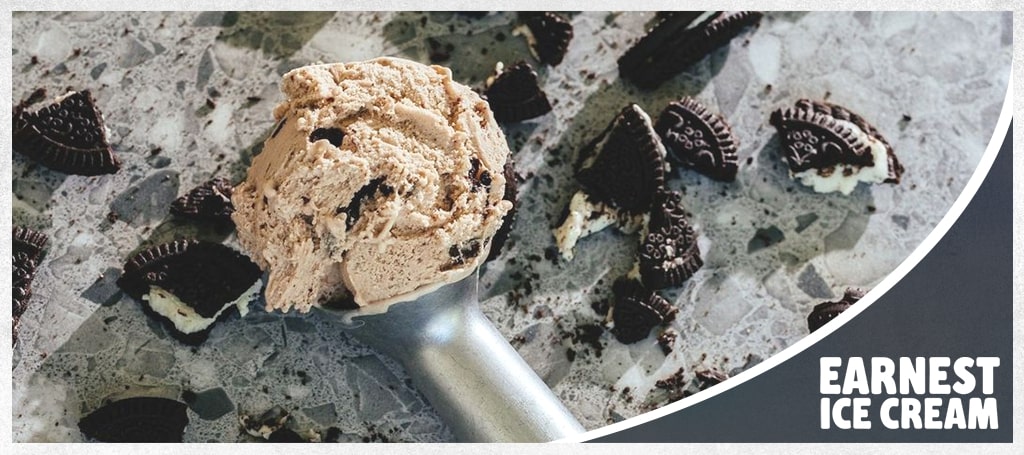 SERVICES
Ice cream sandwiches
Ice cream
Coffee
Takeout only
Seasonal flavors
Sundaes
Vegan ice cream
WEBSITE
https://earnesticecream.com/
ADDRESS
3992 Fraser St, Vancouver, BC V5V 4E4, Canada
CONTACT DETAILS
Phone number: (604) 428-0697
Email:

[email protected]

OPERATING HOURS
Monday: 12 pm – 10 pm
Tuesday: 12 pm – 10 pm
Wednesday: 12 pm – 10 pm
Thursday: 12 pm – 10 pm
Friday: 12 pm – 10 pm
Saturday: 12 pm – 10 pm
Sunday: 12 pm – 10 pm
The Earnest Ice Cream parlor is one of the more well-named establishments residing in Vancouver. We say this because once you try this place's creations, you'll want nothing more than to eat ice cream in earnest.
Luckily, there's no need to feel too guilty because this establishment uses fresh, healthy, vegan ingredients in all its flavors. In line with keeping things fresh, All of Earnest Ice Cream's branches change out their flavors daily.
This means that no patron will ever have the same flavor twice within two visits to a single branch. This may be troublesome for those who prefer to stick to favorites, but it offers a great opportunity to try out this parlor's many delicious offerings.
The only other gripe some might have with this establishment is the fact that orders are only available for takeout. But aside from this, Earnest Ice Cream is a solid choice for those who want a taste of great seasonal ice cream.
Offers delicious seasonal flavors
Makes classic sundaes
Changes flavors daily
Some flavors run out extremely fast
Orders only available for takeout
Customer Reviews
For quick, delicious ice cream servings, it can be tough to beat the Earnest Ice Cream parlor:
"No doubt about it. When you need an ice cream fix; you come to Earnest. This location in the north shore is particularly good because it is exponentially less busy that all the other locations in the city. Still busy and lined up, but it moves well and is far shorter than the other locations. COVID precautions are in force here, so no tasting, but the service is fast and friendly, and the scoops just keep coming! I had vegan chocolate, my partner has Nanaimo, my kid had cookies and cream, and we were all in heaven for awhile; carried away from the heatwave for a few yummy minutes. If I lived on the condo above this location; I'd build a vacuum tunnel directly to the Earnest freezer and become an ice cream hermit. Will come again; so good."- Christopher N.
"Superb ice cream with lots of unique and amazing flavors. Highly recommend the to go scoops or the pints both are amazing. You can also find some of the pint flavors but not all on grocery stores if this location is to far away! Would highly recommend and will be back many more times." – Sean L.
4. Bella Gelateria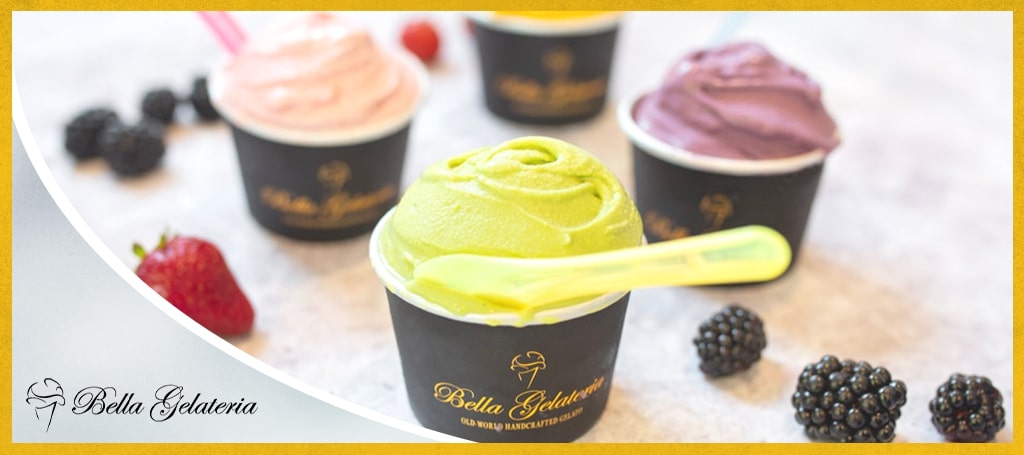 SERVICES
Gelato
Hot & Cold beverages
Pastries
WEBSITE
https://www.bellagelateria.com/
ADDRESS
1001 W Cordova St, Vancouver, BC V6C 0B7, Canada
CONTACT DETAILS
Phone number: 604.596.1010
Email:

[email protected]

OPERATING HOURS
Monday: 11 am – 11 pm
Tuesday: 11 am – 11 pm
Wednesday: 11 am – 11 pm
Thursday: 11 am – 11 pm
Friday: 11 am – 11 pm
Saturday: 10:30 am – 11 pm
Sunday: 10:30 am – 11 pm

The Bella Gelateria is reminiscent of a classic Italian cafe with its many offerings of coffee, pastries, and of course, gelato. As a modern cafe, this place can be a great spot to escape the summer heat or just kill some time.
To be frank, in terms of the sheer number of flavors, Bella Gelateria loses out to many other ice cream parlors in Vancouver. But what this place lacks in quantity it more than makes up for in quality and variety.
Aside from standard flavors like London Fog, Salted Caramel, and Fior di Latte, these folks offer special selections that you'd be hard-pressed to find anywhere else. These selections include flavors like Iranian Akbar Mashti, Filipino Buko Pandan, and Japanese Matcha.
Once you've selected a flavor to enjoy, the gelateria also serves various pastries like macaroons, cookies, and even cannoli. To top things off, you can also go for either a hot or cold beverage made with coffee or cream to wash everything down
Extremely unique flavors
Offers great milkshakes
Delicious coffee and tea
Limited number of flavors
Customer Reviews
These patrons are just some of the many supporters that Bella Gelateria has gained over the years:
"Really nice place to grab some gelato and go sit by the harbour after. I tried their Akbar Mashti and salted caramel flavours and they were on point. Their staff is very courteous and patiently answer questions. A little on the more expensive side but well worth the money!" – Ashuni P.
"Tried both the hazelnut and white coffee flavors. It was delicious. The ice cream texture is one of the smoothest I ever tried and the flavor was very rich. They were pretty generous on the ice cream. The inside of the wafer was pretty full too" – Ka Ming L.
5. Uno Gelato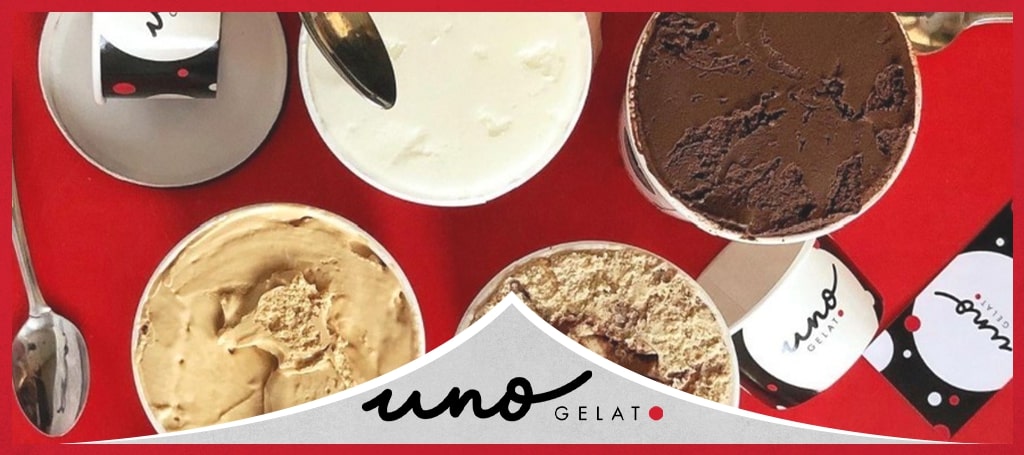 Uno Gelato is a shop that offers a variety of Gelato flavors that are sourced directly from high quality local sources that enriches the customer's experience. They are proud for also being able to be sustainable in all their approaches from their products to their packaging.
May it be a gelato or a milkshake, customers can be assured that all of it are made from scratch and fresh daily since they only produce what is adequate for a day.
Furthermore, the ingredients that they use are also locally sourced and even accommodates customers who desire gluten-free and vegan friendly option for their sweets.
Though popular flavors may easily run out, clients may call beforehand to ensure that the flavor that they wish for is there. Apart from this, seasonal flavors also have limited availability as well.
Overall, to top off their sustainability approach, their packaging, sampling and even the paper that they use are all eco-friendly, biodegradable and recyclable for the betterment of the environment.
Sustainable packaging
Locally sourced ingredients
Gluten-free
Vegan-friendly
Locations change from time to time
Customer Reviews
Here are some reviews from their customers:
"Love James's gelato creations. So excited this place opened up in our neighbourhood! A must try."
"High quality gelato and great service! ❤️ support local!"
FAQs About Ice Cream
---
That tops off our list of the best ice cream parlors in Vancouver. Now that you're familiar with what the city has to offer, you can set out on your ice cream adventure to find your own personal favorite.
If your aching teeth are regularly keeping you from enjoying ice cream then perhaps you can use our list of the best dentists in Vancouver. To help you find the best dental doctor, we've provided reviews, clinic summaries, and FAQs for reference.