The Top 5 Pet Shops in Vancouver
Caring for a pet can be overwhelming, especially if you're lacking the resources to do so. With so many pet shops in Vancouver, it may be difficult finding one that meets your needs and budget.
Your pet deserves the finest care you can offer, so it's best to purchase from trustworthy stores. We have diligently assessed the local establishments and found the best pet shops in Vancouver.
How much do Pet Shop items cost in Vancouver?
How much you spend in a pet shop depends on what your pet currently needs. In addition, pet shops have different price points for their products, so you can expect expenses to vary based on that, too.
After reviewing numerous pet shops in Vancouver, we've come up with a table showcasing the starting price for pet essentials. See below.
| ITEM | STARTING PRICE |
| --- | --- |
| Food | $1.39 |
| Treats | $1.39 |
| Toys | $0.99 |
| Grooming Items | $2.29 |
The Best Pet Shops in Vancouver
To make the assessments fair, we followed a specific criteria when reviewing the pet shops below. Here are the factors we considered.
1. Naturally Urban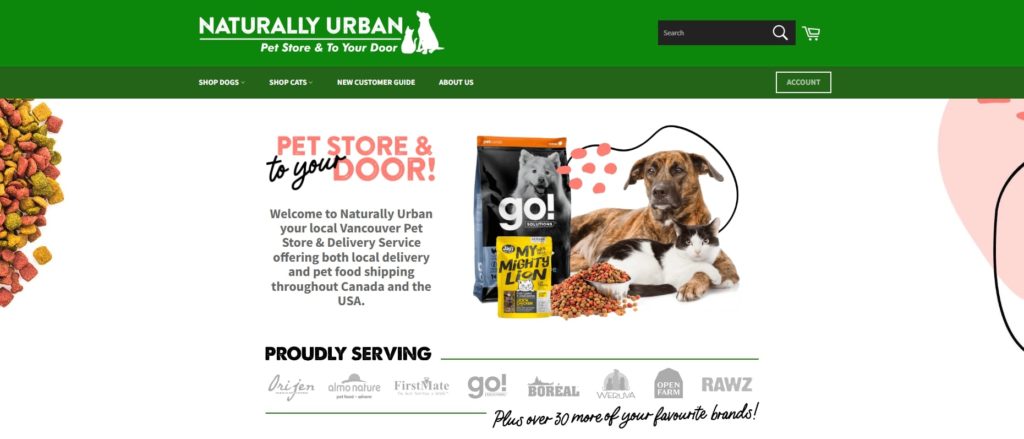 SERVICES

Pet Food Supplies

Dry Pet Food

Freeze-Dried

Fresh Cooked Pet Food

Raw Pet Food

Wet Pet Food

WEBSITE
https://nupetfooddelivery.com/
ADDRESS
101-229 Keefer Street, Vancouver , BC, V6A 1X6, Canada
CONTACT DETAILS
Phone: 604 738 3663
OPERATING HOURS

Monday-Friday: 8 AM-5 PM
| | |
| --- | --- |
| CRITERIA | RATING |
| Product Variety | ★★★★☆(4/5) |
| Pricing | ★★★★★(5/5) |
| Accessibility | ★★★★★(5/5) |
| Customer Service | ★★★★★(5/5) |
Naturally Urban is a shop to consider if you're looking for a reliable pet supply store. They offer only the best quality products for reasonable prices.
Raw patties like chicken, duck, and beef are available for dogs, while canned chicken and salmon are available for cats. Litters are also for sale, as well as any other supply you'll need on a daily basis.
You may also enjoy the free treats they give to new customers! Naturally Urban offers coupon code 'WE LUV TREATS' to help new customers get their designated free treat.
Now, Naturally Urban's delivery service is also one to note. Within three business days, items are sure to be delivered locally. You can check which places are available for free shipping on their website.
We also like that their staff is accommodating and professional. They answer customers' questions and direct them to items they need.
Another reason we recommend shopping at Naturally Urban is their charitable background. See, Naturally Urban has promised that a part of their proceeds returns to the community.
In fact, 2.5% of Naturally Urban's sales go to charity. So not only are you getting the products you need but also contributing to a better life for other animals.
All in all, Naturally Urban is a must-visit pet shop in Vancouver if you're looking for a conscious business dedicated to animal welfare.
Pick-up and delivery available
Free local delivery
Hassle-free money-back guarantee policy
Closed on weekends
Same day delivery up to 12 AM only
Customer Reviews
Delivery service is fabulous
"I am very happy to find a place that has high quality dog food for my finicky 5 mth old pup. The delivery service is fabulous because they don't leave you wondering when they're going to arrive. There's been many times I've been stuck waiting all day and night for deliveries…its nice to not have those frustrations. I highly recommend Naturally Urban and have been telling other people. I'm happy I found out about it!" – Judy C.
Easy, convenient, and reliable
"It's easy, convenient, and reliable. I tried several places, and did not have good experiences. But they are the best in Vancouver so far. It seems like they also carry good stuff. We would like to visit their store sometime soon. She is very happy too." – Katsu O.
2. Moonlight Natural Pet Store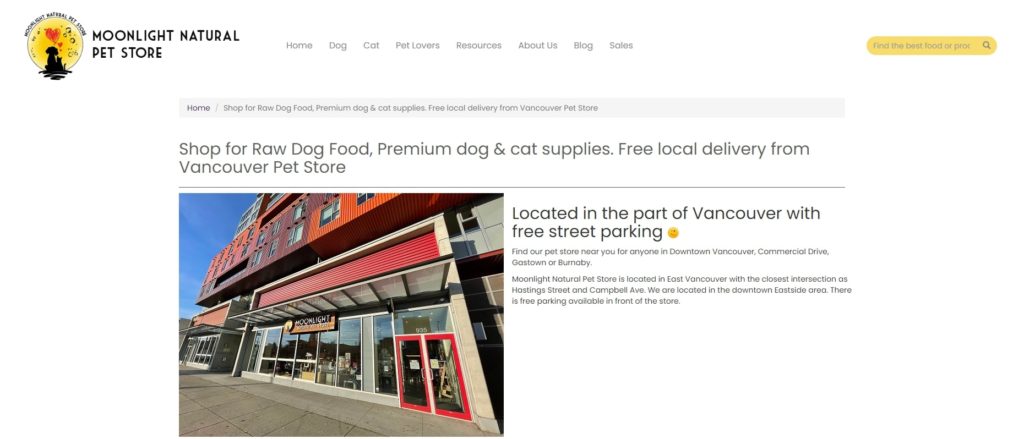 SERVICES

Dog Food

Dog Supplies

Cat Food

Cat Supplies

Novelty Gifts for Pet Lovers

WEBSITE
https://www.moonlightpetstore.com/vancouver/
ADDRESS
935 East Hastings Street, Vancouver, BC, V6A 1R9, Canada
CONTACT DETAILS
Phone: 604 539 3680
OPERATING HOURS

Monday-Friday: 10 AM-6:30 PM

Saturday & Sunday: 10 AM-5 PM
| | |
| --- | --- |
| CRITERIA | RATING |
| Product Variety | ★★★★☆(4/5) |
| Pricing | ★★★★★(5/5) |
| Accessibility | ★★★★★(5/5) |
| Customer Service | ★★★★★(5/5) |
Moonlight Natural Pet Store is one of the pet shops in Vancouver that believe that processed foods can be unhealthy for dogs and cats.
To promote healthy living, Moonlight Natural Pet Store offers natural and raw food options.
Their kibble selection may be small, but each brand showcased in the store contains the necessary nutrients that your pets need. In addition, you can buy them in bulk or portions, allowing for monetary freedom.
Aside from pet food, Moonlight Natural Pet Store also carries vitamins and supplements, which we appreciate. Having these options help pet owners build a healthy food and supplement system for their fur babies.
Another reason we like Moonlight Natural Pet Store is its staff, which consists of trained individuals who will assist you if needed. They also have the necessary knowledge to make recommendations.
In addition, Moonlight Natural Pet Store is highly accessible with its location on Hastings Street. They are also open everyday, which earns the shop kudos.
We would also like to point out that the Moonlight Natural Pet Store website is easy-to-use, so you can purchase online without any hassle.
Lastly, they offer free parking if you drop by and free delivery for orders $60 and up. This is eligible for both Canada and US addresses.
Large selection of all-natural, high quality raw pet food
Open all days of the week
Flat-rate shipping fee
Limited variety as they aim to only bring in the best products based on research
Customer Reviews
Overall, delightful experience
"I ordered many products from Moonlight in preparation for our puppy. The online experience has been a breeze. You can tell the products they carry are well-curated. Local delivery is easy to schedule and fast. We recently had a chance to visit the store, which was clean and organized. The staff was very friendly and helpful. Our pup even got a short training session with some yummy treats. Overall, delightful experience!" – Merve A.
Carries a very hard to find food
"Amazing experience with the online shopping – Moonlight Natural Pet Store carries a very hard to find food (the only one my frenchie can tolerate without allergies). The product was shipped to Ontario and we got it within days at a very reasonable product cost and shipping fee. So grateful for this business!" – Ameena H.
3. Korna Pet Kitsilano

SERVICES

Adventure Gear, Beds, Mats, and Blankets, Birthday, Bowls & Feeding, Pet Food, Collars, Harnesses, & Leashes, Crates, Gates, & Carriers, Flea & Tick, Grooming, Health & Wellness, Raw Bones, Toys, Training Accessories Treats, Vehicle Accessories

WEBSITE
https://www.kornapet.com/
ADDRESS
2030 West Broadway, Vancouver, BC V6J 1Z4, Canada
CONTACT DETAILS
Phone: 604 904 2008 (ext. 3)
OPERATING HOURS

Monday-Saturday: 9 AM-9 PM

Sunday: 9 AM-6 PM
| | |
| --- | --- |
| CRITERIA | RATING |
| Product Variety | ★★★★★(5/5) |
| Pricing | ★★★★★(5/5) |
| Accessibility | ★★★★☆(4/5) |
| Customer Service | ★★★★☆(4/5) |
Korna Pet Kitsilano is a must-visit if you want a one-stop shop for pet food and supplies.
There are several reasons we recommend Korna Pet Kitsilano, one of which is their store catalog.
Unlike other pet shops in the area, Korna Pet Kitsilano caters to animals other than cats and dogs. They also have supplies for beloved pets like chinchillas, hamsters, and aquatic pets.
For instance, you can buy bathing sands and treats for hamsters and chinchillas and even water conditioners for fishers.
We also like that they offer same-day delivery to customers willing to use a third-party application.
If you have an emergency and need pet supplies ASAP, you only need to go on Door Dash and purchase the items you need.
Some customers are wary of using these applications, but you can rest easy knowing that the staff at Korna Pet Kitsilano will secure your items properly and ensure that they are shipped safely.
Let's say you need to return some items. Korna Pet Kitsilano makes it simple to do so with its return policies.
For online purchases, items need to be returned in their original packaging and good condition via shipping, and they will be refunded immediately.
On the other hand, for in-store purchases, the same goes for the item condition, but with an addition of the receipt or packing slip for proof.
Customer satisfaction is vital for Korna Pet, so you can rest easy knowing you'll get your money's worth or money back guaranteed.
Wide selection of pet food and pet supplies
Same day delivery available for DoorDash users
Free delivery for $50+ orders
Some issues with product quality
Complaints about poor account tracking for promotions
Customer Reviews
Very customer oriented staff
"Very customer oriented staff working there. For every time I shopped in store, the staff members were always opened for help or questions. Raw food are decently priced, and wide selections of canned wet food. I highly recommend this pet supply store in this area of Vancouver." – Michelle G.
Much appreciated their consideration
"Excellent and knowledgable service. I brought a new rescue foster pup, who had been vomiting the night before. I was exhausted and looking for a harness, as well as food suggestions to mitigate the situation. In the process, the ladies noticed concerning symptoms they had direct experience with, and it confirmed my own concerns – that had been previously dismissed by others as stress from the plane the day before. They told me to go to vet asap and it was needed. They allowed me to leave with a unpaid harness on the pup to expedite getting the puppy to a vet. I very much appreciated their consideration and ability to pay/return the harness later. They put my pup first." – DL H
4. Bones Pet Stores

SERVICES

Accessories

Grooming & Care

Clothing, Treats, Food, Toys

WEBSITE
https://www.bonesps.com
ADDRESS
2501 W Broadway, Vancouver, BC V6K 2B4, Canada
CONTACT DETAILS
Phone: 604 800 0238
OPERATING HOURS

Monday-Sunday: 11 AM-8 PM
| | |
| --- | --- |
| CRITERIA | RATING |
| Product Variety | ★★★★☆(4/5) |
| Pricing | ★★★★★(5/5) |
| Accessibility | ★★★★★(5/5) |
| Customer Service | ★★★★★(5/5) |
Another pet shop we highly recommend is Bones Pet Store, which fellow pet owners established.
The first branch of Bones Pet Store was opened to create a hub that caters to the needs of cats and dogs. Every item in the shop catalog is featured with the health and safety of pets, which we really like.
For instance, the owners of Bones Pet Store wanted to promote clean health for dogs and cats. This led to the store stocking up on complete and balanced raw pet foods from Naturawls, Stella & Chewy's, and Primal.

They also have healthy snacks for your beloved pet's occasional treats.
Aside from edible products, Bones Pet Store also carries other pet care products, including grooming items, toys, and clothing. Similar to the food items, these selections are chosen with quality and safety in mind.
If you're thinking of buying a fellow pet owner a gift, you can get gift cards in varying amounts. Don't forget to check out their pet supplies for a complete shopping experience.
The best thing about Bones Pet Store is that they offer delivery services, allowing customers to get their items without leaving home. For emergencies, same-day delivery is possible.
However, if it's just a regular restock day, next-day delivery is what the store can accommodate. You can head on to their website to check how much exactly is needed to avail of free shipping in your area.
Numerous branches around Canada
Available during all days of the week
Same-day delivery and next day delivery available
High order requirements for free shipping
Only ships within Canada
Customer Reviews
Well-organized and always clean
"I'm a regular customer at both Bones pet stores in downtown but have recently discovered their newest location in Kits- and it's my favorite now! As the other two, Bones Kits location offers the same great selection of high quality brands without premium markup- nice selection of local Canadian brands and many unique ones that can only be found there! When we first adopted a pair of kittens, Bones had everything we needed in one place, including the top picks from foods recommended by the rescue society (and at reasonable prices). And it seems that they offer even more variety of products for dogs. The staff are always incredibly friendly and helpful, answering all of my questions and offering great advice. The store itself is just beautiful- bright, welcoming and stylish. Well-organized and always clean despite many furry visitors. Next time we are going to try their in-store custom name tags service. Overall, highly recommend Bones pet stores for anyone looking for a great selection of pet products and exceptional customer service!" – Anna P.
Super friendly and knowledgeable staff
"Super friendly and knowledgeable staff. They really took their time to ask questions and help me find the right food for my cat." – Kellie Q.
5. Pet Pantry

SERVICES

Bedding, Bowls & Feeding Accessories, Cleaning & Odor Control

Clothing & Gear, Collar, Leashes & Accessories, Crates, Travel & Gates

Food, Grooming & Bathing, Health Care & Supplements, Dog Toy

Training & Behavior, Treats & Chews

WEBSITE
https://petpantry.ca
ADDRESS
3272 Main St, Vancouver, BC V5V 3M5, Canada
CONTACT DETAILS
Phone: 604 423 4484
OPERATING HOURS

Monday-Sunday: 10:30 AM-7 PM
| | |
| --- | --- |
| CRITERIA | RATING |
| Product Variety | ★★★★★(5/5) |
| Pricing | ★★★★★(5/5) |
| Accessibility | ★★★★★(5/5) |
| Customer Service | ★★★★☆(4/5) |
During our assessments, we found that pet shops in Vancouver vary in terms of what they have in stock. Pet Pantry is a store that stood out because of its vast catalog.
It's worth noting that Pet Pantry specializes in products for cats and dogs, with a small selection for small animals. Despite this, we recommend them to pet owners in Vancouver since they offer products from different brands – all at great prices.
Their categories cover comfort, grooming and bathing, feeding accessories, cleaning and odor control, clothing, treats, and even health care.
While browsing their selections, they had everything we could need when caring for cats and dogs.
We also like that they have pet food and supplies for pets of different ages, sizes, and breeds. With this variety, pet owners should have no problem finding the right product to fit their needs.
What's more, Pet Pantry has a knowledgeable staff that is always ready to answer questions or give advice.
This was especially helpful when we tried their pet food because it allowed us to make the best choice for our pet based on ingredients, nutritional value, and other factors.
All of their items are shown on their website. There is free local delivery for orders $50 and up. If you need your order immediately, priority shipping for $15 is the most convenient way to get them ASAP.
With a passion for ensuring animal well-being, as well as guaranteeing amazing customer service, Pet Pantry deserves the spot among the top pet shops in Vancouver. With them, you get the best deals at the most reasonable prices.
Provides products for pets of all types and sizes
Free local delivery for orders above $50
Delivers within 3 business days
Some complaints about poor customer service
Restocking fees are subject to specific items during returns
Customer Reviews
Super helpful
"Super helpful! One fellow there, middle-aged, has tons of experience- wish I had gone there about my cat's digestion and saved bills from an ignorant vet who didn't come close to resolving what proved to be a case of irritated bowel! Thank-you Pet Pantry! Ask them about Stella & Chewy for your cat." – Louise C.
Best care and recommendation
"Pet Pantry is the best pet store in town. Not only do we buy all of our pet food and other products from Pet Pantry, but we also get them delivered to our door so we don't have to lift a finger. Owners are huge animal lovers and you know you will get the best care and recommendation for all your pet needs. And they also have this awesome dog care at the back. I mean, all and all, it's just the best!" – Milena Z.
FAQs about Pet Shops in Vancouver
---
Hopefully, you can purchase everything your pet needs from these pet shops in Vancouver. If you're looking for a park to visit with your dog, check out our list of top dog parks in Vancouver.