The 5 Best Indoor Playgrounds in Vancouver
Indoor playgrounds are ideal for parents to enjoy quality time with their kids in a safe environment.
A good indoor playground would provide a variety of toys and activities for children to play with, seating for parents, a durable play structure, and safety and security.
The following is a list of our picks of the best indoor playgrounds in Vancouver. We'll discuss what each playground has to offer and why they're great options if you want to have fun indoors.
How Much Do Indoor Playgrounds Charge in Vancouver
Indoor playgrounds typically charge up to CAD 30 per person. However, this amount varies depending on the length of your stay and whether or not you wish to use additional amenities.
In general, admission will not cost more than CAD 84. Some establishments provide a variety of play areas, while others provide birthday party packages and private room rentals.
We've compiled a list of the most common amenities available at these establishments, as well as their estimated costs.
| Type | Estimated Costs |
| --- | --- |
| Standard Play Areas | CAD 5 - 30/person |
| Themed Playgrounds | CAD 25 - 45/person |
| Arcade | CAD 10 - 25 |
| Obstacle Courses | CAD 55 - 84/person |
| Reading Events | CAD 20 - 30 |
| Rock Climbing Walls | CAD 17 - 27/person |
| Birthday Parties | CAD 219 - 500 |
The Best Indoor Playgrounds in Vancouver
Vancouver has many indoor playgrounds that offer fun for the whole family! However, there are so many great places that it can be tough to know where to start.
We've evaluated the following establishments based on the criteria listed below to ensure that your children have a fun and safe time.
1. The Adventure Zone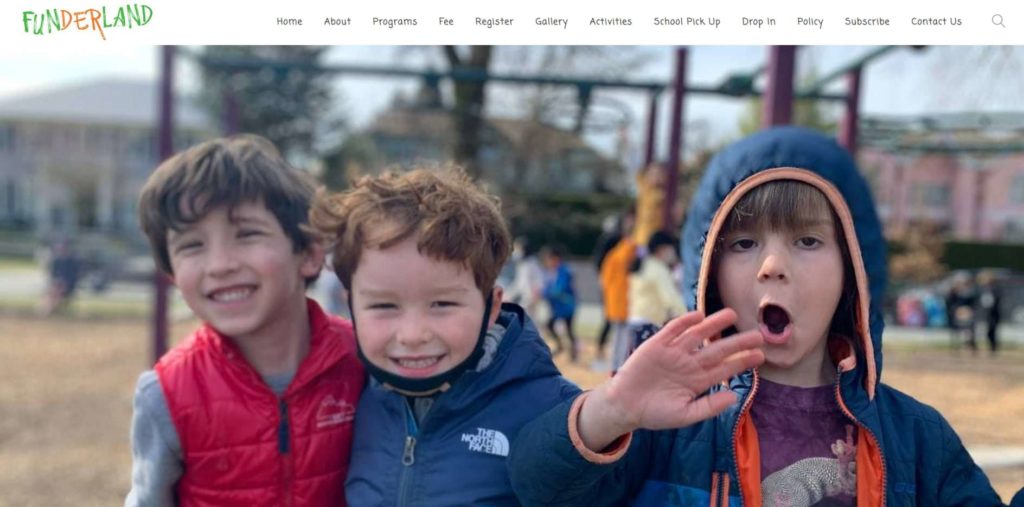 Test
Info
SERVICES
Ball Pit, Hockey and Soccer, Slides, Arcade, Sand Art, i-Floor, i-Wall, Candy Shop
WEBSITE
https://theadventurezone.ca/index.html
ADDRESS
1496 Cartwright St #230, Vancouver, BC V6H 3Y5, Canada
CONTACT DETAILS
Phone: 604-608-6699

E-mail: [email protected]

OPERATING HOURS
Monday - Sunday: 10:00 AM - 06:00 PM
| | |
| --- | --- |
| Activities | ★★★★★ 5/5 |
| Facilities | ★★★★★ 5/5 |
| Location | ★★★★☆ 4/5 |
| Customer Service | ★★★★★ 5/5 |
Located on Granville Island, the Adventure Zone features a multi-level playground with numerous activities.
We particularly like the design of their new playground, which includes a see-through net that allows parents to see all of the activities inside. This, in our opinion, provides a greater sense of security.
Another noteworthy feature is their deep and colorful ball pit area, which has recently been expanded with more vibrantly colored balls. We think this is an enjoyable way for children to develop their motor skills as they dive around in the ball pit.
Moreover, you might also want to check out Funderland's i-Floor interactive playground! This brand new play area includes popular iPad games like hockey and soccer, interactive wall games, an arcade, and much more.
We're also big fans of their Circuit Circus Game Zone where they offer over 50 games to choose from. Some of the games they offer include basketball games, ping pong shooting games, laser target shooting, and many more classic games.
We also find it exciting that they have added two arcade machines of one of the most nostalgic arcade games, pinball. This is ideal for parents who are still kids at heart and want to play a nostalgic game.
Unfortunately, due to high demand, the Adventure Zone can become quite crowded on weekends, so customers can expect limited parking spaces.
Overall though, The Adventure Zone is one of Vancouver's best indoor playgrounds, with fun, safe, and clean play areas for kids of all ages.
Features a see-through net on play areas
Recently upgraded ball pit
Offers interactive playgrounds
Offers over 50 arcade games.
Daily sanitation of facilities
Can get crowded during weekends
No dedicated common area for guardians
Customer Reviews
Clean facilities and reasonably priced food
"Ok so this place is a blast! A bit tricky to figure out how everything works but we got it and had a blast in the meantime. There is parking in various spots around Granville Island and it was cheaper to park there than I expected. We played in the indoor playground and on the games. The tickets spewing out was really fun! Some places have gotten rid of the paper tickets and just use a card but not this place! Also, the amenities were all clean and the food was hot and reasonably priced. Was surprised how clean the place was considering how busy it was in there. All in all….had a blast and would go back again. Like a mini PNE on an island." -Maria C.
Many activities for kids and appealing decor
"Great Kids venue. Climbers. Stores to shop in. Arcade. Virtual reality. Bumper cars. A kids dream. Definitely worth checking out and wandering around. My daughter really enjoyed it. Lots of energy in there and love all the decor. Lots to look at." -Thunderstorm P.
2. JelloLand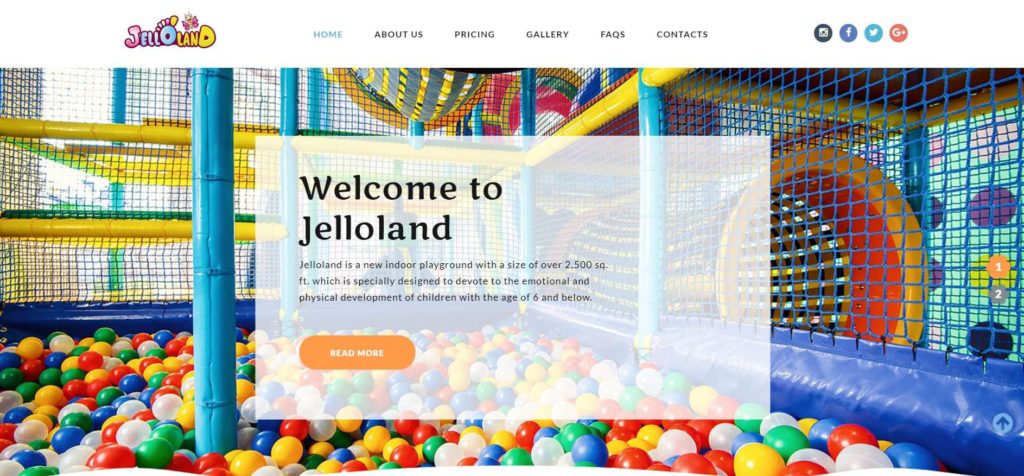 Test
Info
SERVICES
Ball Pits, Slides, Obstacle Courses, Birthday Party Packages
WEBSITE
https://www.jelloland.ca/
ADDRESS
10820 No 5 Rd #1015, Richmond, BC V6W 0B5, Canada
CONTACT DETAILS
Phone: 604-330-7737

E-mail: [email protected]

OPERATING HOURS
Monday - Saturday: 09:30 AM - 06:00 PM
| | |
| --- | --- |
| Activities | ★★★★☆ 4/5 |
| Facilities | ★★★★★ 5/5 |
| Location | ★★★★★ 5/5 |
| Customer Service | ★★★★☆ 4/5 |
JelloLand is an indoor playground for children aged 6 and under with eye-catching play areas.
Some of what they offer include two full-size play structures that we recommend for toddlers. It features multi-level areas with slides and ball pits where kids can climb and crawl.
We were also impressed by the obstacle courses, which features crawl tubes, jungle gyms, and many more!
Aside from this, JelloLand also offers a full-size structure for baby crawlers. This spacious play area features colorful mats and platforms for babies to explore, and we particularly like the small caves where they can go inside.
Another thing that caught our attention is that they also have reading corners with tables and chairs. JelloLand provides interesting books for children who prefer to sit and read a good book to keep themselves entertained.
The variety of their facilities, in our opinion, is ideal for children to develop both physical and mental skills.
Now, we think it's worth mentioning that Jelloland currently does not offer childminding programs. This means that a parent or guardian must always be present to supervise their children.
Nevertheless, we believe this establishment deserves to be on our list because it provides extensive play areas for young children to hone their social, mental, and physical well-being.
Dedicated playgrounds for children aged 6 and under
Features multi-level play areas
Offers play areas for baby crawlers
Offers reading corners
Limited parking availability
Can only accommodate children aged 6 and under
Customer Reviews
Reasonable prices and fairly spacious play area
"The place is super clean and you can have a small kiddie party in private for a reasonable price. I like the size of the play area which is big enough for the kids to have fun around while the parents sit on the side and they can see the kids from where they are sitting." -Da W.
Sanitized facilities
"What a great place! My 2 year old toddler loves it! You can bring your own food and enjoy a meal while your kid plays! It's important that this place is clean and sanitized, gives parents a peace of mind. Great place for 1-5years old." -Coco W.
3. Kidtropolis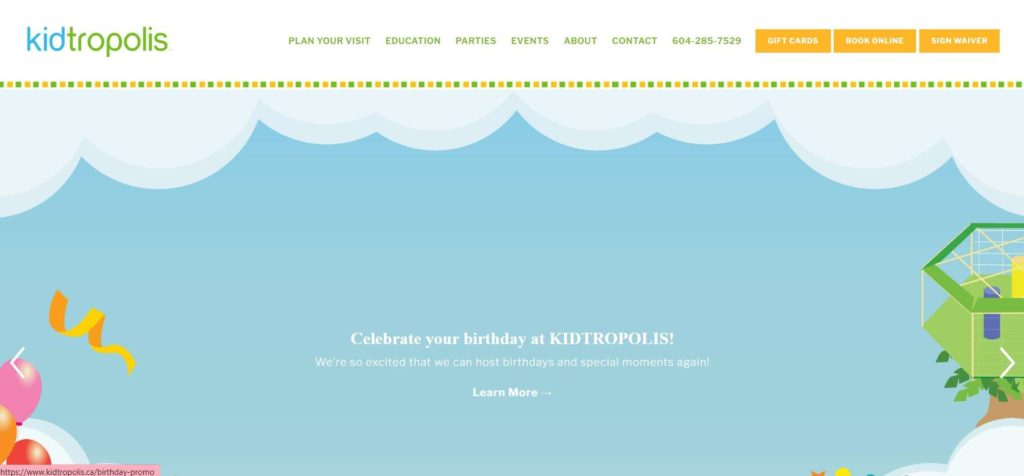 Test
Info
SERVICES
Playground Area, Pretend Play Area, Party Rooms, Common Areas, Birthday, Party Packages, Private Parties, Nerf Parties
WEBSITE
https://www.kidtropolis.ca/
ADDRESS
110-5940 No 2 Rd, Richmond, BC V7C 4R9, Canada
CONTACT DETAILS
Phone: 604-285-7529

E-mail: [email protected]

OPERATING HOURS
Tuesday - Sunday: 10:00 AM - 05:00 PM
| | |
| --- | --- |
| Activities | ★★★★★ 5/5 |
| Facilities | ★★★★★ 5/5 |
| Location | ★★★★★ 5/5 |
| Customer Service | ★★★★☆ 4/5 |
Kidtropolis, which launched in 2016, is an interactive indoor playground in Richmond with expansive and decorative play areas.

Now, one thing we immediately noticed is that Kidtropolis prioritizes pretend play.
We were particularly impressed by their fully-equipped pretend play areas, which include dental offices, grocery stores, gas stations, fire stations, and hospitals, among many others.
We especially like the detailed indoor furniture inside the houses, which includes kid-sized refrigerators, stoves, and other appliances.
Kidtropolis even has its own airplane, with four seats inside where kids can pretend to be pilots! Pretend play, in our opinion, is an excellent learning tool for children to use their imaginations while having fun.
We also believe that their realistic play areas help children develop social skills, teamwork, and problem-solving, just to name a few.
Another noteworthy feature is their playground, which includes a fairly tall treehouse where children can climb and socialize. It has rainbow stairs, slides, jungle gyms, and many others which are ideal for more grown-up kids.
Moreover, parents who want to celebrate their children's birthdays in Kidtropolis can now do so as they offer four spacious and well-lit party rooms.
It's also worth mentioning that clients can add nerf parties to their birthday packages. This, we believe, is a fantastic way for children and families to bond and have fun!
Unfortunately, Kidtropolis offers relatively higher rates compared to other establishments. They also do not offer child minding programs.
Nevertheless, we believe Kidtropolis is worth a visit for their interactive pretend play areas, which we believe are ideal for family bonding.
Specializes in pretend play
Has realistic city buildings
Offers numerous activities
Offers birthday packages
Offers Nerf parties
Relatively higher rates
Does not offer child minding programs
Customer Reviews
Spacious play areas
"This place is amazing we went there, and there was a bunch for school kids there already. They have a huge slide, which is quite fast and the kids love it. They have small stations/ rooms where the kids could explore different careers. Firefighter, dentist, news reporter, vet, nail saloon, grocery store, 911 and a jail, fresh slice pizza eating place, gas station, airplane, school, theatre, hospital, and a couple more… The kids had an awesome time there, going from one station to another, and some were driving around the small police cars which u have to use your feet to move forward. I would recommend this place anytime. It's awesome for younger kids, not so much for the older ones." -Asiyah A.
Affordable prices and great snacks
"Great experience like usual. I went during the week and did a walk in. Tuesday price for 2 kids and adult was 18 which is very reasonable. Kids loved the paly stations and the slide alot. Make sure to bring change like loonies and quarters and toonies as they have vending machines with toys and treats for kids. The food area had alot of good snacks so you can have lunch or a snack there. Very open area and not to crowded which was nice. Will be coming again for sure." -Luis F.
4. Circus Play Cafe
Test
Info
SERVICES
Play Space, Reading and Quiet Room, Play2grow Classes, Baby Sign Language, Evening Yoga, Party Packages, Reading Events
WEBSITE
https://www.circusplaycafe.com/
ADDRESS
1650 E 12th Ave, Vancouver, BC V5N 2A3, Canada
CONTACT DETAILS
Phone: 604-558-2545

E-mail: [email protected]

OPERATING HOURS
Monday - Tuesday: 09:00 AM - 05:00 PM

Wednesday: 09:00 AM - 02:30 PM

Thursday - Saturday: 09:00 AM - 05:00 PM
| | |
| --- | --- |
| Activities | ★★★★★ 5/5 |
| Facilities | ★★★★☆ 4/5 |
| Location | ★★★★★ 5/5 |
| Customer Service | ★★★★☆ 4/5 |
The Circus Play Cafe has a simple design that we believe encourages children to learn and enjoy themselves through play and imagination.
Some of the features in their play areas include slides, crawl spaces, caves, and many more. We also like their pretend play areas such as their kitchen, small and colorful houses, and a reading bus corner.
We were also impressed with the number of toys and books they have in the store! We think these materials are essential for a child to develop motor and mental skills.
Aside from that, the Circus Play Cafe also has a dedicated reading and quiet room which can be ideal for kids who want to take a break from physical play. It's filled with colorful mats and pillows, with numerous picture and story books to choose from.
It's also worth mentioning that the Circus Play Cafe offers baby sign language classes, evening yoga for parents, and play2grow workshops.
Unfortunately, Circus Play Cafe does not allow outside food. Nevertheless, parents shared how accessible their common area and cafe are as they provide ample space and delicious food and drinks.
Overall, we recommend Circus Play Cafe to parents who want to provide their children with a fun learning environment.
Ideal indoor playground for smaller children
Offers numerous interactive toys
Has a reading and quiet room
Spacious common area for parents and guardians
Closed on Sundays
Outside food is not allowed
Customer Reviews
Great facilities for babies
"Very cute indoor baby activity centre for your little ones under 5. I love bringing my baby who can not yet walk here so that she can practice crawling and standing. I Ike going on sunny days because it is the least busy. They have a cafe that serves food for you and or your little ones too."
Peaceful location and great atmosphere
"My son and I used to hangout at this place before he started going to daycare to interact with other kids. It was very good transition. We love the atmosphere, food and the toys as well. I was able to have my coffee and sketch while watching my toddler playing around." -Urna M.
5. Laserdome Plus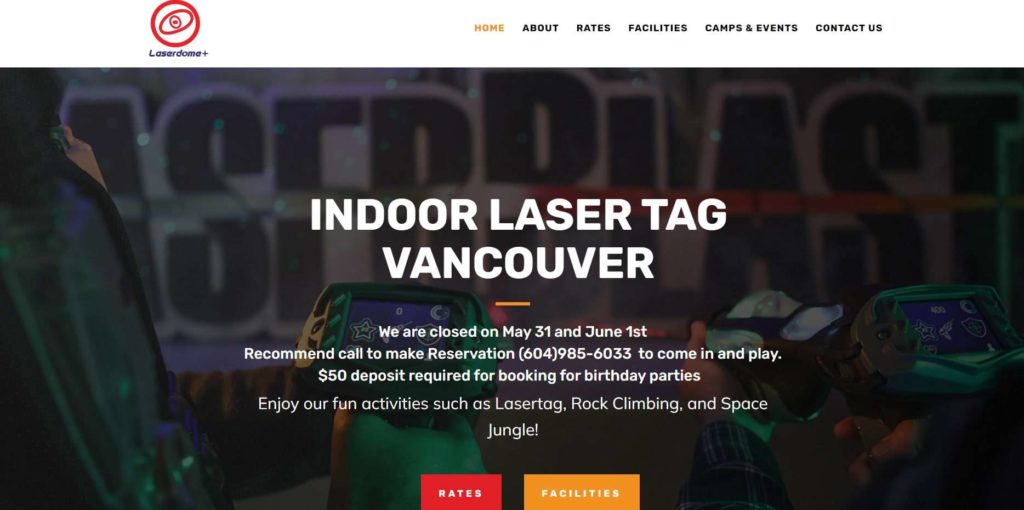 Test
Info
SERVICES
Lasertag Arena, Rock Climbing Walls, Space Jungle Playground, Birthday & Rental Packages
WEBSITE
http://laserdome.net/
ADDRESS
#110 2455 Dollarton Hwy, North Vancouver, BC, Canada, V2V 2V2
CONTACT DETAILS
Phone: 604-985-6033

E-mail: [email protected]

OPERATING HOURS
Monday - Thursday: 01:00 PM - 09:00 PM Friday: 01:00 PM - 12:00 AM

Saturday: 11:00 AM - 12:00 AM

Sunday: 11:00 AM - 09:00 PM
| | |
| --- | --- |
| Activities | ★★★★★ 5/5 |
| Facilities | ★★★★★ 5/5 |
| Location | ★★★★☆ 4/5 |
| Customer Service | ★★★★☆ 4/5 |
Established in 2007, we believe Laserdome Plus is a unique way to have fun indoors with friends and family.
Some of what they offer include a four-level laser tag arena filled with colorful LED lights, smoke, black lights, fluorescent paint murals, and many more! We also like how they play music, which adds to the exhilarating atmosphere.
Moreover, their rock climbing area features three walls with hand and feet grips. Don't worry, these walls have 14 auto-belay ropes that make the activity safe.
Aside from that, Laserdome Plus has a space-themed jungle gym with two rope bridges, a clubhouse space station, two lookout posts, slides, and other attractions. Unfortunately, the Space Jungle Gym is only open to children ages 4 to 10.
Nevertheless, we like how they connected the jungle gym tunnel to the laser tag arena. Moreover, we think that Laserdome Plus is an ideal facility to celebrate parties and events.
They offer a variety of birthday packages and rentals, and we appreciate that they provide everything from food to utensils to party hosts and much more.
Overall, Laserdome Plus is one of the best indoor playgrounds in Vancouver as they have fun-filled facilities for all ages.
Open seven days a week
Offers laser tag arena
Offers rock climbing walls
Has a space-themed playground
Full-service birthday and rental packages
Outside food is not allowed
Space Jungle Gym is only open to children ages 4 to 10
Customer Reviews
Patient and helpful staff
"My son's first birthday party was held there today, it's sooooo much fun. We were so lucky to have Jocelyn to stay with the kids, I cannot imagine there could be anyone better than her. She is extremely patient, helpful and thoughtful. The shop owner is also super kind to accommodate our needs and makes sure we are fine. Very grateful of what he has done extras for us!The shooting game itself is so fun that the kids never get bored alright they have been here many times already. The pizzas are great too! We are now enjoying the remaining pieces at home now. I cannot thank them enough for our experiences and it's a unforgettable party for us. This is just a wonderful place for both kids and parents." -Kay C.
Enjoyable activities
"I went to Laserdome for the very first time last week with my friends and our kids to play laser tag. We were 7 adults and 4 kids. We all had the most fun time there! I'm impressed, however, with the customer service. The owners and the staff are the kindest and most generous people that I ever see here in Greater Vancouver. We'll definitely be back many times!." -Bruna S.
FAQs about Indoor Playgrounds in Vancouver
---
That's about everything we know about the best indoor playgrounds in Vancouver.
If you're looking for other things to do in Vancouver with your kids, check out our list of the best things to do in Vancouver.
If you get hungry, we've compiled a list of the best brunch spots in Vancouver to satisfy your hunger and replenish your energy.