The 5 Best Naturopathic Clinics in Vancouver
When traditional medicine and pharmaceuticals don't work out for us, we sometimes just don't know where to turn to.
Luckily, naturopathic clinics exist and we've personally reviewed and listed down the best ones in Vancouver so you can get the treatment you need.
How much do naturopathic services cost in Vancouver?
Before anything, we first have to talk about the costs for the average naturopathic treatment. We've gathered the most common services associated with naturopathy along with their estimated rates.
Note that prices do vary between practitioners and clinics. In most cases, they're dependent on the experience of the practitioner, the type of treatment provided, and the total length of their sessions with you.
| Common Naturopathic Services | Estimated Rates |
| --- | --- |
| Initial session | ~$80 to $400 |
| Follow-up sessions | ~$100 to $200 |
| Nutrition and Diet Advice | ~$100 to $200 |
| Physical Therapy | ~$90 |
| Hydrotherapy | ~$55 to $95 |
| Herbal Medicine and Tonic | ~$30 to $50 |
| Homoeopathy | ~$20 |
| Counselling | ~$25 |
The Best Naturopathic Clinics in Vancouver
We rated our naturopathic clinics using this criteria:
1. Integrative Naturopathic Medical Centre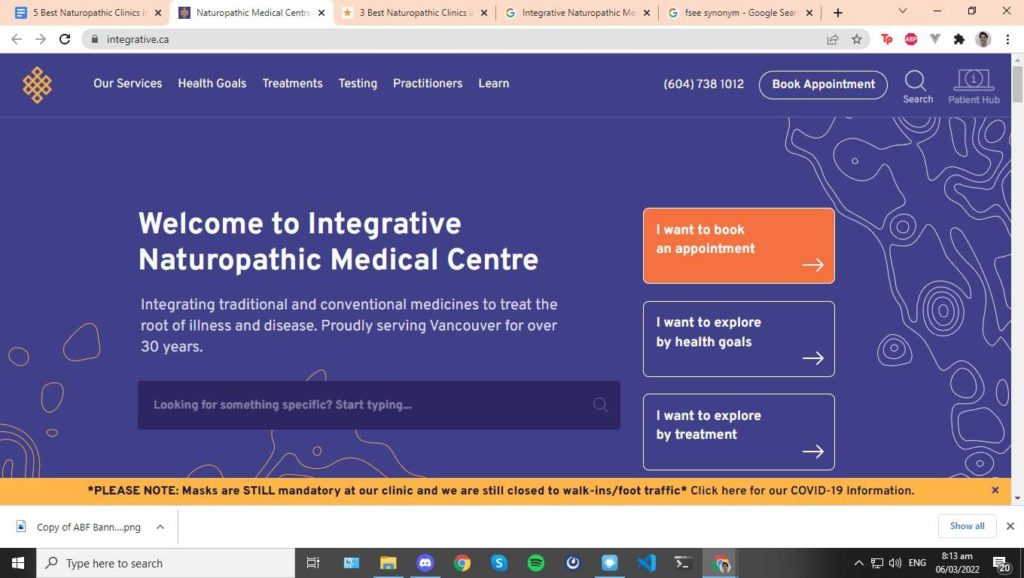 Test
Info
PRODUCTS
Chronic Illness, Acute Conditions

Mental Health & Wellness

Digestive Concerns

Skin Conditions

Hormonal Imbalances

Acupuncture

Constitutional Hydrotherapy

Heavy Metal Chelation and Detoxification

Intravenous Therapy

Ozone and Oxidative Therapy

The Rolfing Ten-Series & Total Body Modification

WEBSITE
https://integrative.ca/
ADDRESS
#730 - 1285 W. Broadway, Vancouver
CONTACT DETAILS
(604) 738 1012

Email: [email protected]

OPERATING HOURS
Monday to Friday 8:00 am – 5:00 pm

Saturday to Sunday Closed
| | |
| --- | --- |
| Criteria | Ratings |
| Value | ★★★★☆ (4/5) |
| Customer Service | ★★★☆☆ (3/5) |
| Services Offered | ★★★★★ (5/5) |
The Integrative Naturopathic Medical Centre has been serving Vancouver for well over 30 years and has been building their myriad of professional licensed naturopathic practitioners ever since.
The founders actually started off as chiropractors who found the need to expand their skill sets to better cater to their clients. This desire led each of them to obtain their licences in Naturopathic Medicine, Chiropractic, Traditional Chinese Medicine, Acupuncture and Pharmacology.
Overall, we think it's a great medical centre that offers a plethora of programs, treatments, and services to cater to the average citizen.
One program from them we found uniquely interesting is their Accredited Naturopathic Residency Program. It's their way of supporting naturopathic education within the community.
This was made possible through their partnership with the National University of Natural Medicine (NUNM). It's a partnership that started way back in 2012.
What does this mean for you? Well, if you were ever an avid fan of helping out the Vancouver community, you'll be pleased to know that a portion of the funds you send to Integrative would be allocated to this program.
A number of fresh graduates from BC are said to have obtained their naturopathic licences this way. Though we can't give you the exact numbers ourselves, it's clear to see that they do have an array of licensed doctors at their disposal.
Although their workforce is well and good, they do seem to have a number of issues regarding their bookings. When we asked their past clients, they mentioned booking can be quite taxing on their parts.
In one instance, one of their receptionists "wrongly scheduled" an appointment with a client at another date, resulting in the client technically missing the false arrangement. When a missed appointment occurs, there's a specific fee that's incurred, according to their Missed Appointment Policy.
Most regulars we've spoken to also mention booking around July only to have their appointment set around November. This is because their appointments are usually booked months in advance.
Knowing all this, we recommend setting a schedule for them as early as today if you're ever planning on engaging in their services.
Strong residency program
Accommodating staff
Disorganised reception
Hard to book 
Customer Reviews
Accommodating staff
"Dr. Leah has helped me tremendously with my various health issues over the years that I have been seeing her. Not one time that she rushed the appointment, and in many cases, she spent adequate time listening to my concerns and explaining to me the how's and why's of my problems. Dr. Leah is a very caring, attentive and knowledgeable doctor. I am very glad to have found her.
Coming to the clinic is always a pleasant experience as well. The front counter staff are very nice, helpful and professional. They always greet you with a smile the minute you walk in.." —EAWHY.
Disorganised reception
"I booked an appointment with this clinic for naturopathic treatment with Dr.Chan based from all the good reviews – I got an appointment two months later than when I called, but I was okay with it due to covid-19 and all the medical processes taking time.
However, a week before my scheduled appointment, I received a call and was charged for $50 for a missed appointment! I still have the email, and a voice message on my phone stating the original time that I had booked in advance two months ago. My partner was shocked too since he was there when I called the office to book the appointment originally and remembers it being scheduled not at the time the office charged me for.
The appointment they "claimed I booked" was on a day I was scheduled to be away from Vancouver, so I would have never booked that time – their receptionist wrongly scheduled me for an appointment in their system and then charged me for their error.
No where on their website does it state that you will be charged $50 for "missed appointments" i.e. scheduling errors by Integrative's staff.
Terrible service and a disorganized reception that resulted in hidden fees for an error on their part. Stay away and go with a naturopathic office that knows how to use a calendar." —Zana Mody.
2. INSPIRIT Health Group Inc.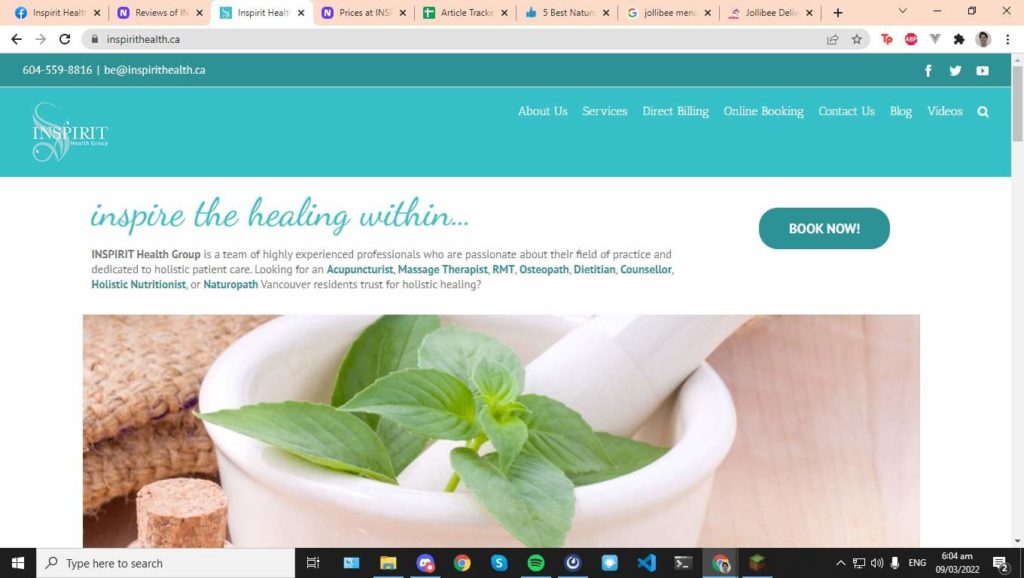 Test
Info
PRODUCTS
Acupuncture

Allergy Testing & Treatment

Clinical Counselling

Dietetics

Holistic Nutrition

IV & IM Nutrient Therapy

Naturopathic Medicine

NAET

Osteopathy

Psych-K

Registered Massage Therapy

WEBSITE
https://integrative.ca/
ADDRESS
Vancouver, BC V6B 3M1, 997 Seymour St #220
CONTACT DETAILS
(604) 559-8816

Email: [email protected]

OPERATING HOURS
Monday to Saturday 10:00 am – 4:00 pm

Sunday Closed
| | |
| --- | --- |
| Criteria | Ratings |
| Value | ★★★★☆ (4/5) |
| Customer Service | ★★★★★ (5/5) |
| Services Offered | ★★★★☆ (4/5) |
INSPIRIT Health Group Inc. is a relatively small-scale company compared to the other medical clinics in this list. Nonetheless, they've managed to make a name for themselves in the 8 years that they've been operating.
They specialise in holistic health treatment and offer a variety of services that we found interesting. Most of these methods include therapies and counselling sessions.
We found their PSYCH-K especially intriguing as it helps patients identify their anxieties and turn them into strengths. Participants are assigned a professional Naturopathic Physician to diagnose and assess them.
They also offer a range of complimentary benefits such as a 20-minute in-person, virtual, or phone call consultation. However, these incentives are only meant for new clients, so you'd have to book an official appointment if you're a regular.
We think this is a great program for persons with stress-inducing anxiety and looking to understand it better. They'll be able to avail of a 1-on-1 consultation with a professional who can offer sound advice and possible supplements to help with the condition.
We've actually spoken to a number of clients to find out how their experience went. Many felt particularly good after their scheduled RMT sessions with one of their professionals, with most saying their massage therapies were effective for relieving neck and shoulder pain.
In general, we highly recommend this clinic for new clients who are still in the process of discovering what treatment/s they need.
PSYCH-K counselling sessions
Complimentary incentives for new clients only
Satisfactory massage therapies/services
Welcoming and accommodating staff
Customer Reviews
Accommodating staff
"I have been going to inspirit for over a year now. I would definitely recommend this place for their exceptional service to the clients. It feels like a spa more than a clinic and the staff is not only friendly but also very knowledgeable. Carrie (acupuncture), Carly (massage) and Dr. Mak (naturopath) have definitely played a major role in helping me address long-standing issues. Five stars without a second doubt for sure!" —Serah Metpalli.
Welcoming employees
"I'm here almost every other week. I have to say that I love this place. As a woman of colour, it can be pretty difficult to find a place that treats you in a care setting without any bias. I always feel welcome here and every service I've received has been amazing. Carly is a great massage therapist so definitely book with her!" —Sheila Matano.
3. Bay Wellness Centre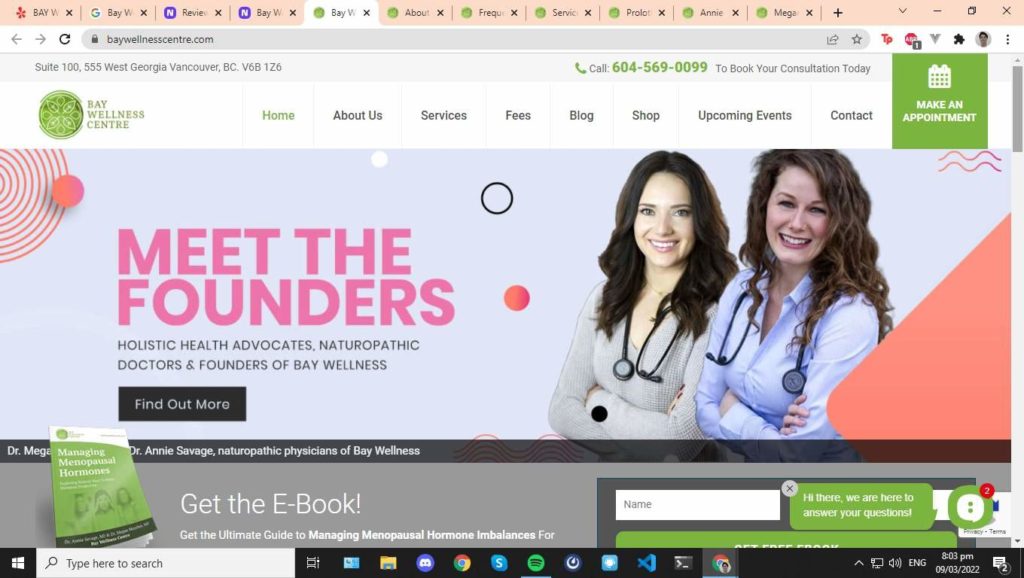 Test
Info
PRODUCTS
Acupuncture

Prolotherapy

PRP Injections

Traditional Chinese Medicine

Trigger Point Injections

Nutrient IV Therapy

Naturopathy

PRP Facial Micropen/Dermapen

WEBSITE
https://baywellnesscentre.com/
ADDRESS
Suite 100, 555 West Georgia, Vancouver, BC. V6B 1Z6 Their office is downstairs
CONTACT DETAILS
604-569-0099
OPERATING HOURS
Monday, Tuesday, and Thursday 8:00 am – 5:00 pm

Wednesday 11:00 AM - 7:00 PM

Friday and Saturday by Appointment

Sunday Closed
| | |
| --- | --- |
| Criteria | Ratings |
| Value | ★★★★★ (5/5) |
| Customer Service | ★★★★★ (5/5) |
| Services Offered | ★★★★☆ (4/5) |
Bay Wellness Centre is among the few woman-run centres in the heart of vancouver. Don't be too surprised if you run into either one of its two owners, Megan Maycher and Annie Savage, as they're also the shop's primary physicians.
They both met at the Southwest College of Naturopathic Medicine in Tempe a couple of years ago. They've been working towards bridging the gap for women's health in healthcare ever since.
Countless regulars and former clients we've spoken to all say the same thing about Dr. Maycher and Savage—professional, understanding, and kind. If they've ever offended a patient, we've yet to hear about it.
By the way, if you've heard of Bay Dental, that's because they both work alongside each other, with the former focusing more on dentistry. Bay Wellness, on the other hand, focuses more on women's health, stress management, weight loss, and hormone balancing.
When we reviewed their products, we found they also offer a lot of treatments, including pain management, skincare, and medical aesthetics. But they don't seem to offer any type of counselling or therapy services other than Nutrient IV Therapy, unlike other naturopathic clinics in Vancouver.
One particular treatment we found unique from other shops within downtown Vancouver was Prolotherapy, which is a treatment for osteoarthritis and chronic pain conditions. If we base it on client feedback alone, most, if not all, of these treatments were deemed very successful and effective.
Oh, and they also happen to have an online shop with their own assortments of goods, which not a lot of naturopathic clinics offer, surprisingly enough. Some of their products include pillows, silk pillow cases, lash castor oil kits, water bottles, and foam rollers.
They even offer blenders and vegetarian cookbooks, which we recommend getting if you're following a herbivorous lifestyle.
Overall, we think it's a decent naturopathic medical centre that offers a good number of services with a very kind and accommodating staff, to boot.
Offers prolotherapy
Woman-centred 
Online shop
No counselling or therapy services
Customer Reviews
Accommodating staff
"I've been seeing Dr. Megan Maycher for almost one year. Since the moment I stepped into her office she made me feel welcomed and comfortable. She's very knowledgeable. I was interested in boosting up my immune system as I've been diagnosed with an autoimmune
Disease. She knew exactly what my body was lacking and now after seeing my lab results my blood work looks Amazing. She helped me get back on track. Thank you Dr. Megan!" —Vilma Barbosa.
Professional and friendly owners/physicians
"I love Bay Wellness! A women-run centre that offers naturopath services, women's medicine, digestion, aesthetics, IV therapy, relief and recovery, and chiropractor services! I went to Annie Savage to receive Prolotherapy. Several years ago, I tore my rotator cuff and nothing has helped! I decided to try Prolo after being recommended to me. I have had a few friends try it who had success so it was a no brainer for me.
I googled Prolo options downtown and found that not many naturopaths offer it. Annie came highly recommended and the centre focused on women's health so I was in! I got an appointment pretty fast. You have to fill out a pretty extensive form which helps her to treat you.( I went for my shoulder but left with help with other issues based on my form.) She recommended Prolo and we got right to it. She was very friendly and extremely knowledgeable. We were able to talk and deal with more than just my shoulder and she recommended several options to make sure I was comfortable with my choices.
I've been back 4 times and have done more service with her. She has responded to my questions via email super quickly and has been an incredible doctor for me. I will continue to use Annie and I can't recommend her enough!" —Jane Talbot.
4. Aumakua Integrated Wellness Clinic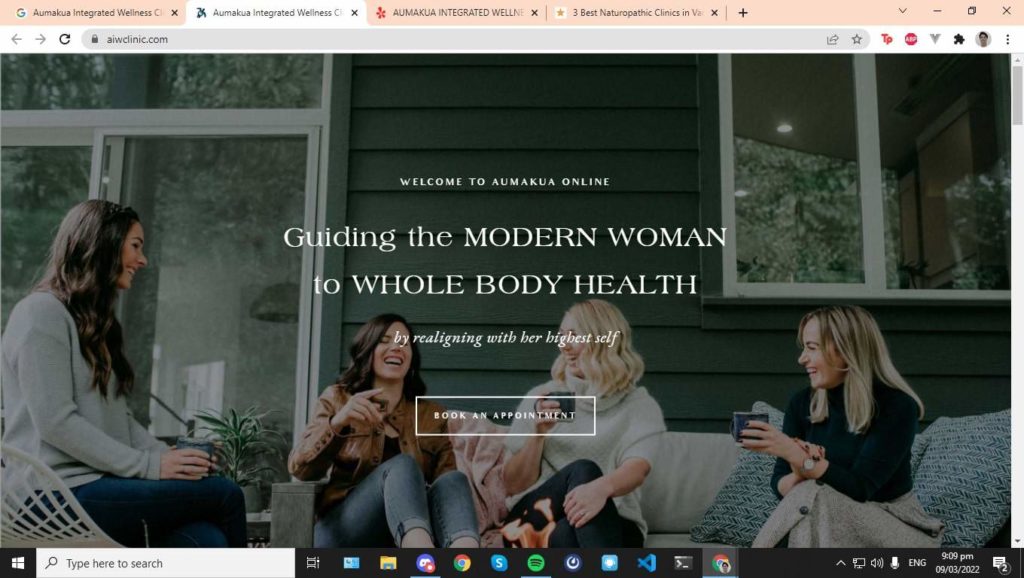 Test
Info
PRODUCTS
Fibroids

Endometriosis

Women's and Men's Health

Hormone Imbalances

PMS

Detoxification

Chronic Fatigue

Menopausal Symptoms

Weight Loss

Thyroid

Comprehensive Dispensary

Hair Analysis

BHRT

Adrenal

Skin Care

Environmental Allergy

PCOS, Food and Diet Counselling

Immune Regulation

Intravenous Services & Stress Management

WEBSITE
https://www.aiwclinic.com/
ADDRESS
815 Cambie Street Vancouver, BC V6B 2P4
CONTACT DETAILS
604 684-6565

Email: [email protected]

OPERATING HOURS
Monday to Thursday 8:00 am – 4:00 pm

Friday 8:30 am – 3:00 pm

Saturday & Sunday Closed
| | |
| --- | --- |
| Criteria | Ratings |
| Value | ★★★★★ (5/5) |
| Customer Service | ★★★★★ (5/5) |
| Services Offered | ★★★★☆ (4/5) |
Aumakua is a health clinic dedicated to catering to the modern woman, both their mental and physical health. They've been around ever since 2015 and have assembled a line of naturopaths most (if not all) of whom are women, by the way.
We just love how the clinic specialises in aiding women all across Vancouver. For instance, clients are able to easily book an appointment with one of their professionals regarding their hormone health.
We highly recommend this type of service for those experiencing painful periods and "hot flashes". Nonetheless, even if you aren't experiencing any of these symptoms, this naturopathic clinic can be a good entrypoint to understanding yourself more.
While they do offer a variety of other services, we found they especially specialise in digestive health. We think this is really great for people experiencing digestive problems, whether major or small.
It's very important to note that they only provide online appointments and consultations, whether it's a quick return visit, initial visit, or an educational session. This can probably be accredited to the recent Covid-19 happenings throughout the years 2020 and 2021.
As for freebies, they actually offer a complimentary Naturopathic Meet and Greet just for you to get to know your doctor. These types of sessions are also normally held online.
While most of their appointments are held virtually, some of their nutrition services do include a special ND visit to your home. We think this is a great chance to be assessed and diagnosed in-person in the comforts of your home.
Knowing all about them above, we highly recommend their services for women who have the associated problems mentioned. Since they're more of a virtual company, it's important to secure a stable internet connection prior to booking.
Friendly and welcoming staff
Women-centred services
Free naturopathic meet and greet
Included ND visit in some nutrition plans
Appointments only done online
Mainly caters to women
Customer Reviews
Friendly and welcoming staff
"After enduring digestive issues for several months that I could not explain, I felt exasperated by the lack of answers or care with the western medicine doctors I saw. I was determined to figure it out & resolve the issue. I went to Dr. Natalie Groenewoud & she listened as I told her my symptoms. She had me do several tests, then diagnosed me with SIBO (Small Intestinal Bacterial Overgrowth). Once she made the diagnosis she clearly explained the course of action she wished to administer which had much to do with diet & supplements. It was also great to have further support with a dietician at the clinic too. After nearly 6 months, I feel so much better and I am no longer on a restrictive diet or taking supplements. Yay! I had a really positive & supportive experience with Dr. Groenewoud & the Aumakua staff, which helped me reset my system & realise some food sensitivities. I appreciate that the environment was welcoming & friendly. And that the process was gentle & educated me to better tune in to my body. I am so thankful I went to Aumakua & Dr. Groenewoud for help!" —Christina Ally.
Great staff
"Aumakua is fabulous and I highly recommend Dr. Amber Sereda! She has helped me with my various health issues of thyroid, gut, heavy metals and just basic wellness. She's an amazing listener and has your best interests at heart. I also get immune IV's and chelation IV for the removal of my heavy metals. I'm so grateful to Dr. Sereda and the amazing staff Adelina and Alice! Thank you very much for helping achieve my goals!" —Diana M.
5. Dr. Jiwani, Naturopathic Physician Vancouver/Burnaby Clinic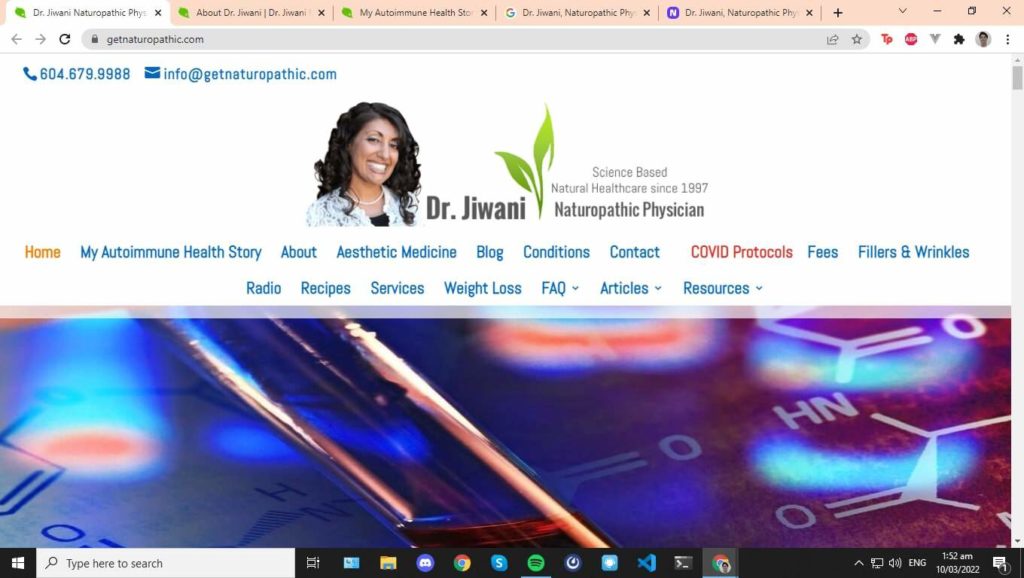 Test
Info
PRODUCTS

Women's, Men's & Children's Health

Food Allergy Blood Testing

Aesthetic Medicine: Cosmetic Wrinkle Injections & Injectable Natural Fillers

Therapeutic Botox for Excessive Sweating, Migraine

Headaches, TMJ Syndrome

Mesotherapy Lipodissolve for Cellulite, Stubborn Fat

Reduction & Body Contouring

IV Vitamin & Chelation Therapy

Prolozone Joint Injections for Regenerative Connective

Tissue Treatment

Cancer Treatment & Recovery

Acupuncture

Autoimmune Diseases, Low Immunity

Anxiety, Depression, Sleep Problems

Rashes, Eczema, Psoriasis, Hives, Acne

Heartburn, Indigestion, Constipation

Crohn's, Ulcerative Colitis, Celiac Disease

Weight Gain/Loss, Diabetes

Arthritis, Gout, Ankylosing Spondylitis

Thyroid Issues, Hashimoto's Hypothyroid, Grave's

Hyperthyroid

Hair Loss, Alopecia

Heart Disease, Pressure & Cholesterol

ADHD Hyperactivity, Autism Spectrum Disorder ASD

Allergies, Asthma, Migraines

Hormonal Imbalance

Menopause, PMS, Infertility

WEBSITE
https://getnaturopathic.com/
ADDRESS
Vancouver, BC V5N 5C1, 1775 Nanaimo St
CONTACT DETAILS
(604) 679-9988

Email: [email protected]

OPERATING HOURS
Tuesday 3:15 pm – 6:30 pm

Saturday 10:15 pm – 12:45 pm
| | |
| --- | --- |
| Criteria | Ratings |
| Value | ★★★★★ (5/5) |
| Customer Service | ★★★★★ (5/5) |
| Services Offered | ★★★★☆ (4/5) |
The local Naturopathic Physician Clinic is among the clinics in Vancouver that operate with one standing employee. Dr. Jiwani has been a long-time practitioner in the arts of naturopathy and she's among the more respected ones here.
Even after finishing her degree in Human Nutrition at the University of British Columbia way back in 1993, she continues to expand her knowledge yearly. We know this because of the certificates she's gained in the last 25 years she's been operating.
To give you a brief overview of just the kind of physician handling you, she's been certified in the fields of Acupuncture, Advanced Injection Therapies, Medical Therapeutic Botox, Esotherapy & Lipodissolve, among others.
We love how, in terms of credibility, clients don't usually have anything to worry about.
Jiwani mainly focuses on family healthcare, including male, female, and children's health, while offering a preventive approach while educating her patients as they're treated.
We've spoken to a lot of her regulars and past clients and all of them seem to say the same thing—with Jiwani, you'll be in good hands. There's been a lot of positive feedback on the affordability of her services as well as her caring attitude while she's administering her injections to you.
While it's amazing that she operates a clinic on her own, it's also one of her greatest weaknesses. WIth only one standing physician, the clinic's only open on specific days and limited times.
We found that clients also had trouble booking an appointment with her. In some instances, you'll have to wait around 2 months before your initial meeting with her.
On the good side, the initial meeting comes completely free, courtesy of Dr. Jiwani. That's right: you don't pay a single cent until after your first meeting with her, which says a lot about her vs. other naturopathic clinics in Vancouver.
We highly recommend checking with this clinic if you ever consider getting any sort of injection. Regardless of your condition, it'll be a great chance to speak to a professional with a lot of experience in the field.
Free initial consultation
Highly credible physician
Customer Reviews
Effective treatment and accommodating doctor
"After the COVID lockdown I was at my highest weight and my usual diet and exercise didn't help. The doctor said I was fine, just eat less, exercise more. I followed Dr. Jiwani's treatment and was surprised at the results. I haven't felt this good in years, I just didn't realise that normal symptoms are signs of poor health, causing my stubborn weight."—Ivana R.
Long but worthwhile booking
"Once I turned 45 my weight wouldn't budge, and my periods were heavy & painful or didn't show up. Worse, I felt hormonal symptoms all month long and my very patient husband was losing it on me. A colleague couldn't stop talking about Dr. Jiwani so I booked an appointment. Bad news – I had to wait 2 months, good news – within 9 months of her recommendations I felt younger, balanced and as lean as when I was in my 20s!" —Shani W.
FAQs about Naturopathy
Naturopathy can be a great way to educate yourself on how to best look out after your own body. Whatever you're seeking from naturopathic medicine, we hope you find it.
Vancouver is also home to many clinics offering medical services other than naturopathy. For instance, we've just published an article on the best osteopaths in the community.

If you're ever feeling aches and muscle pain in your joints, feel free to check them out!