The 5 Best Shops to Buy Bedroom Furniture in Vancouver
Your bedroom is your safe space. It's where you unwind after a long day, meaning it needs to be at the level of comfort you want.
Unfortunately, the quality of items deteriorates over time, requiring you to replace them at some point.
So, if you're in shopping mode, look no further than the top shops to buy bedroom furniture from in Vancouver.
How much does bedroom furniture cost in Vancouver?
The price of bedroom furniture in Vancouver depends on several factors, such as brand, material, and quality of the item.
While we can't provide accurate price tags, we've researched and compiled the estimated prices of popular bedroom furniture. See below.
| ITEM | ESTIMATED PRICE |
| --- | --- |
| Beds | $150 - $2,500+ |
| Mattresses | $150 - $2,500+ |
| Bedside Tables | $100 - $1,000+ |
| Dressers | $300 - $2,000+ |
Where to Buy Bedroom Furniture in Vancouver
We want our assessments to be as accurate as possible, so we've devised specific criteria for our shop evaluations. The factors we considered are the following:
1. Pallucci Furniture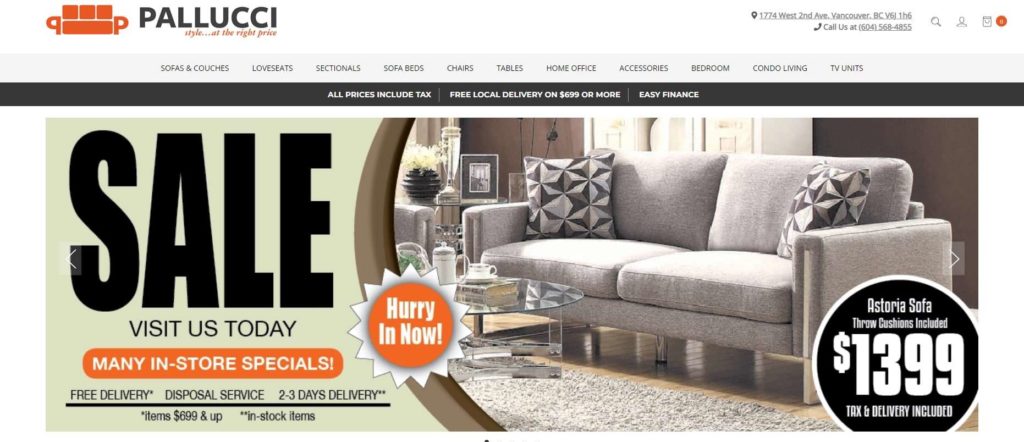 SERVICES

Sofas & Couches, Loveseats, Sectionals

Sofa Beds, Chairs, Tables, Home Office

Accessories, Bedroom

WEBSITE
https://www.palluccifurniture.ca
ADDRESS
1774 W 2nd Ave, Vancouver, BC V6J 1H6, Canada
CONTACT DETAILS
Phone: 604 568 4855
OPERATING HOURS

Monday-Wednesday: 11:00 AM-5:00 PM

Thursday-Saturday: 10:00 AM-6:00 PM

Sundays & Holidays: 12:00 PM-5:00 PM
| | |
| --- | --- |
| CRITERIA | RATING |
| Shop Catalog | ★★★★★(5/5) |
| Accessibility | ★★★★★(5/5) |
| Professionalism | ★★★★★(5/5) |
| After-Sales Service | ★★★★☆(4/5) |
Palluci Furniture is one of the longest-standing furniture shops in Vancouver, having first opened its doors 22 years ago.
Over the years, Palluci Furniture has gained the trust of the local community, mainly due to its commitment to quality.
See, Palluci Furniture has one of the most extensive shop catalogs on this list, going beyond bedroom furniture. They have sofas, chairs, tables, and other furniture accessories.
That said, we like that every item in their shop appears to be well-made despite the large catalog. Many previous clients have praised the longevity and comfort of Pallucci Furniture's bedroom furniture.
Another noteworthy fact about this store is its delivery services.
Instead of having to book moving services, you can use their in-house service, which comes free for orders above CAD 699. From what customers have told us, it's highly reliable, with the movers ensuring your furniture will arrive in pristine condition.
Additionally, Palluci Furniture has several financing options to help customers with their purchases.
For instance, one financing option allows for staggered payments within 3 to 12 months, with no interest. Your credit must first be approved in shop, though, to opt for this financing.
Another reason we recommend this shop is for their customer service. The team has a good reputation for being friendly and knowledgeable about bedroom furniture, which makes purchasing decisions much easier.
Overall, Pallucci Furniture is an excellent choice if you want bedroom furniture that will last for years. They carry a wide variety of bedroom sets at reasonable prices and offer exceptional customer service to go with it.
Affordable prices for all products and services
Sells in-store or online
Open all days of the week
A few complaints about poor customer service
Issues with product longevity
Customer Reviews
Super comfortable
"What a fantastic company! My sofa arrived on time and was set up easily. There was a small snafu that the company dealt with immediately and I am so thrilled with their service and product. The sofa looks fabulous, is super comfortable and is easy to adjust. I would recommend them to anyone who is looking for furniture. They are absolutely excellent! Thank you Pallucci for all your hard work!" – Allison A.
Prompt and hassle free
"Good deal on furniture. I purchased a floor model sofa from Palluci furniture. Unlike some other furniture stores, the sofa was in perfect condition and by getting the floor model I didn't have to wait. The delivery was prompt and hassle free. Highly recommend this business if you are looking for furniture." – Adam L.
2. King Living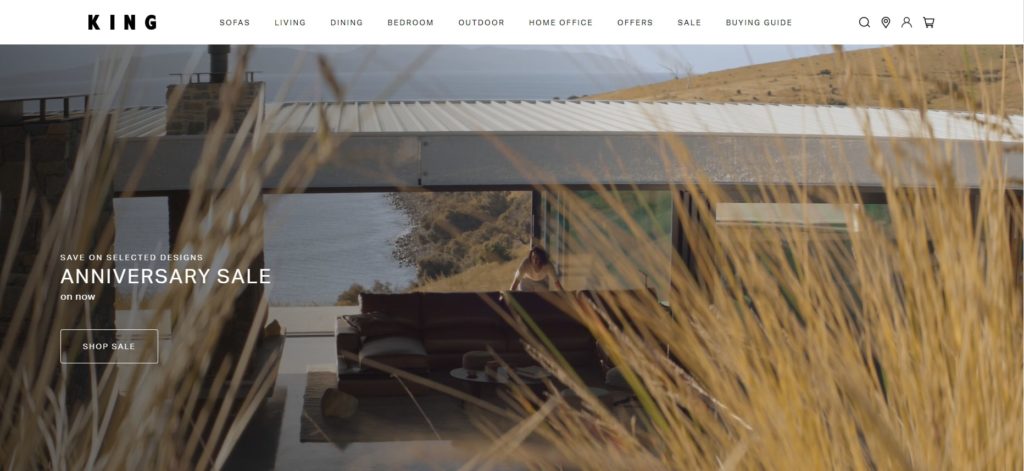 | | |
| --- | --- |
| SERVICES | Sofas, Living, Dining, Bedroom, Outdoor, Home Office |
| WEBSITE | https://www.kingliving.ca |
| ADDRESS | 3097 Granville St, Vancouver, BC V6H 3J9, Canada |
| CONTACT DETAILS | Phone: 236 521 6666 |
| OPERATING HOURS | Monday-Sunday: 10:00 AM-6:00 PM |
| | |
| --- | --- |
| CRITERIA | RATING |
| Shop Catalog | ★★★★★(5/5) |
| Accessibility | ★★★★★(5/5) |
| Professionalism | ★★★★☆(4/5) |
| After-Sales Service | ★★★★★(5/5) |
King Living is a global shop worth visiting if you want quality bedroom furniture in Vancouver. You should note that they aren't entirely dedicated to bedroom furniture as well.
The shop itself showcases furniture for different parts of the house, which we really like since it makes shopping more convenient.
In addition, the King Living catalog features different styles, including modern and contemporary, so we're sure that you'll find bedroom furniture that suits your taste.
Aside from style, this store also comes recommended for the quality of their products. We've spoken to previous buyers that said that King Living bedroom furniture is durable and requires little maintenance.
As for accessibility, King Living has a showroom in Vancouver as well as an easy-to-navigate online shop, which gained them plus points.
The physical location is open seven days a week but it's best to call ahead of time to ensure that the team can accommodate you.
On the other hand, the online store is available 24/7 and has plenty of bedroom furniture sets available for purchase. We especially like this platform since it provides detailed descriptions and images of each bedroom set, along with estimated prices.
Another reason to consider King Living is the variety of payment options. They offer flexibility in terms of payment so you can easily acquire quality Australian-made furniture.
Overall, King Living is worth considering for bedroom furniture in Vancouver. The shop has an extensive catalog of bedroom furniture, with pieces designed to last.
Wide selection of furniture
Unconditional, 25-year warranty
Open all days of the week
May deliver furniture late
Slow communication in customer service
Customer Reviews
Best quality and most functional sofas
"Giles was so helpful in showing us all the different models of sofas King Living offers. It was a pleasure working with him to choose and accessorize a lovely sofa that is perfect for us. These are the best quality and most functional sofas out there." – Hailey F.
Hospitable and professional
"The store is a perfect blend of upscale and casual. Mark's assistance was hospitable and professional. He walked me though all the benefits and features of my new Jasper 13b sofa package. He was very candid about the best fabric and seat construction for my needs and helped me make the best choice. I absolutely cannot wait to see the couch in my space. I know it will be perfect.!!! Thank you Mark and King for all your help!" – Shannon E.
3. Briers Home Furnishings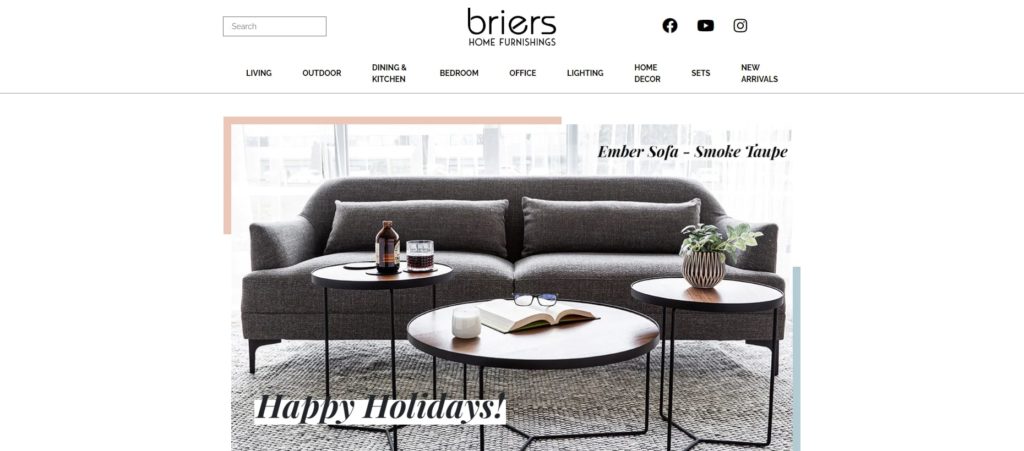 SERVICES

Living, Outdoor, Dining & Kitchen

Bedroom, Office, Lighting, Home Decor

WEBSITE
https://briers.ca
ADDRESS
2025 West 4th Avenue, Vancouver, British Columbia, V6J 1N3, Canada
CONTACT DETAILS
Phone: 604 738 0379
OPERATING HOURS

Showroom:

Monday-Saturday: 10:00 AM-6:00 PM

Sunday: 11:00 AM-6:00 PM




Warehouse (For Pickups):

Monday-Friday: 10:00 AM-6:00 PM
| | |
| --- | --- |
| CRITERIA | RATING |
| Shop Catalog | ★★★★★(5/5) |
| Accessibility | ★★★★☆(4/5) |
| Professionalism | ★★★★☆(4/5) |
| After-Sales Service | ★★★★★(5/5) |
If you're interested in custom-made bedroom furniture in Vancouver, we recommend checking out Briers Home Furnishings. They have a strong commitment to helping the local community beautify their home through stunning furniture pieces.
In fact, the furnishing store is led by designers Cherie and Dave, who have years of experience decorating homes. Their expertise is invaluable, and they have assisted numerous clients in choosing the right pieces for their bedrooms.
We also like that Briers Home Furnishings offers ready and custom-made pieces, notably custom beds, for buyers looking to personalize their experience.
If you opt for this store, you can choose a specific fabric, material, and color to suit your tastes. Moreover, you can also customize your headboard for a complete package.
You can also purchase bedroom accessories, like chests, dressers, and nightstands, to accompany the stunning bed you buy.
As for pricing, Briers Home Furnishings offers reasonably priced bedroom pieces that can fit your budget. Several payment methods, such as credit cards and financing options, are also available for convenience.
Overall, Briers Home Furnishings is the ideal bedroom furniture shop to customize your bedroom experience. Thanks to their wide selection of bedroom furniture sets and custom-made options, we're confident you'll find something that suits your taste.
Fashionable and on-trend furniture
Many years in the industry
Showroom is open all days of the week
Closed on weekends for pickups
Customer Reviews
Went over and beyond her call of duty
"Decided to buy a custom made sofa for the first time. Absolutely no regrets. Even though it may have been over the pandemic and things took a bit longer than normal, it was worth the wait. I can't put into words how amazing they were. Cherie went over and beyond her call of duty to make things work for me. Dave was so friendly and helpful. They were both a joy to talk to. I love my sectional. Everyone loves my sectional. Not only comfortable, but looks fabulous. I am always recommending to go to Briers furnishings. It definitely is not my last visit there. See you soon." – Dana H.
Providing us with thoughtful suggestions
"We bought our sectional from Briers and couldn't be happier with our purchase. Cherie was an absolute gem to work with, providing us with thoughtful suggestions that would best suit the look and vibe we were after, and offering helpful interior decorating advice as we figured out how to furnish our place." – Jordan E.
4. Sofa So Good
| | |
| --- | --- |
| SERVICES | Upholstery, Furniture, Bedroom, Storage, Rugs |
| WEBSITE | https://www.sofasogood.ca |
| ADDRESS | 2331 Alberta St, Vancouver, BC V5Y 4A7, Canada |
| CONTACT DETAILS | Phone: 604 879 4878 |
| OPERATING HOURS | Monday-Sunday: 11:00 AM-5:00 PM |
| | |
| --- | --- |
| CRITERIA | RATING |
| Shop Catalog | ★★★★★(5/5) |
| Accessibility | ★★★★★(5/5) |
| Professionalism | ★★★★☆(4/5) |
| After-Sales Service | ★★★★☆(4/5) |
Despite the name of the shop, Sofa So Good actually carries bedroom furniture in Vancouver.
The pieces from this furniture store stand out from the crowd thanks to its unique make, which is the upholstery.
Upholstered furniture is known for its comfortable material, and beds and headboards from Sofa So Good are no exception.
The selection from this store may be smaller compared to other shops, but the quality more than makes up for it, with previous buyers praising their items for their longevity.
We also like that they come in various sizes, such as single, double, queen, and king. If you want a bed size customized to fit your personal space, you can also request one from the shop at an extra cost.
Other than that, rugs are also available at Sofa So Good, with two primary materials used: synthetic and wool. These rugs can be used to match bedroom furniture sets, adding a touch of style to your bedroom.
We also appreciate that this shop prioritizes customer service. The store has been praised numerous times for its staff since they're always willing to answer questions and provide assistance.
It's also worth noting that various payment methods are available, making it easy to pay for your bedroom furniture. Visa and Mastercard are accepted, and it's also possible to inquire about other options.
Best place for custom and off the floor sofas
Traditional and contemporary furniture selection
Extensive fabric selection and customization options
Complaints about poor after-sale customer service
Customer Reviews
Furniture is comfortable and durable
"Our family has had a great experience at Sofa So Good over the years. In 2018, we purchased a large sectional which we are still enjoying. This spring one of the family members purchased a love seat, and we've ordered a sofa bed for another family member. Fabrics are of great quality, furniture is comfortable and durable, and customer service is great. There are many styles (and colours) to choose from whether you're furnishing small or large space. Well worth the wait with the current supply chain situation." – Nikolina V.
Amazing price and reasonable wait time
"We love our new sofa and ottoman! An amazing price and reasonable wait time for a custom upholstered sofa. We are so glad we made the investment. Staff at this store was so helpful and friendly. Delivery was painless and the movers took our old couch away for a fee. I would definitely recommend this local business." – Serena P.
5. Expand Furniture

SERVICES

Expanding Tables, Hidden Beds, Modular Seating

WEBSITE
https://expandfurniture.com
ADDRESS
2050 Scotia St #108, Vancouver, BC V5T 4T1, Canada
CONTACT DETAILS
Phone: 778 580 7818
OPERATING HOURS

Monday-Friday: 9:00 AM-5:00 PM

Saturday: 10:00 AM-4:00 PM
| | |
| --- | --- |
| CRITERIA | RATING |
| Shop Catalog | ★★★★★(5/5) |
| Accessibility | ★★★★☆(4/5) |
| Professionalism | ★★★★☆(4/5) |
| After-Sales Service | ★★★★☆(4/5) |
Next up is a furniture shop that doesn't deal with conventional furnishing pieces: Expand Furniture.
This store caught our eye with their innovative furniture designs that are meant to maximize space. If you live in a small bedroom or apartment, you should definitely check out this shop.
Expand Furniture is especially great if you want multi-functional or hidden bedroom furniture. For instance, the shop catalog includes murphy beds, which are wall-mounted beds that can be concealed when not in use.
To illustrate, let's say you have a compact space that you need to install a bed and desk in.
Instead of investing in two separate furniture pieces and cramping the room, you can get Expand Furniture's Compatto, which is a bed that goes up when not in use, revealing a small desk that can be used as a working area.
Other than working surfaces, their beds can also come with storage cases and bookcases, which we really like. These give customers even more flexibility when it comes to bedroom furniture.
Another reason we recommend shopping at Expand Furniture is the occasional bundle or deal.
We recommend keeping an eye on the shop as they offer bedroom furniture bundles that include additional pieces, such as sofas and dining sets, at special rates.
All in all, Expand Furniture is a great bedroom furniture shop to consider if you need space-efficient and multi-functional pieces.
Specializes in space saving furniture
Professional team with years of experience
Quick shipping to all areas serviced
Closed on Sundays
A few complaints about product quality
Customer Reviews
The price was great
"This place is amazing. My wife and I were looking for a wall bed to transform our guest bedroom into something more usable. They showed us a queen / desk wall bed combo which means I can use the space to work on my laptop when guests aren't around. The price was great, the salesman arranged in-home delivery and an installer who was top notch. We can finally use our room again!" – Jodon K.
Able to assemble on my own
"Love the versatility of the Flip since I recently downsized. The clean lines and glossy white finish fit into my decor perfectly. Was able to assemble on my own with no issues. Unit was delivered quicker than expected. Overall very pleased with this purchase!" – Patricia C.
FAQs about Bedroom Furniture in Vancouver
---
We hope that our recommendations point you to the bedroom furniture in Vancouver that best suits your taste and budget.
If you need pieces for other parts of your home, check out our list of top furniture shops in Vancouver.