The 7 Best Botox Clinics in Vancouver
From cosmetic touch-ups to chronic migraines, Botox can help address a number of health conditions. But, given the nature of Botox, it's important to seek treatment from a certified medical professional.
This list serves as a consumer's basic guide to the best Botox clinics in Vancouver. To help you decide, we've also included clinic reviews, customer feedback, and other insightful data.
How Much Do Botox Injections Cost in Vancouver
The cost of Botox treatment will vary to a small degree with each clinic because of service charges and other fees. Botox itself, however, is generally priced at $10 per unit.
Since most clients will require multiple injections in order to see results, most treatments will run from $200 to $1000 dollars. Treatments in the high end of the spectrum will usually entail multiple treatments all around the facial area.
Alternatively, lower-cost treatments will usually only include treatments in a specific area of the face. Ultimately, the total cost is mainly influenced by the number of injections a client is given.
The Best Botox Clinics in Vancouver
It's now time to meet some of the best Botox clinics in Vancouver. Note that they're in no particular order, by the way.
Each of the entries on our list approaches treatments in different ways. So to see what works for you it's best to have a general idea of the work you would like done.
1. Vancouver Laser & Skin Care Centre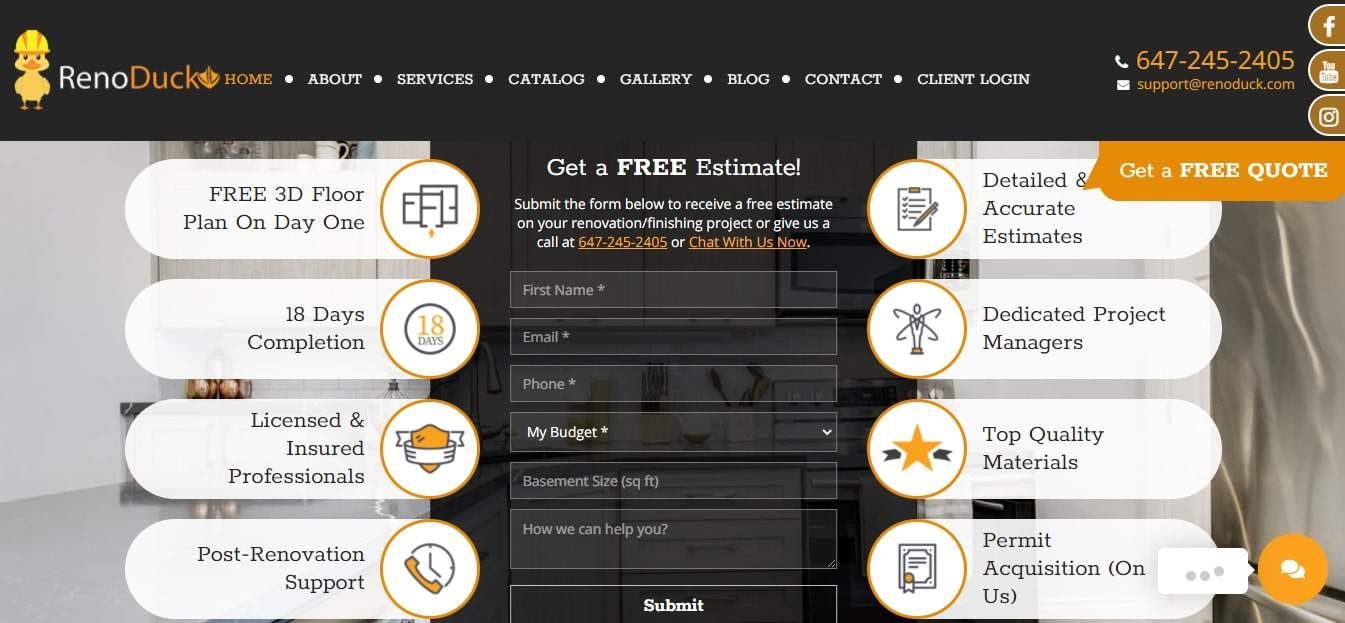 SERVICES
Cosmetic Botox
Botox for migraines
Laser therapy
Light therapy
Vitamin therapy
Microneedling
WEBSITE
https://www.vancouverlaser.com
ADDRESS
309-750 W Broadway, Vancouver, BC V5Z 1H2, Canada
CONTACT DETAILS
Phone number: (604) 708-9891
Fax: (604) 708-9803
OPERATING HOURS
Monday: 9 am – 6 pm
Tuesday: 9 am – 6 pm
Wednesday: 9 am – 7 pm
Thursday: 9 am – 7 pm
Friday: 9 am – 5 pm
Saturday: 9 am – 5 pm
Sunday: closed
The Vancouver Laser & Skin Care Centre is a clinic known for its various treatments, which include laser therapy, microdermabrasion, and Botox injections. This establishment sees clients from all over North America.
At this clinic, Botox treatments are administered by either registered nurses or cosmetic physicians. All of the clinic's personnel are rigorously trained to safely administer the treatments with minimal discomfort.
Aside from standard cosmetic treatments, the clinic also administers botox to clients who experience chronic migraines and muscle spasms. Heading all of these treatments is the clinic's acting director Dr. Martin Braun.
With over 20 years of experience, Dr. Braun is responsible for administering treatments and training the clinic's personnel in proper procedures. He is among one of the clinic's most skilled physicians, and many patients praise him for his soft but skilled hands.
Extremely large facility
Has a children's space to entertain clients with kids
Caters to clients all over North America
Services are quite expensive
Customer Reviews
With reviews like this, it's easy to see why this clinic serves so many clients every day:
"I had a wonderful experience at Vancouver Laser & Skin Care Centre. As soon as I stepped out of the elevator, I was warmly welcomed by the staff. Kristina was very helpful; she set me up with the best consultant and doctor! Alejandra is extremely knowledgeable and educated me on the various services that would benefit my skin. Dr. Wong and Sandi made my first experience with Botox so comfortable. They walked me through every step and the results are amazing! I'm so happy I came to this clinic and will recommend it to everyone I know 🙂 thank you everyone who made my experience so great!" – Alyssa C.
"Dr. Rowthorn was highly referred to me by multiple people so I didn't hesitate about who to book in with for some light facial rejuvenation treatments. In addition to what I came in for initially, I learned about Botox in the masseters to reduce teeth grinding/jaw tension and I'm THRILLED they educated me about that. I've been grinding my teeth for years and no dentist has ever told me about this treatment. It feels amazing now that I've had it done and I'm sure my teeth (and dentist) will thank me for it for years to come." – Kelsey S.
2. Skin Technique Downtown Vancouver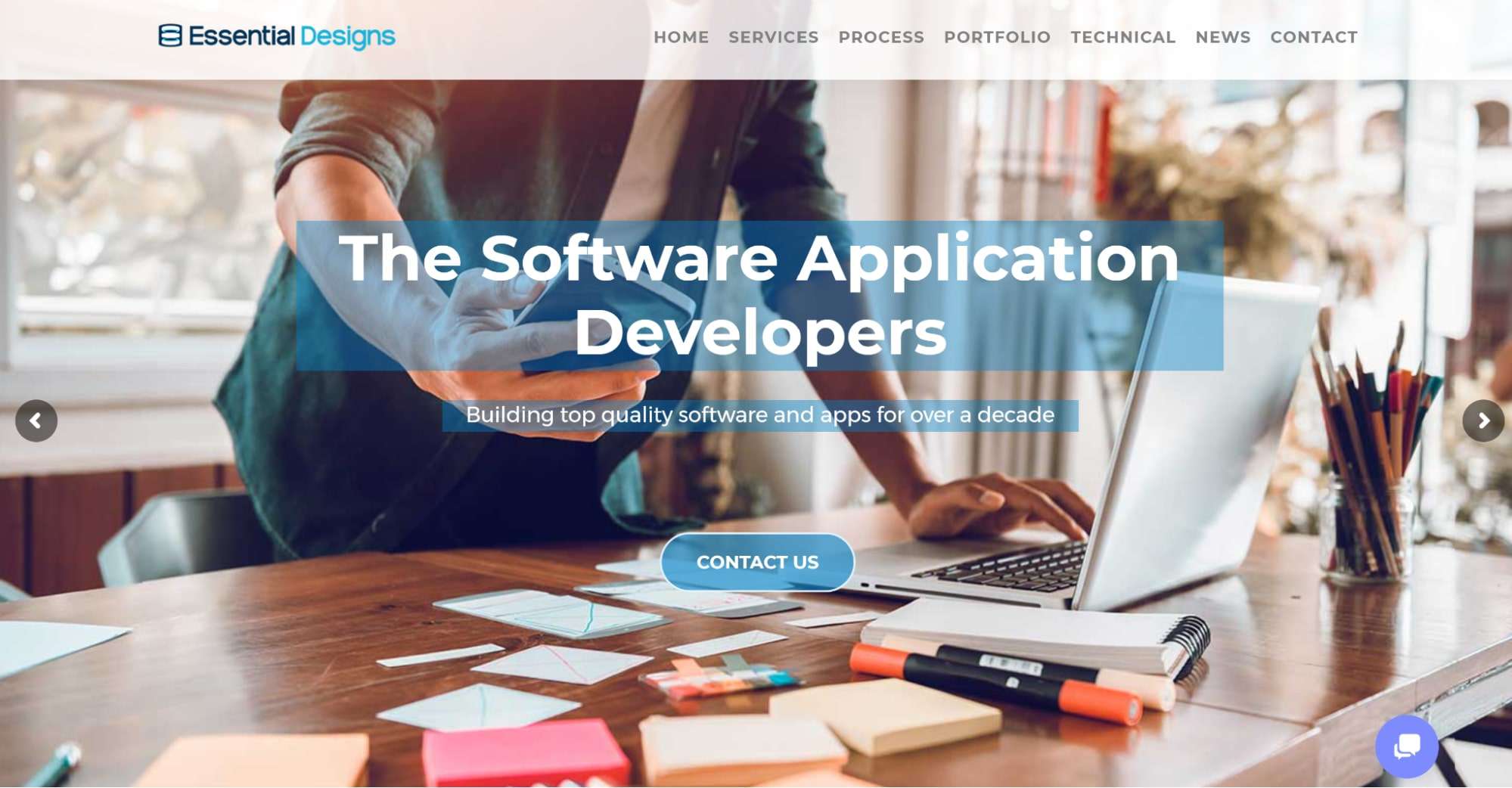 SERVICES
Light therapy
Laser therapy
Botox injections
Chemical peels
Dermaplaning
Lip enhancements
Cheek enhancements
WEBSITE
https://skintechnique.com
ADDRESS
1046 Hamilton St, Vancouver, BC V6B 2R9, Canada
CONTACT DETAILS
Phone number: (778) 945-7505
Email:

[email protected]

OPERATING HOURS
Monday: 9 am – 6 pm
Tuesday: 9 am – 6 pm
Wednesday: 9 am – 6 pm
Thursday: 9 am – 6 pm
Friday: 9 am – 6 pm
Saturday: 9 am – 4 pm
Sunday: closed
Skin Technique is a boutique clinic located in the heart of Vancouver's bustling Yaletown. The business's in-house team consists of a physician, a nurse, and a handful of well-trained clinicians.
Though small, the clinic's space is extremely welcoming with a product shelf adjacent to the front desk. Here, clients can make or set appointments and purchase products for post-treatment care.
With only one physician, the clinic's customers will all have the pleasure of dealing with Dr. Christopher Pavlou. Dr. Pavlou is fully recognized by the College of Physicians and Surgeons of British Columbia, and is also certified to administer botox and dermal fillers.
He has earned tons of praise in the eyes of clients and the media thanks to his eye for treatments. This cosmetic sense lets him administer injections in ways that produce the client's desired outcome.
All procedures are overseen by a single physician
Certified through various medical institutions
Follows strict COVID safety procedures
The clinic is relatively small
Customer Reviews
Dr. Pavlou has left a great impression on many of his clients:
"I have been seeing Dr. Pavlou and the team for a couple years now for Botox and the TiredEye treatment and cannot imagine going anywhere else. Everyone is kind, patient, knowledgeable and the environment is beautiful and relaxing. I was very nervous the first time I went and was put at ease immediately. I cannot recommend the TiredEye treatment enough!! It is quick, surprisingly painless (just a tiny pinch on each cheek) and the results are IMMEDIATE and lasted me well over a year. If I were to only do one treatment for the rest of my life, this is it!! There is no cream, serum or makeup on this planet that will treat under eye bags better." – Sarah M.
"I have now had 3 different procedures (Tired Eye, Clear V & Botox) at Skin Technique & I would highly recommend coming here for your treatments. All the staff are amazing and so kind. For my Clear V treatment Christina did a great job & made me feel so relaxed. For my injectable treatments Dr Pavlou did an amazing job. He answered all my questions prior & the results were very natural looking which was so important to me. I will continue to come here for all my medical aesthetic & skincare needs in the future." – Colleen F.
3. Vancouver Botox Clinic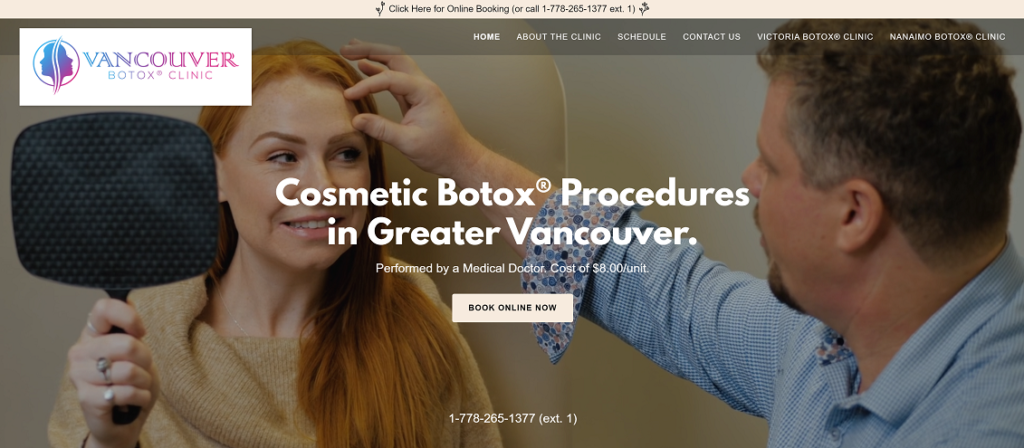 | | |
| --- | --- |
| SERVICES | Cosmetic Botox Injections |
| WEBSITE | https://vancouverbotoxclinic.com |
| ADDRESS | South Granville Business Centre, Suite 204, #247 – 2628 Granville Street, Vancouver, V6H 4B4 |
| CONTACT DETAILS | 1-778-265-1377 (ext. 1) |
| OPERATING HOURS | Contact for more details |
The Vancouver Botox Clinic dedicates itself in cosmetic Botox injections for its clients. They only use Botox Cosmetic as the main brand for their treatments.
Since 2019, the clinic's medical director, Dr. Matthew Ward MD, CCFP has been administering Botox injections to their clients. We like that they do not allow nurses to inject on their clients.
With regards to pricing matters, their prices start at $32 for a lip flip or straw line treatment. They also charge $8 per unit which is already lower than the average.
To add to this, they can accommodate a good number of people within a single day. You can always book an appointment every 15 minutes since Botox treatments usually take 10-15 minutes in total.
The Vancouver Botox Clinic also has two branches located in Victoria and Nanaimo. Their practice is not restricted in only a single area.
Specializes in cosmetic Botox
Widespread practice in British Columbia
Quick treatments
Appointments are accommodated every 15 minutes
Qualified doctor who administers injections
Has only one service
No operating hours available; appointments are a must
4. The Vanity Lab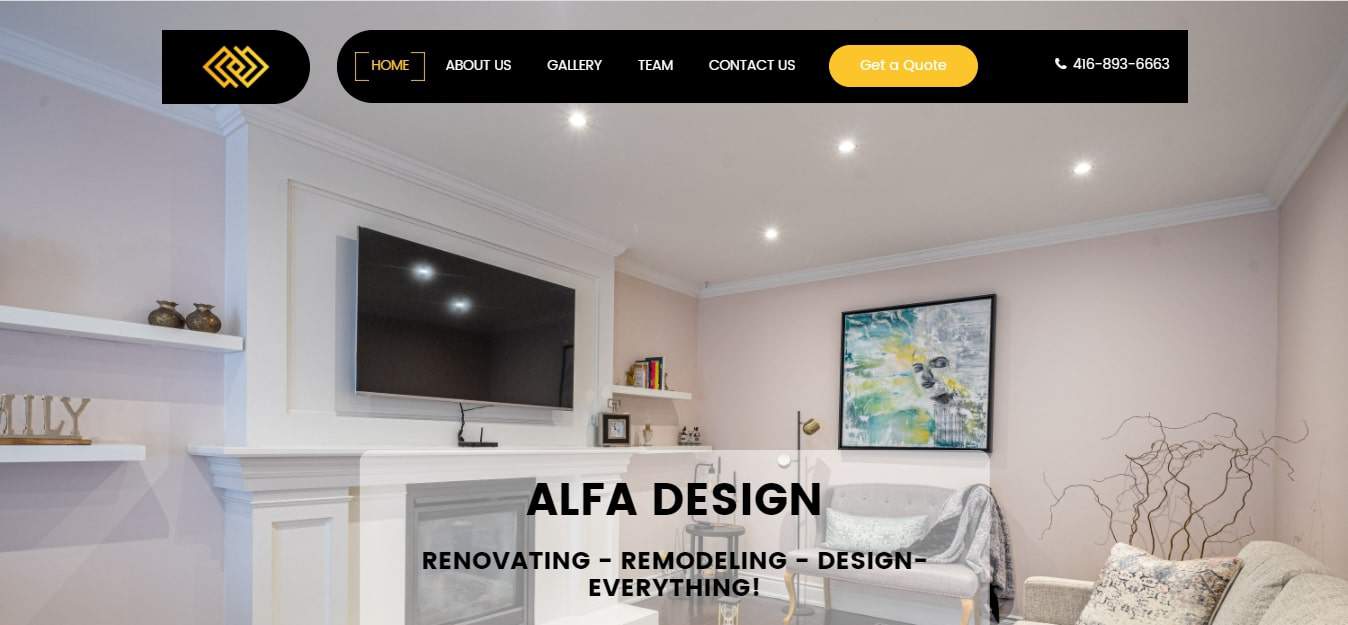 SERVICES
Facial treatments
Skin peels
Laser therapy
Botox injections
WEBSITE
https://thevanitylab.com
ADDRESS
1110 Hamilton St #302, Vancouver, BC V6B 2S2, Canada
CONTACT DETAILS
Phone number: (604) 699-1001
Email:

[email protected]

OPERATING HOURS
Monday: 9 am – 8 pm
Tuesday: 9 am – 8 pm
Wednesday: 9 am – 8 pm
Thursday: 9 am – 8 pm
Friday: 9 am – 8 pm
Saturday: 9 am – 7 pm
Sunday: 9 am – 6 pm
The Vanity Lab is yet another clinic situated in Yaletown, Vancouver. This clinic offers facials, peels, laser treatments, and injectables.
Though their list of services is short, these folks have had almost 10 years to perfect their craft. For more basic services such as treatments and peels, clients will usually be treated by The Vanity Lab's clinicians.
Alternatively, for more complex treatments such as Botox and other injectable, the clinic employs three cosmetic physicians. Among these three, clients are most familiar with Dr. Jordan Atkinson.
With experience in both dermal fillers and botox, Dr. Atkinson is extremely familiar with the proper techniques and procedures for treatments. Along with this, he often takes the time to educate clients extensively both prior to and after treatment.
Open 7 days a week
Employs 3 physicians
Located in the heart of Vancouver
A limited number of services
Customer Reviews
The Vanity Lab has built up a ton of rave reviews over the years:
"I have been coming to The Vanity Lab since 2015 or 2016. The level of excellence is far too high and I cannot praise this place enough. I've done facials, laser hair removal, Botox and fillers here. Only the best from them. I love Natasha, the owner, so much! She is incredible! Bob is always witty and a total skin expert! Dr. Jordan Atkinson is professional, precise and talented at injecting. I highly recommend this place!" – Owen P.
"I highly recommend seeing Dr.Jalali .Not only is he very professional but he is also very kind ,caring and most importantly honest . He is literally the Botox god . Previously before visiting Dr. Jalali my lips were very bumpy un even and way out of proportion I was panicking due to the previous Dr.'s work . I was very very nervous to let anyone else touch my lips but After having a consultation with Dr.Jalali I felt comfortable he was extremely knowledgeable. Thanks to him he corrected my lips and I have never felt better I get compliments on them all the time ! Thanks to his honesty ,care and patience I feel great !" – Melissa M.
5. Medical Rejuvenation Centre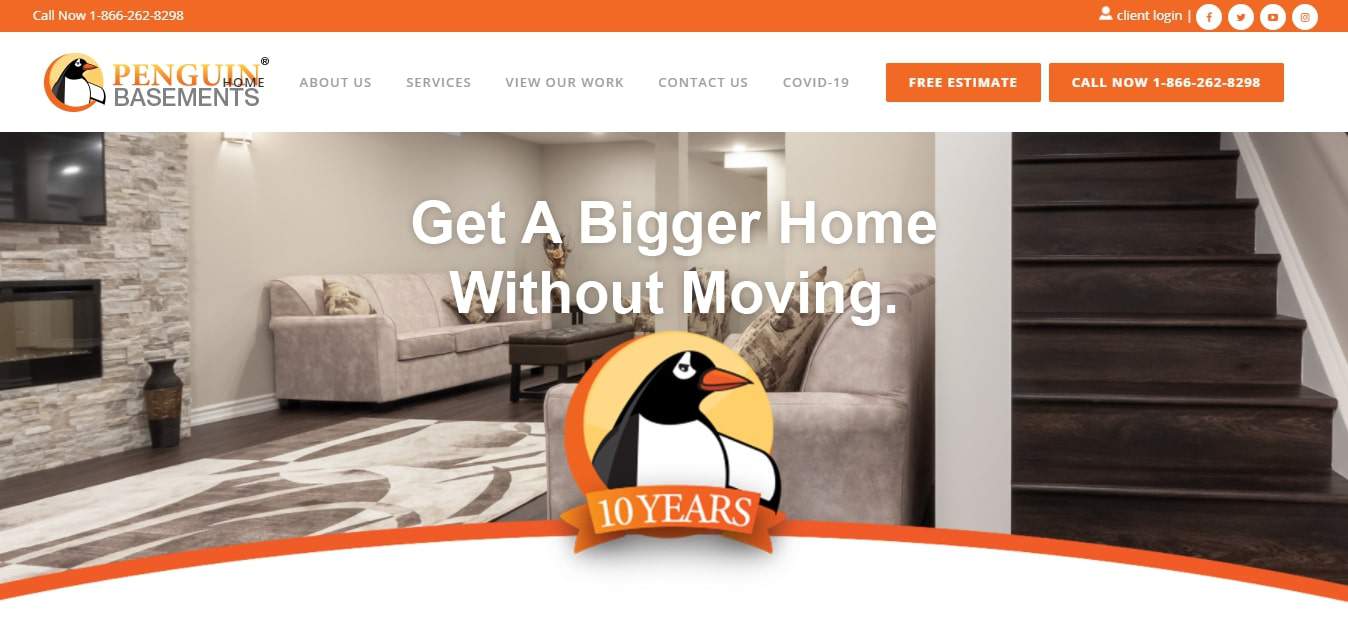 SERVICES
Botox
Lip fillers
Nose fillers
Light therapy
Laser therapy
Microneedling
WEBSITE
https://mrcbc.com
ADDRESS
1281 W Georgia St #701, Vancouver, BC V6E 3J7, Canada
CONTACT DETAILS
Phone number: (604) 763-7546
OPERATING HOURS
Monday: 9 am – 4 pm
Tuesday: 9 am – 4 pm
Wednesday: 9 am – 4 pm
Thursday: 9 am – 4 pm
Friday: 9 am – 4 pm
Saturday: 9 am – 2 pm
Sunday: closed
The Medical Rejuvenation Centre was opened by Dr. Robert Morrell in 1999. Dr. Morrell's team consists of skilled physicians and nurses with a combined experience of over 25 years in the cosmetic field.
As one of the longest-running practices in Vancouver, these folks specialize in injectable treatments and non-invasive surgery. This specialization is a result of Dr. Morrell's standing as an accredited instructor in Botox treatments.
With a hands-on approach to treatments, Dr. Morrell will usually handle most clients who opt for Botox treatments. However, on the off chance he isn't able to see a client, he delegates the role to one of his colleagues, Dr. Jasper Ghuman or Dr. Andrew Dargie.
Both Dr. Ghuman and Dr. Dargie have been trained by Dr. Morrell himself. In turn, the team's high skill level results in a lot of repeat clients.
Dr. Morrell is an accredited Botox treatment instructor
Specializes in injectable treatments
Has a large number of regular clients
Dr. Morrell's experience entails a hefty fee
Customer Reviews
These are just a few of the many wonderful reviews that this clinic has earned:
"I don't know how to thank enough Dr. Morrell and his team. It was my first time doing Botox and I am 58 years old and right away everybody said that I look 10 years younger" – Gelareh Z.
"Dr Morrell is my go to Botox and Restylane Doctor.
I've been going to see him for approximately seven years and he's never disappointed me once. His work is precise and immaculate, without going overboard and he tells you the truth which is something so important when getting work done on ur face. He never tries to upsell you and tells you exactly what you need or don't need and the most efficient and smart way to get it done.  Not what you don't ( like so many Cosmetic Drs do)  Believe me I've been to my  fair share of cosmetic doctors and there were always problems so once I found Dr Morell, I never went anywhere else.  Dr Morrell is the biggest sweat heart and he really cares about his patients  and loves his work.  On top of the Botox and Restylane, he also offers many different types a face treatments from secret RF to Ultherapy to cool sculpting to micro needling, the list goes on.  Amazing results as usual" – Nic B.
6.   Kerrisdale Skin Medical
Kerrisdale Skin Medical's medical director, Sharon Fong, has over 20 years of injection experience.
Dr. Fong is professionally certified and she invests all her knowledge in looking for the most suitable skin solution for each client. The clinic's aesthetic injector is none other than Kevin Li. He successfully completed Cosmetic Botox and Filler Injection training, Botox Hyperhidrosis Treatment training, Sclerotherapy Treatment Training, and Laser Operation training as an international medical graduate.
People prefer to get Botox treatment from them because they do it quickly yet safely. Unlike other clinics, their Botox Cosmetic only takes 10 minutes. What it does is that it works beneath the surface and temporarily reduces the underlying muscle activity.
With the Botox treatment, they also recommend their anti-aging services to their patients to make them look better and feel more confident.
Previous clients mentioned that they definitely recommend Kerrisdale Skin Medical since their experience with them was so pleasant. They said that all their staff were friendly and that their doctors explained to them in detail the process of the treatment before getting it.
10% off on the first service
Wide range of services
Offers skin care products and eyelash growth serum
Operating hours are unavailable
7. One Clinic MD
SERVICES
Skincare and injectable consultations
Radio frequency and miconeedling therapy
Medical grade facials
Botox injections
Lip enhancements
Cheek enhancements
Non-surgical rhinoplasty
HA hyaluronic acid
Pharmaceutical grade skincare
WEBSITE
https://oneclinicmd.com/
ADDRESS
Unit 1, 1500 Hornby St, Vancouver, BC V6Z 1T9
CONTACT DETAILS
(604) 773-1191


[email protected]

OPERATING HOURS
Monday – Friday: 9:30AM – 5:30PM
Saturdays: Occassional
One Clinic MD is a clinic that specializes in botox and dermal fillers among its other procedures and treatments.
It is founded by Dr. Arash Jalali, MD, ABFM, CCFP who is an active physician and has been certified by both US and Canada. After pursuing his dream of being a doctor, Dr. Jalali then turned to further training in aesthetic medicine and has since then been dedicated to providing excellent patient diagnosis and treatment.
The clinic offers a wide array of aesthetic services and treatments that will redefine elegance as their trademark says. We recommend this clinic due to their superb customer accommodation and equally praised aesthetic procedures as well.
Recent reviews regarding their staff and services are excellent as they are detail-oriented and geared to providing what is best for the client and make each one comfortable to ask any inquiries regarding the procedures.
Friendly and accommodating staff
Highly accredited professionals
Procedures can be booked online
Customer Reviews
Here are some reviews from their clients:
"I had a great experience at One Clinic. All the staff are super friendly and made me feel comfortable to ask any questions I had. The atmosphere is beautiful and so fresh and clean. An added bonus was the on street parking out front. I will be a returning client!" – Kasia Machelak
"My consultation with Sanam was extraordinary. She was kind, patient, and incredibly detail-oriented in explaining everything and answering all my questions. She made me feel completely at ease and I left feeling well cared for and well informed. The clinic is beautiful and spotlessly clean, and the other staff were lovely as well. I truly cannot say enough wonderful things about my first visit to One Clinic." – Sofia Walmark
FAQs About Botox Injections
---
That wraps up our list of the best Botox clinics in Vancouver. If you've found the clinic that suits your needs, all that's left is to give them a call to schedule your appointment.
If you're looking to keep your skin smooth and blemish-free, we've also put together a similar list of the best dermatologists in Vancouver.