What is the Big Bus Tour in Vancouver?
We totally understand the urge to visit as many places as you can when you're traveling to a new place. And if you're like us, you'd know how exhausting this can be.
But we have good news for those of you visiting Vancity—the Big Bus Tour. Yep, this right here will take you to all major areas and attractions within 24 to 48 hours, and we're here to tell you all about it!
What is the Vancouver Big Bus Tour?
The Big Bus Tour in Vancouver, also known as Hop-On, Hop-Off Sightseeing Tours, is a bus service managed by Gray Line Westcoast Sightseeing that allows tourists to explore the city at their own pace.
These bus tours go all over the city of Vancouver and through many of the city's top tourist attractions, including Stanley Park, Granville Island, the Vancouver Lookout (row 738, vancouver lookout), and Yaletown.
Things to Know about the Big Bus Tour in Vancouver
Rates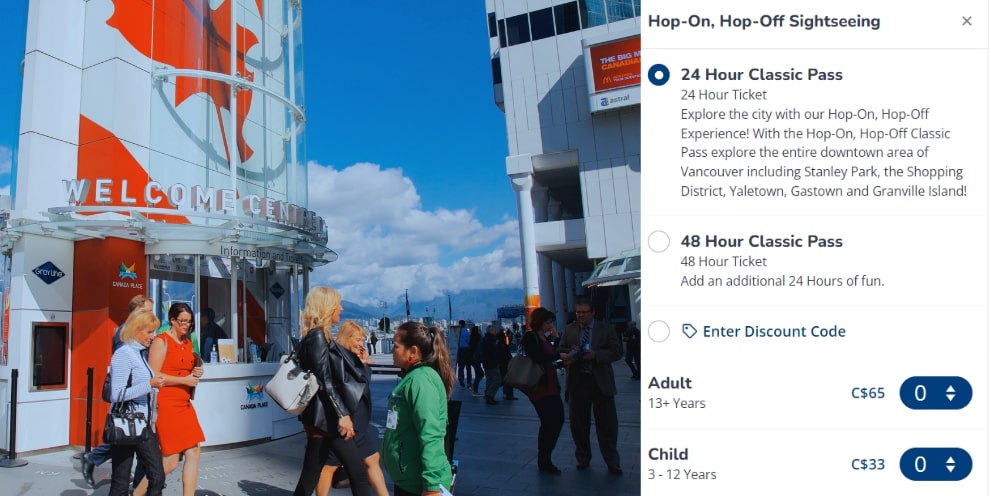 You can grab Hop-On Hop-Off Vancouver tickets either online or swing by the Canada Place kiosk, or even chat up your friendly hotel concierge in Vancouver. Easy peasy, right?
See, when it comes to buying a ticket, you've got two choices. You can go for the 24-hour pass or the 48-hour one. So, if you hop on the bus at 10 am, you're set for unlimited rides until 10 am the next day (or the day after with the 48-hour pass).
| AGE  | DURATION  | PRICE |
| --- | --- | --- |
| Adults  | 24 hours | $65 |
| Adults  | 48 hours | $80 |
| Children (3 to 12 years old) | 24 hours | $33 |
| Children (3 to 12 years old) | 48 hours | $40 |
| Children (0 to 3 years old) | 24 and 48 hours | Free |
Pretty neat, right? It gives you plenty of time to bounce around – maybe hit up some restaurants on Granville Island or go exploring in spots like Gastown, Chinatown, or Coal Harbour.
Bus Schedules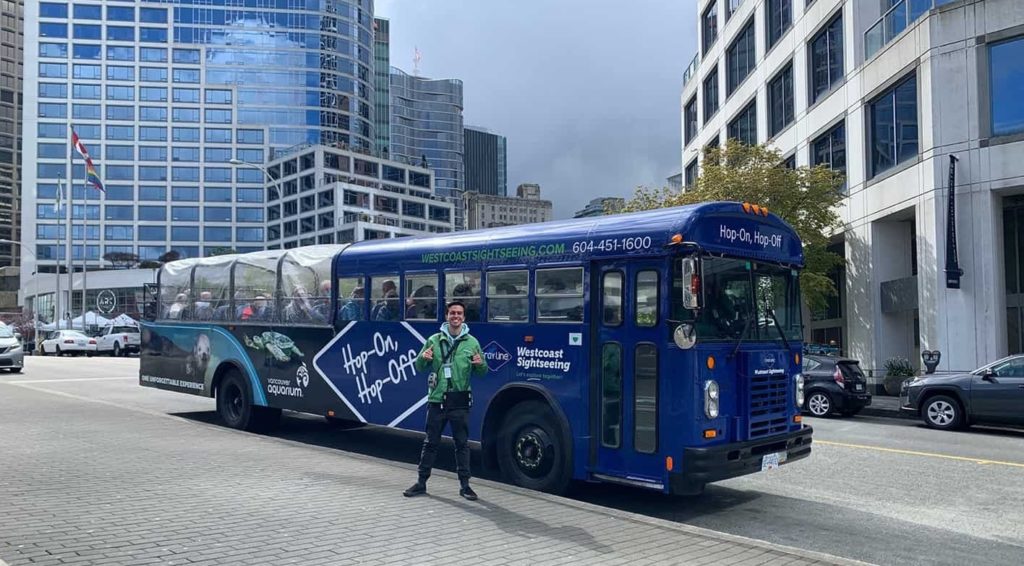 The Hop-On Hop-Off Vancouver bus tour cruises for a solid two hours without stopping. Usually, they kick off the season on April 1st and wrap it up by October 30th.
Buses start revving up at 8:45 am and calling it a day around 5 pm.In the summer, those buses roll by roughly every 20 minutes. But come winter, they slow it down a bit, with a schedule that's more like once every 60 minutes.
Bus Stops
See, the deal with Hop-On Hop-Off bus tours is that they're all about giving tourists the freedom to jump on and off as they please. You can hit up an attraction, then just hop back on when the bus swings by to whisk you to your next spot.
In total, this bus tour has 14 stops in different parts of the city. See below for the complete bus route:
Stop 1: Canada Place
Stop 2: Pinnacle Hotel Harbourfront
Stop 3: Robson Shopping District
Stop 4: Coal Harbor/ Stanley Park
Stop 5: Stanley Park/ Vancouver Aquarium
Stop 6: Sutton Place Hotel/ Robson Street
Stop 7: Granville Island
Stop 8: Chateau Granville
Stop 9: Sports District/Sandman Hotel
Stop 10: Library Square
Stop 11: Parq Casino
Stop 12: Chinatown
Stop 13: Gastown Maple Tree Square
Stop 14: Gastown Steam Clock
Take a look at the Hop On, Hop Off Live Map to see where the next bus is. The route gets updated in real-time using GPS info from all the buses, so you'll have the exact details on when and where to catch your next ride.
Tour Types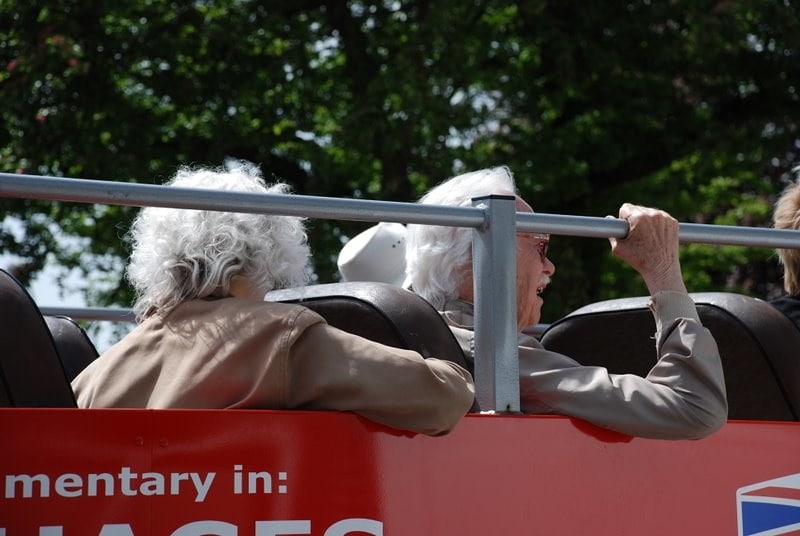 Over the years, the Hop-On Hop-Off bus tours offered three tour passes—the classic, park, and city route passes. These passes allow tourists to explore Vancouver at their own pace and convenience.
Classic Route Pass: starts at Canada Place, goes through the city's famous landmarks, such as Stanley Park, Granville Island, and Queen Elizabeth Park, and ends in the neighborhood of Gastown.
Park Route Pass: runs through downtown Vancouver, with 20 stops around the city. Plus, a one-way boat ride to Granville Island with False Creek Ferries.
City Route Pass: 80-minute loop in downtown Vancouver, Yaletown, and Gastown.
As you can see, the classic pass covers major attractions in the city, while the park pass includes stops at popular parks and gardens. Lastly, the city route pass takes visitors to different neighborhoods in Vancouver.
They used to have Dual Route bus tours that would take you to all the spots on both the Park and City routes, but it looks like they won't be doing those in 2023.
Areas Featured in the Vancouver Big Bus Tour
Canada Place
The Hop On, Hop Off bus stops just in front of the Vancouver Convention Centre, near the Westcoast Sightseeing Welcome Kiosk. This is a popular boarding spot, so expect to see a lot of tourists waiting to board the bus.
Canada Place offers a delightful stroll, featuring waterfront vistas and open boardwalks that provide scenic views of the ocean and the North Shore Mountains.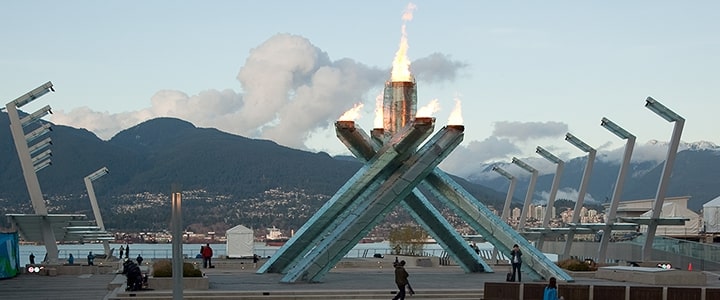 Here, you can spot the Olympic Cauldron, a five-minute stroll from Canada Place. This iconic structure represents the 2010 Winter Olympic Games in Vancouver and truly comes to life when it's lit up at night.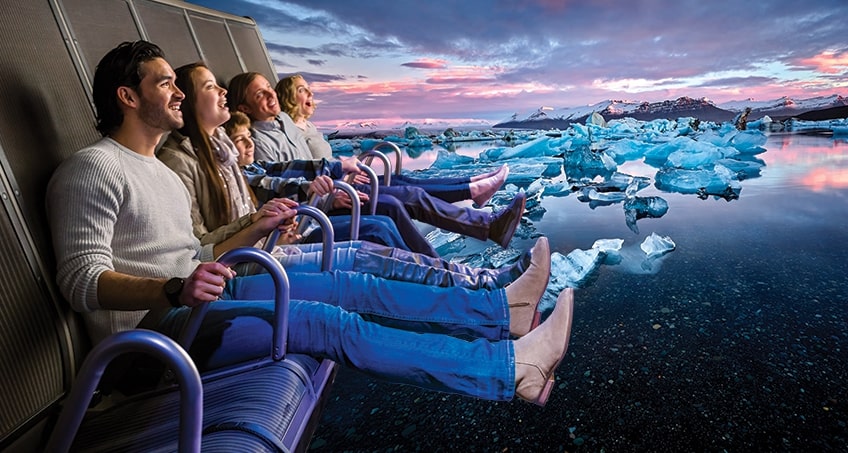 Another must-see here is the FlyOver Canada film experience, where you'll be securely fastened into your seats for a thrilling aerial journey that takes you from one coast of Canada to the other.
Canada Place is also conveniently located near Waterfront Station, which serves as Vancouver's SeaBus and primary SkyTrain hub. And when you're done exploring, you'll find it's a stone' throw from Gastown, Granville Street, and Coal Harbour.
Robson Street
Right in front of the Blue Horizon Hotel is where you can get off or board the Hop Off, Hop On bus. This is the spot where you'll shop 'til you're practically doing the limbo – because Robson Street is renowned for its shopping extravaganza.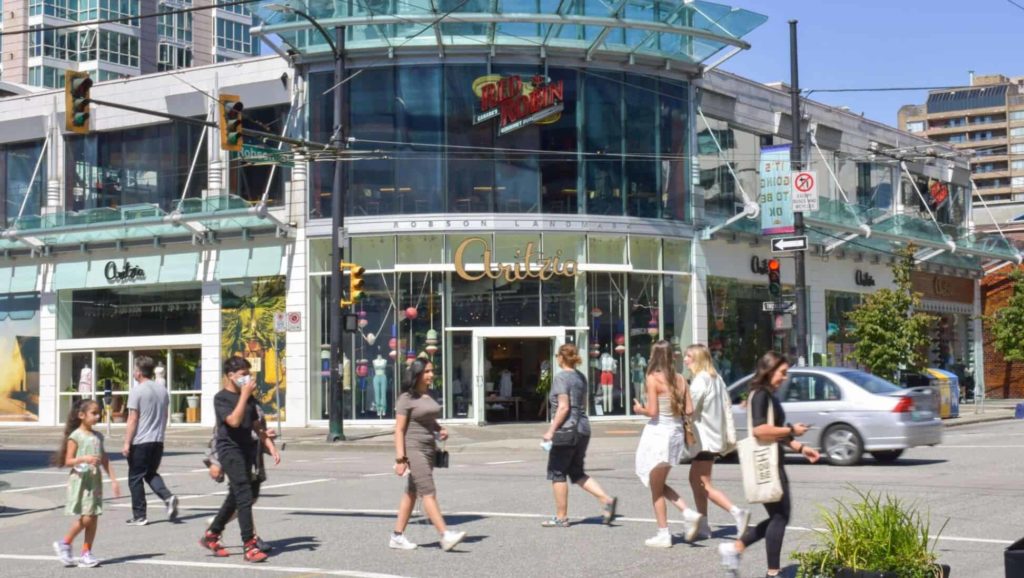 The primary shopping district begins on Granville Street and extends down to Jervis Street. You'll encounter numerous well-known North American brands, along with a variety of beauty and wellness stores, accessory shops, and sporting goods outlets.
Near the intersection of Burrard and Alberni streets is where you'll discover a selection of international luxury brands.
Coal Harbour
The Hop On, Hop Off bus stops in the Harbour Cruises parking lot here at Coal Harbour. This is also one of the most popular spots, as it's where tourists from Stanley Park board the bus to explore the city.
Coal Harbour is a mix of residential and business establishments, so expect to see upscale residential properties and an awesome waterfront promenade with plenty of restaurants, cafes, and shops.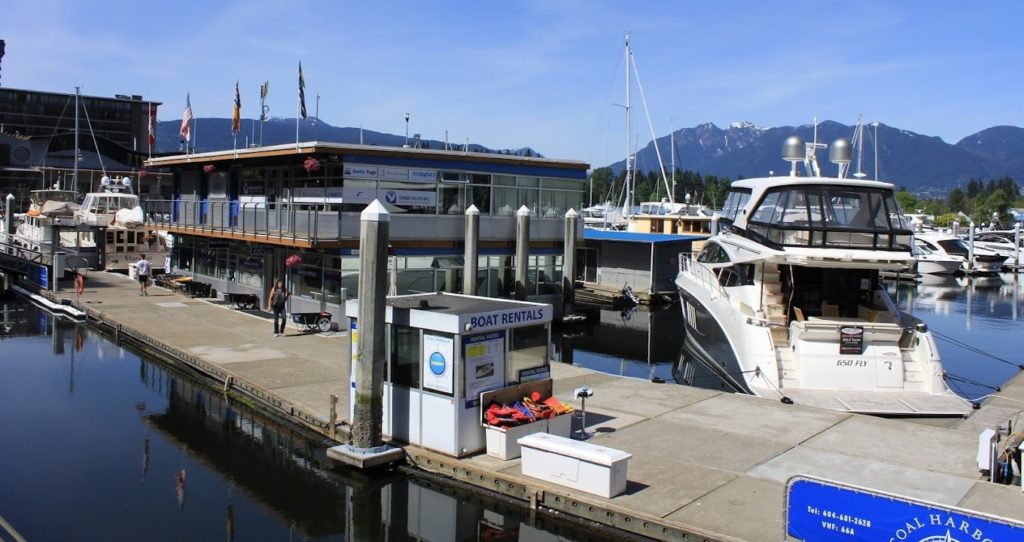 Up for some adventure? Rent a boat with Coal Harbour Boat Rentals. It's an interesting way to enjoy the waterways around Vancouver. Plus, you'll get to see tons of wildlife like bald eagles, herons, and loons.
Stanley Park
Right across from the public transit loop is where you can catch the Hop On, Hop Off bus here at Stanley Park. Stanley Park is synonymous with Vancouver, so if you're still contemplating whether it's worth visiting, we're here to tell you that it is.
Aside from the fact that the park is gorgeous, it's also got tons of activities, from cycling, rollerblading, and walking along the seawall to exploring the famous totem poles and visiting the Vancouver Aquarium.
Vancouver Art Gallery
Next stop is on Burrard Street, right at the Sutton Place Hotel. From here, the Vancouver Art Gallery is only a four-minute walk away. You can't miss it; it's a neoclassical building with a grand entrance and lion statues guarding the front steps.
This gallery holds an impressive collection of art from all around the world. It also exhibits historically important art and serves as a platform for BC's artistic community, which includes the work of First Nations.
Granville Island
The Hop On, Hop Off bus tour is conveniently located at the bus loop on Anderson Street, right off West 2nd Avenue. And speaking of vibrant spots in the city, Granville Island is another popular gem, celebrated for its fantastic food and attractions.
Swing by the public market to score fresh produce and local delicacies, grab a drink at Granville Island Brewing, go paddleboarding on False Creek, or head to the Granville Island Kids Market for a fun-filled day for the little ones.
Dr. Sun Yat-Sen Classical Chinese Garden
Another attraction featured in the bus tour is the Dr. Sun Yat-Sen Classical Chinese Garden. Get off at Keefer Street, across from Easy Park, and walk a few minutes to reach this hidden urban gem.
This garden revolves around the balance of four elements: rock, water, greenery, and architecture. Inside, you'll encounter an array of penjing plants and other traditional Chinese shrubs reminiscent of the lush gardens in Suzhou.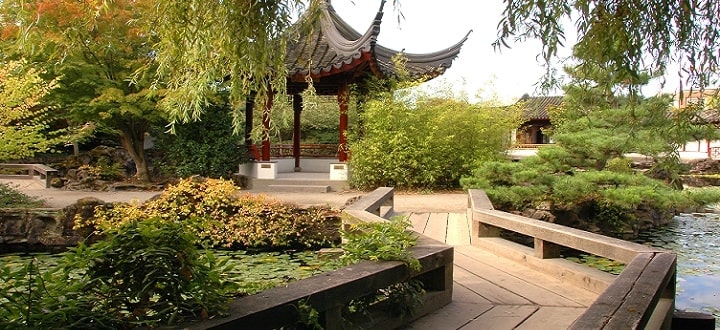 Take a leisurely walk along the garden's pathways, and you'll stumble upon a cozy tea room where you can savor complimentary tea while trying your hand at Chinese calligraphy.
Chinatown
Right around the area, you'll come across the largest Chinatown in all of Canada, Vancouver's very own Chinatown.
This bustling district is celebrated for its diverse range of Chinese culinary delights, making it the ultimate destination for discovering the best noodles and dim sum in the city.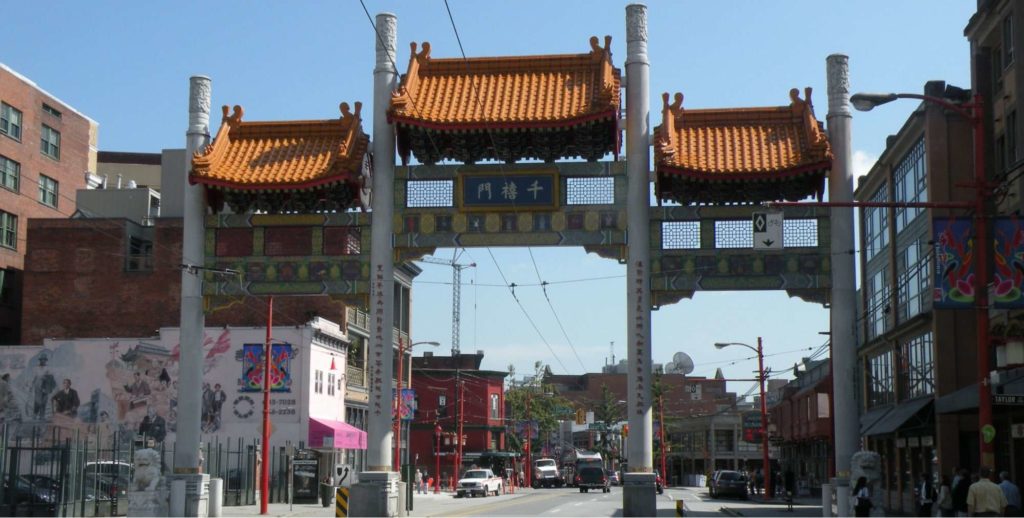 We recommend you at least dedicate a few hours here, just so you can explore the vibrant streets filled with traditional Chinese architecture, vibrant markets, and unique shops.
There's also an annual Chinese New Year parade that adds a burst of color and excitement to this area, where performances such as dragon and lion dances and floats can be enjoyed by locals and tourists alike.
Gastown Steam Clock
Get off at 73 Water Street and check out the Gastown Steam Clock. This antique-style clock that sits at the corner of Water and Cambie Street is a must-see for tourists, as it's one of the few remaining steam-powered clocks in the world.
Every quarter-hour, the clock emits a loud whistle and releases steam, captivating passersby with its unique display. While you're here, take the time to explore this historic neighborhood and maybe take some pics with the clock as a backdrop.
Vancouver Lookout
An 8-minute walk away from Gastown is the Vancouver Lookout. It's one of the most iconic landmarks in the city, where you're able to see scenic 360° views of Vancouver and its surrounding mountains, ocean, and skyline.
---
Alright, we hope this article has provided you with a glimpse of what the Vancouver Big Bus Tour holds in store for you. Don't forget to maximize your visit by exploring as many of these popular attractions as you can!
Here are a few more related articles of Vancouver's best neighborhoods to explore, just in case you find yourself with some extra time to explore.