The 5 Best Options for Wedding Flowers in Vancouver
Flowers have a special place in wedding celebrations, adding beauty and elegance to the momentous occasion. They can be used to decorate the ceremony area and adorn the bridal party.
Even beyond their decorative function, flowers have meaningful symbolism for couples exchanging vows. For example, roses are often associated with love, while lilies can symbolize purity.
Without flowers, a wedding can appear lackluster, so it's best to work with shops that create stunning arrangements that fit your theme. Below are some of the best stores to get wedding flowers in Vancouver.
How much do wedding flowers cost in Vancouver?
It's a well-known fact that wedding flowers can rack up in price depending on the order quantity, floral choices, and complexity of designs.
For instance, a simple bouquet with local blooms likely costs less than an arrangement with imported flowers.
Shops in Vancouver offer varying rates for wedding flowers. Since every customer has unique expectations, we decided to feature the starting rate for the shops featured on this list.
| SHOP | STARTING PRICE |
| --- | --- |
| Botany Bloom | Custom quote |
| Garden Party Flowers | $225 |
| Celsia Florist | $260 |
| Flower Factory | $150 |
| The Wild Bunch | $150 |
Where To Buy the Best Wedding Flowers in Vancouver
1. Botany Bloom

SERVICES

Custom Wedding Florals

Custom Event Florals

Custom Botanicals

WEBSITE
https://www.botanybloom.ca
ADDRESS
8244 Fraser Street, Vancouver, BC V5X 3X6, Canada
CONTACT DETAILS
Phone: 604 999 5355
OPERATING HOURS

Tuesday-Saturday: 11:00 AM-5:00 PM
| | |
| --- | --- |
| CRITERIA | RATING |
| Flower Selection | ★★★★☆(4/5) |
| Professionalism | ★★★★★(5/5) |
| Communication | ★★★★★(5/5) |
| Accessibility | ★★★★☆(4/5) |
Botany Bloom is the place to go when it comes to stylish floral arrangements. They have been making waves in the wedding industry, with many married couples praising their work over the years.
From what we've seen, Botany Bloom is worthy of praise. Botany Bloom is one of the more flexible shops in Vancouver, capable of working with any event as well as weddings.
This flexibility stems from the Botany Bloom team's in-depth knowledge of which flowers best suit each occasion and how to create stunning arrangements from them.
Depending on the season, they also have access to a wide array of blooms. This means that you can use whatever flowers are in season at the time of your event or pick any flower from their selection.
We also like that Botany Bloom places particular importance on style for any arrangements they make. Of course, everything is personalized to suit the client's tastes, but there are other considerations regarding their designs.
For instance, Botany Bloom has an eye for ensuring each arrangement looks aesthetically pleasing, creating an overall wow factor.
Lastly, the Botany Bloom team is easy to reach since they respond quickly and are open to discussing any needs or special requests.
So, if you're looking for a reliable florist that pays attention to detail, Botany Bloom is a perfect choice. Their unique touch, creative designs, and dedication make them an ideal partner for all your floral needs.
Highly communicative work process
Pickup and Delivery available
On-site florist on day of setup
Closed on Sundays and Mondays
May be fully booked and unavailable
Customer Reviews
Easy to work with
"Kelly is amazing! She designed all my wedding flowers and was easy to work with, especially during challenging times. She was flexible, on time, and assisted my parents in setting up the flowers, so I could focus on walking down the aisle. I highly recommend Botany & Bloom for any floral occasion. My friends and family keep asking who did my flowers. That's how amazing Kelly was!" – Trina M.
Beautiful bouquets and floral pieces
"Botany and Bloom showered our October wedding last year with their stunning flower arrangements. Kelly created such beautiful bouquets and floral pieces that I am still over the moon about them. I loved everything about my bridal bouquet and I still have it with me displayed at home for all to see." – E Luk
2. Garden Party Flowers

SERVICES

Wedding Florals

Flower Delivery Subscriptions

Corporate Gifting

Flowers for Various Occasions

WEBSITE
http://www.gardenpartyflowers.ca/
ADDRESS
415 Industrial Ave., Vancouver, BC V6A 2P8, Canada
CONTACT DETAILS
Phone: 604 731 2737
OPERATING HOURS

Monday-Friday: 11:00 AM-5:00 PM

Saturday & Sunday: 12:00 PM-5:00 PM
| | |
| --- | --- |
| CRITERIA | RATING |
| Flower Selection | ★★★★★(5/5) |
| Professionalism | ★★★★☆(4/5) |
| Communication | ★★★★☆(4/5) |
| Accessibility | ★★★★★(5/5) |
Located on Industrial Avenue, Garden Party Flowers is a local favorite, known for creating stunning arrangements for all occasions.
Garden Party Flowers is headed by creative director and floral designer Amy Hu, whose clever design solutions and penchant for innovation have earned her a solid reputation in the wedding flower industry in Vancouver.
Amy's custom designs can be seen in some of the city's most lavish wedding ceremonies and parties, from wedding bouquets to centerpieces, corsages, altar arrangements, and more.
It's worth noting, though, that Amy and her team still abide by the wishes of their wedding clients.

In fact, Garden Party Flowers consults with the wedding party during each step of the design process to ensure they create a unique look that perfectly suits the occasion.
With an eye for detail, Amy and her team know how to bring a room to life with beautiful and creative touches.
Another reason we recommend Garden Party Flowers is their customer service, which has earned them a well-deserved reputation for looking after their wedding clients.

Customers can count on Garden Party Flowers for exceptional service from the initial consultation to delivery and setup.
Garden Party Flowers is truly a one-stop shop for wedding flowers in Vancouver needs, be it bouquets or table arrangements. Whether you're looking for something traditional or dazzlingly modern, Garden Party Flowers is sure to create the perfect wedding look.
Clever, stunning, and elegant florals
Wide selection of flowers for any occasion
Open all days of the week
Complaints about sudden cancellations
Reservations require deposit payment
Customer Reviews
The designs are stunning
"WOW! My mom sent me flowers for Valentine's Day and I guess she requested dried flowers. They delivered a stunning live bouquet by accident, and sent out this second one to correct it. Feeling like the luckiest girl in the world. And the designs are stunning. This is now my go to flower shop. Wow, wow, wow." – Hailey M.
Very responsive
"Gia and Chelsea were very responsive after I placed an order for my wedding bouquet and my husband's boutonnière. They let me know what flowers would be available for an August wedding and worked with my inspiration photos. The bouquet got dropped off to me while I was getting my hair and makeup done and it was the most gorgeous floral bouquet I've ever had." – Jean C.
3. Celsia Florist

SERVICES

Celebration Events

Corporate Events

Design for Spaces

Styling & Design

WEBSITE
https://www.celsiaflorist.com
ADDRESS
1930 Arbutus Street, Vancouver, BC V6J 3X7, Canada
CONTACT DETAILS
Phone: 604 731 3314
OPERATING HOURS

Monday-Saturday: 9:00 AM-5:30 PM

Sunday: 11:00 AM-5:00 PM
| | |
| --- | --- |
| CRITERIA | RATING |
| Flower Selection | ★★★★☆(4/5) |
| Professionalism | ★★★★☆(4/5) |
| Communication | ★★★★★(5/5) |
| Accessibility | ★★★★★(5/5) |
Next on our list is Celsia Florist, a boutique flower studio that has recently made waves in the flower industry.
Celsia Florist isn't a shop that caters to the ready-made crowd. Instead, they specialize in creating unique arrangements, all of which are tailored to the customer's vision and needs.
This specialization is one reason why we believe they are an excellent choice for wedding flowers in Vancouver.
After all, wedding flowers should be memorable, and Celsia takes great care to ensure that every wedding arrangement they create is a beautiful reflection of the bride and groom's union.
The team at Celsia works with each wedding party individually to determine the best flower options for the overall wedding aesthetic. From lush rose bouquets to whimsical wildflower arrangements, they aim to bring wedding dreams to life.
Of course, wedding flowers aren't their only specialty. They also work with various events, including corporate parties. Celsia Florist has also worked with store spaces in the past, adding a unique, personal touch to any area.
Aside from their impressive portfolio, Celsia Florist caught our eye due to their commitment to customer service.
They ensure that each arrangement is made with the utmost attention to detail, always paying careful attention to the customer's preferences.
As a whole, Celsia Florist is certainly worth considering when shopping for wedding flower arrangements or unique floral designs in Vancouver.
With the team's creativity and passion behind every arrangement, we believe they are an unbeatable choice.
Personalized wedding floral designs
Extensive set of floral arrangements
Delivery also available
A couple of issues with delivery
Complaints about flower freshness and arrangement quality
Customer Reviews
Excellent and honest customer service
"I'm really impressed by Celsia. Michelle and the team are amazing. Excellent and honest customer service. The flowers came in this box so it was easy to carry around on the day of, plus they put water in the bag holding the flowers to keep them fresh for the day. These guys are really thoughtful and caring of flowers! And most importantly, the flowers were just gorgeous! The roses were very dense and they were all in bloom, definitely artisan picked with love and care (see photo for reference). Will be back for sure!" – Kingsley C.
Most incredible flower arrangement
"My fiancé surprised me with the most incredible flower arrangement today. He had only good things to say about ordering the flowers and the floral designer got him exactly the kinds of blooms he wanted. They got to me right on time and look absolutely beautiful! The handwritten note was very prettily presented too. I will definitely be going back to them for flowers again!" – Karen C.
4. Flower Factory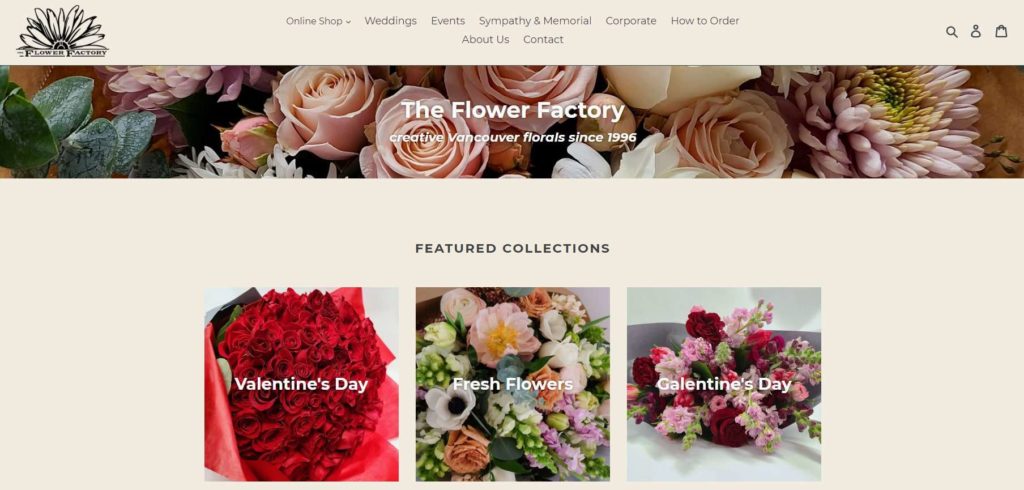 | | |
| --- | --- |
| SERVICES | Weddings, Events, Sympathy & Memorial, Corporate |
| WEBSITE | https://www.flowerfactory.ca |
| ADDRESS | 4285 Main St, Vancouver, BC V5V 3P8, Canada |
| CONTACT DETAILS | Phone: 604 871 1008 |
| OPERATING HOURS | Monday-Saturday: 10:00 AM-6:00 PM |
| | |
| --- | --- |
| CRITERIA | RATING |
| Flower Selection | ★★★★☆(4/5) |
| Professionalism | ★★★★☆(4/5) |
| Communication | ★★★★★(5/5) |
| Accessibility | ★★★★★(5/5) |
The Flower Factory is one of the oldest options on this list, with the store first opening its doors in 1996.
Throughout the years, The Flower Factory has earned the local community's trust thanks to its commitment to quality.
For one, the store employs talented and experienced florists who take great pride in their work, and the results are always beautiful.
You can see it in the store's catalog, which is readily available on their website. Here, you can find ready-made arrangements for various occasions, like Valentine's day.
We like that The Flower Factory uses different blooms, including dried flowers, creating a unique and eye-catching composition for every arrangement.
Do note that wedding flower arrangements are where The Flower Factory's experienced florists shine. Their wedding flower offerings in Vancouver are some of the best and can be tailored to your specific needs and budget.
They offer consultations that can make wedding planning easier, especially if you're looking for something out of the ordinary or a bouquet with special symbolism.
In addition, the shop is easy to reach, and its staff is friendly, knowledgeable, and accommodating.
Overall, The Flower Factory has all the reasons to be proud of its long-standing presence in the Vancouver flower market. They offer quality wedding flower arrangements at competitive prices, making them an excellent choice for any wedding occasion.
Over 22 years of experience
Diverse set of modern and botanical garden designs
One of the best award-winning florists in Vancouver
Inconsistent arrangement size and flower quality
Complaints about poor customer service
Customer Reviews
Easy to order, great service
"WOW – Thank you Crystal & the flower factory! So glad I found this business. Easy to order, great service, delivery & floral price is super reasonable & beautiful modernly-stylish floral arrangements. I simply described the arrangement "I'd love some fall/earthy colours with some green floral and a bit of purple for some vibrance. And something that is okay for the hospital" and this was the arrangement that Crystal came up with(attached photos)! Absolute perfection. You killed this. Everyone at the hospital was in awe of this arrangement. Thank you for cheering up my sister after a hard surgery – she loved it! & I love it! Thank you again! <3 I will absolutely pass your business on to friends." – Jessica F.
Above and beyond every time I go
"Above and beyond every time I go. Gloria and her staff are 💯and top notch, especially Kalen and Petrus. These lads always takes great care of me and my requests! Highly recommend Flower Factory if you haven't been, time to change that!" – Andy C.
5. The Wild Bunch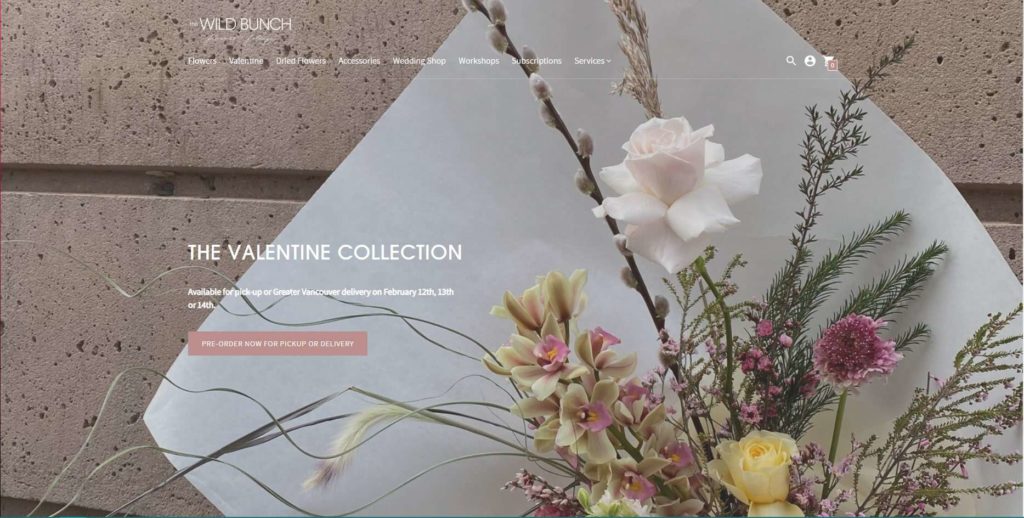 SERVICES

Flower Delivery

Valentine's Flowers

Dried Flowers

Accessories

Wedding Flowers

Workshops

Delivery Subscriptions

WEBSITE
https://thewildbunch.ca
ADDRESS
1525 West 6th Ave., Vancouver, BC V6J 1R1, Canada
CONTACT DETAILS
Phone: 604 423 4399
OPERATING HOURS

Tuesday-Friday: 10:00 AM-5:00 PM

Saturday: 10:00 AM-2:00 PM
| | |
| --- | --- |
| CRITERIA | RATING |
| Flower Selection | ★★★★★(5/5) |
| Professionalism | ★★★★★(5/5) |
| Communication | ★★★★☆(4/5) |
| Accessibility | ★★★★☆(4/5) |
Next up is a floral design company led by self-taught florists: The Wild Bunch.
Locals have sung The Wild Bunch countless praises for a good reason. The shop consistently releases breathtaking flower designs featuring various blooms in season.
Not only that, but they also offer an array of dried flower arrangements, which are excellent choices for anyone looking for something that stands the test of time.
We like that The Wild Bunch utilizes both fresh and dried blooms, but it doesn't stop there. The shop is also known for regularly updating their collection with design innovation in mind.
Another reason we recommend The Wild Bunch is their wedding flower services in Vancouver. They offer a la carte flower services, with design inspirations on their website.
We appreciate the shop making booking simple and accessible, with an easy-to-use online booking system. This system allows you to customize your orders to fit your theme and budget.
Additionally, The Wild Bunch doesn't limit orders to delivery. If you're more comfortable picking up your order, you only need to coordinate with the shop.
Overall, The Wild Bunch is an excellent choice for wedding flower services in Vancouver. Their design innovation, versatility, and accessibility are unmatched. We highly recommend them if you're looking for wedding flower services in Vancouver.
Locally-sourced and incredibly unique flowers
Diverse collection thanks to extensive source network
Offers same day delivery
Closed on Sundays and Mondays
May be fully booked and unavailable
Customer Reviews
Natural, free-form style
"We hired the Wild Bunch for our wedding and they did an absolutely outstanding job. We were drawn to them for their natural, free-form style, and they really are the experts when it comes to that aesthetic. Our inspiration was spring wildflower meadows, and I really felt they brought that vision to life. It was easy to work with their team, and I found them to be highly professional. I especially loved their use of local florals/greenery – in particular I noticed sea asparagus in a few bouquets, which grows along much of the coast of BC!" – Devyn P.
Easy to communicate with
"I knew my wedding flowers would be pretty, but these absolutely blew me away. Just beyond beautiful, lush and wild and colorful. I was so in love with everything The Wild Bunch made for me. Lisa was so easy to communicate with. I can't say enough nice things about my experience. I wouldn't change a thing." – Courtenay G.
FAQs about Wedding Flowers in Vancouver
---
Wedding flowers can significantly elevate any ceremony. We hope that our list can help you find the best vendor for your upcoming wedding.
If you're looking for professionals to help immortalize your nuptials, check out our list of top wedding videographers in Vancouver.