The Best T-Shirt Printing in Vancouver
Whether it's for an event or just for fun, people get T-shirts customized all the time. The trouble is that not everyone has the skills or equipment to do it themselves.
But we put together a list of the best places for T-shirt printing in Vancouver to help. With these, you should be able to meet all your customized T-shirt needs.
The Cost of T-Shirt Printing in Vancouver
There are a lot of variables that can factor into how much it costs to print a T-shirt. The technique implemented and the quality of the shirt are going to be factors.
But the most important factor when it comes to calculating the costs is going to be the volume of the order as stores will often charge less per piece with larger orders. To help you calculate costs, we've put together this table:
| Order Volume | Cost |
| --- | --- |
| >50 | $5-$10 per piece |
| Less than 50 | $5 per piece |
Keep in mind that the table is just for reference and may not reflect that total cost of any order that you might place.
The Best T-Shirt Printers in Vancouver
We assessed the best T-shirt printers in Vancouver based on the following criteria:
1. Coastal Reign Printing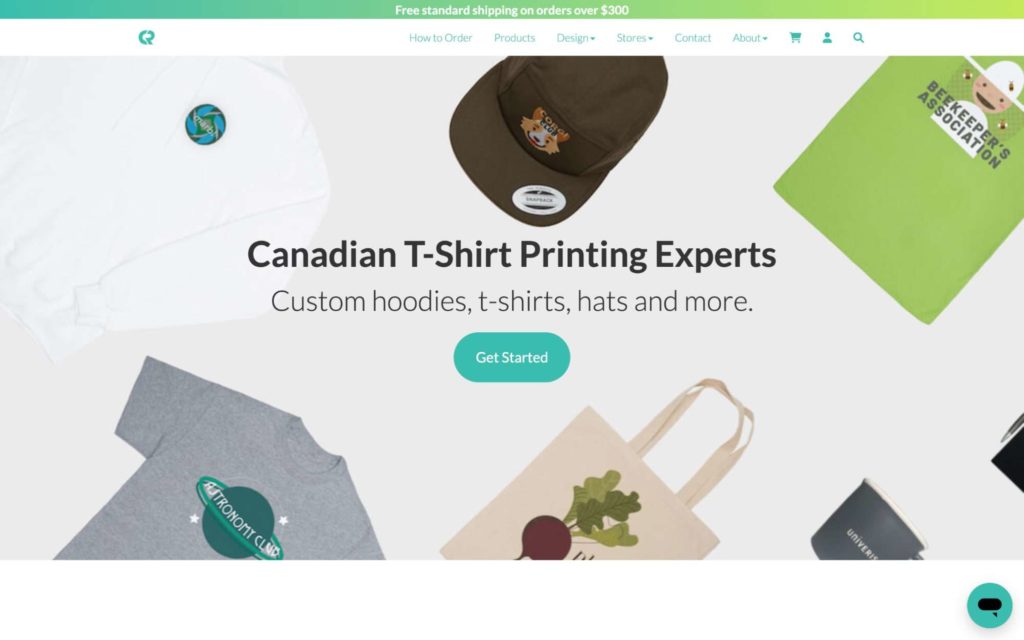 Test
Info
ADDRESS
8793 Cambie St, Vancouver, BC V6P 3J9
WEBSITE
https://coastalreign.com/
CONTACT DETAILS
604-900-5924 (local) 1(888)-210-3971 (toll-free)

Email: [email protected]

OPERATING HOURS
Monday to Friday, 9am to 5pm
| | |
| --- | --- |
| Material | ★★★☆☆ (3/5) |
| Cost | ★★★★☆ (4/5) |
| Turnaround Time | ★★★★☆ (4/5) |
| Customer Satisfaction | ★★★★★ (5/5) |
You want to know what we really loved about Coastal Reign Printing? We loved how responsive and accommodating they are, even when the order is in bulk and it's last minute – and great customer service always counts for a lot in our book.
Their T-shirts, we have to say, are fantastic. The customers we managed to interact with state that the designs turned out great, even when they didn't have graphics or logos readily available for the team at Coastal Reign.
You want to know what else we loved? The variety of products and services they had on offer, not just T-shirts.
Coastal Reign can also make things like customized hoodies, caps, and outerwear such as jackets and vests, so customers can have a wide array of products for any number of events in any number of conditions.
Of course, not everything about them wowed us. For example, some customers had issues with the quality control of the products they received and stated that orders weren't always delivered on time.
Some customers also found the fabric that they use to be a little thin.
However, overall we'd have to say that Coastal Reign is an altogether great place to get a wide variety of custom-made items printed.
Can handle last-minute orders
Responsive team
Customer Reviews
Absolutely fantastic
"Our chapter went with Coastal Reign for a somewhat last minute bulk order. The designs turned out absolutely fantastic and they were super accomodating and responsive throughout the shirt ordering process.
Thanks again Coastal Reign team!" – Michael DiMarco
Fantastic product
"We were very pleased with support that we got during the design phase of our little project. Anson and company helped us along whenever we ran into technical challenges. The final product is fantastic, just what we were looking for. We will use Coastal Reign again. Thanks!" – David Welch
2. Great West Graphics
| Test | Info |
| --- | --- |
| ADDRESS | 342 East Kent Ave S, Vancouver, BC V5X 4N6 |
| WEBSITE | https://www.greatwestgraphics.com/ |
| CONTACT DETAILS | (604) 321-3285 |
| OPERATING HOURS | Monday to Friday, 830am to 430pm |
| | |
| --- | --- |
| Material | ★★★★☆ (4/5) |
| Cost | ★★★★☆ (4/5) |
| Turnaround Time | ★★★★☆ (4/5) |
| Customer Satisfaction | ★★★★★ (5/5) |
Here's what we liked about Great West Graphics: bulk. We noticed that they had a lot of customers who had bulk orders, with some of them ordering thousands of items.
We also saw how happy those customers were with their orders. Many of the customers we talked to also raved about their customer service experiences and we appreciate when a company can take care of its patrons.
We also liked the time it took them to make the items. We noted that one customer had a rather large order of about 100 items and they sang Great West's praises when it came to how quickly the order was fulfilled.
Here's what else we liked about them: how accommodating they were.
This was true in both our experience with them and for the people we surveyed. We noted one customer who had to modify their order and it was done with no fuss, apparently.
Being able to satisfy the customer despite being thrown a curve ball in the form of a modification to the order demonstrates to us just how good they are at what they do.
If there's one thing that we didn't fall in love with about them, though, it's that they're not always meticulous. We encountered a very small number of customers who found errors when it came to their orders.
A lot of experience handling very large orders
Has had a few (but not entirely negligible) cases of order error
Customer reviews
Extremely helpful
"Rosie and her team were extremely helpful. After a long search for a company that could do a quick turn around on a 100 jackets, Great West Graphics was able to help! We are so thankful for the work they did, our staff here at Cedars at Cobble Hill will be dry during the rainy seasons! Thank you Rosie!!" – Asheleigh Narey
Awesome
"Rosie and her team were awesome. They were able to get a bunch of hoodies done for us very quickly, and they worked with us closely to get the design just how we wanted it. Super professional and good at what they do. Thank you!!!" – Patricia Chochol
3. Instant Imprints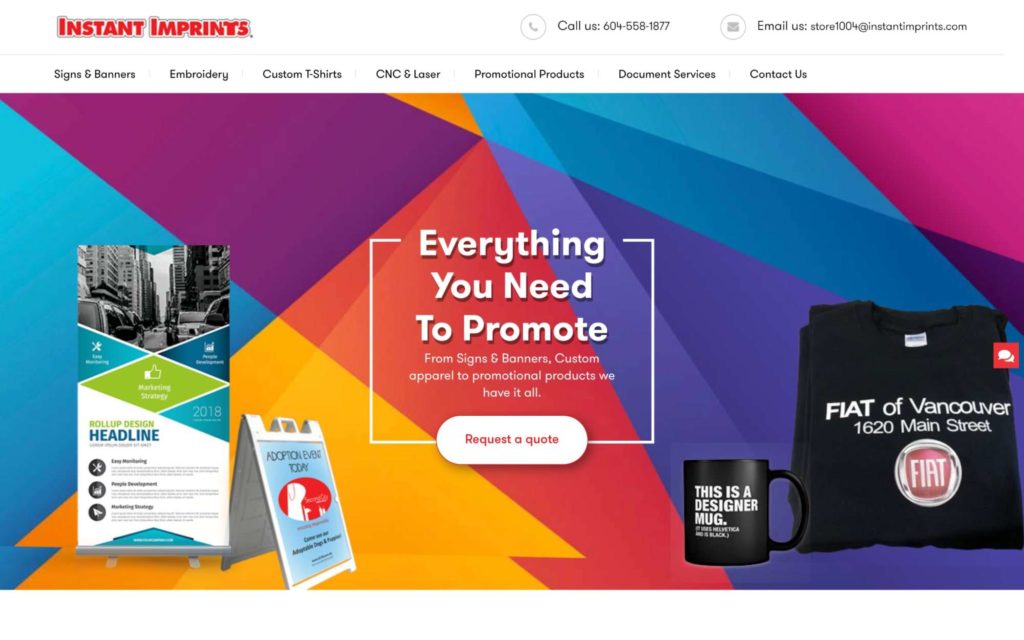 Test
Info
ADDRESS
1065 Main St, Vancouver, BC V6A 4L4
WEBSITE
https://instantimprints.com/
CONTACT DETAILS
888-247-0176
OPERATING HOURS
Monday to Friday, 930am to 6pm

Saturday: 10am to 2pm
| | |
| --- | --- |
| Material | ★★★★☆ (4/5) |
| Cost | ★★★★☆ (4/5) |
| Turnaround Time | ★★★★☆ (4/5) |
| Customer Satisfaction | ★★★★☆ (4/5) |
The first thing we really liked about Instant Imprints was how accommodating they are to their customers.
We saw it in our own dealings with them as well as in the experiences related to us by others. For example, we took note of one customer getting a refund and noted how helpful and patient the staff were when it came to the errors on her end.
Customer service counts for a lot in our book and that shows it counts for a lot in theirs as well. In our surveys, we also noticed more than one customer talking about how attentive they are.
Speaking of their customer service, we also heard from another customer who had a bulk order of T-shirts. The team answered their numerous questions in a timely manner.
They even told the customer of ways that they could improve on their orders, not as a way to upsell anything but simply to improve their satisfaction with their order.
Another thing that we liked about them was that they weren't limited to just T-shirts. They also did banners so a customer could get one to match their shirts if they chose to do so.
We did note, however, that the price for one specific service, sublimation printing, is rather high when compared to other shops. Other than that, we haven't taken notice of any complaints regarding their service or their pricing.
Wide variety of items for printing
Sublimation printing costs are relatively high
Customer reviews
Pleasure to work with
"It was a pleasure working with Ando to complete my baby shower t-shirt print. He was patient and professional and helped me to improve my file type to get the best quality on my custom order. It turned out so well and I love the quality of the shirt that he selected for us. We had a tight turnaround time and he was extremely flexible and accommodating which really put my mind at ease. Planning our baby shower and the arrival of our little one has been a stressful time but Ando and the team made this part so easy and I would strongly recommend them to anyone needing a beautiful, custom print that embodies the vision and significance that you envision with your special project." – Kitty L
The best experience
"I had the best experience with these guys! A day before I fly across the country to do dog training competition, I realized that I haven't got my uniforms done. Panicking, I reached out asking if it was possible to do an order for me in under 24 hours. After being assured that it was possible I raced down to their shop.
I was blown away with the customer service and the care and detail they took into my designs. The clothes they carry are also a very good quality. Over all I was very very impressed.
Great service, great value and a great product. You could not ask for more. I highly recommend Instant Imprints!" – Melissa Hume
4. Action Athletic Wear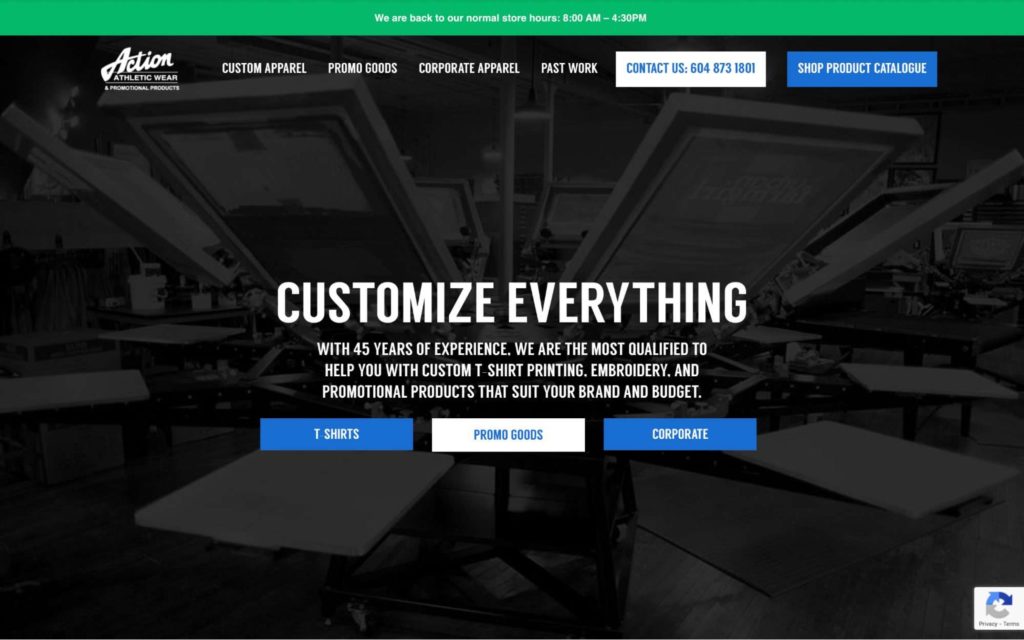 | Test | Info |
| --- | --- |
| ADDRESS | 220 W 6th Ave, Vancouver, BC V5Y 1K8 |
| WEBSITE | https://actionathleticwear.com/ |
| CONTACT DETAILS | 1.604.873.1801 1.800.563.1801 |
| OPERATING HOURS | Monday to Friday, 8am to 5pm |
| | |
| --- | --- |
| Material | ★★★★☆ (4/5) |
| Cost | ★★★★☆ (4/5) |
| Turnaround Time | ★★★★★ (5/5) |
| Customer Satisfaction | ★★★★☆ (4/5) |
The first thing that caught our eye when it came to Action Athletic Wear was how happy their customers seemed to be. Whether it was a tote bag or a T-shirt, the customers we encountered were more than pleased with their orders.
They're also pretty quick. We observed one customer who ordered custom jerseys and tote bags as gifts for family and who received their order after 3 days (the aforementioned customer raved about the quality).
Another thing that we couldn't help but pay attention to was their short-notice work. We heard from a number of clients who've placed rush orders with them successfully.
They also have a number of repeat customers who've been working with them for years. That tells us that they're good at what they do because the customers wouldn't have come back to them if they weren't.
We did, however, find a few things that aren't exactly perfect.
There have been cases of delays in their orders, for example. There have also been instances of price quote changes out of the blue – one customer was so annoyed by this that they went to a different printer instead.
Can fulfill orders under short notice
Quoted price can be variable
Customer reviews
Earlier than expected
"I used Action Athletic Wear for the first time this month for my custom t-shirts and they are indeed fantastic! I was really happy with the results of the t-shirt printing and I received it much earlier than expected. Communication with Keith, the sales rep was excellent too! Very happy customer and I'll be ordering custom t-shirts again. Highly recommend it for all your t-shirt printing needs. Really appreciate the quality service and I wish the whole team and company all the successes! Keep up the good work." – Kayleigh Clements
Would recommend
"We have been customers of Action Athletic Wear for a few months now and their custom tote bags and customized hoodies have been fabulous. The owner, Todd, has worked directly with us and is very professional and reasonable. From custom tote bags for our daughter's birthday party and customized hoodies to our son's entire baseball team. They have always delivered with the utmost quality and excellence. For that, we are grateful and decided to write this review. Would recommend it without a doubt. You will not be disappointed." – Emily Todd
5. Dad's Printing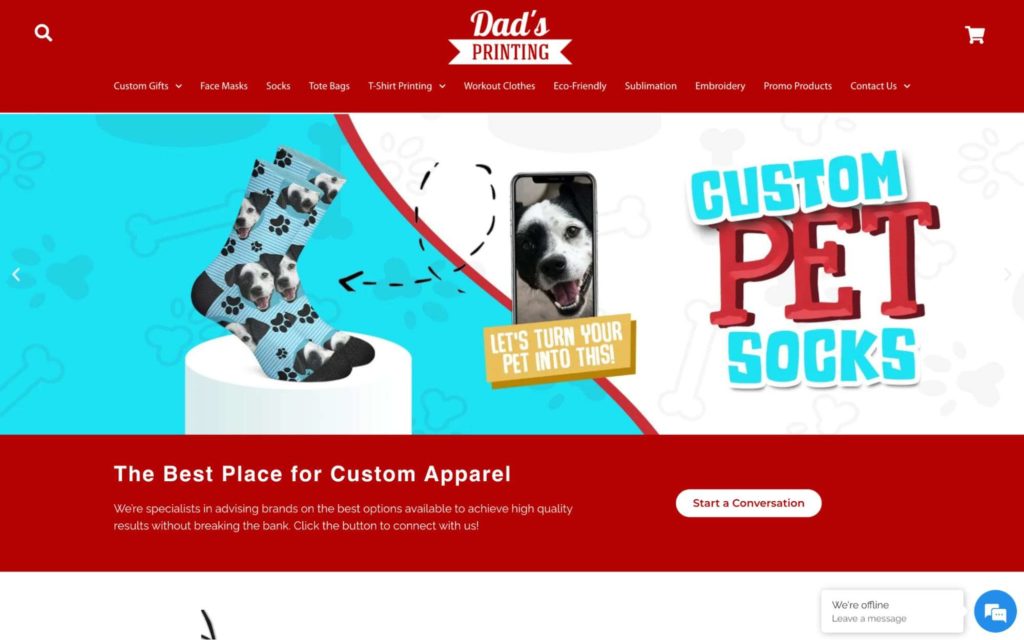 | | |
| --- | --- |
| Material | ★★★★☆ (4/5) |
| Cost | ★★★★☆ (4/5) |
| Turnaround Time | ★★★★★ (5/5) |
| Customer Satisfaction | ★★★★☆ (4/5) |
What stood out to us most about Dad's Printing was their customer service. We noted that there were customers who had questions and we also noted that those questions were promptly answered.
The next thing that stood out to us wasn't just their T-shirts, it was also their socks. We didn't encounter a lot of places that could do socks to match their T-shirts so being able to do that definitely caught our attention.
But that's not all that caught our attention. We also heard from a lot of clients getting their custom tees in a manner that they described as timely and in good condition.
So, clearly quality is not sacrificed for speed at this particular shop.
We also saw one customer who had to have a rather large order made in a timeline that they described as aggressive. The said customer was happy with their order and found the experience of working with Dad's Printing to be amazing.
That's something that we like. They seem to be capable of fulfilling orders without making customers wait or cutting corners.
We did, however, notice that some customers thought that the quality of some of their base materials was substandard. The cloth on some of their shirts is just passable, for instance.
Fulfills orders quickly without cutting corners
Cloth used on some items is substandard
Customer reviews
Great customer service
"Adam and the Team gave great customer service! They are very kind and helpful with your order. I strongly recommend Dads printing for a great gift idea! I was also very happy with the product and the shipping process came very quickly. I will definitely be purchasing from them again soon!" – Rachel Massey
Quality product
"Quality product, ordered custom pet socks for a Christmas gift. Arrived in a timely manner, no issues with uploading my design & have absolutely no complaints with my experience! Would definitely recommend this company to family/friends for custom products!" – Lindi Durant
FAQs about T-Shirt Printing in Vancouver
---
If you want your custom clothing to be a little more refined than a T-shirt, then check out this list of the best tailors in Vancouver.