5 Best Motels in Vancouver
If you are looking for a good place to spend the night while keeping everything under budget, you should look into the best motels in Vancouver.
Luckily for you, we've already done the work of finding the top ones and rating them as, you'll see in this article!
How much does it cost to stay in a motel in Vancouver?
The cost of a night's stay in motels depends mostly on the establishment. The more amenities and perks you get with your suite, the higher the price you can expect to pay.
You can use the table below to see the minimum cost to stay in the best motels in Vancouver.
| Motel | Price |
| --- | --- |
| North Vancouver Hotel | $205/night |
| Travelodge by Wyndham | $209/night |
| 2400 Motel | $163/night |
| Samesun | $174/night |
| Horseshoe Bay Motel | $178/night |
Top Motels in Vancouver
To make this review, we assessed the numerous motels and picked the best ones based on the following criteria:
1. North Vancouver Hotel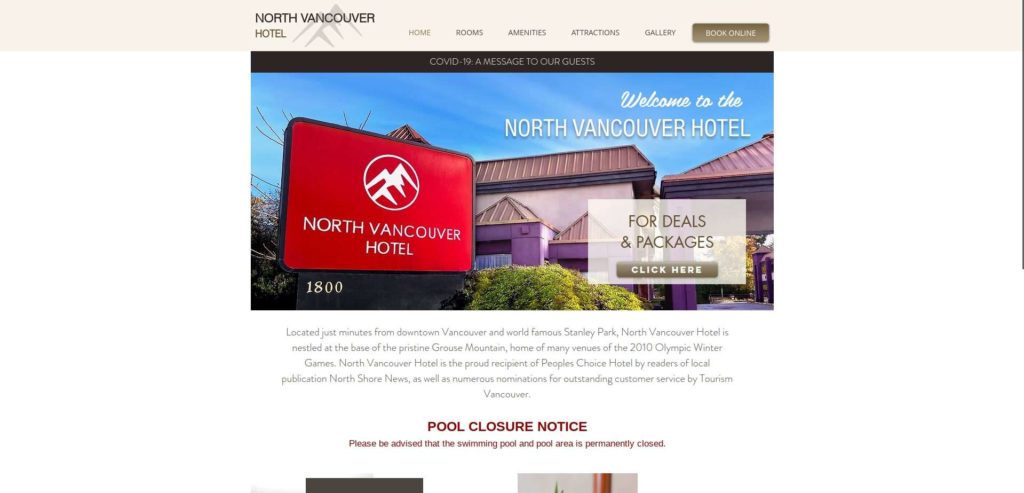 Test
Info
SERVICES
1-Bedroom Suites

2-Bedroom Suites

Continental Breakfast

Free Wifi

Free Parking

Pet-Friendly Rooms

WEBSITE
northvanhotel.com
ADDRESS
1800 Capilano Road, North Vancouver, BC V7P 3B6
CONTACT DETAILS
(604) 987 - 4461

Email: [email protected]

OPERATING HOURS
Check-in time: 3:00 PM

Check-out time: 11:00 AM
| | |
| --- | --- |
| Criteria | Ratings |
| Price | ★★★★☆ (4/5) |
| Amenities | ★★★★★ (5/5) |
| Accessibility | ★★★★★ (5/5) |
| Customer ratings | ★★★★☆ (4/5) |
North Vancouver Hotel is a motel in Vancouver with great accessibility. Everything that you might need during your stay can either be found in the inn or at least in a store a few minutes away.
The motel is located near Stanley Park and other attraction sites, which we like. It is also minutes away from downtown, stores, and transits, making your stay even more convenient.
Aside from its accessibility, what we liked about the hotel are their amenities that make your stay more comfortable. Included in your stay are free wifi Internet, a continental breakfast, free parking, free water refills, and vending and ice machines.
However, the biggest strength that the North Vancouver Hotel has is that it's a pet-friendly establishment. Your furry friend can join you in your room as long as you choose their designated pet-friendly suites.
As no motel is perfect, we can expect the hotel to have its downsides. We interviewed some of North Vancouver Hotel's customers, and they reported that some of the rooms may be showing signs of age.
We have also heard comments about ant trails and rust in the bathroom. We didn't see any in our own room, but that's still worth noting.
Nevertheless, North Vancouver Hotel's proximity to important areas and its accessibility earns it a spot on our list.
Pet-friendly rooms available
Located near attraction sites and minutes away from downtown
Close to transit and stores
Free parking
Buildings show their age
Reports of rust in the bathrooms
Customer Reviews
Spacious and clean rooms
Affordable, spacious super clean rooms with kitchenettes, breakfast inc., great parking, not super busy location(compared to hotels in main Van), taxi is $14 to downtown area, front counter staff was friendly and helpful. Travelled for business from rural area & this hotel was perfect. Would recommend & definitely stay again. –CM, Google Reviews
Friendly staff
Had a great stay here in December! I wasn't sure what to expect with the low cost, but I was very pleasantly surprised. Our room was spotless and well set up, beds were comfy and we felt very safe. Front desk staff was so friendly! I would absolutely stay here again. – Rachel, Google Reviews
2. Travelodge Hotel by Wyndham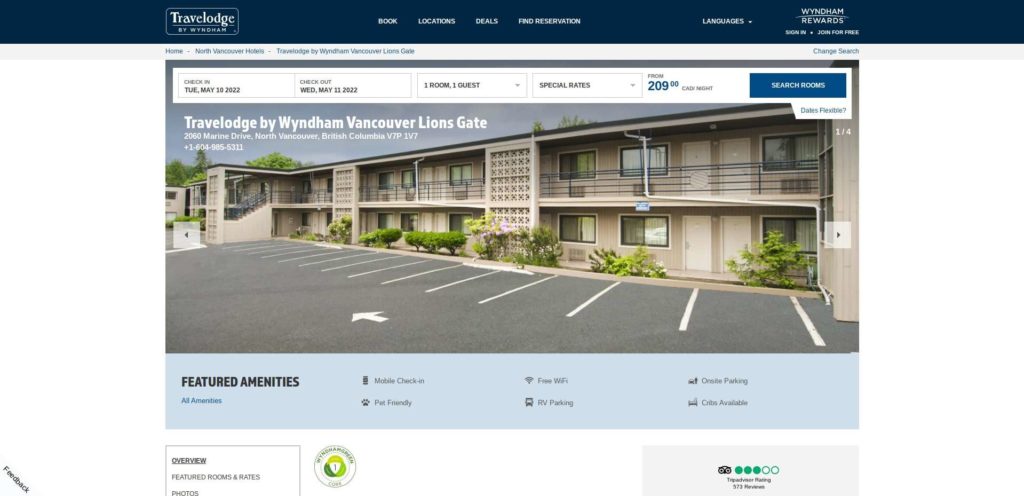 | | |
| --- | --- |
| Criteria | Ratings |
| Price | ★★★★☆ (4/5) |
| Amenities | ★★★★★ (5/5) |
| Accessibility | ★★★★★ (5/5) |
| Customer ratings | ★★★★☆ (4/5) |
Next on our list is the Travelodge Hotel, another one of the most accessible motels in Vancouver. The motel is positioned so well that everything you need is just a walking distance away.
Travelodge is right next to the highway, and is located near restaurants and stores. The motel is also a few minutes away from Grouse Mountains, Stanley Park, a waterpark, and other attractions.
Both of these combined makes it easy to travel to buy your necessities and visit fun and unique areas.
Now, onto the lodging itself. We tried the suites and interviewed some of the motel's old customers, and everyone has mixed feelings about the accommodations.
First of all, the parking space is huge which we think is a big advantage. The free parking area is large enough to fit multiple cars and even RVs.
The rooms are good for their price, and are clean and quiet for the most part. They have amenities and appliances you might need, such as air conditioners, TVs, and internet connection.
There are also pet-friendly rooms for those traveling with their furry friends.
However, not everyone is satisfied with the condition of their rooms. While it is true that the establishment is showing its age, some have reported having worse experiences than they expected.
There are reports of cigarette burn marks, bugs, and bathroom leaks in some of the rooms. The pricey deposit does not help the case of the motel in this regard.
Still, if you are in need of an inexpensive place to stay for the night with huge parking spaces and easy access to your needs, then Travelodge may be a good place for you.
Close to attraction sites
Wide parking area, even for RVs
Clean rooms despite old building
Reports of leaks and other signs of age
Reports of bugs
Expensive deposit
Customer Reviews
Clean and quiet rooms
Good size rooms that are clean and quiet! Wall mounted TV, dresser and nice sized desk. Has a closet with a few hangers and they provide extra pillows or duvets upon request. Room has built in heater/air conditioner. Lots of parking, great location and friendly staff! No complaints. –Madeline, Google Reviews
Accessible location
Good location, with easy highway access, and a Vietnamese and Denny's restaurant right next door. The lady at the front desk was also very helpful.
Now the bad: This hotel has seen better days. The rooms are old and dated. There are gaps at the bottom of the entrance door. Currently, there are two condos being constructed on both sides of the hotel. The construction begins at 7 AM and stops at 5 PM, and it is loud. It is a quiet location otherwise. –Ed, Google Reviews
3. 2400 Motel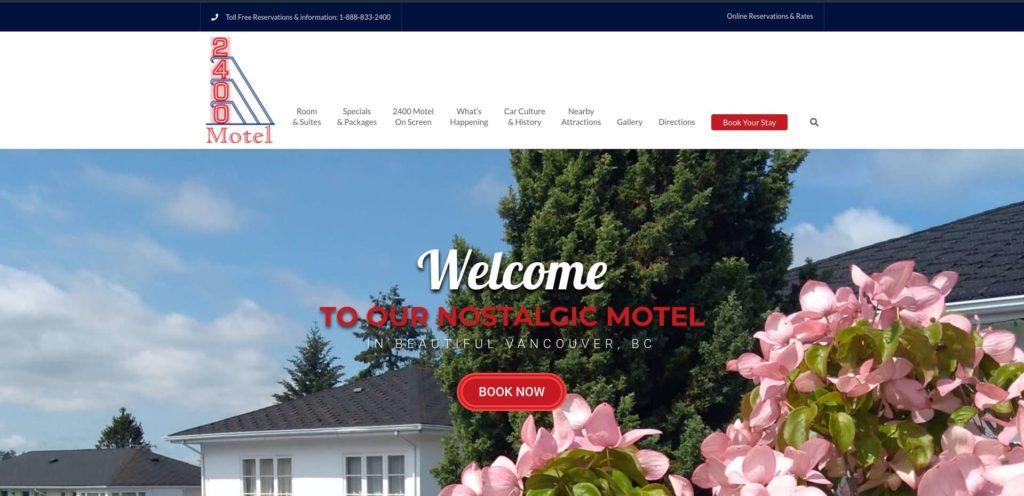 Test
Info
SERVICES
1-Bedroom Suites

2-Bed Suites

Bachelor Suites

Suites With Living Rooms

Pet-Friendly Rooms

Picnic Areas

WEBSITE
2400motel.com
ADDRESS
2400 Kingsway, Vancouver, BC V5R 5G9
CONTACT DETAILS
1-604-434-2464

Email:[email protected]

OPERATING HOURS
Check-in time: 3:00 PM

Check-out time: 11:00 PM
| | |
| --- | --- |
| Criteria | Ratings |
| Price | ★★★★☆ (4/5) |
| Amenities | ★★★☆☆ (3/5) |
| Accessibility | ★★★★★ (5/5) |
| Customer ratings | ★★★★☆ (4/5) |
The 2400 Motel in Vancouver is another good addition to our list. The 2400 Motel has 75 years of service under its belt and boasts a unique aesthetic compared to other motels we reviewed.
Unlike the others, the motel is not one single establishment but rather resembles a small village. In this small village are 65 different rooms with 9 different kinds of suites.
2400 Motel has suites with a separate living room, a two-bedroom suite, a bachelor suite with a kitchenette, and the regular 1- and 2-bed suites. Based on our experience, these rooms are incredibly clean and quiet despite its affordability.
Like the other motels, 2400 is close to tourist attractions and stores, which makes your stay convenient.
Another of the things that set the 2400 Motel apart is that it has an open green field where you, your loved ones, and your pets can hold picnics and spend time together.
As it is an old business, you can expect the buildings to show signs of deterioration. According to the customers we interviewed, some rooms have loose tiles and a musty smell which they assumed comes from some of the furniture.
The customers also recommend choosing suites as far away from the main roads to ensure quietness. The biggest disadvantage of the 2400 Motel, however, is its lack of amenities.
The suites in the 2400 are barebones. They offer a parking area, a desk, a shower, and wifi connections, cable TV, and not much else.
We noticed that there are no air conditioners in the suites, but there is an electric fan, which helps make the place comfortable. The rooms also lack mini-fridges and microwaves, which might force you to eat out for your meals.
Despite its downsides, 2400 Motel's aesthetics, cleanliness, and affordability makes them worth staying in.
Pet-friendly rooms available
Areas for picnics available
Discounts available on the website
Rooms lack amenities
No air conditioning
Customer Reviews
Inexpensive yet comfortable rooms
The exterior and grounds of the property are fairly rundown (asphalt torn up, paint peeling), but the room itself was super clean and in quite good shape—very comfortable.
Given the low cost for the Vancouver-area, I would recommend for anyone travelling here on a budget. – William, Google Reviews
Friendly staff
Very friendly customer service and reasonable prices and spacious rooms. They offer smoking and non smoking units which is nice to have that option. Only issue we had was our key to our unit broke in the key hole of our door and we had to be relocated. Other than that we had no other issues. – Winona, Google Reviews
4. Samesun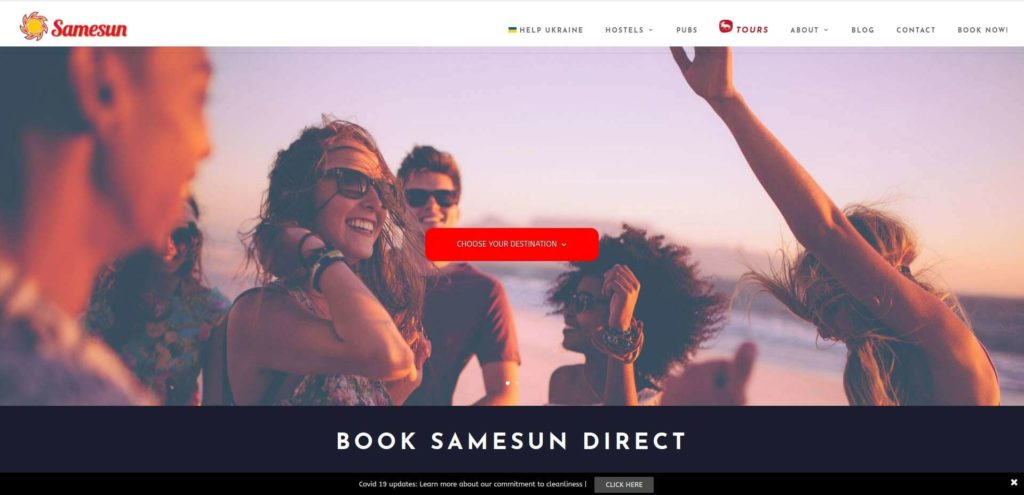 Test
Info
SERVICES
1-Bedroom Budget Suite

Dorms For Multiple People

Bar-Restaurant

WEBSITE
samesun.com
ADDRESS
1018 Granville Street, Vancouver, BC V6Z 1L5
CONTACT DETAILS
1-604-682-8226

Email: [email protected]

OPERATING HOURS
Check-in time: 3:00 PM

Check-out time: 11:00 AM
| | |
| --- | --- |
| Criteria | Ratings |
| Price | ★★★★☆ (4/5) |
| Amenities | ★★★★★ (5/5) |
| Accessibility | ★★★★★ (5/5) |
| Customer ratings | ★★★★☆ (4/5) |
Next on our list is Samesun, located right in the bustling downtown Vancouver. The motel is great for solo travelers, as it is highly accessible and is in close proximity to stations, stores, and other sites and necessities.
Samesun is located around 2 kilometers away from Gastown, which means that famous bars, nightclubs, and restaurants are merely a few minutes away. If you do not feel like leaving, you can also enter the bar and restaurant downstairs and eat there instead.
What sets Samesun apart from other lodgings is that it offers dormitories aside from the usual private rooms. This makes them an ideal option if you are looking for an inexpensive place to stay in, provided you do not mind being in the company of strangers.
Samesun also has communal rooms, a shared kitchen, and private showers. Many of the customers we interviewed praised the staff as they maintain everything neat and tidy despite the foot traffic.
Samesun's rooms have what most people need: a refrigerator, a TV, and an internet connection. They also serve a complimentary breakfast for customers, which is a good perk if you think of the price.
Of course, being situated in the heart of a busy area has its downsides. As expected, some customers complain that the music and noise from the outside seep into their rooms which may make it hard for light sleepers to get some rest at night.
Other customers also report mice in common areas despite the staff's efforts to keep everything clean.
Regardless, we believe that Samesun's affordability and amenities still make the place a good option for those looking for a decent place to stay.
Complimentary breakfast
Dormitory option
Bar and restaurant access directly downstairs
Loud music seeps into rooms
Reports of mice
Customer Reviews
Close to everything you need
It was fun staying here as it is close proximity in every thing and every place you wanted to go (shops, bus, trains, parks, etc) It's warm place to come back to after a day's adventure. Free breakfast is an added bonus. I love the kitchen and the common sitting area. Hand sanitizer are available in many area. In general, it's not perfect but it's great for the price and location. – Izzabella, Google Reviews
Welcoming staff
This location is a ton of fun! The front desk staff is very welcoming. The housekeeping team is a well-oiled machine. Their bar/restaurant The Beaver has fantastic food and drinks, and is a great place to socialize with other travelers from around the world. The building has had some recent renovations done; new carpeting in the common areas, dorm room renovations, upgraded shared bathrooms. Overall, they are killing it! – Brandon, Google Reviews
5. Horseshoe Bay Motel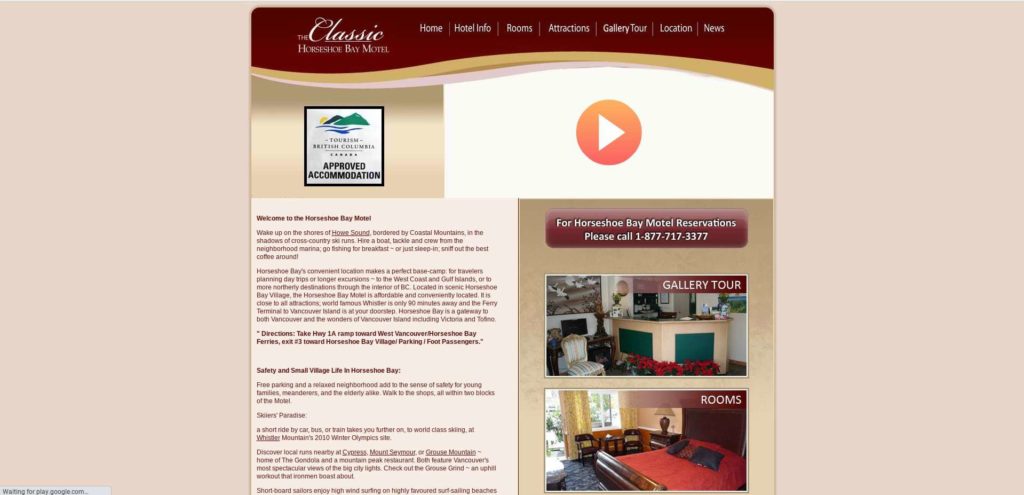 Test
Info
SERVICES
1-Bed Suites

2-Bed Suites

Free Wi-Fi

Free PC Use

WEBSITE
horseshoebaymotel.ca
ADDRESS
6588 Royal Avenue, West Vancouver, BC V7W 2B6
CONTACT DETAILS
604-921-7454

604-913-6588

Email: [email protected]

OPERATING HOURS
Motel operates 24/7.

No check-in and check-out time specified.
| | |
| --- | --- |
| Criteria | Ratings |
| Price | ★★★★☆ (4/5) |
| Amenities | ★★★★☆ (4/5) |
| Accessibility | ★★★★☆ (4/5) |
| Customer ratings | ★★★★☆ (4/5) |
Next on our list is the Horseshoe Bay Motel, a small, family-owned motel a few minutes away from the ferry terminal. Due to its proximity to the terminal, most customers deem this the best motel for people with early morning ferry trips.
In addition to the ferries, the motel is also close to shops, pubs, restaurants, and tourist attractions, most of which are only two blocks away.
The building and the rooms themselves feel dated but cozy, clean, and homelike. The rooms have TVs, wi-fi, microwaves, and minifridges, but no air-conditioner.
We have interviewed a handful of customers, and most of them are filled with praises for the motel and agree with us about the motel's accessibility and cleanliness. Others also took note of the kind people that operate the motel.
However, not all of the customers they got were pleased.
Some customers complained about the motel's payment methods. The Horseshoe Bay Motel only accepts credit cards, so customers with maxed-out cards may not be able to book accommodations.
Others also reported that the noise from the outside seeps into their rooms, which could make some customers lose sleep. Some of the people we interviewed even recommended bringing earplugs.
Overall, the Horseshoe Bay Motel is great lodging with good amenities and clean, comfortable rooms, though it could use better soundproofing.
For the most part, we think it's still a good choice for customers who want to get a good night's rest before boarding the ferry the next day.
Placed near restaurants and pubs
Free parking
Noise from the outside seeps in
No air-conditioning
Credit card payments only
Customer Reviews
Clean rooms
Great location, friendly staff, super clean – updated rooms. Being a local I have stayed in many of the motels on the coast, this is by far the nicest one I have experienced. –Eric, Google Reviews
Accommodating staff
Very clean motel with friendly staff. If you have an early morning ferry and you are worried about traffic on the Sea to Sky, spend the night here and roll out of bed and on to the ferry. – Adam, Google Reviews
FAQs about Motels in Vancouver
---
More Resources for Your Traveling Needs