5 Best Preschools in Vancouver
If you want your kid to get a headstart in their education, then you should consider looking into the best preschools in Vancouver. Lucky for you, we've already done all the legwork!
To help you explore your options, we reviewed all of the preschools and picked those that stood out based on various criteria. Alongside our reviews, we will be providing feedback and discussing the pros and cons in detail.
How much does it cost to get into preschools in Vancouver?
Preschools in Vancouver offer similar but different services. As such, you can expect their prices to vary one way or another, especially due to the number of days your child will be attending school.
Feel free to use the table below to see how much the top preschools in Vancouver charge monthly for their service.
| School | Price |
| --- | --- |
| Little People's Community Preeschool | $320 - $495 |
| Extra Steps Preschool | $195 - $705 |
| Wesbrook Preschool | $220 - $440 |
| St. Giles Parent Participation Preschool | $400 |
| Pomme d'Api | $240 - $535 |
Top Preschools in Vancouver
To craft this article, we picked and reviewed the best preschools based on the following criteria:
1. Little People's Community School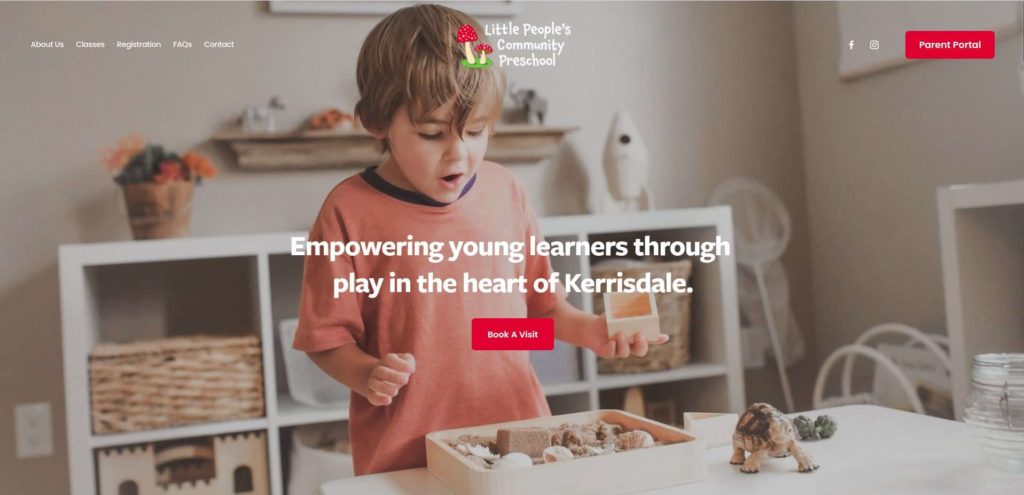 SERVICES
Preschool Classes For 3 & 4 Year Olds
WEBSITE
https://www.littlepeople.ca/
ADDRESS
2733 West 41st Avenue, Vancouver, BC V6N 3C5
CONTACT DETAILS
Email:

[email protected]

604-261-2219

OPERATING HOURS
Monday to Friday: 8:00 AM to 4:00 PM
| | |
| --- | --- |
| Criteria | Ratings |
| Affordability | ★★★★☆ (4/5) |
| Activities | ★★★★★ (5/5) |
| Customer Satisfaction | ★★★★★ (5/5) |
Little People's Community Preschool is one of the most well-loved preschools in Vancouver and for good reasons.
One of Little People's biggest strengths is that it has an exceptional adult-to-student ratio by having 3 fully qualitfied ECE teachers. As such, there is always one adult watching over and taking care of 6 kids.
Little People provides classes for 3 and 4 year olds with a different set of activities for each. The 3 year olds go to school in the morning and learn through outdoor and indoor play.
4 year olds go to school in the afternoon and build upon the skills they learned in their class the previous year.
What's great about these classes are two-fold: they are inclusive and foster emotional growth.
Little People is inclusive in a way that they welcome students that do not speak a lot of English. Even if English is not your child's first language, they are still welcome to learn and play with the others with the teachers guiding them to be more confident with the language.
Little People also caters to children who are not fully potty trained, with the teachers changing diapers and pull-ups whenever necessary.
The school offers a minimum of 3 days per week of school for its pupils, and you can pick the day which suits you best. We wish more days were offered as options.
Teacher-to-student ratio is stellar
Inclusive and accessible to most students
Customer Reviews
Spacious, cozy, and clean school
It is our daughter's second year at Little People Preschool. We can't say enough about this preschool. The preschool itself is spacious, cozy and clean. The teachers are fantastic and it attracts a fabulous group of parents that are all devoted to the their kids and the school. Our daughter comes home full of new knowledge and bubbling with stories. Most importantly we see her thriving socially and gaining confidence by the day thanks to devoted teachers that really understand what it takes to turn toddlers into bright, curious, caring young children ready to face the challenges of elementary school. – Rebecca, Google Reviews
Supportive teachers
The teachers are very supportive and nurtures an environment that encourages learning through play. Monthly speaker series are fun and informative. Our child loves coming to school. We love coming to school with her! – Helen, Google Reviews
2. Extra Steps Preschool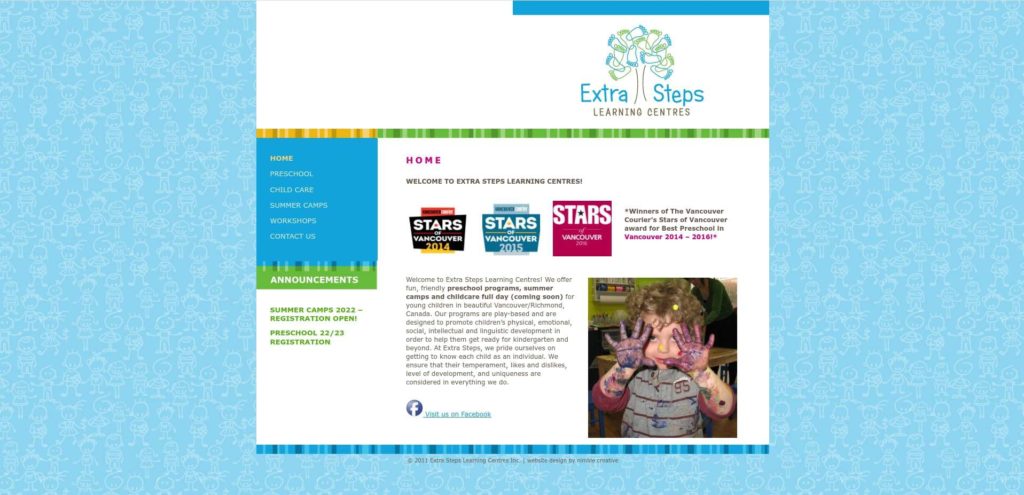 | | |
| --- | --- |
| SERVICES | Preschool For 3 & 4 Year Olds, Summer Camps |
| WEBSITE | https://www.extrasteps.ca/ |
| ADDRESS | 726 W 16th Avenue, Vancouver, BC V5Z 1S7 |
| CONTACT DETAILS | 604-569-0388 |
| OPERATING HOURS | Monday to Friday: 8:30 AM to 12:00 PM, 1:00 PM to 4:30 PM |
| | |
| --- | --- |
| Criteria | Ratings |
| Affordability | ★★★★★ (5/5) |
| Activities | ★★★★☆ (4/5) |
| Customer Satisfaction | ★★★★★ (5/5) |
Extra Steps Preschool in Vancouver is a place where children can learn through playing and so much more.
Extra Steps Preschool has a clean and beautiful, naturally-lit interior filled with a myriad of activities for your kids. Most of these activities involve arts and crafts, where your child can express themselves and create something beautiful in the process.
The teachers will also bring your kids out to nearby playgrounds and parks for playtime outdoors.
Customers we interviewed were all praises for the teachers and complimented how fun and involved they are during the activities of their kids. Others also liked the way teachers communicate with the parents, informing and discussing with them activities to be done ahead of time.
What makes Extra Steps unique is that they offer summer camps for children. Each summer camp week has a different theme, where they can either learn about science or spend their time baking cookies indoors.
These summer camps are well-managed, we think, with 3 staff members watching over a maximum of 20 pupils.
Another thing we liked about Extra Steps is that they can cater to just about any schedule. Parents can choose what day to send their kids to the preschool and choose any combination of days from 1 to 5 classes per week.
This is good for parents who are busy or who are inclined to save money. Sending your kid to school for one day a week costs as little as $195 a month.
The only critique we have for Extra Steps is that their website has only the most necessary information. It would be nice to know more about their programs and the children's activities in great detail.
Regardless, Extra Steps Preschool is still a great option for parents who wish to maximize their time and money while giving their kids quality learning.
One day a week option for preschool
Offers summer camps
Customer Reviews
Offers creative activities
I am always so impressed by the creative activities these wonderful teachers have organised. They definitely use some Reggio inspired art activities. The kids are SO joyful and full of life at this place. The other day I picked my daughter up and she was wearing a superman cape with stickers all over her hands, holding a basket of 'grocery store purchases' and painting a giant papermache pig at the same time. Now THAT is being a kid in the best possible way! – Nina, Facebook
Consistently kind and caring teachers
We've sent both of our girls to Extra Steps. They are a couple of years apart, so the fact that we sent both of them says a lot.
The teachers are kind, caring, and consistent.
Our kids really loved the teachers and we appreciate how fun and attentive they were.
The school is well organized and they've been doing this for a long time. – Soot, Google Reviews
3. Wesbrook Preschool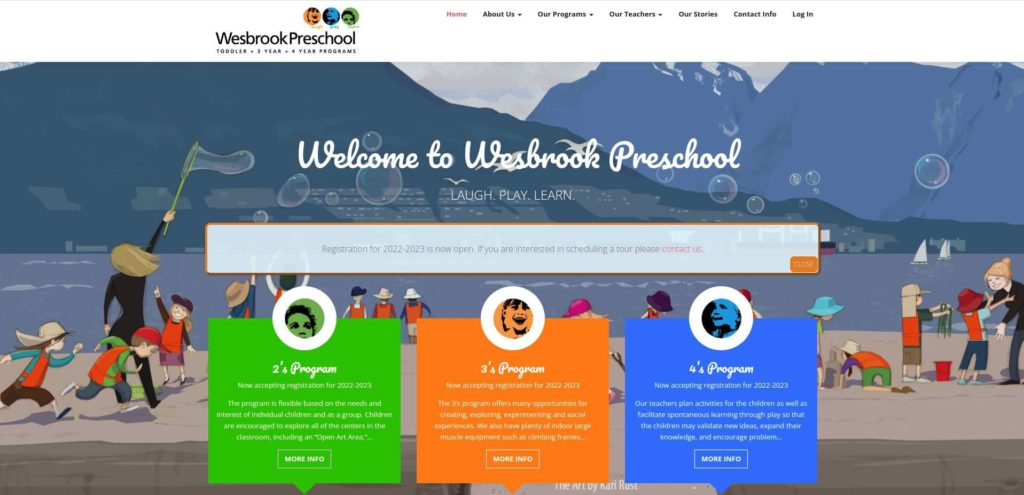 | Pub | Beer, Wine and Cocktails |
| --- | --- |
| SERVICES | Preschool For 2, 3, & 4 Year Olds |
| WEBSITE | https://wesbrookpreschool.com/ |
| ADDRESS | 4405 West 8th Avenue, Vancouver, BC V6R 2A1 |
| CONTACT DETAILS | 604-224-3112 |
| OPERATING HOURS | Monday to Friday: 9:00 AM to 3:30 PM |
| | |
| --- | --- |
| Criteria | Ratings |
| Affordability | ★★★★☆ (4/5) |
| Activities | ★★★★★ (5/5) |
| Customer Satisfaction | ★★★★★ (5/5) |
Wesbrook is a parent involvement preschool in Vancouver. A parent involvement preschool allows parents to actively participate in all of the children's education as a teacher's assistant.
This setup makes the school perfect for those who want to watch over their kids while also learning a thing or two from the teachers.
Of course, this is but an optional activity for parents. For the children, this school packs so many more features.
This school focuses on four different kinds of learning: play, art, music, and sport. One of the strengths of Wesbrook is that it has the facilities for all of these activities.
Wesbrook has an open art room with numerous media and materials for childrens to express themselves. The school also has an indoor playground with slides, climbers, and cars.
Outside, the children can ride trikes and play soccer in an open field. These facilities allow the kids to be as expressive and active as possible as they learn throughout the day.
The parents we interviewed praised not only the facilities but also the teachers for being kind and patient to each and every one of their kids.
Of course, these facilities and activities come at quite a steep price. The program for 3 and 4 year olds costs $440 a month and comes with a $110 annual registration fee and a pretty rigid schedule.
Despite the pricing, Wesbrook Preschool is a good place for parents who want their kids to have the best facilities for holistic development.
Indoor and outdoor playgrounds
Various facilities for different activities
Caters to 2 year olds
Relatively expensive annual registration fee
Rigid scheduling
Customer Reviews
Kind and patient teachers
We love being a part of this parent involvement preschool. We remain super connected to my son and have found some amazing friends in a new community of families. Teacher Jasmina is a wealth of knowledge and experience. She was amazing at helping my cautious boy become comfortable in the classroom. It took us a few months but with patience, kindness and a slow approach we were able to leave our son for the morning class and he felt safe and happy being there. He was always very happy when my partner or I came for duty days but he felt safe in Jasmina's care when we were not there. Very excited to start the 4's class this fall. – Lisa, Google Reviews
Allows children to play, express, and discover themselves
Our family has found Wesbrook preschool to be an incredible school for our children. Through Jasmina's careful and thoughtful teaching techniques she allows the children to express themselves, and helps them to discover new areas of learning, play and social fun. My kids could not wait to get to school, and never wanted to leave at home time. I would absolutely recommend this preschool to any parent considering it. – Jennifer, Google Reviews
4. St. Giles Parent Participation Preschool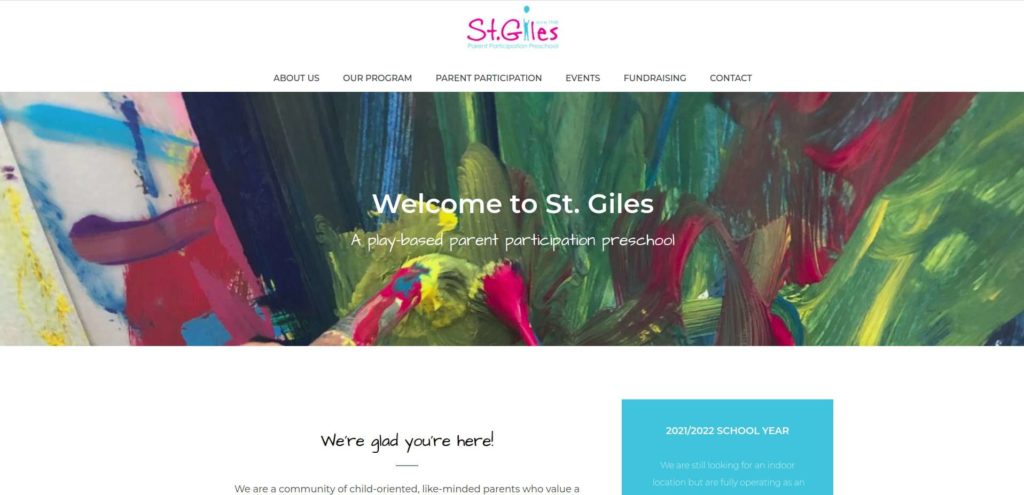 SERVICES
Parent Participation Education

Outdoor Learning

WEBSITE
http://stgilespreschool.ca/
CONTACT DETAILS
604-325-0114
OPERATING HOURS
Monday: 12:00 PM to 4:00 PM

Tuesday to Thursday: 9:00 AM to 4:00 PM
| | |
| --- | --- |
| Criteria | Ratings |
| Affordability | ★★★★☆ (4/5) |
| Activities | ★★★★★ (5/5) |
| Customer Satisfaction | ★★★★★ (5/5) |
St. Giles Preschool is another parent participation preschool in Vancouver. What makes them unique is that they focus entirely on outdoor play and learning.
Out of the confines of a building, children follow a program under the supervision of both volunteer parents and teachers alike. The school's home base is Queen Elizabeth Park, but it also travels to Richmond Nature Park and Jericho Beach.
The school also organizes program enrichment activities, such as paying visits to policemen, firefighters, and other local exceptional people such as the mouth painter Cody Tresierra.
Traveling and learning outdoors can give children a learning opportunity vastly different from that of a purely indoor setting. In addition to going to parks and beaches, the school also holds an annual camping trip and hosts different events for special occasions.
Another thing we like about St. Giles is that they list down the name and credentials of their teachers. We believe that this could build rapport and trust between the teachers and the parents, which could lead to a better experience for everyone.
The only things we believe could be an issue for parents are threefold: the steep price of $400, the purely outdoor setting for learning, and that the school allows for mixed learning and playing for 2.5 to 5 year olds.
However, if you are okay with all of these and understand what you're signing up for, St. Giles offers a unique and fun learning experience.
Focuses on outdoor play
Program allows parents to participate
No physical location as of the moment
Customer Reviews
Combines learning and playing
My son loves St. Giles. It is the perfect balance between early education and letting kids be kids through play. The teachers are wonderful and have been with the school for many years. The space is warm and inviting — room for kids of all sizes and personalities — and the parent education is invaluable to our family. We feel extremely lucky to have found St. Giles and the other caring familes of the St. Giles community. I would also mention that despite the name, this preschool has no religious affiliation. Families from all backgrounds are welcome. – Sophia, Google Reviews
Caring and attentive teachers
A fantastic play based preschool with great resources, caring and attentive teachers and a very welcoming community of parents and families. Highly recommended! – Renee, Google Reviews
5. Pre-Maternelle Pomme d'Api Preschool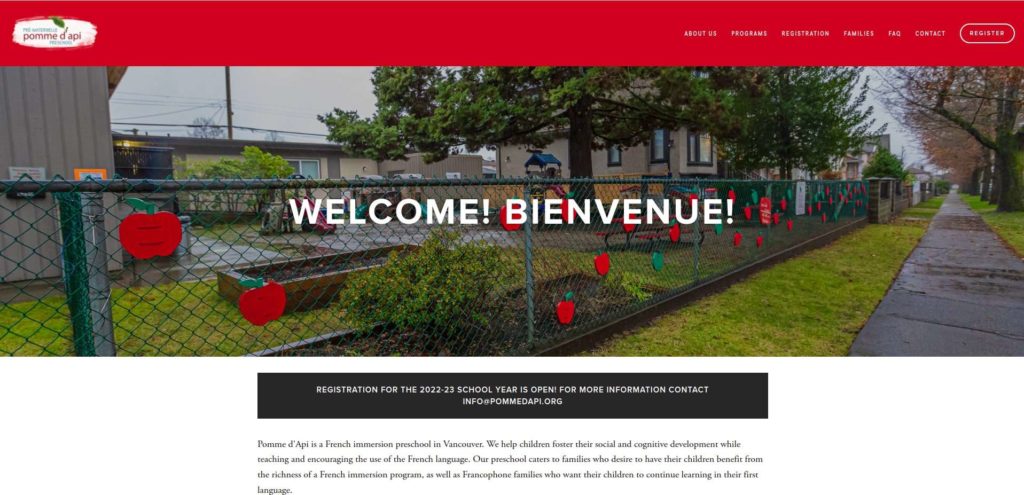 | | |
| --- | --- |
| SERVICES | Preschool For 2.5 Year Olds And Above, French Immersion |
| WEBSITE | https://www.pommedapi.org/ |
| ADDRESS | 2190 East 44th Avenue, Vancouver, BC V5P 1N2 |
| CONTACT DETAILS | 604-800-1197 |
| OPERATING HOURS | Monday to Friday: 8:30 AM to 4:00 PM |
| | |
| --- | --- |
| Criteria | Ratings |
| Affordability | ★★★★☆ (4/5) |
| Activities | ★★★★★ (5/5) |
| Customer Satisfaction | ★★★★☆ (4/5) |
Pomme d'Api is a preschool different from other schools, mainly because they teach a Francophone program to their students.
Pomme d'Api is the best for parents who want to teach their children French for various reasons. The preschool caters to both French-speaking families and families that wish to have their kids benefit from learning a new language.
Upon finishing preschool, the students can still enter English-speaking elementaries, but their experience with Pomme d'Api would be of added benefit if you wish to send them to Francophone schools.
The preschool teaches French as naturally as possible through play, music, and arts. Of course, this is not the only thing that makes Pomme d'Api different.
The school has great facilities for learning. Students can play and learn indoors and will get an outdoor playtime in a fenced playground where they can run, dig, and have fun.
Pomme d'Api also hires highly qualified Early Childhood Educators with complete French fluency and certifications for First Aid and CPR.
All of this combined creates a community of high quality learning, albeit in a different language.
The school is good for parents who need a flexible schedule, too. You can enroll your kids in 1 of 4 different programs, ranging from 2-day classes to 5-day classes weekly, whichever suits you.
The only downside of the school in our opinion is that your child has to be fully potty trained before being enrolled, unlike in other preschools.
Wheelchair accessible building
Outdoor and indoor play areas
Child needs to be fully potty trained
Customer Reviews
Beautiful school inside and out
My daughter has been attending Pomme D'Api for 2.5 years. She loves attending the school. The inside of the school is very nice and they have a lovely playground that is well enclosed. The teachers are fabulous and she has become interested in picking up a new language. Given her young age she has picked up french well and can now sing songs in French. I would highly recommend this school to any parent. – Erin, Google Reviews
Accommodating to bilingual families
My daughter loves going to Pomme D'api. She comes home excited about her day, and full of stories about her friends. She loves the crafts they do and the songs they sing. As a bilingual family, we were looking for an opportunity to expose our child to French before francophone kindergarten. Pomme D'api has been a perfect transition. The school accommodates both English and French speaking families and all communications are in both languages, so no parent feels left out of the loop. We will certainly be sending our second child here when the time comes. – Melissa, Google Reviews
FAQs about Preschools in Vancouver
---
More Resources for your Educational Needs