The 7 Best Window Cleaning Services in Vancouver
If you have more than one floor, cleaning windows is a risky chore – and a time-wasting one too. Better to hire a window cleaning service to make sure that you won't waste your time and you won't break any bones cleaning windows.
That's where we can help. We tried out different window cleaning services to give you the list of the best window cleaning services in Vancouver!
How Much Does it Cost to Get Your Windows Cleaned by the Best in Vancouver?
Let's discuss the cost of getting a Vancouver window cleaning company first.
Some companies prefer to price their service per window pane, while others have a per-hour rate.
You can look at the table to see the average per-hour rate, per-window rate, and the different rates for each type of window.
| | |
| --- | --- |
| Service Type | Price |
| Average Per Hour Rate (Residential) | $60 and up |
| Average Per Window Pane Rate (3 x 6 feet) | $5 and up |
| French Panes | $1.50 per pane |
| High-rise Building Windows | $85 and up per hour |
The prices listed on the table are just the current national averages. Cost can still go up or lower due to different factors.
The Best Window Cleaning Services in Vancouver
Prepared your budget already? Great because we'll now be talking about Vancouver's top window cleaning services!
1. Rise & Shine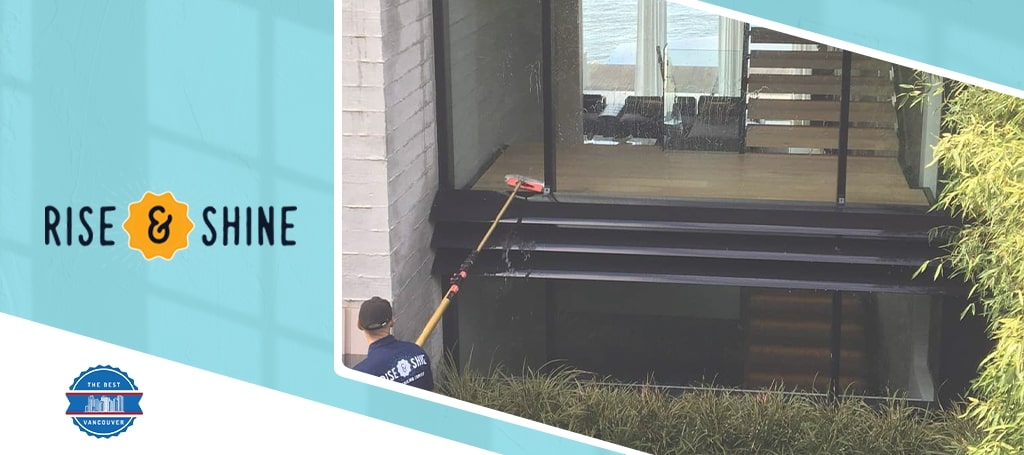 OTHER SERVICES
Window Cleaning
Gutter Cleaning
Moss Removal
Pressure Washing
ADDRESS
Contact for more information
CONTACT NUMBER
(778) 835 7473
WEBSITE
https://www.riseshinehome.com/
OPERATING HOURS
M-F: 8am – 6pm
Rise & Shine Home Services is a local, owner-operated company in Vancouver, Canada, providing professional window cleaning, gutter cleaning, and moss removal services.
With over 17 years of experience, they are dedicated to delivering high-quality services to protect your biggest asset – your home. Their team pays close attention to detail, ensuring a thorough cleaning every time.
Customer service is our top priority, and we strive to provide value to our clients by offering cost-effective solutions.
Their services are tailored to meet your specific needs, and we always prioritize environmentally friendly methods. They believe in delivering professional, top-notch results that make your home shine.
At Rise & Shine Home Services, they understand the importance of protecting your investment. That's why they use only the best products and techniques to clean your windows and gutters, leaving them spotless every time.
Their team takes pride in their work, ensuring an stress-free experience for our clients. Contact them today to schedule your next window cleaning, gutter cleaning, or moss removal service and experience the difference of working with the best in the business.
High level of professionalism
Uses top-of-the-line equipment
More than 17 years of experience
High quality and cost-effective solutions
Closed during the weekends
Customer Reviews
"I first hired Rise & Shine Home Services back in 2014 when I was organizing window cleaning (including skylights), gutter cleaning and moss removal for a heritage home I was renting at the time. Rise & Shine did an excellent job and took the time and care to do things right. After I moved the landlord hired another well-known franchise and after disappointing results, the landlord hired Rise & Shine to fix things – they have been their go-to contractor ever since. Over the years I have hired and recommended Rise & Shine for numerous residential homes and apartments, and businesses too. I'm always very satisfied with their work and customer service."
"The Rise and Shine crew did a great job! They arrived on time and worked hard to give us very clean windows and gutters. They did a great job on the gazebo roof even getting the many years old raccoon poop stains off! We will definitely call them next time!"
2. Green Grads Window and Gutter Cleaning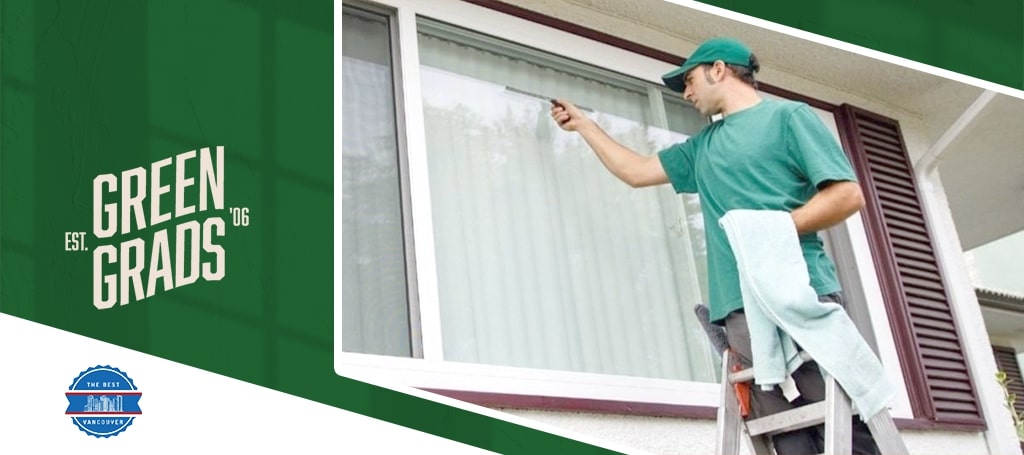 OTHER SERVICES
● Gutter Cleaning
● Pressure Washing
● Seasonal Services (Christmas light installation, leaf removal, etc)
ADDRESS
3381 Cambie St #657, Vancouver
CONTACT NUMBER
778-984-7237
WEBSITE
https://www.greengrads.ca/
OPERATING HOURS
Monday – Friday: 9:00 AM – 5:00 PM
There's a reason Green Grads is called Green Grads. With a focus on sustainability, they ensure that they only use natural (green!) solutions on your windows.
They're also very thorough when cleaning windows – they clean them by hand. Yep, with just squeegee and mop, they're very meticulous and in our experience, don't skip anything when cleaning.
More than that, they also offer interior window cleaning. No more looking out through blurry windows with these guys in charge!
Another good thing about them is that they have insurance. In case they break something in your house, they'll replace it.
That's a nice bit of assurance, especially since window cleaning services can be pretty risky if the person cleaning it isn't very gentle with the glass.
Aside from cleaning residential properties, Green Grads also offers cleaning packages for businesses. Overall, they're a pretty good service.
However, we still noticed some issues with them.
First, they're only open during the weekdays, which is a bit of a hassle if you prefer having your windows cleaned when you're home. After all, you typically want to keep an eye on the personnel working in your place… though this won't be true for everyone.
Second, you'll only get their rates if you contact them. A bit annoying if you don't really want to wait around just to get a quote, to be honest, even if it's common enough.
The company uses sustainable practices
Cleans the window by hand
Offers interior window cleaning service
Their team has insurance
Can clean stratas, homes, and commercial buildings
Closed during the weekends
You need to wait before you get a quote from them
Customer Reviews
Customers also love how Green Grads left their windows spotless:
"Greengrads did a great job! They did both interior and exterior cleaning. Our windows look clearer than they have in a long time. They were friendly and professional and easy to communicate with." – susan baer
"Green Grads did an excellent job power washing our path and cleaning our windows. I wouldn't hesitate to hire them again." – Jon Sanders
3. Men In Kilts Vancouver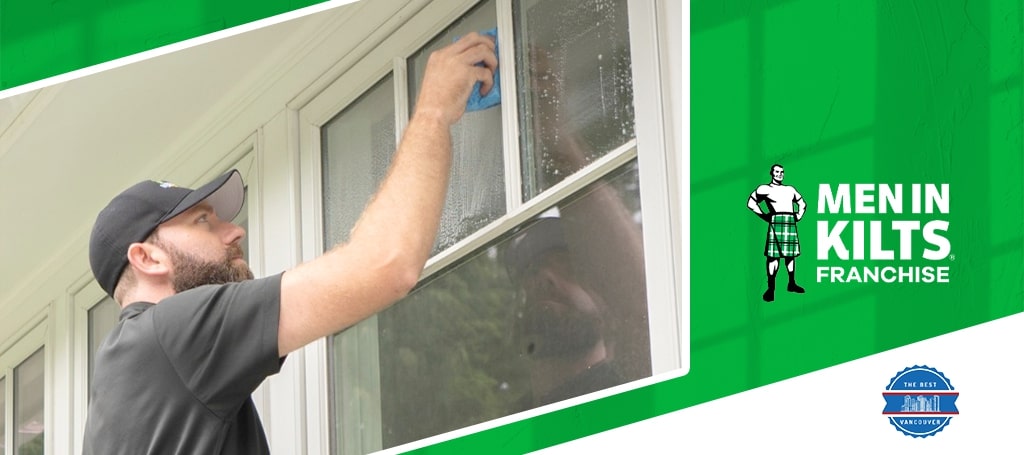 OTHER SERVICES
● Gutter Cleaning
● House Washing
● Pressure Washing
● Commercial Services
ADDRESS
8866 Laurel St #8, Vancouver
CONTACT NUMBER
604-638-6996
WEBSITE
https://meninkilts.ca/
OPERATING HOURS
Monday – Friday: 8:00 AM – 4:30 PM
Yes, they actually do their work wearing kilts. It started as a way to make the cleaning company look friendlier, and hey, we think it definitely worked as their employees are really easy to talk to!
Don't let their kilts fool you into thinking this is a less serious cleaning service though. Their staff are well-trained and are pretty great in what they do.
Men In Kilts also doesn't miss a spot. And if they do, they can guarantee that that spot will be gone for free when they return.
To take advantage of that guarantee, message them about an issue within 48 hours so they can clean your windows again free of charge. That's a pretty solid offer, we think.
Although we think they're one of the best window cleaning services in Vancouver, we still have a problem with their rates being only available if you message them.
We know that it's a standard for many service companies but it'll be helpful to at least see the base rates publicly so we don't have to wait for replies.
Another thing is that they're also closed during the weekends. While they can still clean windows even when you're out, it would still be nice to see who will be cleaning your window.
The whole team is well-trained
Guarantees 100% satisfaction through their Kilt Clean Guarantee
Offers services for commercial buildings
Doesn't publish their base rates
Closed during the weekends
Customer Reviews
Based on the reviews, this company is well-liked due to their fantastic service:
"👍👍👍
⭐️⭐️⭐️⭐️⭐️ – Fantastic experience and service! From the quotation to the completed project, everything was seamless. Communication and professionalism of the entire team is outstanding! Highly recommend!" – Brett Henderson Vancouver
"Quick response time initially and they even arrived early to perform the work! Windows look great – efficient, professionally done. The men in kilts were friendly and had a good attitude. Will book again in the future." – Erica Wall
4. Imagine Maintenance Ltd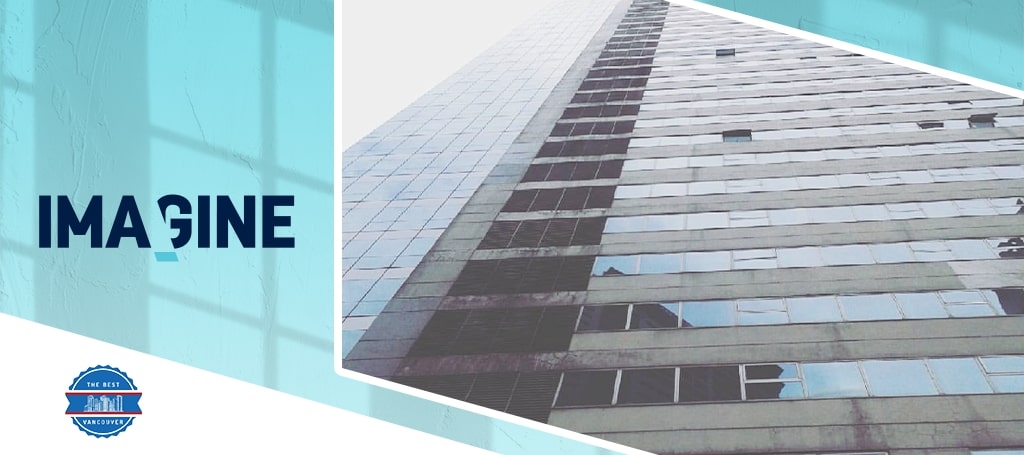 OTHER SERVICES
● Gutter Cleaning
● Awning Cleaning
● Pressure Washing
● Dryer Vent Cleaning
● Disinfection
● Moss Removal
● Exterior Cleaning
ADDRESS
125A – 1030 Denman Street, Vancouver
CONTACT NUMBER
604-909-4711
WEBSITE
https://imagineservices.ca/
OPERATING HOURS
Monday – Friday: 7:00 AM – 5:00 PM
This Vancouver-based window cleaning service is one of the best. This company has been cleaning windows in residential and commercial buildings since 2005.
It's nice to see a window cleaning service that can also do commercial strata buildings as commercial buildings are higher and the windows are harder to clean. Their experience indicates that they don't struggle here, though.
In fact, we even found them so popular in this area that several companies have them on a contract for regular cleaning.
If you're a business owner and want to have Imagine Maintenance clean your windows the whole year, you can book their annual maintenance package. And yes, that package does include a discount for their services.
You also don't have to prepare cash or cheque when they clean your building. Their website has an invoice payment option, which we love all the more due to the current situation (most of us are trying to go cashless, after all).
As for their downsides, like other companies here, they're closed during the weekends too. Unfortunately, it seems to be the trend for the better window cleaners in our city.
Another downside is that they also don't offer any guarantees where they can re-clean your building if you're not satisfied with their cleaning result.
They have a discounted package
Can work with commercial strata buildings
You can pay on their website
Closed during the weekends
No cleaning guarantees
Customer Reviews
Many people love Imagine Maintenance Ltd due to their professional service and quality consistency:
"The service provided to us over the years by Imagine Maintenance has consistently been amazing! We have utilized their services for over 5 years in all our Papparoti Cafes and will definitely continue doing so as they are a very reliable & professional team!" – Sherri Zarandooz
"Great company! Love the effort they put on your business. Our building is nice and clean now for the new year!! Garrett and his crew came by on time and finished in a timely manner. They did a great job with our windows and building.
Thank you Imagine Maintenance!" – Paula Mendoza
5. First Class Window Cleaning & Gutter Cleaning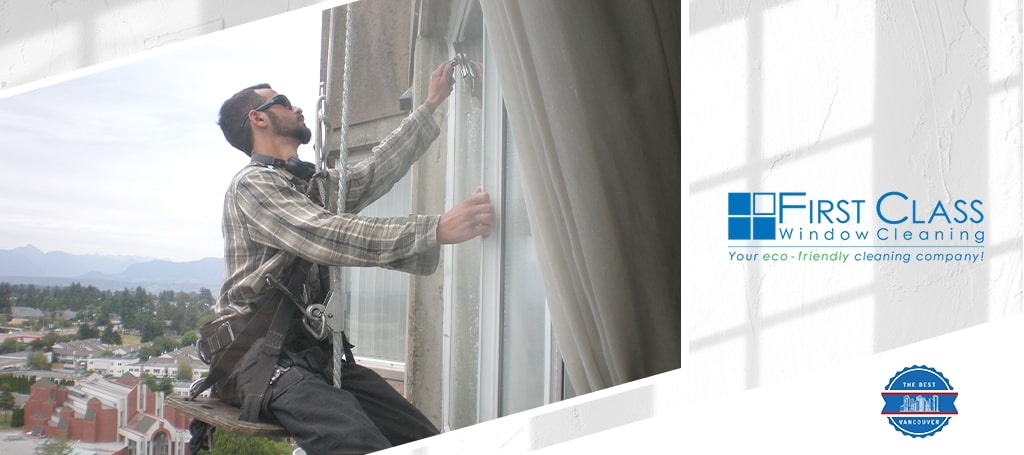 OTHER SERVICES
● Gutter Cleaning
● Pressure Washing
ADDRESS
3603 Napier St, Vancouver
CONTACT NUMBER
778-896-8653
WEBSITE
http://firstclasswindows.ca/wp/
OPERATING HOURS
Monday – Friday: 8:00 AM – 5:00 PM
Aside from helping clean the windows of commercial properties and homes, First Class Window Cleaning & Gutter Cleaning also serves strata buildings and from our survey, is trusted by many customers around the Vancouver area.
This combination of trust and their range of services makes them one of Vancouver's top window cleaning services.
Besides cleaning the common interior and exterior windows, this company can also clean skylights, railing glasses, and awning glass. If your house has all of these things, then the team at First Class can do all of that.
Now, if you think using a squeegee won't work with your windows, then this company can also use water-fed tuckers that can reach higher floors. We think the water-fed tucker poles are very efficient for high-rise buildings.
On the other hand, they don't have a cleaning guarantee. We'd have preferred otherwise.
We know that they clean the windows thoroughly, but mistakes can happen. That's why we think it's important to at least have a guarantee for customers so when mistakes happen, the company can resolve them.
Other than the cons of previous window cleaning services in this list, their monthly service is also limited to business owners.
While we know this is important to storefronts, homeowners like us would still appreciate it if there's at least a package for us too. It sometimes is annoying to book then wait for confirmation every time.
Can clean different window types ie, skylights and awning glass
You can choose whether their staff will use a squeegee or water-fed tucker poles
No cleaning guarantee
Their monthly package is limited to businesses
Customer Reviews
Here are customers praising this company for doing even difficult window cleaning jobs:
"I was greeted prior to the job with the lead washer who confirmed that I was the correct person, and we went over some of the challenges of having skylights and added services to the job. The work done by the two gentlemen was prompt, professional and with utmost care not to disturb newly planted flower beds. Can highly recommend this company whom I have used over several years." – Leslie Disler
"The crew arrived right on time. They were very diligent and they checked each other's work. Very polite. The window cleaning of our 4-storey walk-up condo was done very thoroughly but also in a timely manner. All residents/ owners were treated courteously. We will continue hiring First Class Window Cleaning." – Carllie Hennigan
6. Zuke Cleaning Services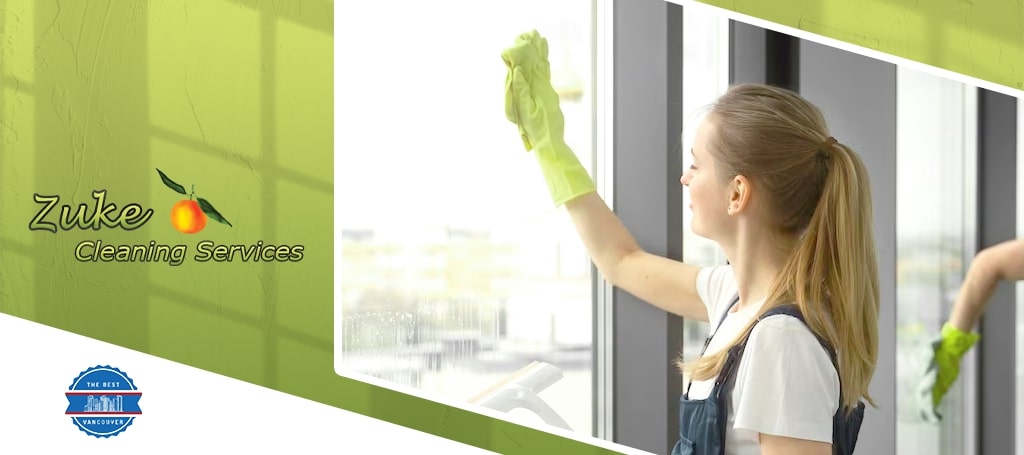 OTHER SERVICES
● Pressure Washing
● Condo Balcony Cleaning
● Cleaning Services
ADDRESS
1133 Beach Ave, Vancouver
CONTACT NUMBER
604-365-7849
WEBSITE
https://zukecleaning.com/
OPERATING HOURS
Monday – Sunday: 8:00 AM – 7:00 PM
This Vancouver Window Cleaning Service offers window cleaning services to residential and commercial buildings.
They also do interior windows, balcony glass, awnings, atrium, and skylights cleaning. That's a lot of range, don't you think?
You can also be assured that this cleaning service has a good reputation. Zuke Cleaning Services has previously worked with Bosa Properties, West Haven Group, and many more.
Another great thing about this company is that they're open during the weekend! And they have long hours too, which means they can even clean your windows until 7:00 PM.
However, we have an issue with this company because getting a quote from them is quite hard.
Unlike other websites that provide a specific form for quotes, you'll need to email this company or text them just to get one.
Another issue we have is that they don't offer any long-term package. It would be nice to have a long-term package so loyal customers won't need to book every single time the windows need cleaning.
Can clean different window types in residential and commercial properties
Trusted by many companies
Open until weekends
Long hours
No specific form to fill out for a price quote
No long-term package for customers
Customer Reviews
Zuke Cleaning Services has been praised by customers due to how thorough this company cleans:
"Absolutely first rate experience with Cory! Had an important event coming and needed two tall banks of windows cleaned and deck and stone stairs power washed. He and his assistant arrived on time, worked efficiently and even went out of his way to get creative and find a way to clean two other seemingly impossible to reach outside windows in a different area. Mission Impossible!! Above and beyond the call of duty. Windows looked the best they have since I bought the unit new!! Power-washed stone stairs unrecognizably clean and fresh. Will use for twice annual check-ups. Cordial, clean and professional. If they had a sixth star I would give it!" – John C
"Cory has power washed our deck and washed the windows for several years, and is very thorough and professional. Our deck is transformed after every visit.
He is the best at what he does, and always pleasant and receptive. I highly recommend Zuke Cleaning Services." – Kath drumheller
7. Anthony's Window Cleaning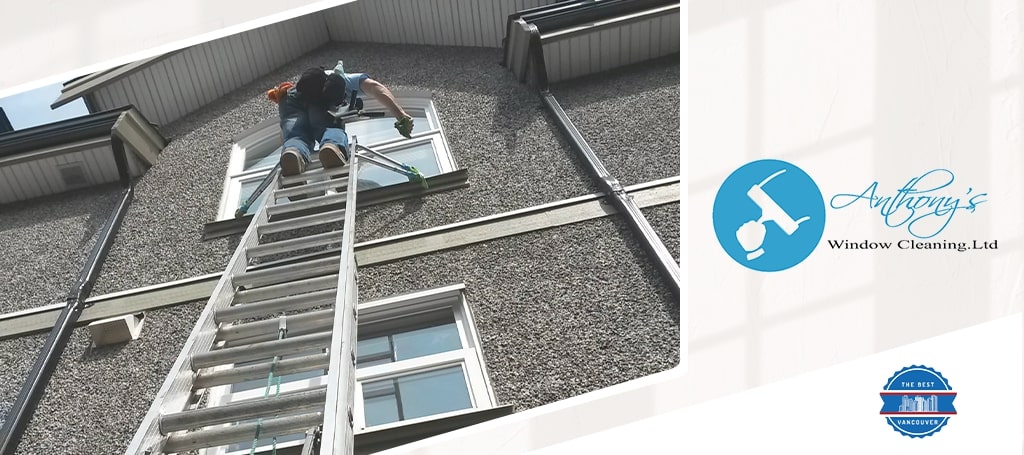 OTHER SERVICES
Interior and Exterior Maintenance
Gutter Cleaning and Repairs
ADDRESS
North Vancouver, BC V7J 3H4
CONTACT NUMBER
(778) 558-3226
WEBSITE
https://anthonyswindowcleaningbc.ca/
OPERATING HOURS
Monday – Saturday: 8:00 AM – 5:00 PM
Anthony's Cleaning Window is a company that specializes in window cleaning services among other services as well such as gutter cleaning and interior and exterior maintenance. They service clients all across North Vancouver in the British Colombia area.
The company prides itself on its high-quality services streak-free along with the absence of smudges in the said windows. They cater to residential jobs and provide pressure washing services to ensure better cleaning quality.
The company also offers free estimates and quotations along with the assurance that they are licensed and insured. They are driven to provide professional and efficient domestic janitorial services with a staff that is committed, adequately trained, and focused.
We recommend this company for clients looking for window cleaning services or other house maintenance needs due to their fast and reliable service along with equally accommodating staff that is eager to answer the client's queries.
Free estimate
Adequately trained workers
Accommodating customer service
Only caters to a specific area
Customer Reviews
Here are some reviews from their clients:
"Anthony was an incredible craftsman to deal with! We were very impressed at how well he took care and pride in doing a excellent job. Here are somethings that stood out to us:
Arrived on site exactly when agreed
Had all the right gear and specialized ladders to reach our incredibly high gutters at 35 feet safely
Bagged all the organic material in the gutters
Asked if we wanted to add the matter from the gutters to our City of Vancouver Organics Bin
Took a sponge to the gutters as a final step to get the gutters sparkling!
We will most definitely be using Anthony's service again."
"Anthony arrived right on time and is courteous and friendly. He takes tremendous pride in his work. My windows are sparkling! His prices are very reasonable and it was a pleasure to have him work in my home. I will definitely have him back and will pass his name on to my friends."
FAQs About Window Cleaning Services
---
Alright, now that you know the best window cleaning services in Vancouver, you can just message them and have your windows cleaned!
Did we miss a window cleaning service? Tell us and we'll review them!
Since window cleaning might take some time, why not relax and just order a pizza while waiting? If you don't know where to order, we have a list of the best pizza deliveries in Vancouver!