The 6 Best Teeth Whitening Places in Vancouver
So you want to smile more, but you're insecure about your teeth. Maybe they're a little more yellow than you'd like them to be.
Or maybe you're not insecure, but you'd like your teeth to be a little more pearly. Either way, we've compiled a list of the best teeth whitening clinics in Vancouver to help you get the smile you want, so don't fret.
How much is teeth whitening in Vancouver?
There are some factors that go into how much teeth whitening can cost you. For example, teeth that aren't as stained are going to cost less to whiten than teeth that are heavily stained.
You can see that in the rates below:
| Service | Fees |
| --- | --- |
| Mild Staining | $140+ |
| Medium Staining | $155+ |
| Heavy Staining | $155+ |
| Touch Up | $90+ |
Keep in mind that the table above is just for reference and may not be reflective of how much you'll actually end up paying.
The Best Teeth Whitening in Vancouver
In order to assess the best teeth whitening places in Vancouver, we used the following criteria:
1. Shine + Smile Teeth Whitening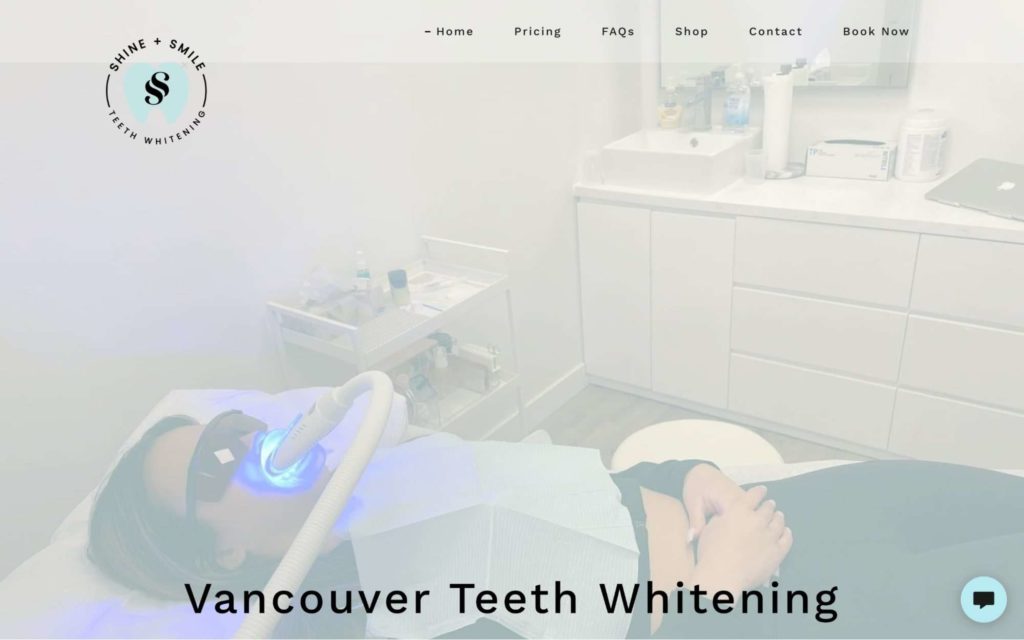 | Test | Info |
| --- | --- |
| ADDRESS | 960 Kingsway, Vancouver, British Columbia V5V 3C4, Canada |
| WEBSITE | https://shineandsmile.ca/ |
| CONTACT DETAILS | Email: [email protected] |
| OPERATING HOURS | Variable, appointments can be booked for Wednesday, Thursday, and Friday |
| | |
| --- | --- |
| Price | ★★★★☆ (4/5) |
| Availability | ★★★☆☆ (3/5) |
| Facilities | ★★★★☆ (4/5) |
| Customer Satisfaction | ★★★★★ (5/5) |
The thing that stuck out to us about Smile + Shine Teeth Whitening is that they're exactly who they say they are. They are a place that focuses exclusively on whitening teeth, as their name would suggest.
We liked that they're focused on doing that one thing and, based on what we've seen, they do it very well. We noticed that clients love the way their teeth have come out after getting serviced.
They also have resources on their website to help clients and potential clients get ready for teeth whitening and we like that they extend that level of care. They even have products for clients to whiten their teeth at home.
Their facilities at their studio are, in our opinion, top-notch. It's a comfortable place to get your teeth whitened, in our experience.
Another thing that we liked was the free street parking. It's not available on weekdays from 3:00PM to 6:00PM, but outside of that window, it's a convenient little bonus to their already exemplary facilities.
If there's one thing we didn't like too much, it's their availability. We looked at their online bookings and they've only got open slots on Wednesdays, Thursdays, and Fridays.
Other than that, we liked basically everything we saw about Smile + Shine.
Great facilities
Some free parking
Customer reviews:
Quick and effective
"I had always put off whitening because I didn't want to deal with flimsy and messy whitening strips or sensitivity. To my surprise, the whitening session was quick and effective, and I experienced no sensitivity at all. Elaine was extremely knowledgeable and patient with me even after I failed to follow instructions. Oops! The level of service was impeccable. I will be back for touch ups and highly recommend Shine + Smile to all!" – Anna Riley
Noticeable difference
"I loved my experience at Shine + Smile! The color difference of my teeth was so noticeable even friends over Zoom can tell. It lasted for some quite time as well. She was so lovely and explained everything clearly. Would definitely go back!" – Christine Joi
2. Willow Dental Care Vancouver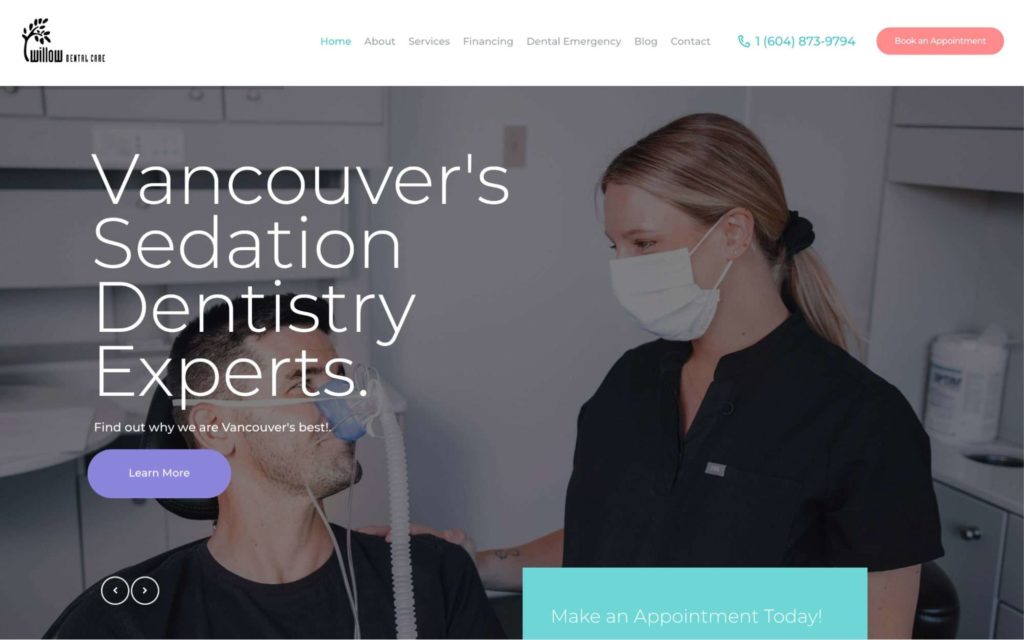 | | |
| --- | --- |
| Price | ★★★★☆ (4/5) |
| Availability | ★★★☆☆ (3/5) |
| Facilities | ★★★★☆ (4/5) |
| Customer Satisfaction | ★★★★☆ (4/5) |
Here's what we liked about Willow Dental Care Vancouver: they put people at ease and make them feel comfortable.
Not everyone likes the idea of having someone using tools to poke around in their mouths, so for them to be able to make their clients feel safe and comfortable with that was a huge plus in our book. It demonstrates to us a level of care for their clients.
Their facilities are excellent, by the way. We expected as much from a full-on dental clinic and they did not disappoint.
And, being a full-on dental clinic, they don't just whiten teeth but fix them too.
As far as their teeth whitening goes, there are two options for clients: either they can do it at their clinic or they can get a take home kit to do at their convenience.
That is something that we liked because it's considerate of people who may not have time to sit for up to an hour and a half.
We've only noticed one drawback and that it's that some clients seem to find the clinic's organization to be somewhat lacking. But overall, most of the people we've encountered seem more than satisfied with the service that they've received.
Full dental practice
Staff helps calm patients down
Reports of being occasionally disorganized
Customer reviews:
Fantastic staff
"I have significant anxiety of dental work and have been without dental benefits for many years. This was my first visit to a dentist in (embarrassingly) over a decade. I was a bundle of nerves, and the staff and Dr. Plavsic were fantastic throughout the entire appointment. I'm thrilled to have found my new (and regular!) dentist." – Anna Polden
Nothing short of exceptional
"My experience at willow dental care was nothing short of exceptional. The staff were incredibly warm, welcoming and professional. I felt very safe as all health and safety protocols had not only been met but exceeded. Thanks! willow dental care for the best cleaning I have ever had." – Tyler Simpson
3. Pearl Boutique Dental Hygiene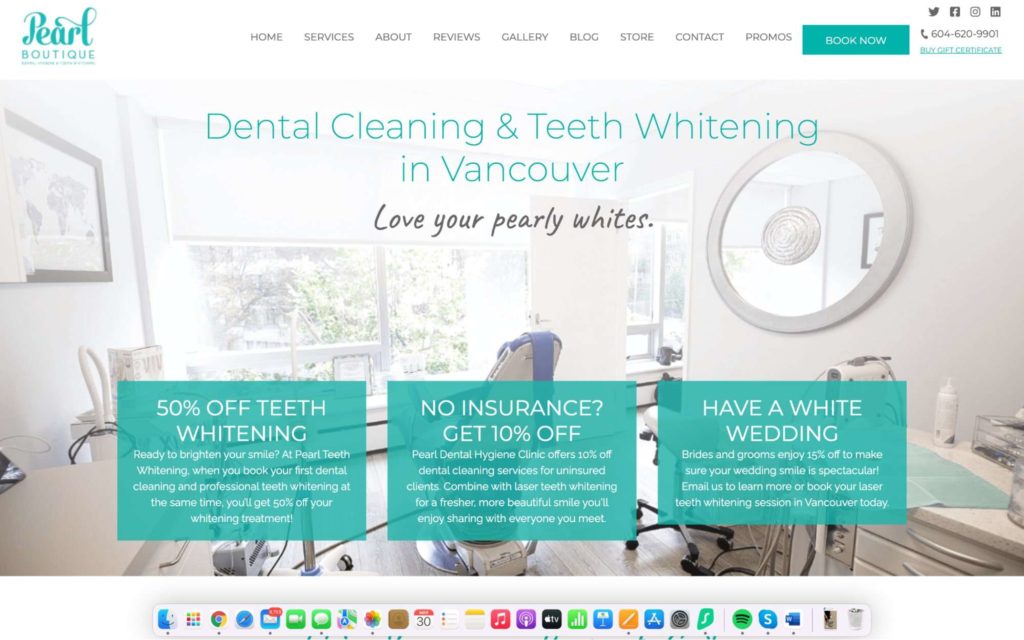 Test
Info
ADDRESS
3195 Granville St #205, Vancouver, BC V6H 3K2
WEBSITE
https://teethwhiteningbypearl.com/
CONTACT DETAILS
Email:

[email protected]

604-620-9901

OPERATING HOURS
Monday : 10:00am – 6:00pm

Tuesday : 11:00am – 7:00pm

Wednesday : 11:00am – 7:00pm

Thursday : 11:00am – 7:00pm

Friday : 8:30am – 4:30pm

Saturdays : 9:00am – 5:00pm (2 per month)

Sundays & Holidays : Closed
| | |
| --- | --- |
| Price | ★★★★★ (5/5) |
| Availability | ★★★★★ (5/5) |
| Facilities | ★★★★★ (5/5) |
| Customer Satisfaction | ★★★★★ (5/5) |
The first thing that caught our attention with Pearl Boutique Dental Hygiene was how impressive their facilities are. Between the hardwood floors and the lighting, it felt less like a clinic and more like a spa – or a boutique, as their name would indicate.
As far as actual procedures go, we noticed that they made clients feel comfortable, not just with their chair or their position, but with the procedure in general.
They explained what was going on with the teeth whitening and we liked that they went the extra mile to make their clients feel more at ease with what's going on. That's important, especially since they use an LED laser for the procedure (which can scare some people).
Another thing that we really liked about them was that they offered a variety of promos to their clients to slash the price of the services.
We tried out their online booking system for ourselves and found a lot of available slots. We think that that's something that goes a long way as far as being convenient for people's schedules goes.
Our main gripe is that their teeth whitening can sometimes leave something to be desired. However, open communication with what shade is desired should help to avoid an unsatisfactory whitening.
Cozy facilities
Lots of availability
Lots of promos
Teeth whitening may be somewhat unsatisfactory
Customer reviews:
Wonderful experience
"I am amazed by what my teeth look like! I had such a wonderful experience and the results are stunning! I know everyone's teeth are different to sensitivity but mine feel great after my whitening session! I would highly recommend this place! Xo" – Janelle Ozimko
Amazing job
"Lovely experience from the moment I walked in the door. Emma was incredibly friendly welcoming me, and Elisha did an AMAZING job of my cleaning. She had her work cut out for her, and she made it as painless as possible, while still giving me a deep clean. Great sense of humour and made me feel incredibly comfortable the whole time. Lindsay did my whitening and she was also very lovely. Made me feel at ease and walked me through the process beforehand – I did experience some sensitivity, but she prepared me ahead of time." – Marayna Dickinson
4. Mint Smilebar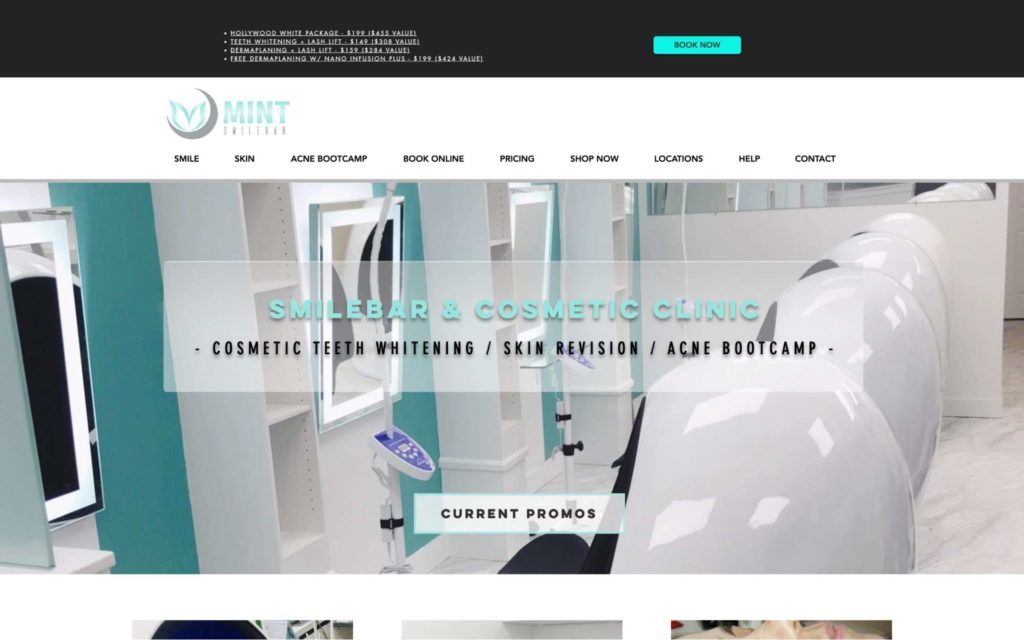 Test
Info
ADDRESS
88 W Pender St #1123, Vancouver, BC V6B 6N9
WEBSITE
https://www.mintsmilebar.com/
CONTACT DETAILS
604-559-7117
OPERATING HOURS
Sunday: 10:00am to 4:30pm

Monday: CLOSED

Tuesday - Saturday: 10:00 AM to 6:30 PM
| | |
| --- | --- |
| Price | ★★★★☆ (4/5) |
| Availability | ★★★★★ (5/5) |
| Facilities | ★★★★☆ (4/5) |
| Customer Satisfaction | ★★★★★ (5/5) |
The primary thing that caught our attention with Mint Smilebar was the materials they used for their teeth whitening. Everything they use is vegan, there's no GMO, and there's no gluten in the things they use.
That's something we really like. After all, there are people out there who make the choice to be vegan and others who didn't make the choice to be sensitive to gluten.
So, we thought that eschewing anything that wasn't vegan or gluten-free was really considerate on their part.
Another thing that we noticed was how supportive the staff was of the clients. Procedures were explained in detail to the clients (like our testers).
We checked out their availability for ourselves and they appear to be widely available for appointments.
We also liked their facilities, though some may find their space to be quite small. That aside, their Vancouver location is conveniently located inside of a mall, so finding parking is not likely to be an issue.
By and large, clients seem to be quite happy with the results of their teeth whitening procedures. We did, however, take note of a few clients who found their results to be rather underwhelming, with very little difference before and after their procedures.
Convenient location
Lots of appointments available
Results might be underwhelming
Customer reviews:
Comfortable treatment
"My first experience with teeth whitening. The technician explained to me everything that would happen. She made sure I was comfortable. The session was just over an hour, with treatments in 20 min. increments. I normally have sensitive teeth so was a bit skeptical. But it was fine! They apply a gel, then put the blue light on them. The whole time you are sitting in a pod with a comfy neck pillow. My teeth went 3 shades lighter. I go back next week for round 2!" – Maria Pia
Pleasant and relaxing
"My experience at mint smile bar was both pleasant and relaxing. If you have sensitive teeth like I do I highly recommend this as the way to go! I'm happy with the results and staff was very lovely" – Katya Alexandra
5. Pure Dental Hygiene & Teeth Whitening
| | |
| --- | --- |
| Price | ★★★★☆ (4/5) |
| Availability | ★★★★☆ (4/5) |
| Facilities | ★★★★☆ (4/5) |
| Customer Satisfaction | ★★★★★ (5/5) |
There's a lot that we like about Pure Dental Hygiene & Teeth Whitening and chief among them is the level of care that the staff puts into making the clients comfortable. That's always good when equipment has to be put into or near people's mouths!
We found them to be caring and professional in our own case. We took note that it was their professionalism that allowed them to be so caring, as it put clients at ease with the procedures.
We also liked that their consultations are free: that way prospective clients know what they're getting into before they make a commitment. We like that because it's pretty considerate of them.
We also liked their space. It's quite cozy and we believe that coziness goes a long way towards putting people at ease.
Customers, we noticed, also praised the service itself. They noted that it was thorough and done with the highest degree of competence.
They also allowed patients to set their preferred dates and times for appointments and we really appreciate that about them. It displays that they're considerate of how people's schedules don't always line up perfectly with when appointments are available.
If we had one thing that we didn't like about the place, it's that they're not a very large outfit, with only one hygienist working there. That can also limit their capacity, obviously.
Professional, caring staff
Clean and comfortable space
The practice is a bit small
Customer reviews:
Teeth look great
"Rosie was impeccable! Hands down, one of the best one I've had to date. Very professional and extremely good at her craft. Very warm and welcoming. My teeth look great and feel incredible. I highly recommend visiting this location and taking advantage of her skills/knowledge/kindness. I'll be back!" – Philly Liv
Truly great experience
"Having my teeth cleaned at Pure Dental Hygiene was truly a great experience. Rosie was professional, thorough, and most importantly made my comfort a top priority. I would definitely go back for my next cleaning and would recommend Pure Dental Hygiene to anyone!" – Wendy Ma
6. Luxe Dental Hygiene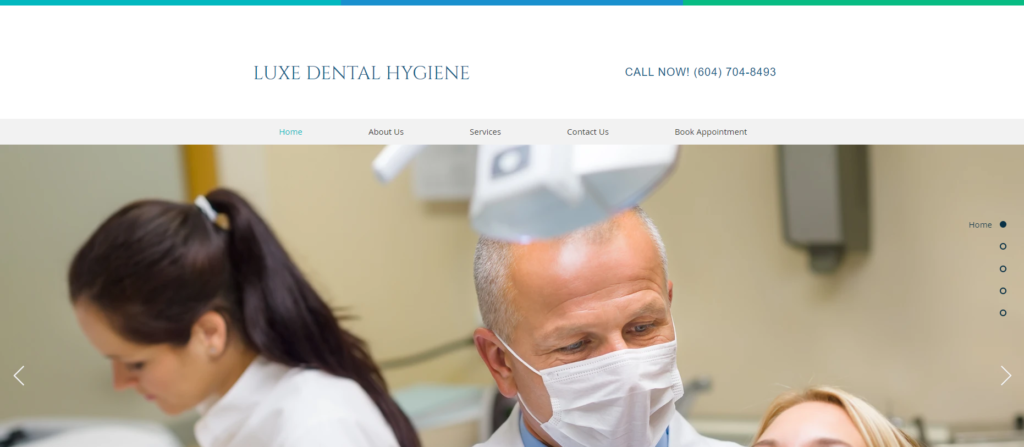 | | |
| --- | --- |
| Price | ★★★★☆ (4/5) |
| Availability | ★★★★☆ (4/5) |
| Facilities | ★★★★☆ (4/5) |
| Customer Satisfaction | ★★★★★ (5/5) |
Luxe Dental Hygiene is a clinic that offers a wide range of patient-centered dental care treatments and services to help them in maintaining healthy teeth and gums in a sustainable manner that can last for long periods of time as well.
We like that their offices are not only well-equipped when it comes to executing proper dental care procedures and services but designed in a way to better help patients have a more comfortable and hassle-free experience with them.
Furthermore, their services are highly inclusive and they also accept all dental insurance along with relevant promotions available when booking with them to have a more well-rounded and affordable dental care treatment with them.
Note though that rates of their services aren't readily available on their website to which interested individuals may need to book an appointment with them for this.
Nonetheless, with their diverse and versatile range of dental services, comprehensive preventative services, and thorough dental assessments, we highly recommend them to clients in the area looking for such services in the area.
Provides preventative oral healthcare
Wide range of services
Personalized treatment plans based on patients' lifestyles
Customer reviews:
"Luxe Dental Hygiene is incredible! A beautiful space with a spa ambiance! The view is beautiful too – looking out to English Bay and the mountains! Nafisha is the best dental hygienist I know 🙂 she's so bubbly and friendly and gentle. I've had really rough dental cleanings in the past and Nafisha made me feel at ease with her talented skills. I also had my teeth whitened and I'm so happy with the results! I've had so many compliments. I highly recommend Luxe. Thanks!"
"I recently took my five year old daughter to Luxe Dental Hygiene and the Owner/Hygienist was amazing. Nafisha is warm, friendly, knowledgeable and very professional with putting my little one at ease. This location is so central, easy to park at and comes with a great view of Vancouver. I'll definitely be back for my own cleaning and Zoom whitening session this month!"
FAQs about Teeth Whitening in Vancouver
---
If you're looking for other ways to keep your teeth healthy, check out this list of the best dental clinics in Vancouver.