The 10 Best Mortgage Brokers in Vancouver
If you're in the market to buy a new house, you'll want to secure a mortgage at a good rate.
Sometimes, this is easier said than done, though… specially since banks don't always offer the best loan options.
This is why we've gathered a list of the best mortgage brokers in Vancouver. On this list, we've included each company's bio, pros & cons, services, and other essential info for you.
How Much Does a Mortgage Broker Cost in Vancouver
Mortgage brokers are paid through a combination of fees from a client as well as commission from a lender.
However, more often than not, their payment comes from the latter option.
This commission comes as a percentage of the overall loan, usually ranging from 0.5% to 1.25%.
Put simply, if a client's mortgage is $500,000 and the broker's commission is 1%, they'll receive $5,000 from the lender.
Because this commission is based on the size of a client's loan, the payments that a broker receives will vary with each case.
The Best Mortgage Brokers in Vancouver
Now that you have an idea of how brokers are paid, it's time to see which of our entries is right for you. To make things a little easier, we've identified key areas that each company excels in.
1. Pinsky Mortgages
SERVICES
Home purchases
Mortgage renewal
Mortgage refinancing
Mortgage transfers
Consultations
Debt consolidation
WEBSITE
https://pinskymortgages.ca/
ADDRESS
2608 Granville St #550, Vancouver, BC V6H 3V3, Canada
CONTACT DETAILS
Phone number: (778) 990-8950
Email:

[email protected]

OPERATING HOURS
Monday: 9 am – 7 pm
Tuesday: 9 am – 7 pm
Wednesday: 9 am – 7 pm
Thursday: 9 am – 7 pm
Friday: 9 am – 7 pm
Saturday: 10 am – 5 pm
Sunday: closed
A good mortgage broker saves clients time, hassle, and of course, money. Pinsky Mortgages manages this by being flexible in its offerings and decisive in its strategies.
These folks approach each of their clients with at least 3 lenders to choose from. This gives clients the option to compare rates and choose a mortgage that fits their budget and circumstances.

When you're able to decide on your lender, this company tailors a payment strategy according to your needs. By having a set plan, you'll be able to pay off your loan in the quickest amount of time while also paying less overall.
Every member of the Pinsky Mortgage team has extensive experience helping clients fund their dream home. In fact, Eitan Pinsky, the firm's founder, has been in the brokerage industry since 2007.
What's most important is that Eitan and his team truly understand the value of good customer service. Remember, you're far less likely to be ripped off by a broker who genuinely wants to help you with your home purchase.
Flexible offerings to choose from
A large team of mortgage brokers
Highly experienced in the industry
Wide network of lenders
The company's size can result in higher closing costs
Customer Reviews
These clients were absolutely thrilled by Pinsky Mortgage's outstanding service:
"Adrianna was our main point of contact for our mortgage, she walked us through the process and helped us every step along the way. She was genuinely warm and friendly (my partner's words) and extremely knowledgeable too. Not to mention super responsive and at the same time professional. We were lucky with the team that helped us. If she recommends a particular property lawyer or real estate agent I would definitely heed her advice. Thank you for making this process easier!" – Andrew C.
"I could not recommend using Eitan and Pinsky Mortgages more! Eitan was very patient and informative in our buying process for over a year. He not only made the mortgage experience easy but also made it fun! If you are looking for the best rates and best service you need to call Eitan!" – Cam B.
2. Sneg Mortgage Team
SERVICES
Home purchases
Mortgage renewal
Mortgage refinancing
Consultations
WEBSITE
https://snegmortgageteam.ca/
ADDRESS
601 West Broadway Suite 400 Vancouver, British Columbia V5Z 4C2 Canada
CONTACT DETAILS
Phone number: (604) 339-1577
Toll-free number: (888) 505-3037
Fax: (604) 357-5150
Email:

[email protected]

OPERATING HOURS
Monday: 9 am – 5 pm
Tuesday: 9 am – 5 pm
Wednesday: 9 am – 5 pm
Thursday: 9 am – 5 pm
Friday: 9 am – 5 pm
Saturday: closed
Sunday: closed
What makes the Sneg Mortgage Team unlike any other firm is the fact that it is composed of only two brokers. This may seem like a disadvantage, but as a husband and wife team, Rinat and Jacob Snegg have found tons of success.
These folks have been mortgage brokers since 2003. Since then, they have helped finance properties all over British Columbia in places such as Vancouver, Richmond, Coquitlam, Port Moody, and many more.
This widespread service has consistently placed the Sneg Mortgage Team among the top 5% of mortgage brokers in Canada. For most clients, numbers like this are more than enough reason to side with a particular broker.
But to help seal the deal, these folks go the extra mile by continuing to help clients long after closing day. When you work with the Sneg Mortgage Team, you'll have access to Rinat and Jacob's experience all throughout the life of your mortgage.
Partnered with over 40 banks & lenders
One of the top 5% of mortgage brokers in Canada
Multilingual firm fluent in Russian & Hebrew
The small team can make the mortgage process longer
Customer Reviews
Jacob and Rinat have left excellent impressions with many of their clients:
"Sneg Mortgage team is extremely extremely impressive. Jacob and his entire team deserves every business they get their way. Honestly I would never deal with any other brokers. Entire team is very knowledgeable and will address all your concerns and will provide you with the best interest rate possible. And they made our first home purchase very smooth and efficient. Highly recommended." – Sanif M.
"You will be in great hands, Jacob and Rinat provided us expert advice and personalized mortgage service that exceeded our expectations, on more than one occasion. every friend we referred to them, will attest to the same quality and professionalism. very hands on, easy to communicate with, proactive in finding the best deal." – Netta P.
3. True North Mortgage
SERVICES
Home purchases
Mortgage pre-qualification
Mortgage refinancing
Mortgage transfers
Mortgage renewal
WEBSITE
https://www.truenorthmortgage.ca/
ADDRESS
1055 W Georgia St, Vancouver, BC V6E 3P3, Canada
CONTACT DETAILS
Phone number: (604) 558-1500
Toll-free number: (877) 884-8245
OPERATING HOURS
Monday: 8 am – 5 pm
Tuesday: 8 am – 5 pm
Wednesday: 8 am – 5 pm
Thursday: 8 am – 5 pm
Friday: 8 am – 5 pm
Saturday: closed
Sunday: closed
True North Mortgage is one of the largest brokerage firms in Canada with locations in Calgary, Toronto, and Vancouver. This widespread influence stems from the company's network of lenders and a streamlined mortgage process.
These folks make mortgage applications easy with a host of consultation options to choose from. Clients can walk into any one of their stores, schedule a phone call online, or even have a broker visit their home.
Once you're in touch with True North Mortgage, you can look forward to a free pre-approval process that takes only 9 minutes to complete. After you receive your mortgage options, you'll even have a guarantee that'll make you eligible for the lowest interest rates with certain lenders.
Of course, streamlining the mortgage process doesn't just mean a speedy pre-approval or enticing offers. That's why this firm also has the most comprehensive mortgage information available among all of our entries.
With just a quick visit to the company's website, you can find the answer to virtually any mortgage question. From loan requirements and property value, to mortgage rates and do's and don'ts, their website has it all.
Multiple locations to choose from
Flexible consultation options
Low rates are guaranteed
Competitors with lower rates are price-matched
The firm's wide client base can lead to a less personalized experience
Customer Reviews
This company's quick and easy approach to mortgage processes has left a great impression on clients:
"Lisa Nguyen at True North Mortgage was so helpful through the entire process of securing an awesome rate for our mortgage. She was responsive, knowledgeable, friendly and guided us through the entire process seamlessly. I've worked with numerous brokers through the years and Lisa was by far the best. Can't recommend her enough!" – Chris F.
"My experience with Lisa from True North was nothing short of amazing. Right from the first day, she contacted me till the day we closed she kept me apprised of what was happening with my application. She helped me secure the best possible rate at the time for a fixed-rate mortgage. She was extremely patient with me and took time to answer all my questions via email or phone to my satisfaction and I do tend to ask a lot of questions. I never felt rushed with her. She guided me and helped me pay off the prepayment penalty with my current lender at the best possible time. I will be dealing with her again. Thank you, Lisa." – Roshan F.
4.   Michael Friedman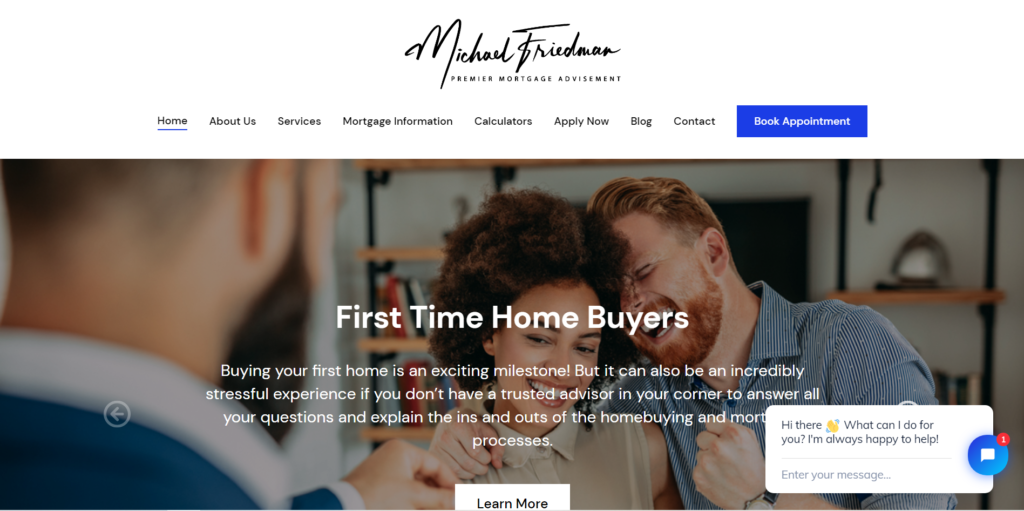 SERVICES
Consultations & Pre-Approvals:
First Time Homebuyers
Low Down Payment
Conventional Mortgage
Luxury Home Mortgages
Investor Mortgages
Self Employed
Mortgage Renewals
New to Canada
Refinance & Debt
WEBSITE
https://michaelfriedmanamp.com/
ADDRESS
550-2608 Granville St, Vancouver, BC V6H 3V3
CONTACT DETAILS
Email: [email protected]
Phone: 604-657-1684
OPERATING HOURS
Contact for more details
Michael started in the mortgage brokerage profession in 1988 and is an Accredited Mortgage Professional (AMP), a member of Mortgage Professionals Canada(MPC), the Canadian Mortgage Brokers Association of BC(CMBA), and is a government registered mortgage broker.
For the past thirty-three years, Michael has focused on helping individuals make educated and informed choices about their mortgage needs.
Michael's mortgage consultations focus on giving a global understanding of the mortgage process and how it relates to the mortgage financing of homes, all in an easy-to-follow, professional and knowledgeable manner. Michael specializes in finding the best options, by providing choice that best represents his clients interests not the banks.
Has a team of professionals
Online mortgage calculators are available
Not restricted by specific lending guidelines
Delivers a highly informative mortgage experience
Easy online booking
Over 30 years of experience
Ranked in the top 5% of mortgage brokers in Canada
Information on How to prepare for a mortgage
Information regarding Best practices when working with a mortgage broker
Information on how mortgage rates work
Rates are unavailable online
Customer Reviews
Here's what some peoplehave to say about them:
"Worked with Michael on a recent refinance and he was knowledgeable, thorough and highly organized from the start to finish. He worked hard to get us the best rate and terms. Everything was done remotely and over secure and efficient video calls. Pleasure working with you and thanks again!"
"Michael helped my husband and I secure our first mortgage (and during a pandemic, none the less!) and we couldn't be more excited to finally be home owners! He was there with us every step of the way, made sure we understood the process the whole time and always kept us informed. Thanks very much, Michael from both myself and Tyler"
"Worked with Michael to buy our new house. He also connected us with our selling Realtor, Todd Conner. Both did an excellent job. Michael is very straightforward, which we appreciate. He got us a great rate. He phoned me on my birthday! Highly recommended."
5.   Clever Lending Mortgage Team
SERVICES
Home purchases
Mortgage refinancing
Home equity loans
Debt consolidation
WEBSITE
https://www.cleverlending.com/
ADDRESS
422 Richards St #170, Vancouver, BC V6B 2Z4, Canada
CONTACT DETAILS
Phone number: (604) 360-4696
Fax: (604) 398-2770
Email:

[email protected]

|

[email protected]

OPERATING HOURS
Monday: 9 am – 8 pm
Tuesday: 9 am – 8 pm
Wednesday: 9 am – 8 pm
Thursday: 9 am – 8 pm
Friday: 9 am – 8 pm
Saturday: 9 am – 8 pm
Sunday: 9 am – 8 pm
Most mortgage companies put a serious focus on securing the lowest rates. But the Clever Lending Mortgage Team focuses on fleshing out every aspect of the mortgage process to provide a better customer experience.
To this extent, these folks aim to cater to a client's every need and answer any and all questions that may come to mind. This means the Clever Lending Mortgage Team will quite literally file your paperwork for you and also negotiate with lenders to find an option that works.
Along with a truly informative process, new clients can look forward to a free mortgage consultation and future mortgage reviews at no charge. These features go hand in hand with the firm's belief in keeping clients informed about their mortgage.
Overall, this firm aims to take the hassle out of the mortgage process by keeping clients well informed and taking care of any nitty-gritty mortgage requirements.
Free annual mortgage reviews for existing clients
Handles complex requirements on behalf of clients
Delivers a highly informative mortgage experience
This firm's lender network is not as developed as others
Customer Reviews
Here's what clients had to say about their experience with Clever Lending:
"Laura and Sam were fantastic. As first time home buyers, we needed quite a bit of hand-holding through the process and Laura was great about walking us through all of the documents and answering any questions we had. She also kept working right up until our closing date to make sure we could get the best rate possible. Thank you!" – Tess M.
"I was so impressed that you still put 200% effort into helping me get my mortgage, even when you though it was a long shot. You put so much work into it, with little hope you'd be compensated for it. I admire that so much. Thank you!!" – Sally B.
6.   Arise Mortgage
SERVICES
Residential mortgage
Commercial mortgage
Mortgage refinancing
WEBSITE
https://www.arisemortgage.ca/
ADDRESS
1385 W 8th Ave #105, Vancouver, BC V6H 3V9, Canada
CONTACT DETAILS
Phone number: (604) 722-8404
Fax: (236) 521-0255
Email:

[email protected]

OPERATING HOURS
Monday: 9 am – 7 pm
Tuesday: 9 am – 7 pm
Wednesday: 9 am – 7 pm
Thursday: 9 am – 7 pm
Friday: 9 am – 7 pm
Saturday: 9 am – 4 pm
Sunday: closed
Arise Mortgage takes a non-traditional approach to brokerage that makes them unlike other firms.
Other companies and lenders may sometimes turn down less fortunate borrowers. But Arise makes an effort to find and provide flexible financing for all clients regardless of their financial situation.
This company ensures its ability to find unique solutions by always being in the know with regard to lending requirements and laws. In fact, these folks are constantly monitoring changes that the government has made concerning lending guidelines for banks.
As a result of this comprehensive knowledge, Arise has built a reputation as a premier option for borrowers in tight situations. The firm accomplishes this by working with MICS, credit unions, and private investors.
Being a non-bank lender, Arise is not restricted by the same guidelines that govern banks. This is yet another reason why this firm can offer financing solutions that you wouldn't find with other institutions.
Accepts borrowers from all financial backgrounds
Not restricted by certain lending guidelines
Highly skilled at finding unique mortgage solutions
As an independent lender, Arise can be partial to its own mortgage offerings
Customer Reviews
These clients were absolutely thrilled with their unique mortgage solutions:
"John was very helpful with finding us a great rate for our mortgage. We had some issues with certain paperwork and he worked around it with no problems. He even followed up with the bank to make sure that they were going to contact us etc to get the ball rolling. Thank you for helping us purchase our first home!" – Amy N.
"John was an absolute pleasure to work with. Being a first time buyer, I was had very little knowledge about the entire home purchase process but John was super knowledgeable and helpful. He was there to answer any questions I had in regards to mortgages. He was able to find me the best rate for my financial situation. 100% would recommend John to anyone looking for a reliable and helpful Mortgage Broker." – Jackie H.
7.   GLM Mortgage Group | Dominion Lending Centres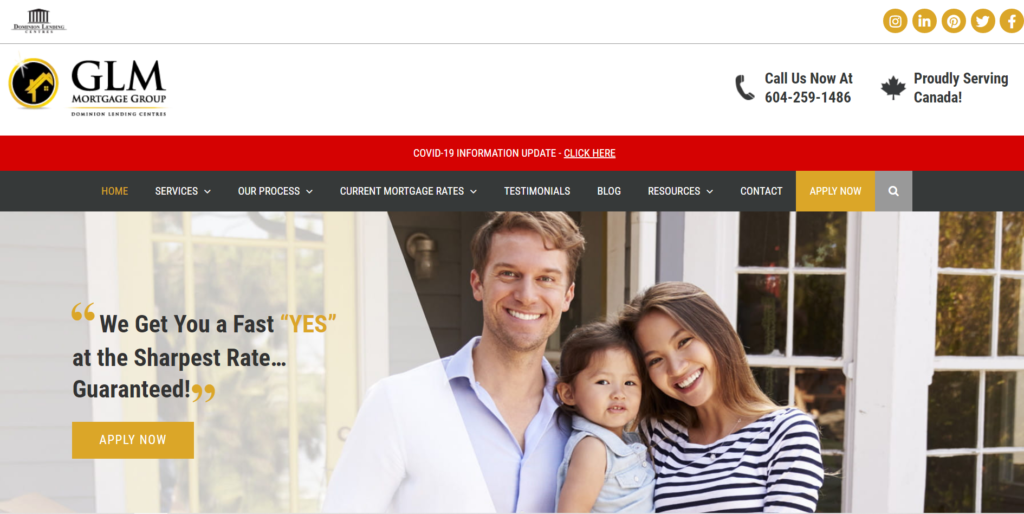 SERVICES
Mortgage services
Personal mortgages
Loans and financing
Self-employed mortgages
Commercial mortgages
Private mortgages
WEBSITE
https://www.geoffleemortgage.com/
ADDRESS
1001 West Broadway #164
Vancouver, BC V6H 4B1
CONTACT DETAILS
Phone number: 604-259-1486
OPERATING HOURS
Contact for more details
GLM Mortgage Group | Dominion Lending Centres's mortgage broker team is committed to clear and open communication. They're dedicated to ensuring you're well informed about all the options available to you.
They always return your call within 90 minutes to ensure you receive fast and reliable service. They're not only available in Vancouver and the Lower Mainland, but also across Canada.
With more than 28 years of experience in the mortgage financing industry, they're committed to providing smart solutions based on your needs. They know how important it is to work with an experienced specialist who'll guide you throughout the process, from application to closing and beyond.
Has a team of professionals
Takes note of all your needs and preferences
Available during weekends
Their location could be farther to some
Customer Reviews
Here's what some peoplehave to say about them:
"Geoff and his team were incredible to work with. Their focus, timeliness with our file and responsiveness were so impressive. I wasn't at all concerned that work wasn't continuing after we spoke or emails were sent, they were SO ON IT at every turn. The level of professionalism and understanding of what is needed for us was so helpful in our process. Being business owners, sometimes lending can be more tricky but Geoff and his team navigated the obstacles with us with ease and insight.
I was so impressed with how they constantly streamlined the process within such a tight timeline and communicated so clearly every step of the way. I highly recommend GLM. They saved us so much time, stress and uncertainty in our process and I'm so grateful."
"Geoff and team are the best! As I was closing my home purchase last week, I was getting a bit overwhelmed by all the paperwork. Geoff facilitated the financing process with clarity and ease, and was there to answer all my questions along the way. I ended up getting a great rate, with minimal disruption to my workweek. Totally recommend GLM for service, efficiency and excellent outcomes!"
8. Sparo Mortgage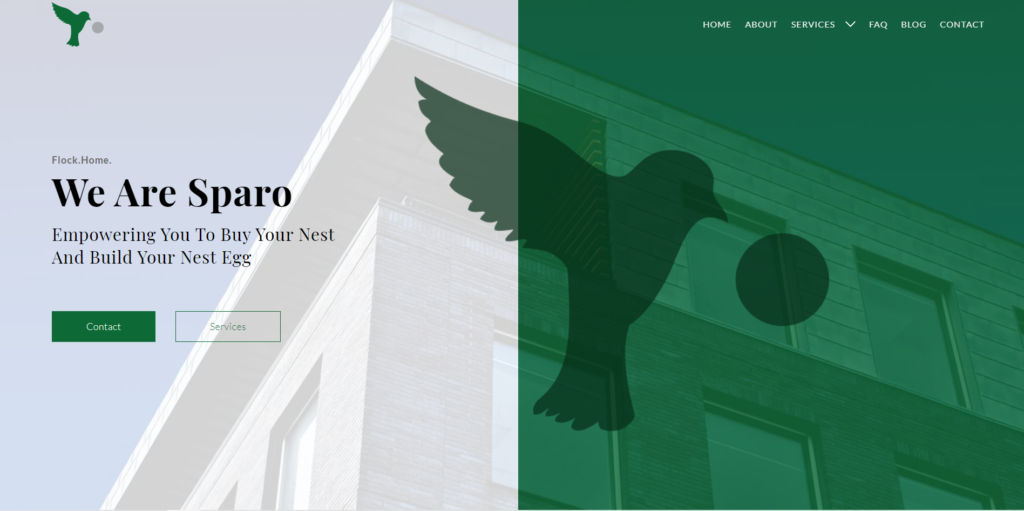 SERVICES
Residential Mortgages
Refinance & Renewals
Home Equity Loans
Debt Consolidation
Nest Egg Program
ReNest Program
Commercial & Construction
Vacation Properties
WEBSITE
https://sparomortgage.ca/
ADDRESS
425 Carrall St Suite 375 Vancouver BC V6B 6A3
CONTACT DETAILS
Phone: 604 329 9971
Email: [email protected]
OPERATING HOURS
Contact for more details
Whether you are a mortgage client, realtor, lawyer, lender, advisor, or accountant, Sparo Mortgage can help you. They are driven to engage with shared goals and objectives.
Helping first time home buyers or next home buyers is the foundation of their business. They work hard to be able to provide helpful information and mortgage options with the most advantageous lenders.
Their mission is to have a great experience working together. They have planned touchpoints throughout the buying process and follow up to ensure that their clients have an enhanced and professional experience they will talk about to their friends, family, coworkers, and anyone else wondering who to refer as a mortgage broker.
Furthermore, they now have 4 people handling clients. In fact, their team has a combined experience in lending of over 50 years.
Responsive even during days where they are out of the office
Tailored solutions for each client
Over 50 years of cumulative combined lending experience
Rates are unavailable online
Customer Reviews
Here's what some peoplehave to say about them:
"David Ford and his colleagues at Sparo Mortgage Partners were so helpful and provided an excellent service to help me get mortgage for my first home. They made the process so smooth and stress-free."
"We really loved how responsive and professional this team was. They were patient with all our questions and really helped us find a mortgage that suited OUR needs, not the needs of anyone else. We were also able to do everything we needed either over the phone or via emails which helped with our busy day to day lifestyle. We found this extremely accommodating. Great follow up also and they continue to help us stay informed. Highly recommend!"
"I am a fan!! We started our mortgage search by meeting with our Credit Union. They ended up being slow, unresponsive and got us a pretty awful deal (HUGE Downpayment). Then a friend recommended Sparo. We had an awesome experience with David and Emma. I cannot recommend them enough. My partner and I had a non-standard situation. Both David and Emma worked hard to find us a lender that not only approved our mortgage but got us a great deal. They were very responsive, even when they were on vacations and out of the office. They thoughtfully sent us a little gift basket after our deal went through with packing tape and other moving necessities. I will be using them for my next home purchases and recommending them to friends and family. Thanks team!"
9. Clayton Blaney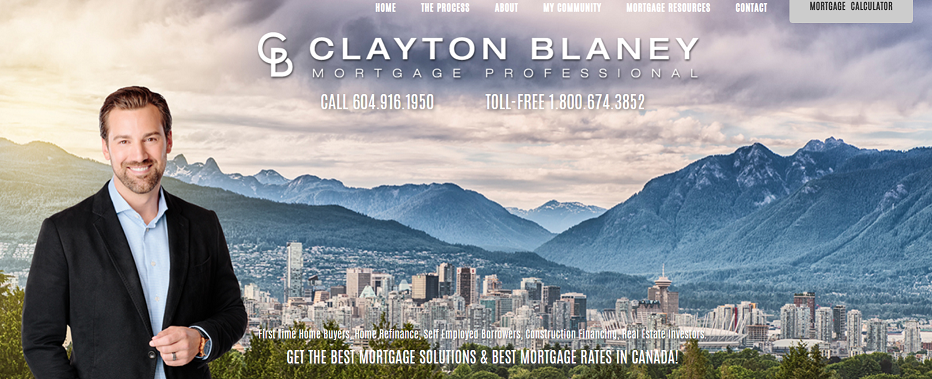 SERVICES
Home owner responsibility
Home insurance
Home maintenance
Money saving strategies
WEBSITE
http://www.claytonblaney.com/
ADDRESS
Vancouver BC
CONTACT DETAILS
Phone: 604.916.1950
OPERATING HOURS
Contact for more details
Clayton Blaney builds professional relationships based on trust and open communication.
By not being associated with any specific bank or lender, he is in the unique position to always be working in your best interests. He offers creative solutions that are custom fit for his clients and truly cares about everyone he works with, taking note of their financial health and their long-term financial goals.
As a licensed mortgage professional working with XEVA Mortgage, a brokerage proudly affiliated with the Verico Broker Network, he has access to the very best mortgage rates and products from every Canadian broker channel lenders.
When you work with him, rather than dealing with a single institution, you will receive access to an incredible range of mortgage products not available to chartered banks or independent brokers.
There are important differences amongst the many lenders in the market, and the greatest value he can provide is his knowledge of the lending environment and understanding of which lender is best suited to your needs.
Has an online mortgage calculator available
Attentively listens to all his clients
Rates are unavailable online
Customer Reviews
Here's what some peoplehave to say about them:
"Do you know nothing about mortgages? Boy have you come to the right place. Clay was awesome to deal with. He listens to what your goals and needs are and is able to advise you to which mortgage products are best suited to you. Wouldn't hesitate to recommend him to anyone!"
"If you're going to be working with a mortgage broker – work with Clayton. We had a bit of a complicated file but he worked through it for us and got a mortgage at a great rate. I'd highly recommend Clayton if your self-employed as he has the experience and know how to handle your situation to qualify for the best possible mortgage."
"Clay was lovely to work with and was happy to take the time to answer all of my questions as a first-time buyer. He was responsive was able to meet my purchase deadline without hesitation. I'd absolutely recommend Clay's services to anyone looking for a professional and friendly experience with their mortgage broker."
10. Sabeena Bubber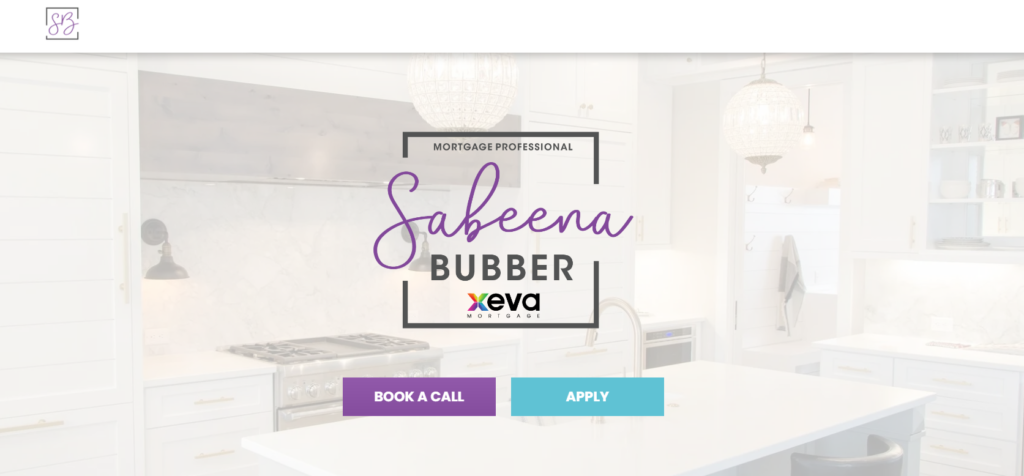 SERVICES
Home Purchase
Self-Employed Clients
First Time Home Buyers
Renewal
Refinance
Divorce
Reverse Mortgages
WEBSITE
https://www.sabeenabubber.ca/
ADDRESS
Vancouver BC
CONTACT DETAILS
Book a call
Apply
OPERATING HOURS
Contact for more details
Sabeena Bubber is a mortgage consultant with Xeva Mortgage. She is committed to finding solutions for her clients and goes beyond her duties to just get a good interest rate for you.
She is a specialist in reading fine print and loves to help people get the mortgage product that best suit their needs. As your mortgage broker, she works for you and not for the bank.
When you work with her, you can be sure that she has access to multiple products and solutions and is committed to finding the mortgage that is right for you. Sabeena aligns your mortgage repayment strategy with your other financial goals to ensure that it is to your liking.
Offers a wide range of products
Has served more than 3000 clients
Rates are unavailable online
Customer Reviews
Here's what some peoplehave to say about them:
"Sabeena assisted us with refinancing and renewing our mortgage. We felt she made it a priority to ensure our financial goals are reached. She was attentive to our needs and timeline and an absolute pleasure to work with. We highly recommend her services."
FAQs About Mortgages
---
That wraps up our selection of the best mortgage brokers in Vancouver. Now that you're aware of what the market has to offer, you can select a firm that suits your lending needs.
And if you're buying a new home and looking to move out of your current space, you may need help with the move too. If so, check out our list of the best movers in Vancouver.