The 6 Best Home Builders in Vancouver
Building your dream home requires a lot of research. To help, we made a list of the top home builders in Vancouver. We reviewed their strengths and weaknesses, records, and more.
After you see your options, we can see our answers to frequently asked questions and even get tips on how to pick the home builder that you need and deserve. Let's start with an estimate of costs, though.
How much does it cost to build a home in Vancouver?
Unsurprisingly, construction and design projects are expensive. The materials and labor alone can reach tens of thousands of dollars.
In Vancouver, a custom-built home can cost you anywhere from $430 to $1,090 per square foot of construction. If you avail of a stock home plan, you can expect to pay $145 to $260.
To help you gain more perspective, we compiled a list of the common project costs for each company mentioned below.
| Construction Company | Price Range |
| --- | --- |
| Kerr Construction And Design | $50,000 to $ 4,000,000 |
| Alair Homes | $200,000 to $ 3,000,000 |
| My House Design/Build/Team | $50,000 to $2,000,000 |
| Goldcon | $20,000 to $2,000,000 |
| VictorEric Design | $500,000 to $15,000,000 |
As you can see, there's a high degree of variability, not least since both labor and material costs fluctuate due to market pressures. Still, this gives you an idea of what you may be looking at for both the simplest and grandest projects right now.
The Best Home Builders in Vancouver
On average, home building and renovation projects cost thousands of dollars. As such, you would want to pick a reliable, efficient, and experienced team of builders.
With that in mind, we went through dozens of high-rated companies to see which ones are the best. We selected the top ones using the following criteria:
Now that we've established our set of criteria, it is time to show and discuss our top picks for the best home builders in Vancouver.
1. Kerr Design Build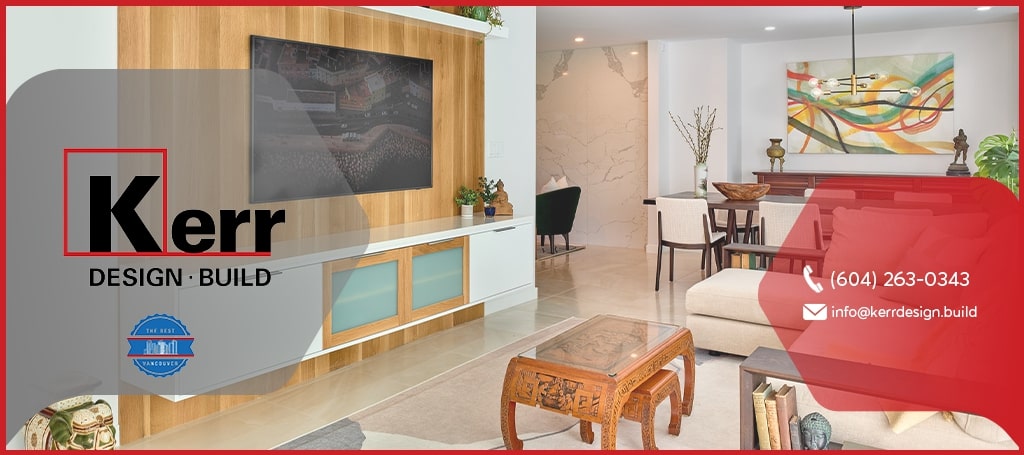 Test
Info
Services
Floor Plans, 3D Rendering, Landscape Plans, Home And Room Design, Project Management, Sustainable Design, Home Additions And Extensions, Remodeling And Restoration
Website
https://kerrdesign.build
Address
1676 W. 75th Ave. Vancouver, BC V6P 6G2 Canada
Contact Details

[email protected]

604-263-0343

Operating Hours
Monday to Friday: 9 AM – 5 PM
Kerr Design Build is one of the most trusted home builders in Vancouver when it comes to building homes from scratch. They handle the entire process: everything from building and interior design to permit acquisitions.
Moreover, they also provide services for home renovation and remodeling.
You and other potential clients will want to see what the company has to offer. To help address that, Kerr included a massive gallery onto their website.
You can see 3D renders, photos, and videos of numerous homes they have built and renovated in the past.
We like their collection of photos because they included more samples compared to other construction companies.
The best part about Kerr is the warranty that they provide. Their construction warranty is the longest in the business.
To be exact, their construction services include a 3-year warranty for materials, labor, and mechanical systems such as plumbing. In addition, they also give a 6-year warranty against water damage and 12 years for structural defects.
The length of their warranty is great, especially because structural defects and other errors do not show up within a year or two. It makes sense that warranties should thus go way past a year to even begin to matter.
That also ties into the company tagline, which is "Quality is built, trust is earned." Indeed, it seems that they have earned Vancouver's trust because they have been in the business for more than three decades and have no shortage of people recommending them.
Provides the longest warranty in the industry
Handles the entire construction process
Thirty years of experience
Only one location within Vancouver
Customer Reviews:
Projects done on time and within budget
We used Kerr Construction to renovate two bathrooms in our house. All the work, including design, purchasing of materials and management of the trades was done professionally, on time and on budget. The only delays and hiccups we encountered were due to supplier problems out of Kerr's control. Onsite management was exceptional and they proved very responsive to a couple of problems that arose in our house unrelated to the renovations. We will definitely use them again for future renovations. – Susan, Houzz
Professional and reliable staff
Kerr did a major renovation and addition to our 90+ year old house. They did an amazing job! They were always professional, reliable, hardworking, and cared about the work they were doing. With an old house you will always get some surprises and I had complete trust that they would alert me to any issues, review the options, and take the required steps to make sure our house was not only beautiful but also structurally sound and built to last. I always felt they wanted the best results for our family. We now have our dream home, and it has exceeded our expectations. The most common reaction we get when friends see our house now is "wow" and "it looks amazing." I would highly recommend Kerr and we will use their services again. –Gary, Google Reviews
2. Alair Homes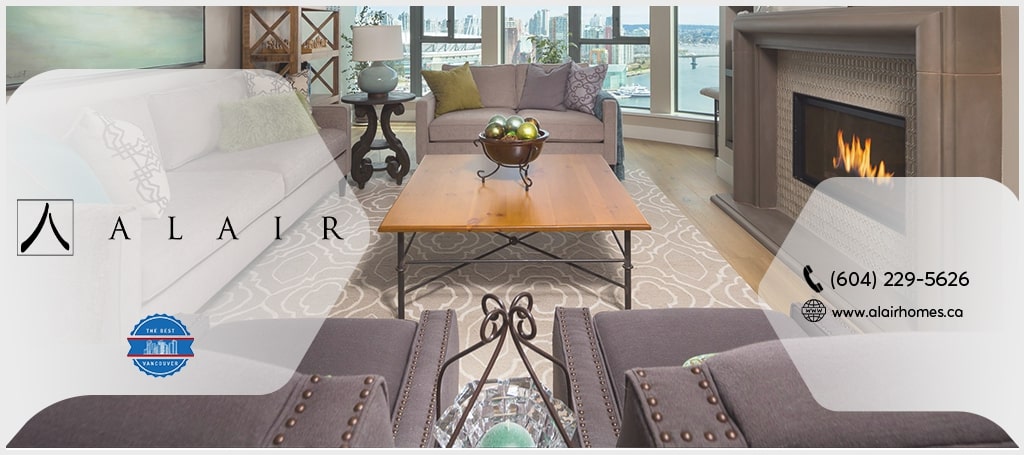 | Test | Info |
| --- | --- |
| Services | Custom Home, Energy-Efficient Homes, Green Building, Home Additions And Extensions, Remodeling, House Plans, New Home Construction, Site Preparation, Sustainable Design, Barn Construction, Condo Renovations |
| Website | https://www.alairhomes.ca/vancouver/ |
| Address | 1500 W Georgia St 13th floor, Vancouver, BC V6G 2Z6, Canada |
| Contact Details | (604) 229-5626 |
| Operating Hours | Monday to Friday: 9 AM – 5 PM |
Alair Homes is another company that seems to have earned Vancouver's trust over the years. It was recommended pretty heavily to us too.
We polled previous Alair customers about what they liked with the company. Most of them responded that Alair is open and transparent when it comes to contract details and billing.
The trust that they built has resulted in the company garnering multiple awards. One of the most important ones that they received is from the 2020 Vibe Awards and was given as a testament to Alair's excellence in energy-efficient home designs and construction.
As with other companies, you can view their finished projects on their website; however, their gallery is somewhat limited. This is not ideal because customers will want to see their builder's track record and the quality of past work.
Such a small portfolio may also lead customers to believe that the company lacks experience.
However, the people of Alair are not new to the industry. The Alair group is composed of individuals with at least a decade of experience in their respective fields.
Together, they have built a company that operates all throughout Canada. Aside from design and construction, they also offer home and condo renovation services.
If you decide to work with them, you can access all your construction details on their website at any time. That way, you can see what they have finished and what they are working on.
This website feature is unavailable with other builders, which gives the company an advantage. Alair's transparent and constant updates provide useful information and build trust with their clients, so it definitely gets points from us.
After constructing your home, Alair will give you a 2-year warranty plus an inspection after 3, 6, and 12 months.
This short warranty period is one of the company's downsides, unfortunately, since other companies offer the standard 2/5/10 (-year) warranty.
A 2/5/10 warranty protects homeowners from defects over a fair length of time. For two years, you are protected from material and labor defects; for five years, building envelope defects such as water leakage; and for ten years after construction, major structural defects.
Alair, however, only explicitly states the 2-year warranty plus inspections. That's a bit weak, consider what others offer.
Won multiple awards, including for sustainability
Team members have decades of experience
Multiple locations around Vancouver
Free quotes
Limited samples of finished work
Somewhat weak warranty
Customer Reviews:
Helpful staff
This company constructed a brand new medical office for me. Yared & his team are pleasant, professional, honest, fair, proactive & helpful. Their work is excellent, beautiful & great value for money. They respond well & promptly to any question/concern. Highly recommend this company. – Olu, Houzz
Cost transparency
The crew at Alair Homes is very professional. They are eager to provide quotes and have some excellent ideas. The openness to work with us and the transparency with regards to cost was a real positive. They renovated both our house and my business and I would strongly recommend them. I have used other contractors in the past and working with Alair was a much more rewarding experience. They kept focus on the end game and our budget, we are thrilled with the results.– Michael, Google Reviews
3. My House Design Build Team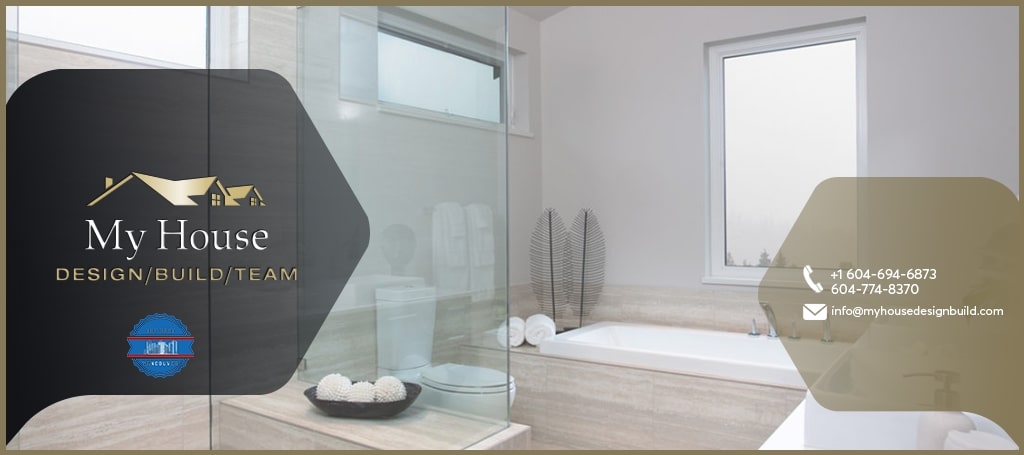 Test
Info
Services
Custom Home, Floor Plans, Green Building, Home Design, Home Additions, Home Extensions, Remodeling, Restoration, Construction
Website
https://www.myhousedesignbuild.com/
Address
1275 W 6th Ave, Vancouver, BC V5P 2Y5, Canada
Contact Details
+1 604-694-6873

604-774-8370

Operating Hours
By appointment
My House Design/Build/Team is a home construction company that combines sustainability and quality.
You can see twelve of their stunning creations on their online portfolio. While their gallery is limited, it should be more than enough to show you their capabilities.
My House is a great home builder option for people that want eco-friendly homes. This is because My House is Built Green certified, which means you can expect these buildings and all future builds to use 50% less energy compared to other homes.
My House offers a 2/5/10 warranty, courtesy of their partners. Although this warranty is the industry standard, the company also adds regular post-construction check-ups on top of their warranty which makes it slightly better.
On their website, My House details its construction process extensively. They lay out everything they do from feasibility study and design to completion.
However, such detailed explanations come with a drawback. My House has created a wall of text on their website that may deter most potential clients from reading further on what they have to say.
Despite this, My House has served Vancouver for a long time.
My House has 25 years of experience in the industry, resulting in more than a hundred awards. One of these awards is The Georgie Awards' Best Interior Design and Renovator of the Year, which it has held for 7 years straight.
If you don't know, the Georgie Awards is presented by the Canadian Home Builders' Association of British Columbia. It's often attended by industry professionals and government personnel and is fairly well-regarded.
Although awards do not often translate to 100% customer satisfaction, they may still help provide insight to the company's work quality. So, for us, this only adds to the pros list for the company.
Environment-friendly designs
Details construction process on website
Has received more than 100 awards over 25 years
Website difficult to navigate
Customer Reviews:
Innovative and professional work
Innovative, respected, quality, responsible, clean, organized, on schedule, on budget, full disclosure, no surprises. They are an absolutely amazing team of specialists so you get the very best ideas and workmanship on every aspect of your project. History of the company, the quality of the past projects, and the warranty on their work gives piece of mind and confidence in all the quality companies they have aligned themselves with. This was home renovation has been such a fantastic experience I will be almost sad when it is done. The My House Team, from Graeme, the owner, Vanessa the designer, Bruno the project manager the entire group of trained professionals that arrive daily have created so much more than I could have ever imagined. I will be forever grateful for the beauty and joy they have brought to our family home. – Jandey, Houzz
Experienced and friendly staff
My experience with my House Design Build has been exceptional. Their team welcomed me and provided with their expertise. Each member offers value to the project and is an expert in their field. I felt heard and taken care of in all of my interactions with them. If you're considering a build or reno, you're in good hands here! – Melissa, Google Reviews
4. Goldcon Construction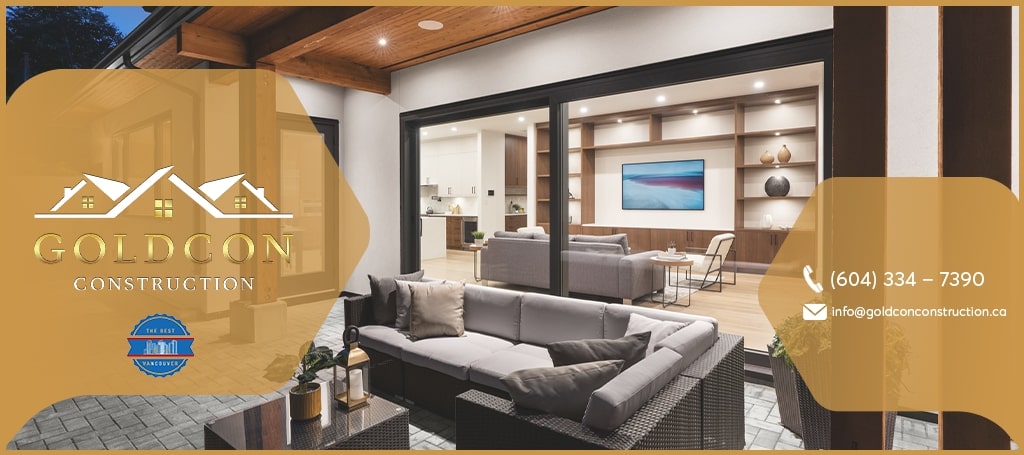 Test
Info
Services
Custom Homes, Energy – Efficient Homes, Floor Plans, Green And Sustainable Design, Home Additions And Extensions, Foundation Repair, Tile Installation, House And Room Remodeling And Renovation
Website
www.goldconconstruction.ca
Address
394 – 901 West 3rd Street, North Vancouver, BC V7P 3P9
Contact Details

[email protected]

(604) 334 – 7390

Operating Hours
Monday to Saturday: 8 AM – 6 PM Sunday: By appointment
Goldcon Construction is a home construction company in Vancouver that specializes in renovations. Despite their focus on renovations, they also create beautiful custom homes.
The Goldcon website is relatively simple and lacks the detail of other companies' websites. Regardless, one of their biggest strengths is their large online portfolio.
As of date, they have built more than 30 custom homes and conducted more than 72 renovations. You can view most of the photos of their works on their site's gallery.
What sets Goldcon apart is their commitment to listening to their clients.
We have polled past clients about their experience with the company. They all responded that Goldcon always hears out their suggestions and provides input when a better option is available.
Their value for their clients resulted in the company receiving more than 15 awards in the past few years alone.
Compared to others in the list, Goldcon is also open 6 days a week with Sunday available by appointment. Such work hours are sure to make transactions more convenient.
Open 7 days a week
Sells existing home designs
More than 100 projects done
Customer Reviews:
Attentive and responsive staff
We engage Goldcon Construction for our home's renovation. We are not engaging Goldcon via referral. We studied their website and found houses after their renovations look fresh and modern. We have a meeting with the team (Karim and Kaveh) to have a deeper understanding about the company and their way of work, as well as compared with some other contractors before formally contracting Goldcon. During the renovation process, we found them very nice, patient, reactive and professional. We're happy that apart from doing what we request, they would try to offer alternatives for our consideration in order to hopefully make the overall results turn out even better. The whole process is interactive and impressive. We won't hesitate to recommend Goldcon to anyone who is looking for a new modern look of his/her house. – Queenie, Google Reviews
Construction done within budget and time constraints
We would like to take this opportunity to thank both Karim and Kaveh at Goldcon Construction for an outstanding renovation project that they have just completed to our entire basement. From the initial consult, proposal and budget, to the finished project, Goldcon was very prompt, courteous and attentive to all of our questions and concerns, including providing great recommendations where we were uncertain about aspects of the project or finishes. Furthermore, they brought the project to completion under time frame and right on the budget proposed. We are very particular home owners and all of the trades brought in by Goldcon did a fantastic job. If you are thinking of completing any home renovations, we would highly recommend that you meet with Karim and Kaveh – you won't be disappointed. – Sarah, Google Reviews
5. VictorEric Design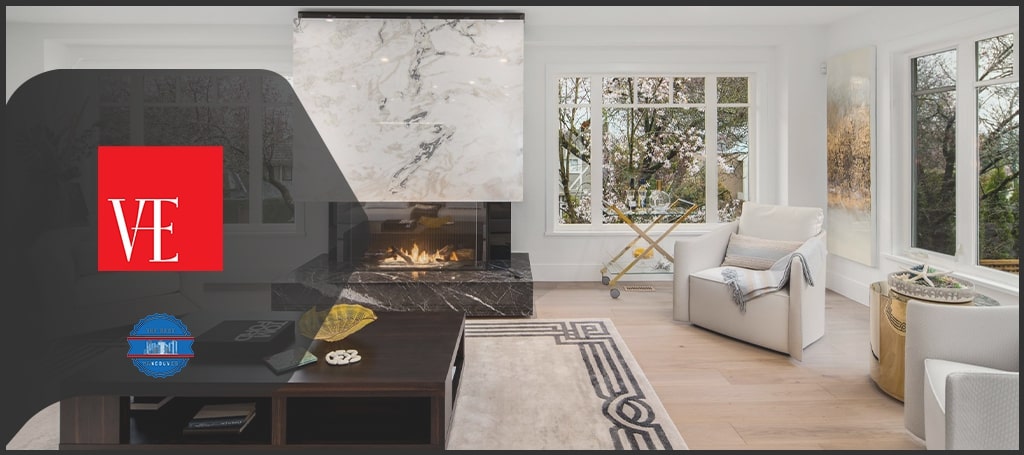 VictorEric Design + Build is a home builder in Vancouver that takes pride in its elegant and luxurious homes.
Since their expertise is in luxury homes, it may come as no surprise that VictorEric's services are highly expensive.
According to Houzz, VictorEric's services typically cost half a million dollars. Nevertheless, if you can afford their services, you can expect top-quality service that results in an impressive home.
The large price tag is reasonable if you consider the scope of their work.
VictorEric's construction process involves a more holistic approach. When they design a home, they plan not only the building but also the landscape around it.
VictorEric creates a myriad of modern and traditional homes; however, they specialize in building high-performance, passive homes.
Passive homes prevent internal temperature fluctuations like a well-insulated thermos. As such, you will not need to spend as much electricity just to make your home warmer or cooler.
We think that VictorEric's passive homes are great investments if you have the money for them. A home with a temperature at constant equilibrium is sure to save you money especially during the colder months.
Aside from residential homes, VictorEric also creates high-quality designs for commercial buildings.
One of the things that sets the company apart is that they detail their entire process on their website. They discuss everything from planning to construction, complete with estimated times for completion at every stage.
By combining innovation and creativity, VictorEric earns people's trust proven by their two and a half decades of operation.
Specializes in high-performance, energy-efficient homes
Creates luxury homes and workspaces
26 years of experience
Services are highly expensive
Customer Reviews:
Work done ahead of time
It's been almost 3yrs since we moved in and we wanted to thank your team for the work and effort and quality put into our dream home. It turned out amazing!
We were really happy we went with your team for the Design + Build. It was a long journey but it was finished ahead of time. I felt your team was always friendly, professional, efficient and courteous, listened well, and communicated well. Your team was very attentive and organized. I felt our home was done with attention, creativity, beauty, and functionality! I appreciate all of that as i witnessed how building a home is complex and so many issues can come up unexpectedly. – Justin, Houzz
Strives for excellence
Eric is truly and deeply concerned with listening to you and giving you the custom home you want. He goes way above and beyond to provide all the perks and incentives he can possibly afford to his staff. His striving for excellence during the construction phase can slow the process a bit, since Vancouver talent is hard to come by, but you want your home to last many lifetimes so you have to put that into perspective.– Nixie, Google Reviews
6. Vancouver Builders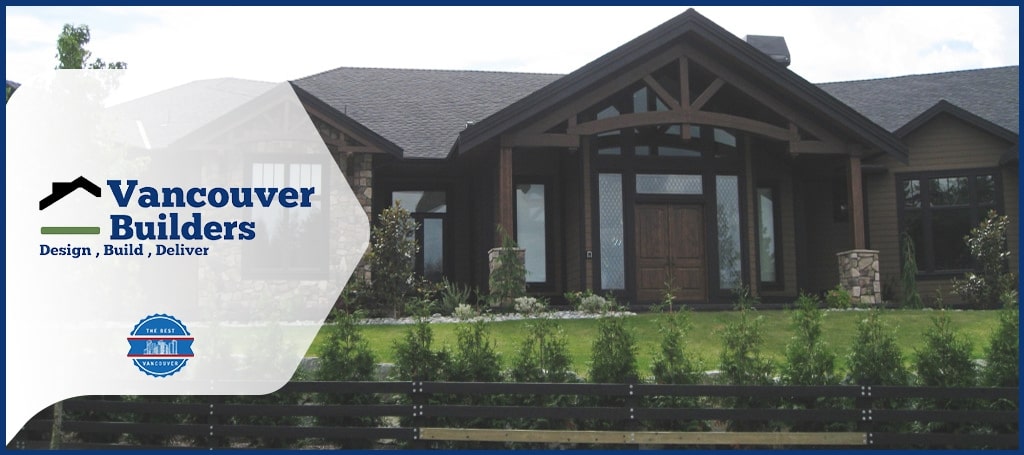 Vancouver Builders has been in business since 1991. They have the most expertise in the area when it comes to customizing modern homes.
What we love about them is how they conduct several meetings first with their clients before the construction begins. This allows them to ensure that all the requests and needs of the client will be accommodated.
Under their custom home building are three types of services, Full Custom Home Building, Home Renovations, and Small Renovations & Laneway Homes. Given these options, no matter what you need, they can also possibly do it, and maybe even better than your previous home builder.
Aside from custom homes, they also offer commercial construction. This service is great if you are someone who has, both, residential and commercial properties.
It will not be a hassle for you to contact and negotiate with two different contractors!
The only catch in this company is that they did not mention how long their warranty is for their clients.
Offers services in North Vancouver, Burnaby, New Westminster, North Shore, White Rock, and Greater Vancouver
Free consultation
Has a client portal wherein people can track their custom home
Customer Reviews:
Here is one testimonial from one of their previous clients:
"Vancouver Builders is knowledgeable, talented, efficient, easy-to-work-with, high-integrity builder with a very good eye for modern, price-effective design. We are looking forward to working with Vancouver Builders again on our upcoming new home."
What should you look for when choosing a home builder?
It is crucial that you find the best home builder that suits your needs and budget. Before you pick a company, here are a few things you should consider:
Check client reviews
Client testimonies are a great way to see how the company operates. It would be best to look into what they say about the quality of the construction and service instead of the number of stars they give.
Transparency
You would want to pick a builder that includes you in every step of the building process. The company should show you the plans and clearly lay out the price estimates from them and their subcontractors.
It would also help to choose a company that assures you that you are insured from any damages in case something happens.
Industry experience
A company with decades of experience in the field is always a good choice. Staying in the industry for a long time usually means that the community trusts the home builders for their service.
You can also take advantage of a company's long history. If a company is old, it will usually have a portfolio of previous creations which you should definitely browse.
FAQs About Home Builders
More Resources for Your Home Building Needs