The 4 Best Animal Shelters in Vancouver
Living with a pet is a challenging experience that requires time and patience in exchange for a lifetime of love. If you're looking to adopt a new companion or you want to spend time around animals, then it may be time to visit an animal shelter.
From animal rescue to care and relocation, these establishments provide a ton of different services to help protect animals in general. Regardless of what you need from them, we've compiled a list of the best shelters in the area to help you explore what the city has to offer.
How much does animal adoption cost in Vancouver?
Most of the time, people visit animal shelters in order to adopt a new household friend. Adoption usually entails a small service fee that may or may not include a bag of food and initial vaccinations.
To help you prepare a budget for your visit to an animal shelter, the table below outlines the average adoption fees for certain types of animals:
| | |
| --- | --- |
| Animal | Adoption fee |
| Dogs | $150 – $350 |
| Cats | $100 – $350 |
| Senior dog/cat | $100 – $150 |
| Birds | $20 – $50 |
| Rodents & rabbits | $10 – $60 |
As you can see, the adoption fees for dogs and cats in particular can vary greatly in magnitude. The exact cost usually depends on the cat or dog's age, breed, and pre-existing health conditions.
Smaller animals typically carry lower adoption fees due to the lower associated cost of care. Keep in mind, though, that the cost of caring for an animal after its adoption can be significant so it's best to be financially prepared prior to adoption.
The Best Animal Shelters in Vancouver
For this list, we followed various standards in order to keep our reviews relevant, reliable, and objective. The regulating criteria for this list are as follows:
Now that we've explained our criteria for building this list, it's time to unveil our picks for the best animal shelters in Vancouver.
1. BC SPCA Vancouver Community Animal Centre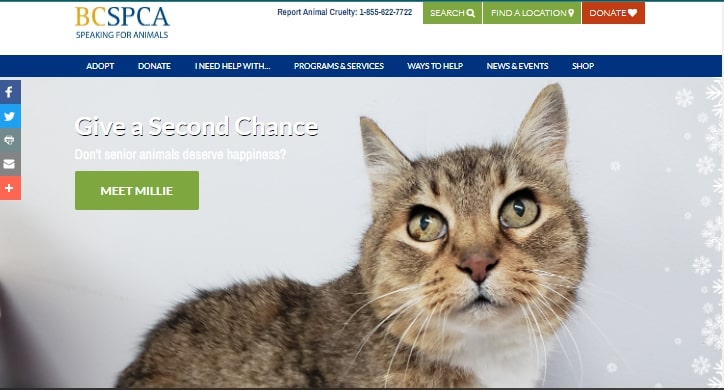 SERVICES
Shelter services
Veterinary services
Animal adoption
Pet ID registry
Wildlife rehabilitation
Volunteer work
Workshops/Seminars
WEBSITE
https://spca.bc.ca/
ADDRESS
North building, 1205 E 7th Ave, Vancouver, BC V5T 1R1, Canada
CONTACT DETAILS
Phone number: (604) 879-7721
Toll-free number: 1 (855) 622-7722
OPERATING HOURS
Monday: 12 pm – 5 pm
Tuesday: 12 pm – 5 pm
Wednesday: 12 pm – 5 pm
Thursday: 12 pm – 5 pm
Friday: 12 pm – 5 pm
Saturday: 12 pm – 4 pm
Sunday: 12 pm – 4 pm
This particular entry is a shelter that is run and managed by The British Columbia Society for the Prevention of Cruelty to Animals (BC SPCA). As one of many branches, this animal centre follows regulations and standards for animal care that are accepted all over the lower mainland.
From the reviews we've seen, many visitors are very satisfied with how well the people here treat sheltered animals. To provide extra care to animals with health conditions, the SPCA has even set up an animal hospital just down the street from the shelter.
Aside from providing care, the SPCA's animal hospital also provides general veterinary services to pet owners at a much more affordable price. Along with this, the shelter also provides microchip implants and general workshops on caring for specific animals.
For those who want to adopt a new pet, this shelter caters to an extremely wide variety of animals such as dogs, cats, fish, horses, reptiles, and rodents. At the moment, the SPCA's Vancouver branch is home to 2 birds, 2 guinea pigs, a rabbit, and several dogs and cats.
People who need to rehome an animal will also be glad to know that this shelter also accepts former pets. As sad as it may seem, the practice of putting a pet up for adoption is far more humane than passing them to a random stranger or abandoning them.
With everything we've observed from this shelter, we can say with certainty that they offer a decent level of care for various creatures. As an internationally recognized body, the SPCA has done a good job of offering many different services to improve the quality of life of animals.
If you're looking for rehoming services, veterinary care, or a new companion, the SPCA Vancouver Community Animal Centre is a great option. Their level of expertise can also be a great help for first-time adopters and animal caretakers.
Run by the SPCA
Has several branches all over BC
Connected to an SPCA animal hospital
Different branches carry different animals
Shelter opens late and closes early
Limited selection of pets for adoption
Customer Reviews
They were so kind and courteous and very efficient
"I recently took my Cat to be spayed. The other vets gave me a quotation of almost 500$ plus. Since I couldn't afford it I took her to BSPCA and they were much more affordable. I would like to compliment the staff, on the phone and in the office, they were amazing. They were so kind and courteous and very efficient. The Doctor who did the procedure for my Cat did a very clean job and I would like to thank him and the staff for looking after my Cat. I am extremely impressed." – Ismat M.
The shelter is clean and organized and the staff was very welcoming
"I'm very pleased to see that the animals are very well taken care of and they all look happy and healthy. The shelter is clean and organized and the staff was very welcoming. Great job guys" – Mali D.
2. VOKRA – Vancouver Orphan Kitten Rescue Association
SERVICES
Cat rescue
Cat sterilization
Feral cat relocation program
Adoption
Volunteer work
WEBSITE
https://www.vokra.ca/
ADDRESS
2028 Wall St, Vancouver, BC V5L 1B1, Canada
CONTACT DETAILS
Phone number: (604) 731-2913
Email:

[email protected]

OPERATING HOURS
Monday: closed
Tuesday: closed
Wednesday: 12 pm – 6 pm
Thursday: 12 pm – 6 pm
Friday: 12 pm – 6 pm
Saturday: 12 pm – 6 pm
Sunday: 12 pm – 6 pm
VOKRA is much like any other animal shelter save for the exclusive focus on abandoned cats and kittens. In their words, the decision to focus on felines stems from VOKRA's mission to address cat overpopulation and homelessness.
To support its efforts this shelter regularly catches stray felines in order to process them for treatment, vaccination, and adoption. Given the large population of cats in the lower mainland, the shelter has also adopted a trap-neuter-return process for cats that can't be sheltered.
By avoiding euthanasia, these folks are able to treat sheltered cats in a more humane manner. With the addition of a neutering protocol, released cats are also less likely to further increase the local feline population.
Despite being based in Vancouver, VOKRA also sends adopted cats all over the lower mainland through its relocation programs. The shelter has even found a use for feral cats as four-legged pest control agents for local farms in the surrounding areas.
Because of its focus on cats, we believe this shelter is an excellent option for those looking to adopt a feline friend. In addition to this, people who want to try owning a cat may also benefit from visiting this shelter.
We say this since many past clients have expressed great satisfaction in how the shelter pairs cats with their adoptive families. This pairing process helps felines and fur-parents alike with adjusting to their new lifestyles.
As we mentioned earlier, VOKRA exclusively provides shelter and care for cats. So, if you're not a cat person or you'd prefer to adopt a different animal, we believe your time would be better spent visiting a different shelter on our list.
Follows a no-kill policy
Sterilizes sheltered cats
Has an excellent feline adoption program
Great for cat lovers
Closed on Mondays and Tuesdays
Only shelters cats
Customer Reviews
Our adoption volunteer went above and beyond helping us find the perfect kittens for our situation
"We have had our kittens for a week now, and we could not have been more pleased with how quickly and smoothly the process with Vokra went. It was a tough year to go without fur friends at home, so we were really happy that a friend recommend Vokra to us. Our adoption volunteer went above and beyond helping us find the perfect kittens for our situation and our personalities. The responsive emails from everyone during our application made the process fun and fast (the fact that we wanted to adopt right away, and have had cats before, helped too)! Thank you again for the wonderful experience. Your volunteers are doing a great job, and your fosters were so helpful. We loved how welcoming they were and that they created the perfect transition home for our new babies :)" – Jaci B.
Our kitties are now 10 and we have Vokra to thank for taking care of them in early days.
"Always amazing..our kitties are now 10 and we have Vokra to thank for taking care of them in early days. They're still the silly little guys they were in the Vokra description! Haha! So much character." – Setareh B.
3. Rabbitats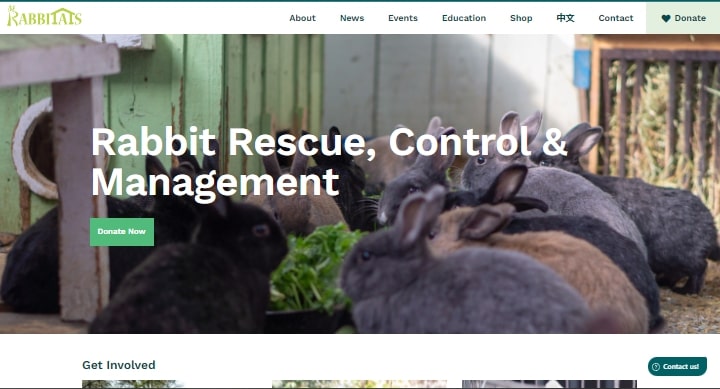 As its name implies, Rabbitats is a shelter that provides care and protection solely for rabbits. Aside from adoption and care, these folks also capture wild rabbits in order to help deal with the feral rabbit population.
To help raise rabbit adoption rates and awareness, Rabbitats has also created a community service program. Through this program, the shelter provides furry companions for a limited time during birthday celebrations and functions in exchange for a small donation.
This community interaction can be an excellent way for families to decide if a rabbit would fit in well with their household. It also provides people with the opportunity to simply enjoy the presence of several bunnies at any given time.
When it comes to adoption, clients will be allowed to choose from a selection of potential adoptees. But, instead of visiting the actual shelter, the rabbits are instead brought to the client's home.
For those who are unsure of owning a rabbit, the shelter also has a fostering program that lets clients care for a bunny for a certain period of time. This can be especially useful for first-time owners since rabbits aren't always the easiest pets to take care of.
From what we've seen, we believe Rabbitats has done well to provide care and awareness for feral and abandoned rabbits. If you're comfortable with meeting the strict food and hygiene requirements of a rabbit, then we'd certainly recommend setting up a house visit with Rabbitats.
We feel it's worth mentioning that despite their size, rabbits can be very energetic in their teenage years. This lends itself nicely to families who are willing to devote extra time in order to entertain and care for their rabbits.
Focuses exclusively on rabbits
Offers community interaction programs
Has a foster program for undecided clients
Rabbits are high maintenance pets
Does not allow shelter visits
Customer Reviews
Would definitely recommend, it's well worth the donation
"We booked a "Meet + Treat" event with Rabbitats for our daughter's 5th birthday at the end of August. Stephanie came to our backyard with lots of bunnies, set up a fenced pen with floor covering as well as lots of blankets for the kids/bunnies to sit on. The kids absolutely loved cuddling, playing, and feeding the bunnies. Stephanie was amazing with the kids, super friendly and knowledgeable, and tried to educate all of us about feral/abandoned bunnies. Would definitely recommend, it's well worth the donation (100% of which goes towards the bunnies). Thank you Stephanie for making it such a special day for our daughter!" – Jonathan M.
I have personally adopted three rabbits from Rabbitats, and I am so thankful to them for my sweet babies
"Rabbitats is a wonderful organization with the most dedicated and caring volunteers. The abandoned (and feral) rabbits of Richmond and beyond would be forgotten if it weren't for Rabbitats caring and advocating for them. I have personally adopted three rabbits from Rabbitats, and I am so thankful to them for my sweet babies." – Sasha R.
4. City of Vancouver Animal Services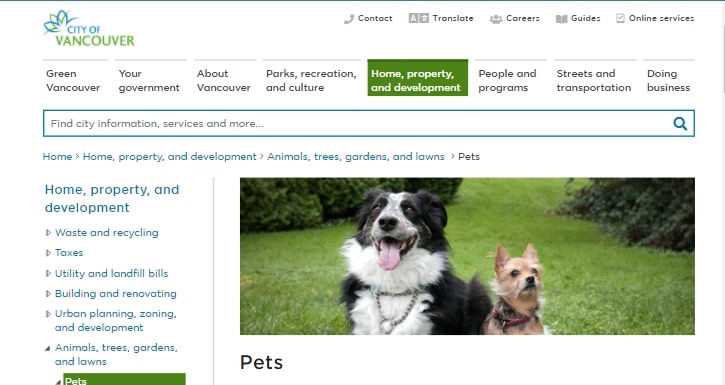 SERVICES
Dog licenses
Pet adoption
Volunteer work
Animal fostering
Shelter services
WEBSITE
https://vancouver.ca/home-property-development/pets.aspx
ADDRESS
1280 Raymur Ave, Vancouver, BC V6A 3L8, Canada
CONTACT DETAILS
Phone number: (604) 873-7000
Fax: (604) 871-6862
Email:

[email protected]

OPERATING HOURS
Monday: 7 am – 10 pm
Tuesday: 7 am – 10 pm
Wednesday: 7 am – 10 pm
Thursday: 7 am – 10 pm
Friday: 7 am – 10 pm
Saturday:7 am – 10 pm
Sunday: 7 am – 10 pm
The Vancouver Animal Services shelter is one of the few city-run establishments on our list. Since it is funded by the city government, this shelter is able to provide facilities and care on par with that of the SPCA's shelters.
Since it caters to Vancouver as a whole, this shelter often handles different types of animals such as dogs, birds, and rabbits. Once these animals are sheltered by the Vancouver Animal Services, they are treated and added to the city's pet adoption database.
The use of such a database allows adopters to begin their initial search for a pet from the comfort of their own homes. Once a suitable pet has been found adopters can set up a shelter visit to evaluate their suitability with the pet.
We'd be remiss if we didn't mention that these folks do not directly shelter felines. Instead, any cats that are captured are turned over to either the SPCA or Vokra for sheltering, care, and adoption.
Unfortunately, this means that the Vancouver Animal Services shelter does not have any cats for viewing or adoption. But on the bright side, these folks keep a large kennel full of different dogs.
With this in mind, we believe this particular shelter is excellent for those partial to dogs. The added benefit of dog license offerings also makes adoption much easier since the shelter provides all the necessary documents for canine ownership.
The icing on the cake is that the kennel also operates a nearby dog park where adopters can walk their would-be pets. This extra step gives clients more personal time with their chosen animal to see if they are indeed a good match.
Great for dog lovers
Opens early and closes late
Has a dog park nearby for socialization
Offers dog licenses
Does not shelter felines
Does not offer microchip implants
Customer Reviews
The staff seemed pretty friendly.
"I adopted my dog at Vancouver Animal Shelter 4 years ago. It's the best decision I've made. I appreciate that they take applications for ownership of a pet, to try to adopt it to the best home possible. The staff seemed pretty friendly. I ran in to a city officer a couple years later and she remembered my dog and was excited to see her doing well. It's a good feeling. The adoption fee is fair and includes a spay/neuter of the animal. These animals will love you unconditionally." – Amanda A.
The facility is clean, spacious, and orderly.
"I was impressed by this shelter. It is obviously very well-managed. The facility is clean, spacious, and orderly. Various people went out of their way to help my dog and myself. When my dog was brought to me, he was calm and happy. Situations that bring pets to shelters can be very stressful to the pets and their owners. I really appreciated all of the professional and empathetic attention of the staff." – Ken G.
FAQs About Animal Shelters
---
Between our entries, there are hundreds of hopeful animals for would-be owners to choose from. If you've found a shelter that happens to cater to your specific needs, we encourage you to reach out to them via the hyperlinked websites above.
More Articles for Animals & Wildlife
Since there's no shortage of animals in the lower mainland, your personal needs may go beyond that of adopting a new household pet. To help you address other concerns regarding animals and wildlife in general, we've prepared several other similar lists below: