6 Best Funeral Homes in Vancouver
Losing a loved one is difficult, so we're here to help carry some of the weight by picking and reviewing all of the top funeral homes in Vancouver. We sifted through the numerous funeral homes in the area and noted the ones that we believe would help you best.
Continue reading to see which of them made our list and find which ones would best cater to your needs.
How much are the services in funeral homes in Vancouver?
The services of funeral homes in Vancouver vary in their price based on how much you want to add to your funeral service. Feel free to use the table below to get a general idea of how much each basic service costs.
| Service | Price |
| --- | --- |
| Basic services | $902 |
| Embalming | $415 |
| Facilities and staff for viewing and ceremony | $662 |
| Service car or van | $184 |
| Printed materials | $351 |
Top Funeral Homes in Vancouver
To make this list, we reviewed the top funeral homes in Vancouver based on the following criteria:
1. Casket Depot Vancouver
Pub
Beer, Wine and Cocktails
SERVICES
Funeral Caskets, Coffins, Urns
WEBSITE
https://casketdepotvancouver.ca/
ADDRESS
18860 24 Ave Unit 121, Surrey, BC V3Z 0Y8, Canada
CONTACT DETAILS
+1 604-833-9193
OPERATING HOURS
Monday - Friday: 9 AM - 5 PM

Saturday - Sunday: 10 AM - 4 PM
| | |
| --- | --- |
| Criteria | Ratings |
| Amenities | ★★★★☆ (4/5) |
| Personalization | ★★★★★ (5/5) |
| Customer satisfaction | ★★★★★ (5/5) |
Casket Depot Vancouver is a direct-to-consumer company that offers its clients affordable and top-notch funeral coffins and caskets ideal for those looking for a valuable offer for such products.
From solid wood caskets to metal steel caskets and urns, we like that their prices are significantly lower than that from funeral homes to which clients can readily view their rates and compare it with that of the usual rates given to said homes.
Past clients that have experienced working with them have commended them for their hassle-free procedures and transactions along with impressive casket quality that their products reasonable as a whole.
Note though that they only accommodate free shipping for clients in the Greater Vancouver Area and any area outside this may incur shipping fees for that matter.
Nonetheless, with their transparent and reasonable take on transactions offered, extensive experience in the field, and affordable funeral casket products, we highly recommend interested clients to check them out.
Offers free delivery in the Greater Vancouver area
Highly experienced personnel employed
Affordable and durable casket selections offered
Delivery outside the Greater Vancouver area incurs a small fee
Customer Reviews
Here are some reviews from their clients:
"I was very pleased with my experience with Vancouver Casket Depot. I found the perfect casket for an excellent price and had it delivered all within 24hrs. It just took one easy phone call. I'm grateful for the amazing service and savings!"
"Casket Depot Van, wonderful people to work with. They did exactly what I wanted, beautifully done and crafted. Packed extremely well, from Vancouver all the way to Edmonton . I will have this supplier for future needs . Oh ya, there prices, unbeatable."
2. Mount Pleasant Universal Funeral Home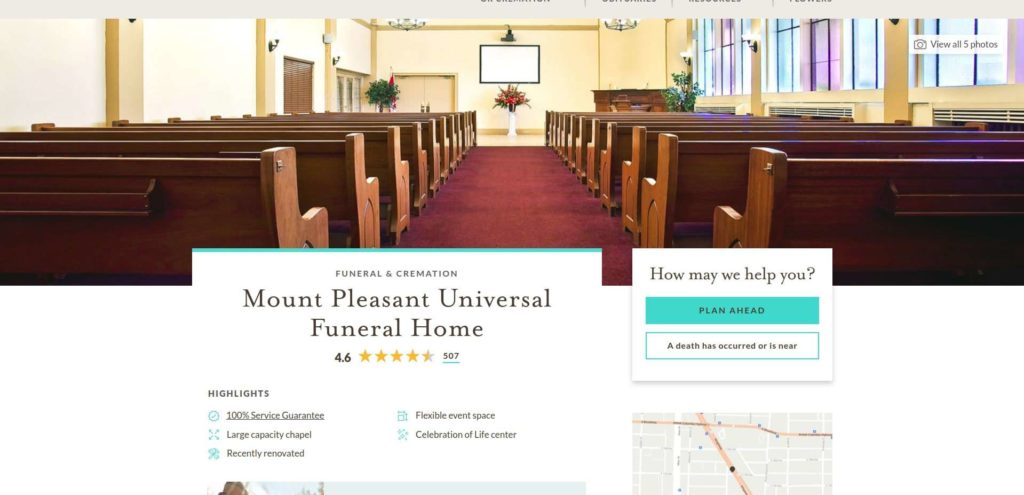 | | |
| --- | --- |
| Criteria | Ratings |
| Amenities | ★★★★☆ (4/5) |
| Personalization | ★★★★☆ (4/5) |
| Customer satisfaction | ★★★★★ (5/5) |
Mount Pleasant Universal Funeral Home is one of the oldest funeral homes in Vancouver. Established in 1914, this funeral home has seen and conducted numerous services of different cultures and heritage.
Catering to different cultures is one of Mount Pleasant's strengths, in our opinion. They have conducted many Protestant and Catholic funerals over the years.
However, they do specialize more in Asian funeral traditions.
We like that Mount Pleasant Universal Funeral Home is one of the few places that understand various traditional Chinese and Taoist ceremonies. The funeral home's staff also speaks Mandarin and Cantonese to make communications and preparations easier.
Speaking of making preparations easier, Mount Pleasant also offers complete funeral planning via phone or email. We find that to be a big point of convenience in their favor.
The funeral home and the facilities it has are also worth noting. Their chapel was renovated in 2019 and features a large seating area with a piano, a coffee lounge, and more.
Such amenities make the entire service comfortable and intimate while still flexible enough to cater to any religious and cultural funerals.
Mount Pleasant also offers cremation services and can help in getting you remembrance jewelry. They also have an option for the home mail delivery of your loved one's ashes, so you don't have to make frequent visits to the funeral home.
Open 24/7
Over 100 years of service
Offers multicultural funerals
Does not list a price breakdown publicly
Customer Reviews
Nice facilities
Losing a family member, particularly a mother, is a tremendous loss to any family. From the funeral director to the staff everyone made planning and carrying out my moms service gratefully simple. The facilities and hearse were very nice. One would hope they would not need to return to such a venue but it is inevitable so when the time comes we will only use Mount Pleasant Universal Funeral Home. Thank you. – Shana, Google Reviews
Helpful staff
Gillian Wong was very helpful and professional from the first day I contacted her and managed to get me in to meet with her to make funeral arrangements the same day my dad passed away as I lived in the suburbs and I was in Vancouver. Her assistant Sara was also very helpful with the online obituary, webinar information, funeral pamphlets and signing register. Very helpful from start to finish. – David, Google Reviews
3. Glenhaven Memorial Chapel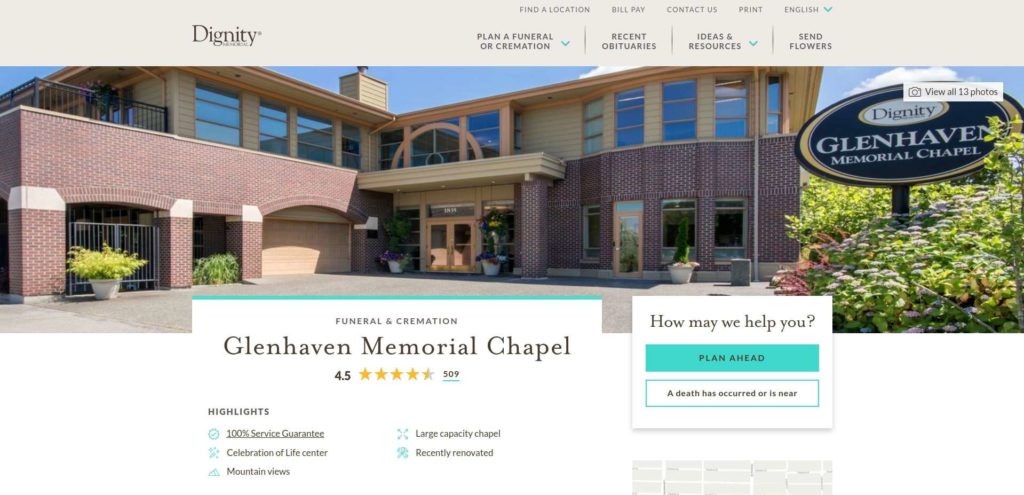 | | |
| --- | --- |
| Criteria | Ratings |
| Amenities | ★★★★☆ (4/5) |
| Personalization | ★★★★★ (5/5) |
| Customer satisfaction | ★★★★☆ (4/5) |
Glenhaven Memorial Chapel is one of the best funeral homes in Vancouver when it comes to personalization of services and catering to a large number of guests.
Glenhaven features a traditional chapel with a more modern interior and a good view of the mountains. This chapel can comfortably fit 250 people but has no problem accommodating upwards of 400 individuals if need be.
A good thing about the nondenominational chapel is that it is wheelchair accessible to help the elderly and differently-abled. Although nondenominational, the chapel can set up religious elements and symbols upon the request of the family.
This is Glenhaven Memorial Chapel's biggest strength: giving the customer personalization options to better represent the life of the one who passed away.
We think Glenhaven is well-versed and well-equipped to hold funeral services for numerous traditions. They even have staff that can speak Vietnamese, Cantonese, and Mandarin to make transactions easier with the Asian community.
We also like that the customization is not limited to traditions alone. They also allow the most unique and unorthodox ways of remembering your loved ones.
Glenhaven added an anecdote to their website about a man who was an avid motorcycle rider, so they allowed his bike to be displayed inside the chapel while his band played.
Although the families we interviewed did not avail of these services, they were all appreciative of the professionalism, patience, and support of Glenhaven's staff.
Large modern chapel
Offers celebrations of life
Place is wheelchair accessible
Does not list down a price breakdown
Customer Reviews
Helpful and respectful staff
Laura and her colleagues were very helpful and Laura was patient in her dealings with our questions and was very timely with answering to our requests. She was respectful and resourceful and we recommend their services should there be a need. The facility was very well maintained and everything turned out beautifully. – J, Google Reviews
Excellent and dignified service
We received excellent services and were handled with utmost respect. My late dear son arrived in Kenya in good time as promised and in a dignified manner. Thank you Alex and your entire team. God bless you all for the amazing work you are doing. – Kennedy, Google Reviews
4. Amherst Funeral and Cremation Services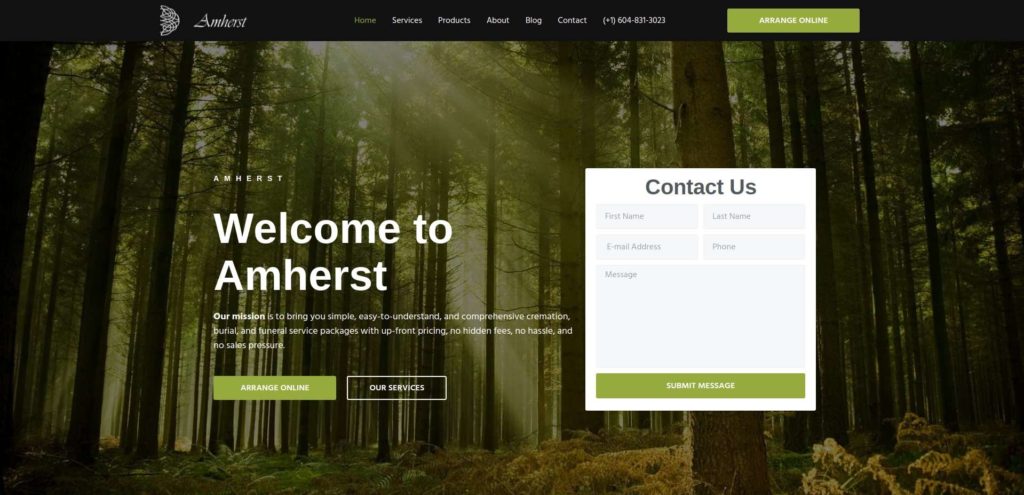 Pub
Beer, Wine and Cocktails
SERVICES
Funeral Services

Cremation

Burials

Transport

Urns

Caskets

WEBSITE
https://www.amherstcremation.com/
ADDRESS
207 West Hastings Street, Vancouver, BC V6B 1H7
CONTACT DETAILS
604-800-0468
OPERATING HOURS
Monday to Friday: 9:00 AM to 5:00 PM

Saturday: 10:00 AM to 3:00 PM
| | |
| --- | --- |
| Criteria | Ratings |
| Amenities | ★★★★☆ (4/5) |
| Personalization | ★★★☆☆ (3/5) |
| Customer satisfaction | ★★★★★ (5/5) |
Amherst Funeral and Cremation Services is a funeral home in Vancouver that offers arguably the most affordable funeral products and services in the area.
Amherst offers simple and direct cremation services that include the transport from the hospital, shelter, registration, certificates, and an urn for the ashes of your loved one.
They will then offer different additional services depending on the package you avail of.
The same concept applies to their burial packages. You can either avail the package that involves a direct burial for your loved one or you can go for a full funeral and burial service.
We believe that this makes Amherst a great option for those who require only the essentials while not paying such a high price. However, a downside to this is that they do not have their own chapel to hold any wake or viewing services.
Amherst does not have its own space to hold these services. Despite this, they will send funeral staff and directors to the venue of your choice, at the very least.
They also offer home services so that customers can plan funerals without having to travel to the main office. Again, we're always in favor of that.
In addition, they also offer urns and caskets for your loved ones. You can pick from their catalogue online, which contains items ranging from traditional caskets to eco-friendly, bamboo urns.
Offers affordable services
Transparent with their prices
Offers eco-friendly urns and caskets
Offers little personalization 
Customer Reviews
Compassionate and helpful staff
If I could give ten stars I would. The staff were always very compassionate and helpful. For the very reasonable price of $845, my brother was cremated and personally delivered to me along with his death certificate, including 10 copies. The package that came also had a list of what needs to be done next. I am forever grateful! – Leslie, Google Reviews
Quick and transparent service
After the passing of my Mother , I don't think I could have found a nicer company to look after all the arrangements. Quick , easy and everyone there went above and beyond to make sure I was well informed with every step. I wouldn't hesitate in recommending this company, filled with compassionate people from beginning to end. Many thanks. –Kira, Google Reviews
5. Hamilton Harron Funeral Home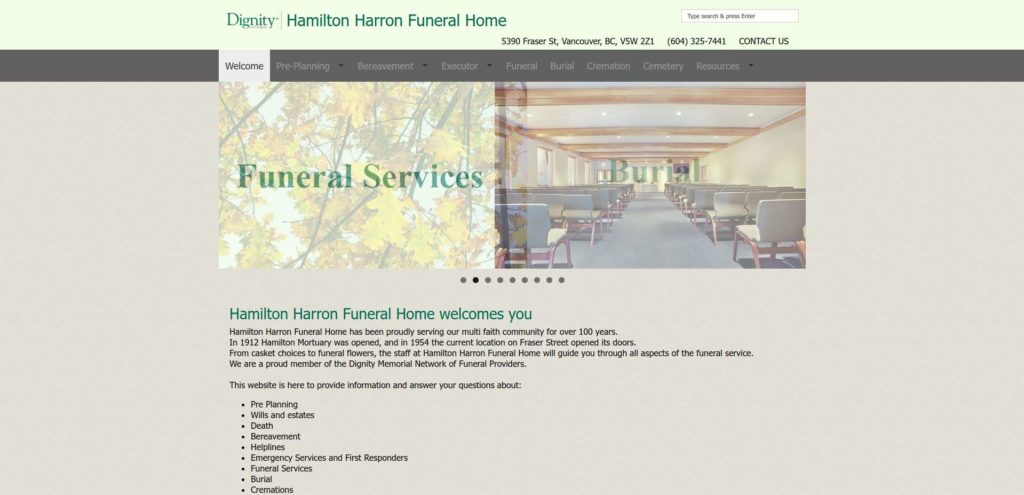 SERVICES
Funeral Services

Cremation,

Burials

Transport

Multicultural Services

WEBSITE
https://www.hamiltonharron.com/
ADDRESS
5390 Fraser Street, Vancouver, BC V5W 2Z1
CONTACT DETAILS
604-325-7441
OPERATING HOURS
Open 24/7
| | |
| --- | --- |
| Criteria | Ratings |
| Amenities | ★★★★☆ (4/5) |
| Personalization | ★★★★☆ (4/5) |
| Customer satisfaction | ★★★★☆ (4/5) |
Hamilton Harron Funeral Home has been providing traditional funeral services in Vancouver and surrounding areas for over 60 years. This gives you an idea of how experienced they are.
Much like the other funeral homes, Hamilton Harron offers services that cater to different traditions and customs, including those of foreign and ethnic backgrounds. They also offer funeral planning via phone and email, which makes things convenient.
The funeral home also offers bereavement support and a 24-hour helpline to help you cope with your recent loss of a loved one.
We love that 24-hour helpline. We actually interviewed a few previous clients of the funeral home and they praised Hamilton Harron for being easy to contact when needed.
In addition, you can contact Hamilton Harron so that you could set and preplan your own funeral, burial, and cremation services to save money.
These services are more than what other funeral homes offer. However, Hamilton Harron's strengths actually lie mainly in their facilities.
Firstly, the funeral home is in close proximity to major cemeteries. One of these is Mountain View Cemetery, which is one of the largest and oldest in Vancouver.
By being set up close to gravesites, you can save time, money, and effort on transporting your loved one to their final resting place.
Another plus is their venue that could fit over 200 people. While this area could be set up for diverse religions and cultures, it could also be turned into a facility for the more personalized celebration of life services.
Allows funeral planning via phone or email
Relatively large chapel
In close proximity to many cemeteries
Does not list a price breakdown
Customer Reviews
Supportive and understanding staff
Recently we went through the most difficult time in our lives. We lost our precious twins. Gerry and Kaz were very understanding, supportive and made our painful experience easier. They were very professional, empathic and easy to coordinate with.
Thank you so much Gerry and Kaz. – Martina, Google Reviews
Available for contact anytime
Hamilton Harron did an excellent job catering to my families needs. They are very experienced in religious services and have many props/music at their funeral home for various services. The virtual arrangement was very easy and timeless. I was able to get in contact with a staff member at all times. The process and the paperwork was thoroughly explained. All staff members during the service was understand and empathetic. Could not have gone with a better funeral home. – Pooja, Google Reviews
6. Kearney Funeral Services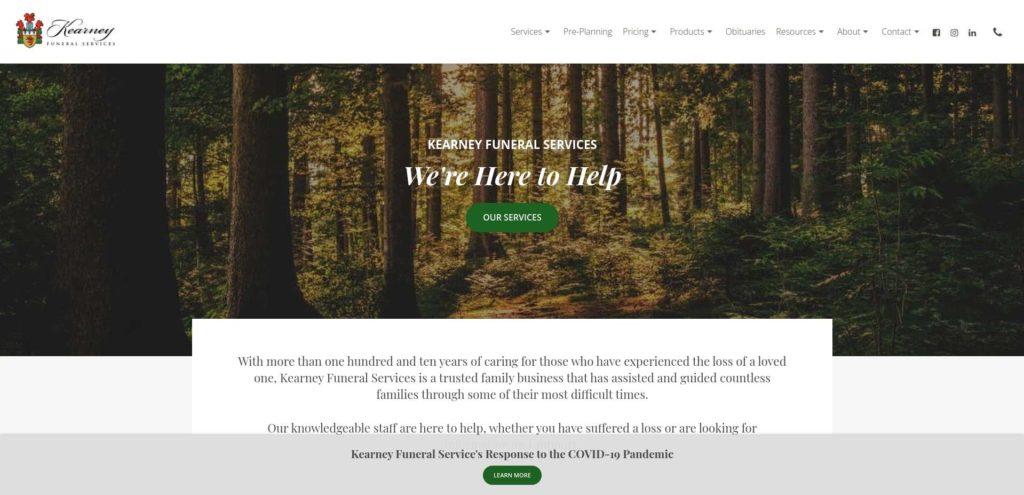 SERVICES
Funeral Services

Cremation

Burials

Celebration Of Life

Funeral Pre-Planning

WEBSITE
https://kearneyfs.com/
ADDRESS
450 West 2nd Avenue, Vancouver, BC V5Y 1E2
CONTACT DETAILS
Email:

[email protected]

Phone: 604-373-4845

Fax: 604-736-2668

OPERATING HOURS
Daily: 9:00 AM to 5:00 PM
| | |
| --- | --- |
| Criteria | Ratings |
| Amenities | ★★★★☆ (4/5) |
| Personalization | ★★★★☆ (4/5) |
| Customer satisfaction | ★★★★☆ (4/5) |
Kearney Funeral Services is a funeral home that has handled cremation and burial services in Vancouver and three surrounding areas since 1908. With over a hundred years in the business, Kearney has earned a reputation for quality and care in dealing with customers.
What we like best about Kearney Funeral Services is that they offer traditional burial and cremation rites, but also cater to Catholic, Filipino, and Chinese ceremonies. In addition, the funeral home helps plan celebrations of life to better represent your loved one's personality.
The funeral home helps in the setup of such events, regardless of the place they hold the event in. Families can choose their own venue or make use of Kearney's prepared facilities.
Aside from these, Kearney also sells caskets and urns, ranging from traditional ones to unique animal-shaped eco-friendly options.
You can avail of their products and services by checking their website and their offered packages. Although Kearney's packages are relatively more expensive, we believe that the inclusions to their programs more than justify the large price tag.
Many of the funeral home's customers did not comment on the price of Kearney's services. However, they did take note of how accommodating, patient, and quick the staff was from the planning stage to the burial and cremation of their deceased loved ones.
Transparent with pricing
Offers celebrations of life
Offers different urns and caskets
Relatively expensive services
Customer Reviews
Patient and professional staff
Kearney Funeral Services made the unpleasant experience of arranging my father's cremation as simple and as painless as I could possibly have hoped for. I worked with Matt Kaiser, who was patient, professional, and accommodating throughout the process. He helped me to honor my late father's wishes, and I'm extremely grateful for that. I also found Brionney's supportive and understanding presence at reception invaluable. Thank you both! – Ian, Google Reviews
Accommodating to customers' needs
I would like to commend the staff of Kearney Funeral Services for their care of my father. Dad's situation was unique in that he passed away in his assisted living apartment. The Funeral Director worked with the staff of the facility to pick up Dad, and she did it with the utmost care and respect even taking into account not just our wishes but the affect on the other residents as well, something we otherwise would not of thought of.
The staff at Kearney were compassionate, caring, readily available and very efficient. No matter how many times we revised the obituary notice, or service, or how many people in our family got involved. They treated each revision as important. The director and administration staff worked with us to ensure Dad's notices and services reflected who he was and what we required. Kearney made a very difficult time in our lives easier and for that I can not thank them enough. I would recommend Kearney Funeral Services to anyone who has lost a loved one. – Jared, Google Reviews
FAQs about Funeral Homes in Vancouver
---
More Resources for Your Loved Ones' Needs