8 Centres for the Best Tutoring in Vancouver
Featured Image Source: Pexels
Feeling a bit behind your classes? Or maybe you've got a big exam coming up? Whatever it is that you're preparing for, the best tutoring in Vancouver can help you improve your grades and understanding.
In this article, we offer you our top choices of tutoring centres in the city. We also answered some common questions about the topic for added information.
How much do tutoring services in Vancouver cost?
Here are the costs for both online and on-site tutoring services. Part-time tutors are available only for private sessions while professional ones may be open for tutoring sessions in-home or in their respective tutor centres.
| | |
| --- | --- |
| Type of tutor | Price range |
| Part-time tutors | $15–$30 per hour |
| Professional tutors | $25–$75 per hour |
The Best Tutoring Centres in Vancouver
Here are our top picks of Vancouver-based tutoring centres. We only listed centres with professional tutors and flexible scheduling.
1. MyGradeBooster Tutoring Vancouver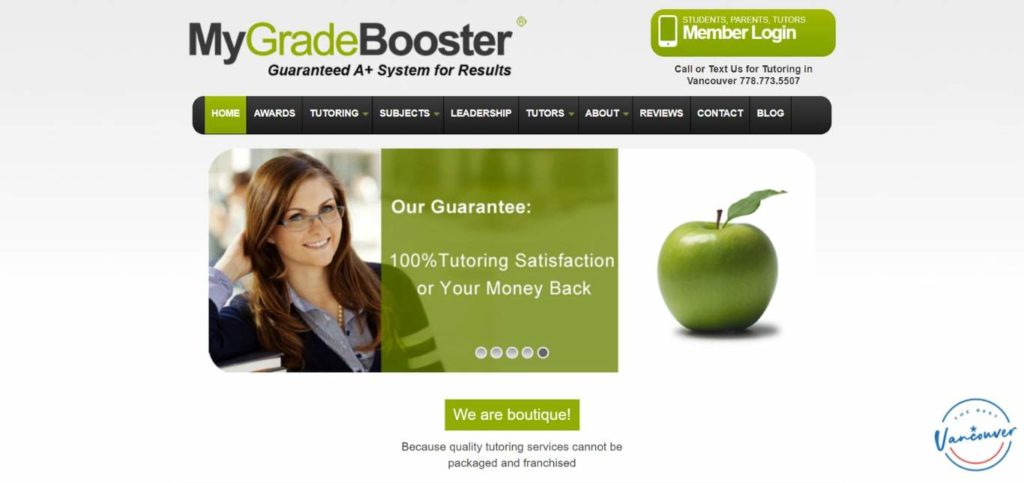 CLASSES
Math, chemistry, physics, science, and english, skills development
WEBSITE
https://mygradebooster.com/
ADDRESS
999 W Broadway #720, Vancouver, BC V5Z 1K5
CONTACT DETAILS
(778) 773-5507
OPERATING HOURS
Monday – Friday: 9:00 AM – 9:00 PM
Saturday: 11:00 AM – 6:00 PM
MyGradeBooster offers the best tutoring services in Vancouver right in the comfort of your home. Thanks to the safety of this setup and its tutors' flexible schedules, this tutoring service can teach children as late as 9 PM.
This tutoring centre is open for students from grade 1 up to high school taking up math, chemistry, physics, science, and english subjects. It also has skills development classes such as the public speaking program.
It claims to have increased grades for over 80%-90% of its students. As a satisfaction guarantee, MyGradeBooster promises to refund payment should customers be dissatisfied with their tutoring session.
MyGradeBooster follows a formative assessment tutoring approach, which we like because it means its staff can adjust according to the students' reactions and reception to lessons. This way, its tutors can also match their student's learning styles, available schedules, and academic levels.
Aside from teaching lessons, MyGradeBooster helps students with exam anxiety as part of the preparation for higher education.
MyGradeBooster also features an online member portal where students and parents alike can access materials and other tools. This tutoring service even accepts numerous online payment options for convenience.
In-home tutoring
Extended availability hours
Adjusts with formative assessment results
Numerous payment options
Satisfaction guarantee
Wide range of tutoring topics
Limited to a few subjects
No online tutoring option
Customer Reviews
Breaks down content to understandable pieces
"As a prerequisite for a university course, I recently upgraded my high school sciences. I found Chemistry 11 to be extremely intimidating as it seemed like another language to me. Mehrnaz was able to break down the content into understandable pieces through teaching me simple techniques that I could use; the following week, I got 90% on my midterm! From this experience, I would highly recommend her tutoring services because of her patience and skill in knowing how to teach."—Nicole Parente
Helped achieve high marks, dedicated and knowledgeable tutors
"I am very pleased with MyGradeBooster tutoring services. They helped my daughter to achieve high marks in math and science. The tutors are very knowledgeable and dedicated to their job. I highly recommend MyGradeBooster to the parents who are looking for an exemplary tutoring service."—Souzan B.
2. Sealy Tutoring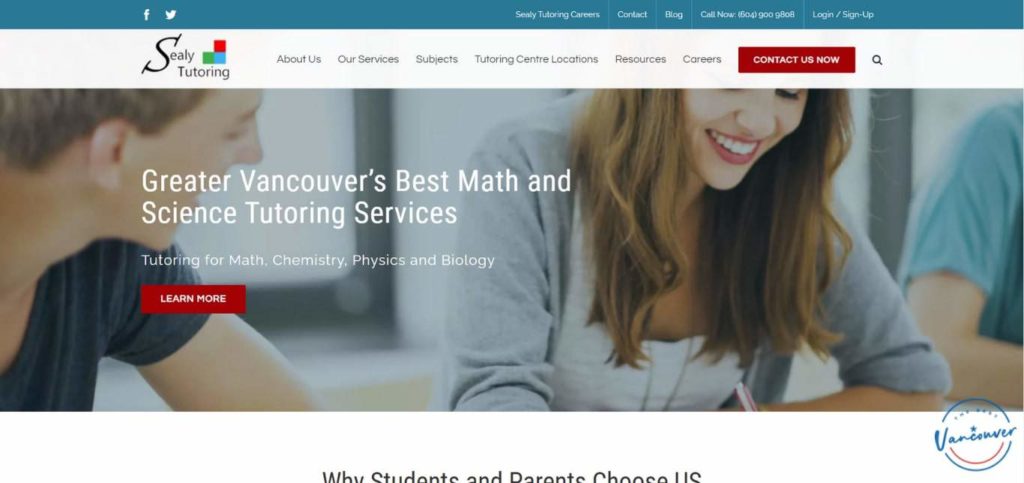 CLASSES
Math, pre-calculus, calculus, science, biology, chemistry, physics
WEBSITE
http://sealytutoring.com/
ADDRESS
1836 W 5th Ave #203, Vancouver, BC V6J 1P3
CONTACT DETAILS
(604) 900-9808
OPERATING HOURS
Monday – Thursday: 8:30 AM – 7:00 PM
Friday: 8:30 AM – 4:30 PM
Sunday: 4:00 PM – 7:00 PM
Sealy Tutoring brands itself as the best tutoring in Vancouver for math and science classes. Its tutors help students understand underlying concepts and theories, solve problems, and even prepare for final exams.
To make its services as effective as possible, Sealy Tutoring makes sure its tutors are knowledgeable as well as fun and engaging. It even offers summer classes as early preparation.
We also find it really helpful that Sealy Tutoring has a drop-in tutoring service. Here, students can work on problems and ask as many questions as they want within the 3 hours per session.
This may be a better option for students who need more than the standard 1-hour of tutoring sessions and who can't necessarily make routine visits. Besides, the drop-in session even has a free trial!
Additionally, we like that this tutoring centre offers various venue options such that students can either be tutored in their own homes or in the centre. Another thing that we find makes Sealy Tutoring accessible is that it offers online tutoring services, too.
While it's available on Sunday afternoons and early evenings to prepare students for the first day of weekly classes, it isn't available on Saturdays.
Drop-in session free trial
Up to 3 hours per tutoring session
Online tutoring option available
Summer classes available
Wide range of tutoring topics
Limited weekend availability
Math and science classes only
Customer Reviews
Excellent and immediate results, excellent knowledge and resources
"My daughter is an excellent student in school but needed to bring her Science mark in line with her other grades. From the week Christian showed up to enhance her knowledge of Science her grades began to climb. We have had excellent immediate results! He is very personable, speaks her teenage language, and makes the topics fun and easy to learn. He has an excellent knowledge base of the material and is a skilled teacher. I would recommend Sealy Tutoring to anyone wanting a quality tutoring service for their child."—Marty Pospischil
Super helpful, flexible scheduling, reasonable costs
"If I can give them more than 5 stars I would . My son is currently taking physics and he was being overwhelmed by the amount of material . Our regular tutor was not available and I came across Sealy. Right away Christian was super helpful as I told him it was urgent As we needed a tutor for the next day. He arranged for my son to meet Brayden. I remembered how stressed he was and when I picked him up after the session he was smiling. The prices are good for the quality of instruction and they have a drop in session from 4-7 everyday that is really convenient. Thanks Christian and Brayden."—Jake Tsui
3. Guru Learning Institute Inc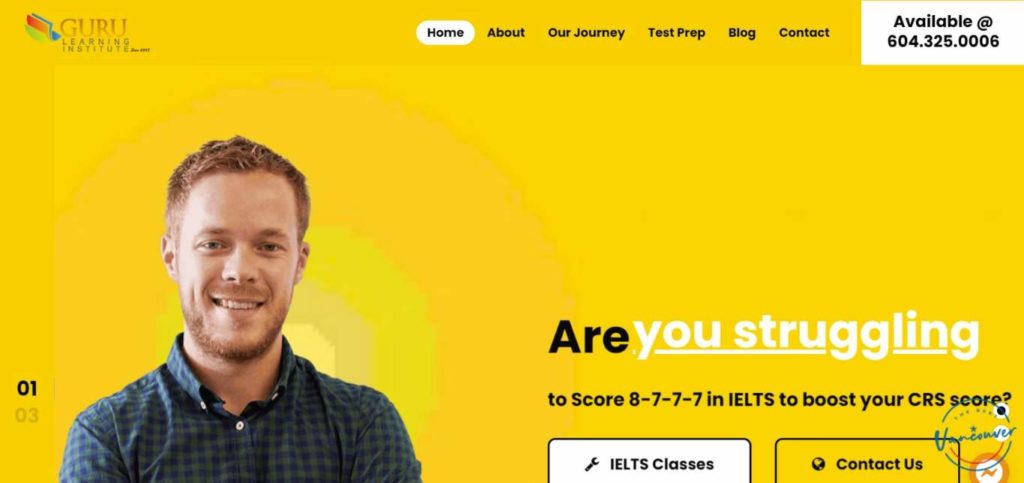 | | |
| --- | --- |
| CLASSES | Language classes |
| WEBSITE | https://www.gurulearning.ca/ |
| ADDRESS | 689 E 46th Ave, Vancouver, BC V5W 2A2 |
| CONTACT DETAILS | (604) 325-0006 |
| OPERATING HOURS | Monday – Friday: 9:00 AM – 9:00 PM |
If you need help passing the IELTS, CELPIP, ESL, and CELBAN, Guru Learning Institute may be what you need. This tutoring centre boasts of high passing rates, with students gaining 7+ bands in the IELTS.
It makes such high scores possible though its vast array of study materials and resources, experienced teachers, and mock tests for small-sized classes. Some of its courses even come with free books and recorded pronunciation lessons.
Guru Learning follows a linear process composed of four steps—identifying the task, breaking the task into parts, setting the agenda, and then student summary thought process.
More importantly, Guru Learning Institute understands that these tests are usually for those planning to move into the country. As such, Guru Learning provides online tutoring sessions along with in-person ones.
To further help those with weaknesses in speaking skills, Guru Learning offers specialized individual sessions. Additionally, this tutoring centre has flexible schedules, offering part-time classes that can last from one to four weeks.
Unfortunately, it still has some availability limitations since it's closed on weekends and doesn't have in-home tutorials.
Online tutoring option available
Flexible scheduling with extended opening hours
Expertise in IELTS and CELPIP
Mock tests available
No in-home tutoring options
Unavailable on weekends
Limited to English language classes
Customer Reviews
Patient teachers, understands mistakes
"Mrs. Lavika was in charge of teaching me tricks on doing a good reading IELTS. I saved up my 10 minutes on passages those were difficult to match because of her help. She is also a very patient teacher and have a willing to teach students. She understands well my mistakes and willing to improve me for the better. I highly recommend Mrs. lavika as your teacher for learning either IElTS general or IELTS academic. You will not regret it 👍"—Carina Lau
Flexible time, passionate teachers
"I am really happy with this institute. Instructors are too hard working and have flexible timings. A big thanks to KRISHAGIE mam. She is very passionate and have done best to help me with my reading and writing and also overall score. I am happy to tell that I got my score – 8.5 in Reading and 7 in writing. overall 7.5 … more than I want. Recommended for IELTS study."—Gurpinder Kaur
4. CMC Tutoring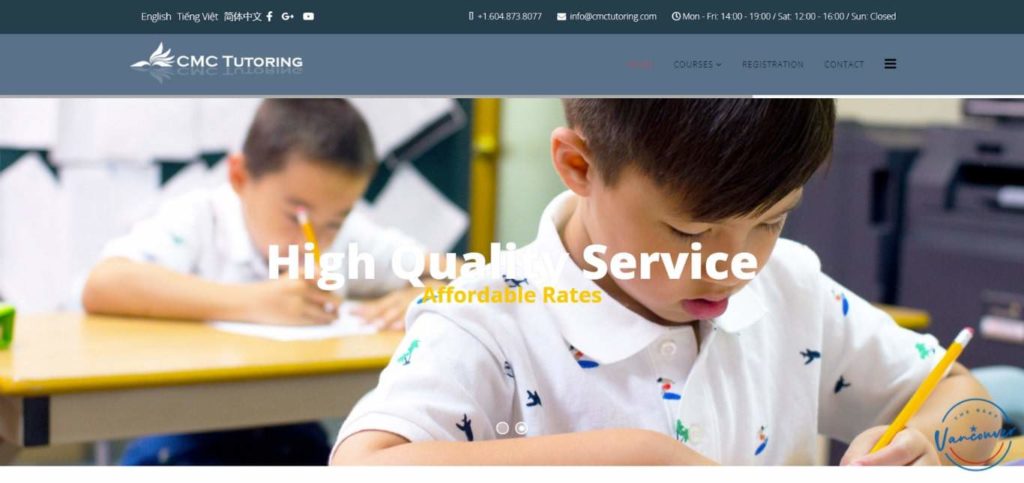 CLASSES
English, Biology, Chemistry, Physics, General Science, and Pre-Calculus, Calculus, Post-Secondary Math
WEBSITE
https://cmctutoring.com/en/
ADDRESS
101- 470, Kingsway, Vancouver, BC V5T 3J9
CONTACT DETAILS
(604) 873-8077 |

[email protected]

OPERATING HOURS
Monday – Friday: 3:00 PM – 8:00 PM
Saturday: 10:00 AM – 4:00 PM
CMC Tutoring aims to provide an intimate learning environment that encourages productivity with enjoyment.
Its amenities include not only whiteboards but also desktop computers and laptops. Students can even print their learning materials and homework and browse the internet for free at CMC Tutoring.
Since 2000, this centre has offered a helping hand to Vancouver students from grades 1 through 12.
With full-time professional tutors, CMC Tutoring teaches its students concepts, techniques, and skills in english, biology, chemistry, physics, general science, and pre-calculus, calculus, and even post-secondary math.
Unfortunately, CMC Tutoring also has limitations as it only accommodates students during weekday afternoons. Luckily, it still has whole day operations on weekends.
And what it lacks in availability, it makes up for the affordability of its tutoring sessions offered. CMC Tutoring even offers online tutoring sessions as a way to minimize the exposure of its students.
Additionally, we find CMC Tutoring extra accessible as it offers its services in two other languages, so that native speakers of Vietnamese and Chinese can still enroll at CMC Tutoring.
Wide range of tutoring topics
Multilingual services
Online tutoring option available
Competitive rates
Free WiFi and printing services
Limited to afternoon sessions
No in-home tutoring
Customer Reviews
Small and personal classrooms, results in exceeding expectations
"My kids started coming here last year from "hey we are concerned with your sons math" to now he is getting A's after 6 months of ongoing tutoring. My daughter didnt like math and struggled also and now her marks lately are exceeding expectations. Happy we started coming here as my friend had recommended. Staff and classroom settings are small and more personal. When kids show proof of their A's they are rewarded with ice cream!! My kids favorite part! Thanks Steven and the CMC team."—Chris Martin
Helps obtain high grades, hardworking and knowledgeable teachers
"Great place to enroll into. I've been attending here since elementary and they have helped to obtain high grades! They are able the provide you with hardworking and have knowledgeable teacher(s) you need. They not only help with your school work but provide extra worksheets if extra practice is needed."—Teresa Nguten
5. Sylvan Learning of Vancouver – Kerrisdale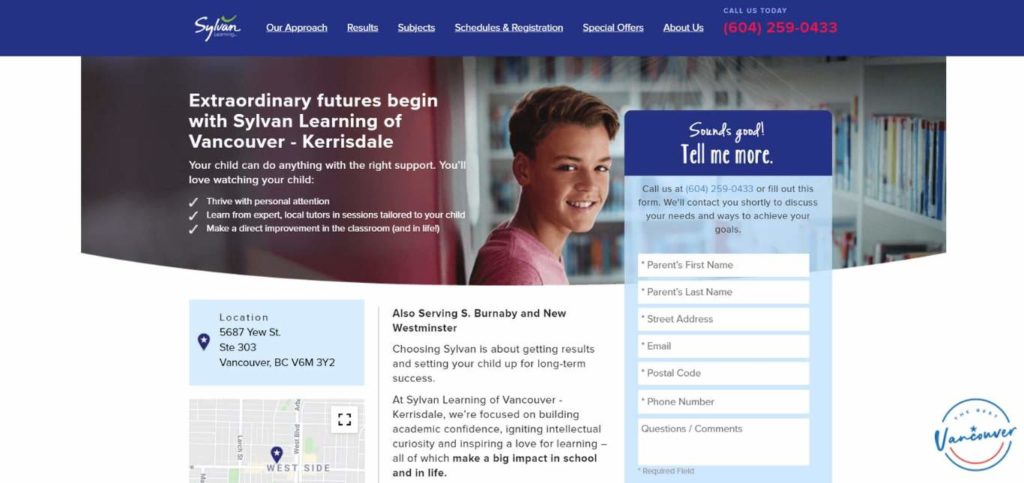 CLASSES
Math, reading, writing, advanced reading and test preparation, study skills
WEBSITE
https://locations.sylvanlearning.com/ca/kerrisdale-bc
ADDRESS
5687 Yew St ste 303, Vancouver, BC V6M 3Y2
CONTACT DETAILS
(604) 283-9414
OPERATING HOURS
Monday – Thursday: 11:00 AM – 8:00 PM
Friday: 12:00 PM – 8:00 PM
Saturday: 9:00 AM – 5:00 PM
Sylvan Learning of Vancouver is a part of a larger chain of tutoring centres of the same name.
This tutoring service aims to improve not only academic performance but also some life skills. It achieves this goal with the help of seasoned professionals with over 40+ years of experience and frequently updated review materials.
It builds confidence and inspires curiosity and a love for learning by matching the tutoring service according to the student's learning style and attitude. Sylvan Learning even has a service guarantee that students will master up to 50 skills within 50 hours of tutoring.
Aside from helping students who are having a tough time with homework and regular understanding of lessons, Sylvan Learning extends its services to those facing exams. This centre's advanced placement and ACT/SAT test prep classes even start at $66 per hour.
Those who'd rather stay home can still choose Sylvan Learning as it also has online tutoring classes.
However, this tutoring centre only offers math and english subjects. So, if you need help with other subjects, or are looking for Sunday schedules, then this may not be your best bet.
Test and AP class preparation
Extended operating hours
Online tutoring option available
No science subjects
Unavailable on Sundays
Customer Reviews
Gives confidence and joy in learning, caters to students with disabilities
"Both my daughter and I love our experience at Sylvan Learning Kerrisdale. The staff and instructors are all lovely, and make learning fun. To make a long story short, it was learned my daughter had an eye disability, which made reading and retaining the information extremely difficult. Now that my daughters eyes are "being fixed" (w/ eye exercises) we have been playing catch up with school.. Sylvan has giving my daughter the confidence and the joy of learning we all need and deserve.. I am very grateful.. They are a part of our village to helping my daughter become success in life."—Katie Reynolds
Gives meaning advice
"We like Sylvan. My first son learned a lot from Sylvan. And 15 years later,his brother,likes the token from Sylvan,and the advice from tutors and advisors too."—Yu Hong Pan
6. Teacher on Wheels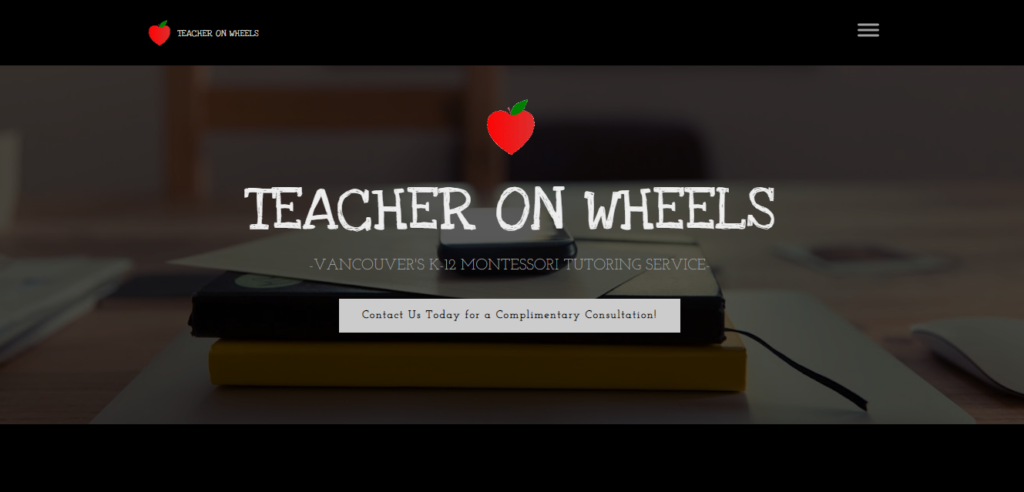 Teacher on Wheels is a tutorial center that now offers face-to-face tutoring under the strict implementation of their communicable disease prevention plan. They offer tutoring that is specially aligned with BC's K-12 curriculum on various subjects such as Math, Science, and Reading among others.
They are composed of a group of professional tutors who aim not only to help your child master the concept that they need but also build a relationship with them to have a better tutorial experience. They understand that each child has a different pace that is distinct from other students and so they also make it to a point to work with you and your child in creating a joint plan that is crafted according to what they need as a student.
The center prides itself on its long-term availability and consistently high-quality services as they also offer tutorials all week so you don't have to worry about your child's tutorial schedule. Furthermore, they also maintain detailed track records of their tutees and if you would like to be informed on how your child is doing regularly you can easily ask them for this and expect proactive solutions should there be any issues.
We recommend this tutorial center for your child's needs due to their humanistic and child-centered approach to tutoring that will surely help your child master each concept with flying colors.
Available all week
Humanistic approach
Proactive solutions
7. TutorOne Tutoring Vancouver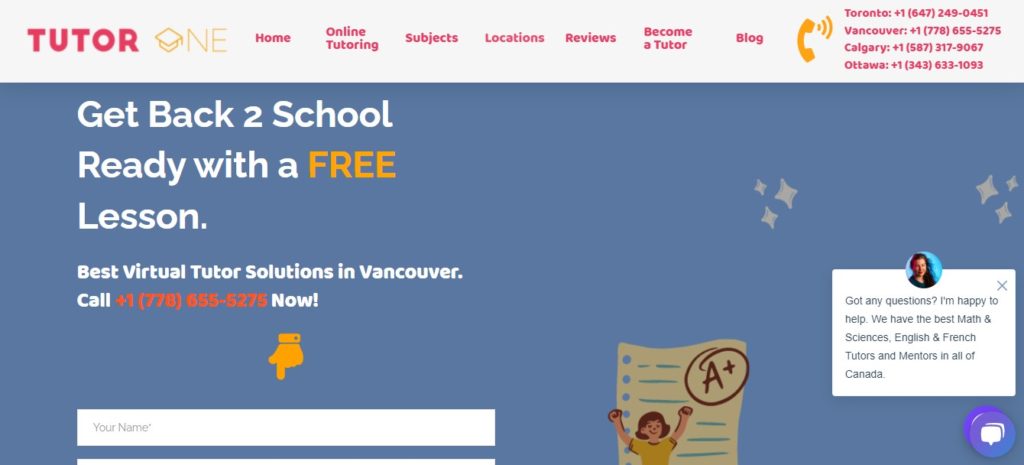 Vancouver is a fast-growing city with a diverse population. TutorONE provides dedicated Vancouver tutor-mentors, teaching your child critical thinking and learning skills.
In comparison to other tutors, they are very aware of how essential a personalized approach is in teaching students. With this type of service, tutees will receive the extra boost needed to achieve academic success.
Their tutors will take their time in assessing the learning style of your child, and, from this, create a specific customized tutoring program
They are proud to offer in-home tutoring to students in different parts of Vancouver, including Kitsilano, Dunbar, West End, and Strathcona.
Promotes Responsibility
Provides peace of mind for parents
8. English Hangover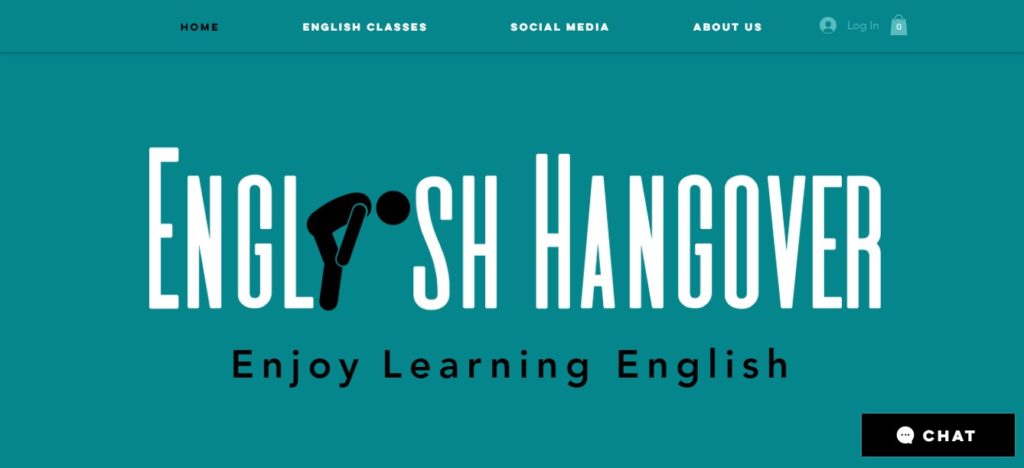 CLASSES
IELTS Exam
CELPIP Exam
General English
Spoken English
Business English
Academic English
TOEFL Exam
Teens English
WEBSITE
https://www.englishhangover.com/
ADDRESS
IELTS and CELPIP For Permanent Residency – EH Canada
703-3408 Crowley Drive
Vancouver, BC 
Canada
V5R 6C3​
CONTACT DETAILS
Tel: +1-604-365-3540
Tel: +1-778-833-3122
​Email:

[email protected]

OPERATING HOURS
Contact for more information
With English Hangover, you will absolutely enjoy learning English. In comparison to others, we love how they teach English through various means.
First is that they teach English using classes and courses. Second, they can also teach English through online lessons.
Lastly, they also offer to teach English through social media videos. This third choice is perfect for those who want to keep their English lessons for free since they will only subscribe, share, and like their page.
What makes them stand out from their competitors is the fact that they have a combined 31 years of experience in teaching English to international students.
This amount can already tell you how amazing tutors at English Hangover are, they are incomparable!
Different from orthodox teaching skills
Provides you great advice on English skills and life
would explain the reasons behind any mistake
What to Look for in a Tutor?
Not all tutoring is the same. So, consider these factors when choosing tutors.
1. Subject expertise
Some centres and tutors may only specialize in the sciences or in languages. If you're having trouble with a certain subject, then hiring these specialized tutors may be enough.
However, if you need help with your entire coursework, consider going to bigger tutoring centres that have numerous tutors and wider subject expertise.
2. Schedule availability
Some students want their tutoring sessions after classes, while some only want them on weekends due to other extra-curricular commitments after school hours. So, make sure you're getting a tutor that matches your desired schedule.
3. Type of tutoring
Following recent developments, more and more tools have been put into place to make online tutoring as effective as in-person tutoring. So, if you want to minimize the frequency of going out, you can ask about online tutoring from prestigious tutoring centres.
However, if you find that you need a more guided and personal approach, you should inquire about in-home tutoring.
But if you don't have any issues, the standard in-person classes in tutoring centres would be just fine.
4. Cost
Lastly, make sure you're hiring only what you can afford. Tutoring will be an extra expense, especially since it happens on a routine basis.
Scroll up to our cost guide to know if your tutor's prices are within reasonable rates.
FAQs about Tutoring
---
And that concludes our list of top tutoring centres in the city. We hope you can finally receive the best tutoring in Vancouver with this list and guide.
Do you know any other tutoring centres that deserve to be here? If so, feel free to share that tutoring centre, so we can review them, too!
If you're leaning toward online tutoring services, then you need to have your computer in top shape. If not, then you can still fix it with the best computer repair shops in Vancouver.