The 4 Best Nutritionists in Vancouver
For help deciding what food and diet to choose, it would be better to call a nutritionist. They will help you design a healthy eating regimen tailor-made for you based on your needs, lifestyle, and preferences.
Here's a list of well-qualified nutritionists with their own unique backgrounds and capabilities.
How Much Do Nutritionists Cost in Vancouver
The amount of money you'll spend on a nutritionist depends on what type of service you need. Some people may only need tailored meal plans, while others need multiple consultations and assistance with grocery shopping and many more.
In general, initial consultations will not cost more than CAD 200. However, follow-up consultations and additional services are charged at an additional cost.
We've compiled a list of the various services that nutritionists provide to their clients, as well as their average costs.
| Type | Estimated Costs |
| --- | --- |
| Initial Consultations | CAD 70 - 200 |
| Meal Plans | CAD 60 - 90/hour CAD 200 - 550/month |
| Wellness Courses | CAD 50 - 250 |
| Follow-up Consultations | CAD 120 - 460 |
| Grocery Store Tours | CAD 45 - 50/hour |
| Individual Therapy | CAD 60 - 100/hour |
| Cooking Classes | CAD 45 - 150/session |
| Branded Shoes | CAD 80 - 300 |
The Best Nutritionists in Vancouver
The best nutritionists can bring together expertise, interest, and experience in order to provide you with the best support, guidance, and overall help.
Whether you have a specific need or desire to maintain a healthier lifestyle through a balanced diet, nutritionists can assist you.
We've assessed the following companies based on the criteria below:
1. Mary Dickinson Fitness & Nutrition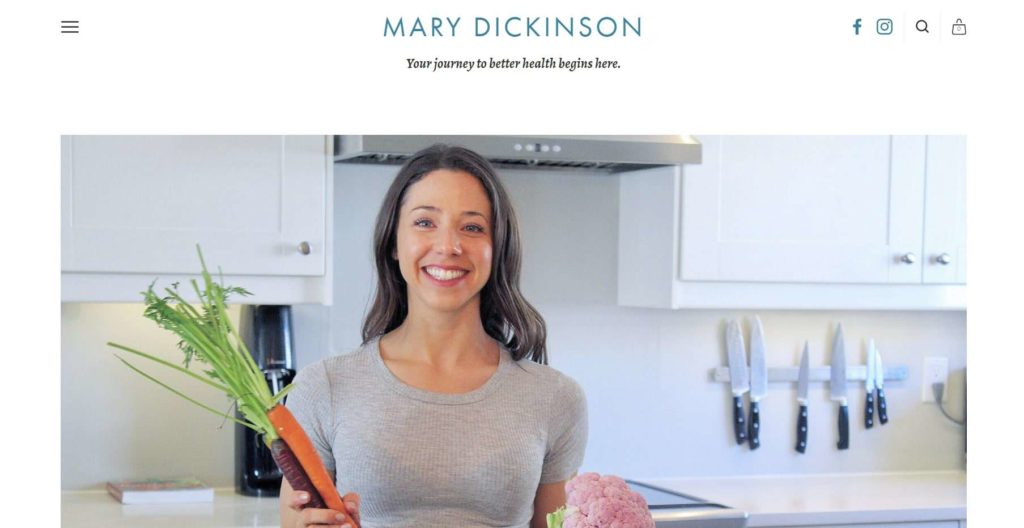 | | |
| --- | --- |
| Packages | ★★★★☆ 4/5 |
| Availability | ★★★★★ 5/5 |
| Reputation | ★★★★★ 5/5 |
| Pricing | ★★★★☆ 4/5 |
Mary is a certified nutritional practitioner who focuses on nutritional coaching, lifestyle changes, and movement. We like that she is highly qualified to tailor nutrition programs for various health conditions.
Some of what she offers include private consultations, which cost CAD 985. This service includes a customized nutrition and lifestyle plan and 12 weekly follow-up sessions.
It is important to note, however, that additional follow-ups will incur a CAD 80 fee.
Nonetheless, we strongly recommend this nutrition service because it is designed for people who are struggling to lose weight, have low energy, digestive problems, and many more.
They also offer cooking lessons that offer meal prep tips, recipes, cooking instructions, and education on reading food labels. This, in our opinion, is ideal for clients who wish to make easy and healthy meals in the kitchen.
Mary also offers educational health talks, which cost CAD 350 an hour, which aims to combat misleading information about diets, weight loss, and food. We believe this is important to help you understand the proper way to be healthy.
Moreover, Mary is also passionate about fitness, which we think is a perfect match for her love for nutrition. Mary offers one-on-one and semi-private training, and clients can choose how often they want to train per week.
We like that she provides training package prices, as we believe that transparency is essential in any business. Do take note though, that she charges extra fees for additional follow-ups.
Nevertheless, we think Mary Dickinson Fitness & Nutrition is one of the best nutritionists in Vancouver. They offer personalized nutrition programs ideal for clients who want to begin developing a positive relationship with food.
Specializes in nutritional coaching
Provides customized nutrition and lifestyle plans
Offers cooking lessons
Offers educational health talks
Offers training services
Relatively higher prices
Charges for additional follow-ups
Customer Reviews
Professional and effective services
"I can't thank Mary enough for her guidance and support as I endeavored to lose some weight and change my diet. I had tried a lot of different things in the past, but most were too restrictive for me to adhere to and while I had some success, my old habits came back reversing the progress I had made. After working with Mary and talking to her about making smaller changes, I have found the transition to be easy and the results have been very positive. I have most of lost the weight I was hoping to and I have more energy. Mary helped me to see that I didn't have to make huge changes and she recognized that there were certain things I just wouldn't give up. She was extremely knowledgeable, motivating and professional throughout the process and kept me accountable to what I had committed to. I know that these diet changes will be long lasting and I will keep the weight off. Many thanks Mary for all of you help through this journey.: -Johann B.
Energetic and supportive
"2 years ago I walked into the gym to meet Mary. I had never worked with a personal trainer before , was very nervous and not confident in my ability or potential. Two years later…I am so much stronger,with better balance and posture, also more confident! She has challenged me to do things that I wouldn't do on my own in a gym. I LOVE my gym workouts, and she makes my day with her contagious positiveness , her ENERGY and her zest for life. She's the package! Now off to my workout!." -Tammy U.
2. Erin Levine Nutrition + Wellness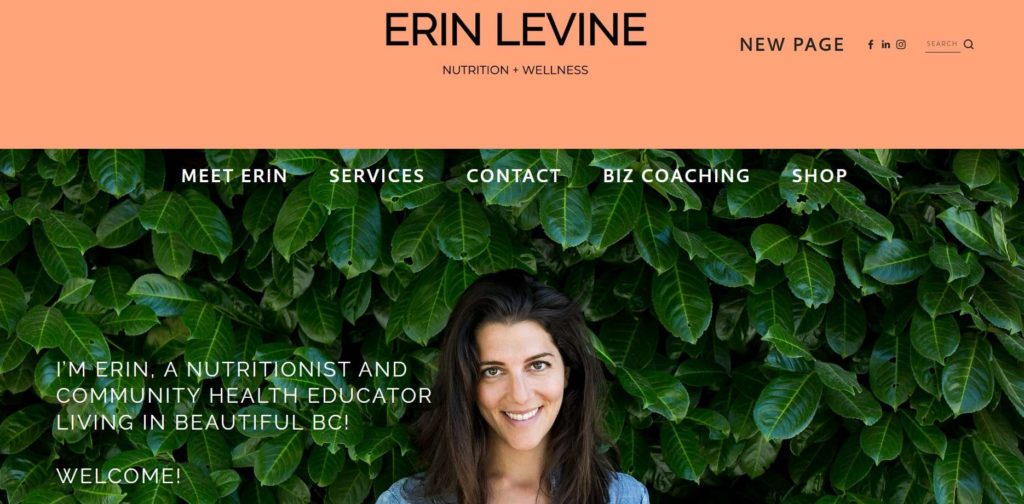 | Test | Info |
| --- | --- |
| SERVICES | Corporate Wellness, Private Consults, Business Advising |
| WEBSITE | https://www.erinlevine.com/new-page |
| ADDRESS | 402 W Pender St #306, Vancouver, BC V6B 1T6, Canada |
| CONTACT DETAILS | Phone: 416-999-4674 |
| OPERATING HOURS | Monday - Thursday: 09:00 AM - 04:00 PM |
| | |
| --- | --- |
| Packages | ★★★★★ 5/5 |
| Availability | ★★★★★ 5/5 |
| Reputation | ★★★★☆ 4/5 |
| Pricing | ★★★★☆ 4/5 |
Erin Levine started her own private practice to help people with their personal health journeys. She is a certified nutritionist and community educator.
She offers private digital consultations wherein you'll discuss your diet, lifestyle, health concerns, and goals. We appreciate that a comprehensive, individualized health plan is provided, as we think this is crucial to maintaining discipline.
Erin Levin also offers "fine-tune" appointments, which we believe helps track and revisit goals and progress. During these meetings, you'll discuss blood sugar management, sleep optimization, and even grocery shopping habits, to name a few.
We're also big fans of Erin's kitchen audits, which include two-hour digital sessions. These are designed to help you learn what to keep and what to throw away in your refrigerator!
Moreover, we recommend Erin's one-on-one business consulting services. In these sessions, she prepares students for various things from business set up to public speaking among others.
Another thing that caught our attention is that Erin has experience with workplace wellness programs and community health initiatives. We believe this adds to her dependability as she offers workshops, cooking classes, and nutrition coaching.
Now, do take note that Erine Levine only offers virtual sessions. So if you're looking for in-person consultations, this might not be the best option for you.
Nevertheless, we believe Erin Levine Nutrition is a reliable nutrition establishment that offers a wide range of wellness programs, making them one of the best nutritionists in Vancouver.
Provides individualized health plans
Offers kitchen audits
Offers one-on-one business advising
Has experience with workplace wellness programs
Offers cooking classes and workshops
Closed on Fridays and weekends
Only offers virtual sessions
Customer Reviews
Responsive and excellent nutrition services
"Erin is awesome at she does. She is knowledgeable, responsive, and completely non judgmental. Erin developed a nutrition plan for me. I have lost weight, reduce my caffeine consumption, and increased my energy levels. I enjoy the food I eat and feel more balanced throughout the day. I highly recommend using her." -Kevin M.
Knowledgeable and well-customized meal plans
"Erin has been my backbone to nutrition and wellness improvement over the years. She's not just helping you with an issue, but also looking at the full picture – getting the most out of feeling as best you can. I initially came in to get help with my digestive support, but her knowledge and help in that area also improved my anxiety, burn out, fatigue and PMS. She works with you, not at you. She truly cares about your wellbeing and customizes meal plans according to what issues and symptoms you are facing. I cannot recommend Erin Levine more! She saved me!." -Lauren P.
3. Raiz Holistic Nutrition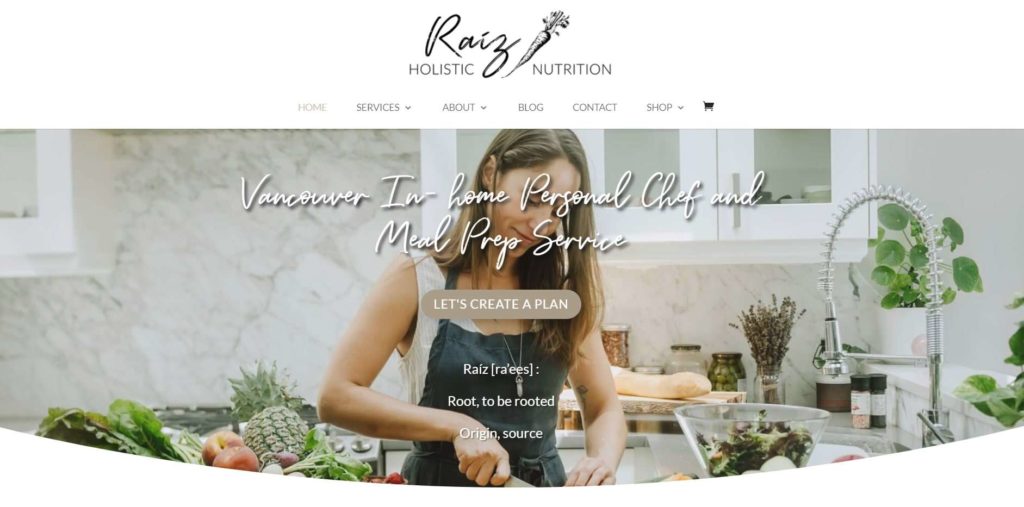 Test
Info
SERVICES
Customized Private Chef Services, Postpartum Meal Prep Platters, Grazing Tables, Fresh Sheet, Catering and Private Chef Services
WEBSITE
https://www.raizholisticnutrition.com/
CONTACT DETAILS
Phone: 778-836-1209

Email: [email protected]

OPERATING HOURS
Monday - Friday: 09:00 AM - 05:30 PM

Saturday: 10:00 AM - 02:00 PM
| | |
| --- | --- |
| Packages | ★★★★☆ 4/5 |
| Availability | ★★★★★ 5/5 |
| Reputation | ★★★★☆ 4/5 |
| Pricing | ★★★★☆ 4/5 |
Established in 2019, Raiz Holistic Nutrition has provided numerous nutritional services, from meal preps to private chef services.

They have a team of seven dedicated nutritionists and chefs, which we think increases their efficiency and reliability. We especially like that they can cater to all kinds of diets, including vegan, vegetarian, keto, paleo, and many more.
Another noteworthy service is their postpartum nourishment service which is designed to boost milk production and lactation. They provide a variety of postpartum meals which include vegetables, oats, and many others.

Some of what they offer includes private cheffing services right in your home! They offer deliveries too!
Do take note that they charge a delivery fee of CAD 25. We also noticed that their meal packages are relatively pricey.
Nevertheless, we're big fans of their meal plan packages that include customized weekly menu planning, free sheet meals, grazing plates, and corporate lunch services.
All in all, Raiz Holistic Nutrition offers healthy meal prep services that are ideal for families, couples, and individuals determined to achieve a healthy lifestyle.
Specializes in nutritious meal preps
Can cater to all kinds of diets
Offers in-home private cheffing services
Offers postpartum nourishment service
Only focuses on meal preps and chef services
Relatively pricey meal packages
Customer Reviews
Delicious and nutritious food
"Monica created an amazing experience at our engagement party — she fed a group of 35 people at a remote, off grid location, and made it look easy! The food was incredible, nutritious and perfect for the environment we were in. I HIGHLY recommend Raiz Holistic Nutrition for any meal prep or personal chef needs you have." -Jeff G.
Amazing service and prompt delivery
"Raiz offered an amazing service for us as we were expecting our second. WIth everyone in the family eating different food there was no way I could get healthy meals on the table for everyone. Raiz offered us a service that I have always wanted – amazing food, catered to our preferences, delivered to our house. I can't recommend this service enough!." -Jessica M.
4. Energizing Nutrition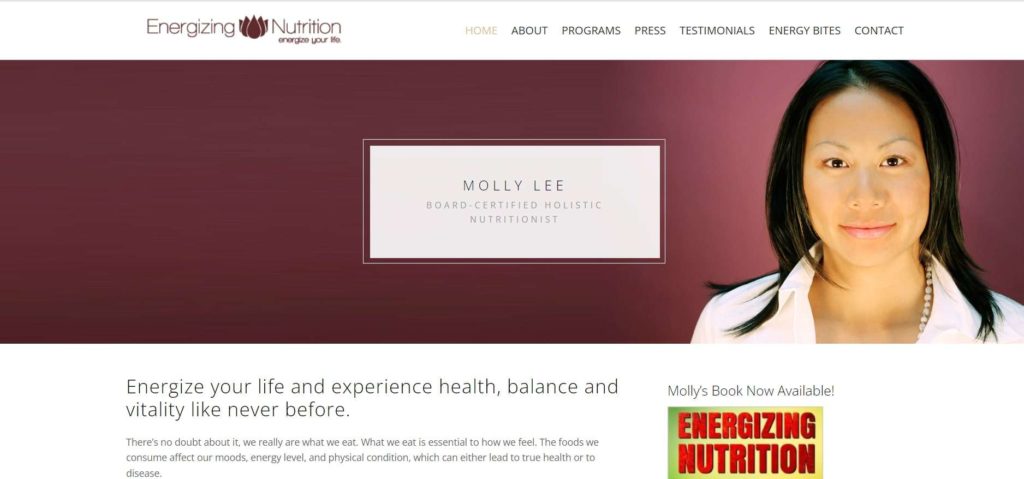 | Test | Info |
| --- | --- |
| SERVICES | Meal Planning, Nutrition Evaluation |
| WEBSITE | http://energizingnutrition.com/ |
| ADDRESS | 2786 W 16th Ave Suite #207, Vancouver, BC V6K 4M1, Canada |
| CONTACT DETAILS | Phone: 604-445-7875 |
| OPERATING HOURS | Tuesday - Friday: 10:00 AM - 08:00 PM |
| | |
| --- | --- |
| Packages | ★★★★☆ 4/5 |
| Availability | ★★★★☆ 4/5 |
| Reputation | ★★★★★ 5/5 |
| Pricing | ★★★★★ 5/5 |
Molly Lee, the founder of Energizing Nutrition, is a board-certified holistic nutritionist who focuses on addressing health concerns.

Their primary focus is on food and healing, as Molly believes that improved eating habits are essential for energy increase and overall well being.
Although Energizing Nutrition does not have specific programs, they instead provide customized programs tailored to each individual's needs.
A typical program would include 1-2 sessions per month, the most recent natural health e-books, personalized health recommendations, and dietary analysis.
In our opinion, these programs benefit customers who are keen to maintain a healthy, balanced diet. In addition to this, they also provide simple whole food recipes and evaluations of body and blood types.
Now, when it comes to private consultations, we find it convenient that clients can have their sessions done over the phone or through video conference apps.
Unfortunately, Energizing Nutrition offers a limited range of services. They are also closed on weekends and on Mondays.
Regardless, the majority of the customers we spoke with praised Molly for her valuable insights on general wellness and balance. She develops a daily meal structure, which has resulted in positive lifestyle changes according to many clients.
Overall, we believe this organization provides dedicated nutrition services aimed at healthy lifestyle changes and self-care.
Focuses on addressing health concerns
Offers customized nutrition programs
Provides simple whole food recipes
Has a published book entitled Energizing Nutrition
Closed on weekends and Mondays
Limited range of services
Customer Reviews
Flexible schedules and helpful services
"Working with Molly has been so helpful not only for gaining insight into my nutritional habits, but also my general wellness and balance. Our sessions took place over Facetime and I have learned how to refine the foods that fuel my body the best, and also fuel my wellbeing with "primary foods". We created a structure for eating and day-to-day life that has changed with my lifestyle changes. I am so grateful for Molly's insight and helpful questions that brought forward my concerns and areas for improvement. Molly is super flexible with scheduling and rescheduling as needed and always provides follow-up material from each session. She provides caring and helpful recommendations tailored to your specific conversations and goals." -Sofie E.
Top-notch nutrition goal planning
"I can't share enough about Molly. If you are struggling with anything from weight gain to health issues to simply trying to eat better and help your family eat well I HIGHLY recommend working with Molly. She has been working in the field internationally for years and is incredibly skilled in both coaching and strategic nutrition goal planning. Molly gets results! Molly has helped me not only with my health goals but also with everyday life struggles and I have come to use her as my "go to" when the going gets tough. If you are struggling in any area of wellness, I highly recommend working with this coach!." -Shelley U.
FAQs About Nutritionists in Vancouver
---
This brings us to the end of our list of the best nutritionists in Vancouver. If you're ready to start living a healthier lifestyle, contact one of the nutritionists listed here.
While we're on the subject, take a look at our list of the best dietitians in Vancouver.