The 5 Best Colleges in Vancouver
Whether you're concluding your academic journey or picking up where you left off, the right college can make all the difference. Thankfully, there's no shortage of tertiary educational institutions in Vancity.
With so many choices, it can be tough to find the right university for your educational needs. So to make choosing a bit easier, we've selected and reviewed some of the best colleges in Vancouver.
How much do colleges cost in Vancouver?
Since expenses will often play a big role in your college preferences, we thought it best to include a table of each entry's tuition fees. The tuition ranges below pertain to the amount of money to be paid for an undergraduate degree program.
College
Tuition range
University of British Columbia
Undergraduate degree $5399.10 – $6,298.95/year
International students $39,197.40 – $46,241.30 (full course)
University Canada West
Undergraduate degree $6,960/year
International students $69,600 (full course)
Emily Carr University of Art and Design
Undergraduate degree $5,307/year
International students $73,196 (full course)
Simon Fraser University
Undergraduate degree $2,770/year
International students $48,125 (full course)
Capilano University
Undergraduate degree $4,934 – $14,646/year
International students  $77,325 (full course)
Keep in mind, these are only standard tuition fees and they do not take into account additional costs for materials and living expenses.  Also, many of  our entries offer various scholarships that may reduce or waive tuition fees altogether.
The Best Colleges in Vancouver
Now that we've seen the basic college tuition fees, it's time to jump into our list of universities.
To make our list as objective and reliable as possible, we've analyzed each entry based on specific criteria, and these include:
Location/Campus – Naturally, we've only chosen colleges with campuses located in the Vancouver area. We've also paid close attention to each school's facilities.
College ranking – Though our list is in no particular order, all of our choices are of significant standing in both the global and local university rankings.
Course offerings – We've also analyzed each university's course offerings to ensure that each entry has a healthy selection of degree programs or well-developed specializations.
Areas of excellence – Finally, we've chosen to feature each college's respective areas of excellence in order to help you choose the school that best aligns with your interests.
With all these standards, we aim to create an unbiased and helpful list of possible universities for you. So, with our criteria established, we proudly present our picks for the best universities in Vancouver.
1. The University of British Columbia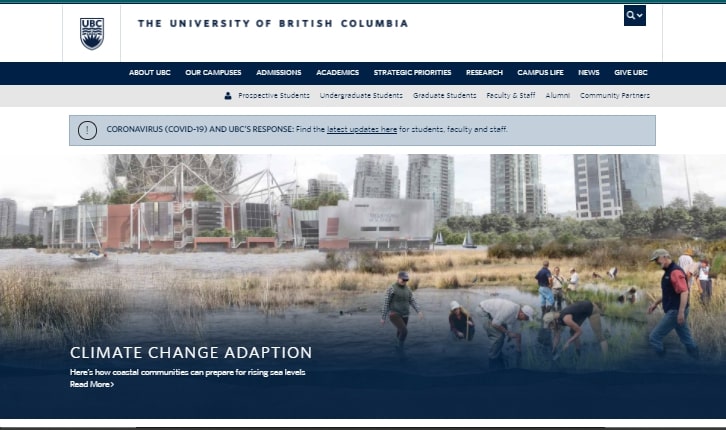 SERVICES
Business and economics programs
Earth, environment, and sustainability
Education
Engineering and technology
Health and life sciences
History, law, and politics
Languages and linguistics
Math, chemistry, and physics
Media and fine art
People, culture, and society
WEBSITE
https://www.ubc.ca/
ADDRESS
Vancouver, BC V6T 1Z4, Canada
CONTACT DETAILS
Phone number: (604) 822-9836
Toll-free number: 1 (877) 272-1422
Fax: (604) 822-6943
OPERATING HOURS
Monday: 10:00 am – 2 pm
Tuesday: 10:00 am – 2 pm
Wednesday: 10:00 am – 2 pm
Thursday: 10:00 am – 2 pm
Friday: 10:00 am – 2 pm
Saturday: closed
Sunday: closed
As "The" University of Canada's Pacific province, this particular school is among one of the most prestigious universities in the Great White North and also the world. To date, The University of British Columbia (UBC) is ranked 3rd in Canada and 45th globally.
These credentials were bestowed on the institution thanks to its excellent programs and comprehensive research contributions. In particular, UBC is quite well known for having excellent degree programs in medicine, biotech, economics, law, and engineering.
In total, this university offers 256 unique degree programs ranging from business and education to health and fine arts. The duration of these programs also stretches from 11 months to a full 4 and a half years depending on a student's chosen degree.
With such a wide variety of degrees to choose from, students are likely to find at least one course that piques their interest. This diversity of offerings is due in large part to the institution's age, which at 112 years old, makes it the oldest college in British Columbia.
Located just 30 minutes from downtown Vancouver, the school campus is bordered by a forest on one side and an ocean on the other. This makes for a serene landscape that many would say is quite conducive to learning.
Additionally, the university is home to some of the city's most iconic pieces of architecture. Among these pieces, the most famous by far is the Ladner Clock Tower, which is frequented by both city-dwellers and tourists alike.
Though this university is quite strict in its acceptance of students, many would say the education offered by UBC is well worth it. As proof of this, the university's list of alumni includes Nobel Prize winners, Rhodes Scholars, and even Canada's very own PM, Justin Trudeau.
Last but not least, we'd be remiss if we didn't mention UBC's excellent international student program. Though current projections aren't available, in the past year, 25% of the university's student body was made up of international students.
Great for engineering, medicine, & law
Has produced many notable alumni
Large, but conveniently accessible campus
3rd ranked university in Canada
Great international student program
Strict admission requirements
Large campus space can be difficult for some
Student Reviews
The diversity in class choices still amazes
"The diversity in class choices still amazes. I have been exposed to a multitude of disciplines which have enhance my learning. Whether it be studying forensic anthropology and learning about bones or the relations between China and Italy in Italian Studies, I am continuously engaged in academia." – Sarah S.
UBC is a great school for connecting with people from all over the world
"UBC is a great school for connecting with people from all over the world. It is what inspired me to look outside of Canada for work and educational opportunities.  Additionally, the environmental science program and Indigenous studies program are great for giving students real-world experience and challenging them to not just accept leading theories on environmental or anti-oppression work but to read and study lots to form their own opinions and theories."
2. University Canada West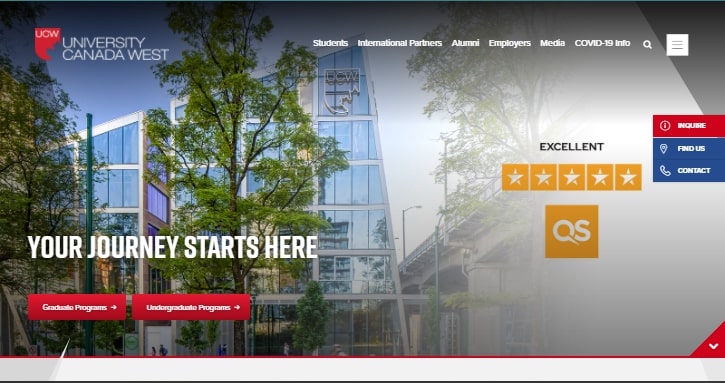 SERVICES
Commerce
Business communication
Arts
Business administration
WEBSITE
https://www.ucanwest.ca/
ADDRESS
1461 Granville Street Vancouver, British Columbia V6Z 0E5, Canada

626 West Pender Street, Suite 100Vancouver, BC, V6B 1V9, Canada
CONTACT DETAILS
Toll-free number: 1 (877) 431-6887
Email:

[email protected]

OPERATING HOURS
Monday: 8 am – 5 pm
Tuesday: 8 am – 5 pm
Wednesday: 8 am – 5 pm
Thursday: 8 am – 5 pm
Friday: 8 am – 5 pm
Saturday: closed
Sunday: closed
As the 73rd university in Canada, University Canada West (UCW) is not as famous as other higher-ranked institutions. Still, this doesn't take away from the university's ability to deliver a good education.
Focusing primarily on business and technology means UCW's courses in these fields are well-developed. Currently, there are three programs offered at UCW, each with subsequent master's programs.
Given the recent pandemic, UCW has also given students the option to enroll in fully online programs. This reflects the university's standards of teaching, which are both direct and very efficient.
It's worth noting that UCW's online classes don't follow a specific schedule for lectures. This means that working students can have the opportunity to study around their work and home schedules.
UCW's campus is actually made up of two midrise buildings around downtown Vancouver and Granville Island. In keeping with the university's style of efficiency, the actual facilities are spread out among several floors, with each one serving a specific purpose.
One interesting fact about this college's campus is that the main building, "Vancouver House", was actually designed by the Danish architect Bjarke Ingles. As a result, UCW's main campus is truly unique, with triangular architecture and decorative greenery.
Commuting should pose little trouble for students as the Skytrain, SeaBus, and public bus all pass by the university buildings. As an added bonus, Yaletown is also directly between both campuses, making for an excellent lunchtime commute.
Extremely convenient public transportation
Great option for business and technology
Custom designed university campus
Within commuting distance of Yaletown
Offers online courses
Limited course offerings
Relatively small campus size
Student Reviews
I have been enjoying my education experience so far at the University
"Rawa Rasul my student advisor has been of immense support and assistance especially before and during my MBA application process at the UCW. I have been enjoying my education experience so far at the University, getting to connect and network with people from various works of life and the knowledge being impacted in us by our tutors has been excellent." – David A.
I am very impressed with the service, support and assistance…
"I had a very good experience with student advisor Ms. Aprna Saha during my initial application process. She is very informative and very tolerable with my questions and queries. I am very impressed with the service, support and assistance provided to me by the advisor of University Canada west." – Ash A.
3. Emily Carr University of Art and Design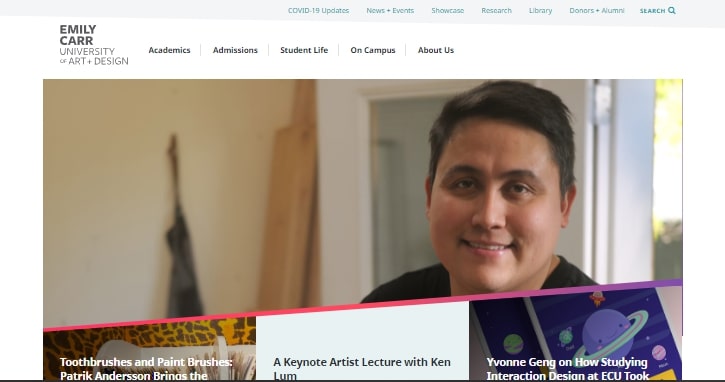 SERVICES
Design
Fine arts
Media arts
Student design studios
Master's programs
WEBSITE
https://www.ecuad.ca/
ADDRESS
520 E 1st Ave, Vancouver, BC V5T 1E1, Canada
CONTACT DETAILS
Phone number: +16048443800
Email:

[email protected]

OPERATING HOURS
Monday: 7:30 am – 11 pm
Tuesday: 7:30 am – 11 pm
Wednesday: 7:30 am – 11 pm
Thursday: 7:30 am – 11 pm
Friday: 7:30 am – 6 pm
Saturday: 8:30 am – 6 pm
Sunday: 8:30 am – 6 pm
The Emily Carr University of Art and Design (ECU) focuses extensively on the field of design. Because of this, the school has been declared by the 2021 QS World University Rankings one of the top art and design universities.
To be more specific, ECU currently ranks 30th in the world and 11th in America as an art and design university. In total, the school only offers 3 degrees, including design, fine arts, and media arts.
These undergraduate programs are further supplemented by two master's programs in design and fine arts. At the moment, the university has yet to offer a master's program in media arts due to a lack of development.
Based on feedback from previous students, ECU is a high-level institution for artists and designers with a certain level of skill. Several students also made it clear that those who wish to attend ECU would be wise to develop a solid foundation for art and design prior to applying.
Put simply, these folks do not focus on the basics of art and design. Instead, they delve into industry specializations in order to prepare students immediately for the challenges of their chosen fields.
ECU's campus is a wide 4-level complex containing everything from classrooms and studios to lecture halls and theatres. In a sense, the whole campus is a lot like a design museum or art gallery complete with its very own exhibits and pieces.
Though the school doesn't offer on-campus housing, the surrounding areas are filled with rentals, homestays, and other accommodations. One bright side to this campus location is the presence of on-site eateries, food trucks, and nearby cafes.
Great for art and design courses
Ranked 30th art and design school in the world
Industry-specific curriculum
Nearby food trucks and cafes
Focuses specifically on art and design
Does not offer on-campus housing
Student Reviews
Emily Carr is a great school, I've learnt a lot here
"Emily Carr is a great school, I've learnt a lot here. I don't recommend this school for beginner artists. Develop a practice/specialty and you'll be able to take a lot more from this school and it's courses" – Silvia M.
I highly recommend Emily Carr University
"Emily Carr lays the groundwork for some of the most important aspects of design. It is much more than an "art school" its a school of innovation with students and staff that look towards the future. It has established how I approach my work and has provided me with the tools to approach any design problem with confidence. I highly recommend Emily Carr University" – Kevin D.
4. Simon Fraser University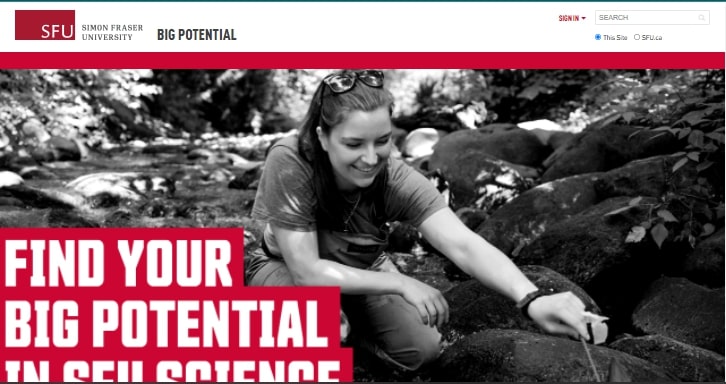 SERVICES
Applied sciences
Arts and social sciences
Education
Environment
Health sciences
Science
Communication, arts, and technology
Business
WEBSITE
https://www.sfu.ca/
ADDRESS
Harbour Centre 515 West Hastings Street Vancouver, B.C. Canada. V6B 5K3
CONTACT DETAILS
Phone number: (778) 782-6930
Email:

[email protected]

OPERATING HOURS
Monday: 7:30 am – 10:30 pm
Tuesday: 7:30 am – 10:30 pm
Wednesday: 7:30 am – 10:30 pm
Thursday: 7:30 am – 10:30 pm
Friday: 7:30 am – 9 pm
Saturday: 7:30 am – 6 pm
Sunday: 7:30 am – 6 pm
Simon Fraser University (SFU) has campuses spread all throughout the lower mainland. The school's Vancouver campus is particularly scenic since the design of the buildings matches well with the area's greenery.
At 330 hectares, the campus is pretty big, which gives it a prominent presence in downtown Vancouver. Thankfully, the public bus and Skytrain both pass by the university's campus making commuting simple.
In terms of programs, SFU has gained lots of attention for its science courses such as computer science, biology and biochemistry, and physics. SFU also has a respectable business and economics program.
Overall, the number of undergraduate programs offered by the school is neither big nor small but (we think) adequate. Alternatively, for graduate studies, SFU offers a substantial number of options ranging from accounting and anthropology to engineering and education.
With an acceptance rate of 65%, SFU is easier to get into compared to other universities on our list. But, it's worth noting that this particular college puts an emphasis on both grades and extracurricular activities.
So, if you intend to apply to the school it would be good to have some extra activities or programs under your belt. This will show a much deeper level of stock knowledge and experience relating to the degree you wish to take at SFU.
Great for science courses
Scenic Vancouver campus
Relatively high acceptance rate
Numerous graduate and post-graduate studies
Affordable average tuition fees
Admissions place an emphasis on extracurriculars
Less focused on art and design courses
Student Reviews
I got an opportunity to showcase my skills with a two-semester long capstone project…
"This Software Systems program provided skills, knowledge and thought processes necessary for professional software production, while also provided a broad background of various computing systems. I got an opportunity to showcase my skills with a two-semester long capstone project working with a faculty member." – Kushagra V.
It was a very interesting course curriculum…
"It was a very interesting course curriculum and it had introduced me to the every important aspect of economics.This provided training in a wide range of theoretical, empirical, and policy-relevant fields.All the classes were very engaging and I got a thorough knowledge about my course through the various projects involved in it." – Shubh S.
5. Capilano University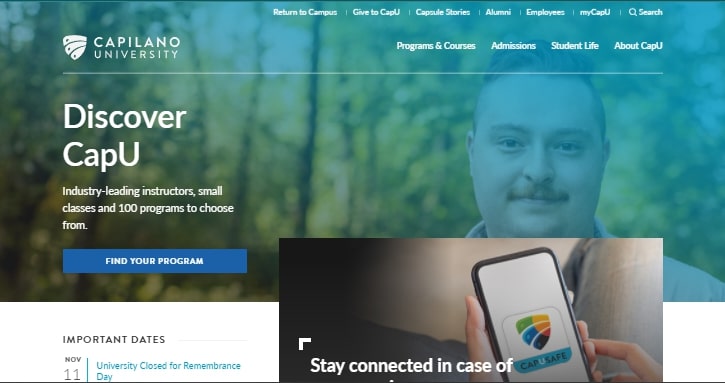 SERVICES
Media arts
Education
Communication
Law
Business
Design
Language
Marketing
Performing arts
WEBSITE
https://www.capilanou.ca/
ADDRESS
2055 Purcell Way, North Vancouver, BC V7J 3H5, Canada
CONTACT DETAILS
Phone number: (604) 986-1911
Fax: (604) 984-4985
Email:

[email protected]

OPERATING HOURS
Monday: 8:30 am – 4 pm
Tuesday: 8:30 am – 4 pm
Wednesday: 8:30 am – 4 pm
Thursday: 8:30 am – 4 pm
Friday: 8:30 am – 4 pm
Saturday: closed
Sunday: closed

Capilano University (CapU) is located relatively far from the downtown area with its campus in North Vancouver. This can make getting to the university quite difficult if you're not based in the upper Vancouver area.
Despite this, Capilano University still sees around 13,000 people enrolling each year. Of these 13,000 students, approximately 2,500, or 19% are international students hailing from different countries.
To make studying at CapU easier, the institution offers a convenient student residence in close proximity to the main campus. This can be a great option for those who aren't too thrilled at the 1-hour commute from downtown.
As for the campus itself, CapU's North Vancouver facilities are nestled in the forests that border the downtown area. The facilities on this campus are modern and relevant, with students having access to academic and recreational places like theatres, studios, and also gyms.
Having close to 100 unique programs in design, film, business, and education, CapU sees a wide assortment of aspiring professionals. Out of all its offered programs, this university is best known for its film, animation, jazz, and performing arts programs.
The only issue with this university is the fact that these wonderful facilities and top-notch programs do come at a price. With some tuition fees reaching as high as 14,000 CAD per year, many students require financial aid in the form of loans.
Obviously, this is the case with many universities across North America. But, if the prospect of a student loan isn't too off-putting, then CapU may be an excellent choice for those who are interested in the film or performing arts industry.
Great for film and performing arts
Offers on-campus housing
Large international student body
Offers excellent facilities
Skilled and experienced professors
Relatively high tuition fees
Far from downtown Vancouver
Student Reviews
I had an amazing 2.5 years at Capilano University
"I had an amazing 2.5 years at Capilano University. It prepared me for a bigger university and the teachers were wonderful! They care about their students and they want you to succeed." – Shirin M.
Teachers are well educated and extremely helpful
"Teachers are well educated and extremely helpful. The campus is beautiful and has many resources and shops for food and drinks. I love it and would highly recommend it to other students looking to pursue the arts or sciences. My only complaint would be that the tuition rate to attend is extremely high. It's almost impossible to attend this school without relying on a student loan." – Sarah E.
FAQs About Colleges in Vancouver
---
We've now reached the end of our list of the best colleges in Vancouver. If you wish to know more about any of the institutions on our list, you can visit their respective websites via the hyperlinks above.
If you're looking to apply to a college or university sometime soon, it may be best to get your finances in order.  Thankfully we've got you covered with a similar list of the best financial planners in Vancouver.